Planning a honeymoon, vacation, or a quick getaway to Hawaii and wondering where to go? Well, look no further because this is a rundown of all the best places to visit in Hawaii.
Hawaii is the youngest state and the only archipelago, which was formed by volcanic activity. It thus offers a beautiful landscape with fertile lands against the backdrop of the crystal blue Pacific Ocean.
Listing down all the places of interest in Hawaii will take more than a single blog post, but today's article gives some background on Hawaii and lists down the best Hawaii destinations.
Planning A Hawaii Vacation: What You Need to Know
The state of Hawaii is composed of eight islands, with two of these not open to tourism. The six islands tourists can visit are the Big Island, Oahu, Maui, Kauai, Molokai, and Lanai.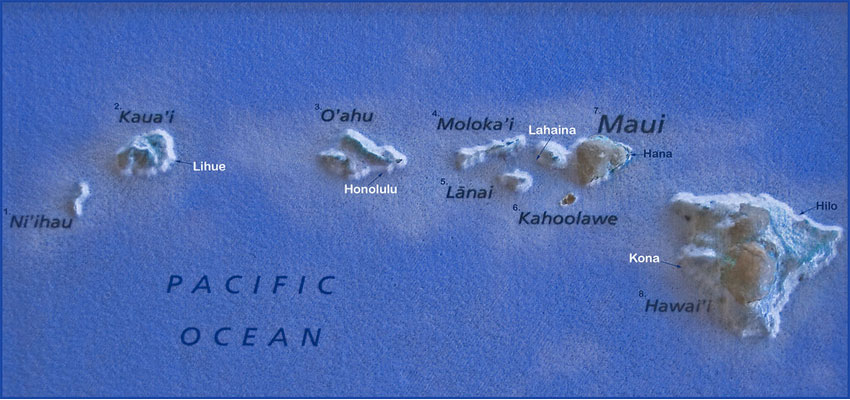 Hawaii's weather is warm all year round, but the best weather is in the months of April, May, September, and October.
June to November is hurricane season, though big storms are actually rare. The months of November to March are the rainiest.
Despite this weather pattern, the most popular time for tourists are July to August, and then Thanksgiving through to January. If you're planning to travel to Hawaii during these months, make airline, hotel, and car rental reservations at least three months up to a year ahead.
Your starting point from the mainland may vary depending on which island you plan to visit, but most visitors come to Hawaii by landing on Honolulu International Airport (HNL) on Oahu. From there, you can take flights to the other islands.
If you're going to stay for less than a week, it's recommended to only explore one island.
There are plenty of things to do in a single island, and traveling to another island takes up a lot of time. Try adding a second island to your itinerary if you're going for more than a week.
Best Places To Visit In Hawaii
We'll run down the best places to visit per island so you can decide which Hawaiian island to visit and plan your trip accordingly.
So without further ado, here are the 20 best places to visit in Hawaii.
Big Island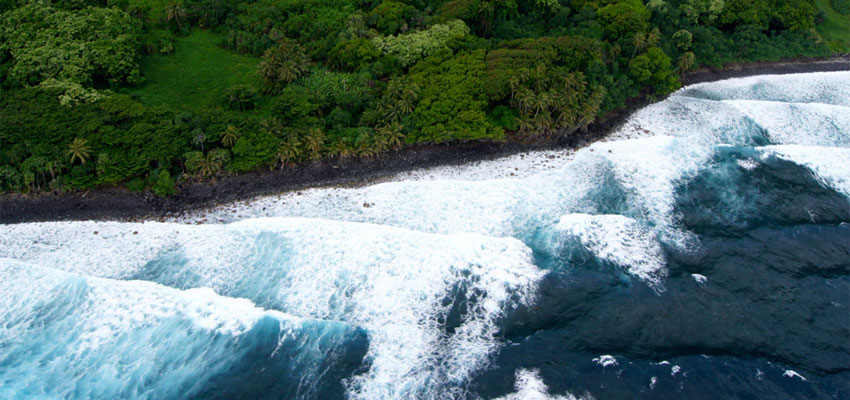 The actual name of this island is Hawaii, but it's called the Big Island to avoid confusion, and because it is, in fact, the biggest island in the Hawaiian archipelago.
Formed by five volcanoes, the island continues to grow as the Kilauea spews lava into the ocean.
The landscape features plenty of volcanoes, black-sand beaches, waterfalls, and lush valleys, while the climate ranges from tropical to tundra.
Here are the most fascinating places to explore on the Big Island.
1. Hawaii Volcanoes National Park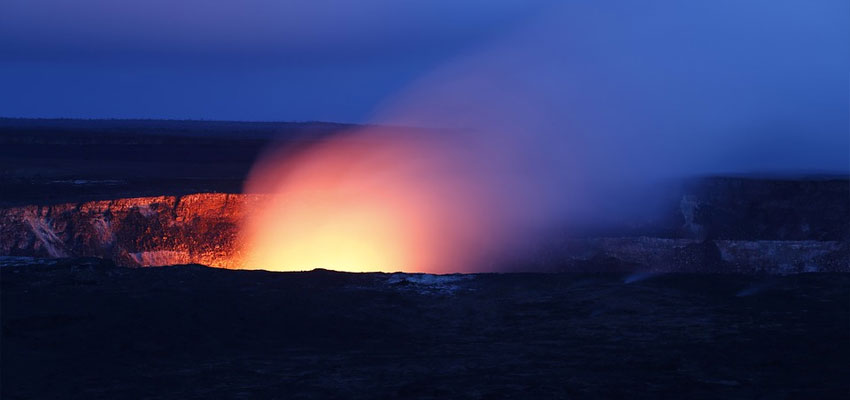 How often do you get to observe an active volcano from a few feet away?
The Hawaii Volcanoes National Park is home to the Mauna Loa and Kilauea volcanoes, allowing visitors to watch the Kilauea produce lava.
Visitors flock to the Halemaumau crater, the legendary home of Pele, the Hawaiian goddess of fire. Be careful when you're here, though; the locals consider this a sacred place, and legend has it that Pele is one temperamental goddess who will flare up for no reason.
Afterward, you can take a drive along Crater Rim Drive and enjoy the scenic views. Or you can take a walk through Nahuku, also known as the Thurston Lava Tube, a 500-year-old lava cave.
2. Punaluu Black Sand Beach
Located in the Kau district, Punaluu Black Sand Beach is one of the most famous black sand beaches in Hawaii.
Wonder why it's black? The black sand comes from the volcanic minerals and rocks in the area.
You may see the honu, the Hawaiian Green Sea Turtles, basking on the beach, and they're a sight to behold.
You'll be tempted to take some of the black sand home or interact with the turtles, but do not give in.
It's illegal and you may be fined or even arrested.
3. Kailua-Kona
Kailua-Kona is a city on the Kona district on the west side of the Big Island. It was a small fishing village where King Kamehameha spent his final years, and now it's a bustling tourist spot.
Kailua-Kona offers plenty of outdoor activities. Laaloa Beach and Kua Bay are two of the popular beaches in this area, but there are plenty along the coast. There are plenty of jumping-off points for surfing,
swimming with the spinner dolphins and manta ray night snorkeling.
Or you can simply lay back on the beach with a cold drink and see the sun set.
Kona is also known for its coffee farms, producing Arabica coffee that's some of the most expensive in the world. There are tour companies that offer coffee tours through coffee plantations such as Greenwell Farms, Mountain Thunder Coffee Plantation, Hula Daddy, and Kona Joe.
You can also take a tour through the Kona Coffee Living History Farm.
4. Mauna Kea Summit and Observatory
Mauna Kea is Hawaii's tallest mountain, featuring several observatories that are used by national and international scientists to study the skies.
The best time of day to visit Mauna Kea would be in the afternoon so you can witness the spectacular sunset and then spend the evening stargazing.
However, road closures can occur when the weather conditions aren't ideal, or recently, because of protests against building the Thirty Meter Telescope. It is best to consult the Mauna Kea Weather Center to check whether the roads are open or not.
When you visit this mountain, always keep in mind that this is a sacred place for many Hawaiians. Treat the place accordingly.
5. Hilo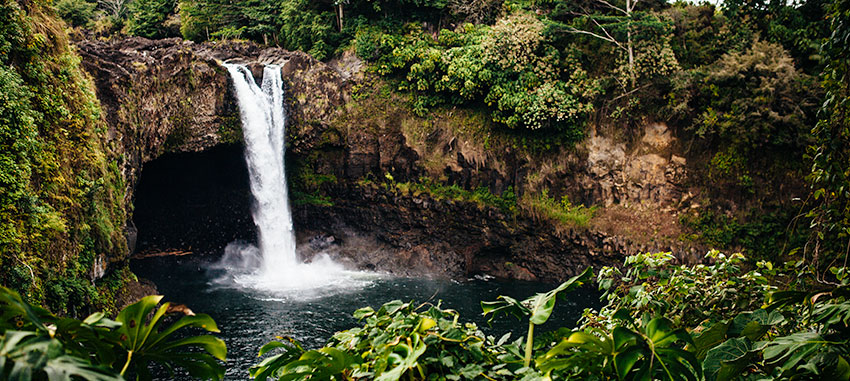 Aside from being home to Mauna Kea, Hilo offers breathtaking natural beauty alongside modern amenities.
It features waterfalls, forests, and gardens while being home to the Hilo International Airport as well as plenty of modern shops and buildings.
Downtown Hilo offers plenty of shops, attractions, and cultural sites.
Stroll down Kamehameha Avenue to discover local shops, restaurants, and art galleries.
Check out the Lyman Mission House & Museum to explore Hawaii's natural and cultural history and the Mokupapapa Discovery Center to learn about the nature and culture of the Northwestern Hawaiian Islands.
A short drive from downtown Hilo, Wailuku River State Park offers access to not one but two beautiful waterfalls. Rainbow Falls (also known as Waianuenue) in the morning gives off rainbows in the mist while Boiling Pots (also known as Peepee) offer cascading water flows into terraced pools.
Hilo is also home to the Mauna Loa Macadamia Nut Factory, where a self-guided tour traces the journey of the macadamia nut from growing and harvesting it to roasting and canning.
You can also take a walk in the 1-mile path in the Hawaii Tropical Botanical Garden among waterfalls and streams and survey over 2,000 species of trees and plants.
Oahu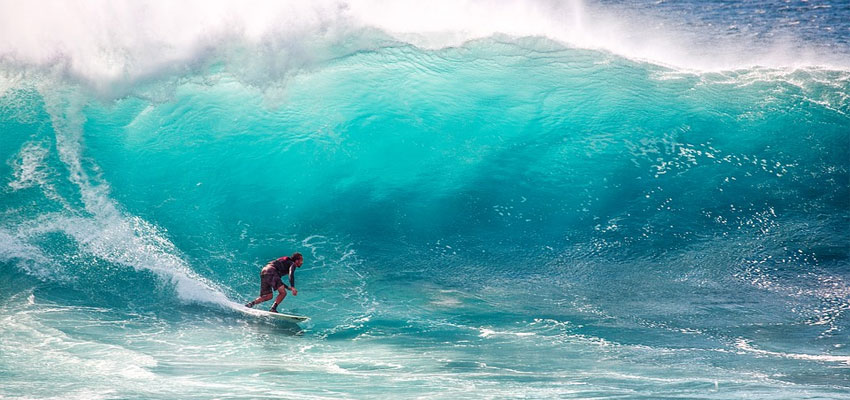 Oahu is the most developed and visited island in Hawaii, home to the state capital Honolulu and the largest airport in the state.
You'll find the most shopping and dining options here, as well as a vibrant nightlife. Plus, you'll find it easier to go around via public transportation, if you choose to do so.
Below are some of the best places to visit in Oahu.
6. Downtown Honolulu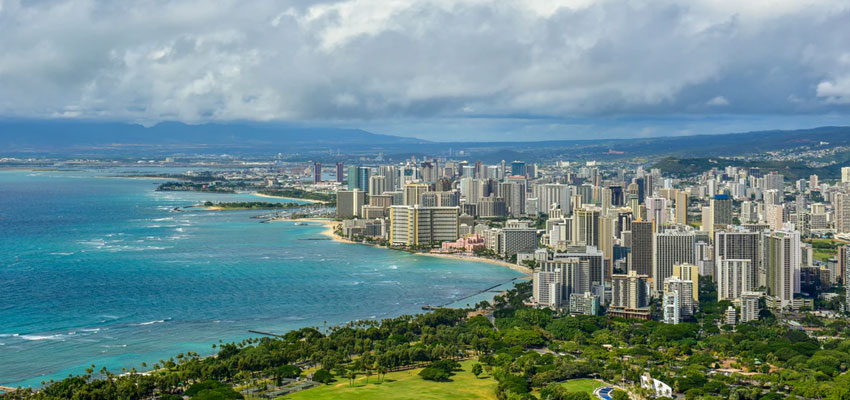 The fusion of ancient and modern, eastern and western, as well as foreign and native influences is apparent in downtown Honolulu. It's evident in the architecture, cuisine, and cultural landmarks.
The Aloha Tower is a lighthouse that has been welcoming vessels to Honolulu since 1926.
Climbing to the observation deck at the top of the tower gives you spectacular views of Honolulu and the coast.
From the Aloha Tower, you can take a short bus ride to Chinatown. It's far from glamorous, but if you love shopping and are excited about bargains and rare finds, you'll find this place interesting. When you get hungry from walking around, head over to Legend Seafood for excellent dim sum.
The Iolani Palace is the only royal palace on US soil and was the royal residence of the rulers of the Kingdom of Hawaii. It is now a museum that allows visitors a glimpse into a dark time in Hawaiian history: the overthrowing of the Hawaiian monarchy.
If art is your poison, the Hawaii State Art Museum offers a permanent display of Hawaiian art; that is, art about Hawaii, made by local artists. Aside from this permanent installation, there is a rotation of temporary exhibitions. The building itself is a marvelous work of art.
An up and coming neighborhood, Kakaako is home to the most Instagrammable street art in Oahu. This hip neighborhood features breweries where you can explore through a beer tour. There's also a monthly food truck event called Eat the Street, as well as a monthly market called Pa'akai Marketplace that showcases local products.
7. Waikiki Beach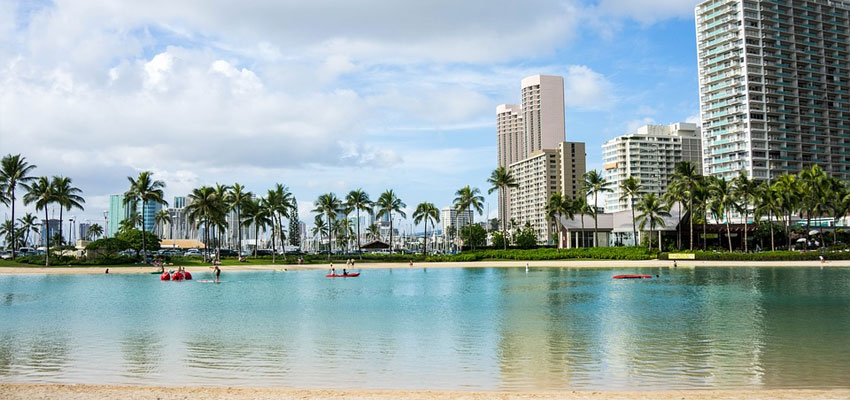 Touted by many as one of the most recognizable beaches in the world and one of the best places to visit in Hawaii, Waikiki is located on the south shore of Honolulu.
With three miles of oceanfront views, you can spend the entire day strolling along the coastline, sampling the local cuisine, and enjoying the live entertainment.
Waikiki Beach provides numerous water activities: surfing, bodyboarding, stand-up paddleboarding are popular, as well as snorkeling and scuba diving.
Or you can just swim and float around from sunup to sundown. Then you can grab a drink, lie down on the sand, and watch the stunning sunset.
A distinctive expression of Hawaiian culture is the hula, and many restaurants, resorts, and hotels offer free hula performances for visitors. One of the most popular ones is the Kuhio Beach Hula Show, which starts with a torch-lighting, conch shell-blowing, and a hula performance.
8. Diamond Head/Kapahulu/St. Louis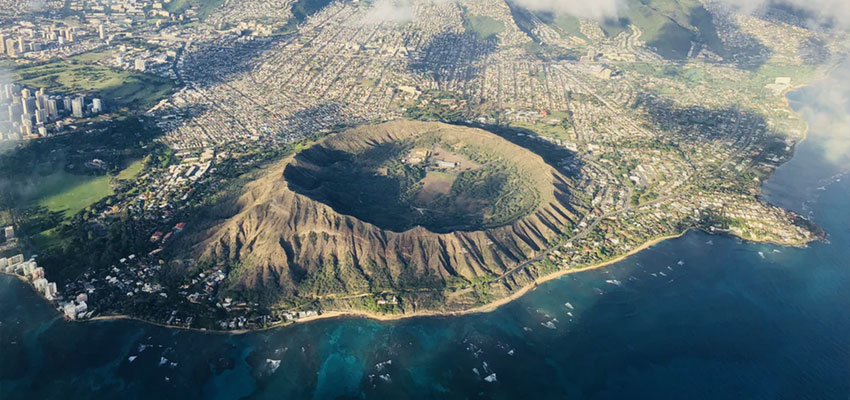 The Diamond Head–Kapahulu–St. Louis neighborhood lies south of Waikiki Beach, bordered by the Diamond Head crater to the southeast and by the Wa'ahila Ridge to the northeast. It provides a respite from all the beach activities on Waikiki Beach.
For a change in pace, you can go to Kalakaua Avenue to grab some food from one of the many restaurants that offer great food, and then head on over to Kapi'olani Regional Park and have a picnic.
You can burn off the calories by jogging on the dedicated path, playing tennis or soccer, or just taking a leisurely stroll among the shaded trees.
A few steps away is the Honolulu Zoo, where you can explore and see amphibians, birds, mammals, and reptiles from three different ecological zones: tropical rainforests, Pacific islands, and the African savanna.
A block away from Honolulu Zoo is the Waikiki Aquarium, the second-oldest public aquarium in the US. Built next to a living coral reef, the aquarium is run by the University of Hawaii and aims to increase public awareness of the ecology and conservation of marine life.
After you've taken in the marine life in the aquarium, you can go on to the Diamond Head Beach Luau, also at the Waikiki Aquarium, to experience a luau with authentic farm to table cuisine.
A short drive away is the Diamond Head State Monument, from which you can hike to the summit of Diamond Head and the Diamond Head Lookout, which offers breathtaking ocean and city views.
If you want to go back to the beach instead, you can forgo the climb up the crater and go instead to Diamond Head Beach Park.
9. Pearl Harbor
The devastating events of December 7, 1941 forever changed the course of history.
Pearl Harbor is still a functional navy base that houses several memorials to the soldiers who fell on that fateful day: the USS Arizona Memorial, Battleship Missouri Memorial, USS Bowfin Submarine & Park, USS Oklahoma Memorial, and the Pearl Harbor Aviation Museum.
There are many tours to choose from, suited to your pace and which sites you want to visit, but it's recommended to purchase the Passport To Pearl Harbor so you can have guaranteed tickets to the USS Arizona, Battleship Missouri, Pearl Harbor Aviation Museum, and USS Bowfin Submarine & Park.
Whichever way you want to explore Pearl Harbor, make sure you allow an entire day to absorb everything and to get the most knowledge out of the tour as you can.
Maui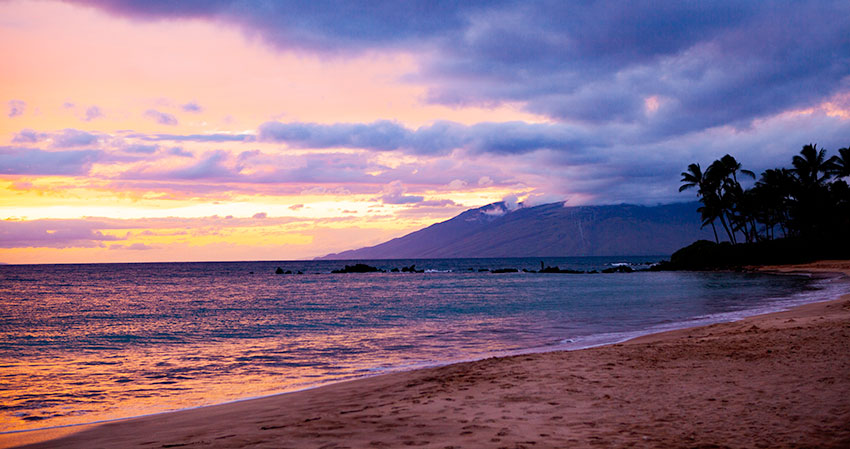 If the Big Island is the largest island and Oahu is the most visited island, Maui is the second-largest island and the second most visited one.
As yet another product of volcanic activity, Maui has everything from beautiful beaches, jagged mountains, and lush green valleys.
Here are some of the best places to visit in Maui.
10. Lahaina
The historic town of Lahaina was the capital of the Hawaiian Kingdom in the early 19th century that became a whaling village in the mid-1800s. Now, the town is a hotspot of modern activity.
Being a former whaling village, it's only fitting that the main activities here are whale-watching (especially during whale season), dolphin-watching, sailing, and snorkeling.
Aside from whales, Lahaina offers plenty of art and culture. Stroll along Front Street, where there are plenty of hip restaurants, art galleries, and unique shops to browse. Stop by the Banyan Court to rest and take photos under Maui's oldest Banyan Tree.
Lahaina also has plenty of history to offer as well. In fact, the Lahaina Restoration Foundation gives out a brochure (also downloadable here) showing 65 significant sites, museums, and buildings on a map to allow people to take a self-guided tour.
Cap off your day by going to a luau. The Old Lahaina Luau offers a traditional luau with a feast and a show, while The Feast At Lele showcases not only Hawaiian dances and cuisine but also other Polynesian cultures: Maori, Tahiti, and Samoa.
11. West Maui Loop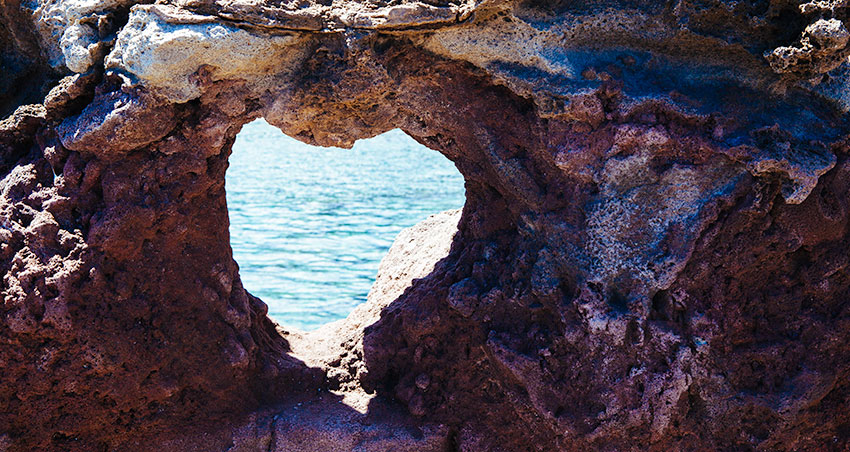 A great way to take in the sights is to drive the so-called West Maui Loop. This drive takes you around the top of the coast on the west side of Maui, around the West Maui Forest Reserve.
A clockwise drive is recommended for drivers unfamiliar with the roads, so you're driving away from the cliff sides and so it's easier for you to let local drivers pass. From Lahaina, you can simply take Route 30 (Honoapiilani Highway) and follow it until it turns into Route 340 (Kahekili Highway) in Wailiku.
Some notable stops along the way include Kaanapali Beach, Honolua Bay, Nakalele Point, Ohai Overlook, Olivine Pools, Kahakuloa (for Lorraine Shaved Ice), and Waihee Ridge Trail.
Route 340 turns into Route 3400 (Kahului Beach Road) in Kahului. From here, you can either turn around and go back the same way you went, or take Route 32 then Route 30 to complete the loop in Lahaina, or continue on to Route 36 or the Hana Highway.
12. Road to Hana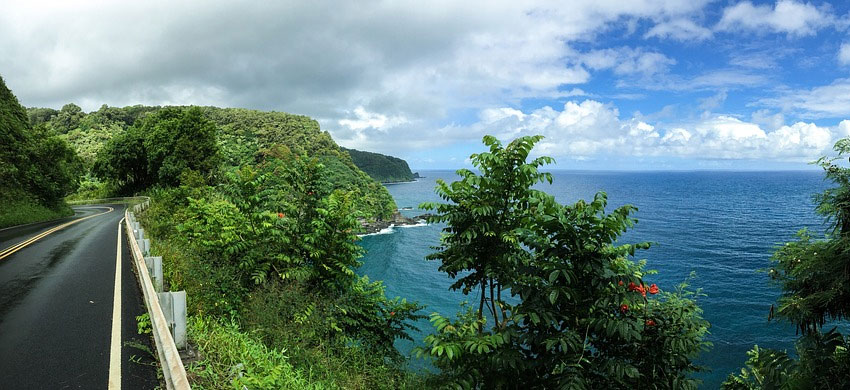 Another road trip (and arguably more popular) you can take in Maui is the Road to Hana, that is, a drive along the north shore of Maui to the eastern side via the Hana Highway.
The Road To Hana offers plenty of chances to see waterfalls, forests, as well as red- and black-sand beaches.
Some interesting stops along this route include Ho'okipa Lookout, Rainbow Eucalyptus Trees, Ke'anae Peninsula Viewpoint and Ke'anae Arboretum, Upper Waikani Falls, Waianapanapa State Park, the town of Hana, Koki Beach, Hamoa Beach, Wailua Falls, The Pools at 'Ohe'o, and Pipiwai Trail.
13. Haleakala National Park
The dormant volcano Haleakala is home to breathtaking views of the landscapes and skyscapes all around.
Drive to the Haleakala Visitor Center in the early morning to watch the spectacular sunrise from the best viewpoint. Reservations are required, so make sure you make them in advance. Continue to the Haleakala Crater, the summit, if you'd like to see more panoramic views all around.
The national park offers numerous hiking trails, as well as guided horseback rides so you can appreciate the scenic vistas and rare wildlife. Planning to stay longer? The park has cabins and campgrounds.
Kauai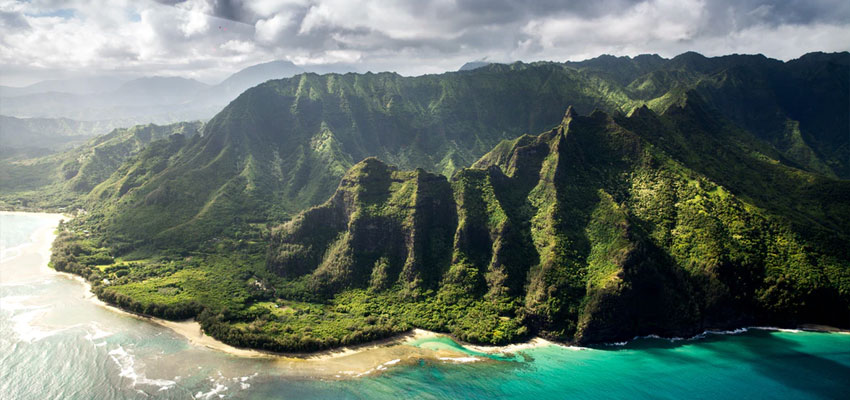 The oldest and most northernmost island in the Hawaiian archipelago is blessed with green valleys and jagged cliffs, tropical rainforests and cascading waterfalls, multi-colored canyons and rushing rivers.
These are a few of the best places to go to in Kauai.
14. Na Pali Coast State Park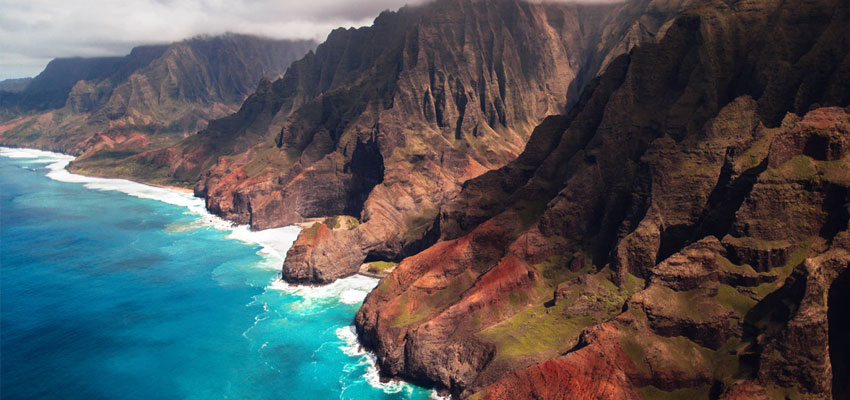 Encompassing 17 miles along Kauai's North Shore, the Na Pali Coast is a sacred place and is one of the most inaccessible parts of Kauai. Irregularly shaped cliffs colored with rare vegetation is an unforgettable sight.
The best way to take in the view is by air or by sea.
Helicopter or small planes lift out of nearby Lihue Airport, while guided kayaking and raft tours are available so you can see the terrain up close.
15. Waimea Canyon
The Waimea Canyon, also known as the Grand Canyon of the Pacific, is one of the most beautiful canyons on Earth. The red soil growing green jungles from black volcanic soil are interspersed with waterfalls and streams.
You can take a drive to one of the Waimea Canyon lookout spots and then go on to the Kokee State Park to get an alternative view of the Waimea Canyon, as well as nearby Kalalau Valley.
16. Wailua Falls
On the other side of the island is the Wailua Falls, a double waterfall plunging 80 feet down a rock face.
The falls are spectacular enough that we've included it in our previous list of the best waterfalls in the US.
You can hike to the base and go swimming at the pool at the bottom, or if you're feeling more adventurous, you can go on a guided kayak and hike tour. Take a kayak ride along the Wailua River where your guide can point out the ancient temples along the way.
Molokai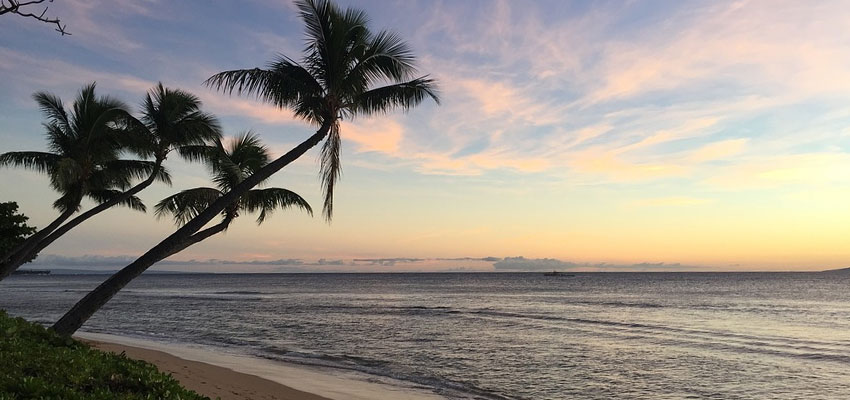 This is a less developed island, with a slower pace and fewer choices of accommodation and activities. But if your idea of a vacation is to take it easy and soak in the natural beauty of your surroundings, Molokai is the perfect destination for you.
Here are a couple of destinations to visit in Molokai.
17. Kalaupapa National Historical Park
A former leper colony seems like the last thing anyone wants to visit, but knowing the tragic history of a place and learning the stories of people who may not have been heard for decades are worthwhile.
It's no easy task to get to this place; it's only accessible via air or mule.
Only one tour company is authorized to take tourists around and educate them about the history of the place. There are no restaurants or medical facilities here, and no one below 16 is allowed, so this isn't for families with small children.
18. Papohaku Beach
Also known as Three Mile Beach, Papohaku Beach is one of Hawaii's largest white-sand beaches.
In stark contrast to the drove of tourists in Waikiki Beach, Papohaku provides some solitude and serenity. But even though the beach is secluded, the amenities aren't lacking. There are campsites, restroom and shower facilities, and picnic sites.
Lanai
Just a few miles away from Maui, Lanai is where two worlds collide: luxury resorts and rugged landscapes. At one time, Dole Foods completely owned the entire island.
Here are a couple of the best places to visit in Lanai.
19. Lanai City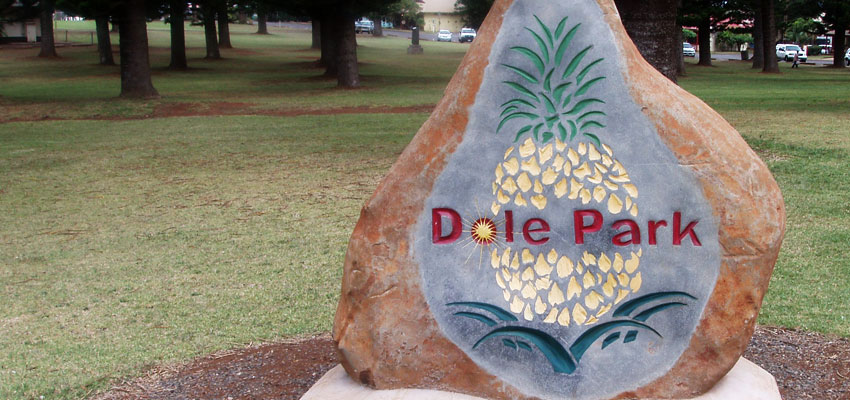 A short distance from the airport is Lanai City, which was founded as a plantation town in the center of the island's then-booming pineapple industry.
Dole Park is located at the center of downtown Lanai City. It features wide grassy lawns and numerous trees, with picnic areas and a community center. Dole Park also contains various memorials to fallen soldiers who fought in different wars.
The streets that border the park has restaurants, shops, and art galleries, as well as a historic district.
Stop by at the Lanai Culture & Heritage Center to learn more about the culture and history of the island.
20. Hulopoe Bay
Hailed as one of the best beaches In America, Hulopoe Bay welcomes tourists with its pristine white sand and stunning blue waters.
This protected site is perfect as a jumping-off point for snorkeling and swimming, but in the winter months, the waves tend to be too dangerous.
Whales and dolphins sometimes come to visit, but you need to restrain yourself and let them swim in peace.
More Tips To Enjoy Your Hawaiian Vacation
Now that you know the best places to visit in Hawaii, you're all set to plan your Hawaii trip! Here are some more pointers to keep in mind before you pack:
Consider your fitness level.
Snorkeling, hiking, and even just strolling around the streets or indoors can be exhausting. Make sure your body can handle the activities you plan to do in Hawaii.
Explore the local cuisine.
There is so much to experience in Hawaii, and one of the best experiences is to eat like a local and sample all the native cuisine.
Respect the people, their culture, and their land.
First of all, remember that Hawaii has been one of the States since 1959, so referring to the continental US as "the States" somehow implies that Hawaii is foreign and may be taken as condescending or rude.
Also, understand that you shouldn't take any rocks or other materials from any of the volcanoes or national parks. The Hawaiians take their land seriously.
Splurge on the ocean view.
Whether you rent a condo or stay at a hotel, the gorgeous, romantic view of the ocean is worth the extra expense, especially during whale season (December to May) when you can spot humpback whales from your balcony.
We'd like to hear from you!
Are you planning to go to Hawaii soon? Which of the islands or places above are you most interested in going? Tell us in the comments!