The Big Apple is a one-of-a-kind city with a ton of attractions, a wide variety of food choices, and a culturally-diverse people, but not many tourists go here to visit caves in New York…
…and I think more people should while we still have access to these geological structures.
7 Caves in New York You Should Visit at least Once in Your Life
From traditional caves to jungle-rock gardens and other awesome underground worlds, these 7 caves in New York are some of my favorites.
I recommend you visit a couple of them (that are skill-appropriate of course) at least once in your life.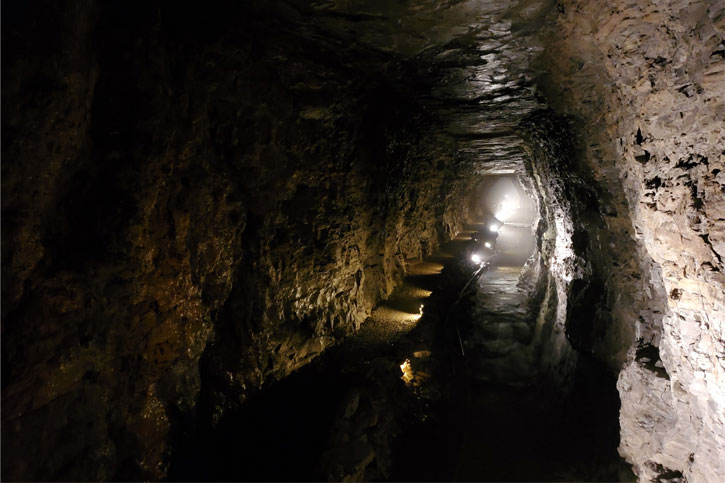 Location: 5 Gooding Street, Lockport NY
Phone: 716-438-0174
Tour info: 75-minute guided walk tour | $7.35 to $27.55 + tax per person (kids enter at discounted rates)
Hours: Open daily for tours 10:00 am to 4pm
If you're new to caving, Lockport Cave is a beginner-friendly cave that gives a huge payoff.
Constructed in the 1800s, Lockport Cave is the country's longest underground boat tour.
The adventure begins on a boat ride starting at the Niagara Escarpment through the Erie Canal. Here you'll be able to see artifacts left behind by miners who worked these caves over a century ago.
The best part of this tour is the quiet boat ride, as it travels into the manmade, 2100-foot tunnel and cave with just a lantern light leading the way. Visitors will be very close to flowstones, stalagmites and other geological features that could wow anyone regardless of age.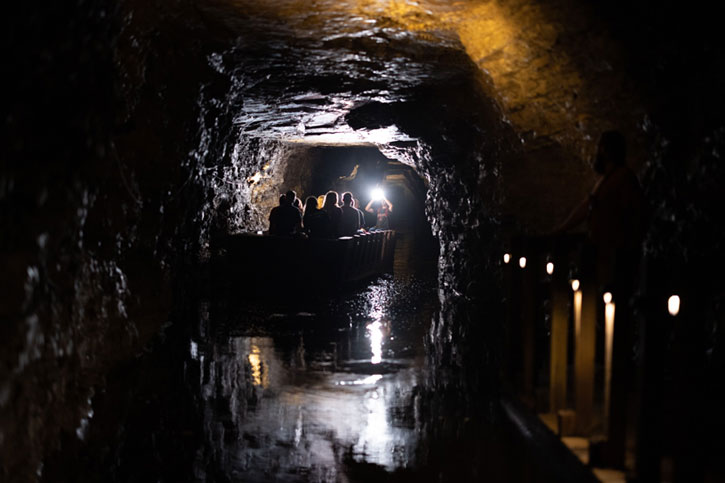 Note that the tour includes approximately 70 stairs and 3 landings, so it cannot accommodate wheelchairs and strollers. You also can't choose between a walking tour and boat ride – part of the experience includes the eeriness of the boat ride and the challenge of walking underground.
Lockport Caves also offer special tours during the Halloween season. Join either their Ghost Hunter or Haunted Cave Lantern tours with young kids for a new (and memorable) experience.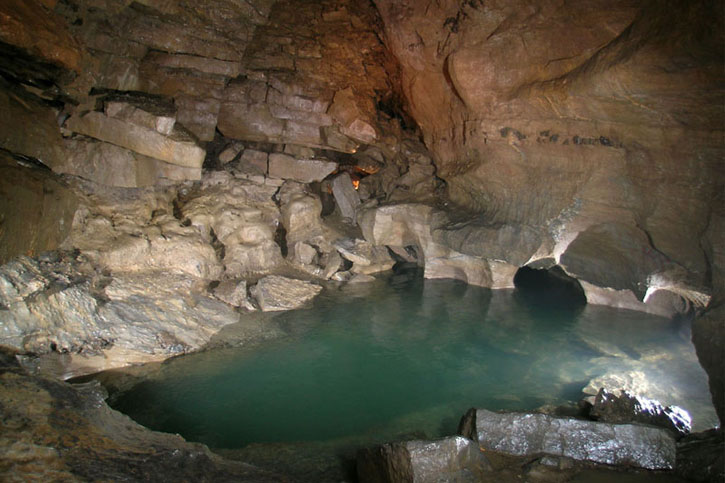 Location: New Scotland, NY 12186
Tour info: self-guided walk tour | free to enter
Hours: Open daily 7AM to 11PM, except from October 1st through April 30th (when bats hibernate in the cave)
If you're new to caving, Clarksville cave in Voorheesville New York is one of the few caverns in NY that cater to beginner to expert caving (thanks to multiple routes that fit all skill levels). It is, however, not for anyone who are claustrophobic.
The entire Clarksville cave is a massive 4,800 feet with three different entrances. Before you can get into the main cave, there would be crawling and sliding into small spaces or wading through knee-deep or waist-deep water.
As you get deeper into the horizontal cave, you'll find stalactites, stalagmites and flowstones permanently fixed to the walls. Other deposits of coral fossils from 490 million years ago had been found inside Clarksville cave.
The tight passages do give gorgeous payoffs. Depending on where you began your path or which route you took, you'll be led to the space with petroglyphs or small lakes.
If you're a pro diver (and you have your gear with you), you can even scuba-dive in these turquoise lakes.
Everyone visiting Clarksville cave is required to follow NSS rules, which says you can't go into the cave alone. You need to have at least 2 people with you. Every visitor must also wear their own helmet with a flashlight mounted on top, along with a handheld flashlight and knee pads.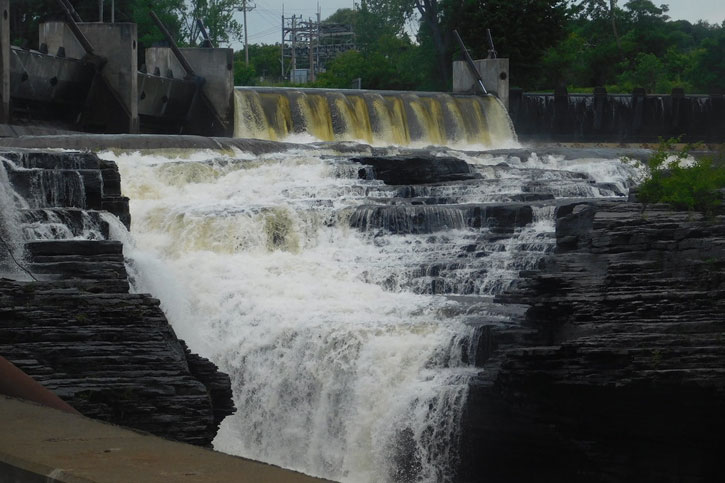 Phone: 518-761-3864 or 518-793-1455
Tour info: Group tours need reservation | free admission
Hours: Open daily from 8am-8pm, May 1 through October 31
Cooper's Cave, which was carved out by the mighty Hudson River, is located in Glens Falls, New York.
This cave was the inspiration of the "dark and silent" caves featured on the great American novel, "The Last of the Mohicans" by author James Fenimore Cooper.
Above the cave is the Cooper's Cave Bridge, which connects the Village of South Glens Falls and the City of Glens Falls.
There is a wheelchair-accessible overlook situated right next to the bridge, where visitors which gives a stunning front-seat viewing of the falls.
This stop is part of New York State's historic Independent Trail. The cave entrance is located within Cooper's Cave Park (by the southern end of the Glens Falls Feeder Canal Trail). The good news is there are signs that mark the entrance.
Although the cave is relatively small (about 20 feet wide and 60 feet long), you can still see unique stalactites, stalagmites, and flowstone deposits at Cooper's Cave. These formations have been formed over million of years ago.
If you're just stopping by and have time to spare, visit the nearby Cooper's Cave Ale Co and order the best craft beer or gourmet sodas.
Location: Gallupville, NY
Tour info: advanced caving | free admission | not recommended for summer camps, church groups, scouts, and school groups
Hours: Open daily for tours until 4pm, Closed October 1st through April 30th (during bat hibernation season)
Located near the more popular caves, Knox and Crossbones Caves, Ella Armstrong Cave is a short vertical cave that isn't for the faint of heart.
The cave is named after a 19th century woman who explored the cave and left her inscription at the drop's base. The "graffiti" remains to this day even if she left this behind nearly 200 years ago.
You can't just walk to get into the Ella Armstrong Cave. You'll need special climbing equipment for the straight vertical drop safely to the base of the cave.
Like most self-guided caves in New York, you need to have at least 3 people in the group and be completely equipped with safety helmets, flashlights and other basic caving equipment.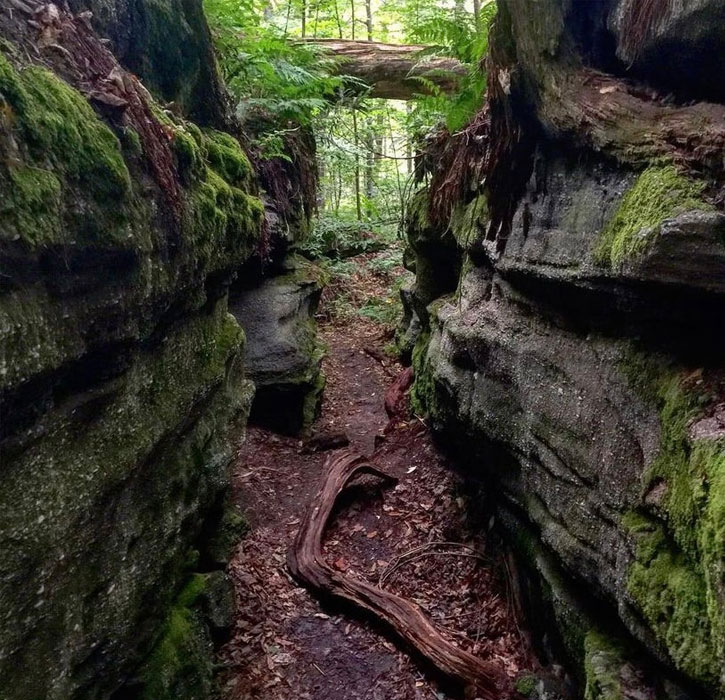 Location: 11 Rock Hill Rd, Panama, NY 14767
Phone: (716) 703-0021
Tour info: private park (not a state park) | $7 to $10 (kids 5 years old and below enter free)
Hours: Open daily 10 am to 5pm during early May to October (closes for the winter)
The Panama Rocks is home to a handful of privately-owned caves in New York. The entire 15-acre area is full of deep crevices, tight passageways, massive rock formations, and small caves that dates back to over 350 million years.
Established in 1885, Panama Rocks has been around even before the state park system was even born. There are hiking, treasure hunting for kids, ax-throwing, picnics, and other geology activities for kids 11 and above.
The jungle-like charm of Panama Rocks isn't just for kids. Even adults would find the place's history, geology, and environment pretty educational and enchanting.
This is a laidback cave option for young kids and adults without any caving experience. Kids under 18 years old have to be accompanied by an adult. Pets are also not allowed.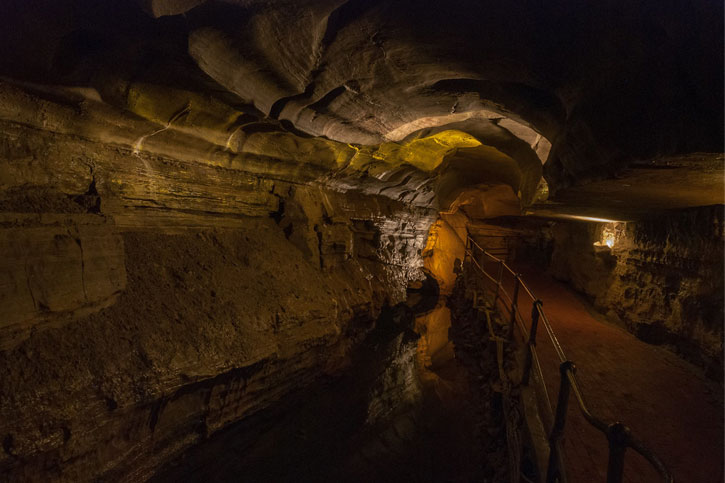 Location: 255 Discovery Dr, Howes Cave, NY 12092
Phone: (518) 296-8900
Tour info: Traditional 90-minute tours cost $15 to $25 per person (kids 4 and under enter free) | Special tours available
Hours: Open daily for tours 10:00 am to 2pm, but closed on Mondays and Tuesdays
Howe Caverns is the most famous cavern in New York state. After Niagara Falls, this cave is the second most-visited natural attraction in the state.
If you're looking for a cave that your family can enjoy, even without any caving experience, Howe Caverns can be a one-of-a-kind experience for you.
It's been around since 1929. To reach the actual cave, you'd have to go down fifteen stories down (about 140 stairs), 1.23-mile walk, and the remaining 0.25-mile riding a boat.
Howe Caverns offers the basic 90-minute guided tour where you'll be able to see a mix of limestone corridors and galleries, dripping stalactites and plenty of cool formations all over the walls. The path's twists and turns leading you to an underground lake and the cave's Eastern Terminus, where your heart is bound to skip a beat as you pass by total darkness.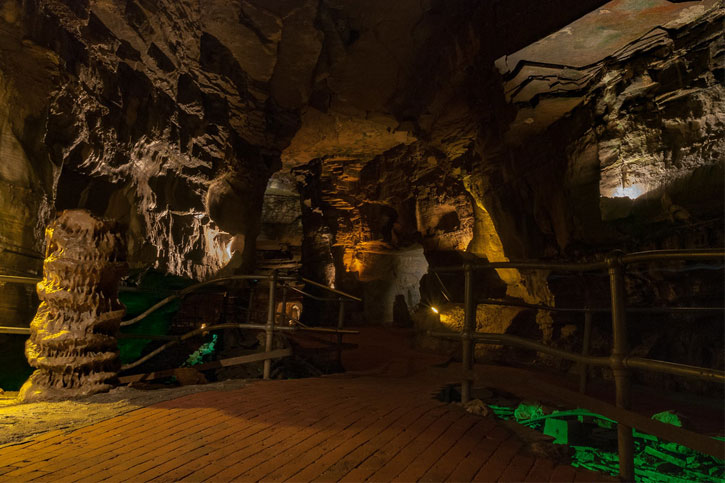 If this isn't enough, Howe Caverns also has other special tours, such as the guided, 2-hour signature rock discovery tour, the family flashlight tour, and lantern tour, among others. The place also has tours dedicated to particular holidays, such as Halloween (haunted tours) and Christmas (festive tours).
You have the option of visiting as a day-tour guest, or staying at the Howe Caverns Hotel.
Location: 671 Caverns Rd, Howes Cave, NY
Phone: 518.296.8558
Tour info: 1-hour guided walk tour | $10 to $18 (kids 6 and under enter free)
Hours: Open weekends, from 11:00 am to 3pm every April to October
If you stayed or visited Howe Caverns and have time to spare for another natural experience, head down the road to Secret Caverns that feature a breathtaking underground waterfall.
Secret Caverns is situated 100 feet below the surface, but unlike other New York caves, this one has a waterfall to greet you after traveling down 100+ steps.
The one-hour guided tour is a half-mile long and leads you to gorgeous views of stalactites, stalagmites, and flowstone that keep the temperature underground 0 degrees year-round.
The best part of this place is that guests are allowed to touch the rock formations (which is often the opposite for other caves). Photography and cameras with flash is also allowed.
Done with Caves in New York. Where to go Caving Next?
Enjoyed your trip to New York's best caves? If you're planning your next spelunking adventure, here are several guides to help you decide your next destination:
Have you ever seen jaw-dropping ice caves before? Check out these four ice caves in Colorado.
If you're extending your stay in New York, make sure to read my guide about 10 underrated things to do in New York.