I've been lucky to explore quite a few caves in PA, From the boat ride through Penn's Cave to spelunking through Laurel Caverns.
It always amazes me just how many caves are in this state I call home, that is, until you drive across the PA turnpike and remember just how vast the space between Philly and Pittsburgh is.
I wanted to catalog some caves I've visited in the past and ones I hope to explore in the near future. So here we go…
7 Caves in PA You Should Visit
Here are 7 caves in the Keystone State that you should visit at least once in your life: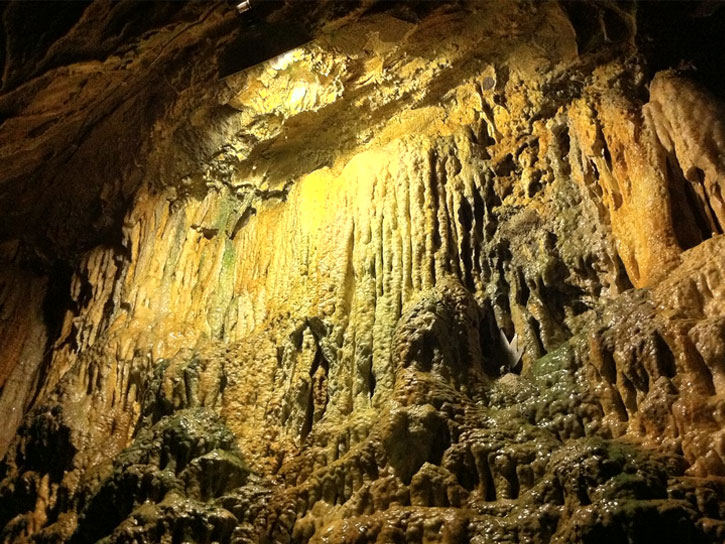 Location: 726 Durham St, Hellertown, PA 18055, USA
What Makes it Special: The Lost River can be found here.
Hours: Open daily from 9 am to 5 pm
Tickets: Start at $9.50 for kids (3-12) and $14.50 for adults, tours are available too!
Lost River Caverns is located in the Lehigh Valley close to Bethlehem, PA.
This Pennsylvania cave is named after the river that runs through the system – the Lost River. When you're touring the cave, you can hear and see the underground waterway. The most interesting about this river is that the origin is unknown, even if several attempts have been made trying to find out where the water is coming from, or where the water ends up.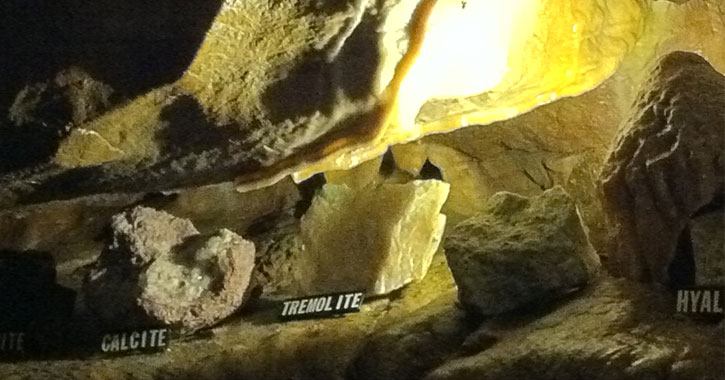 Lost River Caverns features 5 chambers with numerous stalactites, stalagmites, crystals and other limestone formations. It is owned and operated by the same family who first opened it to the public almost a century ago.
Tours are available daily. When you join, you'll be welcomed by 1,200 feet of paved walkways. It also has its own "Crystal Chapel," where many couples have chosen to exchange their vows.
Group tours and weddings require reservations.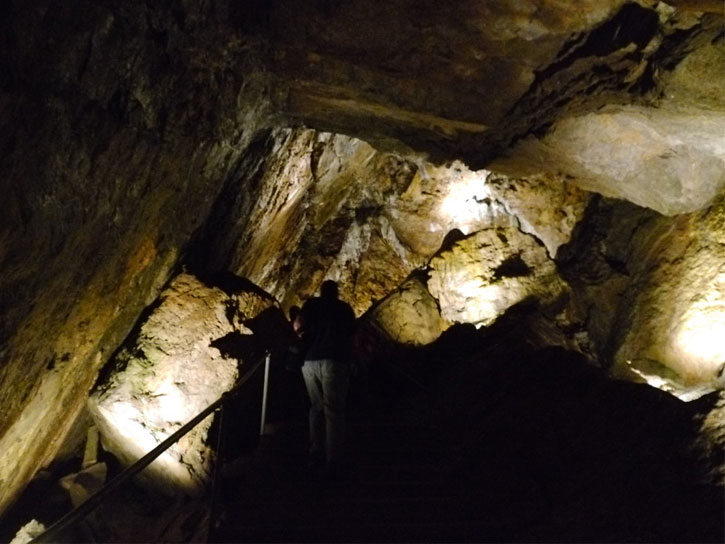 What Makes it Special: Gorgeous "crystal" formations of all sizes
Hours: Open daily from 9 am to 5 pm
Tickets: Kids 3 and under enter free, $14 for kids aged 4 to 11, and $19 for 12 years old and up. Group rates and school rates are also available. Miniature golf and other activities have add-on fees.
Crystal Cave is located in a 150-acre area in Kutztown, Berks County. It is the most visited cave out of all caves in PA, mainly because it is the first-ever show cave in Pennsylvania and one of the oldest continually-operating show caves in the country.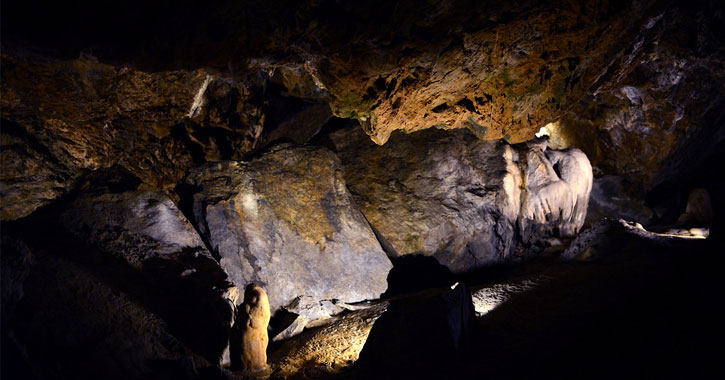 Discovered in 1871, Crystal Cave takes you 125 feet underground. Don't worry, the cave has been reinforced with steel railings and concrete paths for safety.
The one-hour tour gets you close to hundreds of stunning formations inside from milky-white stalagmites and stalactites to pillar formations that you can only truly admire up close.
Touring Crystal Cave begins with a movie at the Crystal Cave Theater, followed by guided explorations underground. After the tour, you have an option to play mini golf, buy trinkets at the shop, or eat your favorites at the ice cream parlor.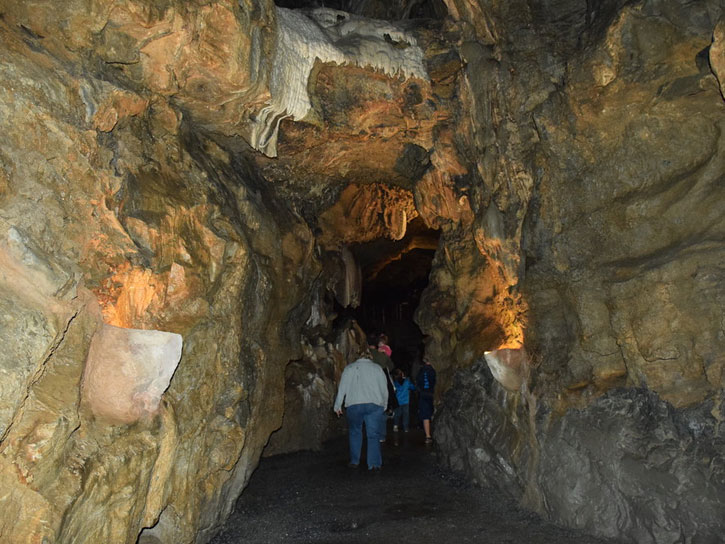 Location: 368 Middletown Rd, Hummelstown, PA 17036, USA
What Makes it Special: There's an underground lake inside
Hours: Open from 10 am to 4 pm
Tickets: $22 for Adults, ages 12 and over, $20 for Seniors, ages 65 and over, $13 for Children, ages 2-11 Children, under 2 are FREE. Groups and educational tours are available.
If you've got a bucketlist of the most beautiful caves in PA, make sure to include Indian Echo Caverns on your list. It's located near Hershey and Harrisburg in Dauphin County.
The Indian Echo Caverns is part of an underground space that's been around for over 440 million years. It was originally used by the Native Americans, followed by European settlers, and a hermit who called the cave home for many years.
Millions of tourists have visited Indian Echo Caverns since it was officially opened commercially on May 6, 1929.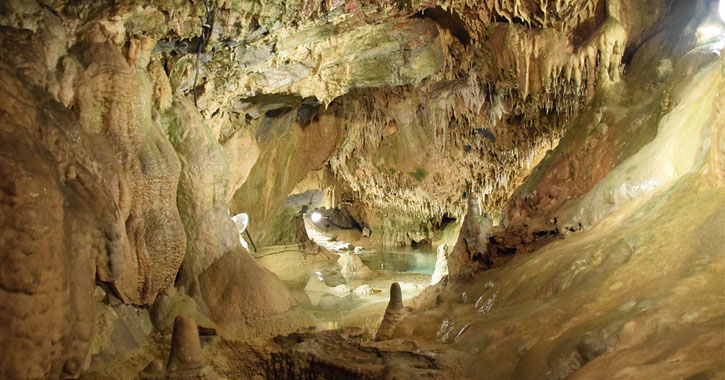 To begin the 45-minute tour, guests would have to walk down 71 flights of stairs to reach the cave's entrance. Indian Echo Caverns has a constant 52-degree temperature inside.
This Pennsylvania cave features rooms within the cavern that is decorated with natural formations of stalactites and stalagmites. But the most sought-after is the underground sparkling lake with crystal-clear waters.
Above ground, there's a playground for kids and gem mining. The cavern also has a shop, where a mysterious box is showcased (it was found in the early 20th century inside the Indian Echo Caverns and remains there).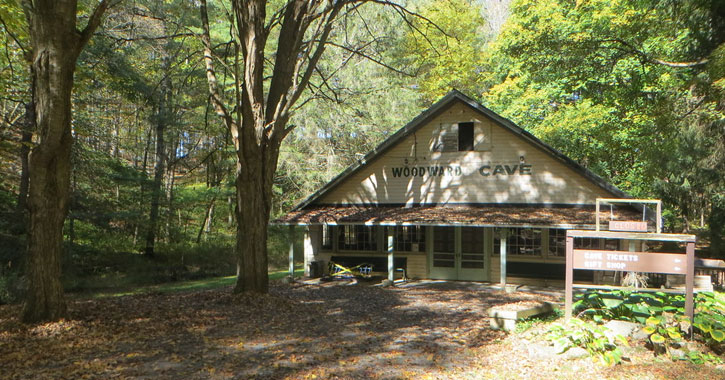 What Makes it Special: home to the largest stalagmite in Pennsylvania
Hours: Schedule changes between seasons, check the site to confirm.
Tickets: Kids 4 and under come in free. Tickets range from $5 to $14, depending on whether you're visiting as a group, or as part of a school/scout group.
Woodward Cave is located in eastern Centre County.
This cavern is known for having the largest stalagmite in Pennsylvania – it even has a name: the Tower of Babel. Up close, this structure is pretty impressive and is the reason why many people make their way to this cave.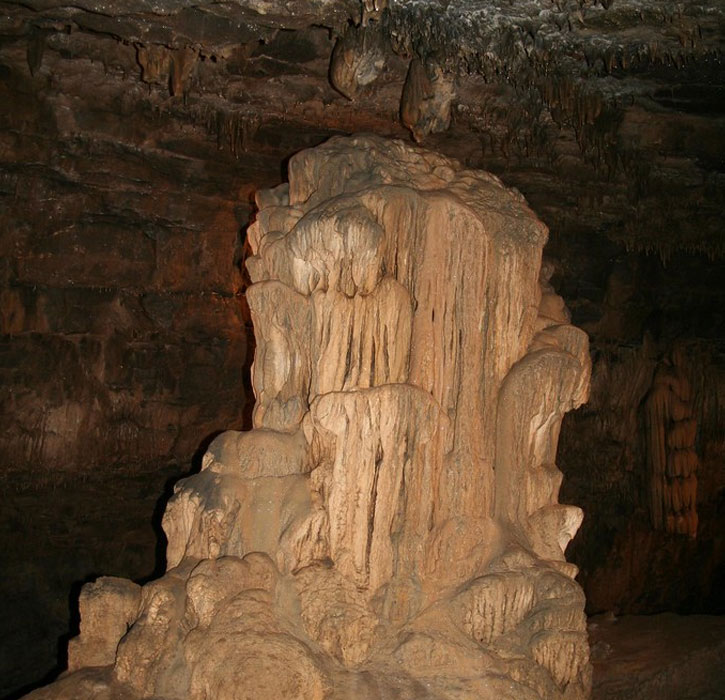 I personally love the Hall of Statues – it's a spacious area where you can really see the magnitude of Woodward Cave. Even the rooms without formations, which they consider "dead", showcase massive boulders that can shrink any human.
Plus, above ground, Woodward Cave has a campground and cabin rental.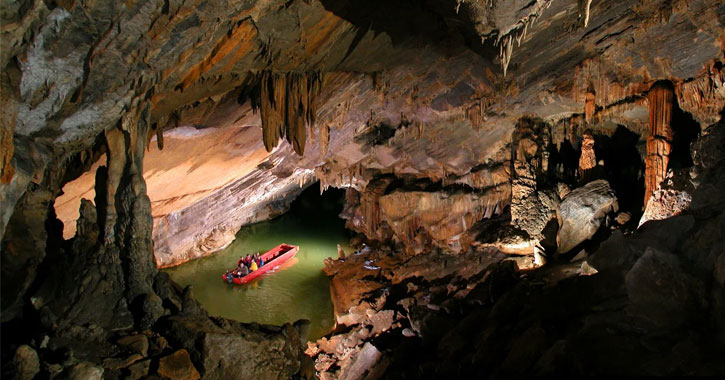 Penn's Cave is the only cave in Pennsylvania listed on the National Register of Historic Places. It also cannot be explored on foot. Yes, you need a boat (and guided tours) to get into the cave, since a river runs through it.
If you do decide to brave your fears, America's only all-water cave is a place you'd remember forever. It is so massive, wide, and deep, flooded by an underground stream.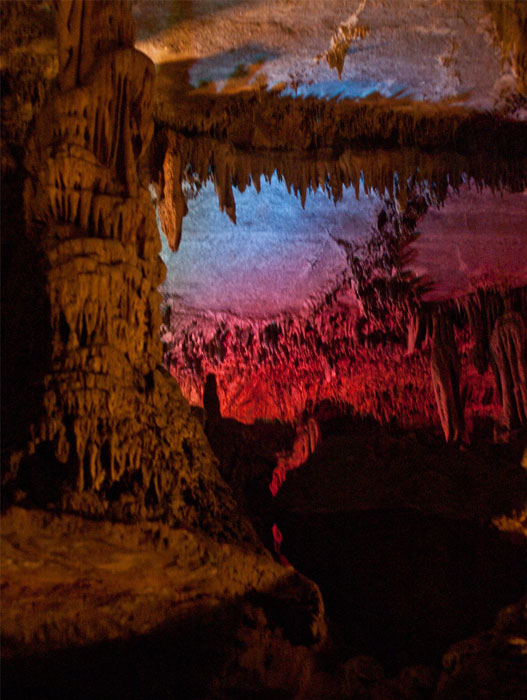 The 50-minute tour of Penn's Cave begins with guests heading down 48 steps to the cave entrance. A group of 20 people then hop aboard a boat, where a guide will lead you into the cave.
Penn's Cave features hundreds of stalactites and stalagmites, which have formed into awesome shapes that look like "The Garden of the Gods" or "The Statue of Liberty."
Above ground, there are still other attractions, including the optional farm-wildlife tour, and Miners Maze.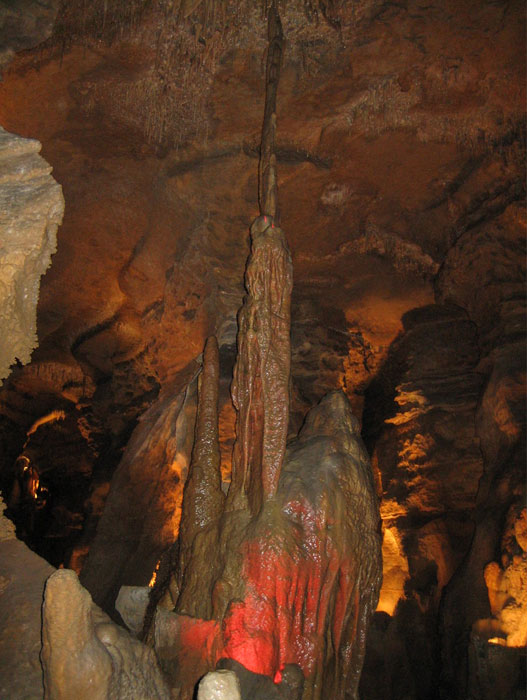 What Makes it Special: Visit two caves in one
Hours: Lincoln Caverns' group tours may be scheduled any day of the week, any day of the year, except Thanksgiving, Christmas, and New Year's Day.
Tickets: From $13 to $21/person, depending on age
When you decide to visit Lincoln Caverns, you get to explore 2 caves for the price of one. Originally thought of as unconnected caves despite the proximity, these twin caves look different, but both have interesting features.
Lincoln Caverns is located in Huntingdon, PA, directly along Route 22. In fact, the caves were first discovered during the construction of the highway.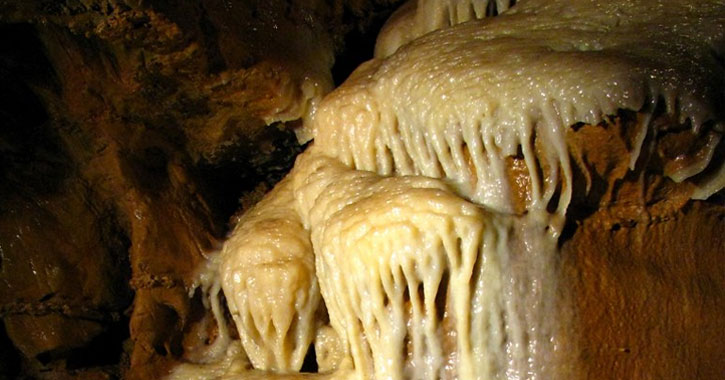 During the hour-long tour, you'll be able to see spectacular cave formations, including unique crystals, stalactites, flowstones, and more geological wonders on the walls, ceilings and everywhere else you look.
Lincoln Caverns is also famous for hosting the best underground events, including their epic haunted cave experience, the Batfest (help in February) and Santa-themed activities for kids.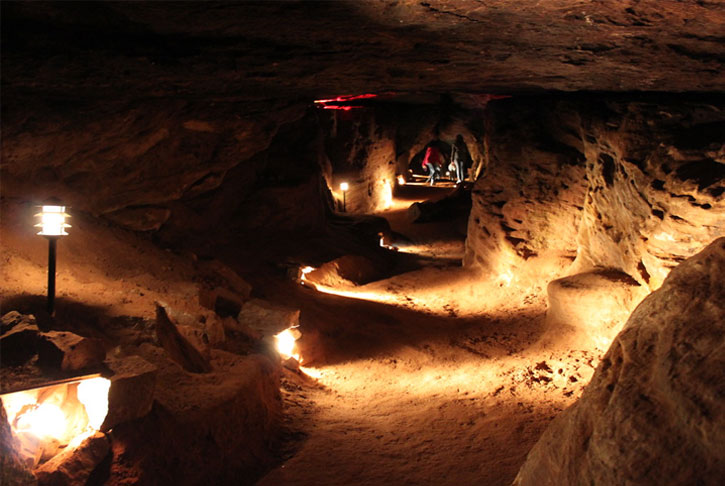 Location: 200 Caverns Park Rd, Farmington, PA 15347, United States
What Makes it Special: the deepest cave in Pennsylvania
Hours: Closed for bat hibernation season, but open daily from 9am to 4pm starting April 15th, 2023.
Tickets: From $3 to $15 per person, depending on the age
Laurel Caverns is the deepest and largest cave in Pennsylvania. The 453-acre geological preserve boasts four miles of passageways with ceilings that range from 10 to 15 feet high.
Unlike other caves in PA, Laurel Caverns has smooth walls without much crystal and geological formations. Visitors can choose from 3 lighted tour options.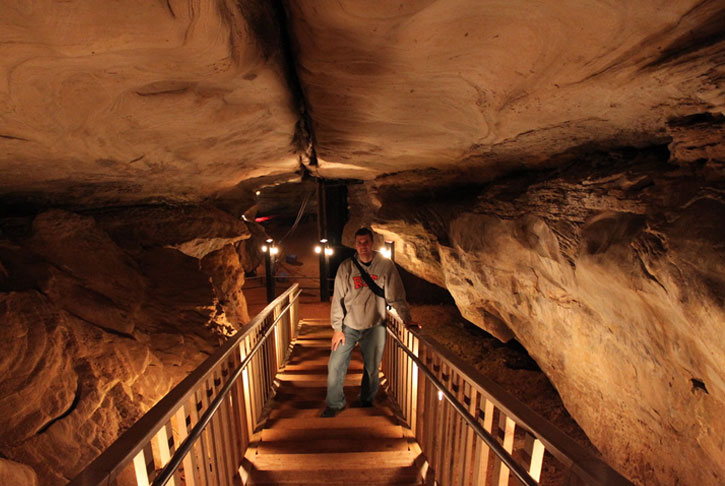 Ideal for expert spelunking, this cave allows you to rappel on your way down. Laurel Caverns offers two types of caving and spelunking tours for thrill-seekers. The effort is definitely rewarded after exploring the cave and ending the tour with a view of Laurel Highlands at the overlook.
The only downside to Laurel Caverns is that it is only open during warmer months (starting in April). In winter, they let their resident bats hibernate and enjoy the peace.
Beyond the Caves in PA: Other Must-See Attractions
If you want to visit more caves, check out my post about Indiana caverns and other beautiful caves in the country.
If you're just visiting the state for your cave tours, maximize your trip with a stop at Pennsylvania's best beaches, water parks, or ghost towns (don't miss this if you've got free time at night). Those who are willing to drive should check out Lake Erie wineries and breweries in Pittsburgh – I promise you they're worth the effort.