There are over 100 ghost towns of PA, many disappeared from the map completely, but others still have relics and ruins that you can visit today.
Some of these abandoned places also come with interesting and chilling stories. Of course, many are myths, legends and scary stories passed on from one generation to the next.
If you're looking for a day trip destination in Pennsylvania beyond the tourist attractions, these abandoned towns of PA could be something you'd be interested in.
10 Interesting Ghost Towns of PA to Visit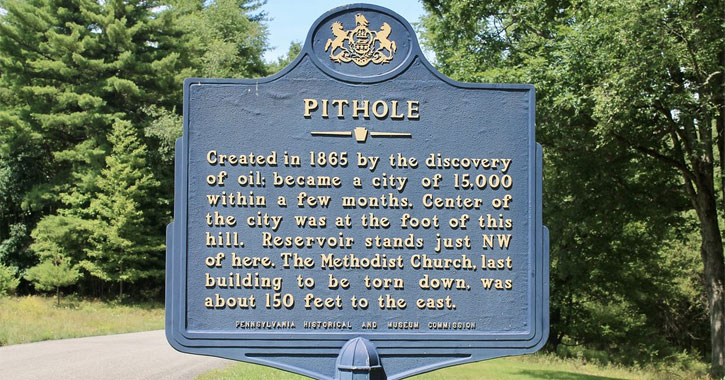 Pithole City is located only six miles from the site of the country's first commercial oil well and the world's first oil pipeline.
It was born during northwestern Pennsylvania's oil boom in early 1865. Upon discovery of oil in the area, oil barons bought land there and the town was subsequently built around it.
At its peak, Pithole had its own railroad, a newspaper company, a theater, about 50 hotels, 3 churches, and over 20,000 residents.
What happened to Pithole City, Pennsylvania?
Like the downfall of many towns, Pithole's oil boom waned and caused banks to collapse. When a huge fire hit Pithole, it was the nail in the coffin that pushed many residents to leave permanently.
Only 2,000 were left still living in Pithole by December 1866. This number drastically dropped by 1870 with only 250 recorded residents.
What can you see in Pithole City now?
Although Pithole had been abandoned by its residents, the buildings are mostly preserved.
It is now just an empty field near Oil Creek State Park.
But since there's a Visitor's Center and people who ensure the remaining evidence of Pithole's existence is maintained, you can stroll this Pennsylvania ghost town peacefully (and safely).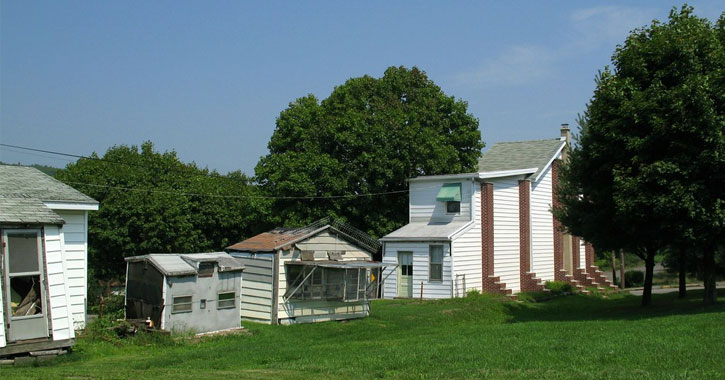 Of all the many Pennsylvania ghost towns, Centralia is the most infamous thanks to the massive coal fire (ignited sometime in 1962) that has been burning even up to this day.
Centralia used to be a bustling mining community with over 1,000 residents calling it home. The origins of the fire that still burns today are unknown (some believe it was intentional, while others think it was accidental).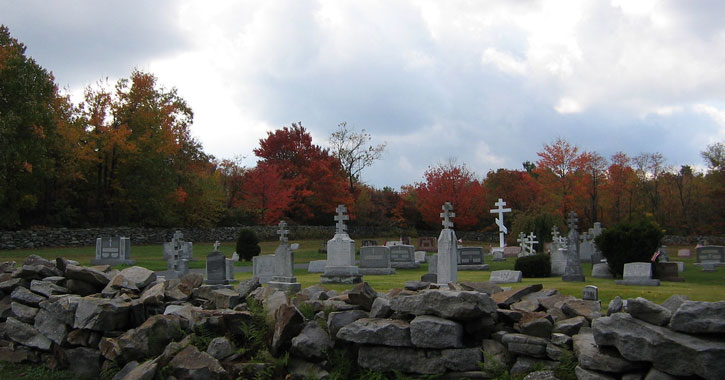 What happened to Centralia, Pennsylvania?
National awareness of Centralia's infinitely-burning fire underneath came in 1981 when a 12-year-old boy fell into a 150-foot hole that appeared in his backyard.
By 1984 many of the remaining residents were relocated and by 1992, Centralia was condemned completely.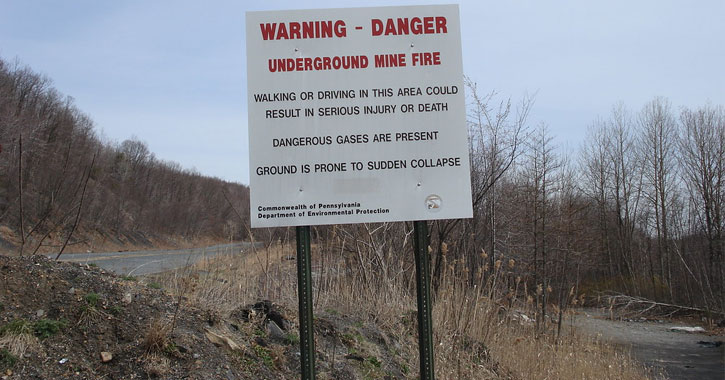 What can you see in Centralia now?
Most buildings were torn down in the 90s, but you can still see the ghosts of Centralia today. The town, more specifically the remaining buildings and streets, are famously decorated with graffiti.
And the fire that continues to burn?
It's still there.
Some roads even break without warning and release dangerous gases. Interestingly, this is just 1 out of 38 known active mine fires in Pennsylvania.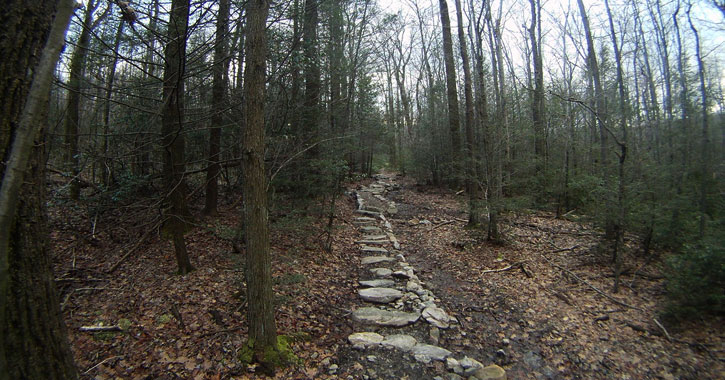 Rausch Gap is a ghost town in Cold Spring Township, Lebanon County, Pennsylvania.
Once the largest of several coal mining towns in the region, Rausch Gap's history dates back to 1823 when Dr. Kugler opened a coal mine nearby and the rail trail in the town of Rausch Run followed.
What happened to Rausch Gap, Pennsylvania?
This railroad was constructed from 1850 to 1851 and a stop (and the railroad's headquarters) was located on Rausch Run (by then the town was already renamed Rausch Gap).
The town had been thriving and busy as any coal mining town would be.
Its decline began in 1872 when the railroad headquarters was relocated, followed by the civil war. By 1900, Rausch Gap had been deserted.
What can you see in Rausch Gap now?
There isn't much left of Rausch Gap, but you can visit the cemetery and a few building foundations.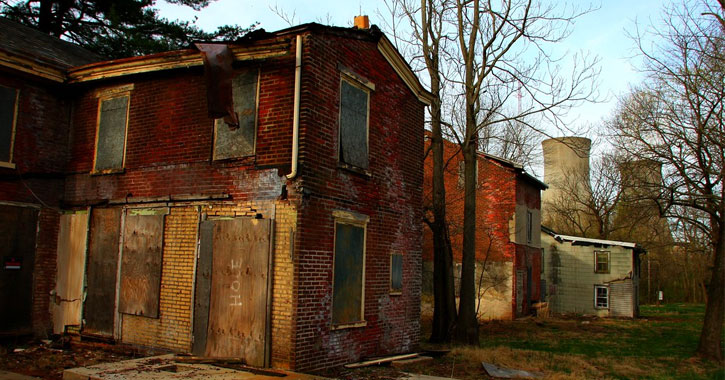 This 18th-century village had been a thriving community that relied on the "Schuylkill Navigation" canal.
Locks (#54 and #55) used for the canal's construction were built in this village.
What happened to Frick's Lock, Pennsylvania?
Even if the canal era ended, residents still stayed at Frick's Locks.
It was only in the mid-1980s when the Limerick Nuclear Power Plant was constructed adjacent to the village did residents eventually moved out.
What can you see in Frick's Lock now?
Now, these 18 acres of land still have plenty of life even after being abandoned for a couple of decades.
When you join the tour, you'll be able to see buildings and homes that are still in tact with toys, kitchen equipment, and other items left behind by former residents still untouched.
In 2003, Frick's Locks was designated a historic district by the National Register of Historic Places.
From 1890 to 1913, Ricketts was a thriving lumber town with a school, hotel, businesses and residential homes. This town played a pivotal role in the state's development in the early 1900s.
What happened to Ricketts, Pennsylvania?
When the mills closed, many residents moved out to find greener pastures.
By 1914, only a few Ricketts residents remained.
What can you see in Ricketts now?
The last house in town was torn down in 1930.
Many of the structures in Ricketts have blended in with nature already (as you can see from the video above).
6. Wehrum & the 36-mile Ghost Town Trail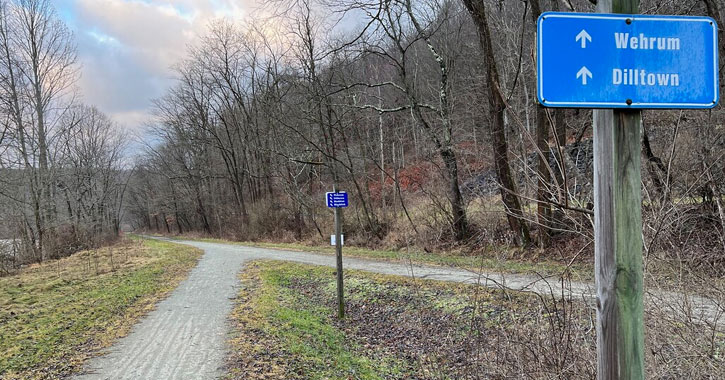 Wehrum was founded in 1901 as a coal mining town producing coal for entire Pennsylvania and New York.
There were 200 residential homes, a hotel, a bank, churches, a post office, and its own jail.
What happened to Wehrum, Pennsylvania?
Numerous tragic accidents and explosions occurred in town and led the mining company to sell to Bethlehem Mines Corporation in 1922.
The new owner never did anything with the land and shut down the mines altogether. Residents left right after and only the graves in the woods are left behind.
Ghost Town Trail
The Ghost Town Trail totals 46 miles in Indiana and Cambria Counties, Pennsylvania.
Aside from Wehrum, you'll also pass by other ghost towns of PA, including Bracken, Armerford, Lackawanna No. 3, Scott Glenn, Webster, Beulah, Claghorn, and more towns of Indiana and Cambria Counties abandoned in the early 1900s.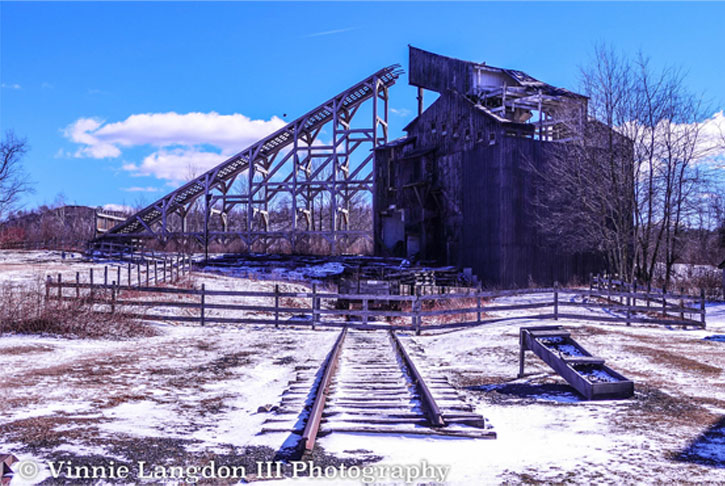 Eckley was originally a miner's town in the 1860s.
It was built for the miners working in the Council Ridge Colliery.
What happened to Eckley Miners' Village, Pennsylvania?
Like many mining towns from this era, Eckley Miners' Village eventually met its fate and the mines were sold off.
The main difference between Eckley and other abandoned Pennsylvania ghost towns is that the houses and buildings here are exceptionally well-preserved thanks to Sean Connery's film "The Molly Maguires."
Today, you can visit Eckley safely because it operates as a residential museum. The village isn't totally abandoned either – about 20 people reside here that are families of the original coal workers.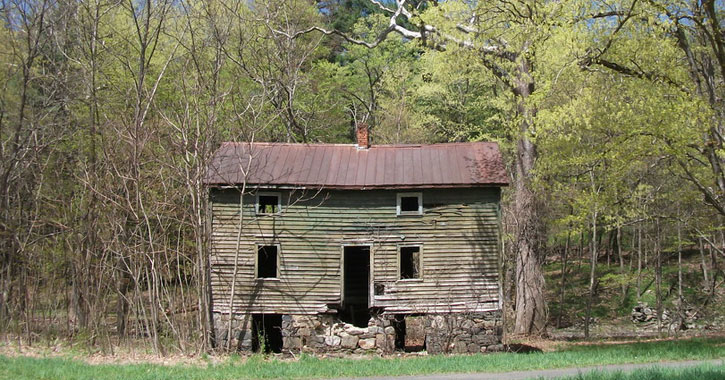 Delaware Water Gap National Recreation Area is a 70,000-acre park that's open publicly and welcomes about 5 million visitors a year.
The community, then known as the Minisink Valley, suffered from back-to-back flooding in the 1950s. The Department of the Interior and the Army Corps of Engineers then decided that a dam on the Delaware River would prevent future floods.
Thousands of residents were relocated, but the dam construction never began.
Since then, structures in the area were left completely to rot.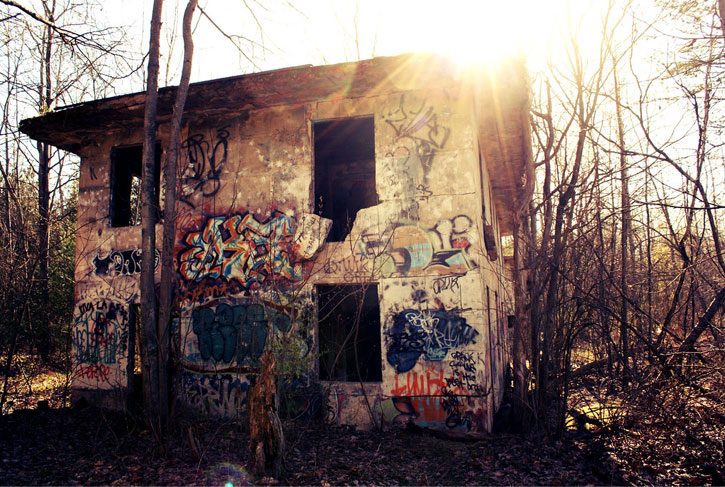 This next Pennsylvania abandoned town is my favorite.
Concrete City was originally called Garden Villages of the Anthracite Region and was built in 1911 as a company housing community for DL&W Railroad. It consisted of 20 duplexes with 40 lucky workers (out of 1,700 employees) selected to move into the homes with their families.
At the time, the architecture was advanced (considered "international style") and included modern amenities like a baseball field, swimming pool and street lamps.
The houses were exceptionally strong, as they were made of reinforced concrete, but living in them had been problematic in the winter as they became damp and drafty.
What happened to Concrete City, Pennsylvania?
When the township required Concrete City to build a sewage system for the outhouses in 1924, Delaware, Lackawanna, and Western Railroad (the company that owned the houses) refused.
Instead, DL&W decided to just cut its losses and sell the place entirely.
The housed workers all abandoned Concrete City as well.
New owner Glen Alden Coal Company tried to demolish the structures but gave up after the duplexes withstood over 100 sticks of dynamite.
What can you see in Concrete City now?
Today, visitors can explore the city and marvel at the graffiti-covered structures. You might not be allowed to roam around the area when firefighters are using it for training.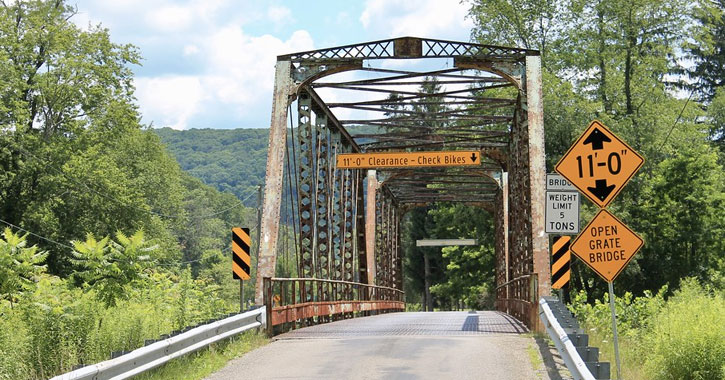 Like many northwestern Pennsylvania ghost towns, Petroleum Centre used to be a thriving community.
It was founded in 1866 during the oil boom with up to 3,000 residents calling Petroleum Centre home.
The community didn't even last 10 years. By 1873, it had been completely abandoned. Today, you can view some parts of this ghost town with a 45-minute, self-guided walking or biking tour.
Beyond Ghost Towns of PA: Spooky Side Stops to Add to Your Itinerary
If you're not after abandoned towns buried in the woods, you can visit these spooky attractions instead: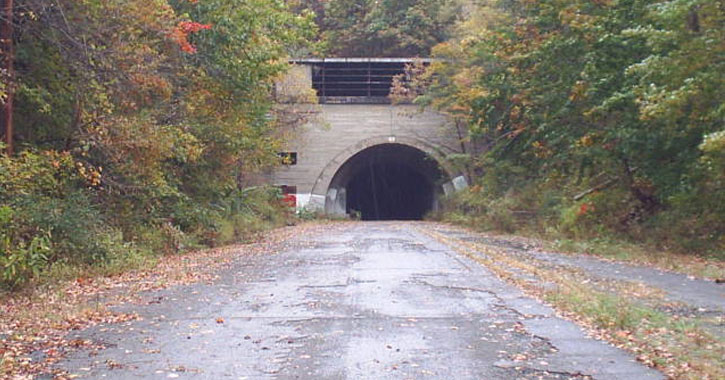 Abandoned Pennsylvania Turnpike
This isn't included in my go-to ghost towns of PA, but it's one of the most famous ghost-hunt destinations in the state.
Abandoned Pennsylvania Turnpike was a part of America's first superhighway, but when a bypass was built over the mountains, this 13-mile section of the Pennsylvania Turnpike became obsolete and the interstate in the middle of the woods was abandoned completely.
Today, this section is still passable by bike or foot.
Scotia Barrens
Located just outside of State College, the Scotia Barrens is a favorite party spot for students and locals.
Many hikers also explore the remains of an 1800s civilization built by the company town of Scotia at the time. These days, the ruins are being reclaimed by nature but many skeletons of these structures remain (although covered in colorful graffiti).
Many ghost towns that come from the oil and mining industries have their scary stories to tell from all the horrible work-related tragedies. What's most interesting about Scotia Barrens is the Black Ghost of Scotia (or the ghost of convicted murderer Bert Delige who was publicly hanged for his crimes.
After his death, rumors of a human-shaped shadow wandering Scotia Barrens began and sightings occur around the time of his executive (April 25) each year.
Other Ghost Towns in the US
If you enjoyed this post, I'm sure you'll be intrigued by other states with their own abandoned towns.
Check out my post about the ghost towns of Missouri, or if you're up for some thrill-seeking, check out the most haunted places in America.