Key West beaches are famous destinations for swimming, fishing, jet skiing, parasailing, snorkeling, diving, or simply lounging around to witness beautiful sunrises (or sunsets, depending on which side of the island the beach is on).
You may be surprised to know, though, that powdery sand dunes aren't the norm in the Florida Keys; as part of a huge coral barrier reef system, sand doesn't wash ashore and get deposited to form natural sandy beaches.
But while the sands on beaches in the Florida Keys aren't as powdery as those on the Emerald Coast or others on the mainland, the water and the views aren't any less spectacular.
So if you're ready to go on a Florida Keys vacation, here are the best Key West beaches to consider visiting.
The Best Key West Beaches On The Island
Known as: Key West's best beach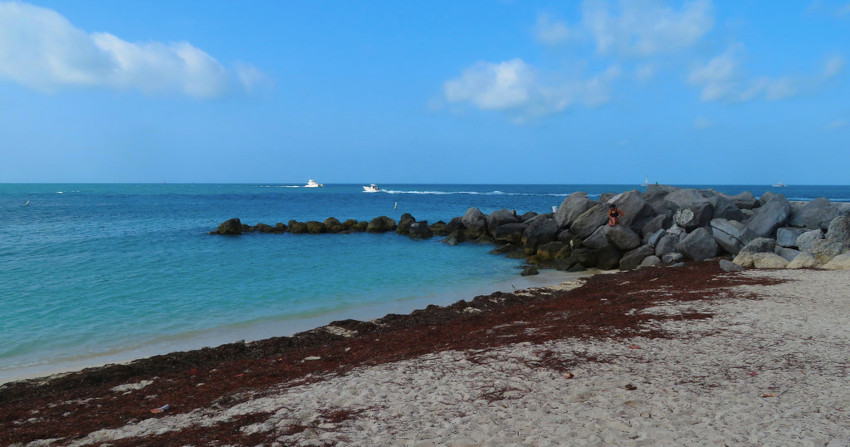 Being called the best beach anywhere is a tall order, but Fort Zachary Taylor Historic State Park certainly deserves the title.
Better known as Fort Taylor (or Fort Zach to locals), this decommissioned Civil War-era fort is now a state park with a spectacular natural beach with sand composed of ground coral instead of imported sand.
Amenities here are also complete; there are restrooms, showers, and even water fountains. There are also places to rent water sports equipment.
Swimming, fishing, and kayaking are other popular activities in the calm waters of this beach. You can even cook your fresh catch on one of the charcoal grills and enjoy them in one of the shaded picnic areas.
Snorkelers don't even need to go into a boat; you can just walk into the water with your equipment on and start swimming with reef-dwellers among living coral. Other sea creatures you can spot include dolphins, turtles, barracuda, and tarpon.
Wildlife spotting doesn't end at the ocean; wooded nature trails provide opportunities to spot unique birds, mammals, and wildflowers.
History buffs can take a narrated tour of the fort itself and learn of its role in the Civil War while strolling through the brick-red hallways and checking out the largest collection of Civil War cannons in the country.
2. Smathers Beach
Known as: The largest and most popular Key West beach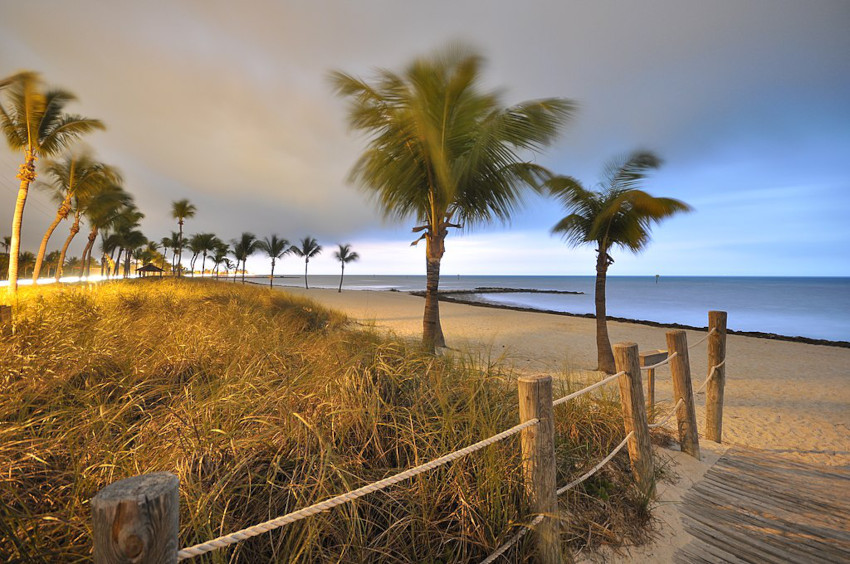 Stretching over two miles along the island's southern shore, Smathers Beach is widely considered the most popular Key West beach and one of the best clear water beaches in Florida.
While its sandy beach is manmade and needs to be replenished regularly, locals and tourists alike flock to its shores to swim, windsurf, kitesurf, parasail, jet ski, fish, or simply lounge on the beach.
This public beach is open 24 hours a day, with no entrance fees and lifeguards on duty during daylight hours.
Outdoor showers and public restrooms are available, and plenty of rental shops where you can rent virtually anything from beach chairs, umbrellas, watersports equipment, kayak, jet skis, and many more.
There are food trucks selling a variety of food and drinks as well, so you'll never go hungry.
Known as: An important cultural and historical site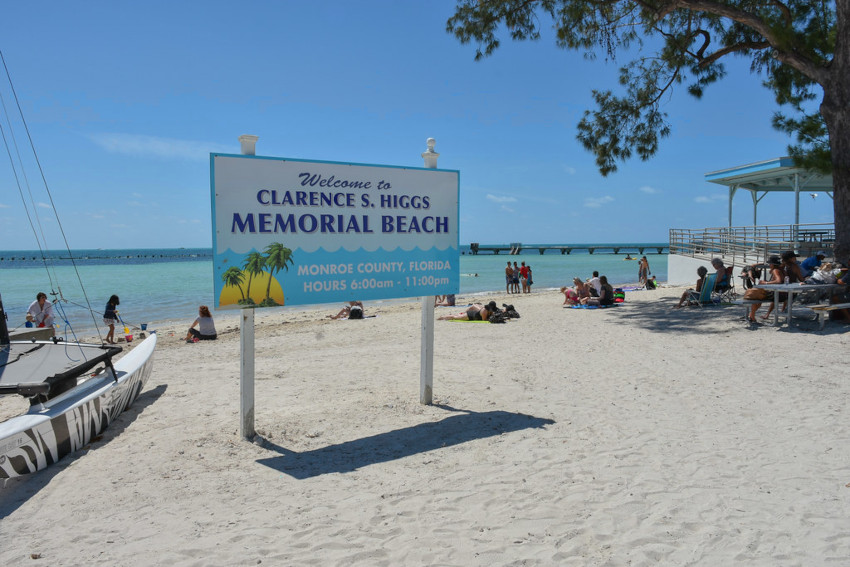 At the end of Reynolds Street looking out on the Atlantic Ocean, Clarence S. Higgs Memorial Beach Park (known simply as Higgs Beach) covers 16 acres of beachfront land.
It's a favorite of locals for swimming, sunbathing, kayaking, and fishing.
Snorkelers also come here as this is one of the access points of the Key West Marine Park, a protected coral reef ecosystem.
The beach has plenty of amenities, including restrooms, showers, picnic areas, and rental facilities for watersports equipment. There are several restaurants and bars in the area, as well as tennis and volleyball courts, a fishing pier, and a dog park.
Don't miss the memorial of the African Cemetery, the only known African refugee cemetery in the US.
Known for: Its spectacular views of both sunrises and sunsets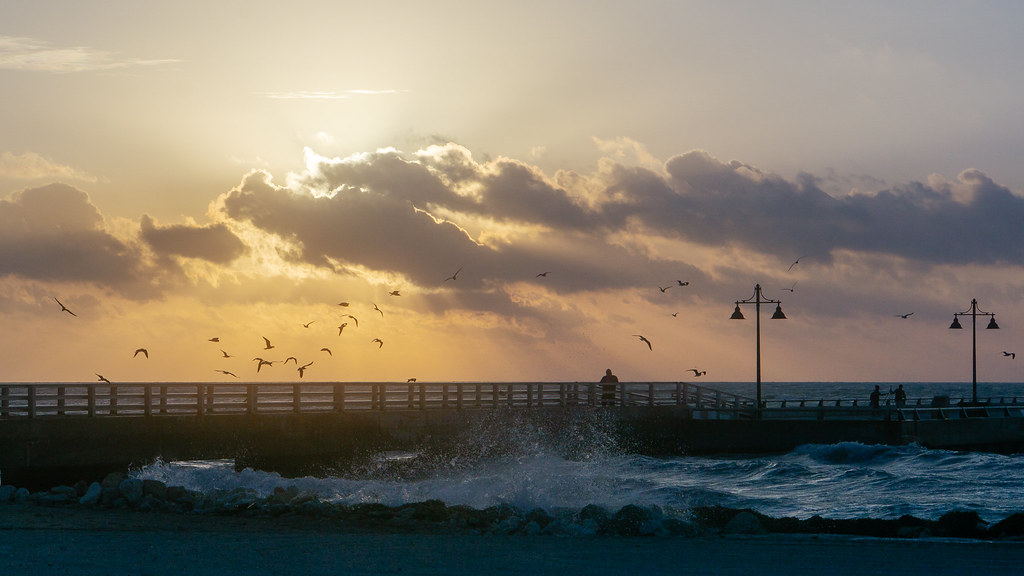 Right next to Higgs Beach is the C.B. Harvey Memorial Rest Beach, commonly called Rest Beach.
Just minutes away from downtown Key West, this beach isn't as big or spectacular as other Key West beaches, but its small, uncrowded beach is the perfect respite from the non-stop partying.
Rest Beach is also a favorite of beachcombers; the tides tend to wash various debris ashore.
Swimming, kayaking, and fishing are popular here, as well as doing yoga on their dedicated yoga deck.
Restrooms and picnic areas are across Atlantic Boulevard in the Charles McKoy Indigenous Park, home to over 125 species of tropical trees and shrubs native to the Florida Keys, as well as migrating birds and butterflies.
Drop by the Key West AIDS Memorial near the Edward B. Knight Pier.
5. South Beach
Known as: The southernmost beach in the Continental USA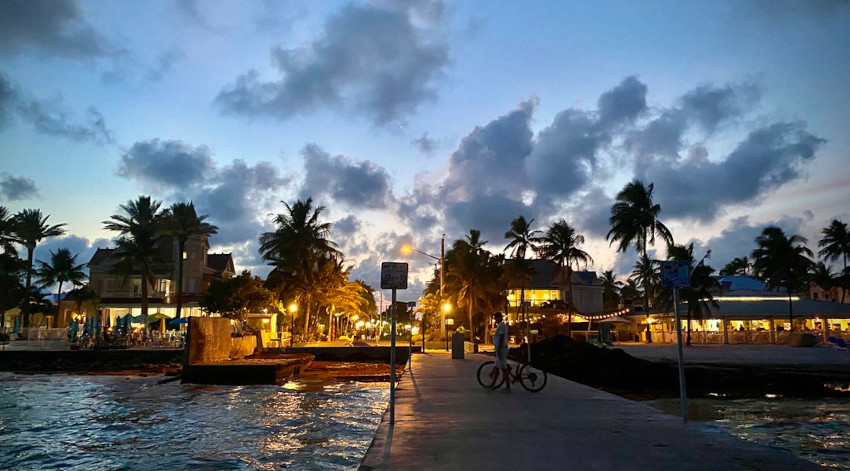 At the south end of Duval Street, right near the Southernmost Beach Resort, is a 200-foot-long stretch of sand called South Beach, said to be Tennessee Williams' favorite beach.
Wake up early and catch the gorgeous sunrise.
Afterward, you can rent a lounge chair and soak in the sun, swim in the calm, shallow waters, or take a stroll on the nearby Emma Carrero Cates Pier and take gorgeous photos or cast a line.
There are no public restrooms, but nearby restaurants such as Southernmost Café have no problem with visitors using their facilities, as long as they're purchasing goods and services.
6. Dog Beach
Known as: The only Key West beach that allows dogs to run freely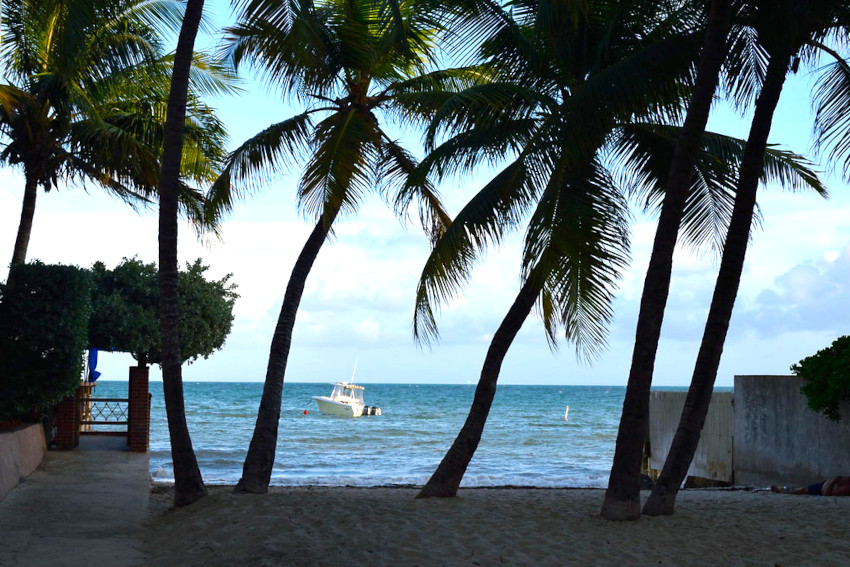 At the south end of Vernon Avenue near Waddell is a hidden pocket beach where unleashed dogs can play and enjoy the ocean.
And when I say hidden, I mean hidden; it's very easy to miss. If you find yourself lost, just look for Louie's Backyard instead, and they'll point you in the right direction.
You and your pup can also get a bite to eat here; Louie's prides itself on being a pet-friendly place.
There are no public showers or restrooms, and you'll have to bring your own dog poo bags and scoopers as they aren't provided.
7. Simonton Street Beach
Known as: A hidden gem a few steps away from Mallory Square
Mallory Square is a historic plaza on the waterfront of Key West Harbor where the world-famous "Sunset Celebration" is held.
A few steps away is Simonton Street Beach, a small, laidback beach that offers a respite from the crowds and chaos of Mallory Square.
A boat ramp and public restrooms are some of the basic facilities on the beach.
Lagerheads Beach Bar offers yummy fish tacos and seafood sandwiches, as well as watersports rentals and charter boats for snorkeling, dolphin watching, fishing, and more.
Chairs and umbrellas are also available for rent if you want to just chill and take in the view.
Best Beaches Accessible From Key West
These beaches may not be on the island itself, but the most convenient way (and often, the only way) to access them is via Key West.
Known as: The toughest park to visit in Florida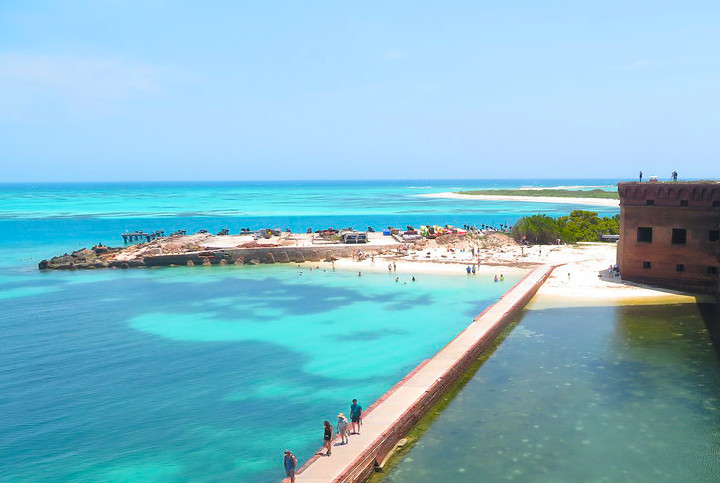 Dry Tortugas National Park is a cluster of small islands around 70 miles west of Key West where the Gulf of Mexico, the Caribbean Sea, and the Atlantic Ocean meet.
It's only accessible via boat/ferry or seaplane, and there is no food, potable water, or fuel available in the park, making even a day trip to this park extremely difficult.
The park's pristine natural beauty makes the journey worthwhile for many, though.
Garden Key is where boats, ferries, and seaplanes arrive. This is where the visitor center, park headquarters, campgrounds, and Fort Jefferson with its massive brick walls are located.
The usual activity here in Dry Tortugas is snorkeling; this park is widely considered to be one of the best, if not the best snorkeling spots in Key West.
Keep your eyes peeled for various wildlife, including migrating birds, reef dwellers, and sea turtles (the creatures that gave this park its name).
9. Sunset Key
Known as: A popular romantic getaway destination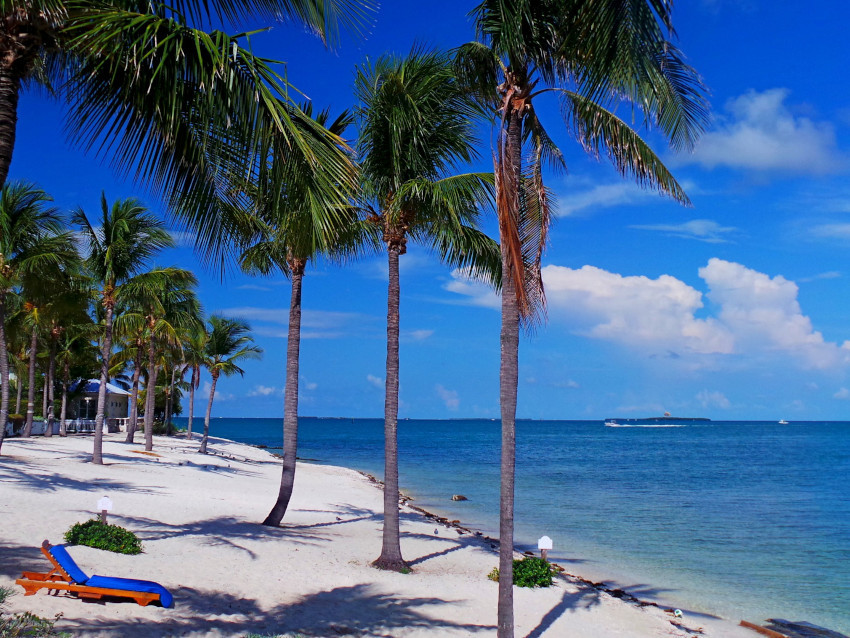 If you're getting married, eloping, honeymooning, babymooning, or just spending some one-on-one time with your significant other, Key West has the perfect beach.
Sunset Key is a small, exclusive island 500 yards across the Key West Harbor. The island is home to privately owned mansions, a luxury resort, and a white-sand beach with glittering turquoise waters.
Sunset Key Cottages is a four-star hotel offering upscale cottages with plenty of bells and whistles (free breakfast basket every day, anyone?). Within the grounds are two restaurants, a spa, a pool, a 24-hour fitness center, and some sports courts.
There are no pets and no cars allowed on the island, which definitely adds to the tranquil, secluded ambiance.
Souvenir, beachwear, and watersports rental shops are present throughout the island, and thatched tiki huts and hammocks are available for lounging as well.
Only those who are staying in a cottage or have reservations in the restaurant or the spa can enter the island, so make sure to book those in advance.
10. Marquesas Keys
Known as: The Jurassic Park of the Florida Keys
Marquesas Keys is a group of 10 uninhabited islands forming the only natural atoll in the Western Hemisphere.
Protected as part of the Key West National Wildlife Refuge, it features some of the most isolated Key West beaches.
Fishing is definitely the top activity in these undisturbed waters, but swimming, snorkeling, paddling, and birdwatching are popular as well.
There are plenty of charter services offering fishing and scuba diving trips complete with equipment. Be careful to observe the no-motor and no-access areas to ensure the survival of endangered sharks, rays, sea turtles, and birds.
Visit These Key West Beaches This Summer!
It's amazing that these beaches are accessible via a Florida Keys road trip from the mainland.
While these Key West beaches are impressive, Florida is home to hundreds of beaches. Whether you're looking for sea glass or crystal clear water, Florida has something for you.
Aside from its beaches, Florida has so much more in store for you, like museums and skateparks.
If you can't get enough of the ocean, though, look at our picks for the best beaches in the US.