Beach vacations aren't complete without shelling or sea glass hunting, and there are some stunning sea glass beaches in Florida to choose from.
Going for a stroll on the seashore is an excellent activity in itself, but looking for colorful sea glass in the sand can turn a regular walk into a fun treasure hunt.
If you love beachcombing and want to add more destinations to your bucket list, check out the best 12 beaches in the US for sea glass collecting.
Read this guide to find out where and how to find sea glass in Florida, and which are the best sea glass beaches in Florida to visit this year.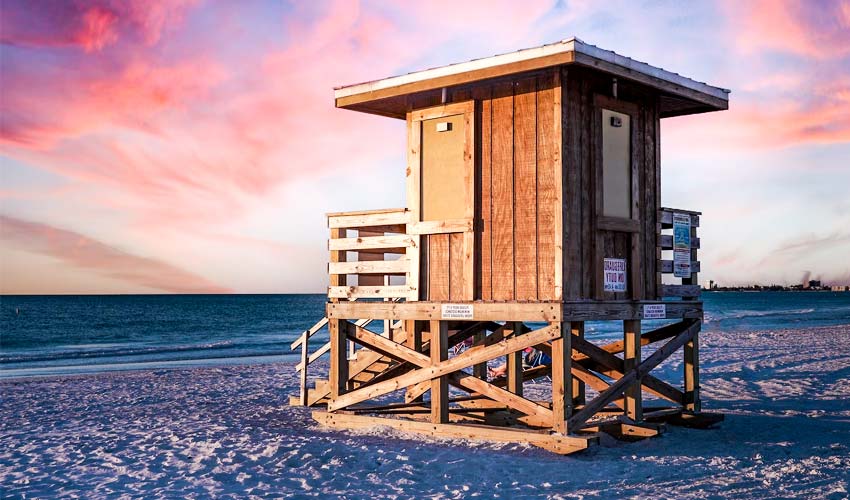 Siesta Key Beach is a super popular location, and widely known for its quartz sand. The picture-perfect white sand of Siesta Key is not only beautiful but also super soft, making it great for long walks on the ocean.
The water at Siesta Key is also a major draw, as it's crystal clear, light blue, and filled with all kinds of ocean life from fishes to manatees.
While the views make Siesta Key popular, many visit the area looking for sea glass. Since the beach is located along a sea route, and shipwrecks are somewhat frequent, there is plenty of sea glass to find me with the quarts of sand.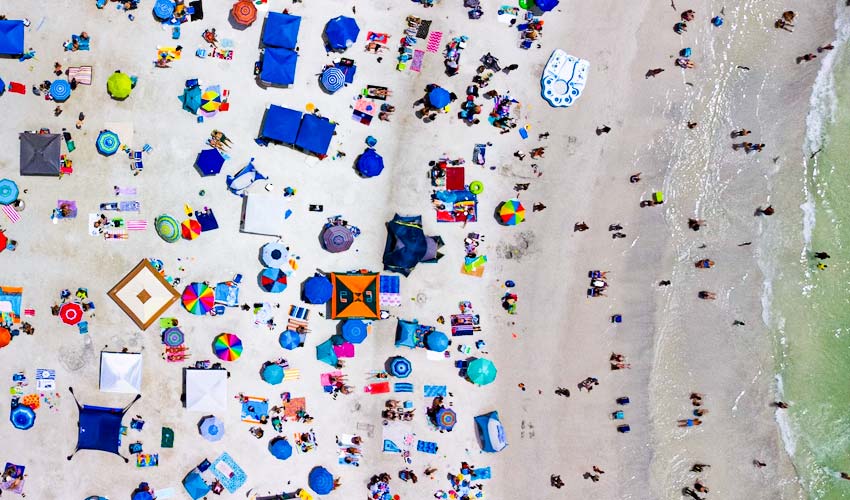 The main beach area is usually crowded, so you'll have better luck finding rocks and glasses either north at Public Beach 10, or south at Public Beaches 12 and 13.
If having lifeguards on duty is important to you, stay on the main Siesta Key beach, which is guarded all day long.
However, if you value relaxation and quiet, the more secluded public beach areas are the way to go.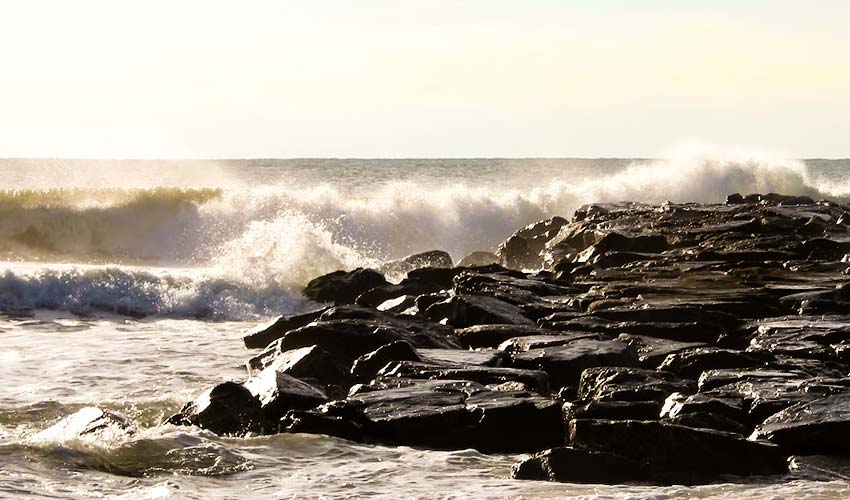 For amazing views, breathtaking sunsets, and a good chance at spotting sea glass on the beach, visit South and Noth Jetty Beach in Venice.
There are plenty of activities you can enjoy at North Jetty Beach, whether you want to spend the day or stop for a moment to observe marine life.
It's easy to spot amazing wildlife such as dolphins, turtles, seabirds, and manatees, as well as fish and shellfish.
The area is fully equipped with restrooms, an ample parking lot, refreshments stands, and more. However, If you want to boat, rent kayaks, or try jet skiing, you'll have better luck checking out South Jetty Beach.
Both beaches are great for long strolls on the sand, and people love to do beachcombing here, looking for sea glass, cool shellfish, colorful rocks, and even shark teeth.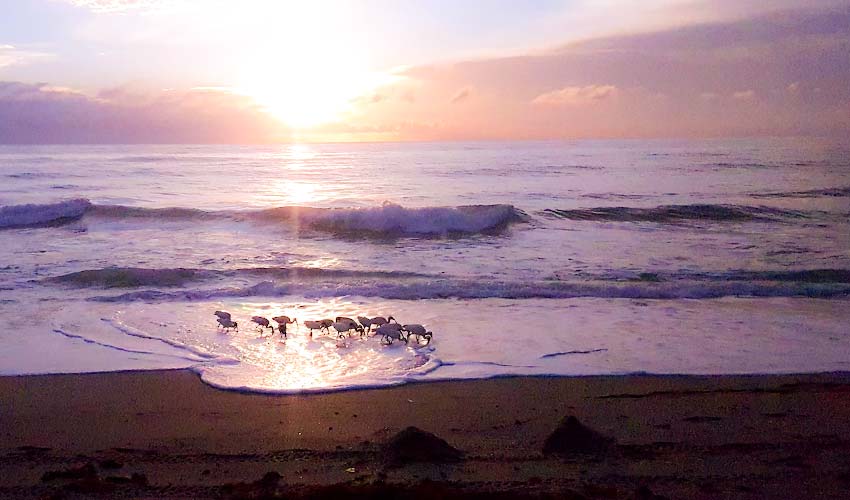 Hutchinson Island features some of the most scenic and pristine sea glass beaches in Florida. The Island stretches for miles, allowing for long walks in search of sea glass, shellfish, rocks, and wildlife.
For a more equipped beach, you can check out Jensen Beach, but there are also plenty of public beaches with lifeguards on duty.
The feel of the island is relaxed, down-to-earth, and sporty. The beaches are all family-friendly and dog friendly, but not easily accessible for people with walking disabilities.
There are parking lots for each beach on the island, but the space is limited, so I recommend coming in the morning or around noon.
In addition to the crystal clear water and warm sand, walking around Hutchinson Island you'll find an abundance of beautiful shells and no cigarette butts or junk.
If you're lucky, you'll even be able to spot dolphins swimming near the island, for a truly unforgettable experience.
The island is also a popular location for surfing, but I recommend checking the weather in advance through the live surf cams located on Dollman Beach and Jensen Beach.
If you're looking for secluded, out-of-the-way beaches to relax and look for sea glass, you should check out Blue Heron Beach on the north side of the island, and Bathub Reed Beach on the south shore.
Both beaches are popular spots for snorkeling, wildlife observing, and beachcombing for sea glass and shellfish in a peaceful setting.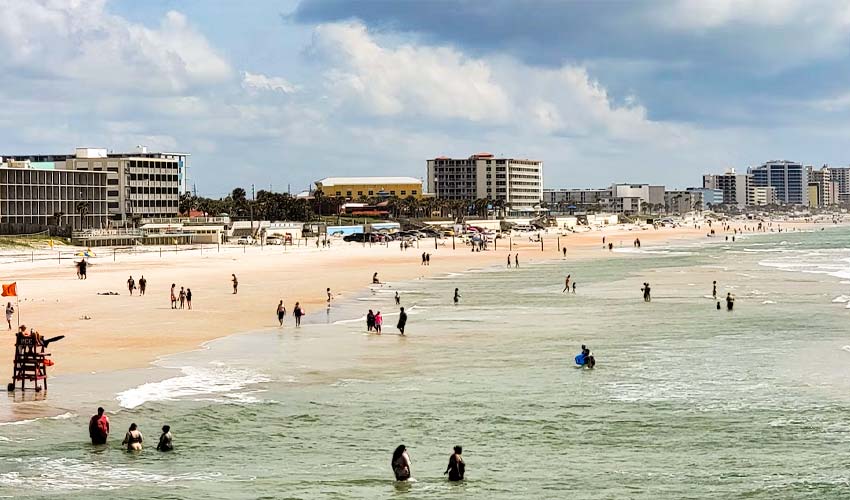 While you might know Daytona Beach for the beach drive trough or the endless partying, the city offers many beaches that are perfect for beachcombing for sea glass, shellfish, shark teeth, and driftwood.
They don't call Daytona Beach the World's Most Famous Beach for nothing.
The most famous beach in the city is mostly famous for the unique "drive on the sand" experience.
At Daytona Beach, you can drive over one of the firmest sands you'll ever see, sprinting (well, not really, there's a speed limit) next to the ocean.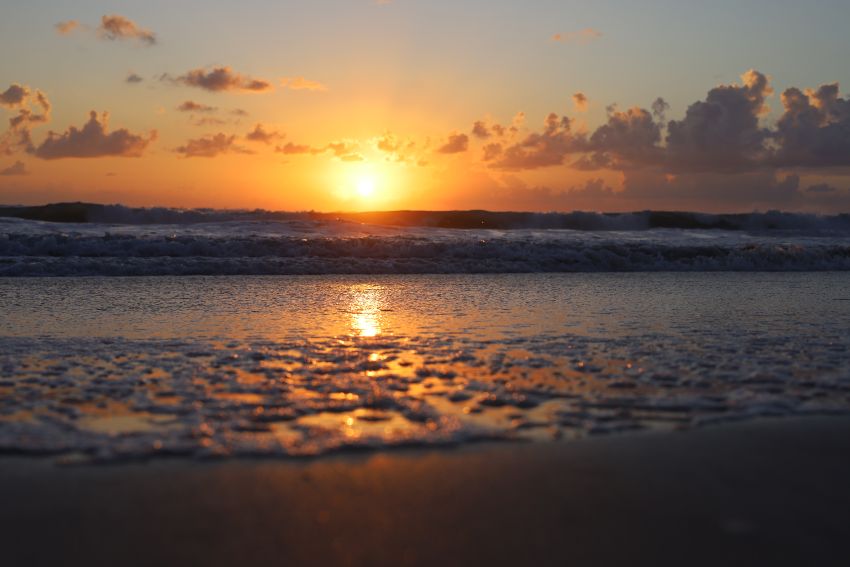 If you're looking for a quieter, less touristic experience, Ormond Public Beach is a good choice, located right next to Daytona Beach.
Ormond Beach is way less crowded and it can be easier to find a parking spot, even on a sunny day.
Andy Romano Beachfront Park it's a great choice for families, large groups of friends, or for enjoying a day at the beach with your dog.
This beach is equipped with a splash pad and playground, plus clean family restrooms, tables under a pavilion, and even outdoor grills.
Finally, Wilbur Beach is one of the most secluded and less visited beaches at Daytona Beach, with the cleanest water and no driving allowed.
The sand here is just as soft and white as at Daytona, but the atmosphere is much more peaceful.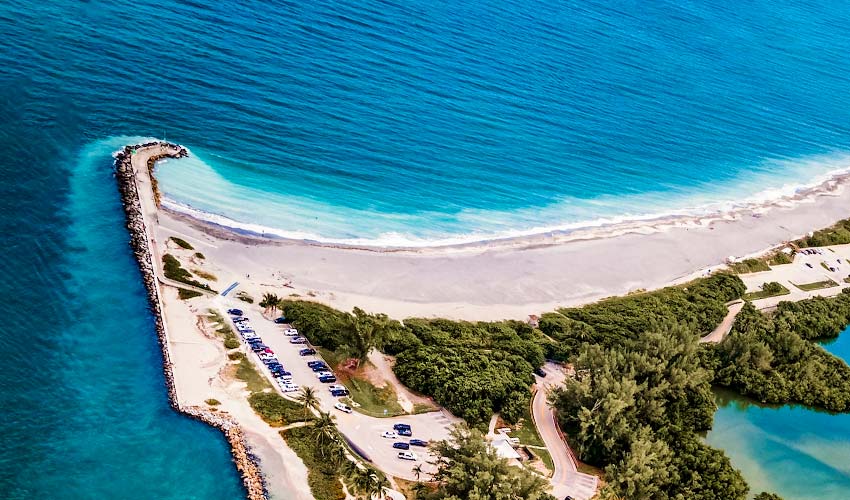 The most popular spot for beachcombing at Jupiter island is the same-named beach park.
The long beach extends for dozens of meters without the water level dropping, meaning there are a lot of shores washed by the sea, perfect for sea glass and shell searching.
Jupiter Beach Park is also an amazing destination for some nature-immersed time, with scenic views, clear waters, and all the equipment necessary from picnic tables, to barbeques.
The lagoon area is perfect for younger children as there are a lot of shallow areas for them to enjoy the water safely. For adults who want to go for a swim, you'll need to walk a bit and reach the end of the lagoon, into the open sea.
Coral Cove Park is another valid option at Jupiter Island. This location is especially suited for rock searching as it's covered in unique rock formations and even corals.
Apart from the large rocks, the beach is mostly sandy and nice to walk on.
I recommend waiting for the low tide to explore as much seabed as possible and get better chances at spotting sea glass.
This beach has lifeguards on duty and a large parking lot located close by.
Since the beaches at Jupiter Island are close to each other, it makes sense to check out more than one. Hobe Sound Beach is one of the northernmost beaches and will surprise you with its gorgeous views and natural scenery.
Surfers and swimmers visit this beach because of the clean water and the peaceful yet fun atmosphere. Hobe Sound Beach is also accessible for people in a wheelchair.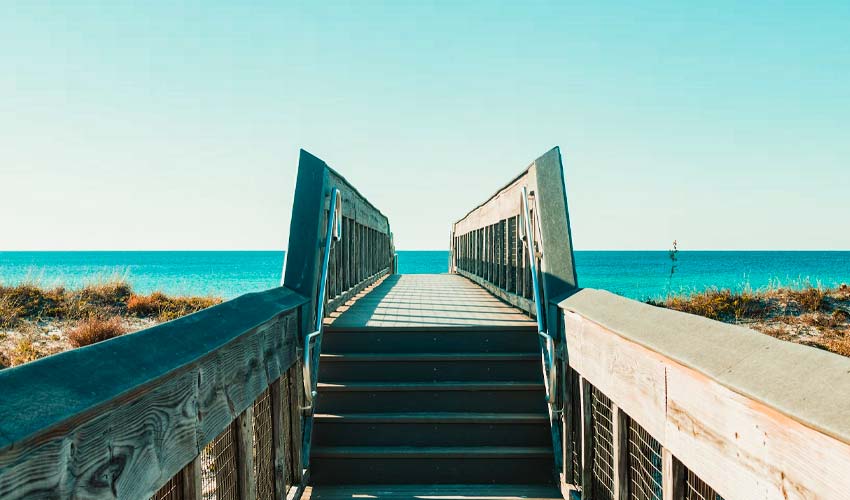 Located on the stunning Emerald Coast, Henderson Beach State Park boasts a unique landscape of long shoreline dotted with sand dunes, and crystal clear turquoise waters.
The ocean water washes Henderson Beach, carrying different shellfish, driftwood, and even ocean glass on the shore every day.
Other popular activities are hiking and biking. There are over 75 miles of hiking trails scattered around the State Park, so trekking lovers will have plenty to explore.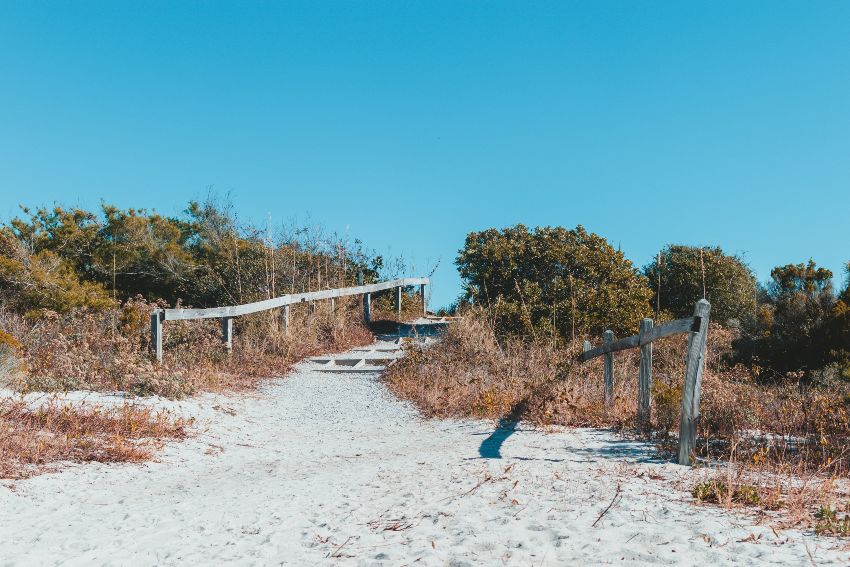 I recommend spending a few days in this wonderful national park, and a great way to do so is to book one of the 60 nature-immersed campsites. Each campsite has direct beach access.
If you love to spot ocean wildlife, it's not unusual to see pods of dolphins at Henderson Beach State Park, along with catfishes, pompanos, and whiting.
If you love a holiday completely immersed in nature, check out my favorite East Coast National Parks, for an unforgettable getaway.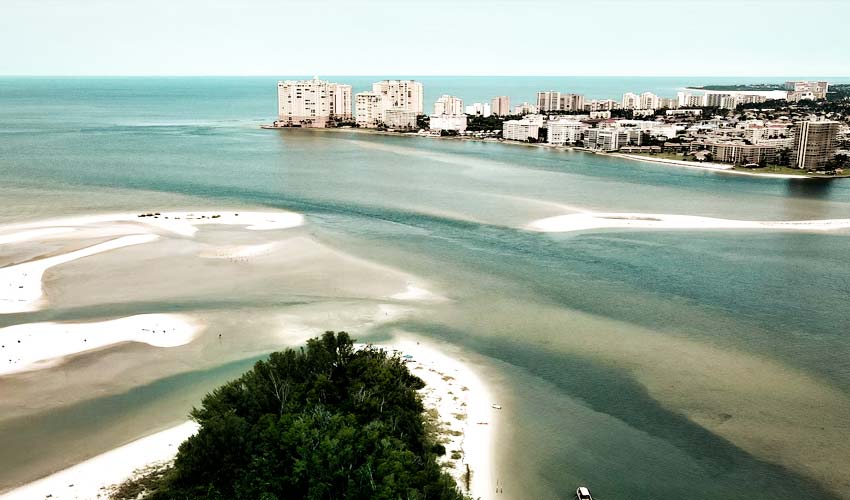 Tigertail Beach is one of the top shelling and sea glass beaches in Florida and could rival even with the world-famous Sanibel Island.
With plenty of tidal pools to explore and lots of sandy shores to comb, you could spend days on Tigertail Beach just adding pieces to your rock, shells, or sea glass collection.
The beach itself is beautiful but covered in shells to the point that it is recommended to bring adequate shoes to avoid discomfort.
The area is fully equipped, with even kayaks, jet skis, and paddleboards available for rent.
Renting a kayak is a great way to explore further the area and maybe find a tidal pool covered in shells and sea glass.
You can cross the lagoon by foot to reach the northern shore of Tigertail Beach, which is the most beautiful and scenic side.
The State Park is also a popular holiday destination for birdwatchers, as it's home to several rare and protected species, and even features a dedicated birdwatching tower.
Explore the Most Scenic Beaches in the US
There is no shortage of mesmerizing beaches around the states, but these are my 20 favorite beaches in the US by far.
If you're traveling through Florida and are looking for fun and unique touristic spots, why don't you take a look at the best museums in the state?