If you've always loved beachcombing or sea glass beach hunting, you know exactly why these chemically-weathered, multi-colored glass are being collected left and right by people of all walks of life.
And if you've been looking for genuine sea glass, mermaid's tears, sea pearls, drift glass, sea gems, or beach glass, you don't have to look too far. Some US beaches produce gorgeous, naturally frosted glass that you can collect and use for decor or jewelry.
What Is Sea Glass?
Before you go sea glass hunting, you should know how to spot them. So what are these glass made of? Do they naturally occur? Do they appear seasonally? Here's what you need to know:
Sea glass takes 30 to 50 years to form. The glass came from broken bottles, glassware, shipwrecks, and other glass-turned-trash. They roll and tumble in the ocean, removing the sharp edges with every movement of the waves until they become smooth and frosted.
Sea glass vs. beach glass. Sea glass and beach glass are used interchangeably since they look alike, but they're actually different.

Sea glass is found on beaches (along the bodies of saltwater). They're physically and chemically weathered by current/waves.
Beach glass is found in freshwater (rivers, shorelines, bays, in the Great Lakes) and often have a different pH balance.  Beach glass looks and feels smoother.

Frosted appearance. The frosted appearance of both sea glass and beach glass is a result of decades-long tumbling underwater. When you put sea glass and beach glass side by side, you'll notice that beach glass has a less frosted appearance.
Less Sea Glass could be a good thing. There is less and less sea glass found every year. For sea glass collectors, this may be a bad thing, but for everyone else, this is actually a win. Many people believe this happening as a result of anti-littering efforts and laws across the country.
Different colors of sea glass. Brown, green and white are common sea glass colors because these come from discarded glass bottles. Red, orange, and turquoise are VERY rare. Interested in selling the sea glass you've found? Check out this rarity chart to discover how in-demand your newfound treasures is.
Where to Find Sea Glass
Where do you find sea glass? Here are 3 ways:
Buy them in stores
Stores like Real Sea Glass sell different colors and shapes of sea glass. They even list available pieces, filtered by location (places where they found the pieces), which I think is pretty cool. Do note that there are more fake sea glass in the world than there are authentic ones, so be careful when buying (especially if you're buying online).
Attend sea glass festivals
There are several festivals in the country every year. For example, The North American Sea Glass Association has a virtual festival from August 20 to 21. Keep updated with similar events; bookmark the Beachcombing Magazine calendar.
Go beachcombing yourself
It is always better to hunt the sea glass yourself because you'd be able to feel the glass once you find one. But like finding seashells, being able to find the colors and shapes you like would be challenging.
10 Best US Beaches for Sea Glass Collecting
What are the best beaches for sea glass collecting in the US? This list should help you decide which beach you should go to next if you're finding sea glass and everything you need to know about each beach?
Difficulty level refers to how hard it is to find sea glass with 0 referring to beaches covered in sea glass through 10 (where you have to hunt for sea glass) 
1. Fort Bragg Beach in California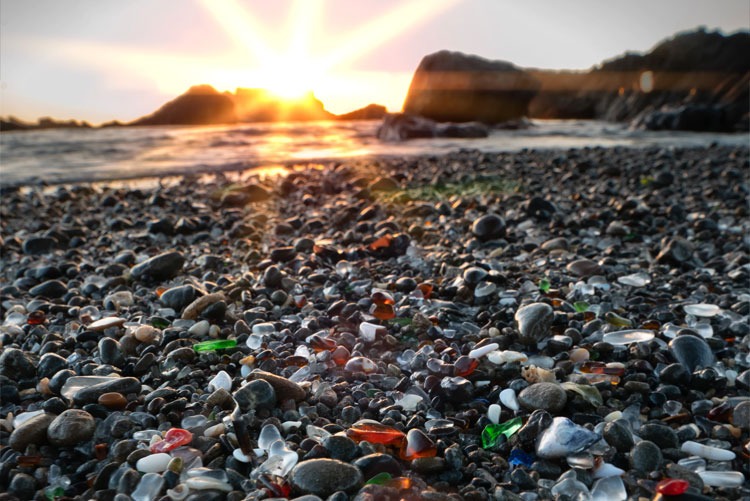 Location: Mendocino County, California
Difficulty: 7. There is still a lot of sea glass around. You wouldn't need to hunt.
Fort Bragg Beach is called "Glass Beach," but it is actually comprised of 3 areas, all of which were once dumpsites and are now tourist attractions for being covered in sea glass.
Site Two and Three (the actual "Glass Beach") are located at the end of the path via Elm Street and Glass Beach Drive. Site One is a bit farther but still accessible by foot. Glass Beach used to be covered in 7-foot depth of glass, but this is no longer the case today. You'd have to visit Sites One and Two if you're after more sea glass.
It is not allowed to take sea glass from Fort Bragg Beach. Unfortunately, people still get them if no one's looking and this has depleted the beach of its renowned full-of-glass look.
2. Shell Beach, La Jolla Cove in San Diego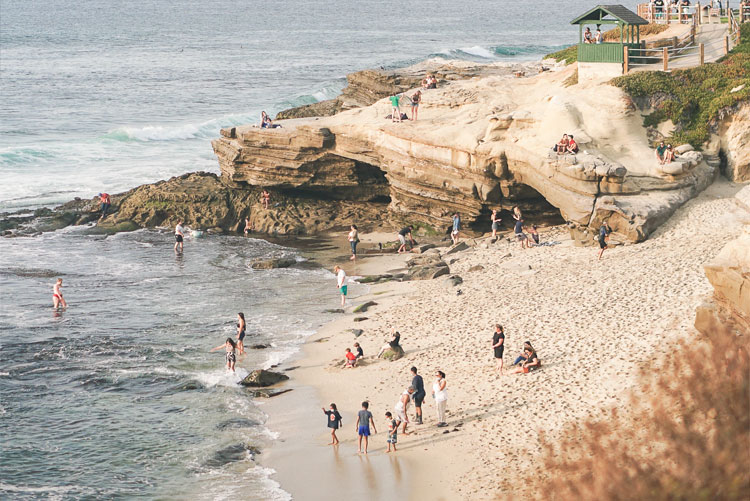 Location: The beach is located in La Jolla, San Diego, California. There is a staircase going down Shell Beach, but once you reach below, you'd have to climb over several big boulders. If you see them covered in sea moss, be careful because those are slippery.
Difficulty: 8. The beach isn't covered with sea glass, but the waves always bring back some pieces. You can also snorkel and scuba dive for your hunt.
This location is a very memorable one. Not only is it a favorite spot of seals just lazying around on the rocks, but there's also the gorgeous La Jolla Cove with views to die for. If you don't have time to hunt sea glass, pass by the shops along the boardwalk where you can buy jewelry and other trinkets made of sea glass.
3. Davenport Beach near Santa Cruz, California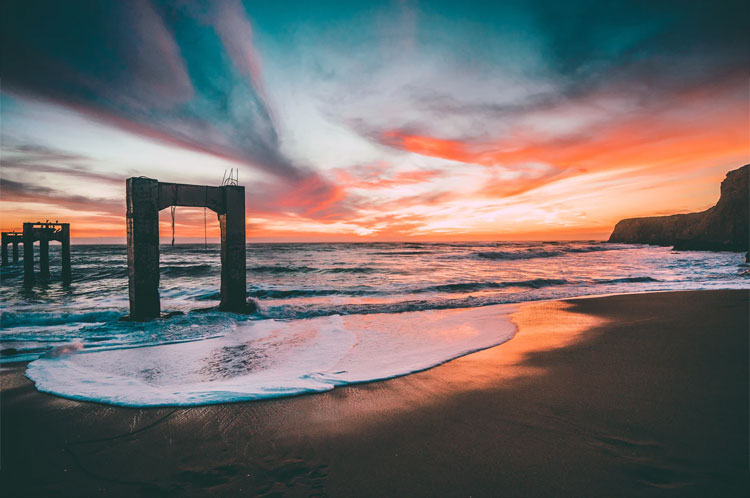 Location: Davenport Beach is the southern beach of 2 beaches located just north of Santa Cruz, in the small town of Davenport, California.
Difficulty: 9. If you go here at low tide, you can easily find sea glass by the shore. It becomes a challenge when the waves get crazy and hit the famous giant boulders. You should also take precautions due to the danger of diving for sea glass. Many people get to shore with sea glass but bruises all over and in some cases, with broken bones.
Also known as San Vicente Beach, Davenport Beach is a place where extreme sea glass hunting occurs. People go here prepared wearing wet suits and diving deep for these frosted jewels. Definitely not a relaxing walk by the shore, but exhilarating for thrill-seekers.
4. Summerland Beach in Santa Barbara, California
Location: Lookout Point Park in the small town of Summerland, CA
Difficulty: 4. The glass can be found sporadically, but interesting colors of frosted Amber, Olive Green, and Aqua blue are available here.
This is the location of the annual Santa Barbara Sea Glass & Ocean Arts Festival (except for 2021/it was canceled due to covid19). If you've always imagined sea glass hunting as a relaxing, long beach walk, then this over a mile-long spot is the perfect getaway. The sea glass here is younger/newer, which means you'd have to return them where you got them.
5. Kauai Sea Glass Beach in Hawaii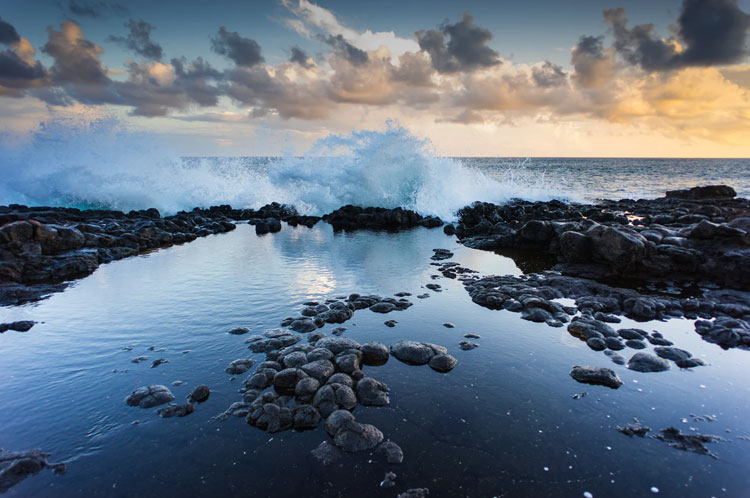 Location:  You can find Kauai Sea Glass Beach near an industrial area of Hanapepe Bay close to Port Allen Harbor in Ele'ele on Kauai. Two giant gas tanks could serve as your landmark.
Difficulty: 5. Sometimes, the beach gets wiped clean of its sea glass, which is unfortunate. Fortunately, the area is pretty unique and naturally replenishes its sea glass over time.
What makes Kauai Sea Glass Beach an interesting stop is the characteristics of the sea glass found here. They're smaller (a bit more uniform in size) compared to frosted glass found on other beaches. Apparently, there's an unusual geological phenomenon near the beach known as the Swiss Cheese Shoreline, where angry waves throw the glass against lava rocks along the shoreline, which then smashes the glass to bits and creating all of the sea glass.
Swimming here isn't really recommended since the area has been an industrial one for decades. Locals prefer you don't take a ton of sea glass from Kauai Beach, but it isn't officially illegal.
If you're already in Hawaii and have time to beach-hop, make sure to check out beaches in Oahu.
6. Spectacle Island in Boston, Massachusetts
Location: Spectacle Island is a 105-acre island in Boston Harbor, Quincy, located 4 miles offshore of downtown Boston, Massachusetts.
Difficulty: 3. You'd need to ride a ferry from Long Wharf or to private watercraft at the island's marina to reach the place.
Spectacle Island has only recently been open to the public, but it used to house two hotels and a horse rendering plant before it turned into a landfill exclusively of Boston. Because of this, the island is covered in frosted sea glass of all colors mixed with trinkets like old teacup handles, pottery, and more.
While reaching the Island isn't possible by road trip, the good thing about this is the sea glass are not cleaned off by tourists so easily. Also, there are rangers requesting visitors not to take sea glass from the island, or to leave what they've collected at the visitor center.
If you're in other parts of Massachusettes, check out other sea glass locations such as:
Craigville Beach (near Martha's Vineyard)
Nantasket Beach (in Hull)
Race Point Beach and Skaket Beach (on Cape Cod)
7. Sand Beach in Maine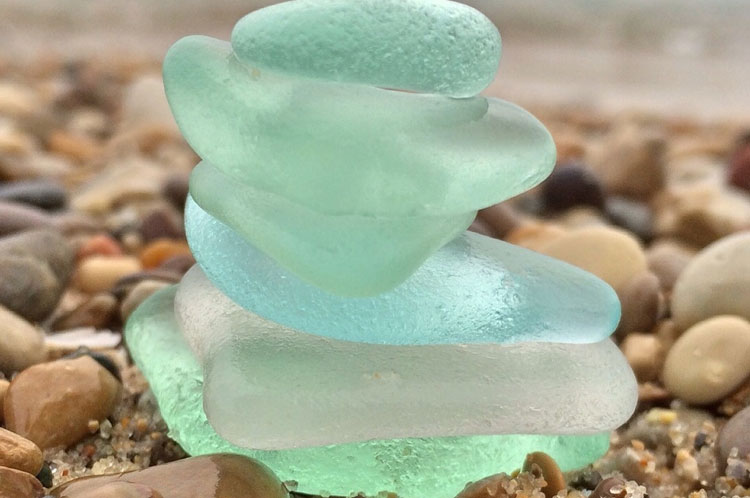 Location: Located inside the Acadia National Park, on the east side of Mount Desert Island in Bar Harbor, Southern Maine
Difficulty: 6. The beach isn't covered in sea glass, so you'd need to dig into sand or wait for low tide.
The gorgeous Sand Beach is nestled between mountains and rocky shores, with 290 yards long of sandy shoreline where you can find sea glass. This area is known for the pale-pink colored sea glass.
And if you have more time exploring the state, don't miss these 10 must-see lakes in Maine.
8. Grant Park Beach in Wisconsin
Location: Located at the south end of Grant Park, in South Milwaukee, Wisconsin
Difficulty: 7. Getting to the beach isn't as straightforward, and you'd have to hunt for sea glass by the rocky shore.
Considered one of Milwaukee's best-kept secrets, Grant Park Beach is known for the abundance of sea glass. If you're lucky to find some, you'd be thrilled because sea glass here are smoother (that's how they tend to look when "produced" by freshwater from Lake Michigan).
9. Lincoln City Beach in Oregon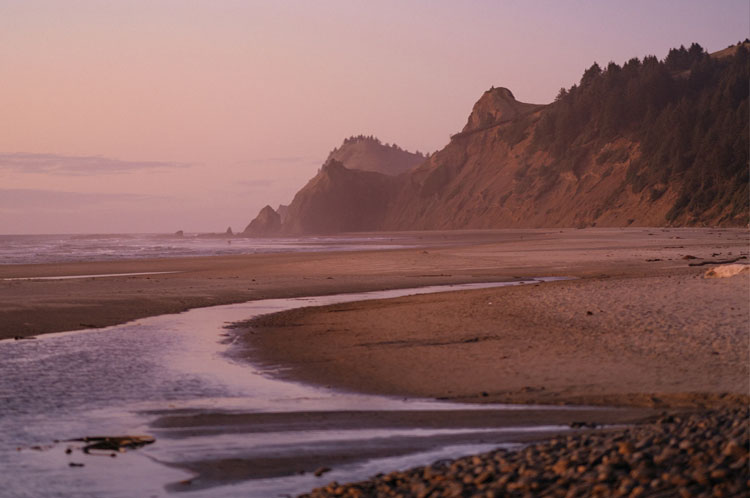 Location: This beach is located on the scenic Oregon Coast in Lincoln County
Difficulty: 7. When the water is low, you'll be able to hunt through muddy and rocky shore while walking. But if the water goes high, this may become a tricky hunt.
Lincoln City isn't a place for swimming and it's too cold to even wear swim attire. But the 8 miles of beach is a go-to of beachcombers.
If you're not up for some hunting, just visit the area from October through May during the annual Finders Keepers Festival, where almost 3,000 handcrafted glass floats made by local artisans are scattered all over the place. You can keep any piece you find during your hunt.
10. Bowman's Beach in Florida
Location: Sanibel Island, Florida
Difficulty: 7. It can be tricky to find sea glass because seashells cover the shore, but for those up for a challenge, the hunt would be so much worth it.
Bowman's Beach is more popular for shelling and bird watching, but you'd be able to find sea glass hidden under those white seashells as well. Since this area is the most secluded beach on the island with no modern buildings, Bowman's Beach is perfect if you want to go sea glass hunting in peace.
Other sea glass spots in Florida include Siesta Key (a barrier island off Florida's west coast), Jensen Beach in Hutchinson Island, and Coral Cove Park in Jupiter Island.
Sea Glass Beach Hunting Tips
Here are some reminders for those trying to hunt for sea glass at the beach:
Almost all sandy beaches have no sea glass. Stick to rocky beaches.
Beaches known for their waves produce more sea glass than calm beaches.
Be prepared: bring a small rake/poop scooper so you could sift through sand and a bag for your treasures.
Beaches near industrial areas (or those that used to be near factories, plants, and similar businesses) can have sea glass present. If you're near one, there's nothing bad about checking them out (as long as they're not private property).
And lastly, if the sea glass you find still have sharp edges, this means they're still "young" and need years more to mature. Bring them back to the shore for others to find in the future.
Is it illegal to remove sea glass?
All beaches within the jurisdiction of state parks make it illegal to collect any number of glass and you'll even be fined if caught.
If you're visiting islands or secluded beaches and you feel like it is legal to get sea glass, know that in general, getting sea glass is not permitted. This doesn't stop people from collecting though, so if you must sneak out, make sure the quantity you get won't mess up that beach's beauty and sea glass quantity.
When you arrive at a beach without signs saying you can't get sea glass, but if it's all taken then there's nothing for anyone else to see. So if possible, just hunt, pick, marvel, and take pictures of your find, then throw them back to where you got them.
If you're just looking to beach-hop and go on a hike with awesome beach views instead, don't miss this post.