With 322 miles of ocean shoreline, North Carolina is one of the best states in the East Coast to go to for a beach vacation.
If you're coming from New England or New York, North Carolina is far enough south to have lovely weather and warm water, but not too far south that you can still drive there.
In this article, we run down the best North Carolina beaches to help you plan your next beach vacation.
Best North Carolina Beaches For Different Vacationers
Different travelers have different needs. Whatever type of traveler you are or whatever your preferences, here are the beaches that hit the spot.
Best North Carolina Beaches For Families
Beach vacations with your family make for some great memories for everyone, especially the kids. Kite-flying, beachcombing, swimming, and just hanging out on the beach are just some of the fun activities you can do.
Here are some of the best family-friendly North Carolina beaches.
Carolina Beach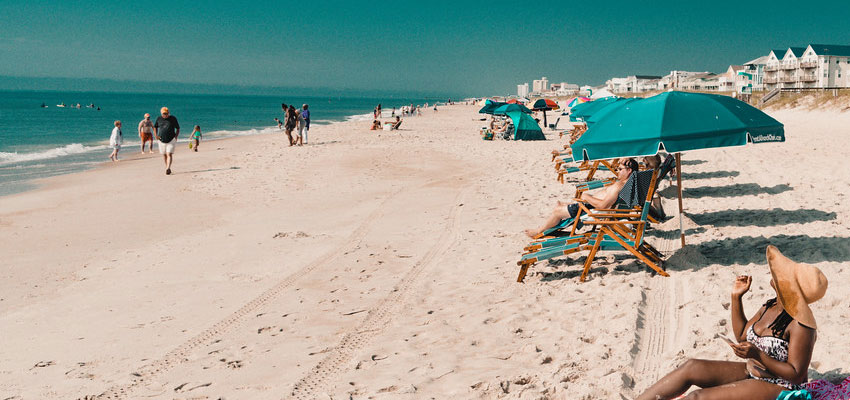 Located 15 miles south of Wilmington on the northern end of Pleasure Island, Carolina Beach is a small, busy-but-laid-back beach town that offers plenty of fun activities for all ages.
Carolina Beach offers 44 public beach access points, including larger ones with plenty of parking and smaller beach paths close to local resorts and hotels. Some even offer restrooms and showers for your convenience.
There are rules you need to follow for everyone's safety. For instance, no alcohol or glass containers are allowed, and visitors may not leave their personal items and equipment on the public beach from sunset to sunrise. The town disposes of them and you'll be fined $40.
Carolina Beach also features a vintage-style boardwalk with restaurants, ice cream and doughnut stands, shops, and an old-school arcade.
If you get tired of the beach, other attractions you can go to are the Carolina Beach State Park, where you can hike, fish, and camp; and Carolina Beach Lake Park, for when you want a lakeside picnic.
Accommodations range from full-service hotels to private houses to quaint bed and breakfasts, and you're sure to find one that meets your family's needs and budget.
Summer is the busiest time when the boardwalk hosts weekly festivals and fireworks. From mid-November to New Year's Eve, the entire island is illuminated with Christmas displays by local residents and businesses.
Lifeguards in 20 stations are on duty from Memorial Day weekend to Labor Day weekend.
Where to stay: Places to stay in Carolina Beach
Where to eat: 2019 Carolina Beach Restaurants Guide
More information: Town of Carolina Beach
Surf City and Topsail Beach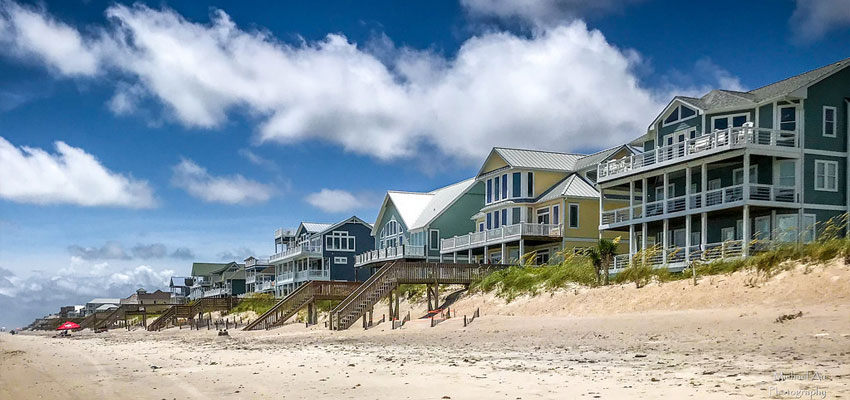 Crossing the new high-rise Surf City Bridge coming in to Topsail Island on the way to Topsail Beach, you'll pass Surf City, so you might as well visit it too.
Whichever town you end up, you will find beautiful views and quiet beaches, with family-friendly activities and restaurants.
Surf City is a quaint little beach town with a mix of the modern and classic. There are a variety of gift and specialty shops, as well as restaurants, some only a few years old, others have been around for 30 years.
Fishing is big in Surf City, and you can find everything you need at the Surf City Pier.
Surfing, of course, is another big thing in Surf City, and you'll find plenty of surf shops scattered throughout the area, near public beach access points.
Kids of all ages will enjoy themselves at the Karen Beasley Sea Turtle & Rehabilitation Center, where they can take tours and do activities so they can learn more about various endangered sea turtles, which nest on Surf City's shores from May to October.
Surf City offers 36 public access points, with a variety of amenities for your convenience.
Where to stay: Places To Stay in Surf City
Where to eat:
More information: Surf City
Topsail Beach is further down south from Surf City, also with peaceful beaches where you can swim, sunbathe, surf, and fish.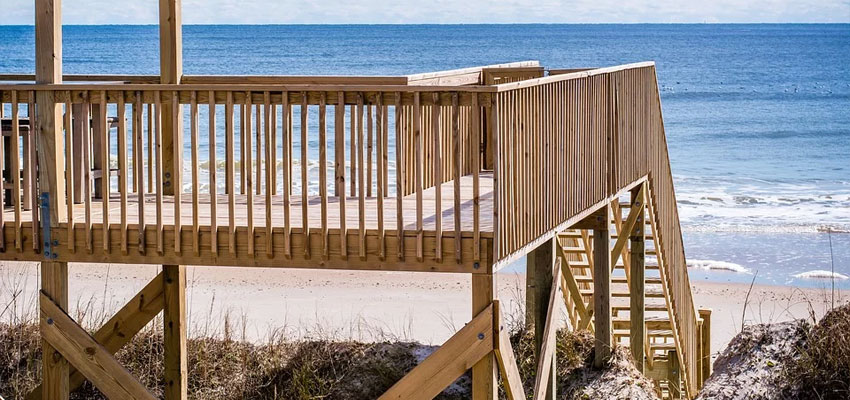 When you're taking a break from your beach activities, stroll around and discover the many shops and restaurants that cater to all ages and tastes. Kids can play in one of the many nearby playgrounds and parks.
Not only can you access the ocean side but you can also access the sound side, which is shallower than the ocean and has brackish water; that is, a mixture of fresh and saltwater.
This is perfect when you have smaller children, as the waves and currents aren't as challenging, and the relatively still waters are perfect for playing with inflatable beach toys like rafts and beach balls.
Fishing is also popular in Topsail Beach, especially on the Jolly Roger Fishing Pier, where everything you need to fish is available and you can catch king mackerel, pompano, and mullet.
Military history buffs would enjoy the Missiles and More museum and learn about World War II and the role of Topsail Beach in it.
Topsail Island mostly offers private rental properties, but there are also motels and bed and breakfasts that are likely to suit your family.
Where to stay: Topsail Beach Accommodations
Where to eat:
More information:
Topsail Beach
Emerald Isle
Part of what's known as North Carolina's Crystal Coast, Emerald Isle is a small beach community that offers 12 miles of pristine shoreline and incredible views of the Atlantic Ocean and Bogue Inlet.
Emerald Isle is a hub for water sports, such as kayaking and paddleboarding on the beach and on the sound, fishing, and surfing.
These aren't the only activities, though. With public beach access points, nature trails at Emerald Isle Woods Park, mini-golf, and an aquarium in nearby Pine Knoll Shores, there's definitely something for everyone.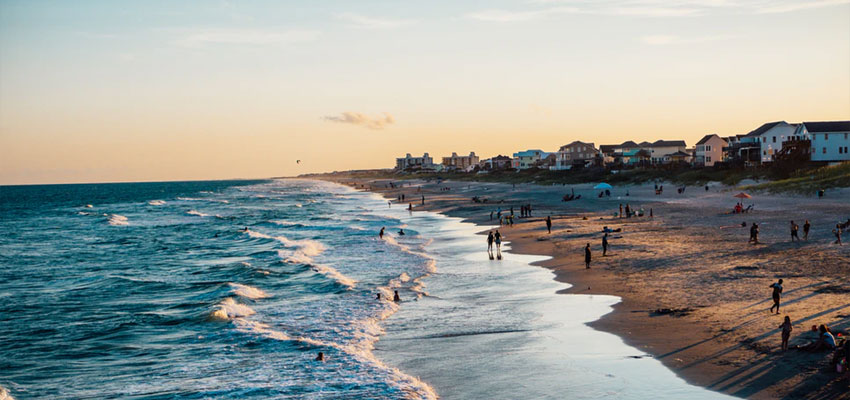 Sunbathing and hanging out on the unspoiled beach is also more than welcome and if you're lucky, you may even spot a dolphin or two.
Sea turtles nest at the beach in Emerald Isle from May to October, and volunteers scour the beach every morning looking for nests that mother turtles dug in the night and rope them off.
Help them do their jobs by filling out holes that you dig on the beach, not leaving trash, and not disturbing roped-off sea turtle nests. You're welcome to observe hatchlings when they emerge from the nest, but absolutely no flash photography is allowed.
The only oceanfront hotel in Emerald Isle is the Islander Hotel & Resort, but there are a few motels and inns, as well as plenty of rental properties.
Where to stay: Places to Stay in Emerald Isle
Where to eat: Where to Eat in Emerald Isle
More information: Town of Emerald Isle
Most Isolated North Carolina Beaches
Sometimes, you just want to get away from everything.
Here are the least crowded, most isolated North Carolina beaches to consider.
Hatteras Island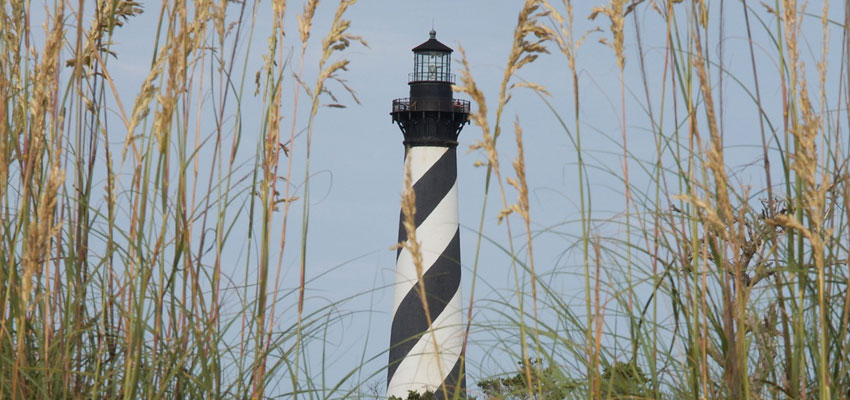 If you really want to leave the chaos behind, Hatteras Island on the Outer Banks of North Carolina is perfect for you.
Hatteras Island offers endless stretches of pristine beaches with minimal commercial construction. Surfing, kiteboarding, and fishing are popular here, as well as windsurfing and paddling.
Hatteras is comprised of the communities of Rodanthe, Waves, Salvo, Avon, Buxton, Frisco, and Hatteras Village (north to south). The southern communities are the hardest to reach from the mainland; you need to either drive through all of the northern communities first or ride a ferry.
Once on the island, you'll need your own transportation to go around, as there is no public transportation.
You can simply hang out and sunbathe and swim on the beach, or do the usual water sports and activities.
You can also venture to Cape Hatteras National Seashore to camp, climb the Cape Hatteras lighthouse, and even hunt waterfowl.
For history buffs, you can visit the Graveyard of the Atlantic Museum to learn about the maritime history of North Carolina's Outer Banks and marvel at the shipwrecks dotting the waters of the Outer Banks.
Where to stay:
Where to eat: Hatteras Island Restaurant Guide
More information: Hatteras Island Guide
Carova Beach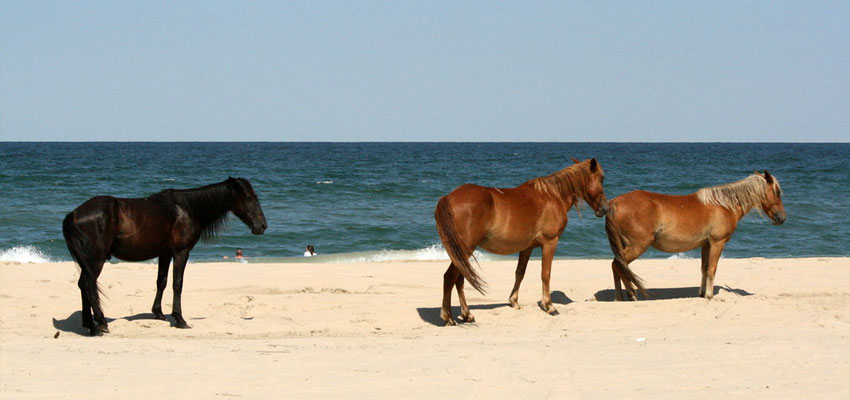 If you really, really want to get away from the crowds, Carova is a great destination.
Carova Beach is also part of the Outer Banks and can only be accessed by boat or by four-wheel-drive vehicle, as there are no paved roads leading to Carova.
Plus, there are no restaurants, big supermarkets, or gas stations nearby, so when you come here, you better have all your essentials ready.
Once you arrive, though, the isolated, clean beach welcomes you warmly and gives you your much-needed privacy.
Mind the occasional wild mustang that freely roams around the beach and the rental homes; leave it alone and it'll leave you alone. But if you want to look at them up close, there are wild horse tours you can sign up for to see them in their natural habitat.
Private rental homes are the only available accommodation here. They range from affordable 2- to 3-bedroom cottages with the basics, to huge mansions and even 24-bedroom event homes perfect for weddings and family reunions. Reserve a few months to a year in advance, as vacation homes go really quickly.
Where to stay: Carova Vacation Rentals
More information: Carova Beach
Bald Head Island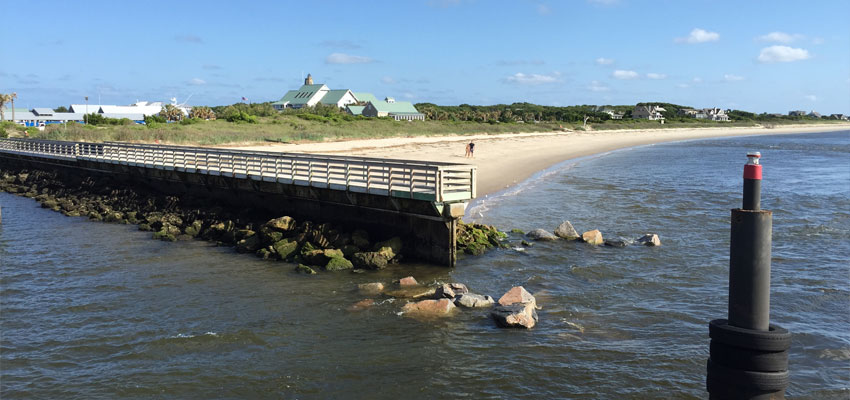 If you really, really, really need to get away from it all, you need to take a trip to Bald Head Island.
Located close to the town of Wilmington, where Cape Fear River meets the Atlantic Ocean, Bald Head Island is only accessible from Southport by ferry, and you'll have to leave your car behind in the marina.
Yup, you need to be serious about leaving everything behind, even your car.
When you arrive, though, you'll find 14 miles of beautiful beaches and thousands of acres of unspoiled nature waiting for you.
Everything in Bald Head Island is accessible by foot, bicycle, or golf cart, so you won't really miss your car.
There are four main beaches on the island: North Beach, West Beach, South Beach, and East Beach.
North Beach is the biggest and the perfect place to chill during low tide and do watersports such as paddleboarding and kiteboarding during high tide.
West Beach offers amazing views of the sunset and is the perfect place for boogie boarding and surfing, but swimming is discouraged because the undercurrents can be strong during the high tide.
South Beach is popular with the chill crowd and those who have young kids with them, as the water is warm here and the currents not very strong. This is the perfect place to fly kites and learn paddlesurfing for beginners.
East Beach, known as the shoals, is the best beach for surfing, fishing, and kiting. Currents are strong, and there have been plenty of drownings in this area, so be extra careful here.
Other activities you can do aside from the usual beach things include shopping, golfing, having a spa day, and just exploring the island on a bicycle.
History buffs will get a kick out of visiting the Old Baldy Lighthouse which is the oldest lighthouse in the state, as well as the Smith Island Museum of History.
Sea turtles nest here, so as I've mentioned earlier, take care of the beach so they can nest, lay their eggs, and hatch in peace.
Where to stay:
Where to eat: Places to Eat in Bald Head Island
More information: Bald Head Island
Best North Carolina Beaches with Nightlife
Partying on the beach or near it is something that everyone in their 20s (or 30s, or 40s…) have probably wanted to do at some point.
And as far as North Carolina beaches go, Wrightsville has the best nightlife scene, hands down.
Wrightsville Beach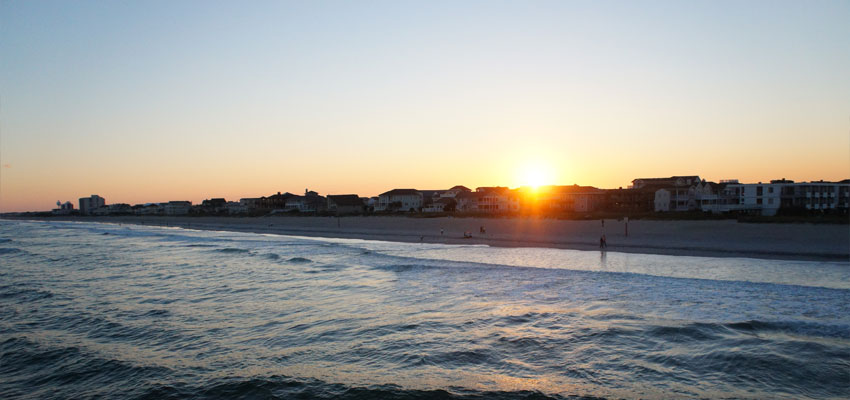 A short drive away from Wilmington, Wrightsville Beach is known for its wide, sandy beaches and deep blue water, as well as its year-round welcoming social community and vibrant nightlife scene.
The days in Wrightsville Beach are filled with surfing, kiteboarding, and paddleboarding, but once the sun sets, the night comes alive.
Whether your idea of a party is a laidback evening at a local tavern, or listening to live music while taking in the ocean view, or dancing the night away, Wrightsville Beach has everything you need for a fun night out.
Where to stay: Places to Stay in Wrightsville Beach
Where to eat: Wrightsville Beach Restaurants
Nightlife spots:
More information: Town of Wrightsville
Best North Carolina Beaches For Snorkeling and Diving
North Carolina isn't exactly known for snorkeling and diving, because the powerful waves and offshore currents leave the waters murky from silt and sand.
Visibility may also be affected by river levels upstream; when they rise, water carries silt from the riverbed to the ocean.
Still, there are some places in North Carolina where you can snorkel and dive, mainly to explore shipwrecks.
The zone off the Outer Banks is known as the Graveyard of the Atlantic, where more than 5,000 ships have sunk since the 1500s due to rough waters and unpredictable currents.
Today, you can go snorkeling or diving to get a glimpse of these shipwrecks. Some of these wrecks are much closer to the beach than you would expect, sometimes in waters as shallow as 15 to 20 feet deep.
Remember to respect the currents, though; go out to snorkel sites offshore in a boat to be safe. Also, wear a wetsuit when it isn't summer to avoid hypothermia.
Nags Head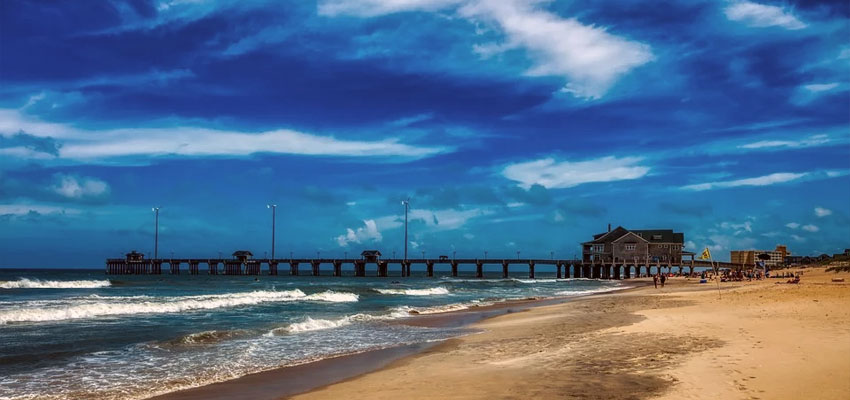 Nags Head is a town on the Outer Banks known for the sand dunes at Jockey's Ridge State Park.
Nags Head is also a great jumping off-site for snorkeling and exploring shipwrecks. Summer is when the water is clearest and the perfect time to observe nearby shipwrecks. If you don't feel like snorkeling, you can even just kayak or paddleboard to observe the wrecks from above.
Around 100 to 350 yards from the beach in Nags Head, and you can snorkel over a half-dozen shipwrecks lying in 20 to 25 feet of water.
First, near the Second Street beach access, there's the Kyzickes and the Carl Gerhard. At the Bladen Street access, you see the Huron around 250 yards north of the Nags Head Fishing Pier. Around 100 more yards north, you'll see the Explorer.
If you want to move further and scuba dive, head to nearby Manteo to the Roanoke Island Outfitters and Dive Center to book a dive charter so you can explore the U-85, the Advance, the Jackson, the Bedloe, and the 65 and 102 Degree Towers
Aside from shipwreck viewing and the usual beach activities, like surfing and swimming, you can explore Jennette's Pier to fish and visit the North Carolina Aquarium, or visit the Bodie Island Lighthouse to sightsee.
Where to stay: Places to Stay in Nags Head
Where to eat: Nags Head Restaurants
More information: Town of Nags Head
Hatteras Island
Yes, this beach again.
However, there's a reason why the Graveyard of the Atlantic Museum is located here.
Just sailing from Hatteras Inlet, you can explore more than 20 shipwrecks, each offering something unique.
Dive Hatteras specializes in shipwreck diving charters to explore the shipwrecks of the Diamond Shoals off Cape Hatteras.
You'll likely encounter different kinds of sharks, and the most common species is the Sand Tiger shark, which is an apex predator, so be careful around them.
Which of these North Carolina beaches are you visiting?
As you can hopefully tell, North Carolina has beaches for everyone. I hope this list helps you plan your East Coast beach vacation.
Planning a beach vacation in the East Coast? Here are other states on the East Coast that you can explore: