Many people aren't aware that New Jersey has some of the best beaches in the country.
If you're one of them, then here are a few things you should know about hitting the beach in this part of the tri-state area.
I've always loved going to the beach.
Splashing around in the foamy surf, building sandcastles and collecting pretty shells, hearing the waves crashing and seagulls screeching in nature's version of a symphony – a day at the beach never seems to lose its charm.
Even now that I'm all "grown-up".
Of course, everyone goes to the beach for different reasons.
Some people love tanning in the sun while others just like to go for a stroll and watch the waves crash along the shore. Some like to go surfing and some want to play with their kids in the sand.
Whatever joys visiting the beach brings for you, the good old Garden State never disappoints thanks to its long sprawling coastline and bustling boardwalks.
New Jersey might not be on top of everyone's list when they're planning a beach trip, but you'd be remiss to skip the wonderful array of seaside attractions that this state has to offer.
Spread along 141 miles known as "The Jersey Shore", you'll find that there's plenty to do in the cities and towns situated along the coastline. It's a melting pot of different people, atmospheres, and activities.
There's a lot to see, depending on the type of seaside experience you're looking for.
Things to Know Before Traveling to New Jersey
If you were expecting to run into the likes of Snookie, Jwoww or any of the other colorful personalities that brought the Jersey Shore into the limelight, then you might be surprised by what you find.
There are a lot of stereotypes going around about the people of New Jersey, but they're really all just normal, down-to-earth people.
The state has been the butt of plenty of jokes, yet when you visit NJ, you'll find that they aren't representative of most of the people that live there.
That said, as with any place you'll visit, there are good areas and bad areas.
If you're not up for dealing with hundreds of feet hitting the boardwalk and loud, rowdy parties then Seaside Heights might not be for you.
But there are quiet, interesting places too like the quaint Victorian houses and pristine beaches of Cape May.
Those who have yet to visit any of the beaches in New Jersey should also know that you need a beach tag to get access to many of them during the busy summer months. These tags will only set you back a couple of dollars, but the prices differ depending on where you go and for how long.
Day tags usually cost somewhere between $6 – $10, but you can get discounts if you buy week, month, or season passes.
Some hotels and rentals also include the tags in their fees, so it's worth it to look around for a good deal that way.
The Best Beaches in New Jersey by Category
Every beach town is unique in its own way.
I wanted to break this list down by category and the best town that fits in that category.
1. Ocean City – The Best Overall NJ Beach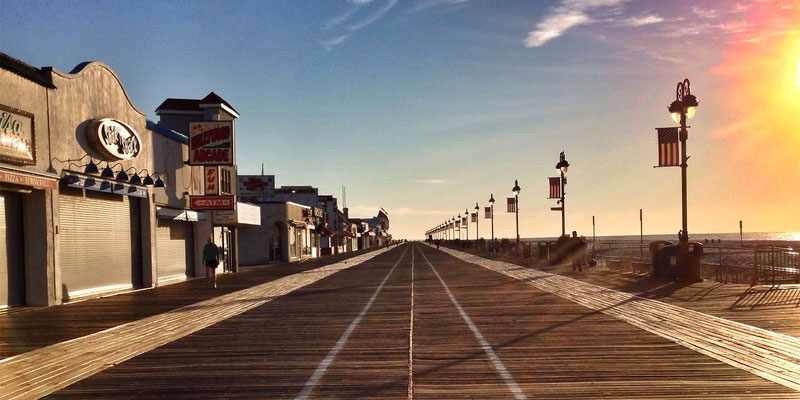 Finding the best beach in Jersey will depend a lot on what you like to do. Which makes picking the best beach out of the 44 beaches in New Jersey quite the challenge – but I'm going to tackle it anyway.
My pick for the best beach in New Jersey is: Ocean City
Lots of people tend to recommend Cape May because it's considered a little more upper class and is less crowded than many of the other beaches along Jersey Shore.
Cape May is great, but the boardwalk and beaches at Ocean City are more kid-friendly with a lot more for the whole family to do.
Plus the entire area is very safe and family-friendly. Alcohol isn't even allowed in any of the boardwalk restaurants. You can still have some drinks wherever you're staying, just not on the beach or anywhere in public.
Here are some of the most popular things to do near the beach in Ocean City:
Ride the carousel at Trimper's Rides and Amusements
Visit Gillian's Wonderland Pier
Stroll through the shops along its famous 3-mile boardwalk
Go to Playland's Castaway Cove
Cool off at Jolly Roger's Splash Mountain Water Park
Get a bite to eat (There are plenty of popular places to get a full meal or tasty treat near the beach. Atlantic Stand makes a mean burger, Fisher's caramel popcorn is a must, Thrashers have the ultimate french fries, and Brown's Restaurant serves the best donuts on the boardwalk).
Of course, there is plenty to do on the beach and in the water too, but I'm sure you can guess at those.
In terms of facilities, there are a good number of clean restrooms and outdoor showers within easy reach.
Things can get a bit hectic on and near the boardwalk in Ocean City, but if you travel a little ways up the coast, it gets much more peaceful.
Ocean City does require beach tags for people aged 12 and up, however. You can find out more about the tags, where to buy them, and how much they cost on the Ocean City website.
2. Long Beach Island – The Most Scenic New Jersey Beach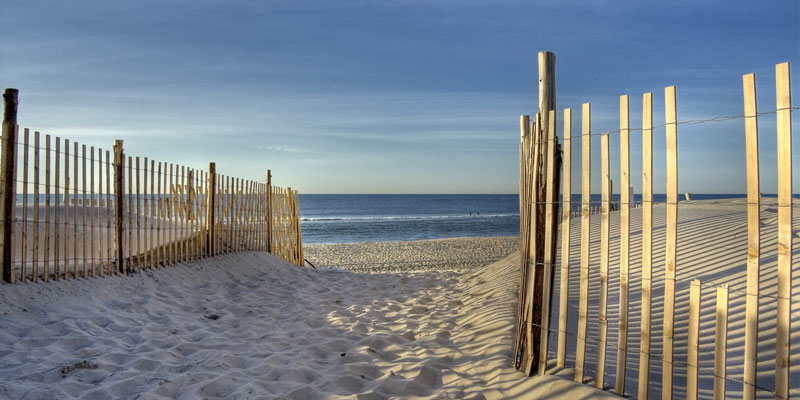 It's no secret that Long Beach Island is one of the most scenic attractions in New Jersey – and for good reason.
It's home to some of the best beaches the state has to offer, with clear crystalline waters and a picturesque coastline.
Unlike most of the other beaches around New Jersey, those in Long Beach don't have boardwalks. Which also means it isn't beset with huge crowds of young people every year.
In fact, LBI mostly caters to families and residents living in the area – making it the perfect break from the din and bustle of the city.
Just grab a good book and a sturdy umbrella and go take a breather. You'll also find the most mesmerizing sunsets here so don't forget to take a camera either!
3. Wildwood – The Most Budget-Friendly NJ Beach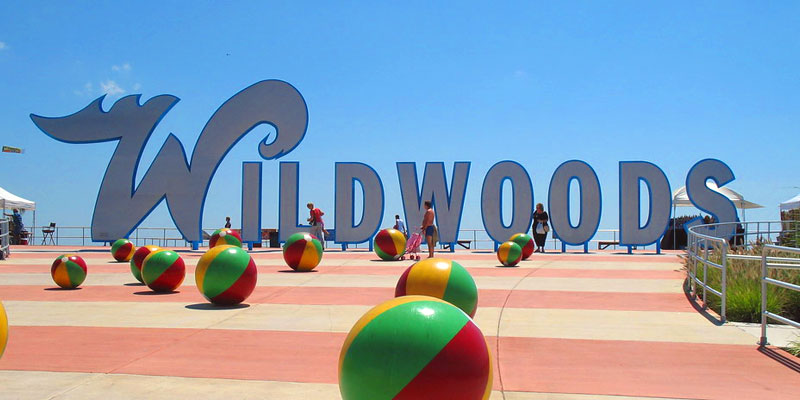 Wildwood is our top pick for an affordable vacation in New Jersey.
The area known as the Wildwoods is actually three small towns right next to each other, and the long stretch of beach they share.
Staying in Wildwood is like taking a time machine back to the 1950's complete with retro motels, airstream trailers, and cheap diners. The price of staying there might not get as close to the 1950's feel they're going for, but it's still one of the most budget-friendly beach towns in the area.
Plus it's one of the few beaches in NJ that doesn't require beach tags so you can visit them for free any time of the year.
While you're there, make sure to visit Morey's Piers and Mariner's Pier in Wildwood Crest.
These two amusement parks take up a big part of the boardwalk and offer well over 100 rides combined, from the tame but classic teacups to wilder thrill-filled roller coaster rides. Just keep in mind that you'll have to pay separate entrance fees for each.
Consequently, if you're on a tight budget then Morey's Piers might be the better option of the two since it offers more rides in total.
4. Avalon – This Great NJ Beach is Wheelchair Accessible Too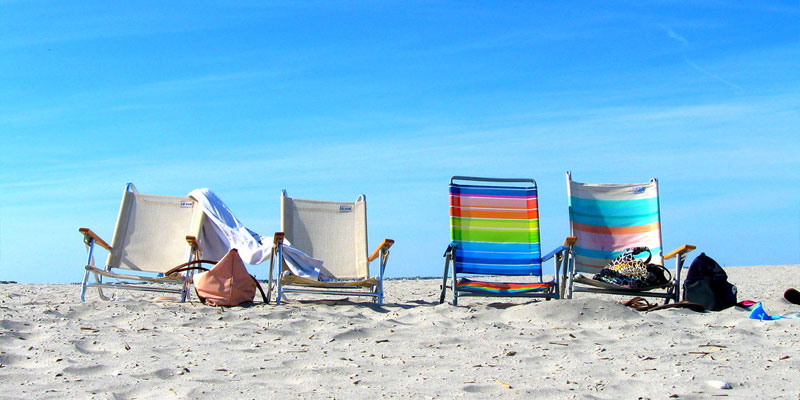 There are a number of wheelchair accessible beaches in New Jersey but Avalon is our favorite one by far.
The city takes a lot of pride in its accessible beaches and also offers a complimentary surf chair program which provides free wheelchairs designed specifically for the sand.
You'll find wheelchair ramps going down to the ocean and a number of handicapped accessible bayfront piers on quite a few of their streets as well.
If you want to make use of their chairs then it's best to make a reservation with the Avalon Beach Patrol (967-7587) because there's only a limited number of them and they go on a first come first serve basis.
When's the Best Time to Visit the Beaches in New Jersey?
Obviously, summer is when everyone goes because it's hot enough to get into the otherwise chilly Atlantic water. But that's also the time when it's busiest and if you're not too fond of the idea of facing a crowded beach or boardwalk then you might be in for a frustrating time.
If going for a swim among the waves isn't exactly your style (or you're fine with facing colder temperatures) then I would definitely recommend the off-peak times.
It's much quieter and you don't have to stand in line for 10 minutes just to get a donut.
Honestly, I could go on quite a bit more about the great beaches along Jersey's coast but I'm sure you're just itching to get out there by now.
Next time you're thinking of heading to the beach, don't discount New Jersey and all it has to offer!