The whole world loves amusement parks, but no one loves them more or does them bigger and better than American and these are the following list are the best amusement parks in the US.
Some of our parks have even received international renown and are visited by people from all over the world, seeking the joy and thrills that they have to offer.
Big theme parks like Disney World, Disneyland and Universal Studios are still dominating this space; but these parks, impressive though they are, aren't the only attractions across the states that offer dizzying roller coaster rides and heaps of fun activities. Plus, even the best Disney FastPass secrets aren't going to save you from long lines and tough crowds.
I decided to put together this list of our current favorite amusement parks from coast to coast so you can find a park near you that offers just as much fun but without the heavy crowds.
America's Biggest Pastime?
Amusement parks have been around in America since the early 1800s and are practically interwoven into our culture by now as millions of people flock to the hundreds of amusement parks situated across the country.
They embody the ultimate indulgence in child-like adventure, each offering their own take on adrenaline-inducing experiences and themed rides.
Hard-core roller coaster junkies do differentiate between amusement parks and theme parks, as the latter tends to feature fewer rides for thrill-seekers, but most people just lump them together into one category.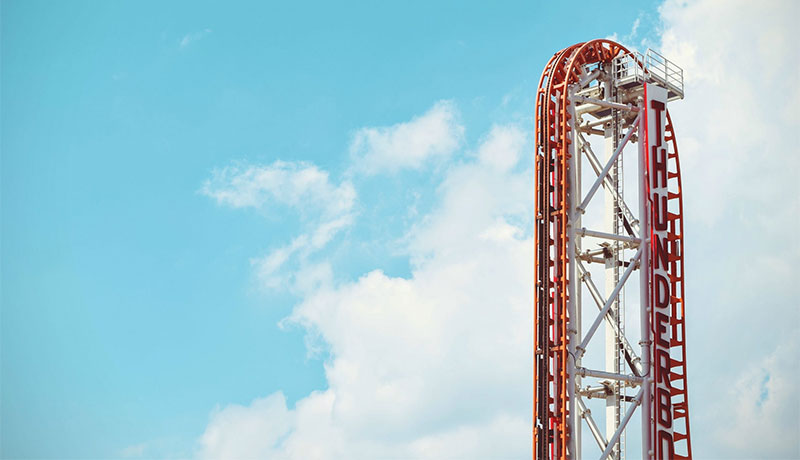 Whichever way you cut it, these parks make for the perfect getaway, whether it's for a weekend-long adventure, as a short stop on a longer trip, or a memorable day outing.
They're also a great fit for every budget, with lots of parks both large and small offering different experiences at different pricing tiers, which really appeals to me since I love finding the most affordable ways to have fun.
And amusement parks have that in spades.
Whether you're here looking for the most compelling attractions, the best gravity-defying rides, or the ultimate family-friendly experience, we've got you covered.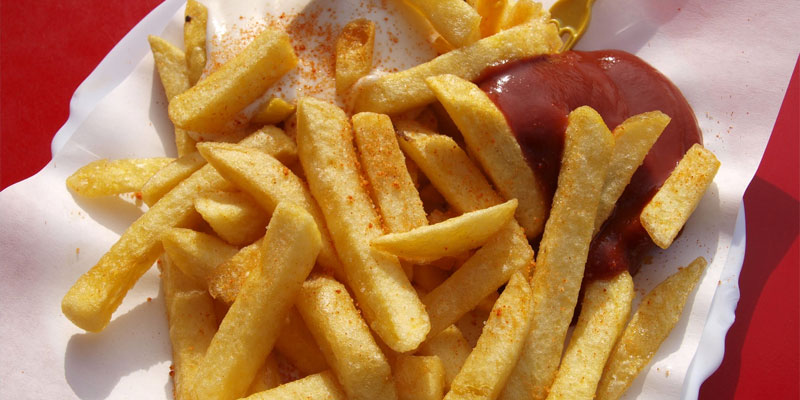 Have a browse through these 7 impressive amusement parks and see what makes each one special.
I'm sure you'll find something that appeals to you, even if it's just all the yummy Instagram-worthy treats!
7 of the Best Amusement Parks in the US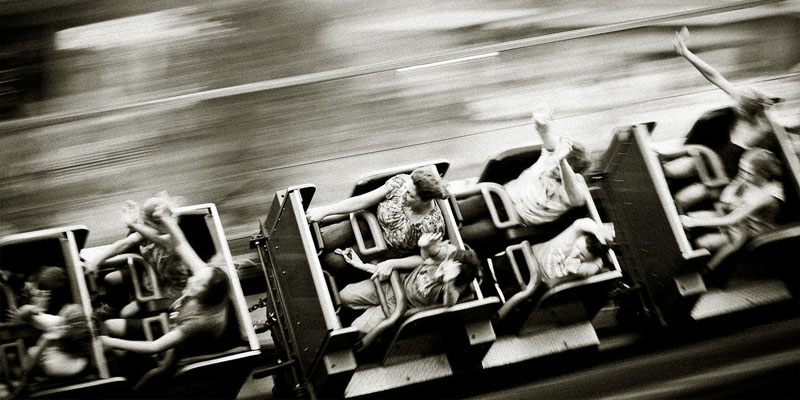 I wanted to start this list off with Knoebels because it's the largest remaining amusement park in America that has free admission.
That's right – anyone can visit the park completely gratis and the parking is free too. 
The coasters, kid-friendly rides, and other great attractions (including swimming, golf, and a bald eagle habitat) are all individually priced.
This is a great option if you're looking for a budget-friendly excursion where you only have to pay for the rides you will actually use.
It can be mega frustrating to pay the exorbitant prices of Disney theme parks only to stand in a line for 3+ hours. But this way, you get to do what you want and only pay for the experiences you're actually getting.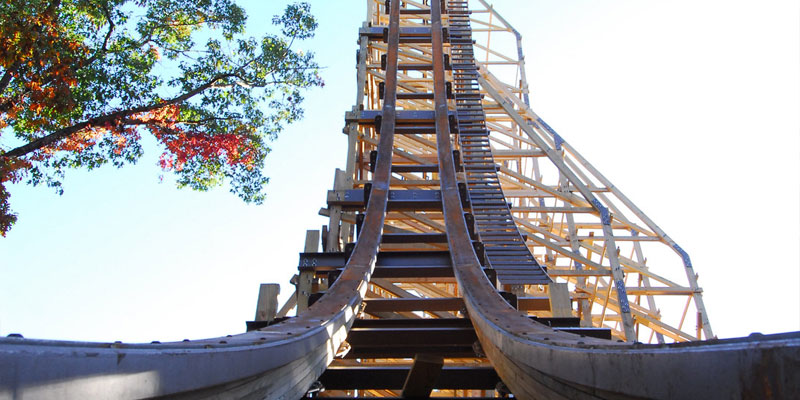 History buffs will marvel at all the old-timey attractions and architecture at Silver Dollar City.
You can ride along on their wooden roller coaster rides and the kids are bound to enjoy the relaxing carnival rides as well.
Plus it's a great stop if you're planning a road trip along the Great River Road.
Shining with old country-style grace next to the scenic Ozark Mountains, this park offers a really great time whether you're into coaster rides or not. There's plenty to see, do and taste.
The Marvel Cave tours are a delight and there are good stage shows on offer too, including the new broadway-style musical, Reuben's Swashbuckling Adventure, which set the park back a whopping 1 million dollars.
It has certainly paid off, given how mesmerizing the stage art and special effects are.
There's also plenty of mouthwatering food and treats served in unique pioneer-themed restaurants and cafés, so come hungry!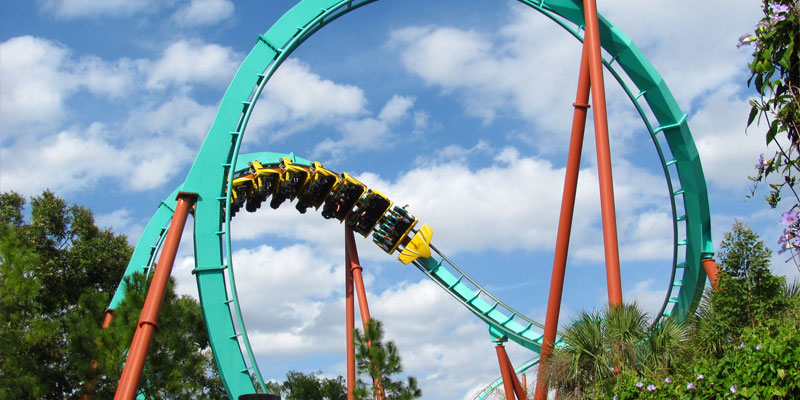 Disney World and Universal's theme parks might be some of Florida's biggest attractions, but you can have just as much fun for a fraction of the price and with less crowds at Busch Gardens in Tampa.
It was modeled after a nineteenth-century African safari and is home to over 12,000 animals in the park zoo.
The Serengeti Express offers a relaxing way to see all the animals if you're not up for walking through all the enclosures, or you can get a birds-eye view of the whole park with the Skyride cable car.
The animals aren't the park's only attraction – though having a zoo and amusement park in one means there's enough to draw you and the family back for a second visit, as one day might not be enough to experience everything Busch Gardens has to offer.
The rides range from tame family-friendly fun, like the Congo River Rapids, to the wild and incredibly fast Cheetah Hunt.
It's the perfect destination if you're looking for great rides and shows but you don't want to deal with the immense crowds that parks like Universal's Islands of Adventure attract.
Busch Gardens is also known for their grand Christmas Town events so if you're in the area around Christmas time then this is a must-see.
Pro Tip: If you're staying in or visiting the Orlando area, you can hop on the Busch Gardens shuttle for free if you have a ticket to the park. Check out the pick-up and drop-off locations on their site.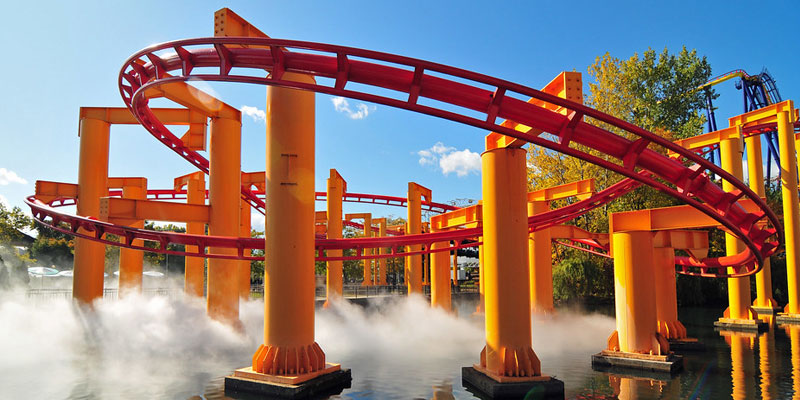 If you're a roller coaster enthusiast then you're probably already familiar with Cedar Point – which is known as the roller coaster capital of the world by some.
Those seeking thrilling rides have hit the jackpot here with over 17 fast and furious roller coasters and more than 70 rides in total, spread throughout the park.
Including 5 of the top 50 steel coasters of 2018.
The park opened its record-breaking Steel of Vengeance ride last year.
It's currently the fastest and largest steel and wood hybrid ride in the world with a total of four hair-raising loops.
Honestly, this is a grown-up kid's paradise, but if you're looking for something the whole family can do together then you won't be disappointed either. I definitely recommend the Dinosaurs Alive! exhibit which is chock-full of animatronic creatures from the pre-historic era.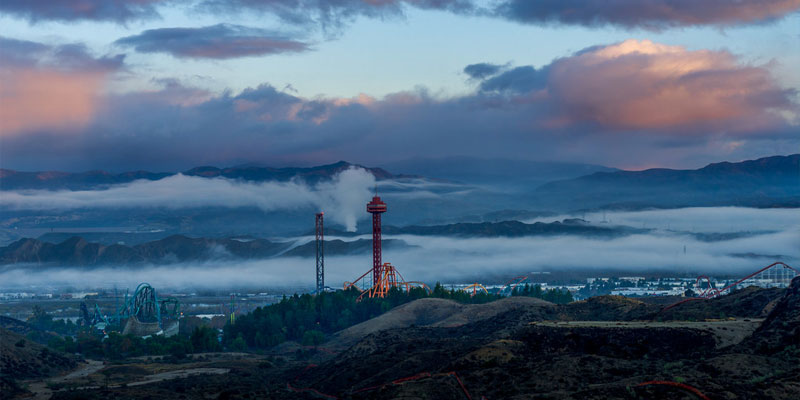 When people think of amusement parks, any one of the Six Flags parks might come to mind.
They're big, they're flashy, and they're stuffed with tons of exciting stuff to do.
Though none come in as big as Six Flags Magic Mountain.
The park pushed Cedar Point out of the top spot for most roller coaster rides as it now boasts 18 sensational rides in total. I'd say it's possible to get to them all in one day if you're lucky enough to catch short lines, although the Viper is a bit of a bumpy ride (and not in a good way) so I'd avoid that one in the future.
Other than the big rides, there's plenty for the kids to do too. Toonland, for one, is a hit and offers some (usually much-needed) respite for moms and dads.
This park can get very busy, however.
Much more so than many of the others on this list, so you might want to pick an off-peak day if you can.
Otherwise, there are the flush pass tickets available which are great for skipping the long queues but they're very pricey, starting at $50 per ticket. Oh and on that point – the food at Six Flags is pretty pricey too, though it's still better than what you'll have to pay at most Disney theme parks.
6. Hersheypark (Derry Township, Pennsylvania)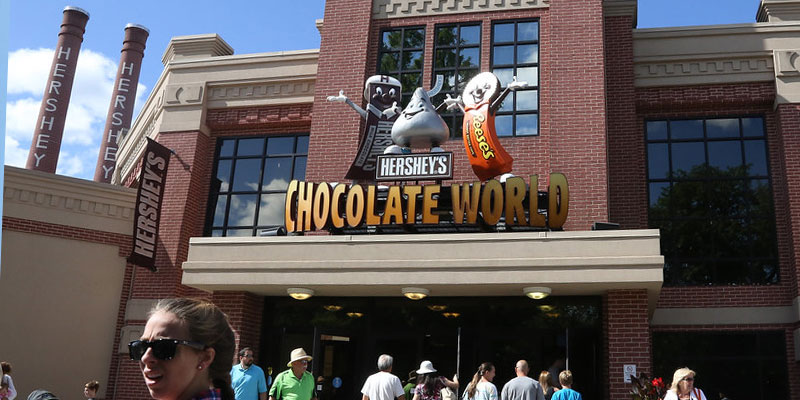 Who doesn't need a little more sweetness in their life?
Hershey's certainly brings that to town with their adorably sweet chocolate-themed park and rides that will induce a better blood rush than even the sweetest Hershey's chocolate.
This is the biggest amusement park in Pensylvania with over 70 rides in total. Hersheypark also recently (2017) opened their "choose-your-thrill" Triple Tower ride that lets people choose between three towers of different heights.
The tallest tower comes in at 189 feet, and each first rockets you to the top before dropping you straight back down again.
This one isn't for the faint of heart.
If the thrill rides start to get too much, then you could always try the waterpark which has a few nice rides of its own or you could hop on over to ZooAmerica.
It's is right next door and admission is free if you already have a ticket for the amusement park.
7. Dollywood (Pigeon Forge, Tennessee)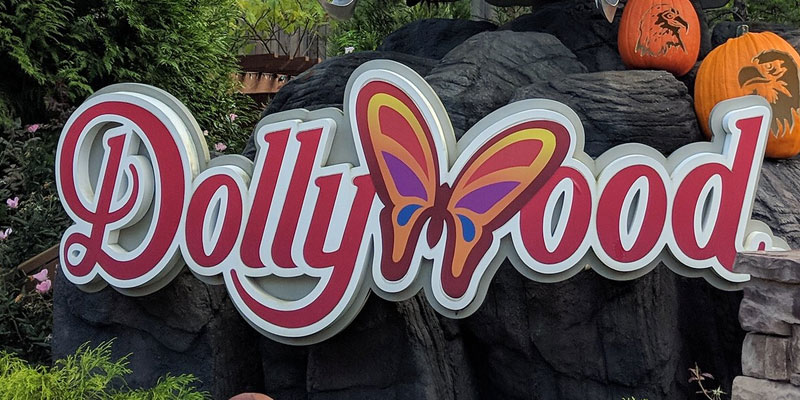 Whether you're into Dolly Parton's music or not, there's no denying that her theme park has tons of fun stuff to do.
The whole place exudes a relaxing Southern charm and a spectacular view of the Great Smoky Mountains, especially from the top of the rides (though you'll only get to enjoy the view for a split second as you're hurtling along).
The Wildwood Tree located in the newly built Wildwood Grove section is also a must-see, especially at night when the 50-foot tree and the butterflies around it light up in a dazzling display.
This park is as unique as its owner.
One of Dollywood's trademark attractions is the full-size steam train that runs in the park, which isn't something you get to do just anywhere anymore.
And those who love art and crafts should definitely head over to Craftsman's Valley for the craft exhibits and music shows.
Final Tips as You Visit the Best Amusement Parks in America
If I could leave you with one great tip for visiting any amusement park, it would be to book your tickets online.
We found that most parks have a discount for tickets purchased online that can go as high as 30% and some even have discounts on parking and food.
Plus, buying tickets online is just easier these days, anyway, since you then avoid standing in line on the day – which is time better spent having as much fun as you can!
Finally, enjoy yourself!
It's an amusement park after all!
There will be crowds and lines, but at the end of the day, your memories will consist of all the fun you had on the rides and the good food you had to eat.
If you could add a park to this list, which one would it be and why?