Touring Tennessee whiskey distilleries is a great way to learn about Tennessee whiskey: how it's produced, who produces it, and of course, what it tastes like.
Whiskey production has long been part of Tennessee tradition, ever since Scottish and Irish immigrants moved to Tennessee and brought their distilling practices with them.
The prohibition movement happened, though, and the Tennessee whiskey industry was badly hit. Even though Prohibition was lifted, only Jack Daniel's and George Dickel were able to reopen and rebuild.
Tennessee legislation eventually changed and there are now around thirty distilleries in the state. The Tennessee Whiskey Trail was established to promote these distilleries as well as Tennessee whiskey culture.
In this article, let's take a look at the Tennessee Whiskey Trail and the best distilleries on the trail.
What is the Tennessee Whiskey Trail?
Inspired by the Kentucky Bourbon Trail, the Tennessee Whiskey Trail is a selection of 26 Tennessee whiskey distilleries ranging from boutique-sized distilleries to huge international operations that are producing a variety of whiskey, bourbon, gin, vodka, rum, moonshine, and of course, Tennessee Whiskey.
Launched in 2017, it's a monumental joint effort by the Tennessee Distillers Guild to promote Tennessee whiskey: the history, culture, art, and people involved in whiskey-making.
Along the way, visitors get to experience Tennessee: beautiful landscapes, historic landmarks, and Southern charm.
What Is Tennessee Whiskey?
Before you explore Tennessee whiskey distilleries, here's a brief explainer of some of the products you'll encounter.
Whiskey, in general, is a distilled alcoholic beverage made from a fermented grain mash that is aged in oak barrels.
The differences among whiskeys lie in the types of grain and the proportions of each grain used in the mash, the distilling process, the type of wood used in the aging barrels, and many other aspects of its production.
Bourbon is whiskey made in the USA, made from mash that's at least 51% corn, aged in new charred white oak barrels, and had no additional coloring or flavoring.
Tennessee whiskey is whiskey made in the USA filtered through sugar maple charcoal before aging in a process called the Lincoln County Process.
Moonshine, affectionately called "white lightning," is a clear, unaged whiskey with at least 80% corn base and extremely high alcohol content. It got its name from its illegal origins during Prohibition (made under cover of night, in the moonlight) but is now being produced legally.
Top 10 Distilleries on the Tennessee Whiskey Trail
Distilleries in Middle Tennessee
Middle Tennessee offers a mix of urban and small-town experiences, and the distilleries in this area reflect that as well.
From distilleries producing internationally known brands to small craft distilleries, you'll have plenty of options to enjoy a sip of Tennessee whiskey.
If you're already planning to go to Nashville for a weekend, you can set aside one day or half a day to tour Nashville distilleries.
There are tour companies right in Nashville offering whiskey tours that take you through Nashville distilleries. Check out Tennessee Whiskey Experience by Tennessee Whiskey Tours, or Tennessee Whiskey Trail Tours by Mint Julep Experiences. You can also plan your own Nashville distillery itinerary with Whiskey Trail Tours.
Here are the can't-miss distilleries in Middle Tennessee.
1. Jack Daniel Distillery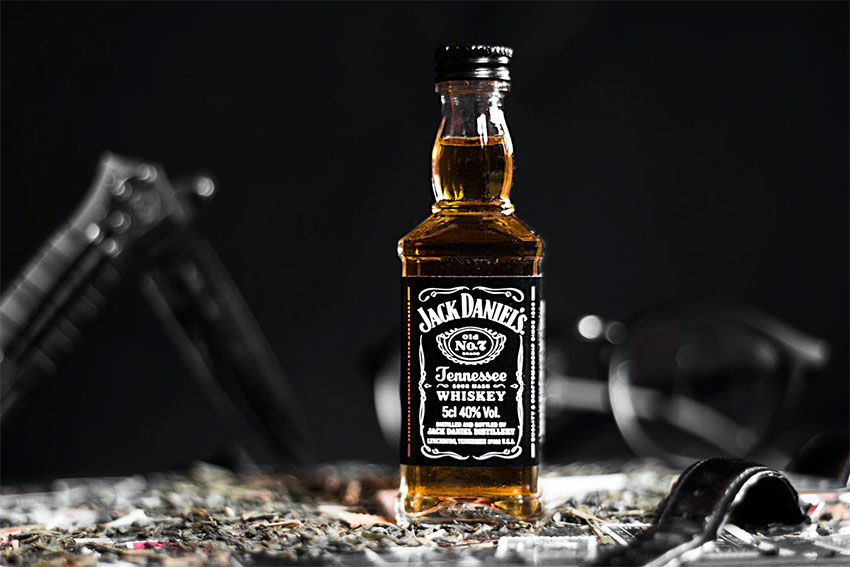 If you can only visit a single Tennessee whiskey distillery on your trip, make it this one.
Jack Daniel's Old No. 7 Tennessee Whiskey is one of the most recognizable whiskey bottles in the world, and it's made in the Jack Daniel Distillery in Lynchburg. Founded in 1866, it's the very first registered distillery in the US.
This is where the so-called Lincoln County Process originated, and there's simply nowhere better to learn about it than here.
The Distillery may be the main attraction here, but you don't want to miss local Lynchburg favorites such as Miss Mary Bobo's Boarding House and Restaurant and the Lynchburg Hardware & General Store, where Jack Daniel's memorabilia are sold.
Essential Information
Location: 133 Lynchburg Hwy, Lynchburg, TN | 931-759-6357
Products: Tennessee Whiskey, Rye Whiskey, Flavored Whiskey
Hours: Mon–Sun 9am–4:30pm; closed Thanksgiving Day, Christmas Eve, Christmas Day, and New Year's Day
Tours: Mon–Sat 9am–4:30pm; Sun: 11am–4:30pm; closed Thanksgiving Day, Christmas Eve, Christmas Day, New Year's Day, Easter Sunday
Duration: The Dry County Tour: 1 hour 10 minutes; The Flight of Jack Daniel's Tour: 1 hour 30 minutes; The Angel's Share Tour: 1 hour 30 minutes; The Taste of Lynchburg: 3 hours
Cost: The Dry County Tour: $15 per head; The Flight of Jack Daniel's Tour: $25 per head; The Angel's Share Tour (recommended): $30 per head; The Taste of Lynchburg: $125
Website: Jack Daniel Distillery
2. George Dickel Cascade Hollow Distillery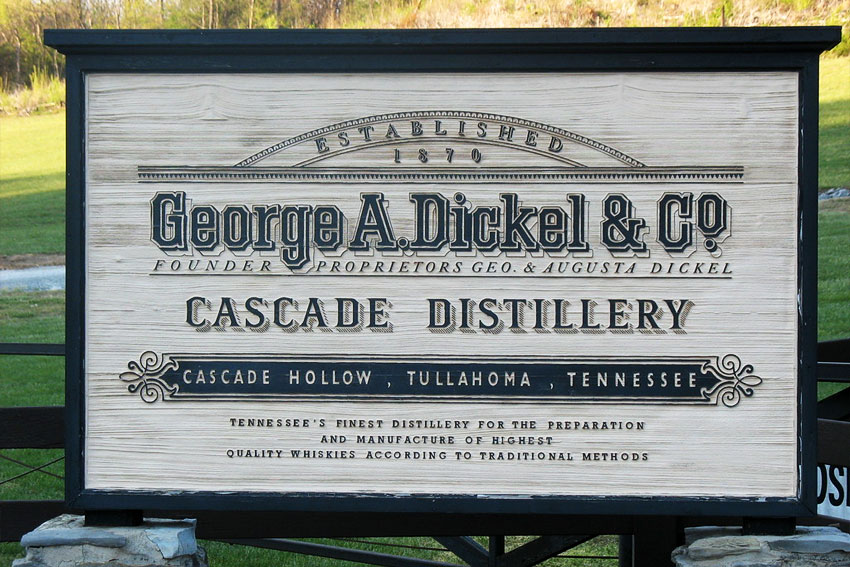 Hidden away in Cascade Hollow, surrounded by 600 protected acres of forest and crystal-fresh springs, the Cascade Hollow Distillery produces George Dickel Cascade Tennessee Whisky just as it has been made in 1878: Handmade the Hard Way.
Note that they spell whisky the Scottish way, without the "e."
Today, they offer unaged whisky (No.1), flavored whisky (Tabasco Brand Barrel Finish), and of course, their flagship product, the Classic No. 8 Tennessee sour mash whisky.
Essential Information
Location: 1950 Cascade Hollow Rd, Tullahoma, TN 37388 | 931-857-4110
Products: Tennessee Whisky, Rye Whisky, White Corn Whisky, Flavored Whisky
Tours: Fri–Sat 9:30am–4pm; Sun: 11:30am–4pm; tastings and cocktail sales end at 3:15pm
Duration: 1 hr 30 minutes
Cost: $14 per head; additional whiskeys +$20 per head; additional boxed lunch (choice of chicken salad, charcuterie platter, or vegetarian dish) +$17
Website: George Dickel
3. Prichard's Distillery
Prichard's Distillery handcrafts their American distilled spirits in small batches, with their quality rums and whiskeys being distilled in copper pots, a technique that has been around for more than a hundred years, and stored in charred white oak barrels.
Small-batch distilling means stricter, more hands-on quality control by the master distiller, resulting in flavors that are human-approved.
Their Tennessee whiskey is the only Tennessee whiskey labeled as such to not to undergo the Lincoln County Process, due to an exemption in the law.
The first Prichard's Distillery location was opened in 1999 by owner and master distiller Phil Prichard, a descendant of Benjamin Prichard who opened and operated Prichard's Distillery back in 1825.
Essential Information
Location: 11 Kelso Smithland Road, Kelso, TN 37348 | 931-433-5454
Products: Rum, Flavored Liqueurs, Bourbon, Tennessee Whiskey, Malt Whiskey, Rye Whiskey
Hours: Mon–Fri 9am–3:30pm; Sat 9am–2:30pm; Sun closed
Cost: Tours and tastings: Free
Website: Prichard's Distillery
4. H Clark Distillery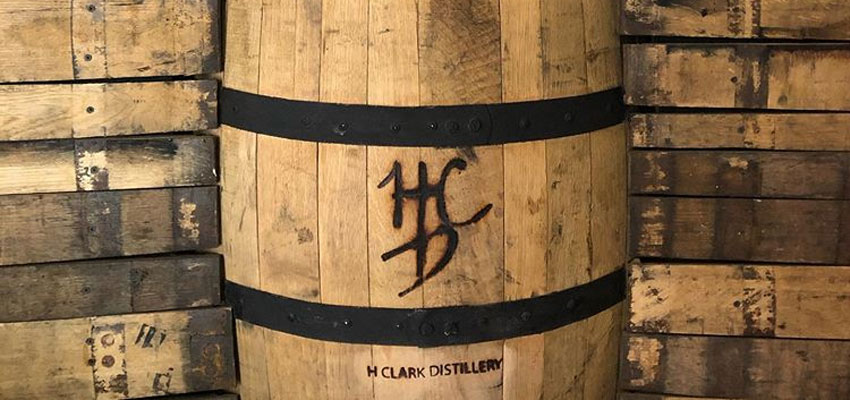 If Jack Daniel, George Dickel, and Benjamin Prichard are Tennessee whiskey legends, H Clark Distillery is one of the new players.
H Clark Distillery is a small-batch distillery that opened in 2014, making it the first legal distillery in Williamson County in over 100 years.
Their spirits are produced in the old town Granary, the same building local farmers used to store grains before loading them into trains for export.
Essential Information
Location: 1557 Thompson's Station Rd W, Thompson's Station, TN37179 | 615-478-2191
Products: Tennessee Bourbon, Dry Gin, Heirloom, Tennessee Black & Tan, Tennessee Rye
Hours: Mon–Fri 10am–5pm; Sat 12pm–5pm; Sun 12pm–4pm;
Tours: Mon–Fri 11am–4pm; Sat 12pm–4pm; Start every hour on the hour
Cost: Guided tours: Free; Tastings: $10 per head
Website: H Clark Distillery
5. Leiper's Fork Distillery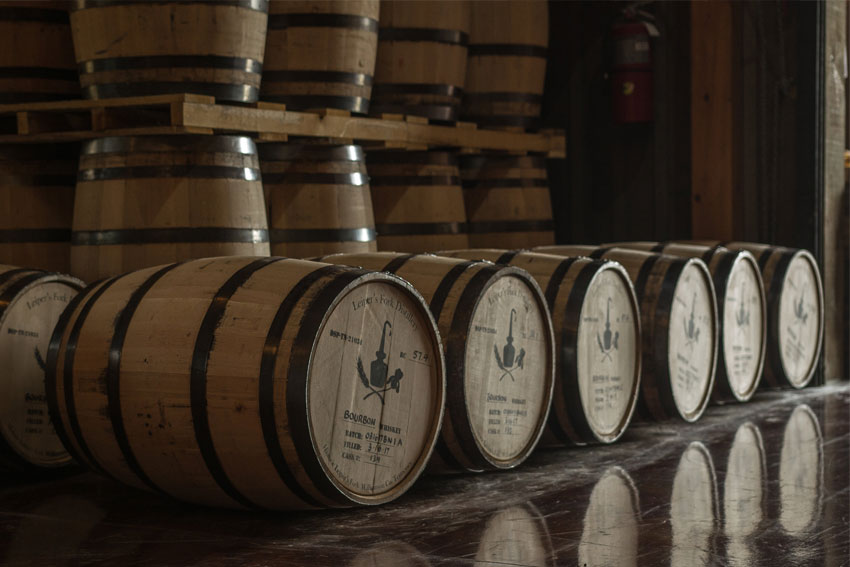 Leiper's Fork Distillery is another new player in the Tennessee whiskey industry, aiming to bring back the history and heritage of small-batch production.
Opened in 2016 by Lee and Lynlee Kennedy, they only use local grains and limestone-filtered water to create their signature products.
The retail shop and tasting room are housed in a log home originally built in 1829.
Make sure to visit the distillery on the last Friday of the month to catch a Still House Session, featuring a food truck, drink options, and local songwriters and artists.
Essential Information
Location: 3381 Southall Rd, Franklin, TN 37064 | 615-465-6456
Products: Tennessee Bourbon Whiskey, Single Barrel Tennessee Bourbon, Rye Whiskey, White Whiskey
Hours: Tue 10:30am–5pm; Wed–Sat 9:30am–5pm; Sun 11:30am–5pm; Mon closed
Tours: Tue 11am–5pm; Wed–Sat 9:30am–5pm; Sun 11:30am–6pm; Mon closed; Start every 90 minutes
Duration: Leiper's Fork Distillery Tour: 45 minutes to one hour
Cost: Leiper's Fork Distillery Tour: $18 per head; Distiller's Tour: $45 per head, must be 10 people or more; Tastings: $15 per head; Still House Sessions: general admission: $35 per head; VIP experience: $65 per head.
Website: Leiper's Fork Distillery
Distilleries in East Tennessee
Eastern Tennessee is home to the Great Smoky Mountains, Dollywood Amusement Park, bluegrass music, and moonshine. When laws relaxed in 2009, Tennessee Moonshiners of the Great Smoky Mountains came out of the woods to share their once-secret batches with the public in craft distilleries.
Local brewers and distillers talk about moonshine, as well as their relatives and ancestors who made moonshine with pride, not minding moonshine's illicit origins. For them, moonshine is part of their family history and legacy.
Nowadays, distilleries in East Tennessee aren't just producing moonshine; there are a variety of whiskey products, spirits, and even flavors to choose from.
Here are some of the distilleries in East Tennessee that you need to visit to know more about moonshine culture.
6. Chattanooga Whiskey Experimental Distillery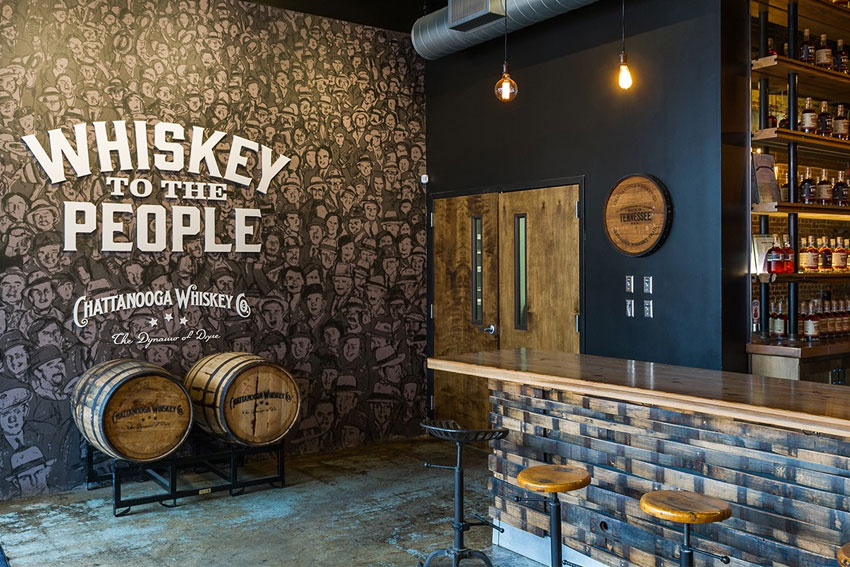 Opened in 2015 right in the heart of Chattanooga, Chattanooga Whiskey Experimental Distillery is the first legal distillery in Chattanooga in over 100 years.
With over 200 barrels containing over 100 recipes in their cellars, every visit to their Experimental Distillery provides a glimpse of the past, present, and future of Chattanooga-crafted whiskey.
Distillery tours include a history lesson of distilling in Chattanooga, a peek into their manufacturing process, a visit to their barrel room, and a taste test in their tasting room.
See if you can try their Tennessee High Malt straight bourbon whiskey.
Essential Information
Location: 1439 Market St, Chattanooga, TN 37402 | 423-760-4333
Products: Straight bourbon, American whiskey
Hours: Guided tours and whiskey tastings: Mon–Sat 12pm–8pm, Sun 12pm–5pm; Retail Bottle Shop: Mon–Sat 11am–9pm, Sun 11am–6pm; Whiskey Cocktail Lounge: Fri–Sat 8:30pm–late
Duration: Tour and tasting: 1 hour
Cost: $12 per head
Website: Chattanooga Whiskey
7. Old Forge Distillery
Old Forge Distillery is nestled on the foothills of the Great Smoky Mountains creating small-batch Tennessee spirits using pure mountain spring water and grains that are ground on The Old Mill, one of the oldest continually operated gristmills in the country.
Their flavored moonshines are inspired by flavors from kitchens across the Old Mill Square as well as the Old Mill Candy Kitchen and Creamery.
Sample up to 8 of them for free in their moonshine sample bar.
But Old Forge Distillery is more than just moonshine. They now have plenty of other product offerings, including rum, vodka, bourbon, gin, and flavored cream liqueur.
Old Forge Distillery combines history with innovation.
For a neat side trip, Dollywood is 2 miles away. This Dolly Parton-themed amusement park is actually on our list of the best amusement parks in the country.
Essential Information
Location: 170 Old Mill Ave, Pigeon Forge, TN | 865-774-4126
Products: Moonshine, Rum, Vodka, Bourbon, Gin, Cream Liqueur
Hours: Mon–Sat 10am–9pm, Sun 11am–6pm
Cost: Free tastings; no guided tour
Website: Old Forge Distillery
8. Ole Smoky Tennessee Moonshine: The Barrelhouse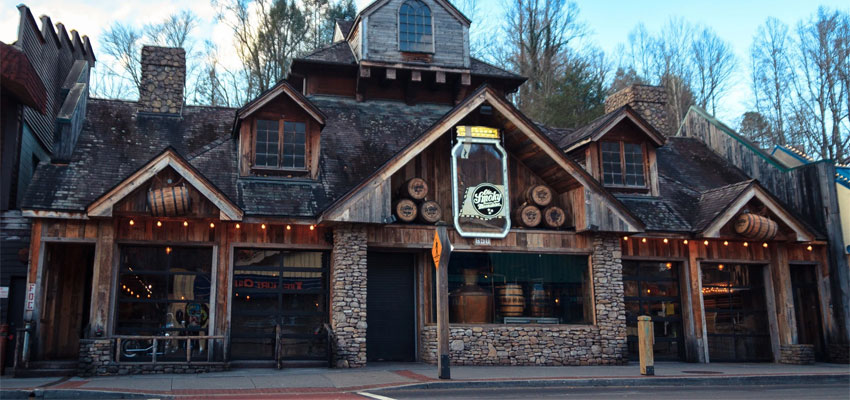 Ole Smoky's roots can be traced back to the early settlers of the Great Smoky Mountains, and their moonshine is known for its authenticity and artistry.
Ole Smoky has multiple locations, and the Barrelhouse location specializes in whiskey. Ole Smoky Whiskey is aged in hand-picked white oak barrels, and the Barrelhouse is where you can experience their straight whiskey as well as flavored whiskeys.
If you'd like to sample their classic product moonshine, you can visit their original moonshine distillery, The Holler, just walking distance away from the Barrelhouse, or The Barn in Pigeon Forge.
Gatlinburg itself is a great mountain town to explore. Go in the fall to make your visit extra special with some of the most beautiful fall foliage you'll ever see.
Essential Information
Location: 650 Parkway, Gatlinburg, TN 37738 | 865-436-6995
Products: Moonshine, Flavored Whiskey
Hours: Mon–Sun 10am–11pm
Cost: Tours: Free, self-guided; Tastings: $5 per head
Website: Ole Smoky Whiskey Barrelhouse
9. Sugarlands Distilling Company
Sugarlands Distilling Company pride themselves on having one foot in tradition and the other foot in innovation.
Sugarlands opened its distillery in March 2014 to distill its flagship Sugarlands Shine moonshine products, as well as the Roaming Man Straight Rye Whiskey and their Sippin' Cream cream liqueurs.
They've also partnered with the Discovery Channel's Moonshiners Legends to produce their recipes and with Nascar to produce a limited edition line.
The Sugarlands Still House is open for tours, tastings, and live music, providing their visitors an authentic Tennessee distilling experience.
Essential Information
Location: 805 Parkway, Gatlinburg, TN 37738 | 865-325-1355
Products: Moonshine, Rye Whiskey, Rum, Cream Liqueur
Tours: Mon–Sun 10am–10:30pm; closed Christmas Day
Cost: Still House Guided Tour: Free; Tasting plus $5 voucher for an in-store purchase: $5; Cocktail from the Cocktail Kitchen: $6; Blended Cocktails Tour: $12
Website: Sugarlands Distilling Co.
Distilleries in West Tennessee
Located between the Tennessee and Mississippi Rivers, West Tennessee is famous for its iconic artists, unique outdoor experiences, and historic landmarks.
If Nashville is known as Music City and East Tennessee is known for bluegrass, Memphis is known as the home of the blues and rock 'n' roll.
Here is the only distillery in West Tennessee (hopefully not the last).
10. Old Dominick Distillery
Old Dominick Whiskey was founded in 1866 by Domenico Canale, and in 1880, the Dominick Toddy was born. Prohibition came and went, Domenico Canale passed away, and the recipe was lost in time.
When an unopened bottle of Old Dominick Toddy was discovered in 2013, Chris and Alex Canale, Domenico's great-great-grandchildren, planned to open a world-class distillery in Domenico's honor.
In 2016, they produced the first legal batch of Tennessee whiskey in Memphis since the Prohibition.
Today, Old Dominick Distillery is a 100-year-old, 50,000-square-foot building complex with a whiskey distillery, tasting room, retail spirits shop, meeting and event space, and a bar and restaurant on the rooftop.
Essential Information
Location: 305 South Front Street, Memphis, TN 38103 | 901-260-1250
Products: Tennessee Whiskey, Vodka, Bourbon, Gin
Hours: Guided distillery tours and spirits tastings: Thu–Sun 1pm–7pm; Distillery: Wed 4pm–10pm, Thu 12pm–10pm, Fri–Sat 12pm–11pm, Sun 12pm–9pm; Rooftop Bar: Fri–Sat 8:30pm–late
Duration: Tour and tasting: 45 minutes
Cost: $12 per head
Website: Old Dominick Distillery
What to Expect When Visiting Tennessee Distilleries
If you've been to a distillery tour before, you might have expectations for Tennessee distilleries. However, the laws that dictate what a distillery can and cannot provide may vary from one state to another. Here are some highlights of what you can expect on your visit.
Tennessee distilleries can serve samples up to half an ounce per product offering. Distilleries that have more than a few products usually limit the number of samples they give out to 8 or 10.
Samples may be free while on a tasting tour, but some distilleries may still charge for them.
They may also serve mixed drinks as long as the spirit is made at the distillery.
Tennessee whiskey distilleries can sell bottles at the distillery itself, up to 25 750-mL bottles per visitor per day.
Get your Tennessee Whiskey Trail passport from your first stop on the trail, or download the official app. Collect ink stamps on your physical passport or digital stamps on your app and earn a free t-shirt when you complete them.
You'll also hear some of these terms when you visit the whiskey distilleries. Here's what they mean.
Angel's share – the amount of liquid lost in the barrel while aging
Barrel proof – the proof whiskey is aged before being bottled
Dram – a shot of whiskey
Extraction – when the liquid pulls in other flavors, such as from the charcoal in the Lincoln County Process, or the oak barrel where it ages
Mash – the mixture of cooked grains and water before yeast is added to start fermentation
Mash bill – the recipe; the grains and their ratios used to make whiskey
Proof – the measurement of beverage alcohol on a scale of 200. For instance, a 100 proof spirit contains 50% alcohol by volume.
Whiskey thief – a tubular instrument used by a master distiller to extract small portions of whiskey from a barrel for sampling
Whiskey flight – a sample serving of multiple whiskeys designed to provide variety and compare a range of spirits
Tips When Planning Your Trip
Here are some tips to have the best experience possible.
Leave the children at home or at the hotel. Most distillery tours aren't exactly kid-friendly. Kids would probably get bored with the explainers, there may be equipment or sections of the distillery that are dangerous to them, and other adults on the tour may not be understanding when your kids start to fuss.
Use the Tennessee Whiskey Trail's Trip Planner. There many different ways you can explore the Tennessee Whiskey Trail, and they know it.
Their Trip Planner contains suggestions of trail routes you can take, depending on what type of experience you want to have, including sightseeing and restaurant recommendations.
If you want to visit all 26 distilleries in a single trip, they have a 10-day itinerary. Or if you only have a weekend free, you can plan around the Nashville distilleries, or around East Tennessee.
They also have suggested itineraries for those who want to experience the great outdoors, Tennessee's foodie scene, or the music scene.
If you're making the trip arrangements yourself, call ahead. Making an appointment at least a day ahead ensures that you have a definite timeslot on that day. They can give you more information about what to expect from your tour. Plus, it's just good manners.
Transportation is important. The last thing you want to be doing on a whiskey distillery tour is counting your glasses or doing a sobriety test after every distillery visit.
If you're in a city, plan to take public transportation. In the countryside? Designate a sober driver or hire a car and driver.
Look but don't touch! Remember that you're not visiting a museum; everything is operational. You might burn yourself on a still, or ruin a perfectly good batch of whiskey if you dip your fingers into their mash tanks.
Keep an open mind. The distillery staff know their own products more than you do. Be open to their suggestions about what you should try.
Sip, don't shoot. You didn't go to a frat party and that whiskey flight is not a line of shots you're asked to knock back on a dare.
A whiskey tasting room is where you can savor the whiskey; swirl it around the glass, smell its aroma, and savor the taste on your tongue.
Space out your visits. Stop for meals and snacks in between your visits, and bring plenty of water to hydrate. Don't stack your day with back-to-back tastings; showing up at a distillery obviously intoxicated or drunk is a surefire way to be turned away or kicked out.
The best time to go on a whiskey trail is during the spring or fall. Summer is peak tourist season for Tennessee, especially in the Nashville area. Hotels and other accommodations are fully booked and expensive, and getting a timeslot for a distillery tour may be nearly impossible.
Spring in Tennessee can be quite beautiful when flowers are in full bloom. Fall offers another kind of beauty when the leaves dramatically change color. For both seasons, day temperatures are mild, humidity is low, and the nights are cool.
Explore the Tennessee Whiskey Trail Soon!
Whiskey culture is part of Tennessee's history, now part of their present development, and someday will be their legacy to the country and to the world.
Going on the Tennessee Whiskey Trail and visiting the distilleries is really the best way to explore all three Grand Divisions of Tennessee, soak up their different cultures and traditions, and appreciate all their different whiskey products.
Don't limit yourself to those on this list or even the Tennessee Distillers Guild's recommendation; design your own itinerary and make your own memorable Tennessee experience!
Which distillery are you most interested in visiting? Which products are you most interested in trying? Or have you already gone on this trail? How was the experience? Tell us what you think in the comments!