Tourism is booming in Kentucky right now thanks to the Kentucky Bourbon Trail, a trail that includes ten Kentucky distilleries drawing in hundreds of tourists daily.
Spending a weekend exploring the Kentucky Bourbon Trail should be on top of your bucket list this year!
Who else wouldn't want to spend a weekend touring distilleries, tasting a lot of bourbon whiskey and driving through miles of scenic bluegrass landscapes?
You'll learn about the history of Kentucky as you go, you'll have your fair share of scenic drives, and well – you'll get to taste some of the best whiskey in the world.
In this article, I'll cover pretty much everything you need to know about the Kentucky Bourbon Trail including which distilleries to go to, when to go and where to stay.
What is the Kentucky Bourbon Trail?
The Kentucky Bourbon Trail is basically a collection of 10 bourbon whiskey distilleries that will give you the ultimate experience of learning how this world-renowned bourbon is distilled, what history lies behind the way it's crafted and a lot more.
Not to mention, it's a great opportunity for anyone who wants their fair share of bourbon tasting.
Each of the bourbon distilleries offers a completely different experience and I highly recommend you visit them all (if you have time, of course).
Where is the Kentucky Bourbon Trail?
The Kentucky Bourbon Trail is located in Kentucky and began in 1999 as means of bringing in more tourism to the state.
The distilleries are all clustered between Lousiville and Lexington with most of them within no more than 80 miles from Lousiville.
The Best Distilleries on the Bourbon Trail
Let's have a quick look at the Kentucky distilleries on the Kentucky Bourbon Trail.
Location: Louisville
Price: $14
If you're short on time, this tour is perfect for you. The location is actually ideal as a starting point to your Kentucky Bourbon Trail.
It also serves as more of a museum that takes you on a fascinating journey back in time to 1783, where you'll learn all about this area of the state and all about the history of bourbon in this Kentucky distillery.
The tour is more theatrical with a great blend of educational and entertaining materials to fully immerse you.
The best part of the tour is at the end when you actually get to sample the 3 different types of bourbon whiskeys that they offer.
You'll get to try:
Evan Williams Black Label
Evan Williams Single Barel
Larceny
And wait for it….. bourbon-filled chocolate to finish with. Yes, please!
Location: Clermont
Price: $10-14
"Come as a friend, leave as a family"
Welcome to the best Kentucky distillery on the Kentucky Bourbon Trail.
This is the largest bourbon producer in all of Kentucky and is owned by the Beam Family, an incredibly influential family when it comes to bourbon making around the world.
Their 90-minute tour is one of the most well-rounded tours you can take on the Kentucky Bourbon Trail that takes you through the whole process of how bourbon is made.
Of course, there's bourbon tasting in the end.
If you're short on time, you can always take their 45-minute tour that gives a quick history lesson about the Beam Family, the distilling process and offers tastings in the end as well.
If you're really really short on time, then you don't even need to book a tour. All you need to do is pay $5 and get to taste four different bourbons.
Tip: Make sure you book a few days in advance as this is one of the most popular tours on the Kentucky Bourbon Trail.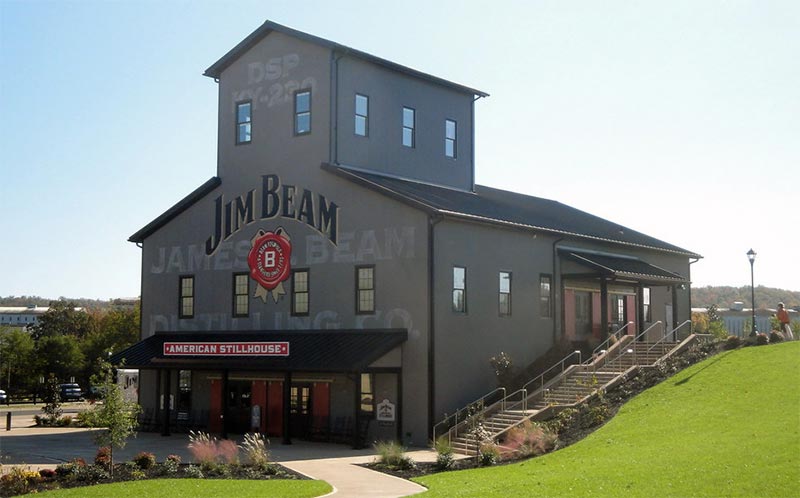 Location: Loretto
Price: $14
Maker's Mark is perfect if you're looking for something that's a little bit more diverse.
There are tours there + the normal distillery tour. The special ones take you behind-the-scenes of the process and you can even have a class on how to mix drinks and make drinks with bourbon.
This is also one of the most popular distilleries on the Kentucky Bourbon Trail for the amazing experience and insights it offers.
Add to that an aesthetically pleasing property and an intriguing history and you've got yourself everything you need!
Tip: Because of the crowds, make sure you make reservations early on.
You'll get to try:
Maker's White
Regular Maker's Mark
Maker's 46
Location: Louiseville
Price: $12
The Bulleit Frontier Whiskey distillery has been operating since 1995.
It wasn't until 2014 that it was opened to the public. Now you can marvel at the fascinating history on an hour-long tour where you can sample five main types of bourbons offered at Kentucky distillers:
Bulleit Bourbon
Bulleit 10 year
I.W. Harper Label
Blade and Bow label
The entire distillery has a very distinct historic look to it, which really works in fully immersing you in the whole experience.
Tip: The distillery doesn't offer tastings unless you join their one-hour tour.
Location: Versailles
Price: $15
To visit the oldest Kentucky distillery (and the smallest), head to the Woodford Reserve.
The drive itself is enough – with gorgeous rolling hills, and horse farms all around you.
There is also a distinct historic feel to it, and the place is actually quite upscale.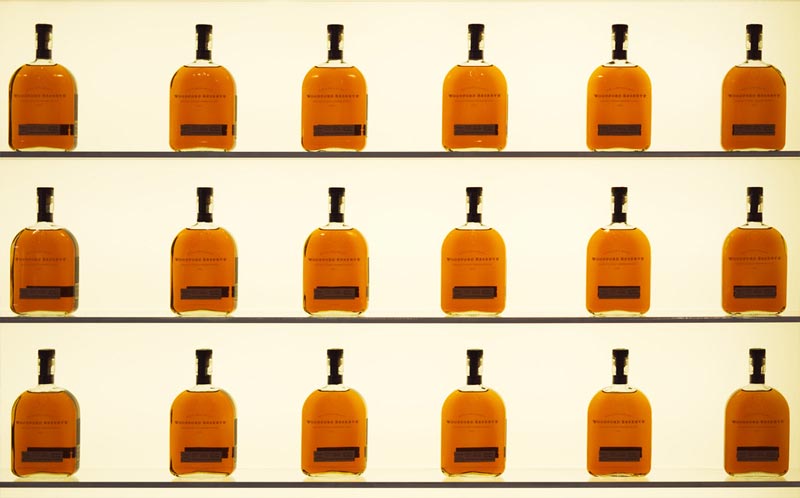 Location: Lawrenceburg
Price: $5
This Kentucky distillery was built back in 1910 and will take you through the history of the Four Roses Bourbon, a top-selling bourbon in Japan.
Yes, Japan!
Apparently, during the 20th century, Four Roses could not be found in the US, despite it being produced right in Kentucky.
Location: Bardstown
Price: $10
This distillery opened in 1934 and offers bourbon labels like Elijah Craig and Evan Williams.
You can join any of the two tours there:
1. The Mashbill Tour
2. The Connoisseur Experiences.
Sadly, there isn't an active distillery anymore there since it was burnt to the ground in 1996.
You could, however, learn about the history of Kentucky distilleries and bourbon in its Heritage Center.
Location: Lexington
Price: $11
This distillery is also known for producing beer, so you can learn about both processes and have a tasting of both in the end.
You have to take a tour, however.
Location: Lawrenceburg
Price: $11
The Wild Turkey Bourbon is another popular distillery on the Kentucky Bourbon Trailer and is one of the few Kentucky distilleries that produce some of the most popular bourbons around the world.
Location: Louisville
Price: $20
This is the newest one on the list and has only been added to the Kentucky Bourbon Trail 2 years ago (2017).
How to See the Kentucky Bourbon Trail in 3 Days:
The 10 Kentucky distilleries are all grouped together in three main areas.
I recommend this itinerary:
Day 1: Start in Lexington and visit Four Roses, Wild Turkey, Woodford Reserve, and Town Branch
Day 2: Wake up early (and refreshed from drinking all of that Bourbon) and drive an hour west to Louisville to see Bulleit Frontier Whiskey, Angel's Envy, and the Evan Williams Bourbon Experience
Day 3: Finish by heading a few miles south of Louisville to see Maker's Mark, Jim Beam, and Heaven Hill
3 days is more than enough to explore the 10 different distilleries.
When's the best time to visit the Kentucky Bourbon Trail?
The best time to visit is during the fall or spring months. The bourbon then is usually in full production and the weather isn't unbearable.
The Kentucky distilleries are open year round.
However, summertime is the busiest. I don't recommend visiting during the summer months since the weather is really hot and the distilleries can get very crowded.
Where should I stay on the Bourbon Trail?
I would recommend staying anywhere in Louisville or Lexington so you can be as close as possible to the distilleries.
You'll find that these places have the easiest access to the Kentucky Bourbon Trail and plenty of hotels, Airbnbs and restaurants.
I have to choose one distillery on the Kentucky Bourbon Trail – which one should I choose?
It really depends on what you want out of this tour.
For the best all-around experience – go to Maker's Mark.
If you want a full tasting experience – go to Woodford Reserve.
If you're a big family – go to Evan Williams Bourbon Experience.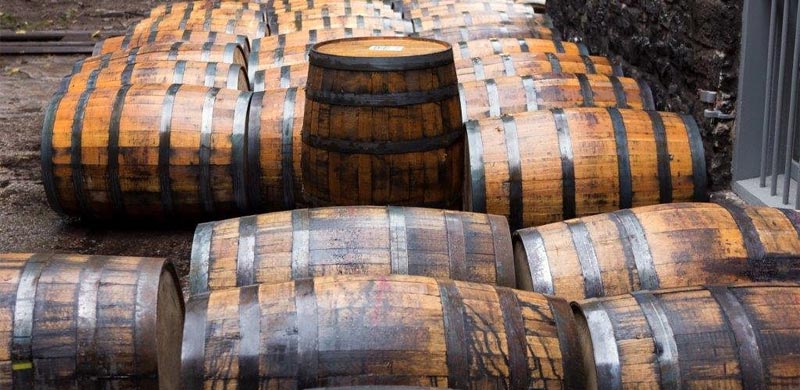 Tips for Planning your Kentucky Bourbon Trail trip
Get a Kentucky Bourbon Trail Passport – You will need to pick up a Kentucky Bourbon Trail Passport at your first distillery that includes all of the distilleries on the list. If you collect the stamps, you get a free t-shirt!
Get to your tours ahead of time.
Decide early on whether you're taking a tour bus or driving.
You don't need to take a tour at every distillery.
Make sure you eat at Wallace Station!
Check out the availability of specialty tours.
After you finish the trail, make plans to visit Mammoth Cave National Park! It's about 90 minutes south of Louisville and one of the largest caves (spanning over 400 miles!) in the world.
The Kentucky Bourbon Trail is a great way to learn (and of course – sample) bourbon in Kentucky.
What better way to do that than by visiting ten different distilleries?!