Growing up in Pittsburgh, I've spent a lot of my winters hitting some of the slopes in the surrounding area.
Whether you're fearless on the slopes, or you prefer to relax in an indoor sauna, glancing at the ice-capped peaks outside, you'll find what you're looking for in one of the many skiing spots near Pittsburgh.
Best Skiing near Pittsburgh for Advanced Skiers and Dare-Devil Ski Jumpers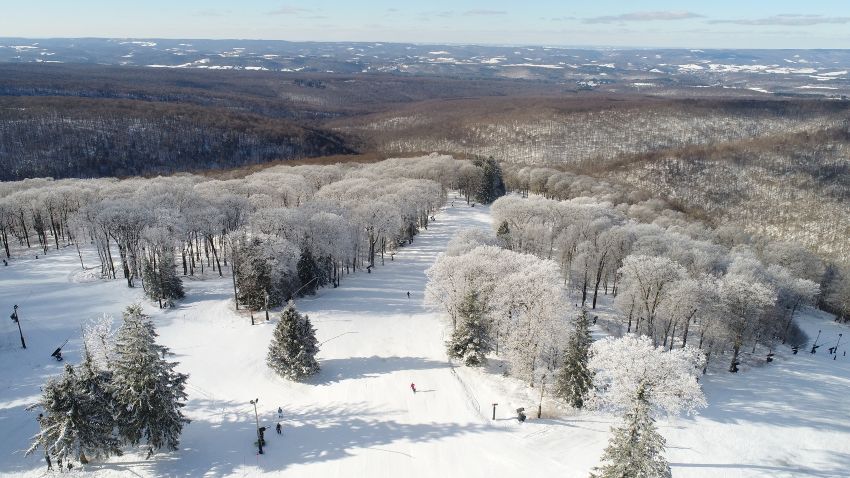 Daring skiers and snowboarders should put Laurel Mountain on their bucket list.
With a vertical drop of 761 feet, Laurel Mountain has the highest vertical drop on Laurel Ridge in Pennsylvania, and the view from the top is simply breathtaking.
Ski enthusiasts will have the time of their life on the double diamond Lower Wildcat Slope, and the various black diamond runs.
With evergreens outlining the slopes, and little wooden cottages dotting the mountain, the feel is one of a winter wonderland.
If you need to recharge mid-day, you can have a hot drink or a snack at the charming Wildcat Lounge, or have a full meal at the Laurel House Cafe.
The resort is not big, but you may want to stick around for a second day to fully enjoy the most challenging slopes.
The nearest lodging option is located just around the corner at Seven Springs Mountain Resort.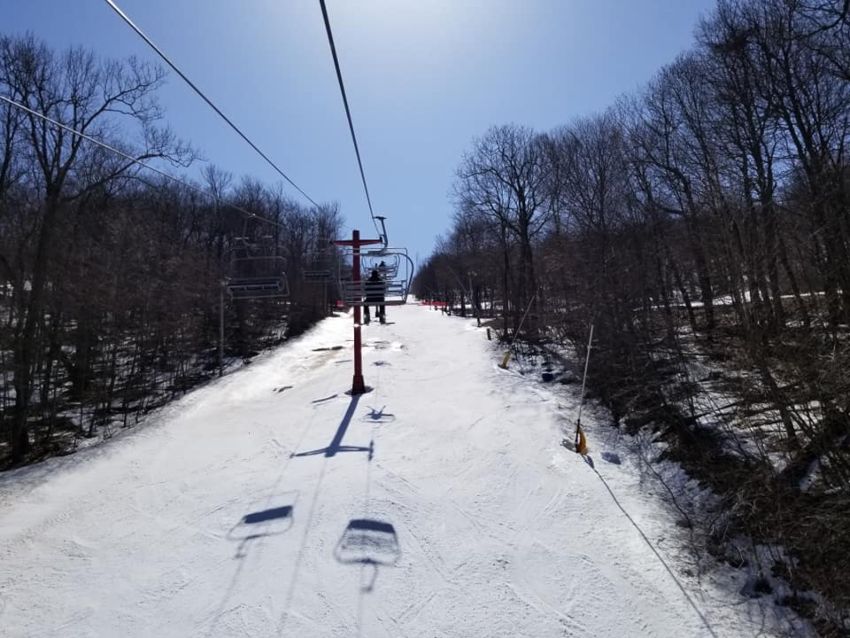 Looking for electrifying slopes and basic dining and lodging? Pay a visit to the Blue Knob Resort.
This is not your average beginner-friendly mountain at all, as there is maybe one truly entry-level run on the entire resort.
I recommend the Blue Knob Resort to thrill-seeker skiers and snowboarders who love a challenging and exciting slope.
If your ideal winter day includes a series of black diamond slopes, a couple of lifts, and an entertaining terrain, you're in for a great time.
Yes, the facilities and amenities could benefit from an upgrade, but you don't come to Blue Knob seeking a royal treatment.
Fortunately, the prices reflect the state of services provided, making this one of the cheapest mountains for skiing near Pittsburgh.
You can spend the whole weekend by booking a room at the Blue Knob All Seasons Lodging. Check out the very convenient "Stay and Ski" all-inclusive deal.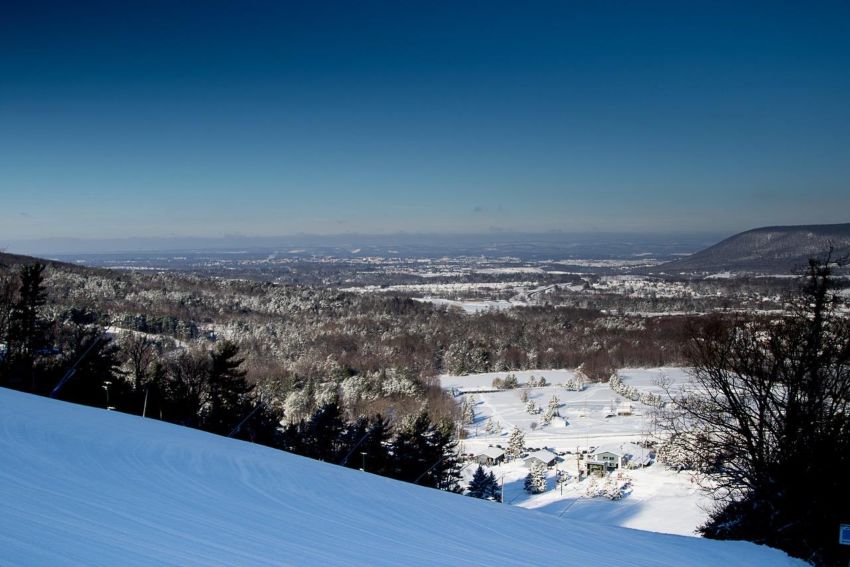 I can't talk about skiing without giving a shout out to my Alma Mater, Penn State!
I took skiing lessons here one semester and this is where I learned (rather poorly might I add) how to snowboard.
Located on a small mountain but with great elevation and a few interesting slopes, Tussey Mountain Ski and Recreation resort is a good choice for a fun getaway surrounded by stunning natural scenery.
The view from the top is beautiful, especially during wintertime when Mount Nittany is covered in snow.
It's a quiet and basic resort away from the big crowds of tourists, so you can expect a peaceful and relaxing time.
There are around 15 available trails and runs, but only 3 or 4 are good for beginners. Most of the slopes at Tussey Mountain are black diamond rated and mostly suited for people who are already comfortable on the ski.
The resort also organizes some fun events during the week like Yoga on the Mountain, community college theater shows, or the upcoming Oktoberfest.
A Couple of All-inclusive Ski Resorts Near Pittsburgh for a Blissful Getaway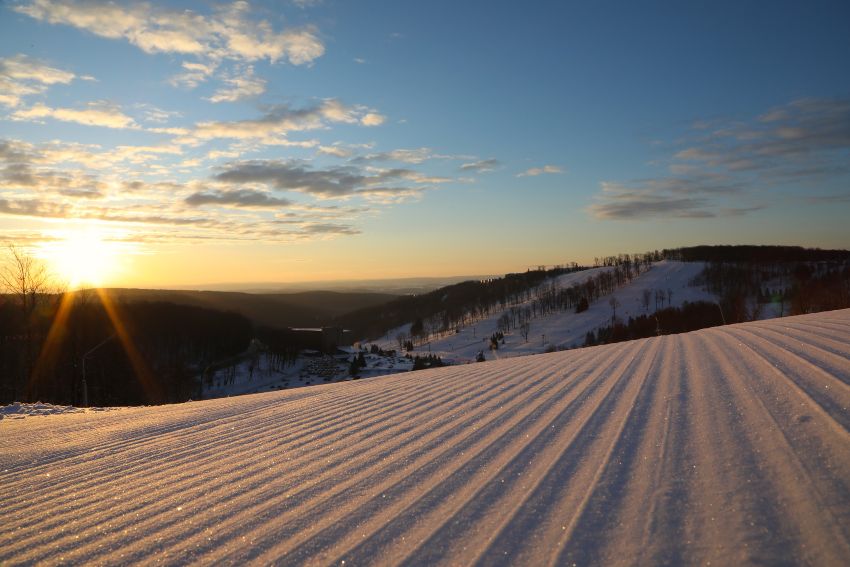 Complete with restaurants, multiple lodging options, a spa, and virtually endless activities, Seven Springs Mountain Resort is one of the best ski resorts on the east coast.
For small groups or couples, the best accommodation option is the Slopeside Hotel, while for larger families or friend groups I recommend booking one of the lovely cottages and chalets, or even getting a whole townhouse.
The resort also includes some good restaurants, bars, and cafes addressing every dining need from breakfast to midnight drinks.
Luxury lodge and dining aside, the skiing itself is pretty great. Seven Springs Mountain boasts over 30 slopes, easily reachable with the 10 chairlifts running all day.
Most of the slopes and trails are beginner friendly or at most moderately difficult, while there are only 5 very challenging black diamond runs.
Nonetheless, bold skiers looking for some serious thrills will find their spot on the highly risky Goosebumps Slope.
5. The Peak at Nemacolin – Skiing near Pittsburgh, but make it lavish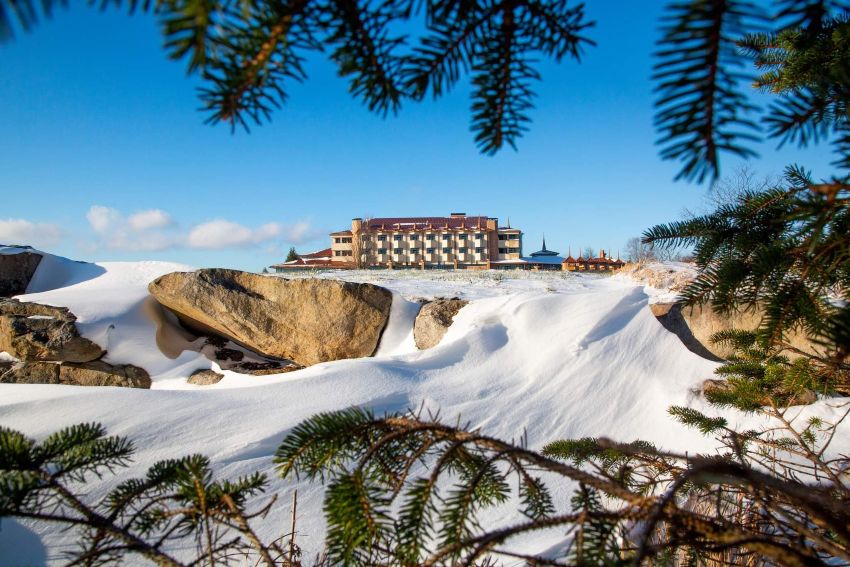 Slow cooking in a hot tub, while outside is covered in snow, is just about the perfect feeling, and you can get this and more at The Peak.
The ski resort is just a small part of what the resort offers. From rock climbing areas to golf courses, zip-lining courses, and indoor and outdoor pools, you could spend a week here and not get to check every item off the list.
This is not a location I would choose for advanced skiers as the slopes do not constitute a challenge at all.
There are around 3 slopes at the resort, and they are all beginner-friendly.
But if you're just in for a bit of winter fun, or you are a complete winter sport beginner, The Peak at Nemacolin is a perfect choice.
The facilities and lodging options are stylish and the overall feel is classy but not aseptic. There is a lot of heart in this resort, and the welcoming and warm attitude of the staff reflects it.
It may be a bit expensive compared to other options for skiing near Pittsburgh, but it's money well spent considering the quality of the venue.
Best Skiing Spots near Pittsburgh for Beginners or Families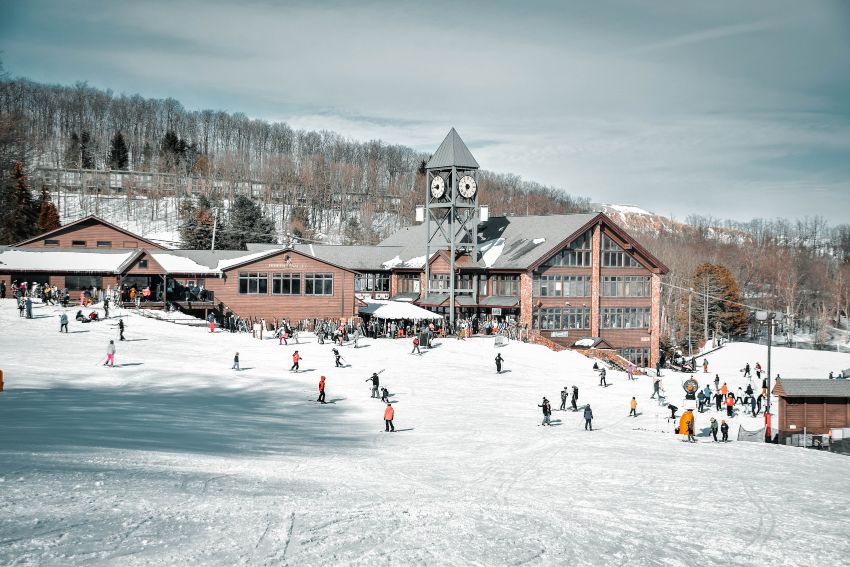 Loved by locals and first-time skiers, Hidden Valley Resort is the ultimate beginner and family-friendly ski destination near Pittsburg.
From the moment you rent your skis, to when you'll be relaxing at the resort's eatery with a cup of hot chocolate in hand, you'll have nothing to worry about.
The visitors consistently review the staff as super friendly and helpful, and the ski teachers as professional and kind.
Embrace the happy and chill vibe of Hidden Valley Resort, and just spend a relaxing day on the mountain's beginner-friendly slopes.
If you want to spend a couple of days, you can get a room at The Inn at Hidden Valley. Just remember to book ahead if you are planning on visiting during the weekend or holidays.
The resort hosts live entertainment events at night, as well as seasonal festivals throughout the year.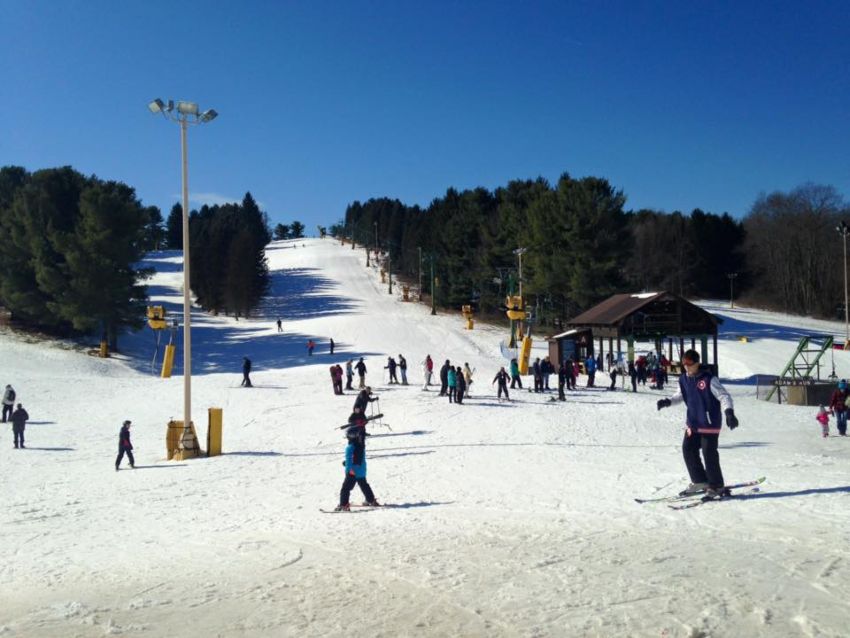 If a full day of snow tubing and slopes without busting the bank sounds like a blast, check out Boyce Park Ski Area.
There are 10 slopes, perfect for beginners and intermediate-level skiers, plus a few scenic trails for those who love snowshoeing in nature.
The Park rangers offer ski classes every day, complete with useful advice and suggestions on how to fully enjoy your visit to Boyce Park.
Because of the gentle hills and non steep runs, this is a great resort for learning how to ski and snowboard.
Boyce Park is open year-round and is not just known for its slopes. In the spring and summer, come back to enjoy the trails and the meadows in full bloom.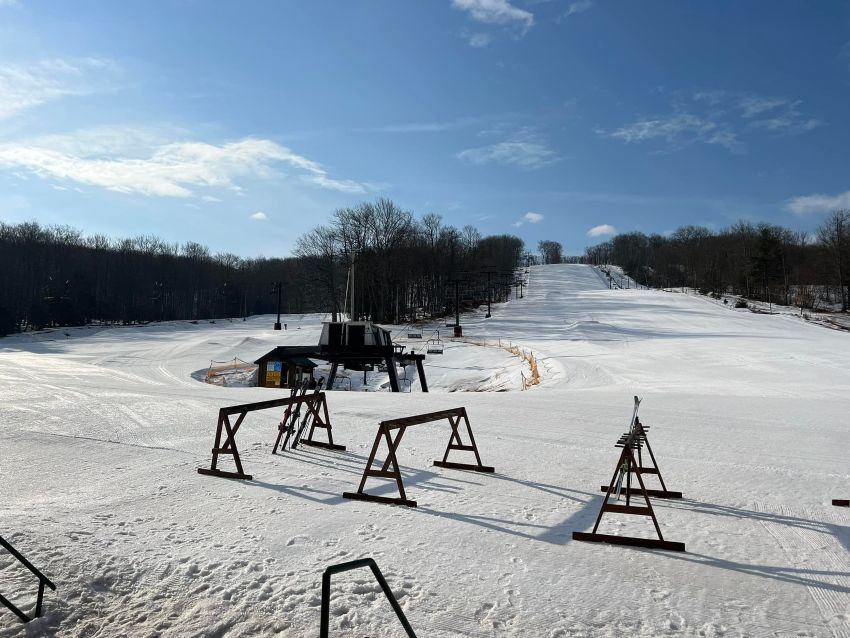 Price per value is hard to beat at the Ski Sawmill Resort, making this a great choice for a cost-effective holiday.
Costs for a full day of winter sports are significantly lower than bordering mountains and resorts, but the service is still pretty good.
The resort is somewhat remote and for this reason not very touristic. It is still well developed and can get crowded on holidays, but it's rarely packed.
For a full weekend out of town, there are different kinds of accommodation available, from chalets to the convenient Mountain Inn located just on the foot of the mountain.
The facilities are clean, the slopes up to standard, and nothing is missing from this resort, from ski lessons to rentals, dining, and tube slides.
You'll even find seasonal events scheduled during the winter months, such as the Holiday Christmas Week, New Year's Eve Ski midnight parade, Winter Carnival in march, and even Ladies Ski for-free weekend. Check out the complete list of events to know what's going on at Ski Sawmill Resort.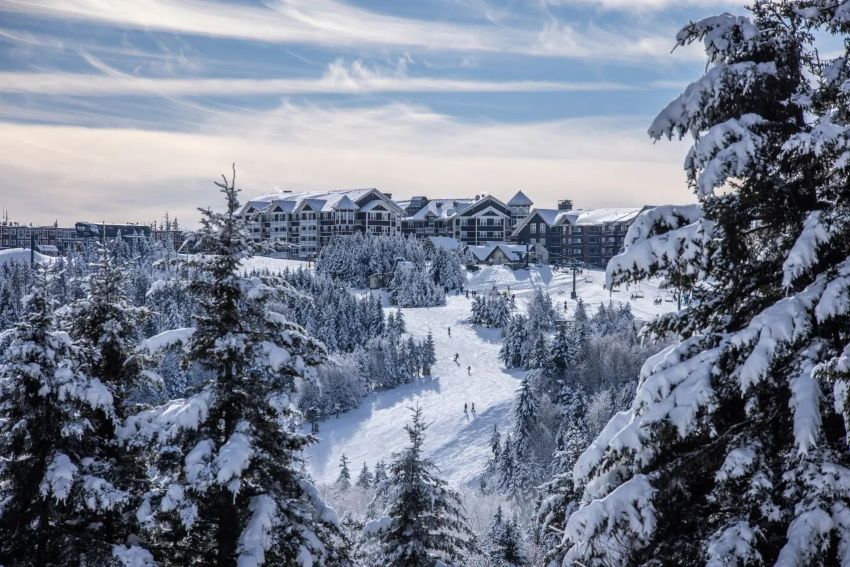 While Snowshoe Mountain Resort is located in West Virginia and not Pennsylvania, it is still a quick drive (around 3 hours) from Pittsburgh and can make for a great location for a weekend getaway.
This is one of the most popular ski resorts in the area and one of the most touristic too. Everything from transportation to rentals is organized to handle big crowds, but you should expect to wait in line from time to time.
With almost 40 slopes and trails and 7 chair lifts to reach the various peaks, the resort is overall a fantastic location for skiing and enjoying the snow.
The Boathouse offers dining options, snacks, and refreshments to catch a breath and recharge between one slope and the other.
Accommodation options at Snowshoe Mountain Resort span from the most basic lodges to quaint cottages, townhouses, and luxury villas, so you are sure to find something to your taste.
Loved the Ski Resort Near Pittsburgh? Check Out More Winter Destinations
If you're still on the fence about where to spend your winter holidays, why don't you look for inspiration among my favorite winter vacations?
If your heart is set on a holiday on the slopes, check out the best places to ski in the US this winter.