Ketchikan, Alaska doesn't have the highest mountains or the biggest glaciers.
But it doesn't need them.
Ketchikan has its own unique charm. Whether you want to know more about Native Alaskan culture, explore the great outdoors, or simply soak in the art, culture, and the people, Ketchikan has plenty to offer.
And what's wonderful is that no matter what you end up doing in Ketchikan, you're constantly surrounded by mile and miles of natural beauty.
Today, let's explore all the best things to do in Ketchikan, as well as some tips for traveling to Ketchikan so you can plan your trip here smoothly.
The Top 12 Things To Do In Ketchikan
1. Visit a totem pole park.
A totem pole is a sculpture carved from huge trees that illustrates stories, important events, family history, and even one's shame. It's part of the cultures of plenty of many indigenous peoples of North America, specifically Alaska.
In particular, Ketchikan is home to the Tlingit, Haida, and Tsimshian peoples, and totem poles are a huge part of their culture.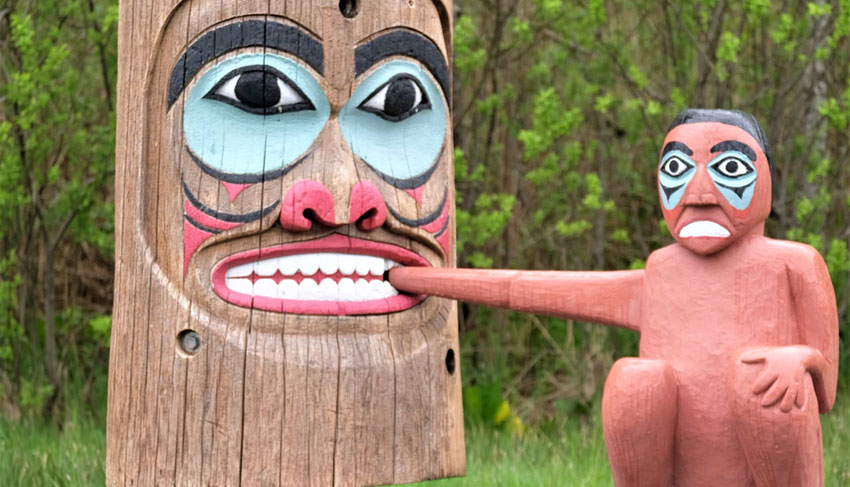 Ketchikan holds the distinction of having the world's largest collection of totem poles in the world, scattered in many different places and crafted in different years. Here are some of the totem pole parks where you can see totem poles.
Totem Heritage Center
The Totem Heritage Center is home to many original, unrestored totem poles that have been rescued from abandoned Native village sites.
It provides the opportunity to discover, learn, and understand the culture and traditions of the Native Americans of Ketchikan.
Essential Information
Address: 601 Deermount St, Ketchikan, AK | 907-225-5900
Hours: May to September: Mon-Sun 8am-5pm; October to April: Tue-Sat 1pm-5pm
Cost: $6 per head for adults; discounts available for seniors; children 17 and below and military can come in for free
Website: Totem Heritage Center
Totem Bight State Historical Park
It's located a bit out of the way, but Totem Bight State Historical Park is home to plenty of totem poles that have been originally left to rot in villages that have been abandoned by Native Americans who sought work elsewhere but have since been repaired or duplicated by young artisans.
Another must-see attraction here is the Clan House, which is a replica of a Tlingit clan house made of red cedar.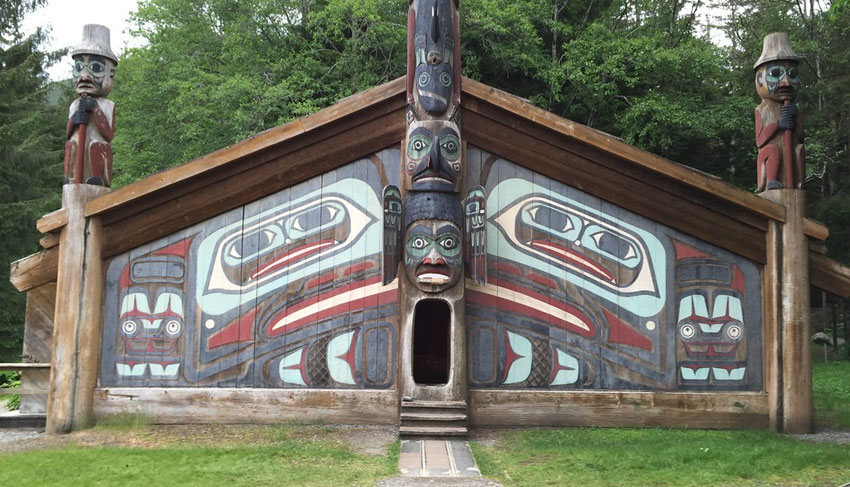 The view of the ocean is excellent from this park as well. Spring for a few coins to peer into the mounted binoculars to see the boats passing by, spot some wildlife, or view nearby Gravina Island on a clear day.
The park was added to the National Register of Historic Places in 1970 and is now overseen by the state.
Essential Information
Address: 9883 N Tongass Hwy, Ketchikan, AK | 907-247-8574
Cost: Free (though donations are suggested)
Website: Anchor Text
Potlatch Totem Park & Museum
Located just next door to the Totem Bight Park, the Potlach Totem Park was built on the old fishing grounds of Tlingit Natives and features some of the best Alaska native art aside from the historically significant totem poles.
Learn about how Native Americans went about their daily lives by exploring a set of clan houses featuring various carvings.
A major highlight of the park is the totem carving shed, where you can watch up close how Native American totem poles are carved.
The park also features an antique car museum as well as a firearm museum. This is also the place to buy souvenirs of your visit to this park as well as the neighboring Totem Blight Park.
Essential Information
Address: 9809 Totem Bight Rd, Ketchikan, AK | 907-225-4445
Hours: Mon-Sun 7am-4pm
Cost: Free
2. Learn about Ketchikan and Alaska in the Southeast Alaska Discovery Centre.
The Southeast Alaska Discovery Centre features exhibits and interactive displays about Ketchikan's history, culture, people, and land.
Various exhibits feature Alaska's temperate rainforest, native fishing traditions, ecosystems, and natural resources. Younger children can complete a scavenger hunt while exploring the museum, while older children can complete a Junior Ranger course designed to give them a better appreciation of nature.
Don't forget to catch an educational movie at their Discovery Centre theatre and shop at their bookstore before you go.
Essential Information
Address: 50 Main St, Ketchikan, AK | 907-228-6220
Hours: May to September: Mon-Sun 8am-4pm; October to April: Thu-Sun 10am-4pm
Cost: May to September: $5 per head for adults, children 15 and below have free admission; October to April: Free
Website: Southeast Alaska Discovery Center
3. Go on a fishing trip.
Fishing is one of the best outdoor things to do in Ketchikan; it is the salmon capital of the world, after all. Halibut fishing is another fun option.
Fishing guides aren't a requirement, but they're definitely an advantage when you're out in an unfamiliar, temperamental sea. Plenty of deep-sea charters can set you up with a fishing trip, complete with a boat and a guide.
Here are some of the most recommended fishing charters:
You can also do fly-out (or fly-in) fishing, where you fly with a floatplane to some secret spots in the sea or lake to catch some fish. Here are some highly recommended companies to book your fishing trip with:
4. Observe bald eagles in their habitats.
Alaska is home to a population of bald eagles, which is so robust that the bald eagle was never listed as endangered or threatened in this state.
Ketchikan, in particular, attracts plenty of bald eagles because of the abundant salmon in its waters. Sure enough, you'll find eagles at the mouth of salmon streams.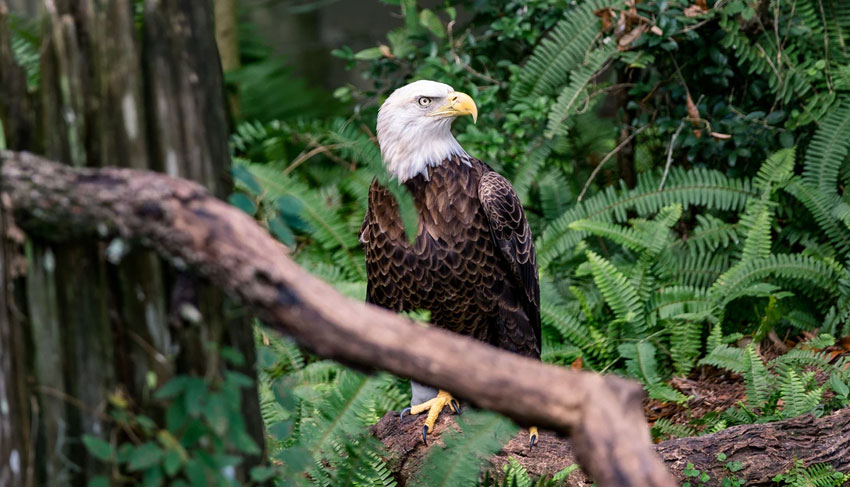 In May, the mature bald eagles prepare their nests, where their eggs hatch the following month. June and July are when the eagles feed their young in their nests, and August to early September are when the young ones are learning to fly and practicing to hunt salmon.
Here are some of the eagle's nests you can visit:
5. Go on a bear-viewing expedition.
If Juneau is famous for whale-watching, Ketchikan is known as the place to be for finding bears.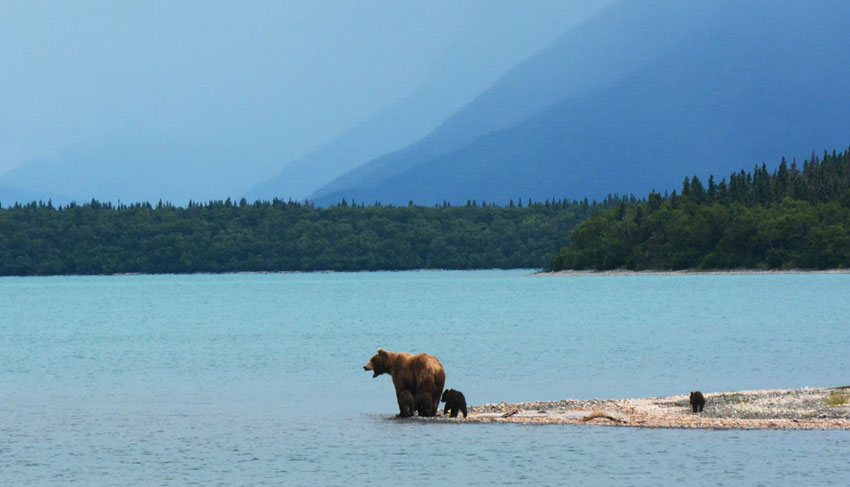 Black bears (and sometimes even brown bears) are all over Ketchikan, and they thrive here because of the salmon. Yes, black bears like salmon, too.
Here are the best bear-viewing areas in Ketchikan:
6. Explore Misty Fjords National Monument.
Ketchikan is the jumping-off point for exploring Misty Fjords National Monument, or the "Mistys" as they are fondly called.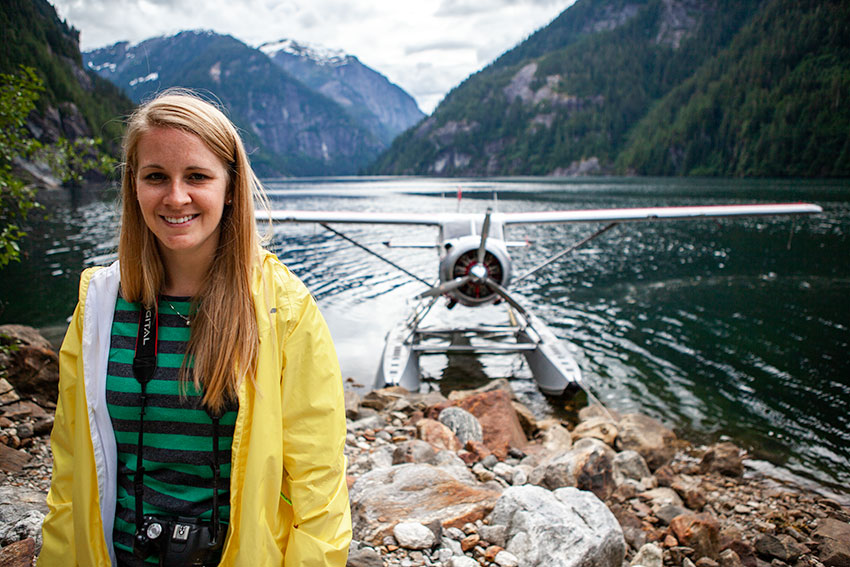 The Mistys were formed when glaciers melted thousands of years ago, grinding down mountains, gouging out rock, and creating fjords in the process. Nowadays, it's a national monument and wilderness area administered by the US Forest Service.
The quickest and most popular way to explore this pristine area is through a day flightseeing trip. If you have a whole day, you can also access this area through a boat cruise or have a tour boat drop you off so you can explore the area through kayaking.
Essential Information
Website: Misty Fjords National Monument
7. Go on a scenic day hike.
Ketchikan is one of the most beautiful places to hike during the day. There are various trails scattered throughout the city of different terrains, angles of elevation, and degrees of difficulty.
The Rainbird Trail is a popular trail as the trailhead is easily accessible from downtown Ketchikan.
Plus, it's not very difficult to navigate, but it's not a cakewalk either. The terrain changes as you go along the hiking trail. There's gravel, soil, rocks, and wooden steps.
When you get to the bluff, you're rewarded with an excellent view of the ocean: floatplanes taking off and landing, fishing boats going back and forth, and eagles flying all around.
Deer Mountain Trail is another popular but slightly more difficult hiking trail. The views are spectacular, though. At some point, you get a view of Revillagigedo Island, as well as Ketchikan itself from above and afar.
8. Walk around Creek Street.
Thousands of visitors come here annually, and for good reason. Currently, this city center is full of galleries, retail shops, restaurants, and historic buildings.
Creek Street isn't a conventional street; it's actually a boardwalk mounted on stilts on the east side of Ketchikan Creek, east of downtown Ketchikan. It used to be the red light district, where fishermen and bootleggers cavort with prostitutes.
In fact, a staircase and boardwalk extension at the end of the street and leading up to the woods is called Married Man's Trail, which was used by married men to be able to sneak into working houses discreetly without using the front doors.
Bonus: During salmon spawning season (between June and September), you can watch hordes of salmon make their way upstream when you reach the end of Married Man's Trail.
In 2014, Creek Street was listed on the National Register of Historic Places. Some of the historic buildings still standing are Dolly's House Museum and The Star.
Essential Information
Address: 3 Creek St, Ketchikan, AK | 907-617-0867
Website: Creek Street Historic District
9. Appreciate local art.
The flora, fauna, weather, and history in Ketchikan inspire and foster local Ketchikan art from when the city was founded, and this artistic tradition endures to this day.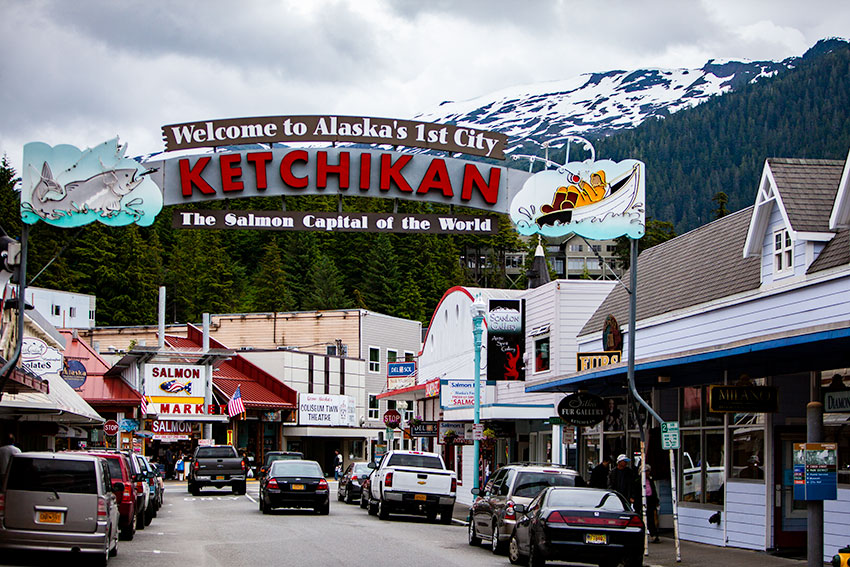 Here are just a few places where you can visit to appreciate Ketchikan art, whether it's contemporary, Native, or folk art.
10. Kayak around Ketchikan.
Exploring the waterways in and around Ketchikan is one of the most fun things to do in Ketchikan.
More than the picturesque views, kayaking gives you a chance to see wildlife up close. Bald eagles, dolphins, sea lions, and even the occasional whale can grace you with their presence.
Tip: If you can, opt to join a smaller group versus a large group. It makes for a more peaceful trip and you can really get to look around and savor the sights.
Here are some of the kayak companies that come highly recommended by locals and tourists alike.
11. Relax at a beach.
Yes, they do have beaches in Alaska.
The temperatures in the summer are bearable, at the very least. But if you don't feel like taking a dip in the waters, you can just picnic on the shore and gaze out into the ocean. If you're lucky, a whale may appear.
Rotary Beach, also called Bugge Beach, is perhaps the most popular of the Ketchikan beaches, and for good reason. A cement causeway allows tidewaters to come in and warm up in a protected pool, making the temperatures bearable even for children.
The Settlers Cove State Recreation Site offers two beaches: the main beach has plenty of amenities and is more accessible, while the second beach is more secluded and much more difficult to access, but provides a much more peaceful and relaxing experience.
12. Participate in local fairs and festivals.
Ketchikan hosts annual festivals that celebrate local products and culture. Here are the major festivals to consider planning your trip around.
Blueberry Arts Festival
The Blueberry Arts Festival is an annual festival hosted by the Ketchikan Arts and Humanities Council. It's held every first weekend of August to celebrate blueberry and the arts.
Events to look forward to include the Pet and Doll Parade, Best Blueberry Dish Contest, Blueberry Pie Eating Contest, Community Art Project, and a Fun Run.
Most of the festivities are held along Main Street, but a few events are held in other venues. For instance, the Handmade, Human-Powered, Blueberry Boat Race is held in Thomas Basin, and the Gigglefeet Dance Festival is held at the Kayhi Auditorium.
Essential Information
When: Every first weekend of August
Website: Blueberry Arts Festival
Ketchikan Wearable Arts Show
For more than 30 years, the annual Ketchikan Wearable Arts Show has been showcasing pure artistic talent in the form of gorgeous, wearable creations on the runway.
It's a surprisingly good place to meet locals; you'll see them volunteering in the event as models, makeup artists, ticket-takers, or bartenders.
Essential Information
Website: Wearable Art Show
King Salmon Derby
Held for three weekends in late May to early June, King Salmon Derby is an annual sporting event that's highly anticipated, because it starts just as the snow has started melting.
You may want to participate in this contest for the heaviest King salmon. The record is held by Milton Fox, who landed a 79-pound salmon back in 1956. The weights of the Kings being entered in recent years ranged from 55 to 60 pounds.
Buying a ticket to the event doesn't ensure a prize for you, but it does support the CHARR Education Fund that benefits the local community.
Essential Information
When: Last two weeks of May to first week of June
Website: Ketchikan CHARR Salmon Derby
Information And Tips On Visiting Ketchikan
Getting To Ketchikan
The only two major airlines that land on the Ketchikan International Airport are Alaska Airlines and Delta Connection. The only airport outside Alaska from where you can fly directly to Ketchikan is the Seattle/Tacoma airport.
Ketchikan International Airport is actually on Gravina Island, and you'll need to ride the airport ferry to get to Ketchikan proper. A ferry leaves the Ketchikan side leaves every 15 minutes starting at 6:15am and from the airport side every 90 minutes, with the last one leaving at 9:30am.
If you plan on driving to Ketchikan instead, it's possible through the Alaska State Ferry, leaving from Bellingham, Washington and Prince Rupert, British Columbia. The price difference is pretty substantial, so many travelers opt to drive to Prince Rupert first and take the ferry from there.
You can also join a cruise that stops here, but you won't be able to explore much since you'll have very limited time.
Getting Around
Ketchikan isn't a terribly difficult town to navigate. The downtown area is especially walkable and accessible. But it's always easier to get around if you're driving your own car.
If you drove to Ketchikan, then this wouldn't be a problem for you at all. But if you flew in, you can always rent a car at the airport or in town. Low-cost and low-energy alternatives are electric cars and bikes.
Public transportation options include municipal buses running every hour, seven days a week. Taxis are also another option, albeit more expensive than the bus.
Additionally, there's a free shuttle that travels along the city's downtown loop from May to September.
Where To Stay
The options for staying in Ketchikan are surprisingly plentiful. Hotels, bed and breakfasts, inns, fishing lodges, and campgrounds. You're sure to find one that fits the kind of experience that you want as well as your budget.
Best Time Of Year To Visit
May to September has the best weather; summer boasts of average temperatures of 55 °F, with the lowest temperatures in the 40s and the highest temperatures in the low 60s.
Not surprisingly, May through September is the peak season in Ketchikan. So if you're planning to visit within these months, it's best to book your transportation and lodging way in advance.
What To Wear
Ketchikan is also one of the rainiest places in North America, and the probability of rain is always high, even in the summer. More than 160 inches of rain a year is no joke. Pack a raincoat or poncho as well as waterproof shoes or boots when you come here.
The best thing to do is pack for any type of weather: sunny, cool, or overcast. This is an instance where you can never go wrong with packing more than packing less.
You'll also be looking out to the water a lot, so it's advisable to find a good pair of polarizing sunglasses.
What To Eat
The number one food to try in Ketchikan is salmon. You are, after all, in the salmon capital of the world. Having grilled salmon, salmon chowder, and salmon sushi where it's freshest.
Aside from salmon, there's a whole smorgasbord of seafood that you have to try. Halibut, rockfish, cod, king crab, Dungeness crab, shrimp, scallops, razor clams, and blue mussels are just some of them.
Alaska reindeer is another must-try in these parts, with the most popular versions being reindeer sausages and hot dogs.
Note as well that the craft beer scene has been booming in recent years, so you might want to sample some freshly tapped beer during your time in Ketchikan.
Where To Eat
Exploring the food and drink scene is one of the most fun things to do in Ketchikan. Here are some of the restaurants you should stop by.
1. Annabelle's Keg & Chowder House
Annabelle's is housed inside the Gilmore Hotel. It houses two separate sections: an upscale, laid-back bar area and a fancier sit-down area for more formal dinners.
They serve classic American fare with an emphasis on seafood. Don't miss out on their excellent selection of tap beer as well.
Essential Information
Address: 326 Front St, Ketchikan, AK | 907-225-6009
Hours: Mon-Sun 10am–10pm
Attire: Casual or formal, depending on the section you want to eat in
Reservation Required: No
Cost: $$
What to order: Seafood chowder
Website: Annabelle's Famous Keg and Chowder House
2. Alaska Fish House
A local favorite, Alaska Fish House is where you want to go when you want the freshest catch of the day. It overlooks the harbors where the catches are brought in, so you have an interesting view while dining.
Essential Information
Address: 3 Salmon Landing, Ketchikan, AK | 907-247-4055
Hours: Mon-Wed 10am–6pm; Thu-Sun 10am–9pm
Attire: Casual
Reservation Required: No
Cost: $$
What to order: Fish and chips, smoked salmon chowder
Website: Alaska Fish House
3. Burger Queen
Burger Queen is more of a hole-in-the-wall than a restaurant—they only have 4 tables, after all—but the lines are always long, and the wait time is often 30 minutes or more.
Quite simply, they serve the best burgers and old-school milkshakes in town. They also serve a mean fish and chips.
Essential Information
Address: 518 Water St, Ketchikan, AK | 907-225-6060
Hours: Mon 11am–3pm; Tue-Sat 11am–7pm; Sun closed
Attire: Casual
Reservation Required: No
Cost: $
What to order: Bacon cheeseburger, milkshakes
Website: Burger Queen
4. Cape Fox Lodge & Restaurant
On the other extreme, if you want to indulge, you can dine in one of the only luxury restaurants in Ketchikan: the Heen Kahidi Dining Room in Cape Fox Lodge & Restaurant.
From riding a funicular from Downtown Ketchikan to the lodge to the quality of the seafood dishes, the experience is high-end but the atmosphere isn't stuffy at all. The scene feels welcoming and relaxed.
Essential Information
Address: 800 Venetia Way, Ketchikan, AK | 907-225-8001
Open For: Mon-Sun 6:30am-9pm
Attire: Business Casual
Reservation Required: No
Cost: $$$
What to order: Baked Brie & Crab, Smokey Bbq Bison Burger
Website: Cape Fox Lodge | Heen Kahidi Dining Room
5. Bawden Street Brewing Company
Bawden Street Brewing Company is the only microbrewery in downtown Ketchikan, specializing in ales, saisons, and sours. They brew the occasional IPA as well.
Take note, though, that their space is small and usually standing room only, so don't expect to lounge here for hours.
Essential Information
Address: 325 Bawden St., Ketchikan, AK | 907-225-1076
Hours: Mon-Fri 4pm-8pm; Sat 12pm-8pm; Sun 12pm-6pm
Attire: Casual
Reservation Required: No
Cost: $$
What to order: Flight of tasters
Website: Bawden Street Brewing Company
Start Planning Your Ketchikan Trip!
As you've picked up by now, Ketchikan, Alaska isn't all snow and icebergs; it's a vibrant city filled with history, art, and culture, set in a gorgeous mountain backdrop.
I hope this article inspires you to visit Ketchikan and experience all the history and natural beauty it has to offer.
Which one of these things to do in Ketchikan intrigues you the most? Which one are you going to do first? Sound out in the comments!