About 3 dozen Maine skateparks are spread across the state. When compared to bigger states, this number is on the low side.
The local skateboarding community knows this and has paved the way for newer and better skateparks in Maine throughout the years.
One thing you can't underestimate is Maine's skate scene: it's definitely alive and well.
Despite the long snowy winters, skateboarders still thrive when the sun is out. And if it isn't, they either brave the cold or go for the next best thing: indoor skate parks.
Outdoor Maine Skateparks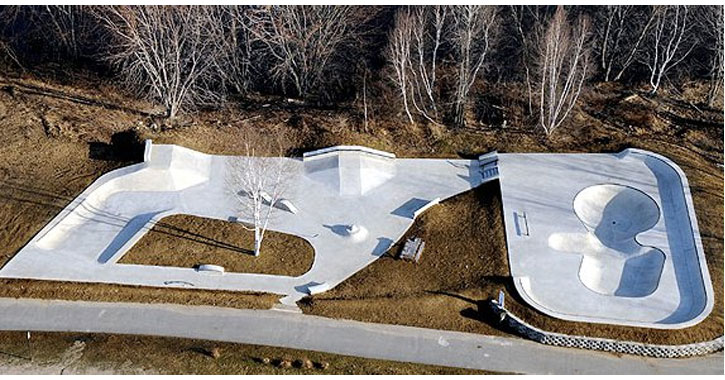 Also known as Davis Park Skatepark by the locals, Bethel Skatepark is a purpose-built concrete skatepark.
Located on Route 26, Bethel Skatepark offers many street elements, such as pyramids, pole jams, euro gap, rainbow rail, handrails, down ledges, flat bars, camel humps, and more.
Local kids also go here to master skate transitions on the massive single bowl and quarter pipe.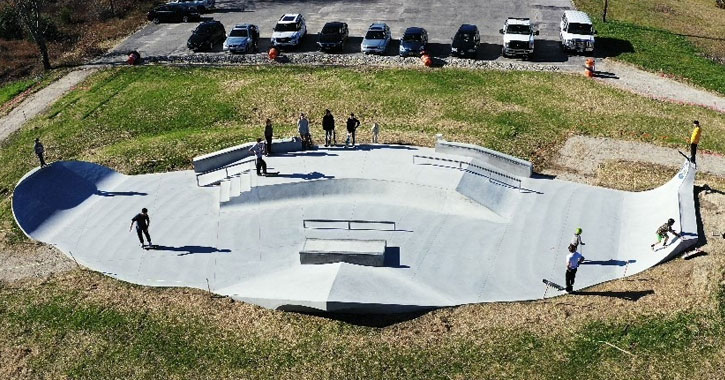 Windham Skatepark is small. In fact, you can see everything from end to end.
Planned and built in coordination with Pivot Customs and the American Ramp Company, Windham Skatepark is a modern, well-designed skatepark that serves its purpose.
The park features enough obstacles such as handrails, down ledges, ledge combo, manual pad, ledge combo, bank ramps, and a quarter pipe with extension that beginners can improve their skill levels significantly.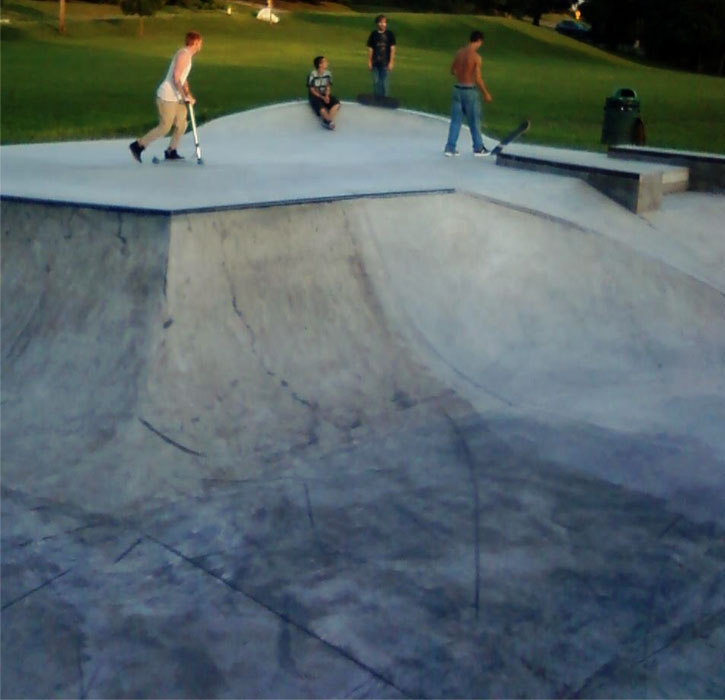 Designed by Breaking Ground Skateparks, the Augusta Skatepark is a local favorite not only for its size (it's 15,000 square feet of concrete outdoor skateboard space) but also for the number of obstacles incorporated into the park.
Augusta Skatepark features a 5-foot bowl with an extension, over 20 feet of ledges, (hubba ledges, out ledges, flat ledges, and more), manual pads, five stairs with hubba, quarter pipes, banks, rails, and more.
In 2021, locals raised over $144,000 for the construction of its 2,700-square-foot expansion. When done, the park will have additional lower obstacles for beginner skateboarders, and open spaces for a playground, basketball courts, and a pool.
Development of the Skateboard park within Kennedy Park began in 2008 when the Board and Park & Recreation Committee approved the construction of an 8,000-square-foot skatepark.
Lewiston Skatepark (also known as Kennedy Park Skatepark) was designed by Dreamland Parks. This is the same skatepark builder endorsed by Tony Hawk and other notable skateboarders.
The park features a variety of terrain, including a large flow bowl with a spine, a ditch-style bowl, and a bowl with pool coping. Lewiston Skatepark was also designed with a street section with various ramps, ledges, hubbas, and stairs to master all kinds of tricks for all levels.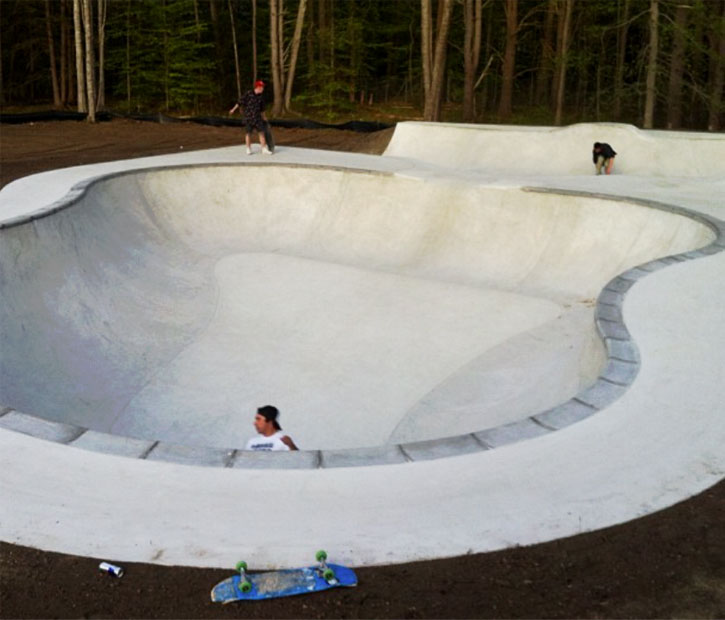 Old Orchard Beach skatepark, which locals simply call "OOB skatepark," is a concrete park funded in 2010 by the local community and the Skatepark Project.
OOB skatepark featured a transition area and a bowl with a waterfall and pool coping. There are also quarterpipes, a roll-in, and a banked flow bowl with extensions.
Like many Maine skateparks, OOB skatepark isn't done yet and an expansion could add street elements in the future.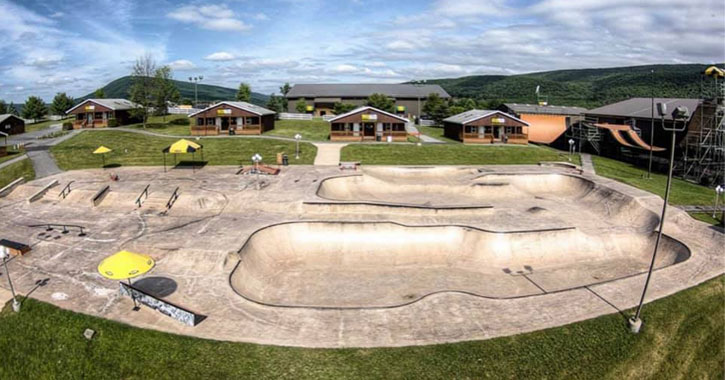 Bar Harbor Skatepark is a 4,000-square-foot park built by Pillar Design Studios for the Bar Harbor community.
While the park isn't as big as other Maine skateparks, Bar Harbor's own park does offer a little bit of everything, including a manual pad, ledges, flat bars, hips, quarter pipes, camel humps and a bank with a landscape rock, among others.
It's in the middle of nowhere though, so many locals and visitors take time to stop over just for the park. You won't find anything else here.
Because of its size, it can be crowded and busy. But Bar Harbor Skate Park is clean, smooth and had enough obstacles for shredding fun.
The Portland Skate Park was opened in 2010 at Dougherty Field on St. James Street, which is why many people still call this spot as the Dougherty skatepark to this day.
The concrete park, which was built by Canadian Ramp Company, features a flow bowl and mini bowl, a skateable bench, hubba ledges, flat ledges, out ledge, quarter pipes, bank ramps, euro gap, flat bar, handrails, and an A-frame pyramid.
Unlike other Maine skateparks that only cater to skateboarders and inline skaters, Portland Skate Park also welcomes mountain bikers, too.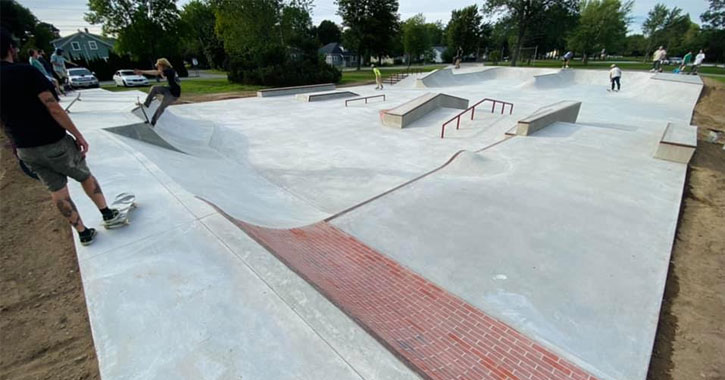 After nearly 10 long years of fundraising, planning, and setbacks, the outdoor Bangor Skatepark was finally relocated and reopened in 2021 in Hayford Park.
Bangor Skatepark is a 7,000-square-feet expansive concrete rectangle with built-in features, including a street plaza, flow bowl, quarter pipes, stairs, handrail, A-frame, pyramid, hubbas, flat rail, ledges, hips, and manual pad.
This park used to be located off Union Street. Now it is installed between Mansfield Stadium and 13th Street.
Indoor Maine Skateparks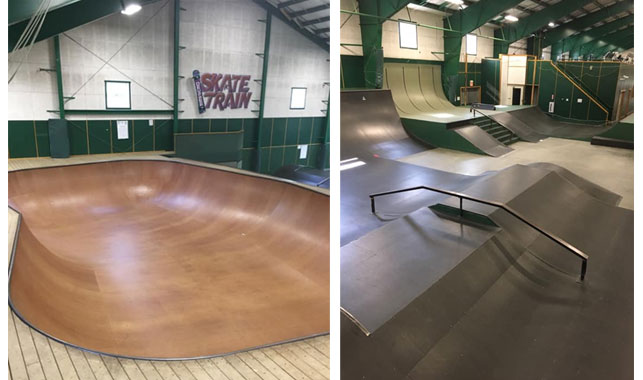 Anti Gravity Skatepark is located at Carrabassett Valley's Anti-Gravity Academy Training Center.
The 20,000-square-foot facility is Maine's largest indoor skatepark. It features a large bowl and awesome street park elements including a stair set, rails, pyramid, camel humps, bank ramps, quarter pipes, and mini ramps.
The park is open daily over the winter and even offers private skateboard lessons for kids 14 & under for $55 per hour for up to three kids. Do note that the facility doesn't have helmet or skateboard rentals available in-house.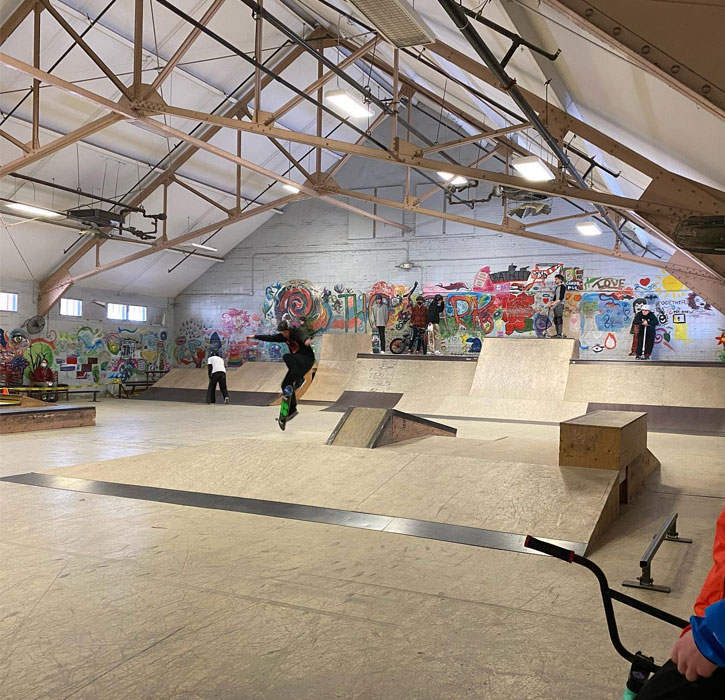 The Park is another indoor skatepark for scooters, BMX bikes, inline skates and skateboards.
The 6,000-square-foot park features a Jersey barrier positioned between six-foot quarter pipes, a hubba ledge, half pyramid, wall rides, and a plaza with hand rails and a euro gap.
The latest expansion added 1,500-square-foot of transition with a rolling hump, 6-foot half pipe and a 4-foot mini with a spine.
The Park is open daily. There's a skate shop in-house, so you can buy all your equipment there.
Going on a Skatepark Tour?
If you're traveling the country in search of the best US skateparks, make sure to read my post about Las Vegas skateparks, New Jersey skateboard parks, Florida skate parks, and Pennsylvania skateparks.
If you're just visiting Maine and want to explore some more, I recommend visiting the lakes of Maine, taking a day trip to Rockland, skiing in one of Maine's awesome ski resorts, or discovering one of the Maine-based hidden gems on the east coast.