In a world where online shopping is reigning supreme, I'm always surprised to see that some malls are still going strong.
Sure, most of the malls around me have closed or should be closed (looking at you Pittsburgh Mills…) but some are still doing astonishingly well.
That led me to the inspiration for this post. I wanted to find the biggest malls in the US and marvel at how these malls can still thrive in a world that says they shouldn't exist.
10 of the Biggest malls in US (by size)
As of 2023, these malls are the largest in the country by square feet and are home to the most number of stores and brands around.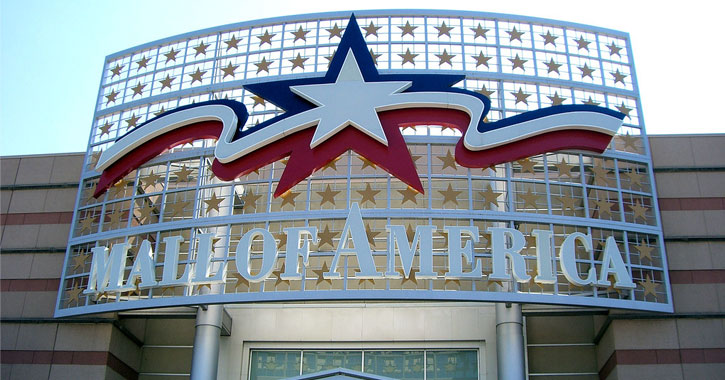 Mall of America is so big that it has its own zip code. With 64 acres of mall space, guests should prep their feet for a lot of walking.
Those who come with kids or kids-at-heart would love the SEA LIFE Minnesota Aquarium and Nickelodeon Universe (complete with 20 rides, including a roller coaster and Ferris wheel). There's an escape room, mini-golf, and never-ending activities as well.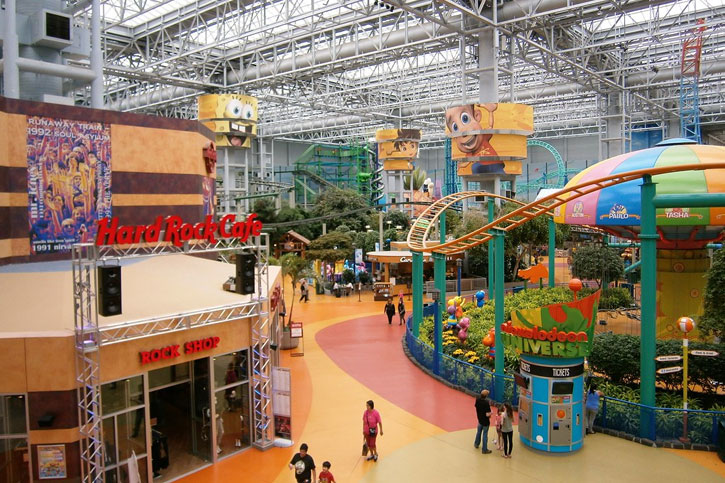 If you're here for shopping, you'll enjoy the no-sales-tax on most shoes or clothing purchases at Mall of America. If you don't have time to visit the hundreds of stores, you can also hire an on-site, personal stylist to guide you with shopping.
Mall of America opened in 1992 and continues to be one of the biggest tourist attraction in Minnesota. It brings the state a wild $2 billion in revenue yearly.
Aside from the unlimited restaurant choices and activities, there are also hotels nearby, free WiFi all throughout the mall and plenty of parking.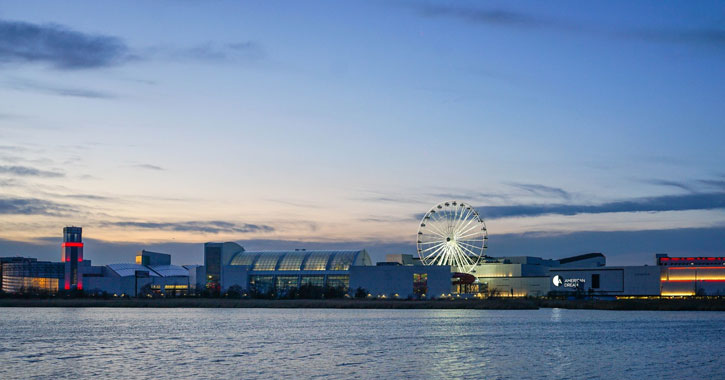 Although the American Dream mall was just opened in 2019 (compared to other malls on this list that had been around since the 80s or 90s), the East Rutherford, New Jersey-based mall had been nearly 20 years in the making. It is the second biggest mall in the United States with a whopping 3 million square feet of mall space.
American Dream isn't just a mall of retail stores – it's an entertainment haven with its own Nickelodeon Theme Park, Dreamworks Water Park, indoor freshwater wave pool, TILT Museum, LEGOLAND Discovery Center, Sea Life, an indoor skating rink, Angry Birds Mini Golf, Mirror Maze, Backlight Mini Golf, and Dream Wheel (a Ferris wheel with a spectacular view of the NYC skyline).
Foodies will definitely go crazy with American Dream's 38,000 square feet Munchies Food Hall, which is home to 20+ vendors of diverse culinary.
You won't run of things to do, places to eat, stores to shop in, and spots to entertain you and your family at American Dream. It's no wonder over 40 million people visit this mall every year.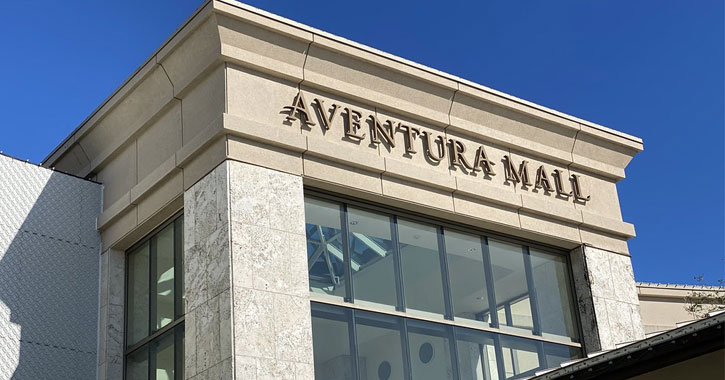 Aventura Mall is located in an upscale part of Miami, Aventura Mall has SIX department stores and over 300 retail spaces. Itis known for the wide range of luxury-brand stores.
You can find almost any brand, including MCM, Ralph Lauren, Valentino, Cartier, Givenchy, Gucci, Hermès, Balenciaga, BVLGARI, Burberry, Zara and Louis Vuitton, at the Aventura Mall. It also has the largest Apple store in Florida.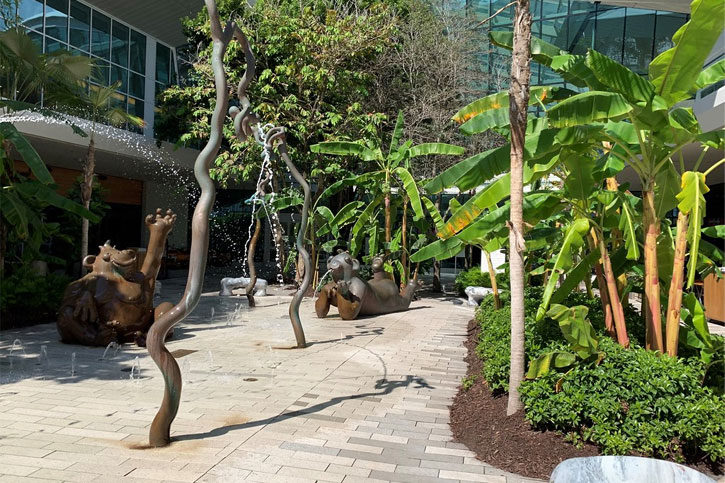 Opened in 1983, the Aventura Mall today isn't just a shopper's haven. If you love art, this mall has its own arts installation called "Arts Aventura Mall" with 20+ museum-worthy sculptures and other art pieces. Don't miss the self-guided ArtWalk audio tour – it's worth the effort.
Aventura Mall also boasts one of the largest indoor farmers market in the country. Food-wise, there is something for everyone, from the top chefs in the country, to cheap but good eats, you're in for a treat as you dine at Aventura Mall.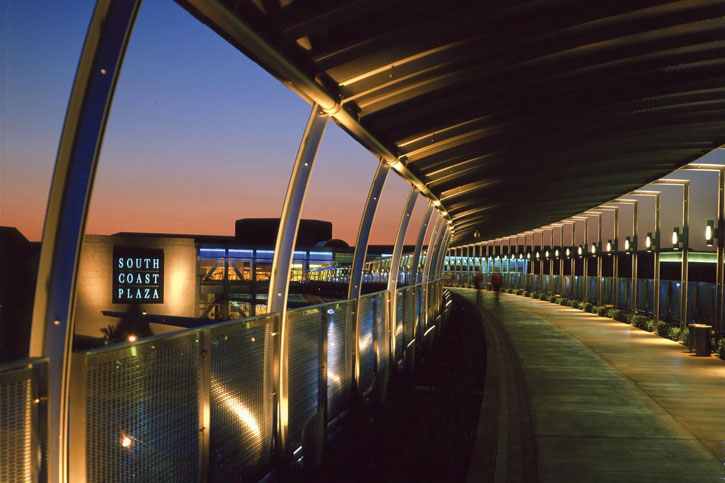 South Coast Plaza, Southern California's biggest mall, is home to over 275 luxury and fashion brands. It's a go-to mall for shoppers (pro or beginners) looking to change wardrobes. The mall even has personal shopper and concierge services for hire, if you'd like shopping assistance.
South Coast Plaza is an attraction on its own, since it is the home of Orange County Museum of Art and is just in front the celebrated Segerstrom Center for the Arts. There are also sculpture gardens, an award-winning theater and spaces for live music, concerts and other events.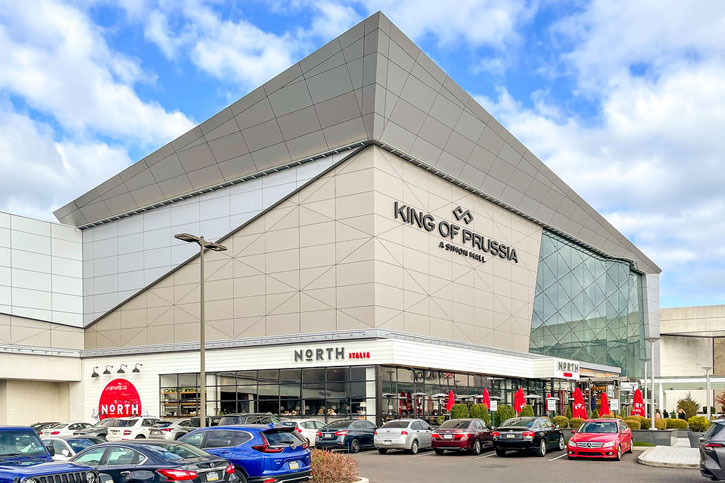 The King of Prussia Mall has six major department stores (including Neiman Marcus, Nordstrom, Bloomingdale's and Macy's) and over 450+ stores and restaurants.
This 2.9 million square-feet mall is also home to 1 (out of only 7) Savage X Fenty stores around the world.
King of Prussia Mall is famous in the gaming world thanks to the Belong Gaming arena with couches that let people play together on the PCs, Xbox consoles, PlayStations, or traditional board games.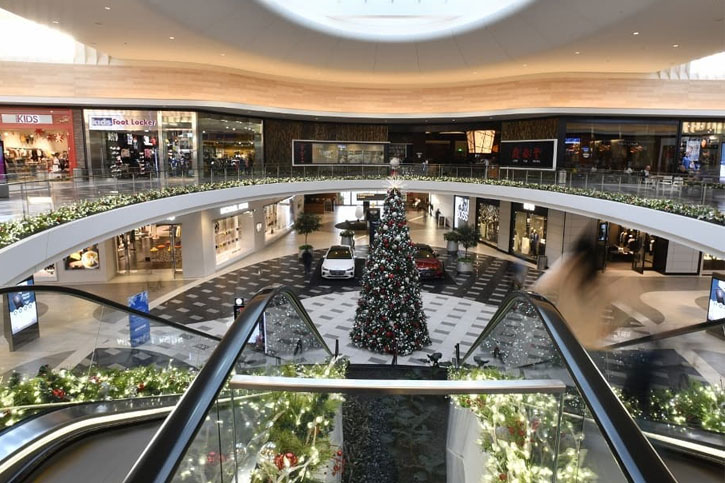 Del Amo Fashion Center, another mall operated by Simon Property Group, is a three-level mall with over 250 retails stores.
Considered the largest mall in the South Bay area, Del Amo Fashion Center is also home to award-winning restaurants like Din Tai Fung and hard-to-find boutiques of brands like Tesla, Casper, and Shiseido.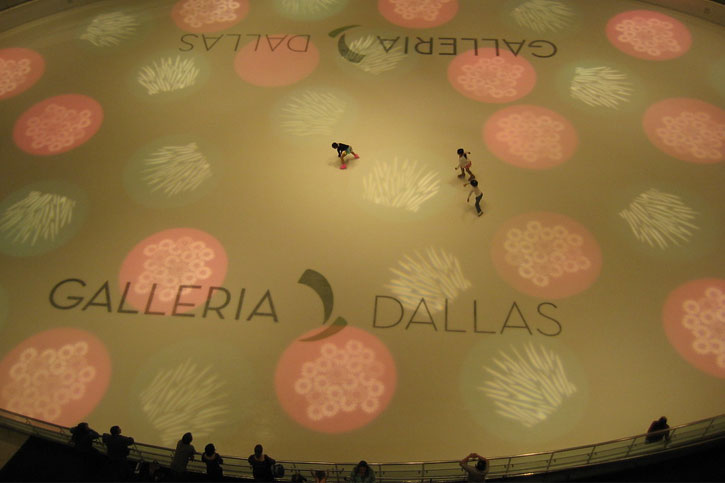 You know a mall is massive if it has its own zip code and own post office. The Galleria in Houston does, and with 400+ stores, this Houston, Texas mall is one for the books!
Inspired by the Galleria Vittorio Emanuele II in Milan, Houston Galleria feels upscale the moment you enter its doors. It has two swimming pools, two full-sized ice skating rink, and several department stores (including Saks Fifth Avenue, Macy's, Nordstrom and Neiman Marcus).
The Galleria also has ample parking spots, which can accommodate 550 vehicles and offers valet parking stations.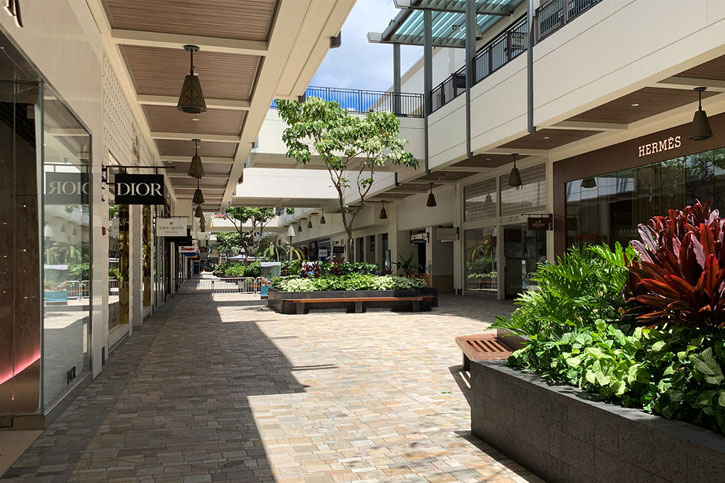 Honolulu's Ala Moana Center definitely blends well with its surroundings. Majority of its 2.4 million square feet mall space are open-air with koi ponds and native-inspired landscaping to boot!
Don't let the tranquil ambiance fool you, though. Ala Moana Center is still one of the biggest malls in US and can compete with the rest of the malls on this list. It is home 150+ restaurants and food brands, as well as 350+ stores and its unique Japanese bazaar.
9. Destiny USA (formerly called Carousel Center)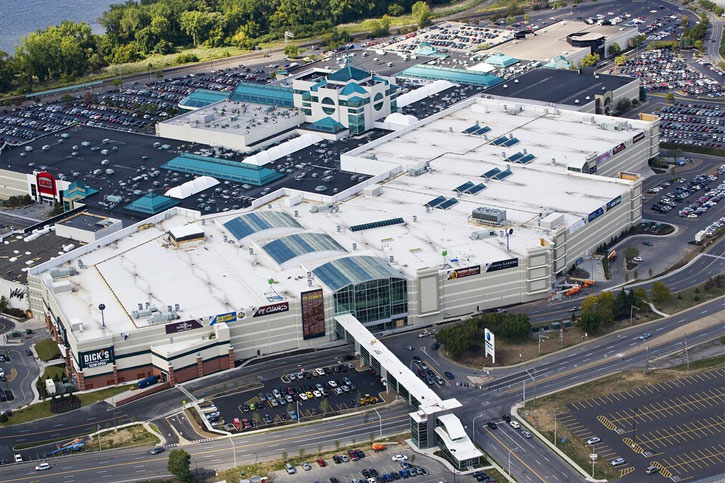 Destiny USA is a family-friendly, six-story mall located in upstate New York. You can find luxury storefronts of brands like Michael Kors, Coach, and Nordstrom, as well as an extensive array of culinary options from easy, grab-and-go fast food to high-end restaurants.
Families and friends would have a ball at Destiny USA. There's bowling, laser tag, escape rooms, a couple of arcades, a glow-in-the-dark mini-golf, the famous indoor go-kart track, a comedy club, and WonderWorks, among many other activities.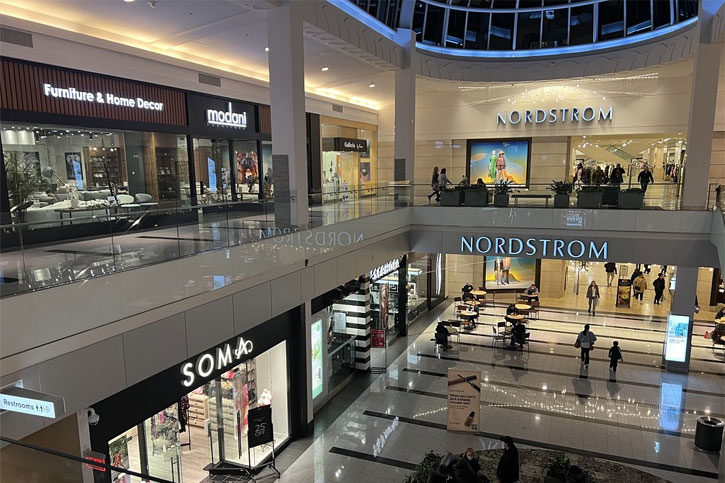 Conveniently located at the intersection of Old Country Road and Meadowbrook Parkway in Garden City, New York, Roosevelt Field is the state's second-largest mall (after Destiny USA).
Roosevelt Field Mall offers a fulfilling retail therapy, thanks to its 240+ specialty stores in the electronics, fashion, beauty, jewelry and other industries. You can also find several department stores such as Macy's, Nordstrom, Neiman Marcus, and Bloomingdale's here.
As for food and entertainment, there is an array of dining options from fast food to sit-down, award-winning restaurants. Roosevelt Field also has its own AMC movie theater and glow-in-the-dark mini-golf.
Beyond the biggest malls in US: Special Malls to Check Out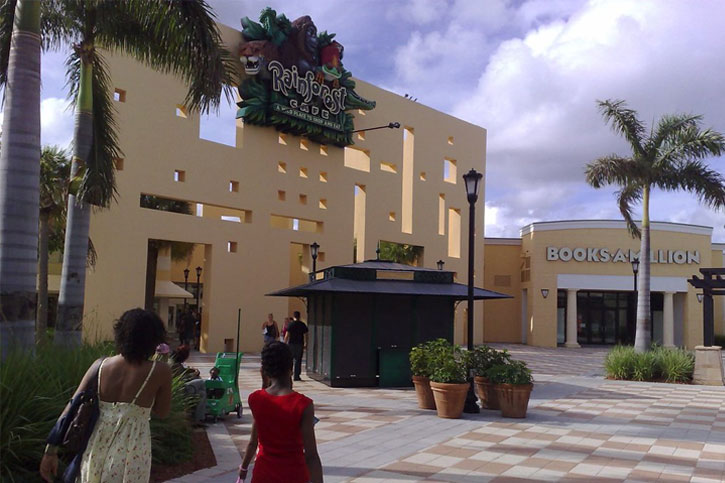 If you're looking for other indoor activities, you might LOVE these six best indoor water parks across the country.