There are 1,400 named lakes in Oregon!
While the state isn't the land of 10k lakes (that's Minessota for you), there are a TON of stunning Oregon lakes that it is definitely hard to pick just one.
Many of them are man-made and built as a result of damming, but the beauty of the lakes in Oregon (as well as the picturesque backdrops and landscapes) cannot be made up.
If you're planning a trip to Oregon, make sure to visit at least one of these gorgeous lakes.
Cascade Lakes in Oregon
The Cascade Lakes can be accessed via the Cascade Lakes Scenic Byway (also known as Century Drive and Forest Service Road 46).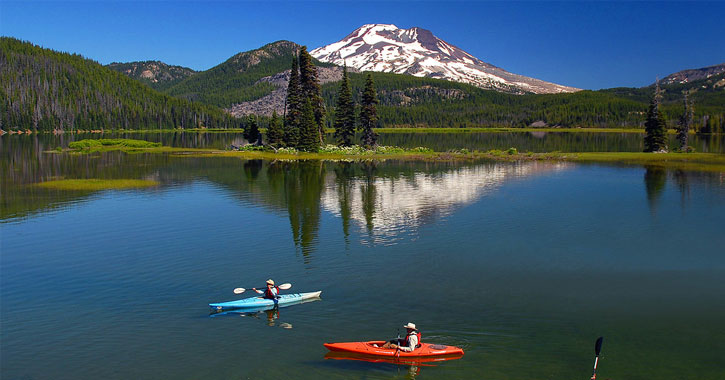 If you only have time to visit just one lake, choose the Cascade Lakes since it is a collection of 12 lakes and two reservoirs located in Central Oregon. They include:
Todd Lake: Awesome photo opportunities at Todd Lake with Mount Bachelor just looming behind.
Sparks Lake: Out of all the Cascade Lakes, Sparks Lake is my personal favorite. Just look at how serene and picturesque it looks (photo above).
Devils Lake: Found at an elevation of 5,446 feet
Elk Lake: This is the most popular lake out of all the Cascade Lakes and is heavily used for recreation (swimming, sailing, motorboating, fishing, and hiking).
Hosmer Lake: A favorite fishing spot of locals and tourists.
Lava Lake & Little Lava Lake: Lava Lake and nearby sister-lake Little Lava Lake both lie in the Cascade Range and are volcanogenic (formed after lava from Mount Bachelor).
Cultus Lake & Little Cultus Lake:  Cultus Lake (located at the base of Cultus Mountain) is a famous fishing spot. It also has spectacular views of massively tall pine (some rising up to 120 feet) trees. Two miles south is its smaller, sister-lake, Little Cultus Lake.
Crane Prairie Reservoir: This man-made lake is one of Oregon's largest rainbow trout fisheries.
North and South Twin Lakes: These two nearly-identical lakes are natural lakes that formed over 20,000 years ago. Today, they are the calmest lakes in Deschutes County.
Wickiup Reservoir: Good for kokanee and coho salmon fishing.
Davis Lake: Another popular spot for fishing.
Aside from these major lakes, there are also smaller upper-elevation lakes of varying sizes (about 150+ lakes right there on the Deschutes National Forest). While you're here, you can also hike the Three Sisters Wilderness or go horseback riding near Todd Lake.
12 Picturesque Lakes in Oregon
Aside from the lakes of Cascade Lakes, the following manmade and natural lakes are also good options and have their own distinct characteristics that you should visit at least once in your life: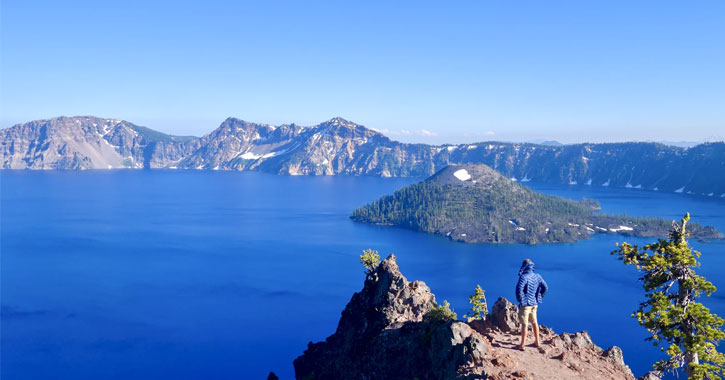 Location: Cascade Range, southwestern Oregon, about 50 miles (80 km) northeast of Medford
Fishing Info: There is kokanee salmon and rainbow trout in Crater Lake. No fishing license is needed, but you can only access the water via boat on Wizard Island or at the foot of the Cleetwood Trail, which is quite a dangerous trek due to rockslides and avalanches.
Camping at Crater Lake: Crater Lake has two developed campgrounds – Mazama Campground and Lost Creek Campground, which are only open in the summer. You have to request a backcountry camping permit, which is free of charge.
Crater Lake is the deepest, bluest lake in the country at 592 meters. The caldera lake sits in the state's only national park – the Crater Lake National Park, which was created over 7,500 years ago when the top of Mount Mazama collapsed.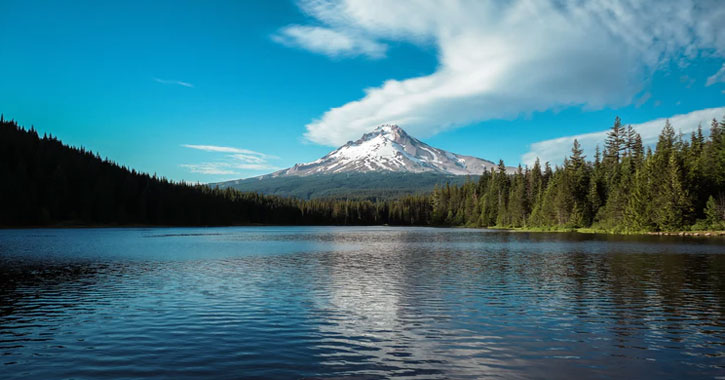 Location: ​3 miles east of Government Camp off of Hwy. 26 – Mt. Hood National Forest
Fishing Info: Trillium Lake is open for fishing brook trout, rainbow trout, Skamania trout and lake trout almost the entire year (except snowy months).
Camping at Trillium Lake: Trillium Lake Campground is a 64 single-family campsite with room for tents, trailers and RVs.
This man-made lake has one of the most spectacular views of Mount Hood. And because there is only a 3-kilometer hike, it is easier to reach and a favorite spot for both campers and nature photographers. During winter, it is a popular Nordic skiing destination.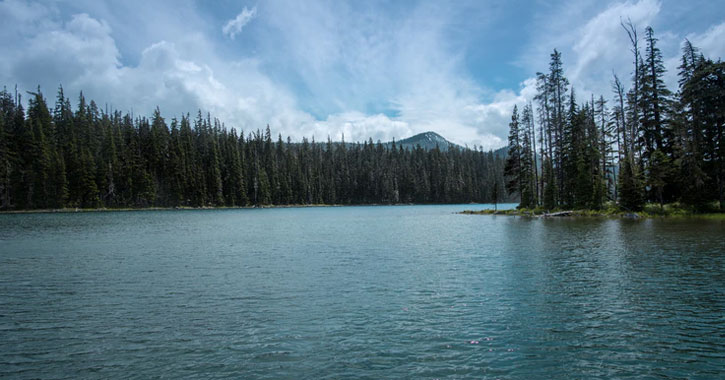 Location: Approximately 31 miles east of Oakridge and 70 miles from the Eugene, Springfield area
Fishing Info: The primary fish in Waldo Lake is kokanee and brook trout, which was stocked by the Oregon Department of Fish and Wildlife starting in 1912, then stopped in 1990 due to concerns of the fish's negative impact on water quality. Because of this, fishing in this area can be a huge challenge.
Camping at Waldo Lake: There are over 200 campsites and 50 primitive campground sites.
Oregon's second-largest freshwater lake, Waldo Lake is located within the Cascade Mountains at an elevation of 1,650 meters above sea level. It's a popular spot for hiking, boating, and fishing.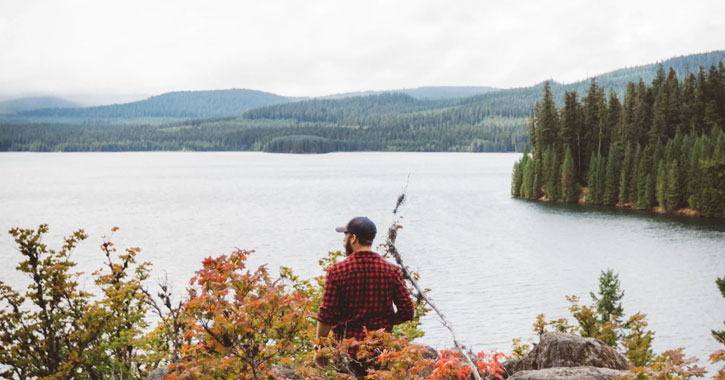 Location: Clackamas County, about 50 miles (80 km) southeast of Portland
Fishing Info: You can find kokanee, eastern brook, and rainbow trout here, but Timothy Lake is visited mostly for its crowded crayfish spots.
Camping at Timothy Lake: You can find about 40 designated dispersed campsites (about 200 campgrounds) around the west, north, and east sides of Timothy Lake. They're accessible by boat, bike or foot and are only first-come, first-served.
Timothy Lake is one of the few lakes in the area with motorized boating allowed. Hikers, horseback riders and mountain bikers all flock to various trails near the water. All of these activities are made special with the view of Mt. Hood.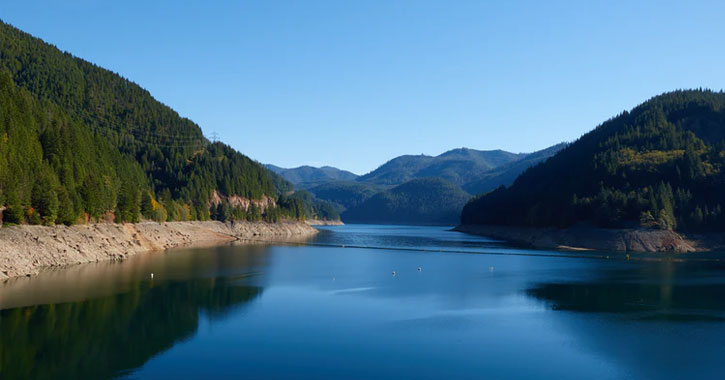 Location: Located just off Highway 22, Oregon Lake is about 48 miles east of Salem Oregon, or 2 miles west of the town of Detroit, Oregon.
Fishing Info: This lake is the best spot in Oregon for catching rainbow trout.
Camping at Detroit Lake: The camping opportunities here (about 300 sites) are just along the shore of Detroit Lake. But if you can go by boat and stay at Piety Island Campground (found in the middle of the lake), it could be a memorable experience.
Situated on Linn & Marion Counties, 3,500-acre Detroit Lake is known for its many water and land recreational activities. It has two state parks on the north side of the lake – Detroit Lake State Park and Mongold State Park.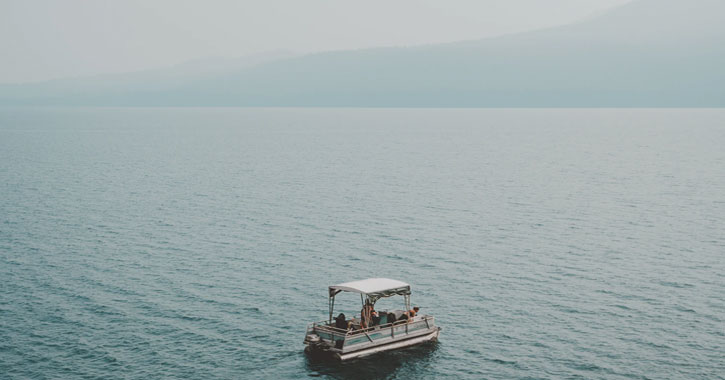 Location: Situated near the junction of Oregon Route 138 and Oregon Route 230 in the Umpqua National Forest in Douglas County
Fishing Info: The lake is stocked with 300,000 rainbow trout each year, so it's a favorite spot of anglers either from the shoreline or on a boat.

Camping at Cascade Lakes: There are 238 camp sites in the area (listed here) if you wish to be as close to the lake as possible.
Located between Mount Bailey to the west and Mount Thielsen to the east, Diamond Lake is a popular hunting and fishing spot from late April to October, then skiing and sled dog racing in winter.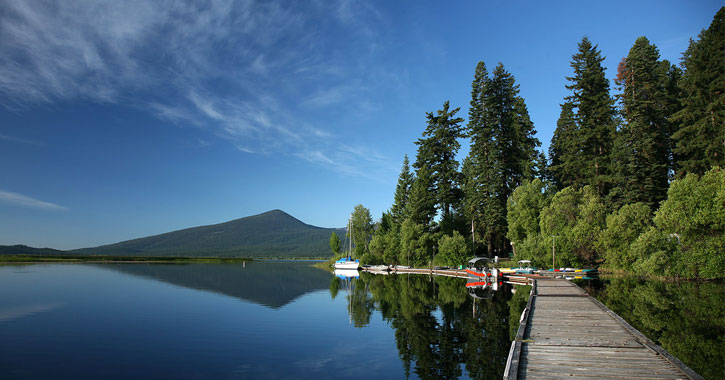 Location: Located in southern Oregon; about 25 km north of the California-Oregon border and 18 km east of the crest of the Cascade Range
Fishing Info: There are black crappie, white crappie, rainbow trout, largemouth bass, and shortnose sucker at the lake. Catch-and-release is recommended.
Camping at Upper Klamath Lake:
Upper Klamath Lake is Oregon's largest body of freshwater by surface area, measuring 24,906 hectares and sitting at an average elevation of 4,140 feet.
Upper Klamath Lake is the largest remnant of massive pluvial Lake Modoc (which existed in the river about 10,000 years ago and has disappeared due to the warming climate).
It is absolutely beautiful in this area, but swimming, water activities, and drinking water from the lake when camping could be dangerous in the presence of harmful algae bloom.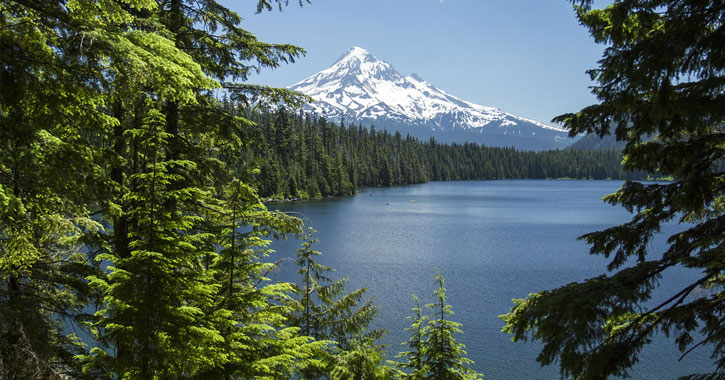 Location: Located in Mount Hood National Forest, about 16.2 kilometres  northwest of Mount Hood in Hood River County
Fishing Info: Lost Lake has abundant rainbow trout from March to May, but larger-sized ones over 14 inches stocked in June.
Camping at Lost Lake: You can choose from 125 campsites and seven cabins within the Lost Lake area.
Lost Lake is a protected wilderness area with views of Mount Hood. This 99-hectare lake is the most photographed lake in the state, mostly due to having very little development around the lake.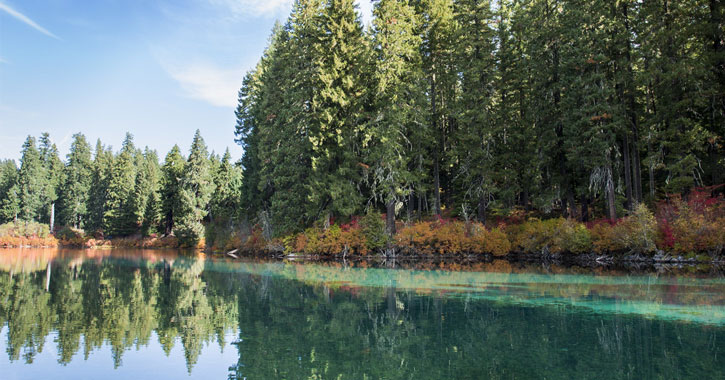 Location: Located on Hwy 126, 4 miles south of the Hwy 20 Junction
Fishing Info: The lake naturally has brook trout and cutthroat trout, but it is stocked with rainbow trout annually as well.
Camping at Clear Lake: You can pitch a tent at the Clear Lake Campground located in the mountains of northern Oregon.
Clear Lake is an aptly-named, freshwater lake with exceptionally clear water ideal for diving and swimming. One unique characteristic of this lake is the presence of upright trees submerged 100 feet below water – they were killed due to volcanic activity about 3000 years ago but preserved from the year-round cold water.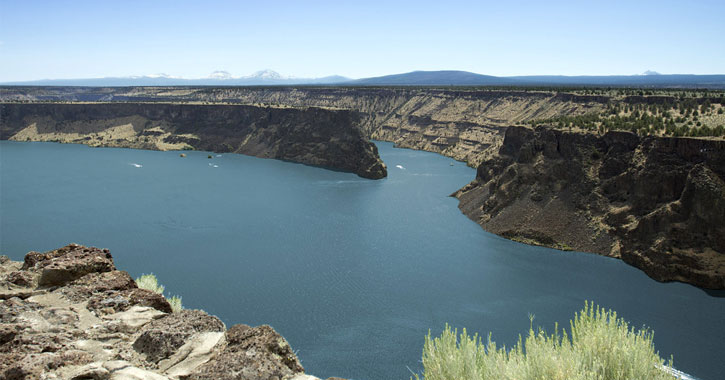 Location: 12334 SW Lakeview Dr, Culver near Redmond, or Madras.

Fishing Info: This is a good spot for sockeye salmon, brown trout, and smallmouth bass fishing. Lake Billy Chinook is also one of the remaining few places you can legally fish for bull trout, which is considered a threatened species.
Camping at Lake Billy Chinook: The lake is surrounded by Cove Palisades State Park, which offers two campgrounds: Crooked River Campground (open all year) and the Deschutes Campground which is open from mid-May to mid-September.
Lake Billy Chinook is a spectacular lake carved by the rivers Deschutes, Crooked, and Metolius around 11 million years ago.
Called the "Oasis in the desert," Lake Billy Chinook has a unique landscape. The lake will welcome you with waters upon water, but the 400-foot canyon walls framing the lake is definitely a sight to behold.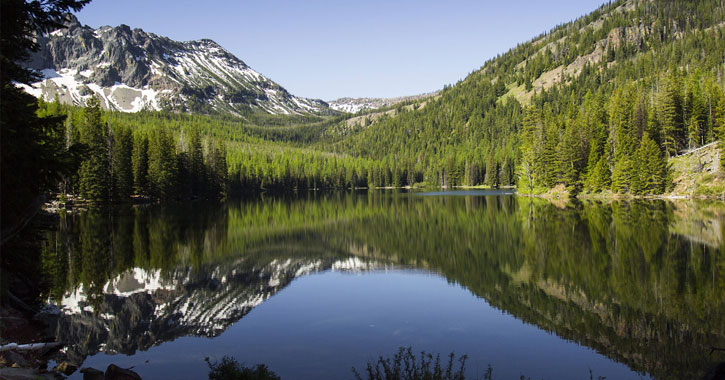 Location: Located about 10 miles south of Prairie City in Grant County.
Fishing Info: Fishing for rainbow trout and brook trout in the lake is allowed all year (if weather permits it).
Camping at Strawberry Lake: Many visitors stay at Strawberry Campground, where they're able to hunt, swim, fish and chill.
Strawberry Lake is a natural, high-elevation lake embraced with rich trees of the Strawberry Mountain Wilderness. It's popular for hikers and campers who just want to get one with nature or maybe visit the 100-feet Strawberry Falls.
Do note that it gets tricky to get to Strawberry Lake in the winter since there is no road access going to the lake but accessible by snowshoeing and cross-country skiing.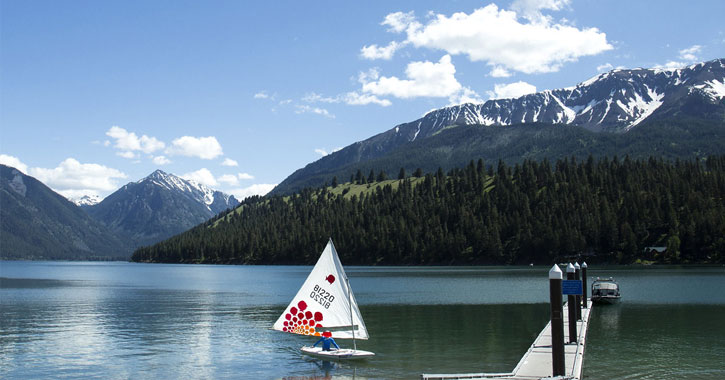 Location: Located 6 miles south of Joseph
Fishing Info: There is Rainbow Trout, Brook Trout, Mackinaw, Kokanee, and Smallmouth Bass found on the lower part of Wallowa Lake.
Camping at Wallowa Lake:  Wallowa Lake State Park is your best bet for camping, but there are other paid (and pretty expensive) accommodation options in the area if you're willing to pay.
Located at the base of the glaciated Wallowa Mountains, this lake is another dramatically beautiful lake with scenery perfect for canoeing, hiking, swimming, and fishing.
Aside from typical water activities, you can also go hiking and horseback riding by the lake.
Don't miss riding the Wallowa Lake Tramway from the bottom of the Wallowa Valley to the top of Mount Howard for a unique view of the lake.
Attractions and Tourist Spots beyond the Lakes in Oregon
If you want to explore more of this beautiful state, include at least one or two waterfalls of Oregon into your itinerary.
Take a day at Alvord Desert as well. This desolate, yet stunning landscape is a jaw-dropping experience with many unusual natural attractions.