The days are shorter, the air has a chill in it, and the birds are flying south. You know what it means: it's time to go in search of the best places to see fall colors.
Autumn is the time when deciduous trees like maples, oaks, and aspens change the color of their leaves from green to different hues such as red, yellow, orange, brown, and even purple and pink.
Looking at this dazzling color show up close is a simple, inexpensive way to experience the beauty of nature.
Here are our top 15 picks for the best places to see fall foliage in the US.
The 17 Best Places To See Fall Colors In The US
1. Bar Harbor, Maine
This coastal town on Mount Desert Island offers a spectacular view of fall colors while enjoying brisk, salty air from the ocean.
You can paddle in Frenchman Bay along the coastline in your own kayak, or you can rent one. You can also go to the nearby Arcadia National Park and pedal your way through the carriage roads winding through it.
Up your game by taking the Beehive Trail and be rewarded with a stunning mountaintop view of Frenchman Bay and the coast.
Best time to go: Mid-September to mid-October
2. Woodstock, Vermont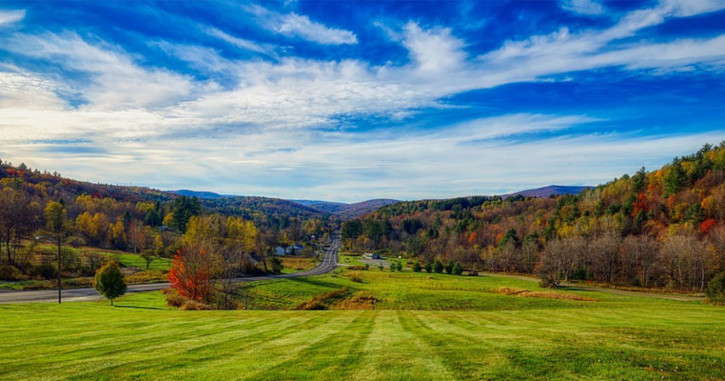 The town of Woodstock in Vermont is one of the best places to visit in the fall.
You can take any of the hiking trails to Mount Tom and gaze into the lovely colors of the surrounding valley.
A stroll away is the Billings Farm & Museum, one of the best outdoor museums in the country. Learn about farming and rural life in Vermont at the turn of the century while enjoying the fall scenery.
In the mood for more driving? Why not follow the Vermont Cider Trail after you hit up Woodstock?
Best time to go: Mid-September to mid-October
3. The Catskills, New York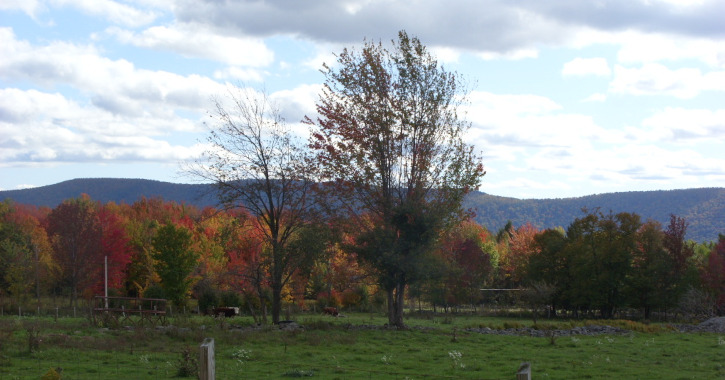 The Catskills are a year-round destination, but it's also one of the best places to see fall colors. Whether you find your viewpoint from atop a mountain or in a car, one thing is for sure—the fall colors will take your breath away.
The drive out to the Catskills is already scenic, but you can go hiking or camping in the Catskill Mountains, or simply go through the forests on your mountain bike.
If you're traveling with children, you might want to go pumpkin-picking, hayriding, and getting lost in a corn maze in Hull-O Farms.
If you want more of an adrenaline rush, you can go on a zipline adventure from Hunter Mountain. The Summit SkyRider Tour deserves special mention, as it runs for 4.6 miles through the Catskills and is the second-longest zip line in North America.
Best time to go: Mid-September to end of October
4. Roanoke Valley, Virginia
Virginia is blessed with many scenic places, but Roanoke Valley is one of the cities that have the best vantage points for fall colors.
The iconic McAfee Knob is perhaps one of the most photographed spots on the Appalachian Trail. It's a six-mile round trip hike up and down the Catawba Mountain, and the reward is a spectacular 270-degree view of the Catawba Valley.
Another vantage point is the Roanoke Star & Mill Mountain Overlook where you can get an amazing view of the Roanoke Valley; from the downtown skyline to the surrounding mountains.
Best time to go: Early October to mid-November
5. Silver City, Michigan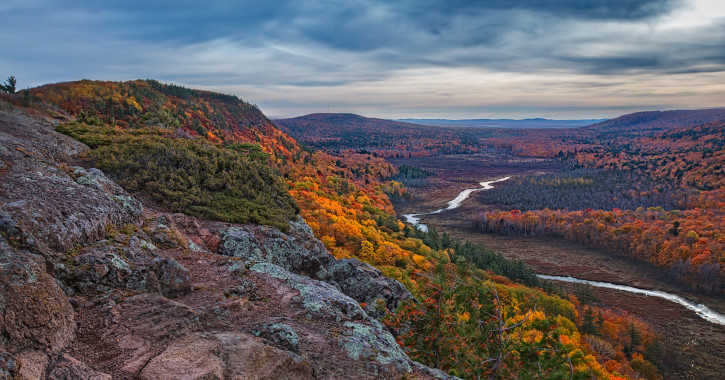 The upper peninsula of Michigan along Lake Superior is famous for its coastal scenery and its numerous state parks.
Silver City deserves special mention for being the location of the Porcupine Mountains. The Porcupine Mountains Wilderness State Park features plenty of hiking paths and lookout points to gaze at the hardwood forests below as well as the Lake of the Clouds.
Take an hour-and-a-half scenic drive along the M-26 to get to the Keweenaw Peninsula, where you'll be treated to vibrant fall colors to the east and views of Lake Superior to the west.
Travel all the way to the end of M-26 and you'll reach Copper Harbor, where you can take a tour on the historic Copper Harbor Lighthouse, as well as guided kayaking or a mountain biking trip.
Best time to go: Mid-September to mid-October
6. Louisville, Kentucky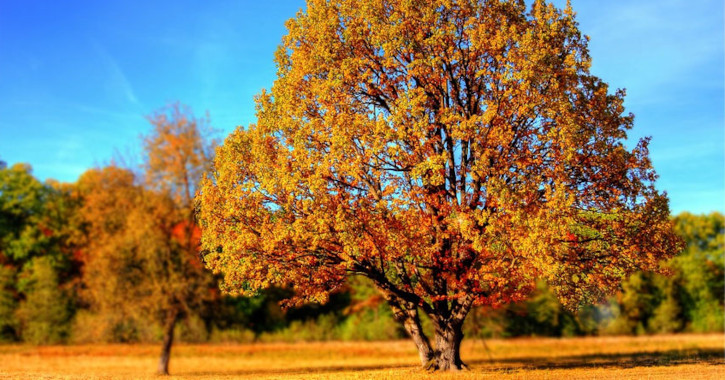 Louisville, Kentucky is proof that you don't have to get out of a big city just to see the best fall colors.
The Parklands of Floyds Fork is a park system composed of five major parks linked by drives, hiking trails, and water trails. You can stroll, hike, bike, and even paddle your way around the park and get treated to colorful scenery.
Half an hour away is the Bernheim Arboretum and Research Forest, where the annual Colorfest celebration is held in October to coincide with the fall foliage color peak (you can check out the schedule here).
Slingshot pumpkins with the Pumpkin Launch, get lost in a hay maze, and dance to live music, all against a gorgeous backdrop of trees turning golden and red.
Best time to go: Mid-October to late November
7. Gatlinburg, Tennessee
Gatlinburg is a charming town with plenty of history and activities to offer.
The 360-degree view from the 407-feet tall Gatlinburg Space Needle is sure to give you gorgeous views of the fall foliage on the town as well as the surrounding forest.
Plus, the Great Smoky Mountains National Park is 1.7 miles away, where you can witness the Great Smoky Mountains turn into a sea of yellow, orange, and red.
You can hike out to the Looking Glass Falls or take any of the many other hiking trails available.
Best time to go: Late September to early November
8. Ozark Mountain Region, Arkansas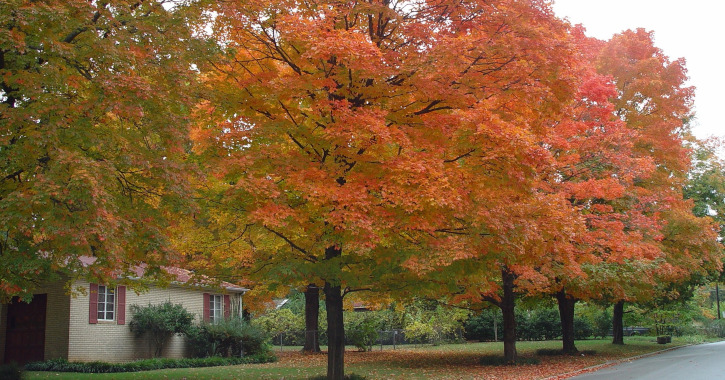 The Ozark Mountains cover a large portion of northern Arkansas and most of the southern half of Missouri, and it also covers small portions of Kansas and Oklahoma.
The Arkansas Ozarks in the fall provide a captivating backdrop for hiking, biking, and ziplining, as well as fall fishing, water sports, and canoeing down Buffalo National River.
Another lovely place to visit is the Ozark National Forest. Hike through the Ozark Highlands Trail to witness lovely fall colors of the black gum, maple, oak, and hickory groves within.
Best time to go: Late October to early November
9. St. Louis, Missouri
The City of St. Louis is a busy, metropolitan area, perhaps best known as the home of the iconic Gateway Arch.
But less publicized is the fact that this is also the location of Tower Grove Park, which is a municipal park housing around 7,000 trees. That's sure to give you a magnificent fall color show.
Bonus: The Missouri Botanical Garden and Forest Park are short drives away from Tower Grove Park, granting you even more views of fall foliage in the middle of a bustling city.
Best time to go: Early October to mid-November
10. Cedar City, Utah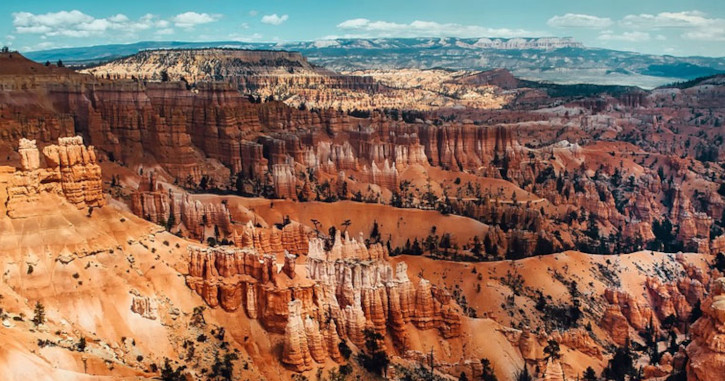 Cedar City is known for its history, festivals, and as the gateway to the national parks because of its proximity to some of the best West Coast National Parks like Bryce Canyon National Park, Cedar Breaks National Monument, and Zion National Park.
Bryce Canyon National Park is the first to display changes in leaf colors, usually peaking in mid-September. Great viewpoints include Boulder Mountain and the Panguitch Lake area.
Cedar Breaks National Monument peaks in late September to early October. This is a natural amphitheater, and driving around it, you'll find various viewpoints that will give you a remarkable view of the foliage, aside from spires and columns of rock in various hues of red, pink, and purple.
Zion National Park peaks last, starting toward the end of October and continuing through early November. The best trail to see the fall colors is the Riverside Walk, a two-mile round-trip paved trail that meanders along the North Fork of the Virgin River and is flanked by Fremont cottonwoods, bigtooth maple, velvet ash, and box elder.
Best time to go: Mid-September to early November
11. Aspen, Colorado
Considering the town is named after aspen trees, you'd expect Aspen to have stunning views of fall foliage.
It doesn't disappoint.
Go on a drive to the Aspen Highlands and take the bus to Maroon Bells, touted to be the most photographed place in North America.
Or go road biking on Independence Pass and go hiking on one of its many trails.
Best time to go: Mid-September to the first week of October
12. Telluride, Colorado
I know, I know—two Colorado towns on a single list.
But I can't help it if they're both lovely in the fall.
One of the best ways to see fall foliage in Telluride is on a guided 4×4 tour to Tomboy Basin and Imogene Pass into the San Juan Mountains to get a breathtaking view of the entire valley below.
Best time to go: Mid-September to mid-October
13. Columbia River Gorge, Oregon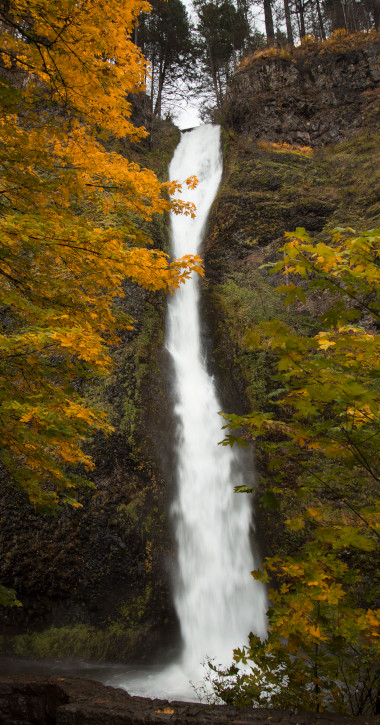 Cut into the Cascade Mountains and home to over 50 waterfalls, the eighty-mile Columbia River Gorge forms a natural border between Washington and Oregon.
Drive along the Columbia River or take a day hike on the many waterfall-studded trails to get the full effect of the changing colors of the firs, maples, and Oregon ash trees.
Best time to go: Mid-September to mid-October
14. Fort Benton, Montana
Fort Benton is a historic little town nestled along the banks of the Missouri River.
Walk on the first bridge to ever to span the Missouri River and stroll along the old steamboat levee, where Montana's Lewis & Clark Memorial can be found, and watch the golden fall leaves.
You can also indulge in a little history and tour the museums with interesting sculptures and paintings depicting early Blackfoot Indian life.
Bonus: Drive a short way to the nearby town of Loma and see Decision Point where the Lewis and Clark expedition had to decide which of the Missouri and Marias Rivers to follow to get to the Pacific.
Best time to go: Late September to late October
15. Leavenworth, Washington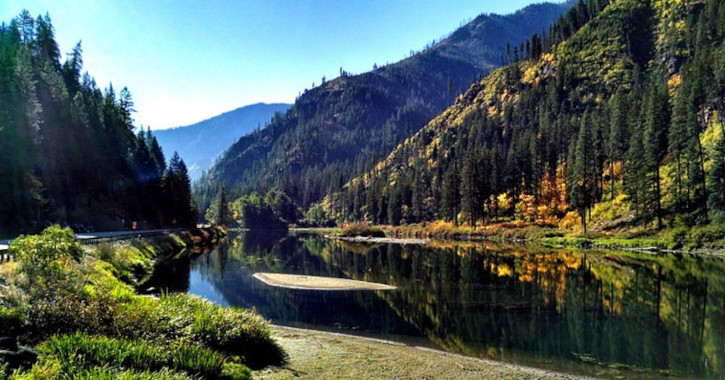 On the eastern slopes of Washington's Cascade Mountains lies Leavenworth, one of the best places to see fall colors in the state.
Plus, a Bavarian town simply can't not have an Oktoberfest, so if you're in the mood for drinking beer and eating some bratwurst with sauerkraut while being surrounded by vibrant fall colors, Leavenworth is the perfect place.
Work off that food and beer by hitting the trails, such as the easy Hidden Lake trail or the more challenging Spider Meadows.
Biking options include the trail at Blackbird Island off Waterfront Park or the ones at Freund Canyon or Devil's Gulch.
Best time to go: Late September to late October
16. Julian, California
California might seem more like a summer beach destination than a fall foliage destination. But Southern California offers surprisingly beautiful fall colors.
Julian is a former gold mining town around an hour away from San Diego.
A few minutes away is Cuyamaca Rancho State Park, which offers an oak woodland forest with a sprinkling of pines. You can hike or bike in its miles of trails amidst the yellowing black oaks. Hike around Lake Cuyamaca to appreciate the colors against the placid lake waters.
Challenge yourself and climb Volcan Mountain for sweeping views of the desert and coastal halves of San Diego County.
You can also go apple picking in Volcan Valley Apple Farm or Calico Ranch Orchard and have some apple cider and apple pie.
Best time to go: Late October to mid-November
17. Taos, New Mexico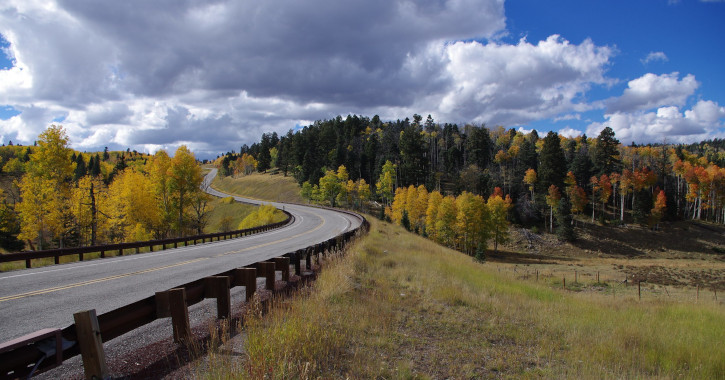 The Southwest deserts are another unexpected destination for spectacular fall colors, so if you want an alternative to the usual New England fall foliage trips, Taos is a great place to visit.
If you love road trips, the Enchanted Circle Scenic Byway starts and ends in Taos and takes you through Questa, Red River, Eagle Nest, Angel Fire, and finally back to Taos where you started. Enjoy the mountains, canyons, valleys, and forests.
Time your visit on the last weekend of October and participate in (or just watch) the Taos Mountain Balloon Rally and watch the brightly colored balloons go up at dawn against the golden foliage in the mountains.
Best time to go: Late October to mid-November
Plan Your Fall Foliage Trip Today!
Now that we've given you the best places to see fall foliage, why not start planning your trip today?
Here are some tips for planning your fall foliage trip:
Check local tourism websites and fall foliage websites beforehand
Make reservations as early as you can
If possible, visit on a weekday to escape the crowds
We'd like to hear from you!
Do you agree with our picks for the best places to see fall colors? Which of these places will you visit this fall? Share them in the comments below!