Vermont has been experiencing a cider revival since the early 2010s, and there's no better way to experience it firsthand than to travel the Vermont Cider Trail.
Vermont has been a popular beer destination since the mid-90s and is home to over 60 breweries as of 2021.
The state has been regarded as having its own IPA (Indian pale ale) revolution. It is also famous as the place where award-winning Magic Hat's #9 and The Alchemist's Heady Topper beers were born.
But did you know that hard cider was the drink of choice in Vermont before Prohibition?
Colonists were known to make large quantities of hard cider to preserve their apple harvest. But by the time Federal Prohibition came to an end, beer had become the drink of choice and cider was all but forgotten.
However, by the start of the 21st century, winemakers began reviving the art of cider-making on the down low. Vermont-based Vermont Cider Company launched Woodchuck in 1991 with the company spending a ton of effort and around 20 years encouraging people to try hard cider at beer festivals, wine tastings, and other brewing events.
More recently, the craft cider boom of the early 2010s happened and Woodchuck singlehandedly put Vermont cider back to the map, paving the way for other smaller cideries in Vermont.
What is the Vermont Cider Trail?
The Vermont Cider Association was founded in 2015 to promote Vermont Cider and establish Vermont as the center of the cider industry, similar to Napa Valley for the wine industry.
The Vermont Cider Trail is a collection of cideries around the state that will give you the ultimate cider experience; learning about its history, process, and craftsmanship involved, meeting the artisans behind the products, tasting the products, and getting to explore Vermont along the way.
What is Vermont Cider?
Before you go on exploring the Vermont Cider Trail, here's a brief explainer of the products you'll encounter.
Fresh cider is what you get when you grind and press apples.
Filter fresh cider to remove pulp, sediment, and other coarse particles and you get sweet cider or soft cider.
Pasteurize sweet cider to kill microbes and you get good old apple juice. It's common to add sweeteners for taste and preservatives for longer shelf life to apple juice.
Let fresh cider ferment naturally or with added yeast and you get hard cider (alcoholic).
Create fresh cider from apples that have frozen outdoors from the weather. Ferment it and you get ice cider.
Ice cider is a relatively new type of cider originally created in Quebec.
According to Quebec designation rules, for a cider to be considered a Vermont Ice Cider, it must meet the following requirements:
Made of 100% Vermont apples
0% added sugar, color, or flavoring
Sugar content greater than 30° Brix
Sugar concentration is achieved solely by natural cold concentration (that is, naturally frozen outdoors)
No less than 130 g per liter of residual sugar in the finished product
Alcoholic strength of 7% to 13% ABV
The Best 14 Cideries on the Vermont Cider Trail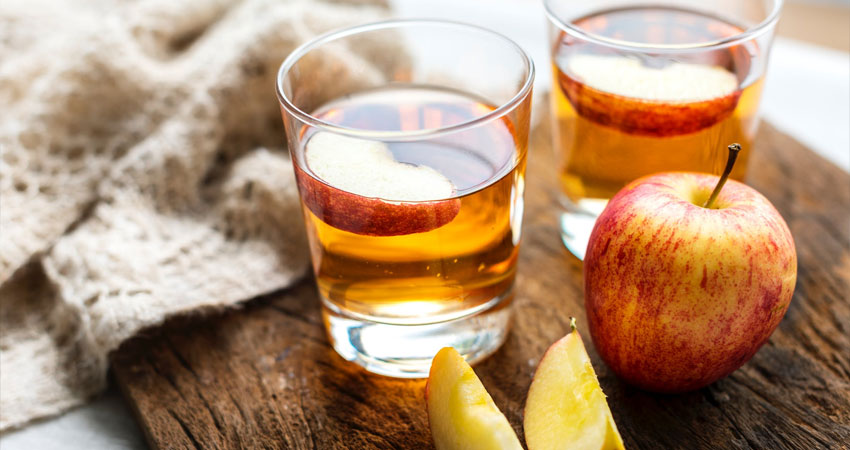 I've listed these cideries as an itinerary starting from Montpelier, circling clockwise, and finishing at Newport. Most of the Vermont cideries on the trail are close together, except for Eden Specialty Ciders on the northeast corner.
See this itinerary on Google Maps.
Tin Hat Cider is the smallest commercial cidery on the Vermont Cedar Trail.
Their ciders are made and bottled by musician-orchard steward-cider maker Teddy Weber at his Roxbury, VT cidery.
The cidery does not have a tasting room, host tours, or have access to an orchard. Instead, Weber has partnered with a few tasting places like Mad River Taste Place to give the public a chance to taste his creations.
You can also email him at teddy[at]tinhatcider[dot]com to ask where you can taste his ciders.
Mad River Taste Place Location: 89 Mad River Green, Waitsfield, VT 05673
Must-try Products: Farmhouse Dry Cider; Mycorrhiza
Tours: Cidery and orchard not available for touring
This mill is an adorable family-owned cidery that also produces maple products and baked goods.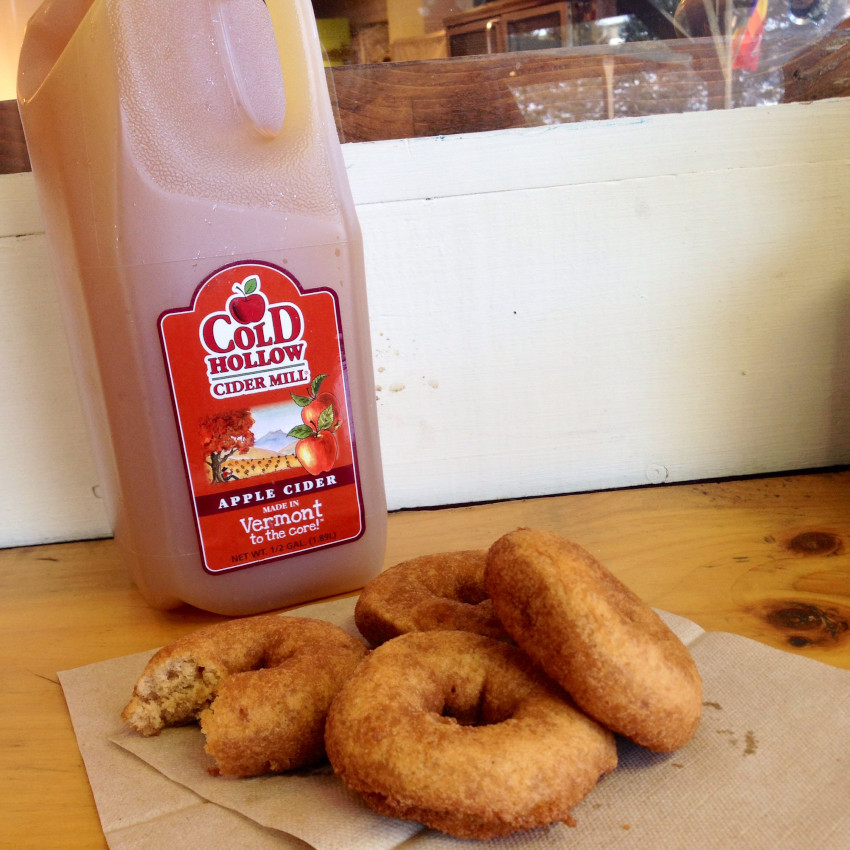 Follow the apples on the floor to the press room and enjoy a free sample of fresh cider while watching it being made the old-fashioned way using a rack and cloth method.
The restaurant on the premises serves breakfast and lunch.
Location: 3600 Waterbury-Stowe Rd, Waterbury Center, VT 05677
Must-try Products: Barn Dance, Good Altitude; Legendary Cider Donuts
Tours: Self-guided
Tastings: Hard Cider Tasting Room (until 4pm only)
Hours: Mon–Sun 8am–6pm
Launched in 2013, Stowe Cider aims to constantly bring something different to the Vermont cider scene, which is evident in their unusual ciders and collaborations with other Vermont-owned food producers.
Stowe Cider produces sweet to dry cider varieties and releases seasonal cider that feature berries and other fruits.
Check out their events calendar to see when there's live music (usually Saturday and Sunday evenings) and when open mic nights are (normally Fridays).
Location: 17 Town Farm Ln, Stowe, VT 05672
Must-try Products: High & Dry, Safety Meeting, Gin and Juice
Tours: No; view the production equipment from their taproom
Tastings: Stowe Cider Taproom
Hours: Wed 12pm–6pm; Thu–Sat 12pm–8pm; Sun 12pm–6pm; Mon–Tue closed
Citizen Cider was founded as a side project by a farmer, a wine salesman, and a chemist. After their first few batches were successful, they all quit their day jobs and focused on Citizen Cider full-time, with the aim of "bringing cider to the people."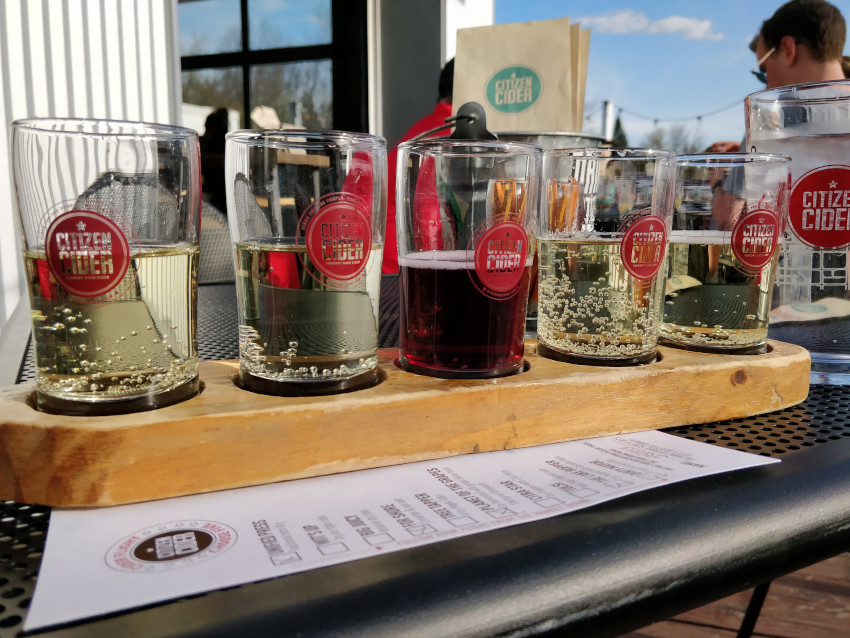 The Cider Pub in the premises offers three unique tasting flights of five ciders; one with their flagship ciders, one with their limited batch ciders, and one with their fruit blends.
Location: 316 Pine St #114, Burlington, VT 05401
Must-try Products: The Dirty Mayor, Unified Press, bRosé
Tours: Not available
Tastings: At the Cider Pub
Cider Pub Hours: Mon 12pm–7pm; Tue–Sat 12pm–9pm; Fri–Sat 11am–10pm; Sun 11am–7pm
Boyer's Orchard began as a fruit tree orchard over 40 years ago with apples, pears, plums, peaches, apricots, and cherries being produced. From there, they added wine and ciders, along with pastries and Vermont's best maple syrup.
In 2022, Boyer's Orchard & Cedar Mill was sold to Katherine and Aaron Stine, who have owned a catering business for 14 years.
They'll continue offering ciders and opening their orchards to picking parties, offering live music, food, and drink on Thursdays and Saturdays.
Since they're currently in transition, contact them first to know if they still offer tastings in their sugarhouse.
Location: 1823 Monkton Rd, Monkton, VT 05443
Hours: Tue–Sun 10am–5:30pm; Mon closed
Shacksbury Cider believes that cider should be daring and complex, which is certainly evident in their cider collections.
They also forage wild or otherwise forgotten apples in rural Vermont (called lost apples) every harvest season and make them into limited releases.
Their tasting room is temporarily closed, but they suggest checking back through their email cidershop[at]shacksbury[dot]com for updates.
Location: 11 Main St, Vergennes, VT 05491
Must-try Products: Rosé, Classic Dry, The Vermonter
Vermont Cider Company is the company behind Woodchuck and the people responsible for starting the American cider revolution.
Aside from Woodchuck, they also craft Wyder's Cider, Magners Irish Cider, and Day Chaser Cocktails.
If there is just one cidery in the Vermont Cider Trail you can visit, pick the Woodchuck Cider House.
Note that Woodchuck is also a proud member of the Middlebury Tasting Trail.
Location:
1321 Exchange St, Middlebury, VT 05753
Must-try Products: Sangria, Bubbly Rosé, Bubbly Pearsecco
Tours: Self-guided
Tastings: Woodchuck Cider House and Tap Room
Hours: Wed–Fri 11am–6pm; Sat–Sun 11am–5pm; Mon–Tue closed
Windfall Orchard produces high-end, award-winning cider products blended from the delicious apple varieties grown on their own orchard.
Aside from apples (they grow over 100 different apple varieties!) they also grow cherries, pears, blueberries, plums, raspberries, gooseberries, currants and quince.
Location: Seth Warner Memorial Hwy, Cornwall, VT 05753
Must-try Products: Farmhouse Hard Cider, Ice Cider
Tastings: Windfall Orchard Tasting Room
Tasting Hours: Labor Day to Indigenous Peoples' Day: Mon–Sun 1pm–4pm; Indigenous Peoples' Day to New Year: Sat–Sun 1pm–4pm
As one of the oldest continuously operating orchards in Vermont, Champlain Orchards Cidery knows its apples. All the hard ciders from this company are pressed, fermented, and crafted at their orchard.
Time your visit from June to November when their orchard is open for Pick-Your-Own (PYO), as in pick your own apples, cherries, raspberries, pears, peaches, plums, nectarines, and elderberries.
Their PYO page is regularly updated with which fruits are ready to be picked.
Tours and tastings are currently suspended, but they suggest checking back when they're available.
Location: 3597 VT-74, Shoreham, VT 05770
Must-try Products: Farmstead, Mac & Maple, Honeycrisp Ice Cider
PYO Hours: June to November: Wed–Mon 9am–4pm; Tue closed
La garagista is composed mostly of farmers tending to their vineyard and orchard.
Unlike other companies on this Vermont Cider Trail, La Garagista doesn't have a consistently open tasting room.
As such, you'd have to check when their tavernetta forestiera + bar a vin is open before dropping by or subscribe to their newsletter so you can get alerted when they're welcoming guests again.
Location: 1834 Mt Hunger Rd, Bethel, VT 05032
Must-try Products: The Flesh & The Bone, Stolen Roses
Tours and Tastings: Suspended; check back for updates
Fable Farm calls its offerings Cider as Wine; and why not? Wine is basically a product of fermenting fruit, and cider definitely fall under that definition.
The farmer-winemakers believe that the soil, microorganisms, and the overall ecology of their orchard all influence the quality of their fruit and the resulting wine.
Aside from hard cider, or apple wine as they call it, they also produce wine from grapes, pears, plums, and other fruit growing in their orchard.
Location: 22 Orchard Hill Rd, Barnard, VT 05031
Must-try Products: Emanation, Vinous Venus
Tastings: Fable Farm & Fermentory Barn
Tasting Room Hours: Sat 1pm–6pm
All aspects of cider and spirit production by SILO Distillery are done in the premises.
They're strongly committed to using only local sources of raw material and practicing sustainable processes.
Cider isn't their main product; they started out making craft vodka. While they may be late to the game, their semi-dry cider has won acclaim and awards and is worth tasting.
Location: 3 Artisans Way, Windsor, VT 05089
Must-try Products: Semi-Dry Cider
Tours: Yes; recommended to contact them in advance
Tastings: Silo Distillery Tasting Room
Hours: Mon–Thu 1pm–5pm; Fri 1pm–8pm; Sat 12pm–7pm; Sun 12pm–5pm
Flag Hill Farm prides itself on being the first organic and solar-powered cidery in Vermont.
They produce vintage organic hard ciders and apple brandy right on their 250-acre family farm with excellent views of the White Mountains.
You'll need to call the farm before visiting, but they do accept guests for tastings.
Location: 135 Ewing Rd, Vershire, VT 05079
Must-try Products: Still Hard Cyder, Sparkling Hard Cyder, Pomme-de-Vie (organic apple brandy)
Tours and Tastings: Suspended; check back for updates
Located in the far northeast corner of Vermont, Eden Specialty Ciders produce some of the most unique ciders throughout the state.
Their flagship products are their award-winning ice ciders, but they also offer still and sparkling hard ciders.
Eden Specialty Ciders work with their own apples, as well as with other Vermont orchards to create their high-quality products.
Location: 150 Main St, Newport, VT 05855
Must-try Products: Peak Bloom Harvest Cider, Heirloom Blend Ice Cider, Imperial 11° Rosé
Tastings: Within Eden Specialty Tasting Bar; within published hours or by appointment
Hours: Wed–Sat 12pm–6pm; Sun 12pm–3pm; Mon–Tue closed
Planning your Vermont Cider Trail Trip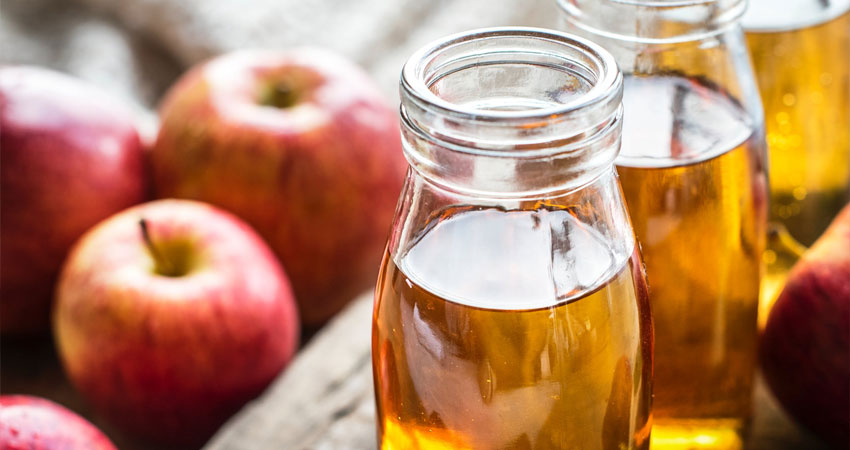 Tips for Cider Tastings
Don't drink cider ice-cold.
It's pretty tempting, especially if you've been out in the sun all day.
But drinking extremely cold cider prevents you from tasting the more subtle flavors and aromatics in the cider.
If you're served the cider, make sure it's been out for around 5 minutes at room temperature.
Order a flight instead of a single glass.
A flight of ciders allows you to experience all that a cidery has to offer.
Besides, it's easier to decide which one to buy an entire bottle of.
Order a tasting platter if available.
A successful pairing of a cider and a dish makes both more delicious by enhancing the best features of the cider and the best flavors of the food while downplaying aggressive or undesirable qualities.
For instance, a sweet hard cider would work well with salty bacon.
Or a dry hard cider would work well with mild, creamy goat cheese.
Trust the cidery to know their cider-food pairings and let them lead your palate's journey.
Plus, if you're going to visit a number of cideries in a day, this helps you to not get drunk.
Can I complete the Vermont Cider Trail in a single day?
Unfortunately, it isn't possible to do your cider tastings for all these cideries in one day, even if you just spend an average of two hours per cidery.
If you have time, plan for at least 2 whole days for your Vermont Cider Trail adventure.
Make sure you identify cideries that also cater lunches and dinners, scheduling the visit with these in mind so you don't go hungry.
When's the best time to tour the Vermont Cider Trail?
I recommend visiting Vermont in the fall, from Labor Day to around Halloween, which is also fall foliage season and apple picking season.
Drink Your Way Down The Vermont Cider Trail This Fall!
Hard seltzer is currently having a moment, but the Cider Renaissance is here to stay!
Going on a road trip and traveling the Vermont Cider Trail is a great way to explore this underrated state and see it for more than its maple syrup and maple candy.
Other Drink-Themed Trails to Explore
Determined to drink your way throughout the country?
The New England region is quickly establishing its place in the wine industry. Visit these New England wineries and go on a grape adventure!
Or if New England is too vast, consider completing the Connecticut Wine Trail instead.
In the mood for some southern comfort? Visit the best Louisiana distilleries.
Or if it's bluegrass you crave, the Kentucky Bourbon Trail won't disappoint.