Visiting one of the many water parks in Virginia can make for a fantastic and different-than-usual family day.
On a hot day, escaping the city to find relief in the water is one of the favorite activities of both kids and adults.
On a rainy winter day, nothing beats finding refuge in an indoor water park and turning a gloomy afternoon into the greatest fun.
Here, you'll find my selection of the best outdoor and indoor water parks in Virginia, complete with ticket prices and all basic information.
Keep reading the article and organize your next trip to the water park today.
4 Great Outdoor Water Parks in Virginia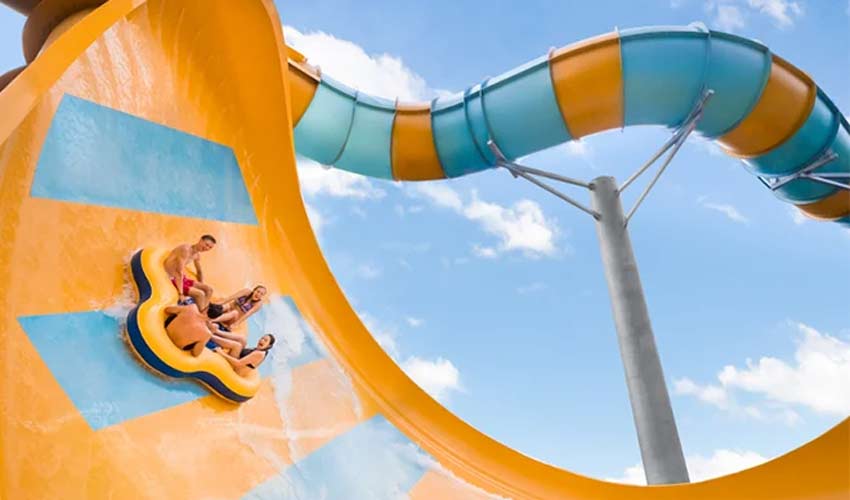 Address: 176 Water Country Pkwy, Williamsburg, VA 23185, United States
Tickets: Date-specific tickets are now on sale at $49 per person, with the possibility of upgrading to the "all meals included" option priced at $69. With the 2-day and 3-day ticket bundles, you can also get significant discounts.
What Makes Water Country USA Special?
Some water parks share the issue of lack of shade, but this is not the case for Water Country.
The park is immersed in a deeply forested area that provides plenty of shade and shelter from the sun, which on a hot day can make all the difference.
A lazy river runs through the park providing a great hang-out spot to chill when you need a break from the rides. Several small pools with no line are scattered across the park.
The water slides are many and diverse, so you can be sure you won't get bored. The Jet Scream water slide and Malibu Pipeline are so immersed in nature, that you'll be sliding in the water surrounded by greenery.
The Nitro Racer runs straight across the wooded area, providing a nice thrill and also great views: almost like ziplining on a water slide!
The park is large so even on weekends the lines are not too long, however, especially on national holidays, it can get crowded.
For this reason, I recommend booking your time at the water park during a weekday if possible, to avoid waiting times.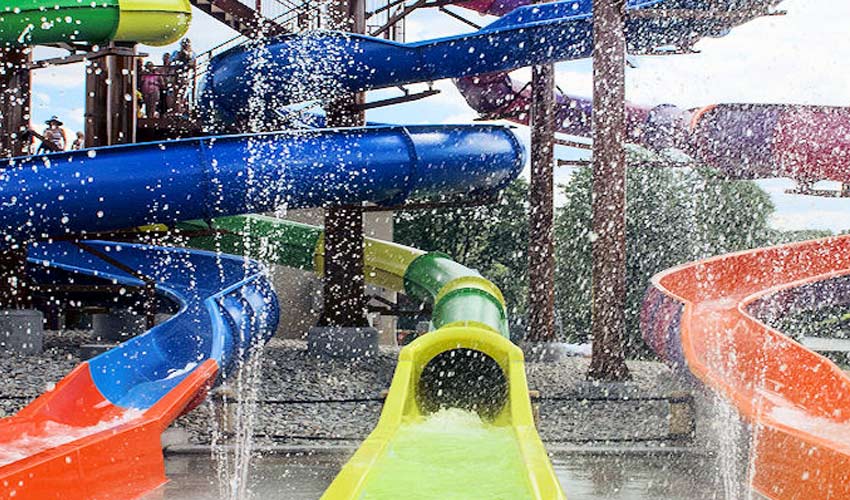 Address: 1400 Lake Fairfax Dr, Reston, VA 20190, United States
Tickets: The entrance fee for adults is $17.25, and $13.25 for children. Toddlers under 2 years old enter for free.
I highly recommend booking in advance as the entrance line can get long. By purchasing the tickets online you'll skip the line and avoid wasting time.
You can book your tickets on the Fairfax County Park website. Select "Water Mine" and the date and you're good to go!
What Makes Water Mine Special?
Water Mine water park is just great fun overall: the park is packed with water slides, pools with mushrooms and cascades, as well as equipped with playgrounds for children.
The rides and attractions are interconnected, allowing you to go from slide to slide seamlessly.
The highest and most thrilling slide is Prospectors Plummet only available to adults and kids over 48". More chill and relaxing rides are the Boomtown area, the Big Pete and Little Pete slides, and the Box Canyon Crossing.
A lazy river (Rattlesnake River) loops around the park allowing for some relaxing and safe fun. Without being scary at all, the river is one of the visitors' favorite attractions.
It's possible to bring food inside the park (but no glass containers are allowed), however, there are several food trucks where one can grab a quick bite: Baked Fresh Pizza and Funnel Cake just to name a couple.
This is a great place to host birthday parties for children, as the park includes a couple of "party areas" where you'll be able to host your celebration and store party food and gifts in the shade.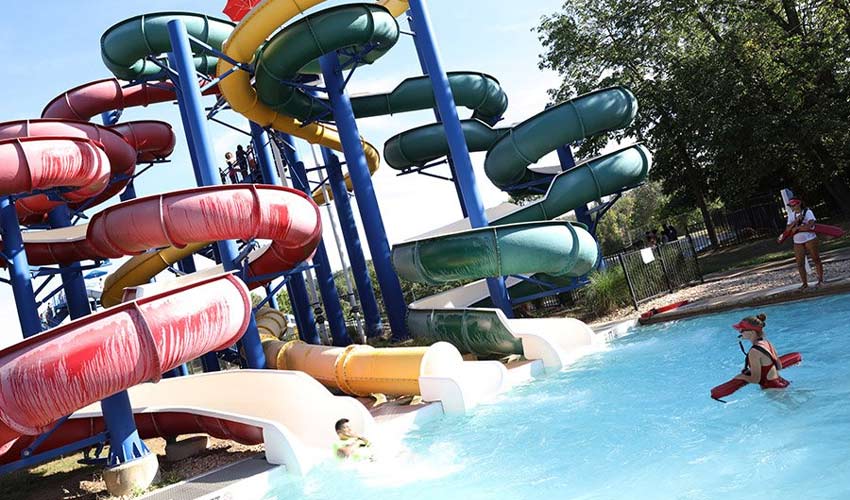 Address: 4001 Eisenhower Ave, Alexandria, VA 22304, United States
Tickets: Day entrance tickets for weekdays span from $10 to $17, while during the weekend you can expect to pay from $12 to $19 per person. Kids under the age of 2 always enter for free and there are discounts available for groups of +20 people (upon booking).
What Makes Great Waves Waterpark Special?
Great Waves has a great price per value, and especially for big families, this can be a deciding factor. A couple with one kid could potentially spend the day at the park for under $40.
People love to come to this park, again and again, throughout the year as the daily fees are so low and the service provided is pretty good.
This park is especially a good option for families with toddlers and younger kids, while teenagers might get bored of the not-so-thrilling rides after a while.
There are two speedy water slides available, and several paved and equipped areas for kids to play.
Batting cages and minigolf are also featured activities at Great Waves, perfect to take a short break from the water.
If you're spending the whole day at the park, you can grab a tasty lunch at Surfside Pizza, have ice cream at Soft Serve, and then have a cup of coffee at the Riptide Café.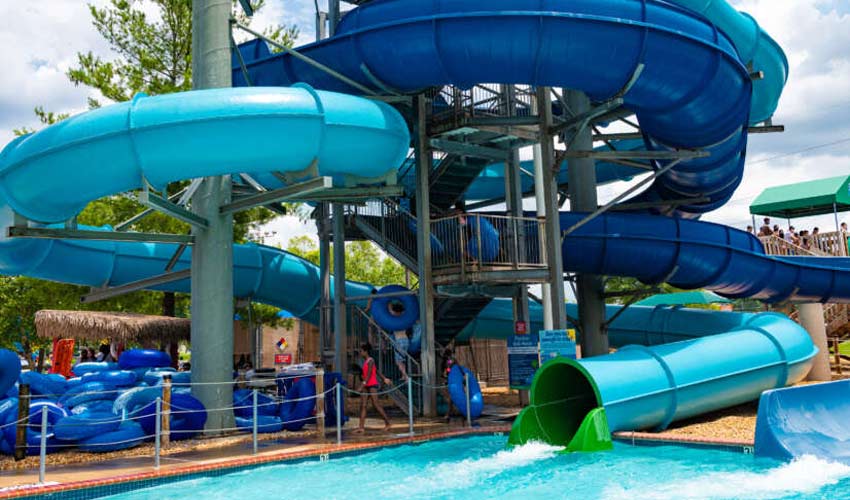 Address: 7500 Ben Lomond Park Rd, Manassas, VA 20109, United States
Tickets: All-day entrance tickets for adults are $16, while children and seniors pay $12. For larger groups and upon reservation, it is possible to get the price down to $12 per person.
There is a free ample parking area reserved for the park's visitors.
What Makes SplashDown Waterpark Special?
SplashDown waterpark offers a wide array of different activities (even non-water-related ones) suitable for children of different ages and even adults.
Water slides are a water park's staple and SplashDown makes no exception. At the park, you'll find the Pipeline Tower, the Tropical Twister, and the Cannonball Slide.
the Kids Pool, the Leisure Pool, and the Lazy River will keep toddlers and younger children busy, for an exciting afternoon in complete safety.
When you get tired of the water, SplashDown still has plenty to offer: you can check out the Big Kahuna Beach and play sand volleyball, or you can prove yourself on the tennis court.
Food options are limited to fast food like pizza and burgers, and it is not allowed to bring food from home. So if healthy food options are a dealbreaker for you, consider eating in advance.
If you're thinking of hosting a party at SplashDown, the water park offers great deals, and catering options, and provides an array of private pavilions, which you can rent for yourself and your guests.
It's even possible to rent the entire water park just for your guests and host a completely private event.
2 Indoor Water Parks in Virginia for Rainy Days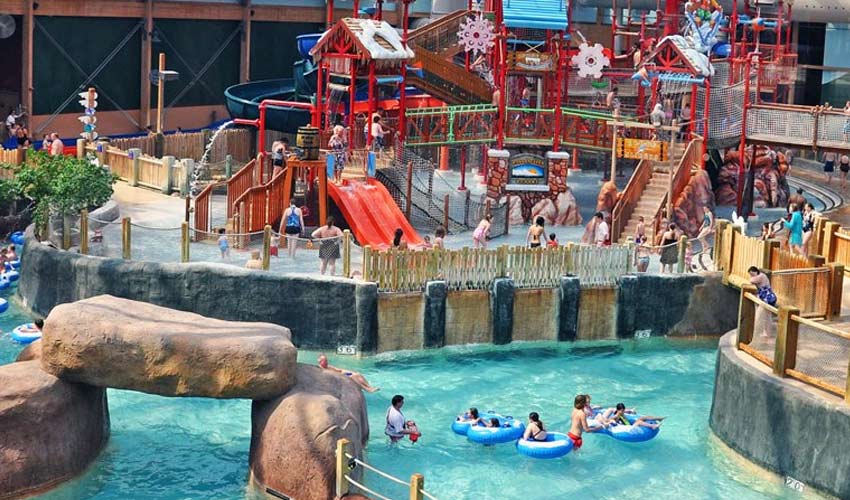 Address: 1200 Adventure Dr, Massanutten, VA 22840, United States
Tickets: General admission tickets cost span from $40 to $60. The entrance ticket price to the indoor waterpark changes depending on the day and season you're planning on visiting. If you book in advance, there is always a few dollars discount compared to the price of a ticket bought at the entrance.
You can check out the specifics on fees and hours, while you can check for special offers and themed days.
What Makes Massanutten Indoor WaterPark Special?
Rated one of the 10 best Water Parks from Parents Magazine, the Massanutten Indoor WaterPark is one of your top choices for a day or even a weekend.
The great glass vault over the WaterPark and the perfect temperature kept at all times, make this spot a prime location for a fun day year-round.
Locals and tourists alike love this water park for its ample choice of attractions, water slides, and dining options.
From tube slides to body slides to classic pipelines, children ages 7-10 will have a great time, while for toddlers the Frog Pond and the Shenandoah Hot Springs will be perfect to splash around.
You can sleep at the resort and have a fun weekend between the water park, the spa, and the golfing course.
The main diner within the water park is the Chill Grill, but despite the name grilled meat isn't the only option: the restaurant also offers lighter options like sandwiches and salads, along with refreshments like beer, wine, and even cocktails.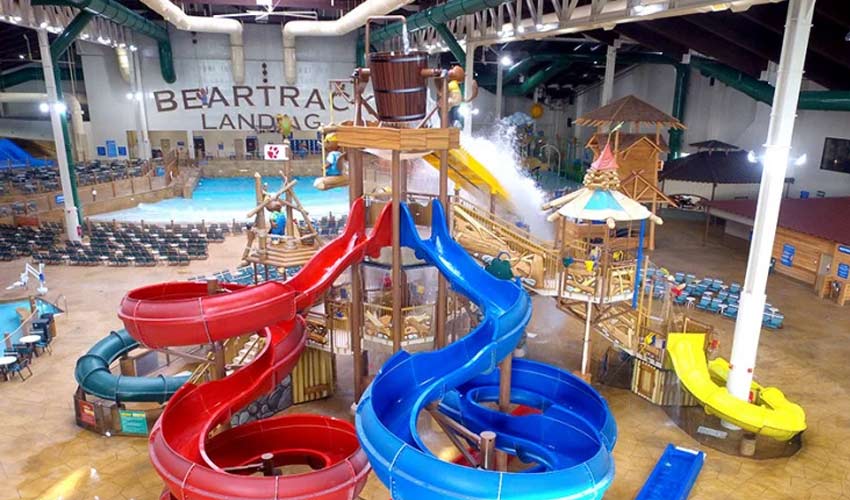 Address: 549 E Rochambeau Dr, Williamsburg, VA 23188, United States
Tickets: Full-day Passes are $50 per person, while half-day passes are $40. If you're planning on staying multiple days at the lodge, there are discounts from 25 to 50% off the regular admission price. You can check out the deals currently available.
What Makes Great Wolf Lodge Special?
The water park features 15 water attractions (slides, ponds, creeks, canyons, tornados, and even hot springs), but there is so much more to the Great Wolf Lodge than water fun, especially for children.
Great Wolf Lodge is truly all-inclusive, with the water park being connected to the hotel, laser tag, an arcade, bowling, and even a build-a-bear workshop.
Kids can also participate in adventures and scavenger hunts such as the MagiQuest or Oliver's Mining Sluice.
There are several events organized weekly at the Lodge, for example, family yoga, dance parties, and story time, or seasonal events like the upcoming Howl-o-Ween event, or the kids' Summer Camp.
More Things to do In Virginia for Attractions and Water Parks Lovers
If you're looking for some fun outside of Virginia, check out the best water parks in Maryland and the best indoor waterparks in the USA.
For a bit of fun, outside of the water, read my post on the best amusement parks in the US.