Austin breweries are booming! Austin, Texas has become a hot destination for couples and families looking for good food, craft beer, and sometimes, good music, too!
Austin breweries aren't just bringing the craft brewery scene to the next level. Even the local's love for Tex-Mex, smoked meat, pizzas, burgers, and all good soul food in between is becoming a major destination thanks to Austin breweries that not only showcase their passion for craft beer and wine but also take the local culinary up a notch.
If you're making a craft brewery itinerary for your visit to Austin, make sure to include a couple of these 13 famous breweries in Austin.
13 Famous Breweries in Austin to Explore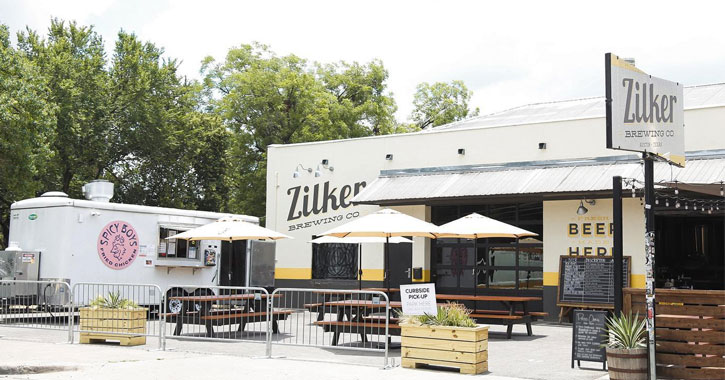 Located in the East Austin 6th Street Bar district, Zilker is one of the older breweries in the area and definitely a must-visit if you want unique beers.
Even The Austin Chronicle has called Zilker the most underrated brewery in Austin.
Just Beside Zilker is the Spicy Boys truck, whose fried chicken burgers and nuggets match perfectly to most of Zilker's brews. Zilker welcomes you if you plan to bring food from your favorite restaurants.
Zilker's perfect central Austin location makes it a go-to spot even for tourists just passing by. You'd be surprised by the number of beer options on the menu and the quality of its tap that Zilker began as a passion project on someone's garage.
Today, Zilker remains a competitive brand in the world of Austin's handcraft beer (the company is rumored to mix up one new brew a week).
Zilker has been taking home awards for its creations since it began producing craft beer in 2008. The North American Brewers Association has awarded the Killer Light with a silver medal in the German Kölsch category and the Hazy Marco IPA with a bronze in the super-competitive hazy IPA category.
Address: 1701 E 6th St, Austin, TX 78702
Contact: +15127125590
Hours: Open from 11 am until 9 to 11 pm on Tuesdays to Saturdays, but closed on Mondays.
Famous for: Honey Blond, Pale Ale, Dry Hopped ESB, Parks & Rec, Marco IPA, Coffee Milk Stout, and Quadrupel Shot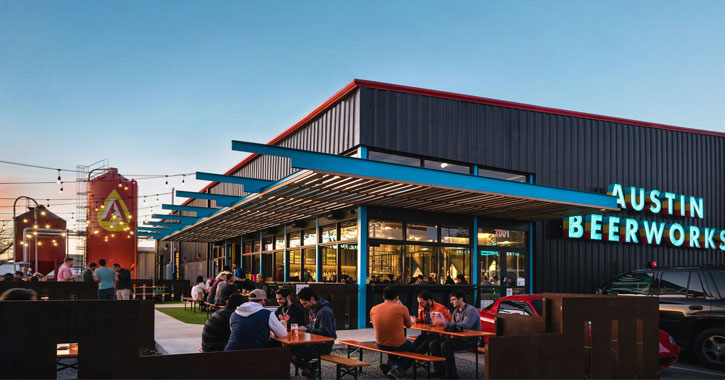 Located in an industrial area in North Austin, Austin Beerworks (ABW) is housed in a cool, industrial-style building.
Because it has both indoor seating and an outdoor beer garden, you can bring dogs along with you as well. ABW is also a family-friendly hangout – they don't serve beer to minors obviously, but parents can drink while young kids play by the grassy playground.
Serving handcrafted beer for over a decade locally, Austin Beerworks has built an impressive list of mainstays like the Amber Vision (amber ale), Peacemaker (anytime ale), Flavor Country (hoppy pale ale), Fire Eagle (American IPA), and Pearl Snap (German Pils), as well as a seasonal selection like the fan-favorites Sputnik, Montecore and Tropical Einhorn.
If you visit here during off-peak hours, you get to enjoy the knowledge of the friendly bartenders and staff working at ABW.
If you visit when there's an event, you get to experience the quirky bands they usually hire to liven up the night. Austin Beerworks hosts tastings and brewery tours.
Austin Beerworks also has an in-house can-tina/food truck, where they serve wings and drumsticks, tacos, nachos, french fries, and other beer-match goodies.
If you can't stay at the cool ABW spot, drive by and get yourself their special 12-pack beers. Sometimes, Austin Beerworks releases all seasonal beers in one pack for tourists and new guests who haven't tried ABW beers yet.
Contact: 512-821-2494
Hours: The Austin Beerworks taproom is open from Mondays to Saturdays from 11 am to 10 pm, except for Sundays when I'v
Famous for: Mainstays Pearl Snap Pilsner and Peacemaker Ale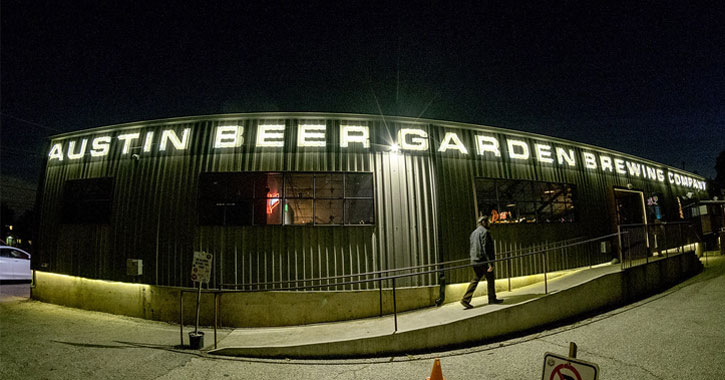 If you're looking for the best pilsners in town, you have to visit Austin Beer Garden Brewing (ABGB).
It is the brainchild of Austin's beloved Brian "Swifty" Peters, who has been around the craft beer scene for almost 3 decades.
Swifty was the co-owner of Live Oak Brewing Company (founded in 1996), brewed at The Bitter End in 2001, and began the start of ABGB in mid-2006 while working his award-winning lager magic as the master brewer of Uncle Billy's Brew & Que in 2007.
ABGB has FIVE "always beers" and a handful of "sometimes beers" – all of which are bestsellers if you ask both locals and beer fans across the country. Aside from the pils and lagers, ABGB also serves pasta, pizza, Italian sandwiches and other easy, but yummy food to enjoy while beer-tasting or hanging out as you listen to live music.
ABGB is an award-winning company. Not only for its famous beers like the:
Hell Yes Helles – Bronze winner of Great American Beer Festival (GABF) in 2016, gold GABF in 2018
Industry Pils – Gold winner of GABF in 2016
Rocket 100 Pre-Prohibition Pilsner – 2016 World Beer Cup bronze winner, and GABF Gold winner in 2015, 2017 & 2018. As ABGB's most decorated brew, Rocket 100 also won the 2021 GABF Bronze award in the American Pilsner category.
Austin Beer Garden Brewing has also been named Great American Beer Festival's Brewpub of the Year in 2017, 2017 & 2018.
Address: 1305 W Oltorf St, Austin, TX 78704
Contact: 512.298.2242
Hours: The kitchen is open from lunch time until 9 to 10pm, while the bar remains open until 11pm or midnight on Saturdays. They're closed on Mondays and during Thanksgiving Day, Christmas Eve & Christmas Day, New Year's Day.
Famous for: Hell Yes, Day Trip pale ale, Rocket 100 (Pilsner), Superliner IPA, and Big Mama Red (a hoppy red ale).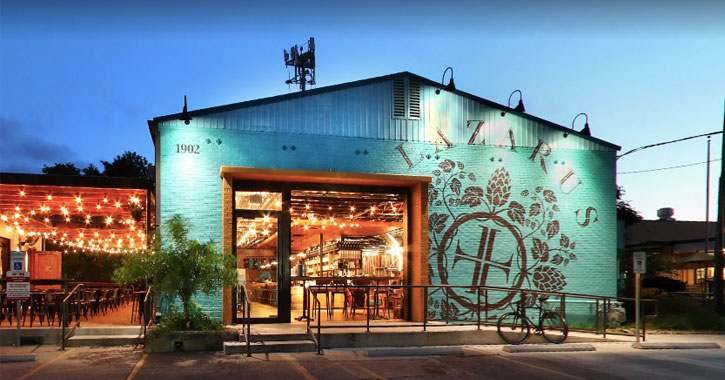 Located right in the heart of E. Sixth, you won't miss the turquoise beer garden of Lazarus Brewing.
The company isn't as old as other Austin breweries on this list, but this born-on-2016-Christmas-Eve Lazarus is definitely making a buzz with its lively space (and a new one coming in another location), good food and its exciting beer program.
The owner/head brewer of Lazarus is Christian Cryder, who is a man of many talents. Aside from being a pastor, Cryder is also a veteran coffee roaster, and a famous food truck chef specializing in Street-Mex food.
So it's only fitting that coffee, beer, tacos and a joyful community vibe are what Lazarus is all about.
Lazarus is the perfect hangout, whether you just want to eat honest-to-goodness yummy soul food or want to be part of a community.
The space was actually built for people to stay as long as they like, from the comfy sofas to the outdoor beer garden. And because they also serve good coffee, Lazarus is open pretty early for a "bar," serving breakfast, lunch, dinner and snacks all day.
At the 2022 Texas Craft Brewers Cup, Lazarus took the bronze medal for the coffee golden ale, Jolted Phoenix. This isn't the company's first award.
In 2017, they took home the gold medal for Amandus in the "Belgian-style specialty ale" category at the Great American Beer Festival.
Address: 1902 E 6th St, Austin, TX 78702
Contact: (512) 394-7620
Hours: Open from 7:30 am to 11 pm on Mondays through Fridays. From 9 am to 11 on Saturdays and 9 am to 10 pm on Sundays.
Famous for: Prodigal Pils, "Holy Mother of God" Barleywine, "40 Days & 40 Nights" American IPA, "Theodorus" Dunkel Lager, and "Shackleton" ESB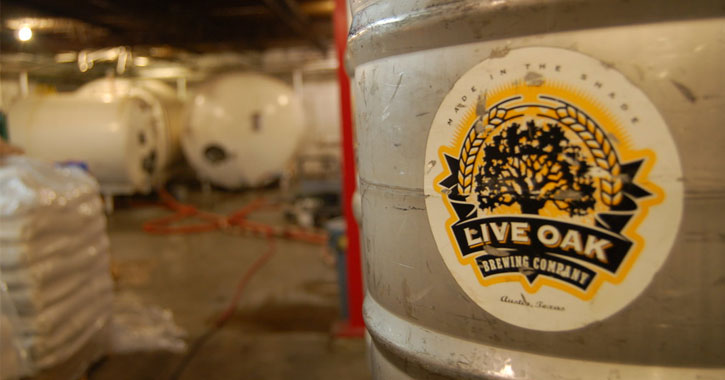 Live Oak Brewing is the oldest of all Austin breweries, founded by Chip McElroy and Brian "Swifty" Peters in 1997. The two hand-built the brewery from scratch, spending all their time as main brewers, keg washers, delivery crew, and even marketers of their homegrown lagers and ales.
If you really want to immerse yourself in the authentic Austin Craft Beer scene, Live Oak Brewing is a must-visit. Chip and Swifty have both collaborated with or influenced many modern local brewers.
What makes Live Oak special is how the company continues to use old-world brewing techniques (not practiced in the US but popular in central Europe). The process involves a decoction mash, open fermentation, and secondary lagering. You can actually taste the difference in every beer Live Oak releases.
Because of how special the brewing process is, Live Oak beers are brewed in limited quantities at the company's small brewery in east Austin.
With the rich history of Live Oak, no other local brewery has over 650+ lager recipes that they can retire, resurrect or turn into seasonal beers.
Plus, many of the releases are also made available as takeaway six-packs, so Live Oak is able to reach beer aficionados beyond Austin, Texas as well.
Live Oak Brewing's 1615 Crozier Lane location is set in a massive lot. Behind it is a 9-hole disc golf course, where guests can freely play while drinking their favorite beers.
Paste Magazine has included Live Oak Brewing in the list of 50 Best American Breweries of the 2010s.
During the 2019 Great American Beer Festival, Live Oak Brewing took home a bronze medal for their Hefeweizen under the German-Style wheat ale category. The company's Schwarzer Rauch made Bloomberg's list of the 15 best beers of 2020.
Address: 1615 Crozier Ln, Del Valle, TX 78617
Contact: (512)-385-2299
Hours: Open from 12 to 8 pm Sundays through Wednesdays, up to 9 pm during Thursdays, and up to 10 pm on Fridays and Saturdays.
Famous for: Hefeweizen, Live Oak Hefe, Pilz, and Oaktoberfest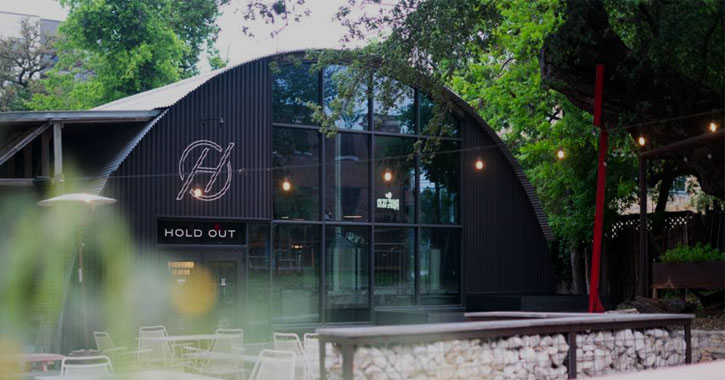 Located in downtown Austin on 4th Street, you won't miss the barn-like Hold Out Brewing spot that stands out as a contrast to the urban vibe of other restos and bars lined up in the area.
What's interesting is that the company was built in the middle of the 2020 pandemic, but quickly grew a following thanks to their burgers and beer-to-go offerings.
Hold Out has a strong hop-focused beer menu with excellent pale ale and solid lagers leading the pack.
Hold Out has Happy Hour from 3 pm to 6 pm during weekdays. They also do an awesome brunch spread on weekends from 10 am to 3 pm, thanks to the CIA-trained, in-house chef. And because Hold Out has partnered with many local suppliers, the ingredients are guaranteed fresh, which results in some of the best wings and sandwiches in town.
Like other Austin breweries, Hold Out is building its own personality with every event they host. If you can visit during Octoberfest/Novemberfest, check out what live show they have in store.
There is plenty of space to chill here, from its industrial-looking indoor space to the chill vibe of its outdoor beer garden, you wouldn't want to leave the place too soon.
The Austin Chronicle's Best New Brewery Knowers has named Hold Out Brewing as Best New Brewery in 2021. Even Hold Out's food has made some best-of lists, with Austin Monthly including Hold Out's wings in their Best of ATX 2021 poll.
Address: 1208 W 4th St, Austin, TX 78703
Contact: (512)-305-3540
Hours: Open from 3 pm to 10 pm on Mondays, 11 am to 11 pm from Tuesdays to Fridays, and 10 am to 10 pm on Saturdays and Sundays.
Famous for: Liquid Television hazy pale ale, Koala Takedown IPA, and No'Quango milkshake IPA.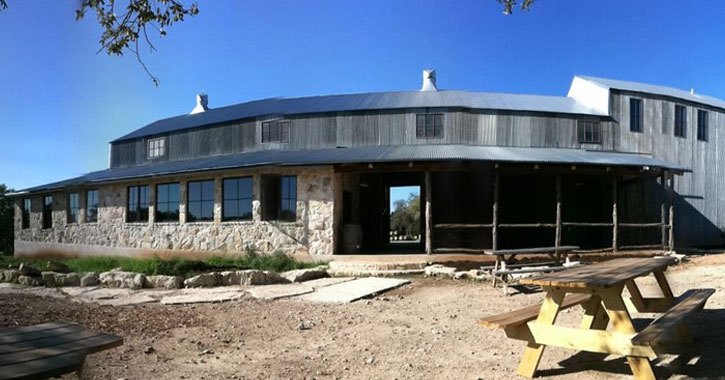 If you're visiting Austin, Texas for the renowned breweries, make sure to schedule half a day and make your way to Jester King.
Opened in 2010, Jester King is located on a picturesque 165-acre ranch in the Hill Country.
It is the most popular outdoor brewery in Austin. The company's releases have been legendary in Austin with people lining up for HOURS to be the first to taste the beers each time they drop.
Although its beers and wines have made it to many best-of lists, what you're getting with a visit to Jester King is a totally unique outdoor experience – an authentic farmhouse vibe with good food as well.
If you came specifically for an extensive Jester King weekend, stay at the Tipping T Inn next door, so you can be a few walks away from the farmhouse. Aside from the famous beer tasting, brewery tour, and goat walk tours, Jester King also hosts events and has been a witness to many rustic weddings in the past.
In November 2021, Jester King upped its game and began offering a full barbecue menu with beer-match entrees like pork ribs, brisket, smoked chicken and more.
In 2013, Jester King's Atrial Rubicite won Great American Beer Fesival's Belgian-Style Lambic or Sour Ale category. Jester King was honored as the 2019 James Beard Semifinalist as Outstanding Wine, Spirits, or Beer Producer.
Address: 13187 Fitzhugh Rd, Austin, TX 78736
Contact: (512) 661-8736
Hours: Closed on Mondays and Tuesdays, but open from 2 to 8 pm on Wednesdays through Fridays. It is open 11 am during weekends, but closes at 9 pm on Saturdays and 8 pm on Sundays. Reservations are OK, but walk-ins are welcome.
Famous for: the atmosphere and Farmhouse and Barrel-Aged Wild Ales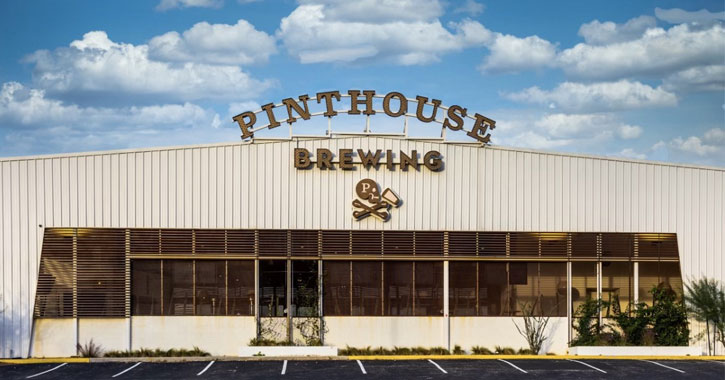 Pinthouse Brewing specializes in hop-forward beers and juicy, hazy IPAs. At the original location on Burnet, many of the brews were created with their in-house pizzas in mind.
Launched as Pinthouse Pizza in 2012, the company dropped the "pizza" to its name recently once it began building a mini-empire in Austin (there are 4 Pinthouse locations to date) and have expanded beyond pizzas with their handcraft beers.
Now, aside from pizzas, all Pinthouse locations also serve salads, gourmet sandwiches, bento-box-style lunches, and even house-baked bread.
Of course, people go here mainly because of Pinthouse's great beer. At the start of 2020, Pinthouse announced that they sold 1.3 million pints of their best-selling beer, the Electric Jellyfish IPA, in just 1 year.
This isn't the only feat the company has – Pinthouse has an entire page of awards and mentions in the media, which includes several medals from the Great American Beer Festival from 2013 to 2020. It's no wonder they were able to expand as quickly as they did.
One of the most awesome things about Austin breweries is the collaborations between local brands. Pinthouse has worked (and has plans to collaborate) with the ABGB, Jester King, Zilker Brewing, and other breweries in the area.
The original Pinthouse location recently launched formal brew tours and a barrel-aging program. But whichever branch you decide on visiting, you'll be sure that the quality of Pinthouse's food and craft beer remains top-notch across all locations.
Contact: 512-717-0873
Hours: Sunday through Thursdays 11 AM-10 PM, Fridays and Saturdays 11 AM-11 PM. Happy Hour is from 4 to 6 pm on weekdays.
Famous for Electric Jellyfish IPA, and Fully Adrift Double IPA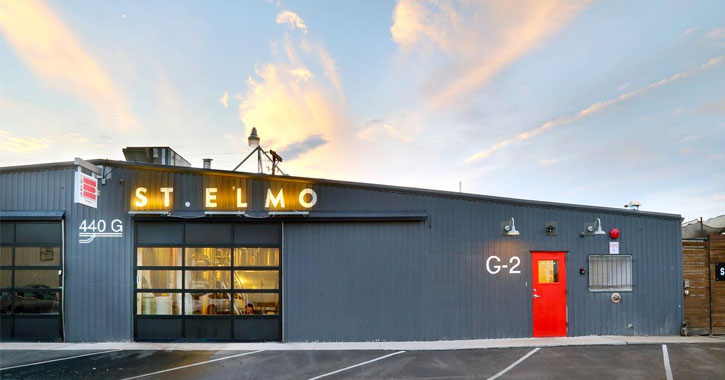 St. Elmo Brewing is a South Austin bar, brewery & beer garden with rotating craft taps & an on-site food trailer called Soursop for mostly Pan-Asian fare.
St. Elmo opened its doors in December 2016. It was co-founded by craft beer veterans Tim Bullock and Bryan Winslow, who met while working for Austin Beer Works.
St. Elmo Brewing Co. was named after St. Elmo Township, a tiny town with 150+ people before the city absorbed it in the early 1900's.
And because the brewery is located in the middle of the original St. Elmo area, which was being commercially revived, the founders wanted to build their business here for residents nearby to have a chill place to hang out with live music, good eats, and top-tier beers.
The tap wall menu has everything from Bohemian pilsners and American IPAs to interesting lagers and sours.
If available, make sure to try the pink guava sour, St. Elmo's best-selling Carl (a pale golden, but full-flavored Kölsch beer), and the coffee IPA.
St. Elmo is a younger brewery, but they're catching up to other Austin breweries. In 2019, the company released 10 different barrel-aged beers within a single month!
Austin Monthly readers voted St. Elmo the Best Brewery in their Best of ATX 2021 poll. Its beers have received a couple of awards, including:
Roxanne – Gold winner under the Fruited American-Style Sour Ale category at 2019 Great American Beer Festival
Yolanda – bronze winner under the specialty IPA category at the 2021 U.S. Open Beer Championship
Vaughn and Carl – bronze winners at the North American Brewers Association International Beer Awards
Contact: (737)-300-1965
Hours: Closed on Mondays. Open from noon to 11 pm on Thursdays, Fridays, and Saturdays, while only up to 10 pm on Sundays, Tuesdays, and Wednesdays.
Famous for: Carl, Gary hazy IPA, Urkel Czech Pils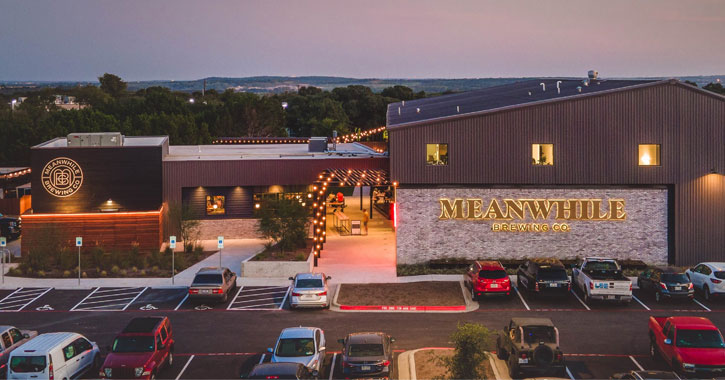 Meanwhile Brewing is one of the newest Austin breweries around, having opened its doors only in the Fall of 2020. Like many local breweries, Meanwhile has massive indoor and outdoor spaces, enough to fit live music, movie nights, and all kinds of events.
What makes Meanwhile a must-visit is that there's a small food truck park, which serves food from breakfast to dinner AND ice-cream made fresh daily. There's also a soon-to-open 45-yard turf that will be made available for rent for soccer and other outdoor sports.
Meanwhile Brewery is a family-friendly brewery. All its drinks, from the awesome selection of hoppy ales and lagers, to the freshly-brewed coffee (both hot and cold), teas, and everything else in between, cater to people of all ages.
And because you can choose your preferred grub from different food trucks, you have more options like Pueblo Viejo's Tex-Mex food (don't miss the chips salsa), Modern African American BBQ by Distant Relatives, all kinds of pizzas from Dough Boys, and Bésame's ice cream made by a chef daily.
It's definitely like hosting a dinner in your dream backyard, but without the food prep and packing-away that comes with it.
Meanwhile Pilsener won gold medal in the 2021 GABF German-Style Pilsner category. Their Helles also took home a silver medal at the 2021 North American Beer Awards.
Even the food park options here are making a buzz. At the Austin Monthly's Best of ATX 2021 issue, Meanwhile Brewery was named Austin's Best New Brewery and one of its in-house food trucks, Dough Boys, was named Austin's Best Pizza of 2021.
Contact: (512) 308-3659
Hours: Open from 8 am to 10pm Mondays through Wednesdays, up to 11pm during Thursdays and Fridays. Weekends open at 9am and closes 11pm on Saturdays and 9pm on Sundays.
Famous for: environment, food and the award-winning Pilsener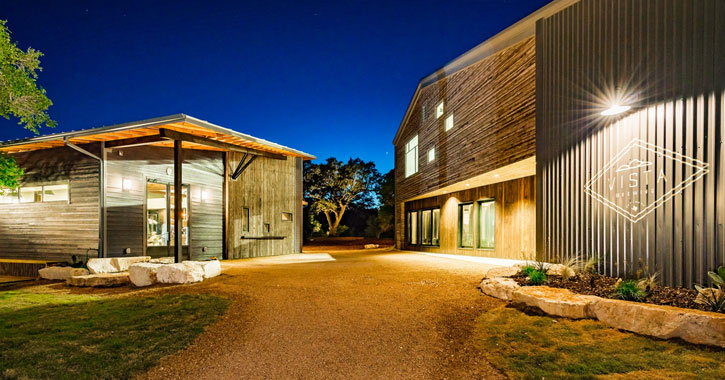 The original Vista Brewing opened up on a 21-acre farm in Driftwood, where a grill is open to serve you. The company opened a newer location (in San Antonio) recently.
Vista Brewery is all about sustainability. The ranch they bought had over 650 historical trees and only 16 were cut down to give space for Vista's 5,000 square feet brewery. About 95% of the wood you can see reused throughout the brewery, integrated into tap handles, made into furniture, and so on.
Vista also has a lot of local partners to fulfill its vision.
They partnered with BeeWeaver to build a 16-hive apiary on the ranch.
If they're not growing the ingredients on the farm, they're sourced from local ranchers and farmers. Vista also collaborates regularly with the local craft beer community (both individuals and Austin breweries).
All Vista beers are made with water sourced directly from the limestone-filtered water well on the property, 450 feet below the surface in the Middle Trinity aquifer.
At 2019 Best of Craft Beer Awards, Vista's The Middle Trinity won a silver medal under the Belgian-Style Pale Strong Ale or Tripel category, while its Laissez-Faire won a bronze medal for the Wood- and Barrel-Aged Beer or Aged Beer category.
On Austin Monthly's Best of ATX 2021 list, Vista was voted Best Outdoor Getaway and Good Food Award winner for Hive Mind honey ale (this award not only showcases Vista's top-quality beer production but also its in-house honey).
Contact: (512)-766-1842
Hours: Closed on Mondays and Tuesdays. On Wed-Thu, they open at 4 pm and close at 9 pm. On Fridays, they open at 2 pm and close at 9 pm. Weekends open early by noon but close at 9 pm on Saturdays and 7 pm on Sundays.
Famous for: free brewery and farm tours (during weekends), the black pils Dark Skies, and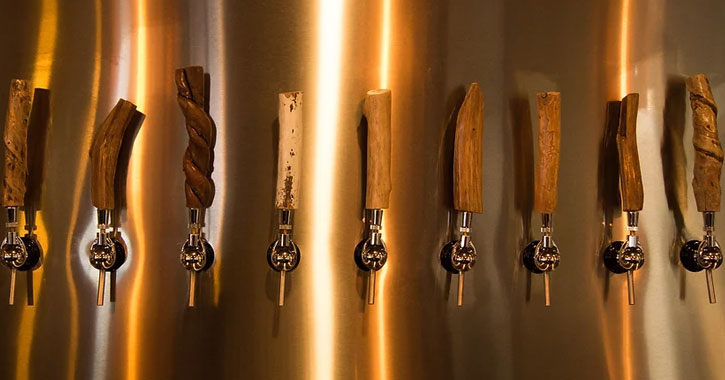 Oddwood Ales is a dog- and kid-friendly, East Austin destination. It's small (that doesn't accommodate private events), but there's a LOT to like at this brewery. Founded by brothers Taylor and Brett Ziebarth, Oddwood was designed as a neighborhood bar that kids, teens, and families would choose to hang out at on weekends.
Oddwood Brewing has classic Arcade games that guests can play for free. It has a homey outdoor space that makes you feel like you're just hanging out in your backyard – Oddwood is definitely a go-to first-date kind of spot.
Oddwood Brewing has killer pizza (even the vegetarian pizzas are awesome for meat-lovers and non-vegans), which matches perfectly with the hand-craft hoppy pale ales, lagers, IPAs, and American-style wild ales.
Oddwood took home the silver medal for its Her Black Wings under category Session and Standard German & Czech Lagers. The company is still young, but with beers like Hessian Hesher, Pool Dad Pilsner and Asleep in the Deep helles, the future is bright for Oddwood and it wouldn't be surprising for the brewery to collect awards.
Address: 3108 Manor Rd, Austin, TX 78723
Contact: Call (512)-220-0612, or text 512-848-7385.
Hours: Closed on Mondays, Open 3 pm to 11 pm from Tuesdays to Thursdays. Opens at 12 pm on weekends, but closes 11 pm during Fridays and Saturdays, while closes at 9 pm on Sundays.
Famous for: Pool Dad German-style Pilsner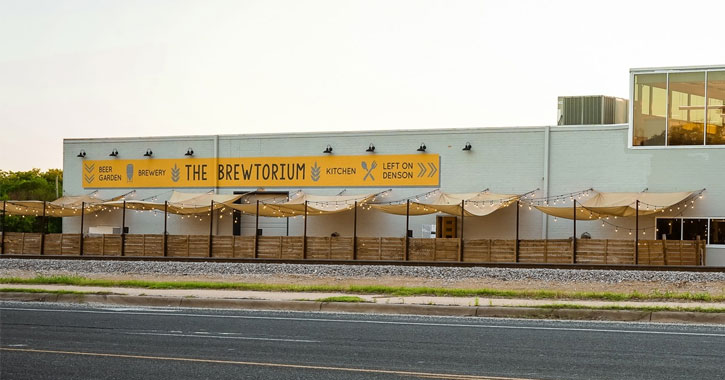 If you're looking for German-style lagers, The Brewtorium may just be the spot to try. Brewtorium co-owner and brewmaster Chris Rauschuber is the first beer brewer in his family's German lineage. This is also what makes the place stand out – the pilsners, pale ales, and other beers are brewed to match German-inspired food.
The Brewtorium's story began as a personal challenge to make an Oktoberfest-styled lager for friends but now has turned into a modern, family-run brewpub housed in a 10,000-square foot location with constantly-rotating in-house taps.
The Brewtorium's Old Whistle Britches took home the gold medal for the Old Ale category at the U.S. Open Beer Championship. Known for dark lagers, The Brewtorium also has handcraft IPAs, hazy IPAs, milk stout, baltic porter, and Kölsch, as well as craft cider, draft mead, and wine.
Kids will feel right at home here, too! The Brewtorium has a kid-friendly menu, Honest Kids juices, and play spaces, which led the pub to be designated as Best "Dinner for the Kids Too" Brewery in the Chronicle.
Address: 6015 Dillard Cir A, Austin, TX 78752
Contact: (512)-524-0323
Hours: Closed on Mondays, but open from 4 pm to 10 pm on Tuesdays through Thursdays. Weekends open at noon (12 pm), but close at 11 pm on Friday and Saturday, while closes a bit early (at 9 pm) on Sundays. Walk-ins are welcome (even without reservations)
Famous for: their award-winning Old Whistle Britches and being kid-friendly.
What's there Beyond Austin Breweries?
I'm a fan of the culture and high-quality craft beer Austin breweries has to offer, but I also adore the typography and design of every bottle and can these breweries churn out – they're pieces of art, don't you think?
If you're on a cross-country tour traveling your way to the best wineries and other drinks, don't miss my special posts on:
For those spending a few more days in Austin and have explored all the Austin breweries the place has to offer, you can also check out other famous (and not-so-famous) Austin Texas attractions, such as the best museums in the state, or cool off in one of the lakes in Texas (such as Caddo Lake).