The best Georgia beach is the one that suits your interests.
To party-goers looking for a memorable summer break, the best Georgia beach for them could be the one with a lively nightlife.
Backpackers would die-for unspoiled beaches and hidden islands, but a family with small kids would prefer beaches with basic facilities and a room the kids could tuck into once they've spent all their energies frolicking on the sand.
The cool thing about Georgia beaches is that there is a beach that caters to everybody.
Things to Know Before Going to Georgia Coast
The Georgia Coast is quite unique.
To understand the location of Georgia beaches and geography, here are several facts:
Georgia's coastline isn't long. It only extends roughly 110 miles from Cumberland Island to Tybee Island.
The Georgia coastline isn't continuous. Unlike other beaches, the sea doesn't just connect to land because the islands are entwined with rivers, swamps, streams, saltwater marshes and estuaries that create its irregularly special "shape."
Georgia's coast is also not static due to tides. The daily rise and fall of the ocean's water will affect how you see a particular beach. Know that this changes so often, especially in George beaches, so your experience from a currently-lowtide beach may differ from someone who experienced it in high tide.
The coast of Georgia has 15 barrier islands, called as such since they form a wall-like structure that blocks ocean wind, water, tides, and currents from hitting mainland directly. Here they are (listed from north to south):
Tybee Island,
Little Tybee Island,
Williamson Island
Wassaw Island,
Ossabaw Island,
Catherine's Island,
Blackbeard Island
Sapelo Island
Wolf Island
Little St. Simons Island
Sea Island
Simons Island
Jekyll Island
Little Cumberland Island
Cumberland Island (the largest barrier island)
As of 2019, only four (Jekyll, St. Simons, Sea and Tybee) are accessible by car via an elevated highway or bridge and can be the reason why they're the most popular Georgia beaches. The rest can only be visited by boat, but the advantage here is that they are unspoiled and remain a favorite of backpackers.
The Georgia beaches are located on the seaward side of these barrier islands.
My Top 13 Georgia Beaches
Tybee, St. Simons, and Jekyll Islands have the most-visited Georgia beaches among the 15 barrier islands. 
These 13 beaches are my favorites: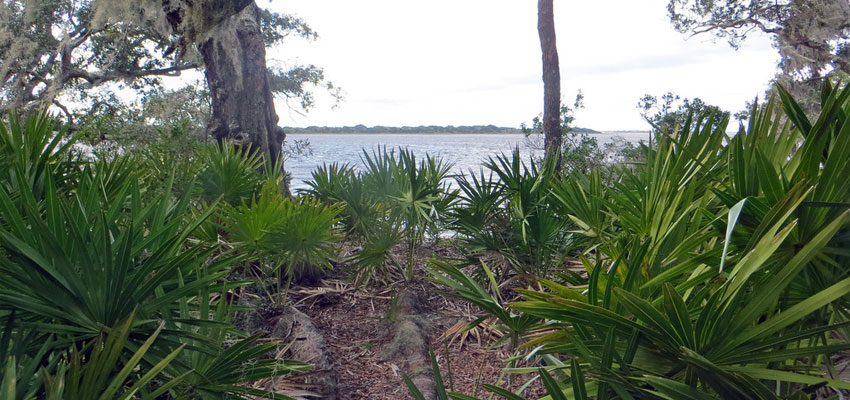 Because Cumberland Island is the largest barrier island in Georgia (all 9,800 acres of it), expect plenty of things to do here.
The only caveat is you can't visit by land, so make a ferry reservation early.
Visit St. Mary, the largest town of the island and where structures like Cumberland Island National Seashore Museum are found.
You can stay at the Sea Camp Campground, which is just a short walk away from the beach. It's ideal for those on a budget, since you can pitch your own tents here.
For something more posh, the all-include Greyfield Inn (set in a massive 19th century estate) offers spectacular private beaches and tour around the island.
1. Dungeness Beach
Located at the western side of Cumberland Island, across salt marshes and mini forest, Dungeness Beach is an unspoiled beach with no structure whatsoever.
This particular beach is where hundreds of loggerhead turtles nest around July. Numerous species of birds also flock the sands.
If you're into photography, Dungeness Beach has a lot of flowering plants and vegetation common all around Cumberland beaches.
If you're going from St. Mary's Sea Camp and prefer a more secluded beach, hike three and a half mile going to Stafford Beach Campground.
Here, you'll feel as though you're trapped in a tropical island all to yourself.
Rent a camp site for $12/night, which is already good for up to 6 people. It also includes fire rings with grills for some good old BBQ, but make sure to hang your food (and trash) properly.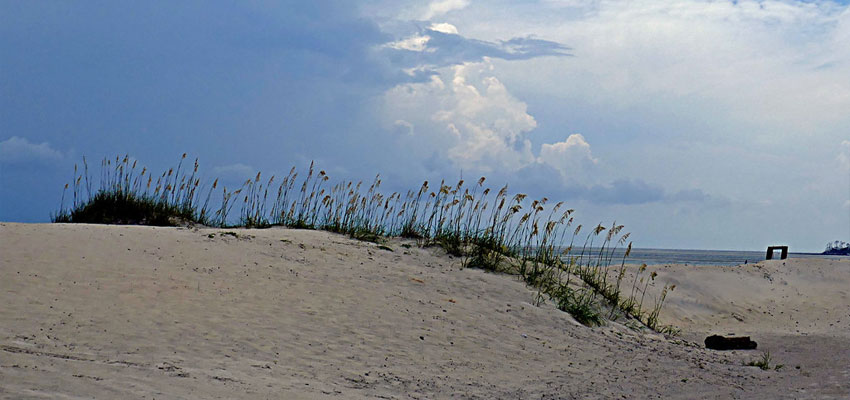 This island is a popular destination for families, since it's accessible by land and located just 20 miles from Savannah.
Things to do in Tybee Island:
3. South Beach
You'll know you're there once you see the classic pier stretching out into the ocean.
Visitors are welcomed with pavilions on the beach.
You'll find the Tybee Island Light Station and Museum (and the lighthouse), along with the Battery Garland museum here.
4. North Beach
If you came on Tybee Island for the shopping, the North Beach is where it's at!
North Beach is also where Tybee Island Museum and the protected areas of Fort Pulaski National Monument can be visited. If you love architecture, make sure to pass by the historic Tybee Post Theater and Cockspur Lighthouse.
Water activities on North Beach are varied – from saltwater fishing and kayaking, to surf lessons and sailing, you can enjoy Tybee's waters no matter what activity you wish to join.
5. Mid Beach
Tybee's Mid Beach is a favorite among surfing, canoeing, and stand-up paddleboarding fans.
As its name suggest, Mid Beach is located in the middle of Tybee, which makes it accessible no matter where you came from.
The difference of Mid Beach with its neighboring North and South beaches is that it's quieter in this community beach.
6. Back River
You know it's a special place if locals call it Tybee's "secret beach."
Back River is tucked away at the end of Highway 80 and is perfect for people looking to just relax and enjoy without the crowds.
This part of the Tybee Island has dolphin sightings regularly, so if you want to experience this, check out Captain Mike's Dolphin Tours or Captain Derek's Dolphin Adventures.
Back River is home to the original and iconic The Crab Shack.
7. Little Tybee Island
This secluded, unspoiled and uninhabited nature preserve is twice the size of Tybee Island.
But since there's land access, visitors have to reserve their boats at the Bull River Marina.
Go to the Little Tybee Island if you love natural trails, fishing, and untouched beaches.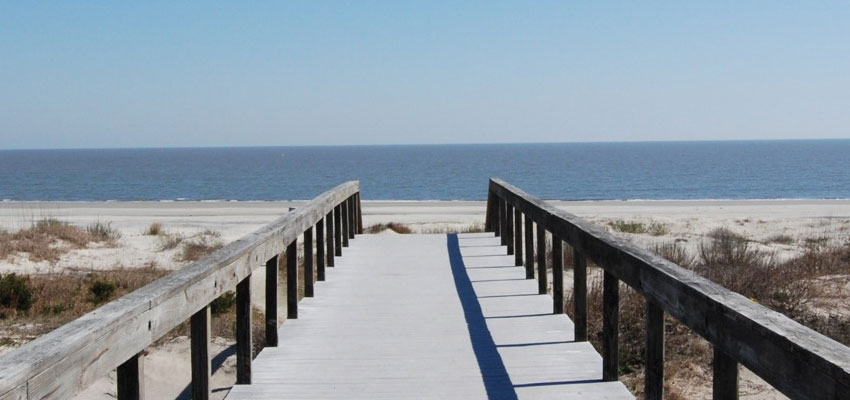 There are 10 miles of beaches on Jekyll Island.
And since it's still part of the Georgia Coast, you'll get to choose from a wide range of activities like fishing, boating, biking, camping, kayaking, horseback riding, golfing, and participating in various walking trails.
Jekyll Island has recently undergone a multi-million dollar renovation.
Fortunately, since this area is protected, even the addition of new hotels couldn't destroy the beauty of one of Georgia's best beaches.
Those planning to stay on Jekyll Island can park their RVs at the Jekyll Island Campground, or choose from several high-rated hotels like The Westin and Holiday Inn Resort.
8. Glory Beach
Found at southern Jekyll Island, Glory Beach is famous for its massive sand dunes with distinct sea oats.
It's a favorite spot of migrating and nesting birds, so dogs are not allowed in the area.
Access to the beach is from the Jekyll Island Soccer Complex, which was built for the movie "Glory."
9. Driftwood Beach
Located on the north end of Jekyll Island, Driftwood beach and its dramatic sand embracing driftwood trees is a favorite of nature photographers.
The unique landscape, paired with either sunset or sunrise, would easily give you a fantastic shot of the Driftwood Beach.
Unfortunately, the constant erosion in the area led to the permanent closure of the picnic area and beach for swimming and other activities.
Go there just for the photo-ops and long walks.
10. Great Dunes Park
Perfect for daytrippers, the Great Dunes Park has all the needed amenities like public restrooms, picnic pavilions, grills, covered beach deck and access to Jekyll Island's beach – all of which make for a perfect (but quick) beach day out.
The park also has a playground, mini-golf course, and bike and Segway rentals to use for over 20 miles of bike trails.
11. St. Andrews Beach
This beach looks a lot like Driftwood Beach, except that it's the southern-most point on the island.
St. Andrews Beach is a go-to for birdwatchers, fans of dolphin sightings, and shelling.
Go to the St. Andrews Picnic Area if you're planning to spend some time on this beach.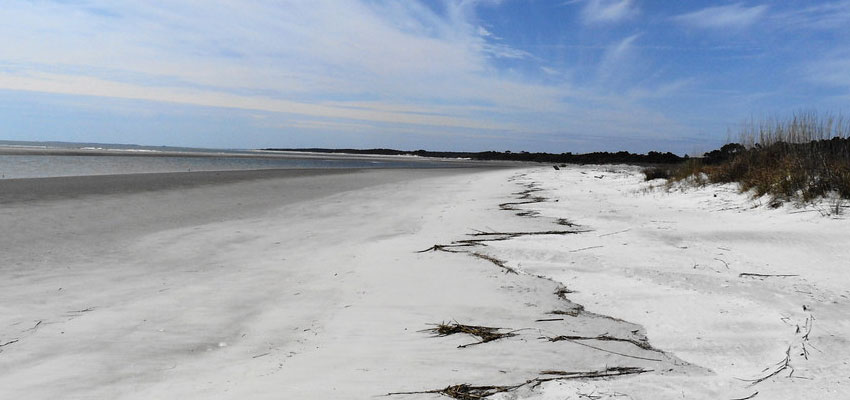 Protected by the Georgia Department of Natural Resources, this Georgia Barrier Islands is only accessible by 10-minute boat or a small plane.
Sapelo Island is home to the Southern bald eagles, sea turtles, peregrine falcons, and other creatures living in salt marshes. Only about 70 descendant resident lives here, so the only accommodation option is the 1810 R.J. Reynolds Mansion, which is also near the public beach and near five ecological zones.
On-island destinations to include in your trip are the restored 1820 Sapelo lighthouse, University of Georgia Marine Institute, Chocolate Plantation Ruins, and Hog Hammock.
12. Nanny Goat Beach
If you're after pristine white sand with wild sea oats, the two-mile-long Nanny Goat Beach (located on the southeastern end of Sapelo Island) should be part of your itinerary.
The Sapelo Island National Estuarine Research Reserve uses the Nanny Goat Beach as outdoor classroom for many ecology students visiting the beach.
You'll be sharing the beach with many birds like egrets and blue herons, especially if you're walking the trail going to the R.J. Reynolds House.
13. Cabretta Beach
Cabretta Beach campground is located on Sapelo Island's north coast.
The beach is peaceful and remote, no matter what season you visit. It's also an ideal beach for jogging or long walks on the hard-packed sand.
Because this beach can be a path going to the Blackbeard Island, many fishermen and kayakers pass by Cabretta Beach regularly.
Other Popular Georgia Beaches
East Beach of St. Simons Island
"East Beach" refers to the most popular and largest St. Simons Island Beach. It is located near the Coast Guard Station and offers plenty of facilities and parking to visitors.
Golfing along with fishing, swimming and beachfront living is the main attraction of people who visit this small little island.
Aside from the gorgeous beach, you can also spend some time visiting the majestic Avenue of Oaks, the historic King and Prince Golf & Beach Resort, and Neptune Park Fun Zone.
Private Lodge of Little St. Simons Island
Little St. Simons Island has been untouched for centuries and owned privately by rich families since 1760. The island has 7 miles of beaches with pristine sand.
The Berolzheimer family, who owned the 11,000-acre barrier island since 1908, opened the island to the public starting in the late 1970s.
Today, this family-owned "Old World Lodge" can sleep up to 32 guests a day.
You'd have to make arrangements with The Lodge if you want to visit, and they'll take care of everything from accommodation and food to boat arrangements, tours like hiking, biking, fishing, and ecological trails. Other day trips are available.
When's the Best Time to Visit Georgia Beaches?
Like on my post about the best New Jersey beaches, the go-to advice for a beach trip is to schedule it during summer months (June to September) to enjoy the nice hot summer weather.
Fall is your next bet if you can't go during the summer. Once September hits, beach attendance drops, but the weather is still nice and hot and the ocean is warm from the summer months.
What's your favorite Georgia Beach?
You have quite a few options to check out when you head to Georgia.
Which ones have you been to and what's your favorite?
Cover photo credit: Kara B