The waterfalls in Ohio are rarely recommended as go-to tourist destinations, since Cedar Point, Rock & Roll Hall of Fame, and National Museum of the US Air Force are usually squeezed into itineraries before anything else.
But if you don't have much budget, want to do something new, or you're looking for a day-trip destination that will definitely be a memorable one for your partner, kids, or family members you're traveling with, then check out some of the best waterfalls in Ohio:
Some of the Most Picturesque Waterfalls in Ohio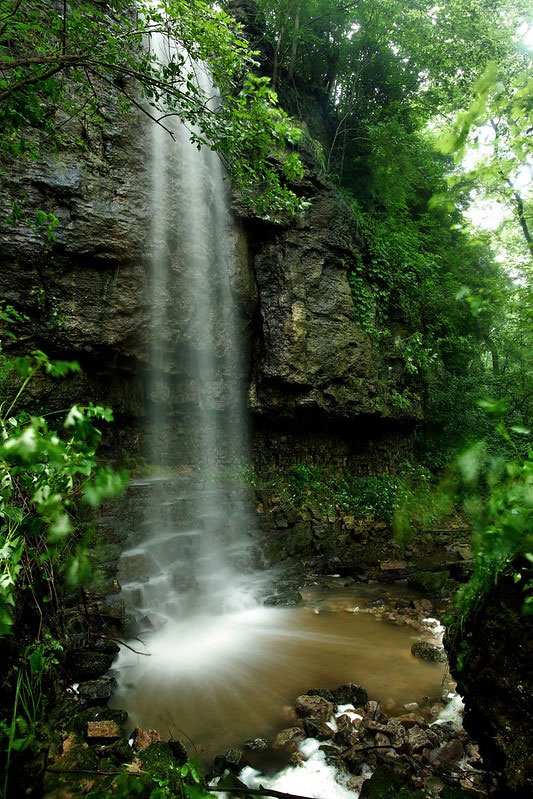 Address: Clifton Gorge State Nature Preserve, 2381 State Route 343, Yellow Springs, OH 45387
Ideal for: waterfall photography, experienced hiking
If you follow the Gorge Trail, it would take you into the gorge, near the stream and face-to-face with this low-flow waterfall.
The 25-feet Amphitheater Falls dries up in the summer, turns into icicles in winter, and looks absolutely gorgeous around October. You have several options for lookouts above the gorge.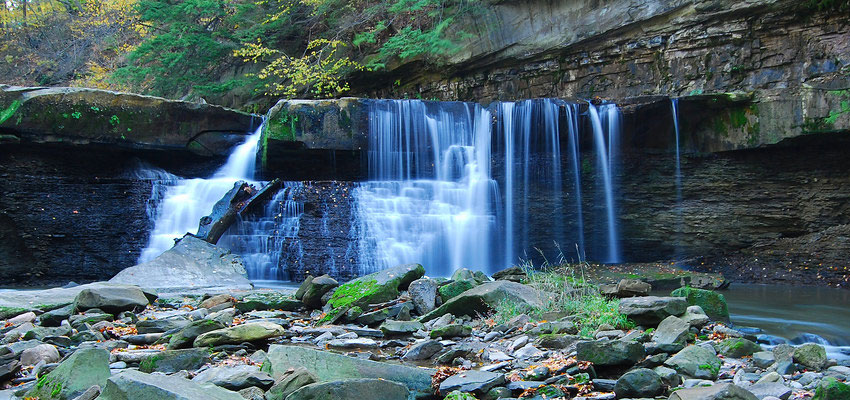 Address: Willis St. Tinker's Creek, Bedford, OH 44264
Ideal for: visitors of Cleveland, beginner hikers
The Great Falls is located within the Bedford Reservation in Tinker Creek, Bedford. This National Natural Landmark is just south of Cleveland, so if you're looking for something to make you go wow, then head to the Viaduct Park.
When you reach this urban falls, you'll understand why it is named as is. Formed by Tinker's Creek (the largest tributary of the Cuyahoga River), the Great Falls plunges 15 feet and spans about 80 feet after rain or melted snow.
Aside from this waterfall's greatness, you also get to see an old viaduct, ruins of an old mill, and a man-made tunnel where water from the creek still flows until today.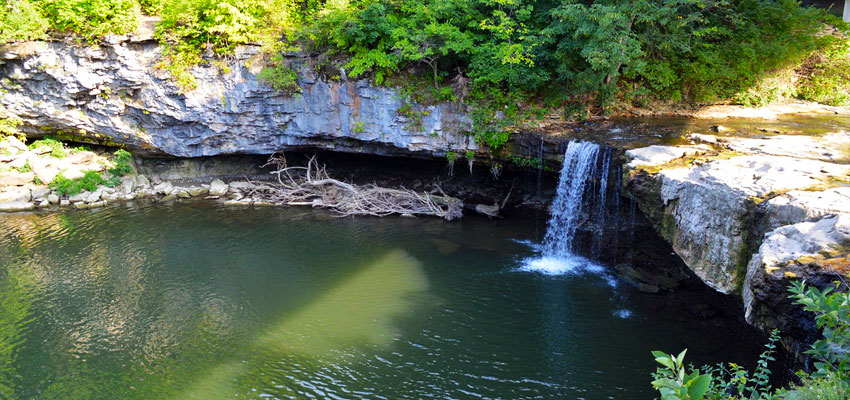 Address: Covington Avenue, village of Ludlow Falls, Ohio
Ideal for: Roadside views, easy hike
You can barely see Ludlow Falls when you pass by the highway bridge by Ludlow Creek, but there's an easy hike – a short path from the park at Covington Avenue that leads to the falls. Avoid the south side, where the gorge is quite steep and your views are obstructed by the trees.
The Ludlow Falls drops 15 feet in one straight sweep with 55 feet crest. Visit during springtime where the lush greens and rocks around it contrast the white flowing foamy water created by the drop.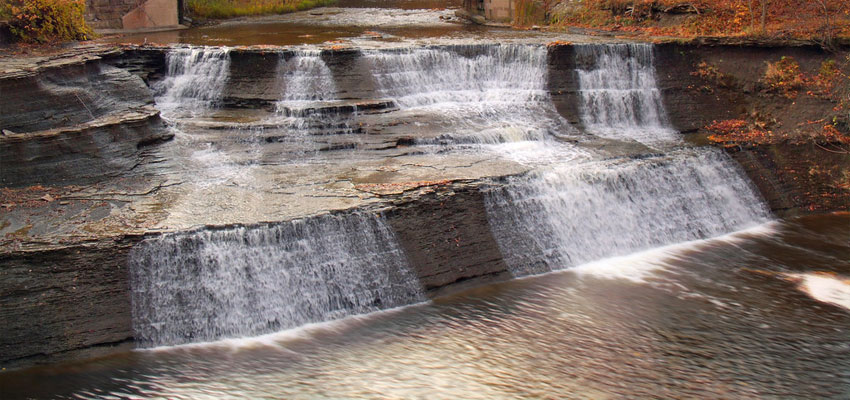 Address: 5570 Paine Road, Leroy Township Ohio
Ideal for: Waterfall photography, easy hiking
There is just something magical about nature's waterfalls and man-made bridges in one beautiful scene. Just take the Paine Falls as an example.
This two-tiered waterfall, which is located in northeast Ohio's Leroy Township, is characterized by the two 80-feet-wide levels where Paine Creek drops about 25 feet. The water itself isn't as dramatic as other falls with foamy waters, but the backdrop (especially in autumn and fall months where foliage is particularly impressive) makes the spot perfect for photography.
You can reach the Paine Falls observation deck about quarter mile from the parking lot.
Address: 1001 Canfield Rd, Youngstown, OH 44511
Ideal for: scenic walks, history buffs, jogging, waterfall chasing, nature photography
The Lanterman's Mill and Falls is one of the most popular attractions in Youngstown. For history buffs, the beginnings of this town in the 1800s and how the mill paved the way for all other man-made structures nearby is definitely one thing that could pull you into this place.
The falls drops only 15 feet, which compared to other waterfalls in Ohio is on the smaller side, but the whole picture (the mill, waterfall, bridges, and trails) really makes up for it.
You can view Lanterman's Falls from the US 62 highway bridge over the river, by the covered bridge, or following either the east Gorge Walk or west Gorge Trail.
Address: Brecksville, Ohio
Ideal for: Waterfall chasers, beginner to advanced hiking, nature photography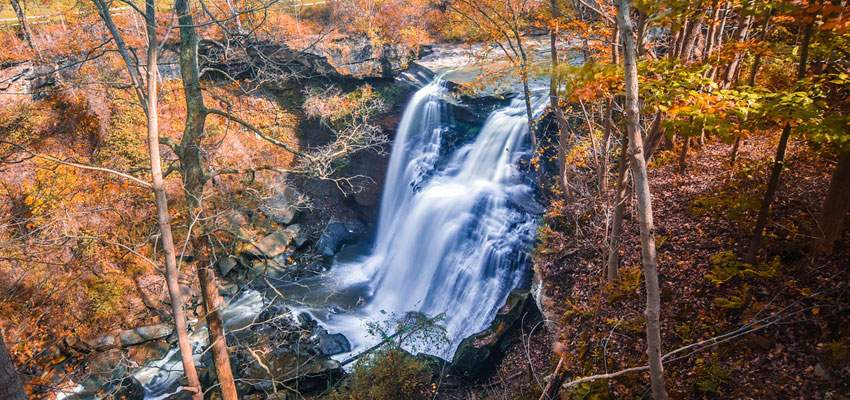 Brandywine Falls is located within the Cuyahoga Valley National Park. It is characterized by unique rock formations, which create a dramatic cascading bridal veil as it drops 60 feet into the water.
You can view Brandywine Falls from the boardwalk, but plan your trip accordingly since this area gets crowded quickly. You can also take the 5-mile hike to Brandywine Falls from the Boston Mill Visitor Center.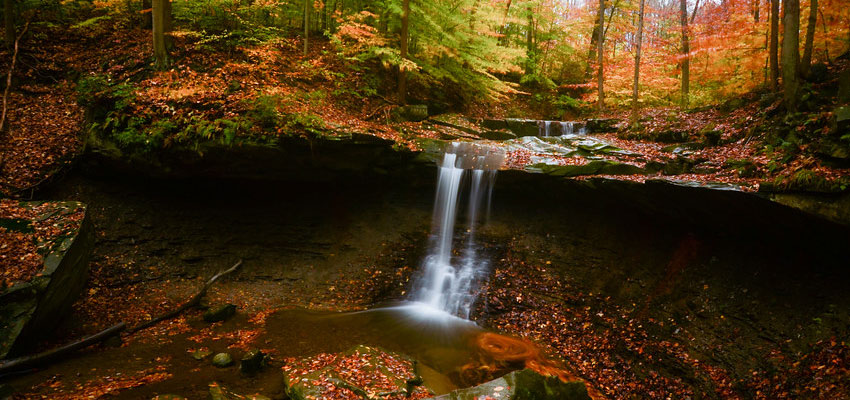 The Blue Hen Falls is not as jaw-dropping as the beautiful Brandywine Falls, but it is definitely unique thanks to the roof-like rocks that help create the mini-plunge. Named after the spring that feeds it upstream, Blue Hen Falls is a family-friendly destination.
The trail going here, just a half-mile from the parking lot, is a relatively easy hike.
If you're coming from Blue Hen Falls and you want to chase more waterfalls, then continue for about a mile downstream to see the secluded beauty of Buttermilk Falls.
This trail isn't for beginner hikers though, since the trail can be challenging. You'll cross the creek three times and ruins of an old bridge. What's amazing about the Buttermilk Falls is that once you reach its base, you'd be super-close to the entire thing and actually feel the water as it drops 30 feet down to where you are.
Address: 19852 OH-664, Logan, Ohio
Ideal for: Waterfall chasers, beginner to advanced hiking, nature photography
This isn't the most popular waterfall from this park, but if you're trying to avoid crowds and you're practicing photography, this lower section of Old Man's Cave has the best of both worlds.
First of all, the trail going here is quick and easy (only half a mile) and well-marked (perfect for beginners). You'll know once you reach the falls – it plunges 25-feet into a large pool.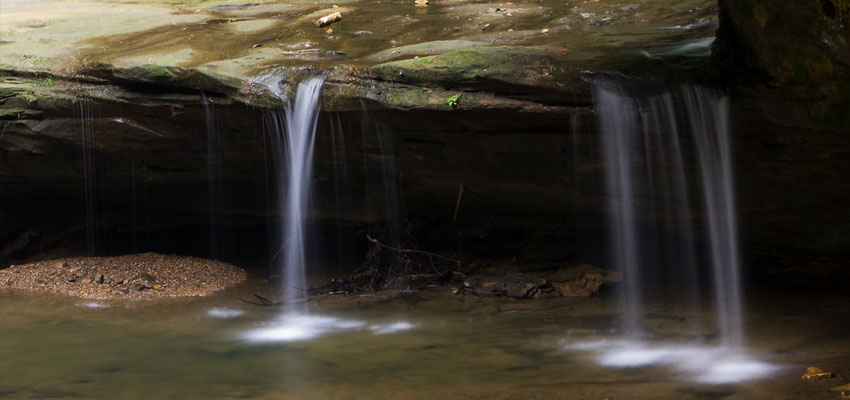 The Upper Falls of Old Man's Cave is a highly-photographed, tourist-heavy spot…and for good reason. Everything about this place feels magical – from the falls that only drop 15 feet down the massive pool, to the natural rocks that embrace it, and the prominent stone bridge framing the falls from way above.
It would be extra memorable if you can go here when snow covers most of the area. It's a perfect year-long spot for photographers, especially those practicing how to master taking shots of waterfalls.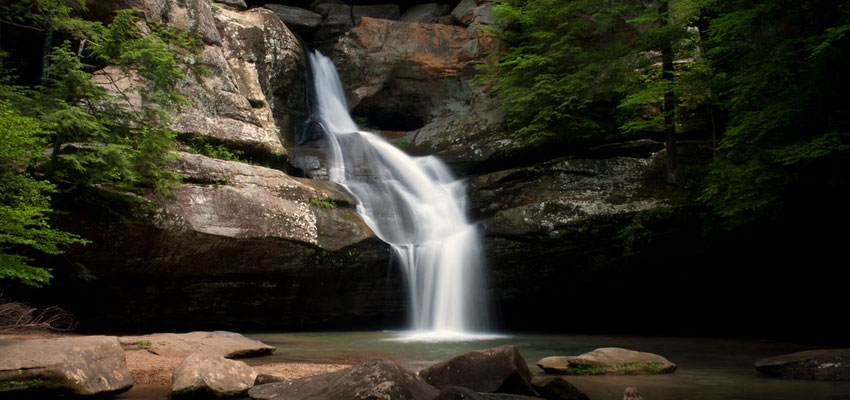 Cedar Falls is also one of the popular waterfalls in Hocking Hills. Its water slides 40 feet down the moss-covered cliffs before ending in a quick 10 foot drop.
You can get to this waterfall in two ways:
From the Lower Falls, take a two-mile lush and whimsical trail that leads you to dip your toes in water and get up-close with decades-old hemlock and remnants of a grist mill built above the falls in the mid-1800's.
Drive to the Cedar Falls car park, and then take a quick (but steep) hike down to the Falls.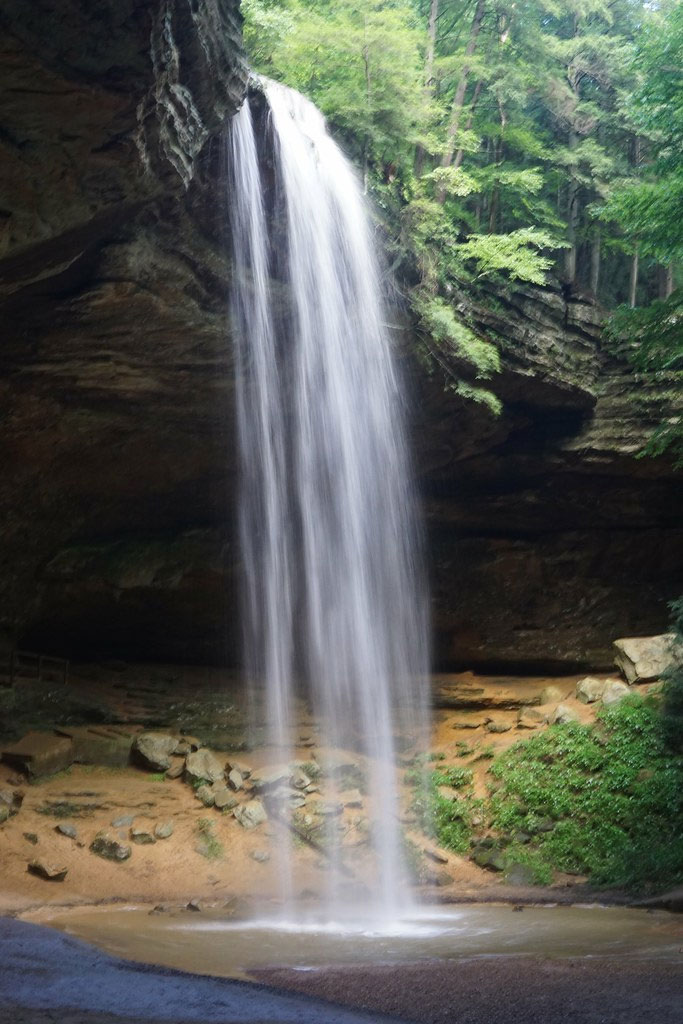 Out of all the waterfalls in Ohio, the Ash Cave is probably my favorite. It's over 60 miles travel if you're after waterfalls near Columbus Ohio, but if you're nearby or included Hocking Hills in your itinerary, this is a must-see.
If you're coming from Cedar Falls, prepare to hike an extra 3 miles to reach Ash Cave Waterfalls. If not, don't worry since the hemlock-lined trail allows strollers and wheelchair access.
What makes this waterfall unique and a spectacular spot is that it is located in a 700-feet wide cave and the water from upstream drops 100 feet down into a small pool below.
Which Waterfalls in Ohio are in your Top 3?
Waterfalls are fantastic destinations all-year round – they look magical when covered in snow, are more lively during spring or autumn, and even if some of them dry up in the summer, the pools and bodies of water make perfect swimming spots to beat the heat.
Have you been to any of the waterfalls in Ohio? Which ones would you say are your favorites?