My husband and I are huge Penn State football fans and we love to travel.  With that said, we really haven't been to many away Penn State games.  Sure, we live 2.5 hours away from Beaver Stadium, so just to go to a home game (we have season tickets) means 5 hours driving in a day.  When a night game goes into multiple overtimes (read: 2014 Ohio State game) we don't get home until after 3am.  But I still don't consider this to be "travel" since we don't even pack a suitcase.
Last year we went to Ireland to watch Penn State kickoff the season vs. UCF in Dublin, which by far is the most impressive trip on our sports travel resume.  Penn State won the game with a last second field goal.  It made for a thrilling introduction to American Football for the large Irish population joining American fans at the stadium.  After traveling so many miles for a game, we stayed in Ireland for about two weeks to make sure we had enough time to really explore the beautiful country.
The only true away game that we have traveled to was also last year.  We went to Ann Arbor to watch Penn State lose a close one to Michigan in the Big House.  This was also our first trip to the State of Michigan.  Along with our goal of traveling to every state, my husband and I are hoping to travel to watch Penn State play in every Big Ten stadium, so this trip was able to help accomplish two goals at once.
Before last week we had only been to one Penn State bowl game.  But that is mostly due to the NCAA sanctions that happened to fall in our prime bowl travel years… that is, after graduating college but before having kids.  Our previous bowl game was while we were still in college.  It was over winter break so we had a lot of time and not much money.  We decided to take a road trip from Philadelphia down to Tampa to watch Penn State beat the Tennessee Volunteers in the 2007 Outback Bowl.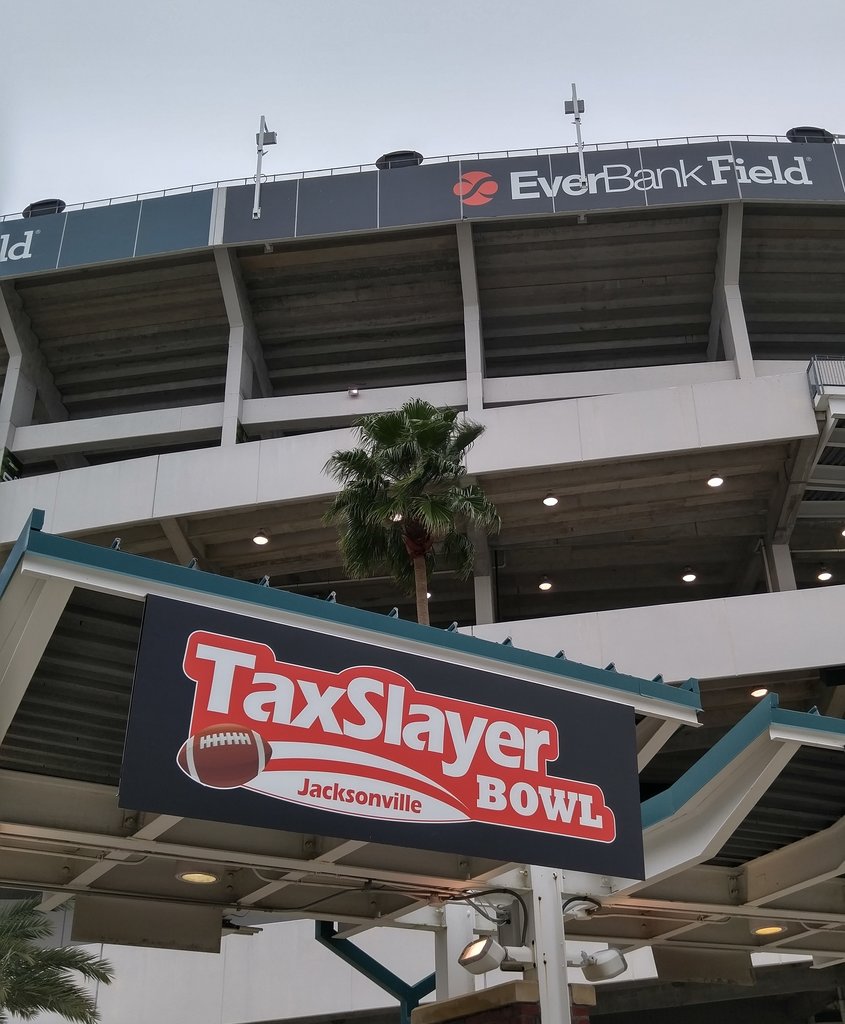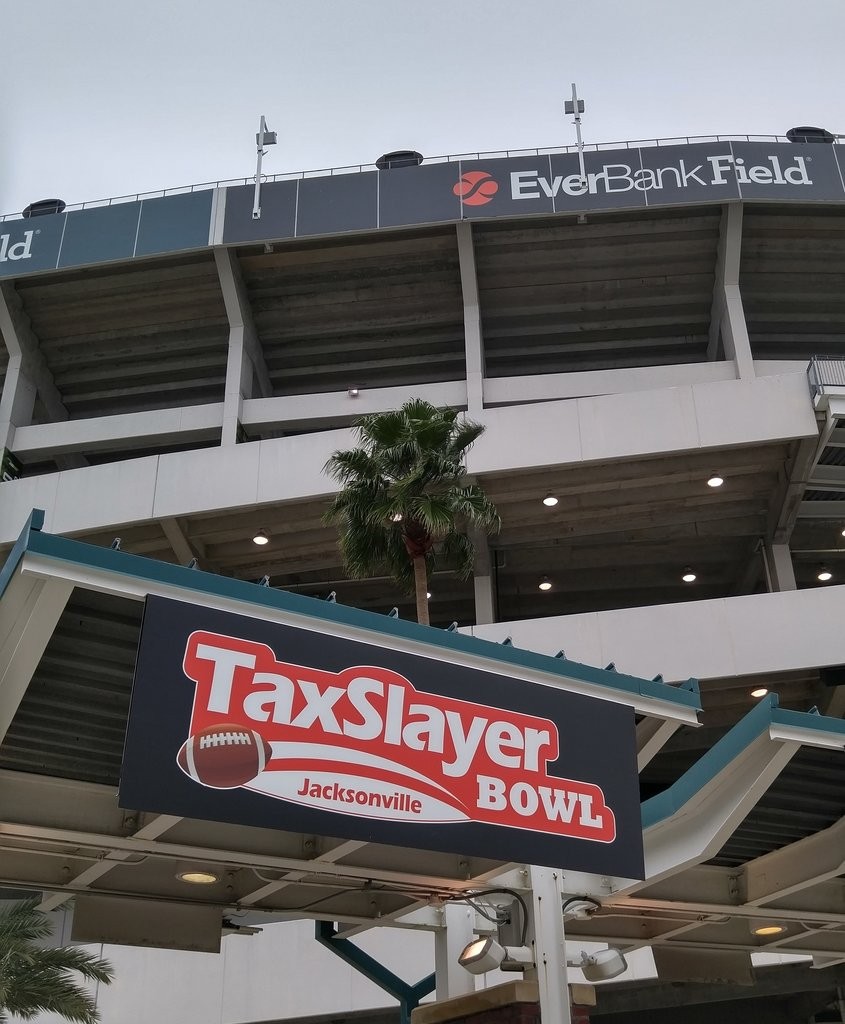 This year the Nittany Lions didn't exactly have a spectacular season.  At some points they were downright painful to watch.  And the TaxSlayer Bowl in Jacksonville, Florida isn't exactly a bucket list game.  However, we were intrigued by the matchup against the Georgia Bulldogs, who we really didn't know too much about.  And no one is going to complain about traveling from PA to FL in early January in time to miss the first snow of the season.  We even planned 5 days at Walt Disney World for an added bonus.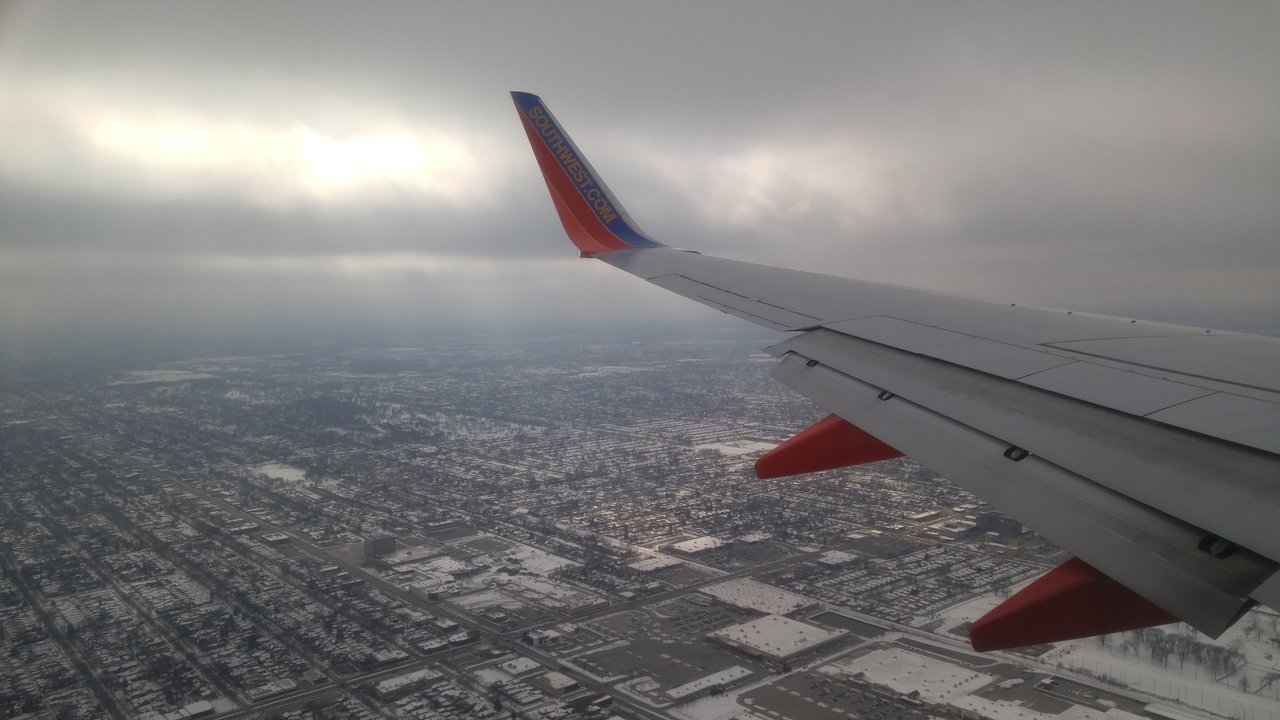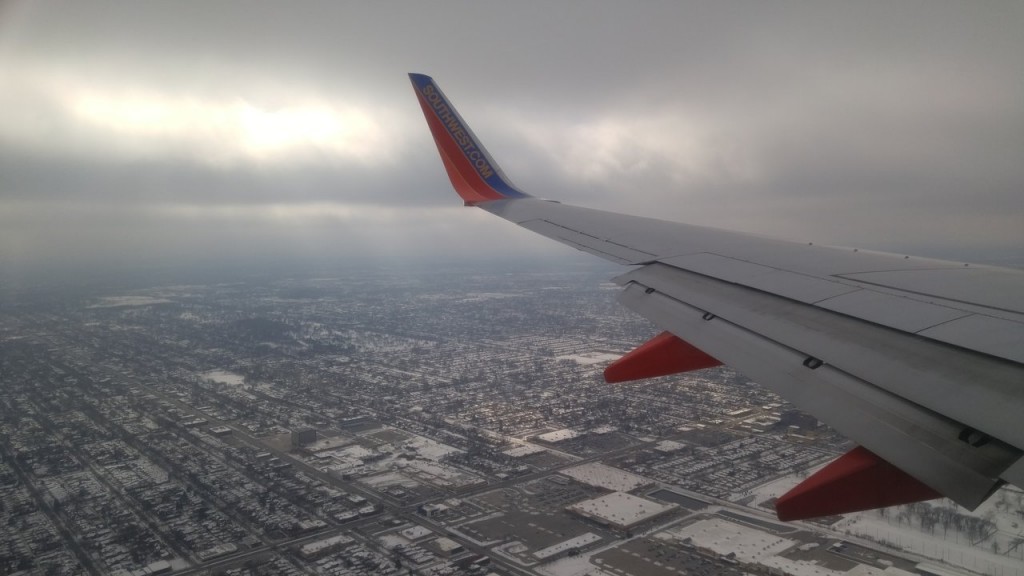 We flew into Jacksonville on New Year's Day, the day before the game, and drove straight to Orlando after the game was over.  So I really can't comment much on the city of Jacksonville other than the fact that they have a pretty sweet football stadium.  Driving up to the stadium you can see the bright teal seats, meant to match the colors of the Jacksonville Jaguars.  Once inside there are pools you can sit in while watching the game.  It was a pretty cold day and we didn't bring our bathing suits so we didn't get to enjoy that part of the stadium (not sure if you needed special tickets or if they were open to anyone).  But we got a kick out of watching a handful of little kids playing in the pools throughout the game.  It certainly isn't something you'd see in a football stadium up in PA!
We hadn't coordinated parking before hand and were just planning on paying to park in one of the stadium parking lots.  We were surprised to see residents of local houses selling "parking spots" in the middle of their yards.  We weren't real sure about this at first, but it seemed to be what you do in Jacksonville.  We were in clear view of the stadium so we knew we wouldn't have too long of a walk to get there.  We decided to trust this front yard parking situation and everything worked out perfectly.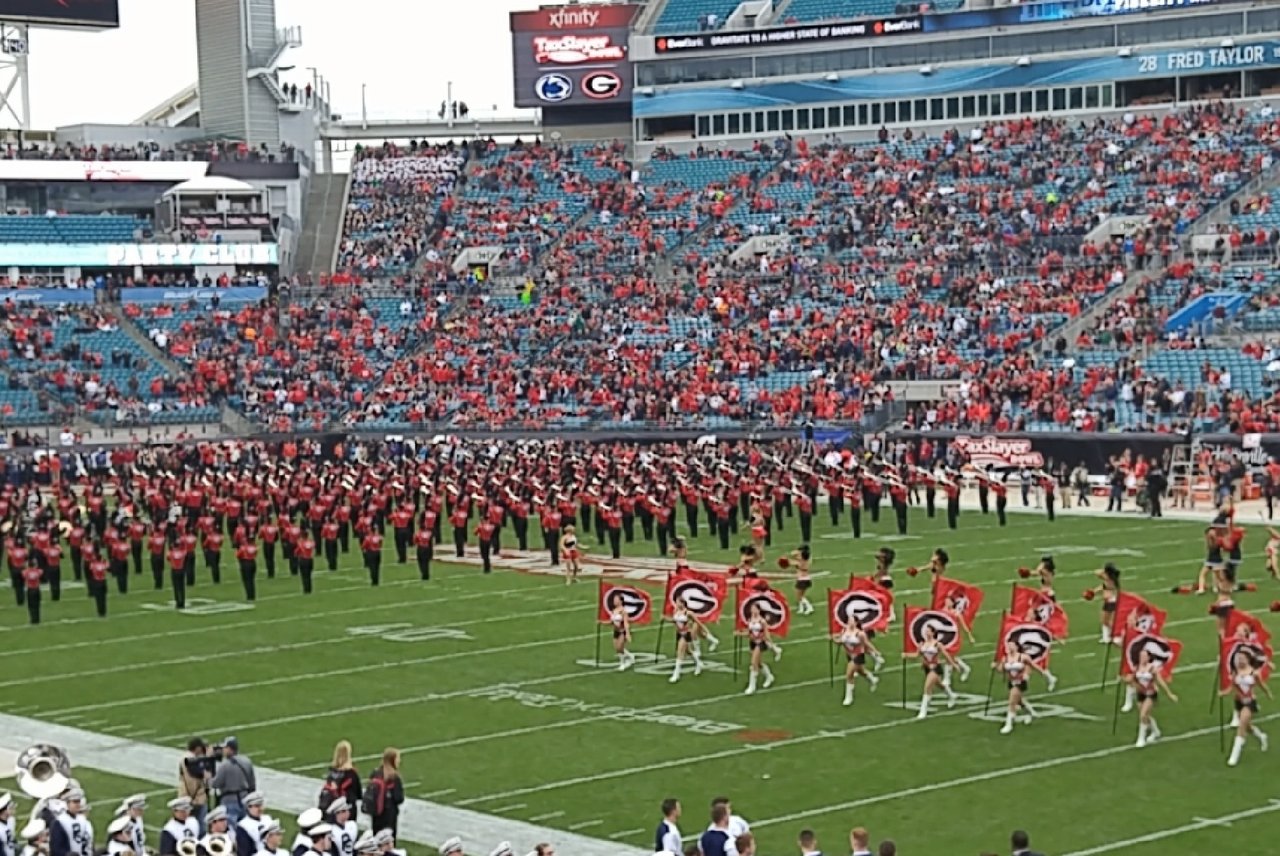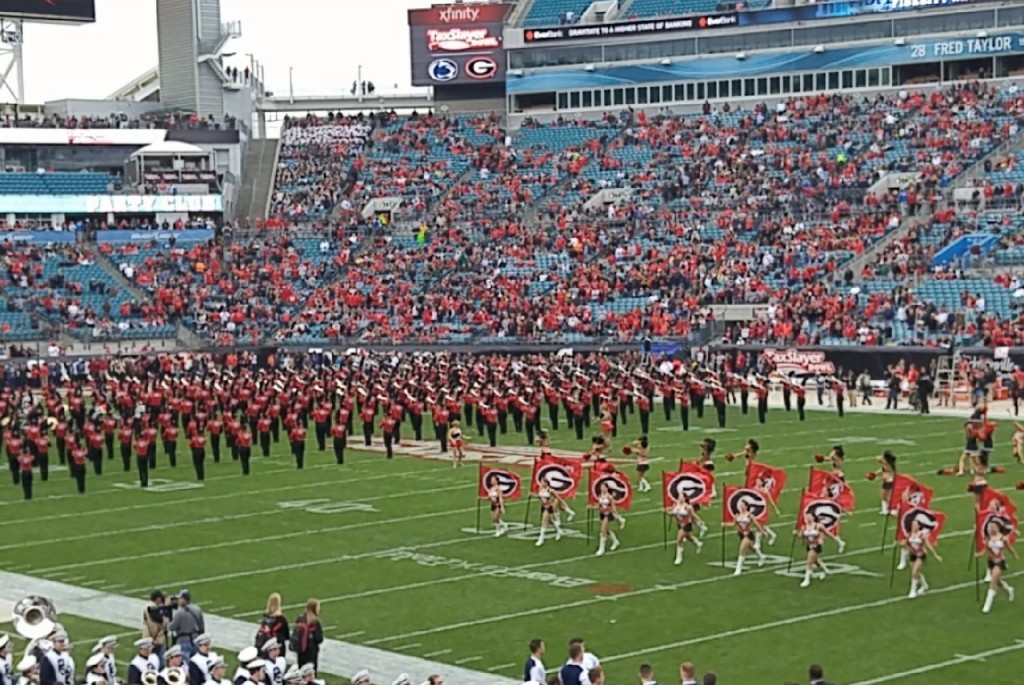 We were a little concerned when we walked into the stadium and saw a lot of red from the Georgia fans.  We were even more concerned when we found our seats and saw that the red wasn't just limited to the Georgia side of the stadium, there were Georgia fans sitting all around us as well.  I'm happy to report that the Georgia fans sitting around us were not just respectful but even enjoyable to talk to throughout the game.  I'm not trying to sound surprised here, but we've had the displeasure of being around some truly nasty opposing team fans over the years (looking at you Rutgers and Maryland fans) and had no idea what to expect from Georgia.
The game started out pretty close, with both teams trading field goals.  Then Penn State looked to be quickly losing control of the game.  Our star quarterback left the game with a shoulder injury and Georgia scored three unanswered touchdowns.  With Penn State on the wrong end of a 24-3 scoreboard we were starting to think we were about to witness a complete blowout.  Fortunately, Penn State's backup QB was able to pull the team back to within one score and the defense held, the score was 24-17.  Penn State had the ball in the final seconds and the game ended when a Penn State Hail Mary pass was knocked to the ground by Georgia defenders.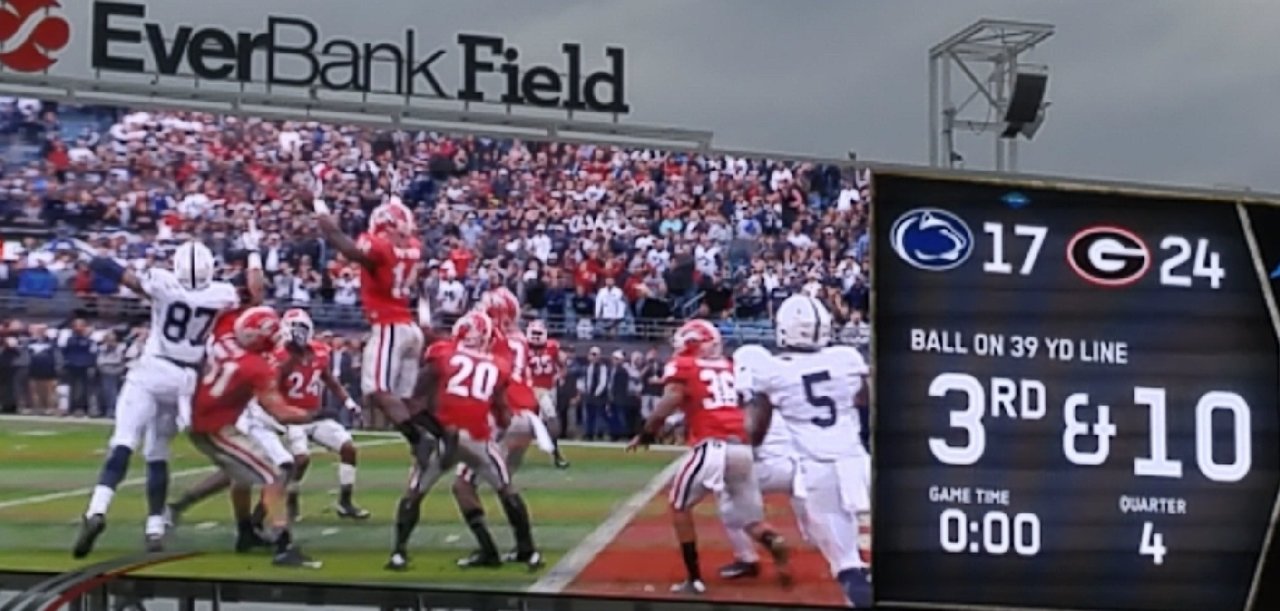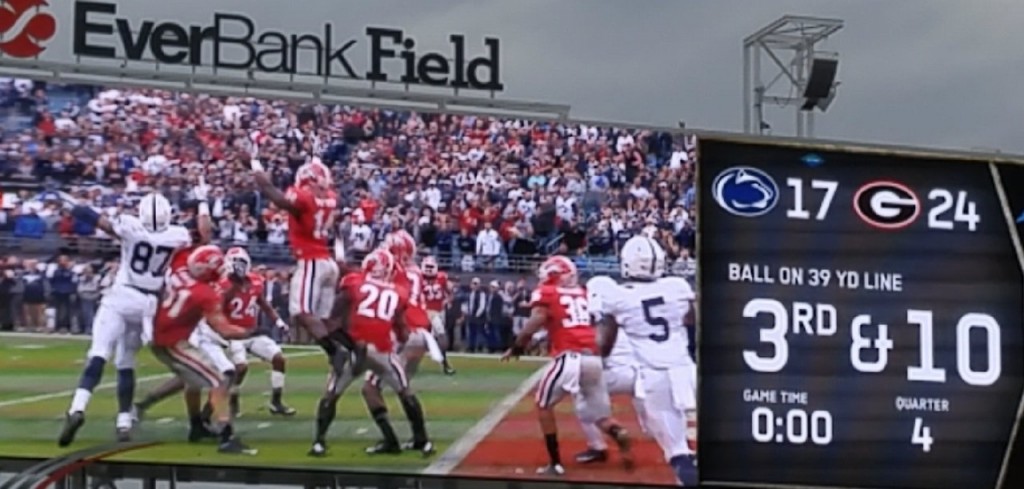 At the end of the day a loss is a loss is a loss.  However, I'll consider myself lucky that the game turned into a nail biter instead of a blowout.  And I'll consider myself lucky that we were able to trade stories with the Georgia fans behind us about our respective team's players and coaches, our own college experiences, and the travels that brought us to Jacksonville for this game.  I left the game with a lot of respect for the Georgia Bulldogs, and I can honestly say I'll be cheering for them in the future (so long as they aren't playing against my Nittany Lions).
And at the end of the day, my husband summed it up best when he said "we lost, but that's ok because… WE'RE GOING TO DISNEY WORLD!"
I'll have more about that part of our trip in my next post.  But in the meantime, if anyone else was fortunate enough to travel to a bowl game this season, I'd love to hear what game you went to and about the experiences you had on your trip.  Leave a comment below!