Everyone knows that the best skiing in the northeast is located in only a handful of mountain states.
The Northeast ski region consists of over 145 resorts spread across eight states: New York (51), New Hampshire (30), Pennsylvania (26), Vermont (23), Maine (18), Massachusetts (13), New Jersey (3), and Rhode Island (1).
Picking just one destination for your Northeast ski trip can be extremely overwhelming.
Believe me: it's one of my annual decisions that I dread and anticipate the most. On the one hand, I love planning our trips. But on the other hand: how can I choose only a single ski resort out of dozens of seemingly best ones?
If you can relate to my dilemma, here's how I categorized the northeast ski resorts and cherry-picked one from the list based on the group I'm traveling with.
The Best of the Best: Skiing in the Northeast
If you're traveling with young kids who are just learning how to ski, the best resorts for skiing in the Northeast wouldn't be the best for pros looking for thrilling runs…and vice versa.
I hope you can find 1 out of these ten ski resorts in the northeast that would best fit your needs: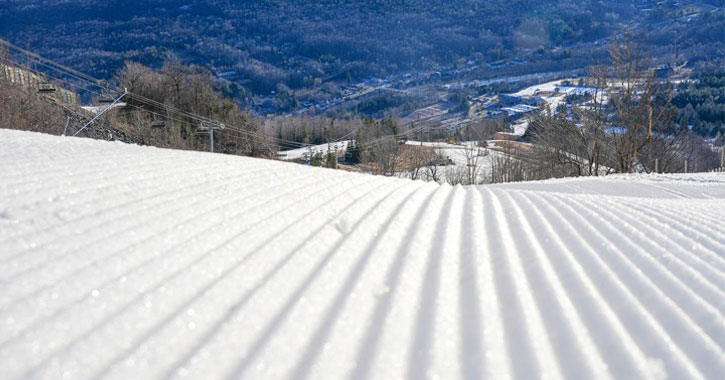 Hunter Mountain has 320 skiable acres with areas for beginner (25%), intermediate (30%), and expert-level skiers. There are four terrain parks and double-black diamond runs designed for advanced skiers.
As a ski resort just 2-hour drive away from NYC, Hunter Mountain is a favorite family destination throughout the year. In the winter, the Catskills are transformed into the best skiing, snow tubing and snowboarding spot, but welcome vacationers in the summer for some hiking, fishing, mountain biking and just exploring nature.
Hunter Mountain has one of the cheapest northeast skiing one-day passes (at around $90). It's best for groups with varying skills – from the majority of trails fit for beginners to Park Ave's pro-level jumps and transitions.
2. Okemo, Vermont: Best beginner ski mountain in the Northeast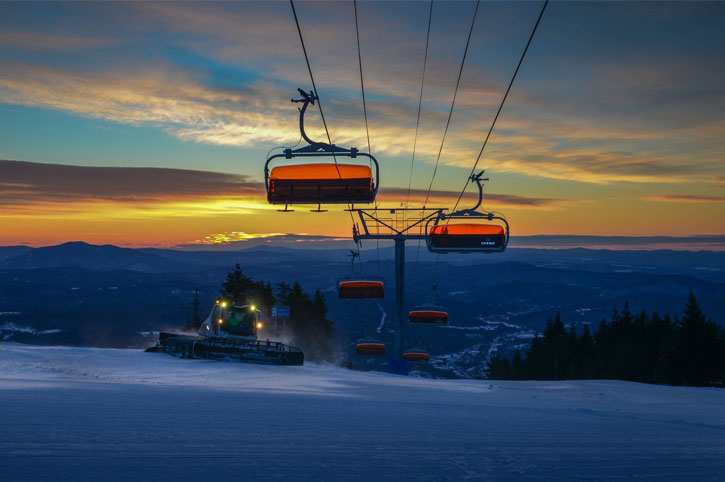 People don't go to Okemo Mountain for death-defying plunges. Instead, it attracts beginner to intermediate-level skiers to its 632 total skiable acres.
About 30% of Okemo Mountain's trails are beginner-friendly, but 68% are considered intermediate to pro trails, so even expert-level skiers can enjoy the more challenging runs. The beginner area is located at the base and separated from other skill-level runs. Plus, the ski school (with private and group lessons) is known to have taught many kids from the East year after year.
The resort is home to two base areas, both of which have restaurants, off-mountain hot tubs, and other modern amenities.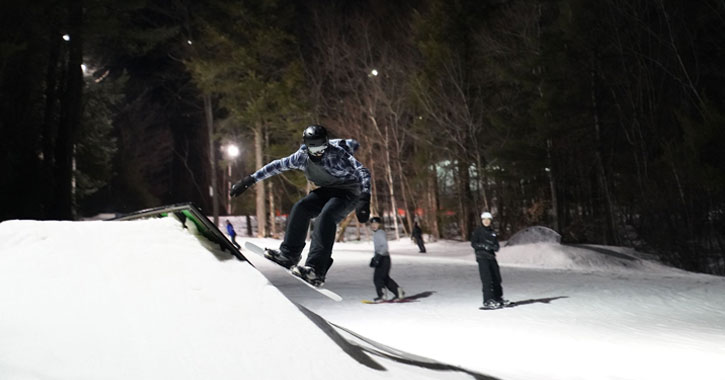 If you've always wanted to ski at nighttime, the best winter destination in the East is Crotched Mountain.
Every weekend during ski season, Crotched Mountain hosts Midnight Madness, a crowd-favorite limited period when trails stay open until 3 a.m. This resort offers the latest closing time anywhere in New England.
Aside from the nighttime ski areas, Crotched Mountain's Onset Pub and Lounge also joins in on the fun with a Midnight Madness concert series with live local acts, bonfires, and other parties you can join for free.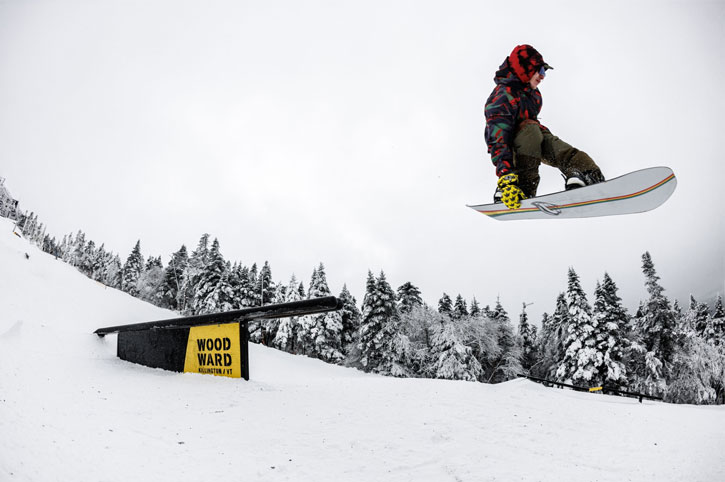 If you want to make the most of your ski trip and you plan to be outdoors during majority of your stay, Killington Resort's all-mountain terrain with groomed slopes, tree-lined trails, and back bowls will welcome you.
Killington has the largest vertical drop (with a height of 3050 feet) and the most sizable ski stretch with 155 trails and 22 lifts. And unlike other resorts with just one peak, Killington has six interconnected peaks of different mountains.
Ski season in Killington is between October and May, then the place turns into a golf mecca with its 18-hole golf course and a mountain bikers' paradise.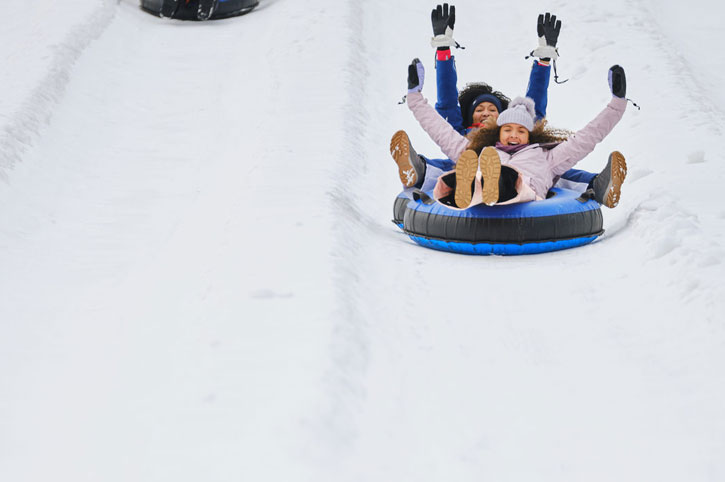 Camelback Mountain Resort is located in the Pocono Mountains of Pennsylvania. Its 38 groomed trails attracted people from surrounding NYC and Philadelphia areas every winter season.
While Camelback offers plenty of winter activities, one of its most popular attractions boil down to the 42+ lanes of snow tubing goodness! This spot is the country's largest snow tubing park – and Camelback highlights this with features like the LED-lit galactic snow tubing.
During the rest of the year, Camelback Mountain Resort turns into a 125,000-square foot indoor water park with 13 slides, a lazy river and wave pool.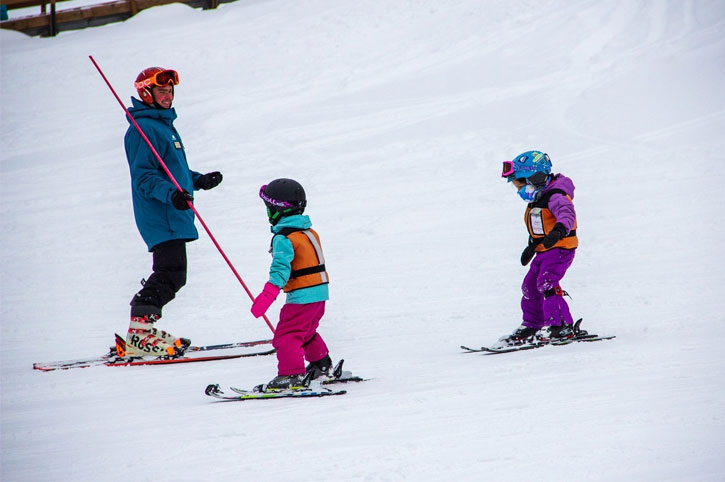 If you decided to spend your winter getaway in Vermont, but want a resort that would cater to younger kids, there's no competition. Smugglers' Notch is the go-to for guests as young as toddlers.
Smugglers' Notch has a practice area dedicated for kids to master their ski moves quickly and safely. Even 2-year-olds are accepted for ski lessons here.
The place also has a winter zip line, snowcat rides, ice fishing tours and other snow activities for the entire family. Indoors, Smugglers' Notch also hosts karaoke nights, bingo and other themed parties.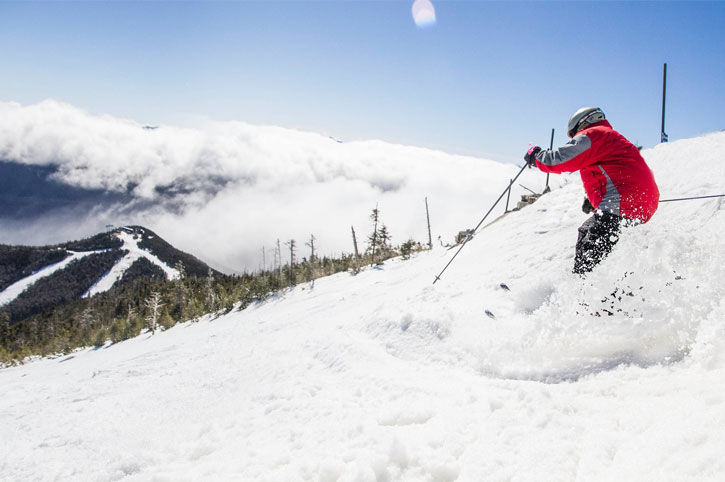 With the highest vertical drop (3,429 feet) of any ski resort east of the Rockies, Whiteface is included in many advanced skiers' bucket list. This mountain was the host of the 1980 Winter Olympic Games and continues to be a popular winter sports destination.
Whiteface Mountain features 288 acres of skiable areas with a gondola and 11 lift access. About 38% of the terrain here is expert-level with trails like the 2.1-mile Wilmington Trail, the longest single intermediate run in the Northeast. 24% of the terrain is designed for intermediate, while beginners have 20% trails and runs.
This resort is just 13 miles away from Lake Placid, where there are plenty of dining and entertainment facilities. But you won't find much at the base of Whiteface Mountain.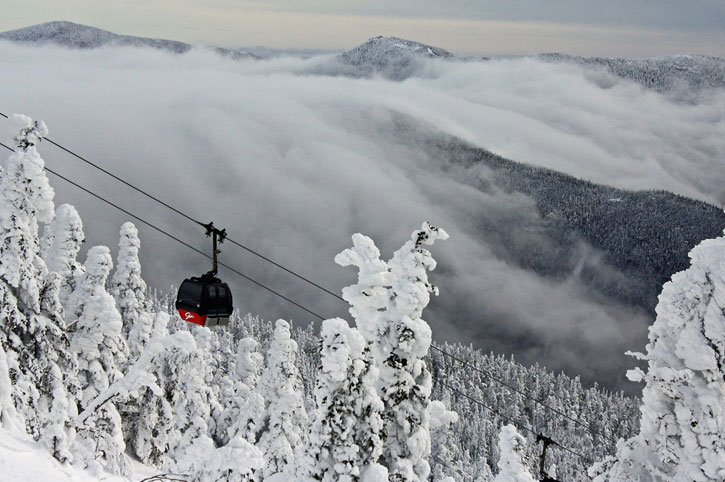 Stowe Mountain isn't just the ski capital of the East (it has one of the highest vertical drops in the East Coast at 2,360 feet), this resort is also one of the most scenic and romantic winter spots in New England.
Skiing at Stowe means you get to view the picturesque Mount Mansfield, Vermont's highest peak, and Spruce Peak (with 2,360 feet vertical drop). While there are 485 acres of skiable terrain for all skill levels, non-skiers are also in for a treat!
There are many reasons why many couples spend their anniversaries and honeymoons at Stowe – from the luxurious accommodations to the small-town ambience with a brewery and local shops.
Overall Best Skiing in the Northeast
It's impossible to pick a best overall from all the ski resorts in the Northeast, so I'm giving you two: Mount Snow and Wildcat Mountain.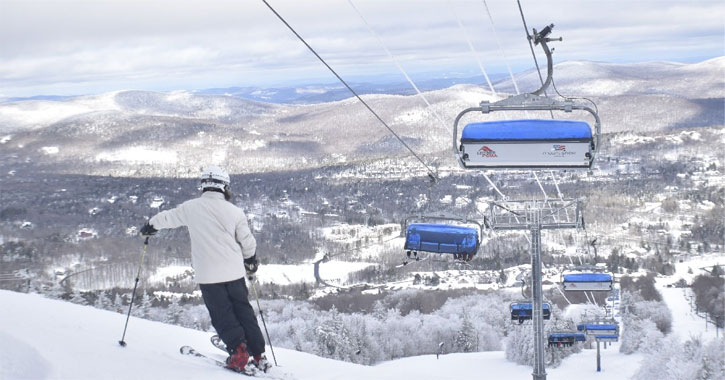 Mount Snow has had a long history, even before Vail acquired it and joined Stowe and Okemo into the Epic Pass family. It is home to excellent snowmaking (thanks to having the most number of snow guns – over 900+) and the proximity to many major cities in the Northeast.
There are 589 acres of skiable terrain in Mount Snow, accessible via 20 lifts, including 3 high-speed quads and the Bluebird Express (the East Coast's first 6-passenger bubble lift).
Mount Snow has everything for everyone – beginner areas, ungroomed trails for pros, and more. 55 of 80 trails are designed for intermediate skiers, 12 are beginner-friendly and 14 are for experts, which includes the Rip Cord (a double black diamond).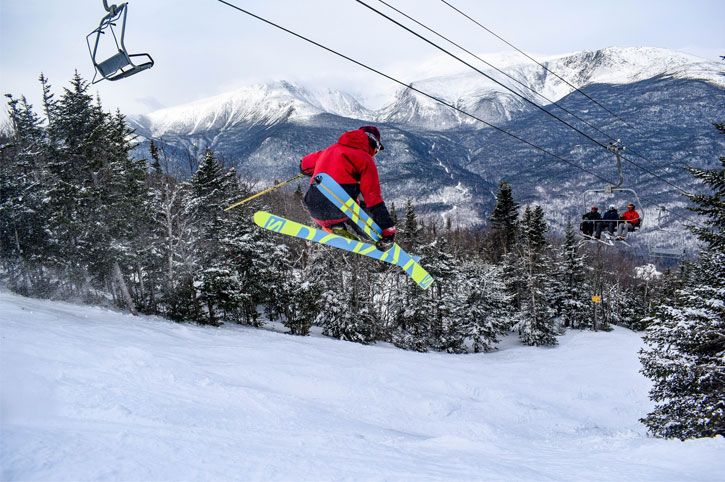 Wildcat Mountain is located in the White Mountains and overlooks many fantastic views including Mount Washington and the Presidential Range of mountains.
The ski resort is the second-largest in New Hampshire and is known to be the first resort to open in the state (and also the last one to close the ski season). Wildcat Mountain boasts 48 trails, 2,112 vertical feet of skiing and snowboarding terrain accessible by five lifts.
Even if the ski resort is one of the most visited northeast ski resorts around, Wildcat welcomes guests non-stop thanks to five lodging partners nearby.
Wildcat designs many family-friendly programs, from their ski and snowboard schools for kids 4 to 12, to the annual Wild Family Fun (held yearly in February). And since it gets an annual snowfall of 200 to 250 inches, the snow-covered Wildcat Mountain continues to be one of the most sought after ski resorts in the northeast.
Other Destinations Near the Best Skiing in the Northeast
Those far from the northeast ski resorts above should check out other destinations I listed here: the best places to ski in the US.
If you're taking an extended trip to the East Coast, here are other guides you might find useful: