New York may not be the first state you think of when you're craving fun in the snow, but with these options for skiing near Rochester NY, you don't have to go far.
In this post, I'll share our favorite 6 options of well-groomed ski resorts (that require season passes) and 4 ski areas that anyone can use for free.
6 Places to Go for Skiing near Rochester NY
1. The Ridge (also known as Frost Ridge Park)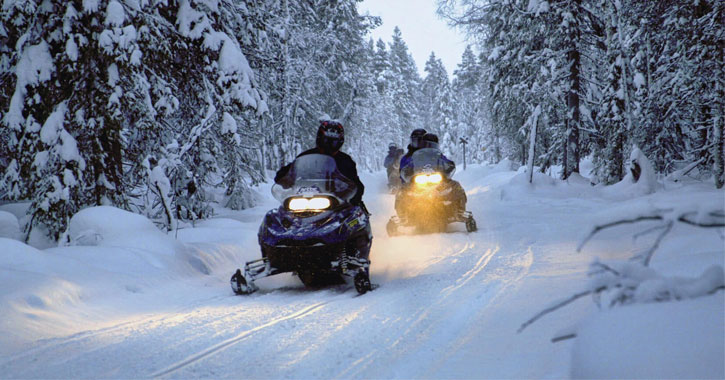 Formerly known as the Frost Ridge Recreation Area, the place rebranded and is now called "The Ridge NY."
It was discovered that the main hill where skiing and snowboarding happen acted as a natural amphitheater, so Frost Ridge played music over the PA system while skiers enjoyed the snow.
Today, the Ridge is known as an all-season resort known for hosting live music events regularly. In the summer, the place has a very family-friendly vibe for hiking, biking, swimming and other activities and sports under the sun.
Located on the Caledonia Trail on Conlon Road in Le Roy, The Ridge totally transforms in winter and offers winter camping. Anyone who stays for a night or weekend can ski, tube or snowboard for free. There's also an on-site restaurant and all the RV necessities such as full hookup services.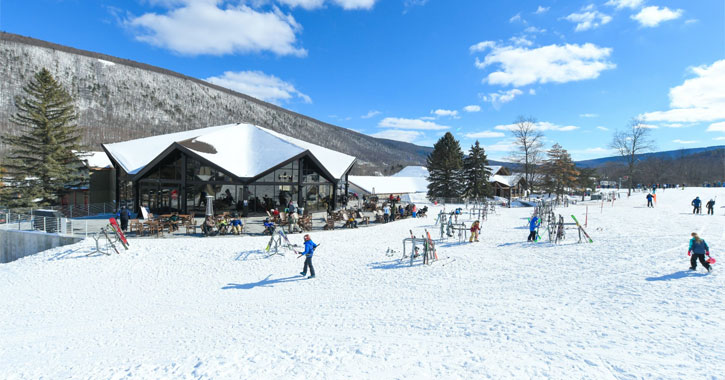 Bristol Mountain is located in Upstate New York, sitting on the base elevation of 1,000 feet and rising to a 2,200-foot elevation at the mountain summit.
This premium resort is a must-visit ski mountain near Rochester NY. It boasts 39 slopes and trails that offer various inclines for every skier and snowboarder from newbies to advanced skills.
Bristol Mountain also operates night skiing during the winter season with 97% of their trails well-lit.
The 138-acre skiable terrain is divided between 32% for beginners, 50% for intermediate levels, and 18% for advanced skills.
This ski resort is also famous for its award-winning snowmaking system, which guarantees the terrain is always ski-ready no matter the amount of snowfall.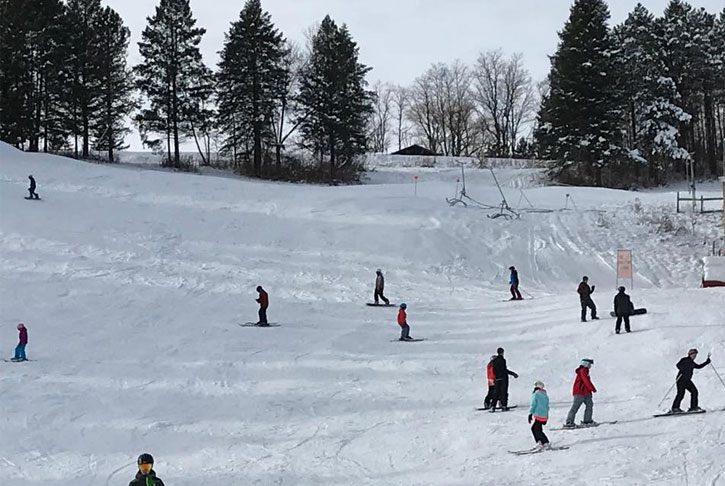 Located in Sodus NY, Brantling is a small, family-owned and -operated ski resort designed as a family-friendly place.
There are 10 slopes and trails at Brantling. They're serviced by 5 surface lifts, 1 t-bar, and 4 handle tows.
For night skiing, you can expect all Brantling trails are lighted.
Brantling offers lessons for children and adults for beginner and advanced skiers and snowboarders. There are also 3-day youth programs, race competitions and holiday-themed programs at the resort.
If you're a parent not planning to ski, you'll love the waiting area with a massive window (across the entire west wall overlooking the hill).
Brantling has lodging, a snack bar, picnic spaces and a restaurant – all in-house for a no-stress stay. They also have free Wi-Fi available.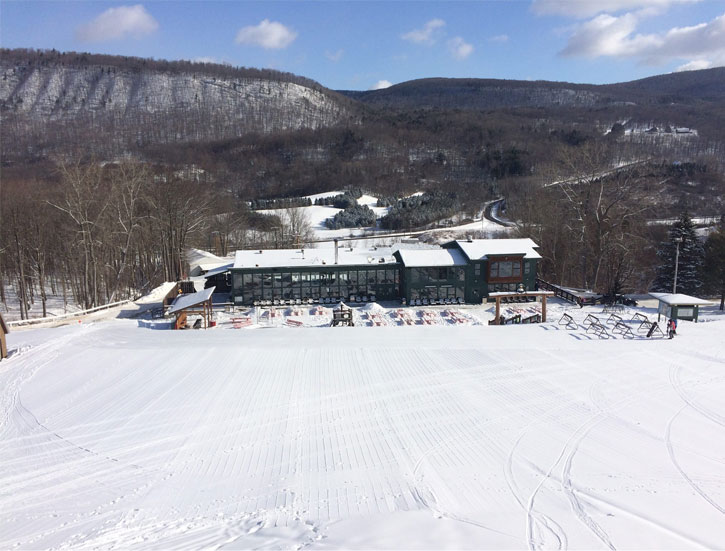 Hunt Hollow has been welcoming guests since 1967. With a 400-acre skiable terrain, hundreds of people flock here for skiing, snowboarding, and other winter sports for all skill levels.
Located in Naples NY, Hunt Hollow features a terrain park and over 20 trails with varying degrees of difficulty. These trails are serviced by a Double Chair lift, Triple Chair lift, T-Bar, and Moving Carpet.
The club atmosphere is amazing, especially if you're interested in a relaxing winter getaway. Hunt Hollow has meeting rooms, an indoor/outdoor fire pit, an outdoor grill, food service (cooked in-house), and even childcare services.
Note that there is no accommodation at Hunt Hollow, so if you're planning to go skiing near Rochester NY, and stay for an entire weekend or week, you can still ski here, but you'll have to choose from the recommended places to stay nearby.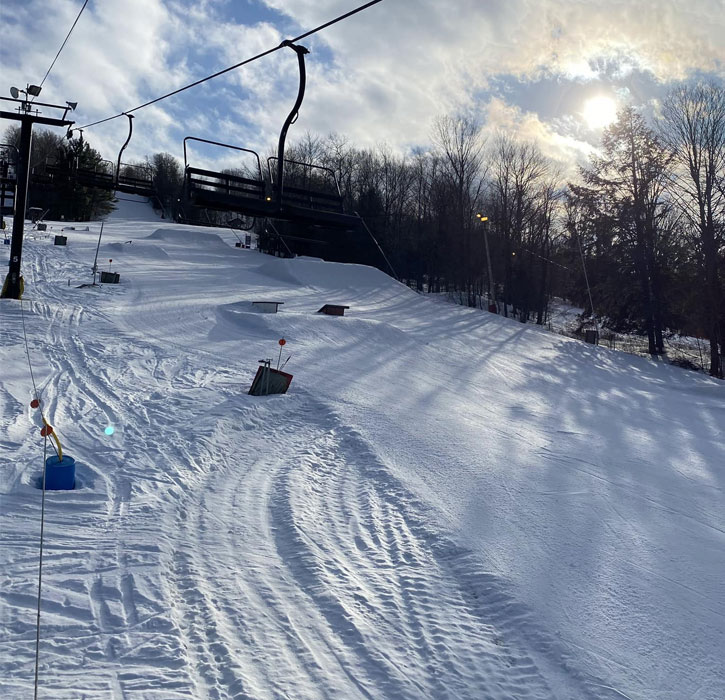 Located just 50 miles south of Rochester, New York, Swain Resort is the oldest continuously-operated ski area in NY.
It has been operating since 1947 and has recently celebrated its 75th winter season.
Swain Resort has a base elevation of 1,320 feet, a summit elevation of 1,970 feet, and a vertical drop of 650 feet.
It features 120 acres of skiable terrain with 35 trails (the longest run at 5,280 feet) and a quality terrain park. These Swain trails are serviceable by 1 surface lift, 1 double chair, and 3 quad chairs.
While the charming little winter resort gets 130 inches of snowfall each year, Swain maintains the area with 97% snowmaking capabilities.
Swain Resort offers ski and snowboarding lessons adults and children. You can rent equipment here as well.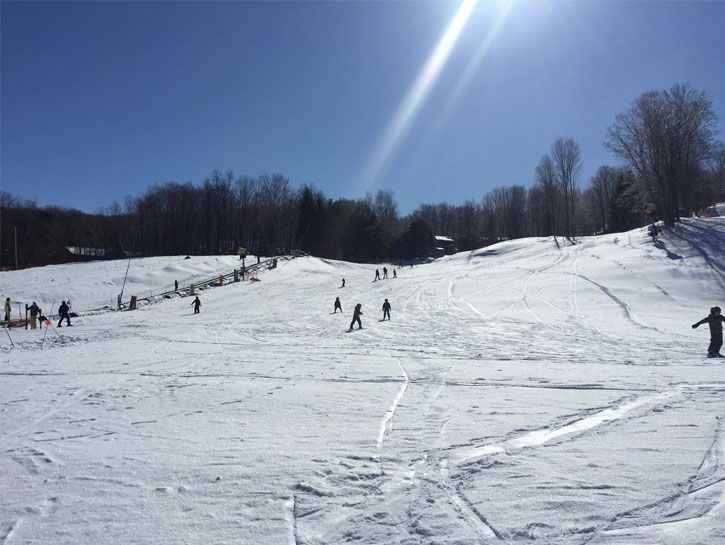 Four Seasons Golf & Ski Center is a year-round facility.
In warmer months (From April through October), the place hosts soccer games, a driving range, adventure golf, and batting cages. In the winter (from December through March), Four Seasons is a favorite spot for skiing, snowboarding, and tubing.
Four Seasons Golf & Ski Center has been welcoming guests since 1958, but only expanded as a full-pledged ski resort in 1963 during the skiing boom.
Originally called 90 Acres Four Seasons, the resort was added to the Historic Business Preservation Registry in 2022.
Public Ski Areas Groomed by RXCSF
All the other skiing options above are great, but if you're feeling a little adventurous and want to go cross-country skiing, the Rochester Cross Country Ski Foundation provides grooming at four area parks. The organization's services are 100% funded by donations, which means skiing in any of these areas is totally free.
RXCSF maintains an updated list of RXCSF-groomed ski areas, so bookmark or check back regularly.
Attractions You Can Visit after Skiing near Rochester NY
If you're still undecided and want to check out other skiing destinations, read up on the best places to ski in the US and the best winter vacations in the country.
For those who wish to spend more time exploring the quieter parts of the state, enjoy a side trip to the Seneca Lake wineries or get your cravings for the sea, sun, and sand satisfied with a quick detour to Lake Ontario beaches.