Looking for beaches in Arizona?
Known for its iconic deserts, Arizona isn't on the coast. And like most land-locked states, there are no oceanfront beaches here.
What most people don't know is that there are many swimming holes, beach-like areas, and lakes with beaches in Arizona.
So if you're craving to cool off under the sun, sea, and sand…read on to find out your Arizona beach alternatives.
Before You Visit Any of these Beaches in Arizona…
You need to set your expectations before you plan for your beach trip.
Most of them do not have the traditional sandy beaches you might be looking for.
These beaches also do not have waves strong enough for surfing.
But if you're just after swimming, fishing, boating, chilling by the sand, and other water activities, then the following beaches in Arizona could fit the bill.
7 Beaches in Arizona Hiding in Plain Sight
Still ready to head outside? Well here's a good place to start…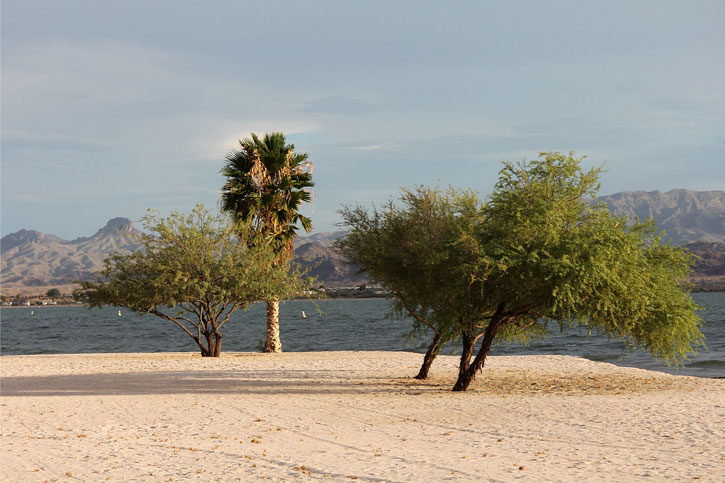 Fees: Day-use fee to enter the park is paid per vehicle: $15 (Monday to Thursday), $20 (Friday to Sunday and holidays)
Guest info: Camping fee is $35 per night, $40 for beachfront sites
Lake Havasu State Park has its own white-sand beach complete with picnic areas, and boat launch ramps. Because this is a state park, you'll also find many nature trails and campsites for tents or RV.
With views of the desert and mountains, Lake Havasu State Park Beach has over 400 miles of coastline, perfectly warm sand, cool blue-green waters without riptide currents or waves and no jellyfishes to worry about.
BONUS: Lake Havasu has several other beaches close to Lake Havasu State Park beach.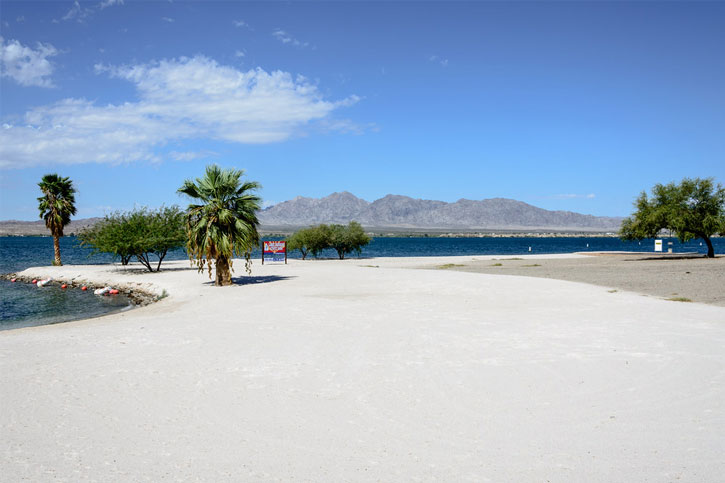 These include:
London Bridge Beach – There are tropical palm trees lining the beach and looks the most like an oceanfront beach.
Body Beach – Located 5 minutes away f rom Lake Havasu, this beach has super-clear waters and awesome mountain views.
Rotary Beach – This beach is located in the Rotary Community Park, so all the amenities (picnic areas, BBQ sites, tennis courts, etc.) are nearby.
Cattail Cove State Park – Probably the most dog-friendly beach in the area, this white sand beach also has shaded picnic tablets, BBQ grills, and campgrounds.
Windsor Beach – The most popular spot for jet-skiing, boating and swimming in Lake Havasu.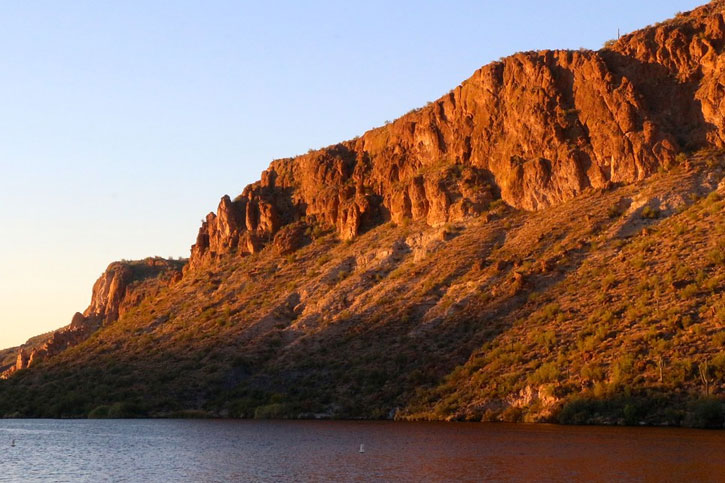 Location: Roosevelt, AZ 85545
Fees: $12 per car for a day pass (free if you're parking off the highway)
Guest info: Open year-round
Canyon Lake is located in the Tonto National Forest, about 30 minutes from Apache Junction.
Canyon Lake's Acacia Recreation Site is the best place to visit if you're looking to cool off. There is a beach here and a fishing cove (for anglers looking to catch bluegill, walleye, crappie, bass, channel catfish, etc.).
The beach here isn't sandy. You'll actually step on rocks to get to the water, but you can still pass them with ease barefoot. The rocks do get a bit slippery once you're in the water, so be careful.
You can bring boats, kayaks, inflatable tubes, jet-ski or any water sports equipment you prefer. If you're traveling to Canyon Lake Beach in the summer, wear a hat and sunglasses, too! It can be extremely hot.
Food and drinks are allowed. There are picnic tables everywhere, but make sure to pick up after yourself.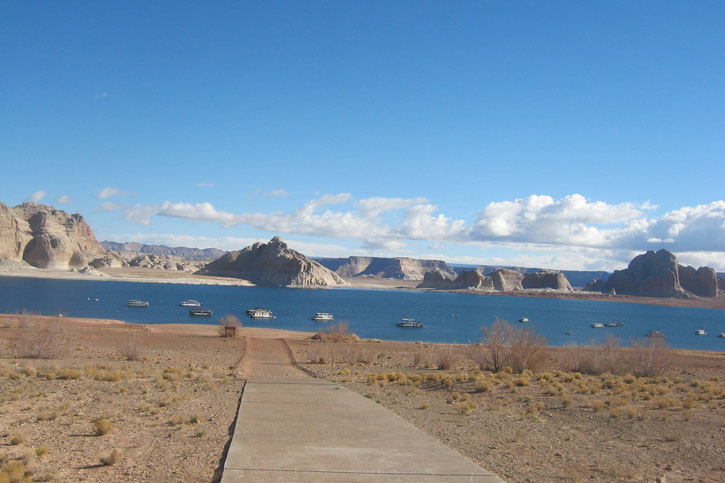 Lake Powell has several beaches lining its 1900 miles of shoreline.
One of these beaches was Wahweap Beach with golden sand, clear-blue waters and an uncrowded area.
However, in recent years, many people complained that the proximity of Wahweap Beach to the Stateline launch ramp has destroyed the peace and cleanliness of the beach.
As such, Glen Canyon National Recreation Area has relocated a dedicated swimming spot to the Wahweap area.
Like before, there are still no lifeguards at Wahweap Beach. Kids 12 years old and below must wear a personal floatation device before swimming in the lake.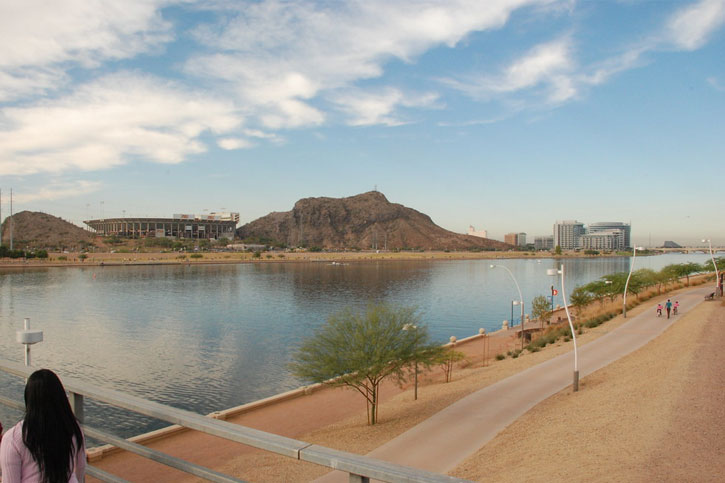 Tempe Beach Park is an interesting combination of a metropolitan area with Arizona's desert oasis vibe and a surprising patch of beach just beside the Tempe Town Lake.
The Tempe Town Lake is an artificial lake developed by building over two dams, but the environment built around it has become more natural than the mountains that serve its backdrop.
On the north side of Tempe Town Lake, you'll find North Shore Beach. It is located just off Lake View Drive and Curry Road.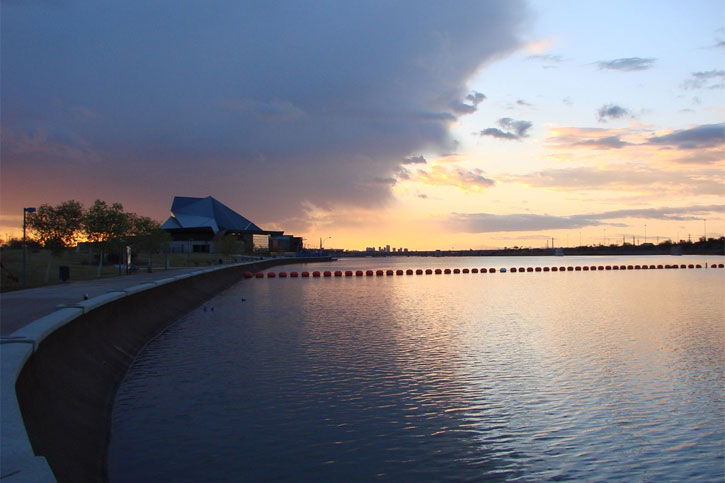 North Shore Beach is free to visit. Beach volleyball courts are readily available if you're up for a friendly game with strangers.
Sand is available on North Shore Beach, so kids could definitely get their sandcastle game on.
Tempe Beach Park is also a place for paddle-boating and kayaking. The park has five miles exclusive for walking, skating, bicycling, and events like Tour de Fat, New Year's Eve, and Oktoberfest.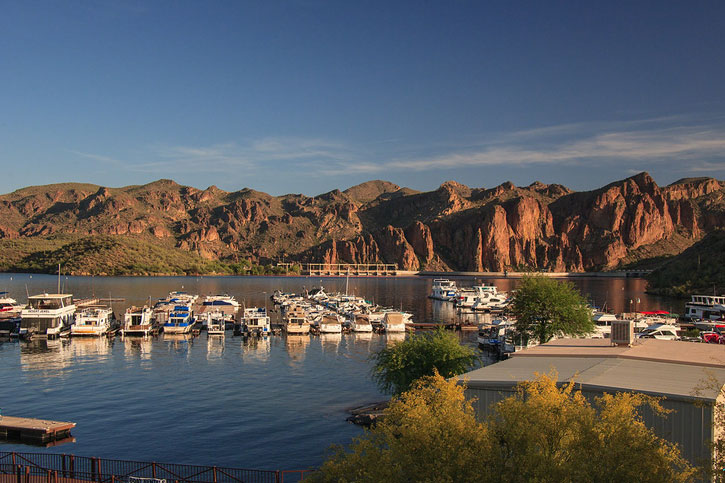 Location: Arizona 85264
Guest info: Butcher Jones, Saguaro del Norte, Sadie's Beach
Stewart Mountain Dam formed the wonderful Saguaro Lake in 1930. It is located within the Tonto National Forest, just outside Phoenix proper.
Saguaro Lake has 3 beach options: Butcher Jones, Saguaro del Norte, and Sadie's Beach.
Butcher Jones Recreation Site – Home of wild horses, this sandy beach is peaceful and calming. No campsite is allowed to be set up here.
Saguaro del Norte – Home to the Lake Marina, Saguaro Del Norte Recreation Site is where boaters and anglers begin their adventure. This is where the public boat launch ramps are located. Note that a Tonto Daily Pass is required for boating.
Sadie's Beach – Sadie's Beach is a perfectly calm, small beach, but can get pretty deep at 15 feet. The water is somewhat murky, but safe to swim in.
Saguaro Lake also has opportunities for jet-skiing, sailing, kayaking, paddle boarding and fishing rainbow trout, crappie, bluegill, channel catfish and more. Camping is also available at the lake, but only by boat.
6. Gateway Park Arizona beach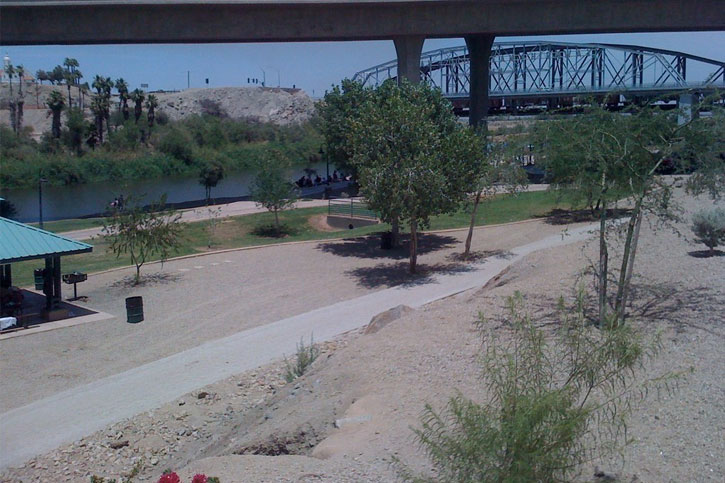 If you're looking for a shady beach in Arizona, which is pretty rare, Gateway Park's beach offers you with a comfortable beach hangout thanks to the freeway bridge protecting the river from the sun.
There are very limited amenities at the beach at Gateway Park, but outdoor showers are available though.
But I think it wouldn't be such a problem since the beach is near the city proper.
7. Bartlett Lake Beach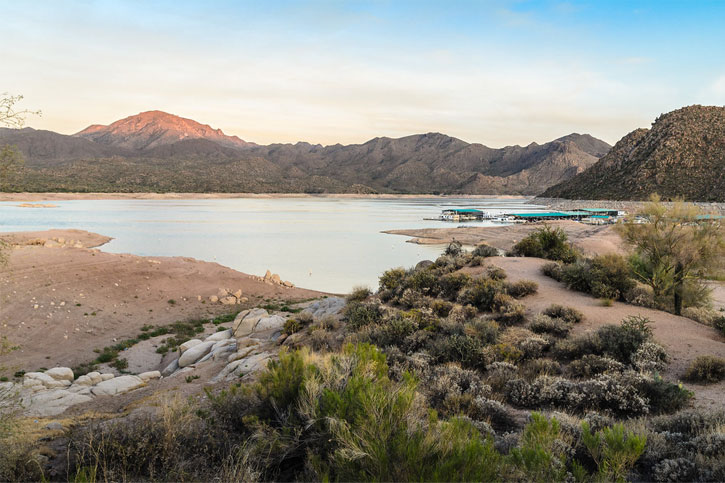 Bartlett Lake is a picturesque hidden oasis, nestled in a small valley at the heart of Tonto National Forest.
Located near downtown Phoenix, Bartlett Lake features deep-blue waters, and one-of-a-kind sandbars.
With about 3,000 acres of area, Bartlett Lake accommodates boating, kayaking, fishing, camping and swimming.
If you don't have any boat with you, there are jet-skis, kayaks, paddleboards, or even boats up for rent.
One of my favorite beaches in Arizona is actually one of the smallest beaches as well. Just look at how spectacular the view is from the waters.
The only downside to Bartlett Lake Beach is that the water can be super cold for swimming, even in the summer. But during exceptionally hot days in Arizona, the cold can definitely offer a refreshing escape.
Beyond Beaches in Arizona: Other Ways to Cool Off at the Grand Canyon State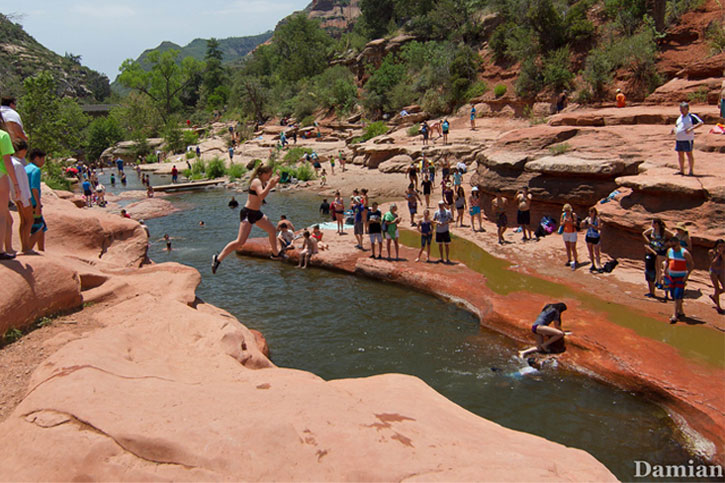 Arizona may be known for its desert environment, but there are spots hiding in plain sight that offer locals and tourists opportunities to cool off.
For example, if you're chasing waterfalls, visit the 40-foot tiered Water Wheel Falls near Payson. Also check out my guide about the best waterfalls in Arizona.
You can also check out rivers (like Lower Salt River) or coves (like Rattlesnake Cove). There are also other smaller beaches at these lakes in Arizona.
If you're open to non-natural attractions, then you can head over to water parks like Wet 'n' Wild Phoenix, Golfland Sunsplash, or Breakers Water Park.