There are over a dozen water parks in Maryland for all ages and numerous splash parks for young kids.
Whether you're visiting just to experience a Maryland waterpark, or you're actually a local looking for something to do with your friends or family, this list is a keeper!
9 Water Parks in Maryland You Should Visit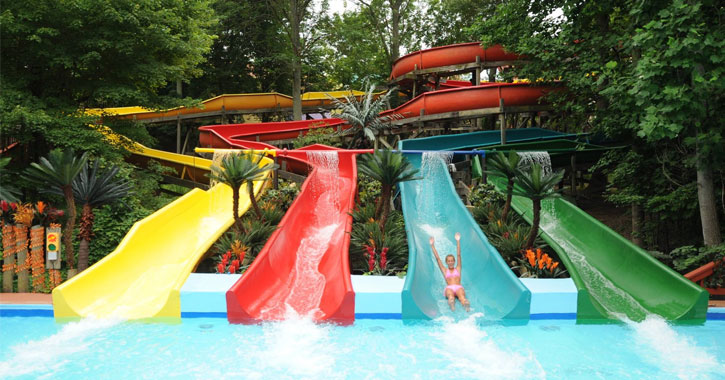 Six Flags is located in other parts of the country, but if you're traveling nearby and taking a break from all the DC museums, Six Flags America will brighten your kids' (and those who are kids at heart) who are part of your trip.
It's a side trip that will be memorable for sure.
The Hurricane Harbor is where all the water rides like the Halfpipe, Hurricane Bay and Bahama Blast are found.
Don't miss the 800,000-gallon wave pool and 25+ water slides that anyone can enjoy. Little kids have their own designated spots, if you're visiting with young ones.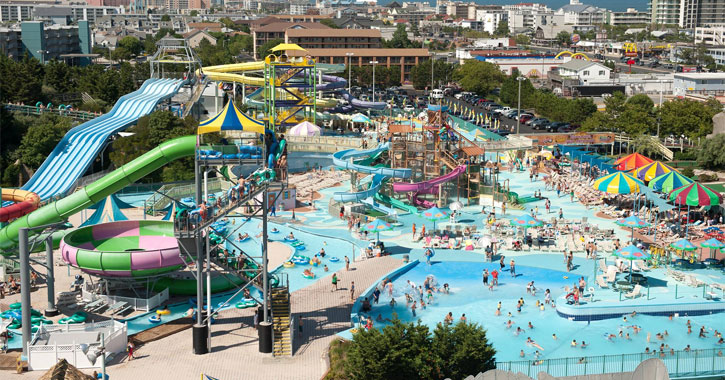 Address: 2901 Coastal Hwy, Ocean City, MD 21842
Tickets: Passes range from $26.99 (kids under 42″) and $28.99 (for seniors 65+) to $49.99 general admissions.
Why it's Unique: it's the biggest Maryland waterpark around.
People near Maryland flock to the famous Splash Mountain water park every summer. It's one of the biggest attractions here and for good reason.
Out of all the water parks in Maryland, Splash Mountain is MASSIVE. It's located right on the boardwalk (so if you need to take a quick break from the water you have other attractions a few walks away).
Splash Mountain has splash pools, wave pools, a lazy river, and famous attractions like the 45-foot tall half-pipe Stealth, the Eye of the Hurricane bowl slide, and Aqualoop with a 360-degree loop that adrenaline junkies would love. Of course, younger kids are also welcome here with a children's play area, splash pools, and smaller rides and slides perfect for their size.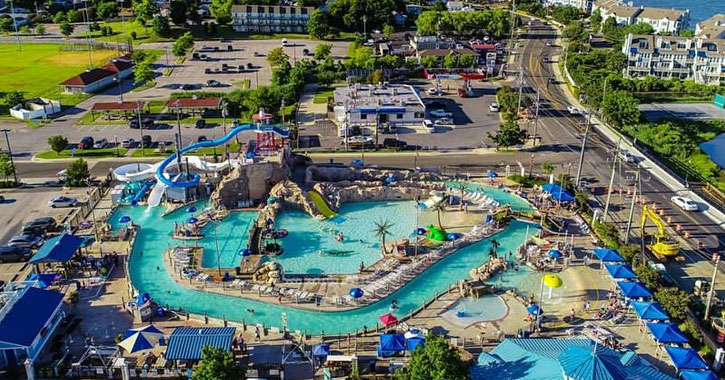 Tickets: On Tuesdays and Wednesdays, the waterpark is exclusive to Calvert County residents with day passes ranging from $14 to $30. From Thursdays to Sundays, it is open to general admission with passes ranging from $43 to $59.
Why it's Unique: Best of the Bay's 2019 Best Amusement Park winner
Chesapeake Beach Water Park has been around since 1995, but it's still one of the favorite spots of both locals and tourists alike. It is located less than an hour from Washington DC (about 35 miles) and across the street from the Chesapeake Bay.
This waterpark boasts 8 water slides, waterfalls, a swimming lagoon, private cabanas, and a lazy river for those who just want to chill and float. There's also a kids' pool for the young adventurers and those participating in the summer camps.
The park is only open from Memorial Day through Labor Day though, so visit if you can. You don't need to go out of the park for meals – there's an in-house restaurant with kid-friendly meal options.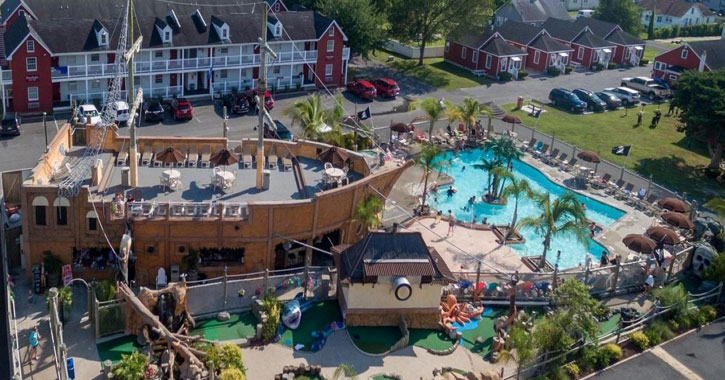 Tickets: No day passes, but free use of the pool for guests with rooms and vacation homes
Why it's Unique: miniature golf course, waterpark and staycation hotel in one
The Francis Scott Key Family Resort is located on Route 50 in Ocean City Maryland, just a mile away from the beach and boardwalk.
It's a resort hotel, so you'd have to book a room (or a vacation house for bigger groups) to enjoy all the pools and attractions offered. Such a perfect weekend getaway destination, if your purpose is to cool off and relax, instead of sightseeing.
What makes Francis Scott Key a worthy entry on this list is its Caribbean-themed, outdoor Shipwreck Cove pool, the water-temperature-controlled indoor pools with retractable roofs, and the splash pool they call Spraygroud.
Take a break from the water and play at the Peg Leg Putt-Putt miniature golf course with 9 landscaped holes perfect for all ages.
Inside and around the hotel, there's also an arcade, movie theater, sand volleyball court, kids playground, basketball court, and more.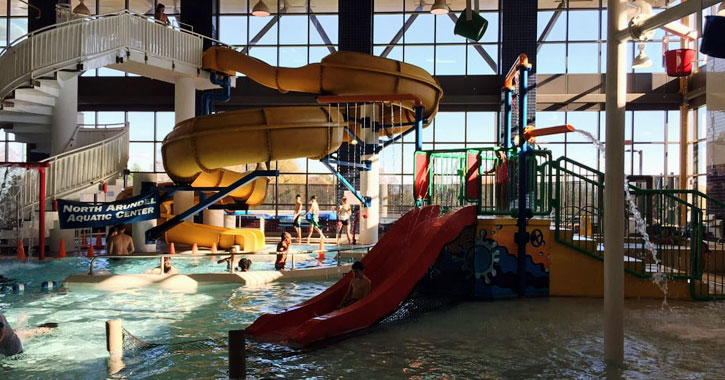 Tickets: Admission fees vary between age and if guests are residents or non-residents of Anne Arundel County. Fees range between $4 and $10.
Why it's Unique: An indoor waterpark with two cool slides for all ages
When you look outside, you'd expect this seemingly ordinary building to be a typical office building.
But go inside and you'll be welcomed by a vortex pool, a large water slide (for kids 48″ tall and adults), and a smaller slide for kids under 48″. There is also a lap pool, which has a separate admission fee from the water slides.
While this place is a haven for kids who love to swim, no children under 3 are allowed.
Yes, all kids should be potty-trained to use the pools. Birthday parties and other events can be arranged. Check the site for up-to-date session times and opening hours.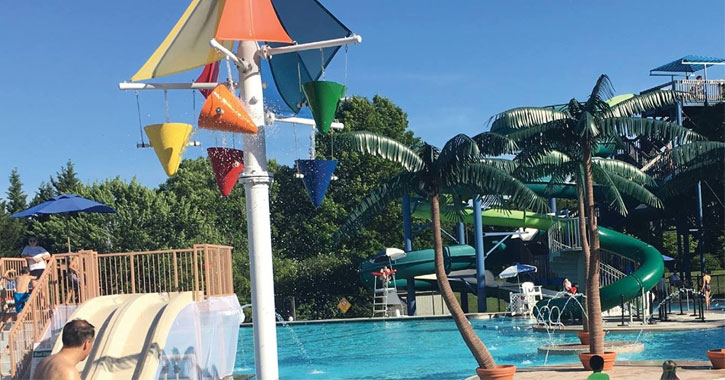 Tickets: City of Gaithersburg residents pay $6 (you need a driver's license that says you're a resident) and companions under 12-year-old kids (who are residents) are free. Non-residents pay $12.
Why it's Unique: Tropical-themed, small waterpark in the middle of suburban Maryland
Located northwest of Washinton DC, Gaithersburg is a large suburban area with a city-run water park that sits on the south side of Bohrer Park. If you're visiting someone who lives here, check out if you could take a day trip to the tropical-themed waterpark with a splash pool and a large water slide.
Check the updated rules on the website. They are strict with rules, such as "no water bottles" and "outside food" allowed inside, IDs are required, and so on.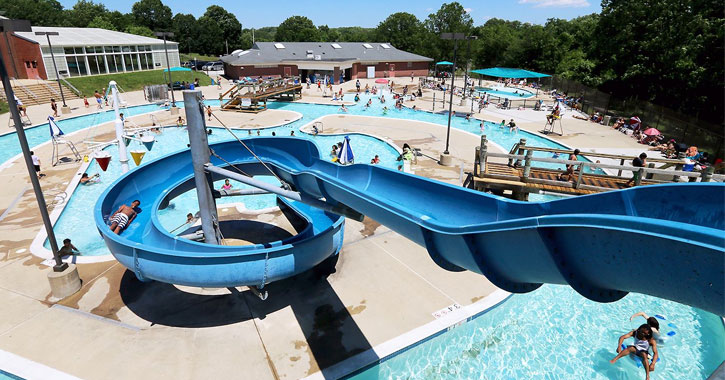 Tickets: Walkup daily admission rates for county residents range from $5 and $7 (depending on age), while non-residents pay $15/guest.
Why it's Unique: Several lap pools and slide pools across Silver Spring, Maryland
Aside from several lap pools, the one kids flock to is the one with the slides. This area features:
a six lane, 50-meter L-shaped Main Pool
an eight lane, 25-meter course into the diving area
a one-meter diving board
leisure pool featuring a shallow water lagoon with slides, water play features, and "Lazy River"
lawn areas with shade structures, bathhouse with showers, and First Aid areas
Note that all adults 18 and over must provide proof of County residency at the time of entry. Plus, entry to the waterpark isn't guaranteed since the number of walkup daily admission slots available will depend on pool capacity.
Martin Luther King Jr. Aquatic Center also has indoor pools, where swimming programs are held year-round.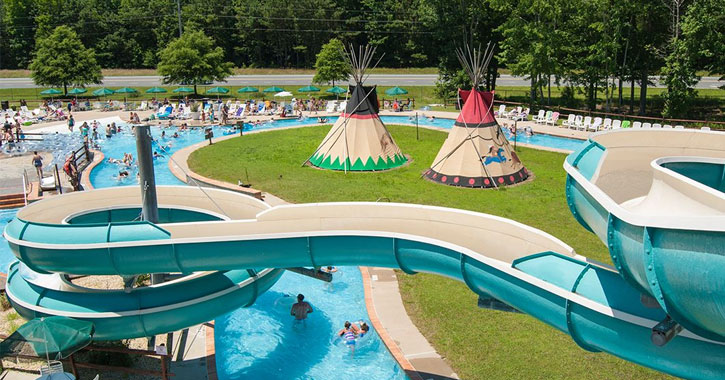 Address: 8428 Stephen Decatur Hwy, Berlin, MD 21811
Tickets: Age 3 & Under get to enjoy free, but day pass pricing ranges from $15 to $35.
Why it's Unique: It's a waterpark with a western theme and a miniature golf course
The waterpark boasts of 5 thrilling water slides, the most famous of which is the 500-feet, The Rattler. People also can't get enough of speeding down the Tube Slide and chilling on the Lazy River.
Younger kids would enjoy at the splash pad and wading pool, where adorable water cannons, mini geysers, and water tables are spread in a western-themed splash zone.
The Sun Outdoors Frontier Town also has miniature golf, but pricing ($3 to $5 per person) is separate from the waterpark admissions. Cabana rentals also come as extra fees.
Address: Perryville, Maryland
Tickets: (soon to open)
Why it's Unique: This is the newest of all water parks in Maryland
Great Wolf Lodge Maryland in Perryville is scheduled to open in mid-to-late 2023. Once it does, it will be the 20th resort in North America and the largest Great Wolf Lodge in the company's history.
The Perryville resort will feature a 126,000-square-foot indoor water park and 700 family-friendly suites, making it a fantastic weekend getaway for travelers coming from Mid-Atlantic and Northeast areas.
Other Attractions Beyond Water Parks in Maryland
Adventure Sports Center International isn't for beginner swimmers – it's for those seeking a thrilling weekend. ASCI operates the world's only, Olympic-standard mountaintop whitewater course, introducing you to guided rafting and other adventure sports activities.
Maryland's Chesapeake Bay was included as one of the best fishing destinations in the country.
It's the biggest estuary in North America, which means you get the chance to fish in freshwater, brackish, and saltwater in the same body of water.
How cool is that?
If you have more time exploring the state, you'll find a TON of things to do in any of the 10 best Maryland lakes.