Whether you live in the area or just passing by in the summer, these water parks in West Virginia can give you a refreshing break from the heat.
There are only a handful of outdoor water parks in the area, many of them man-made and one takes advantage of a gorgeous lake.
Outdoor Water Parks in West Virginia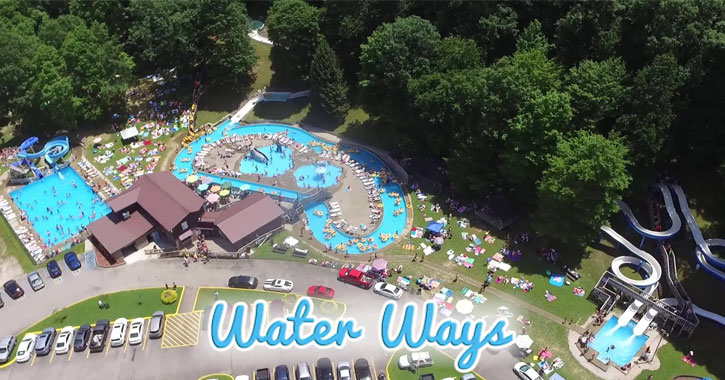 Water Ways is a local-favorite, outdoor water park that has been open since 1988.
This family-friendly West Virginia water park has a lazy river, body slides, a tube slide, a lap pool, and areas for other activities, including a gift shop and picnic areas,
If you're visiting with kids, the Kiddy Island and the kid-appropriate slides, playgrounds and splash pads will be their favorite spot at Water Ways.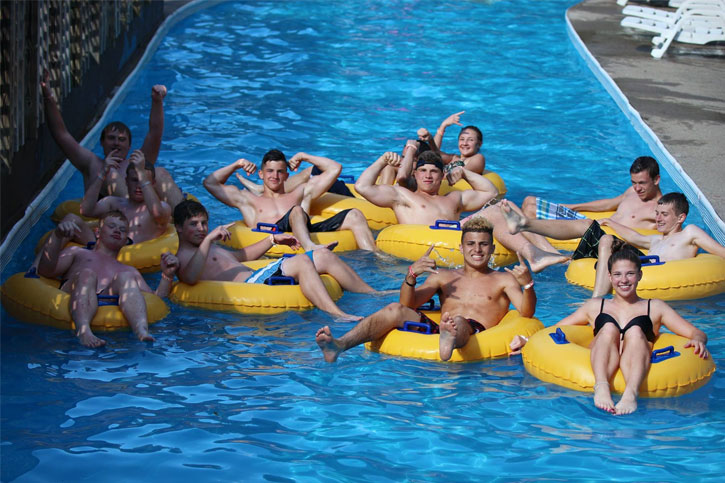 Admission fees vary. Those 44 inches and taller pay $12, while those under 44 inches tall pay only $5 because they can't use the big slides. Young kids (3-year-olds and under) enter for free. You don't need to rent the tubes. They are free to use at no additional charge.
Coolers are allowed at Water Ways, but alcohol and glass containers are prohibited. Concessions are also available in the park.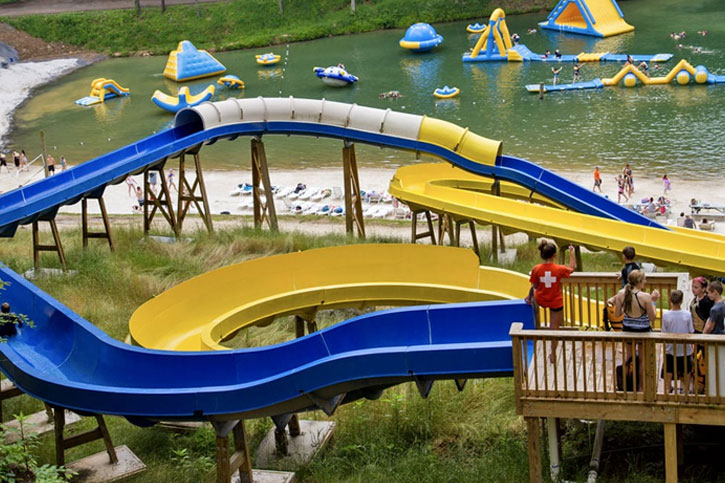 Wonderland Water Park is just one part of the Ace Adventure Resort, which also offers ziplining, kayaking, whitewater rafting, paintball, mountain biking, camping, and other outdoorsy activities.
The water park section is located by the lake. Over 50 slides and splash pads are inflatable structures combined with a few permanent structures on land. You can also find a sandy beach on one part of the water park.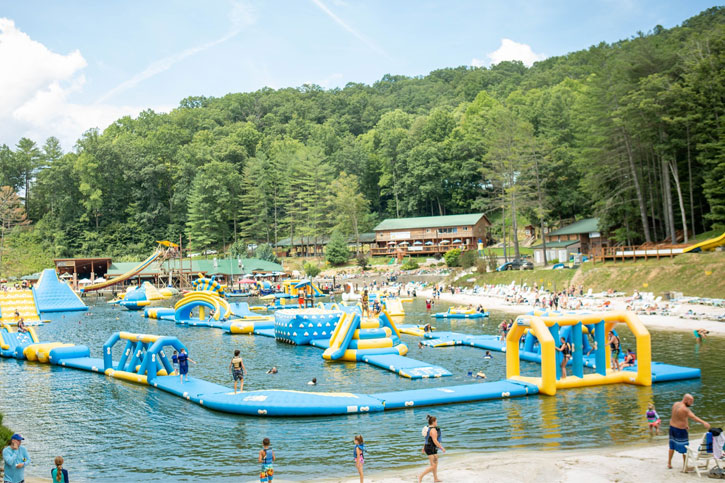 Many go back for the 40-foot-tall Wet Willie Waterslide, which is perfect for anyone craving for a good thrill.
While ACE Adventure Water Park can be the main destination on its own, many visitors include this into their New River Gorge itinerary. It's the perfect place to wind down (for parents who just want to relax by the beach) and let their teenage kids go crazy with the floating playground.
Kids aged 5 and under enter Wonderland Water Park free of charge, while the rest can choose half-day or full-day passes ranging from $17.95 to $32.95.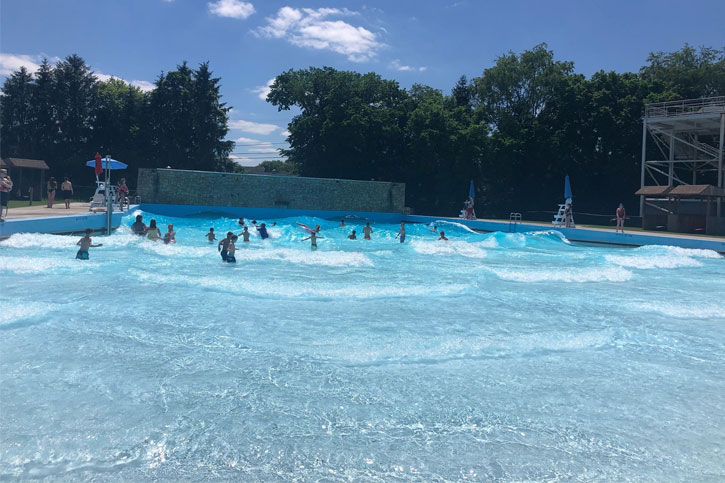 Located in the city of Hurricane, Waves of Fun is a small, water park run by the Putnam County parks department. This municipal water park only opens seasonally, but it's definitely big enough for locals and visitors to beat the heat.
Waves of Fun features a massive, zero-depth-entry wave pool (pictured above) and three water slides.
If you're here to celebrate a birthday, you can even reserve a Waves of Fun pool for your party. Enjoy 2-hour swimming with pizza and drinks by the pool deck for $350 (for 30 people).
There are lifeguards available during swim season, but the park states "never assume someone else is watching your child." As such, if you're coming with a minor, they should be under parental/guardian supervision at all times.
Visitors are not allowed to bring pets, snorkels, fins, styro floaters, inflatables, personal rafts, coolers or food. Tubes are available for rent (at $3 each) and on a first-come, first-serve basis. Waves of Fun also has its own snack stand should anyone get hungry while there.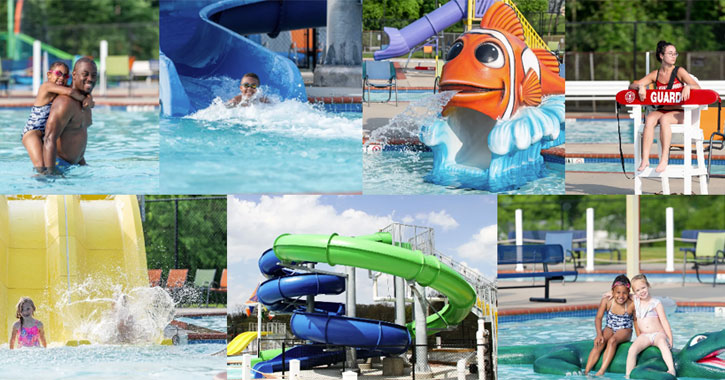 Splash Zone is a municipal water park in West Virginia.
Located adjacent a mini golf course, this water park has a couple of water slides designed for all ages. Many local kids learn how to swim thanks to the swimming lessons offered by the city of Clarksburg.
Splash Zone also has a lazy river, which is perfect for anyone who just want to chill in the water. This lazy river has a section with dump buckets lined up to switch things up a bit as you float down the "river."
Smaller kids will enjoy the dump bucket, splash pads with water-spray animal features, and age-appropriate slides.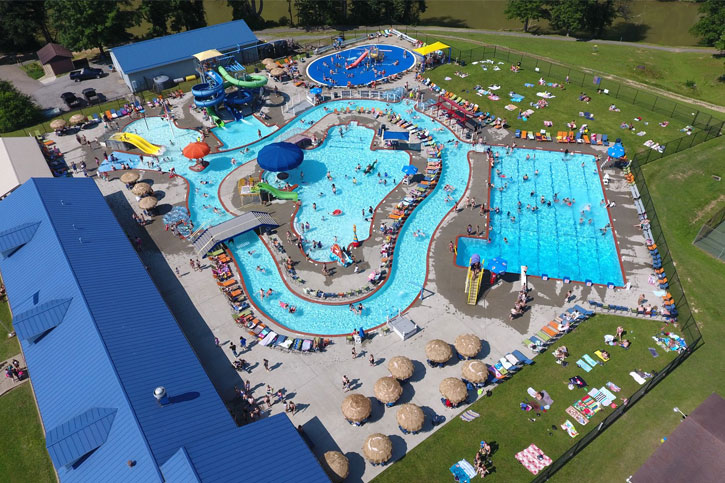 Daily admission and season passes are available. at Splash Zone. Both residents and non-residents are welcome, but season passes are more expensive for non-residents.
Coolers and outside food/drinks are not allowed inside Splash Zone. If you get hungry or thirsty, snacks and beverage are available at the concession stands.
Also, alcoholic drinks, tobacco, chewing gum or glass containers are prohibited.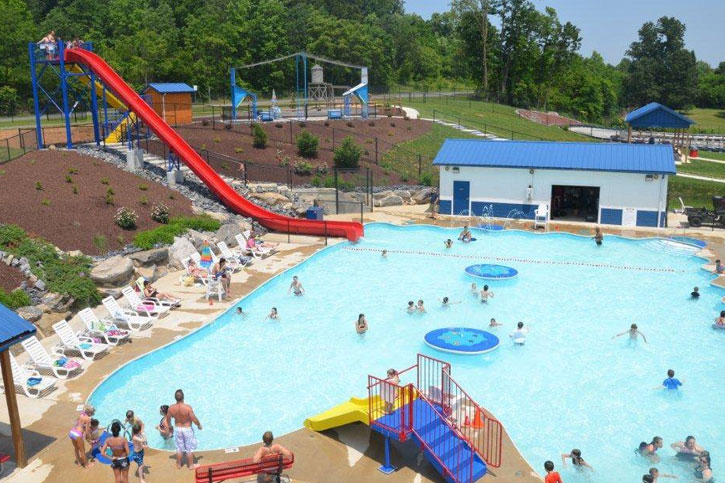 JayDee's Family Fun Center is a family-friendly destination in West Virginia. It's an indoor and outdoor recreational spot, but if you're looking for a water park, you won't be disappointed.
JayDee's water park may be smaller than other West Virginia water parks, but it still boasts a massive pool, slides, and a kiddie area with dumping buckets.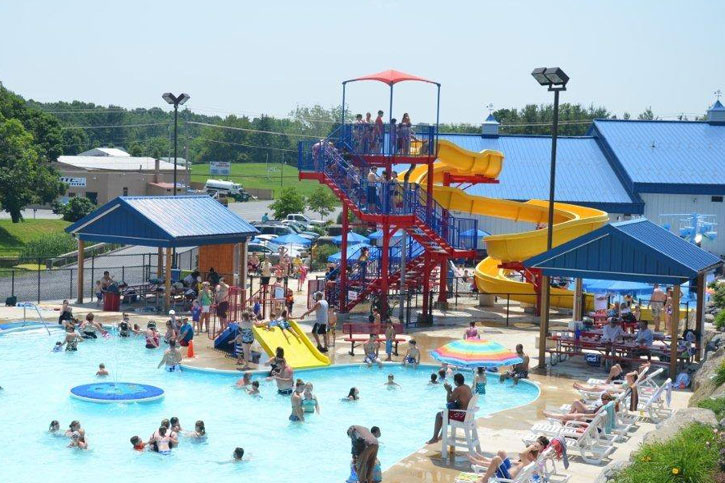 Once your kids decide to get out of the water, there are plenty of other activities to do. From driving Go Karts to playing mini-golf, to riding a train or mining gemstones, your kids can pick and choose which activity they want to do.
JayDee's Family Fun Center also has batting cages, an arcade packed with a jungle gym and a mix of old/new games, and a fitness center. There's even an educational area, called Nature Zone, where young kids could learn a variety of topics like colors, lights, insects, animals, vegetation, rocks and the solar system.
The place was definitely designed with kids in mind that your kids won't get enough of JayDee's even if you spent two days back-t0-back playing around the park. But because you only pay for the activities your kids or group wanted to do, you won't feel like you've wasted money paying for the whole shebang.
No outside food or drink is allowed throughout the park, but you can purchase at the fun center if anyone in your group get hungry or thirsty.
Are there any indoor water parks in West Virginia?
As of mid-2023, there is no indoor water park in West Virginia.
However, this could change very soon.
A Texas-based company is finalizing plans to bring an indoor waterpark and RV campground in the greater Charleston area.
Groundbreaking is expected in May 2023 and the tentative grand opening by fall of 2024.
Done hopping water parks in West Virginia?
If you're looking for other water parks to visit, here are the best water parks in Maryland, Pennsylvania and Virginia.
For those looking for indoor water parks to warm up (during winter), check out my guide on the best indoor waterparks in the US.
If you're in town for a couple of days longer, you can also chase some waterfalls in West Virginia, or check these things to do in West Virginia.