There are 874 waterfalls in Tennessee.
Yup, you read that right.
While many of these officially listed waterfalls "fall" on private properties (which means they cannot be freely visited anytime/permits may be required) or are pretty small in size, the number of Tennessee waterfalls is still VERY impressive.
If you can only visit one or two waterfalls in Tennessee, then I recommend you choose any of the following destinations.
6 Must-Visit Waterfalls in Tennessee
When I wrote about the best waterfalls in USA, I showcased one Tennessee waterfall that you won't forget – Ruby Falls located deep within Lookout Mountain in Chattanooga. It is considered the nation's tallest and deepest underground waterfall open to the public. It's one of the easiest to go to, since you'll be taking the elevator 1,120 feet below the surface of Lookout Mountain to reach the cavern, but as you may imagine, it isn't for anyone with claustrophobia.
For more magical waterfalls in Tennessee, visit any of these 6 outdoor falls: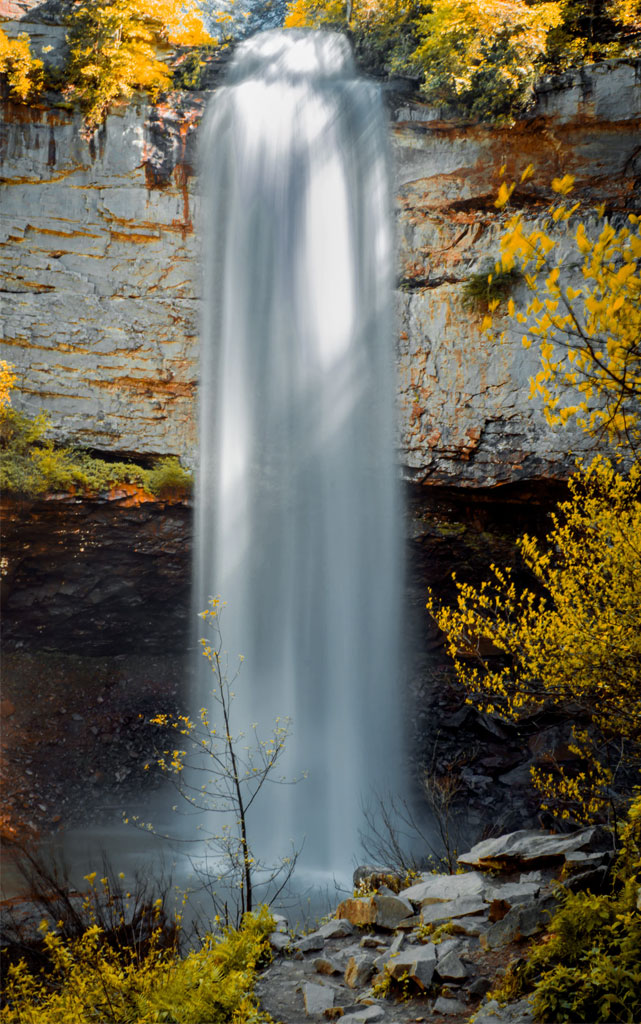 Location: 2009 Village Camp Rd., Spencer, TN
Nearby waterfalls: 250-feet Coon Creek Falls, 125-feet Rockhouse Falls, and smaller falls Piney Falls, Cane Creek Cascades, Cane Creek Falls
Located within the 29,800-acre Fall Creek Falls State Park, the 256-feet Fall Creek Falls is one of the highest single-vertical drop waterfalls in the eastern United States.
You can reach Fall Creek Falls via a 2.4-mile heavily trafficked loop trail with natural rock steps. The best time to visit is between March and October.
If you're staying within the park (there's camping, cabins, and inns nearby), you can also include the scenic 350-acre Falls Creek Falls Lake into your itinerary and enjoy fishing, boating, or just relaxing.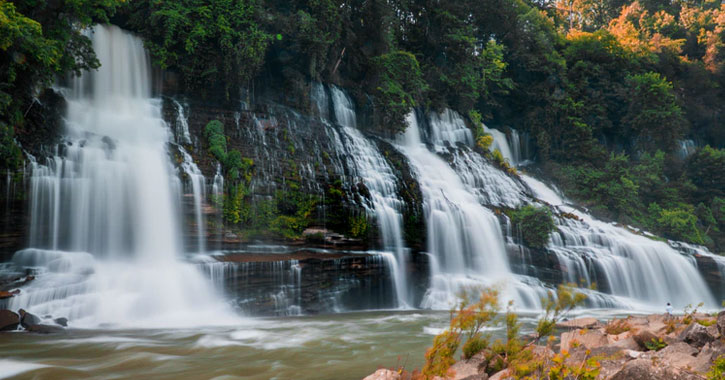 Location: Rock Island State Park: 82 Beach Rd., Rock Island, TN
Nearby waterfalls: Burgess Falls Fancher Falls, Evins Mill Falls, and Cul-Car-Mac Falls are all to the north, while Cane Creek Falls, and Fall Creek Falls are 40 minutes away to the south.
Twin Falls isn't a natural waterfall, but pretty interesting nonetheless. Created accidentally when Caney For River was dammed in 1925, Twin Falls pours out of the walls of a gorge, instead of falling over rock walls as natural waterfalls would.
The water of Twin Falls pours about 80 feet above the Caney Fork River, and is named as such because of the two main streams of water that are 1000 feet apart. The trail going to this spot is easy and does not require rugged climbing, but you have to be wearing good shoes since you'll be navigating the stairs going down the trail.
Once you get there, you can swim and kayak to your heart's content.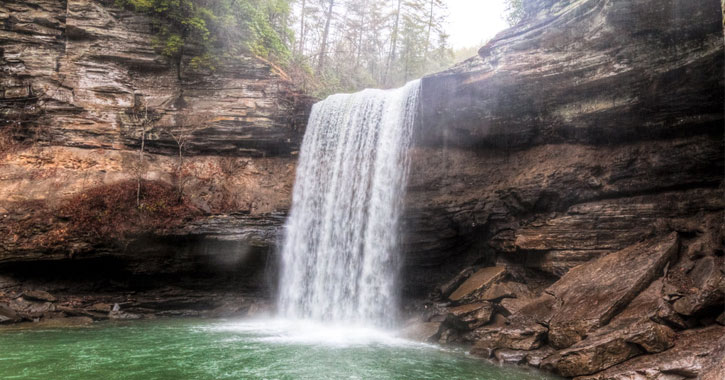 Located:  Found in the Savage Gulf State Natural Area within South Cumberland State Park in Palmer, TN
Nearby Falls: Lauren Falls, Ranger Creek Falls,
Greeter Falls offers one of the best (and easiest) waterfall hikes in the area. Both loops start at the Greeter Falls parking lot, going through a short hike through the Greeter Falls Loop Trail. You'll end up with two routes: the 15-foot Upper Falls and 50-foot Lower Falls, which is where you'd be able to swim and enjoy the natural pool.
Note that it isn't recommended to swim by the Upper Falls since its stream falls to the lower waterfall. You might get tempted to swim, since the Upper Falls pool is only between 1 to 3 feet deep, but don't risk it. It can be dangerous due to strong currents any time of the year.
Location: 390 Cummins Falls Ln, Cookeville, TN 38501
Cummins Falls is the 8th largest waterfall in Tennessee. It is found in the 282-acre Cummins Falls State Park, Jackson County, about 9 miles north of Cookeville. Like many TN waterfalls, the public can visit for free, if you're up for the hike and challenge.
Cummins Falls is a huge cascading waterfall with a swimming hole at the bottom. If you ask me, I love waterfalls that you can swim in, since the cold waters serve as a pretty awesome reward for anyone taking the hike.
With a total height of 75 feet, Cummins Falls has two drops – one that plunges down to 50 feet and ends in a shallow pool.
There are several trails you can take to reach Cummin Falls, but others may require a permit. The waterfall overlook trail is only below a mile one-way. The gorge area is pretty impressive but can be dangerous for small kids since it can only be reached by foot and you'd need to hike down to the gorge.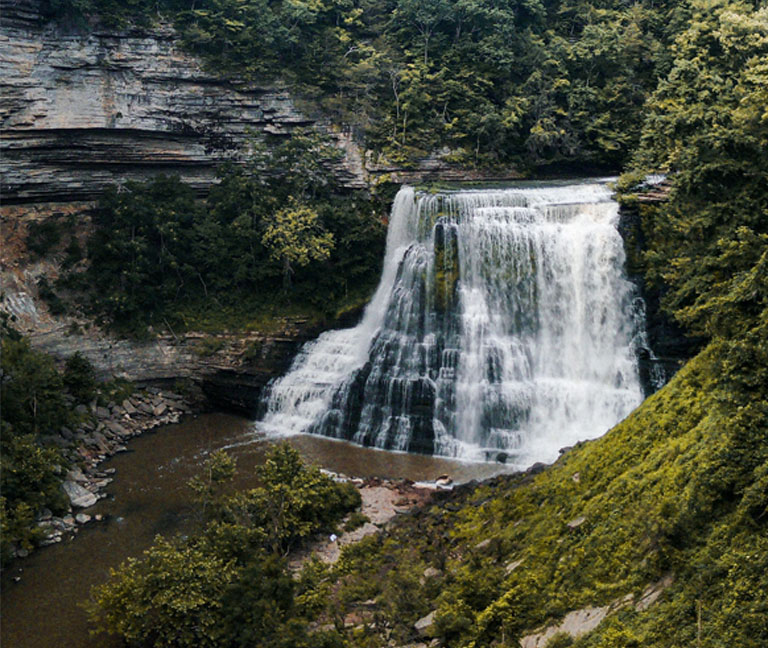 Location: 4000 Burgess Falls Dr, Sparta, TN 38583
If you're looking for a wow-worthy waterfall that you just wouldn't forget quickly, the Burgess Falls can be it.
Located within Burgess Falls State Park, in Putnam and White counties, Burgess Falls is a massive cascading waterfall that many people who have visited the place call it as a mini Niagara Falls. This doesn't mean Burgess Falls is small – it drops a whopping 136 feet.
It is for the advanced hiker, but you'd be surprised that the 1.5-mile hike isn't as challenging as you'd expect. The most common Burgess Falls trail brings you to four waterfalls – a 20-foot cascades, 30-foot upper falls, 80-foot middle falls and finally, the 136-foot lower falls. If you're up for the challenge, you can reach the bottom of the falls by kayak.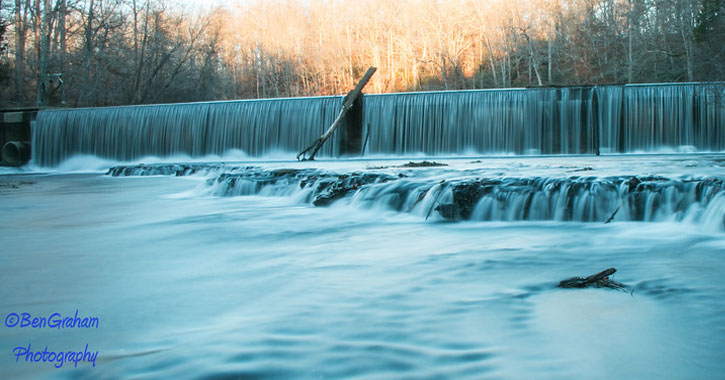 If you're an advanced hiker who is seeking a challenging adventure, go to the Old Stone Fort State Park and see how many waterfalls you can explore.
The park has 10 waterfalls, 4 of which are pretty popular:
Bluehole Falls – This 0.5 kilometer moderately trafficked loop trail is short, but offers a scenic hike. There are steep parts of the trail. The Bluehole Falls drop from 30 feet high and end in a pool.
Step Falls – Located on the south side of the park on the Little Duck River, Step Falls is named for its step features. Rather than a continuous drop, Step Falls features a series of smaller waterfalls (and drops) with the 3rd one being the largest drop of about 15-20 feet.
Big Falls is the grandest of the falls and is a gorgeous one. With more than a 30 feet drop, Big Falls is characterized by a mix of falls, cascades, a little pool you can take a dip in. You'll love the tiny shaded area by the trees before the water drops.
Beyond the waterfalls in Tennessee
If you're a fan, go to Memphis to look around Graceland and the Elvis Presley Memphis Complex. You can even stay there for the night if you've got the cash to spend. While you're here, check out blues history at STAX Museum of American Soul, Memphis Music Hall of Fame, as well as WC Handy's House.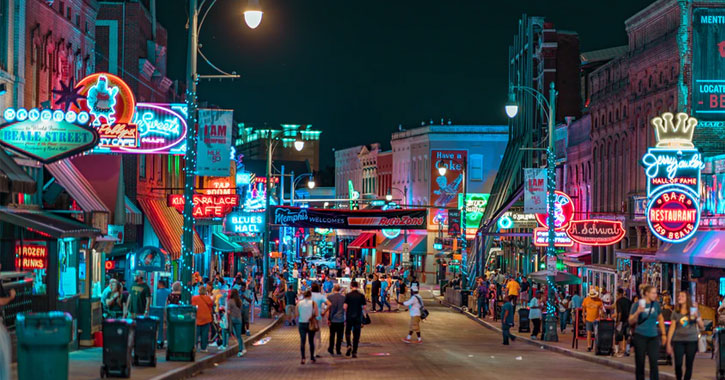 For non-Elvis fans, but adore country music, go to Nashville and visit the Grand Ole Opry, Ryman Auditorium, and Country Music Hall of Fame.
Near the Great Smoky Mountains Park is the Dolly Parton theme park, aptly called Dollywood (located in a small town of Pigeon Forge). If you're visiting Dollywood and you're also a history buff, I swear you'll LOVE the Titanic Museum nearby.
If you're going to spend more than a weekend in the state, check out the best camping spots in Tennessee. For those traveling without kids, I recommended you squeeze this Tennessee Whiskey trail into your itinerary as well.