Few things are as exhilarating and picturesque as seeing a towering cascade of water crashing down before you. I've had the privilege of being able to visit quite a few of the best waterfalls in the US over the course of my life.
Everyone already knows that Niagara Falls and Yosemite Falls are some of the best in the US, but I wanted to expand this list into waterfalls you might not have heard about yet.
People usually think that if they want to find a magnificent waterfall then they have to go to exotic locations like Iceland or Argentina.
But we actually have access to some of the biggest, longest, and grandest waterfalls right here in our part of the world.
Some of them are going to make you work for it, but not every waterfall sits at the end of a long hike. And if you love finding these gorgeous forces of nature as much as I do, then you probably won't mind the sore feet anyway.
From massive multi-tiered torrents that send up giant sprays of mist to gentle trickles that look inviting enough to swim under, there's a bit of everything right here in the US, if you know where to look.
8 Top Waterfalls in the US
Check out these 8 absolutely stunning, breathtaking waterfalls from across the country.
Not all of these are well-known "touristy" destinations, but they all make for spectacular views.
1. Shoshone Falls (Twin Falls, Idaho)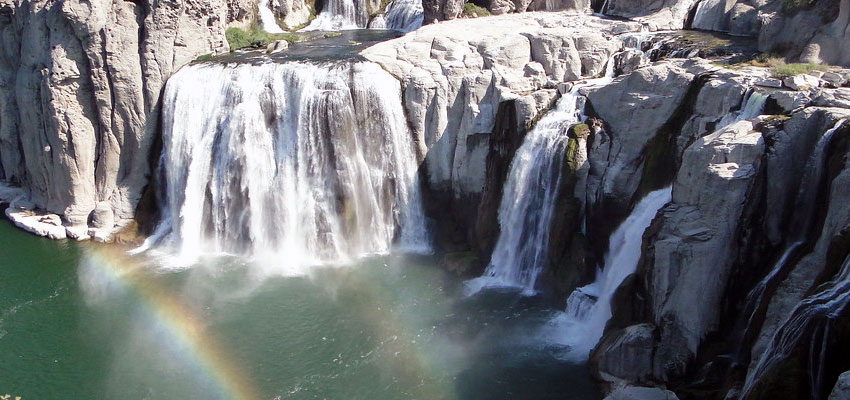 Niagara Falls may be huge and majestic, and hugely popular, but there are dozens of other waterfalls around the country that can match (and even surpass) Niagara in many ways.
Take Shoshone Falls, for instance. The falls come in at 212 feet tall, a whole 36 feet more than Niagara, and on a good day, these falls can extend all the way across the 900-foot canyon above the Snake River.
Shoshone Falls sits right at the edge of Twin Falls, and there's plenty to do here besides enjoying the breathtaking view.
The park offers a number of water-based activities like paddleboarding and kayaking, and there are playgrounds, hiking trails, and really nice picnic areas overlooking the falls.
Making this a great day trip destination for both couples and families.
More Information:
Shoshone Falls | Visit Southern Idaho
2. Havasu Falls (Supai, Arizona)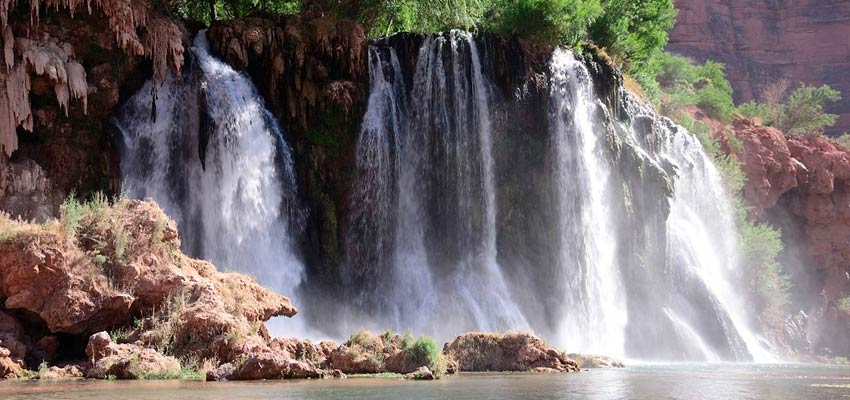 Most people don't think of heading to the desert to go see a waterfall, but seeing the waters of Havasu Falls should be on everyone's bucket list (especially if you're making the drive down route 66).
They're a bright aquamarine blue (even without the oversaturated photoshop photos you see almost everywhere) that contrasts brilliantly with the intense rust-colored rocks of the surrounding desert.
The falls are in the Havasupai Indian Reservation, at the bottom of the Havasu Canyon, about two miles from Supai Village.
Neither the village nor the waterfall is accessible by road, so you'll have to go on foot or horseback.
It's about an 8-mile trip down from the Hualapai Hilltop to the village. So you have to come prepared for a tiring hike in the desert heat, which means plenty of sunscreen and water.
Also, book well ahead of time.
The area is controlled by the reservation and they only let in a certain amount of people. You don't want to get there only to be told to turn around. If you do make it to the falls, however, then make sure to reward yourself with a relaxing dip in the natural pools.
If you're planning on staying in the Grand Canyon/Las Vegas area longer than a day, then make sure to check out the Valley of Fire as well, which offers equally impressive hikes and sights.
More Information:
Havasu Falls Guide | Visit Arizona
Havasupai Indian Reservation | National Park Service
Other Arizona Waterfalls Worth Visiting
3. Wailua Falls (Kauai, Hawaii)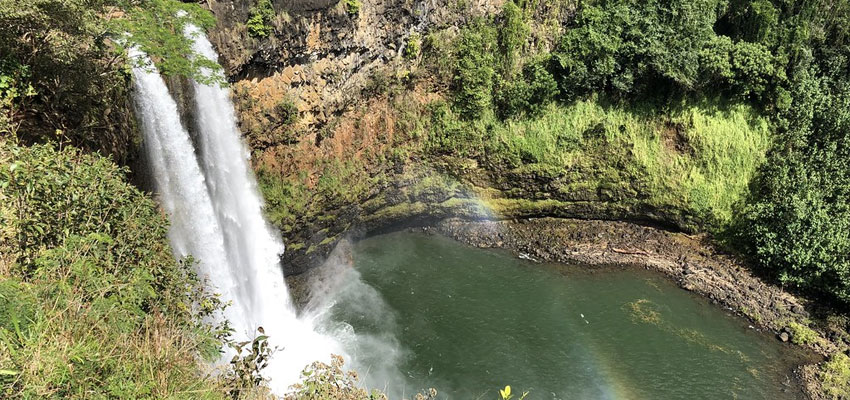 This list could easily have been dominated by Hawaii, but I tried to limit myself to picking just one waterfall.
My family and I recently went to Hawaii for an unforgettable trip where I got to swim with dolphins and manta rays on the Big Island – both were amazing experiences and I'd highly recommend you try at least one of those yourself.
While we were there, we couldn't pass up the opportunity to take in more of the islands' natural beauty, including their famed waterfalls.
Wailua is probably one of the most well-known waterfalls in Hawaii, and I understand why.
To see these gorgeous falls, you'll have to drive to a fairly remote area, north of Lihue.
Luckily, no hike is required for this one as the waterfall is easily accessible from Maalo Road once you get there. If you decide to walk down to the waterfall (you can swim in the pool) then just make sure to be careful going down because the path can get very slippery.
More Information:
Wailua River State Park | Division of State Parks
Wailua Falls | Go Hawaii
4. Alamere Falls (Marin County, California)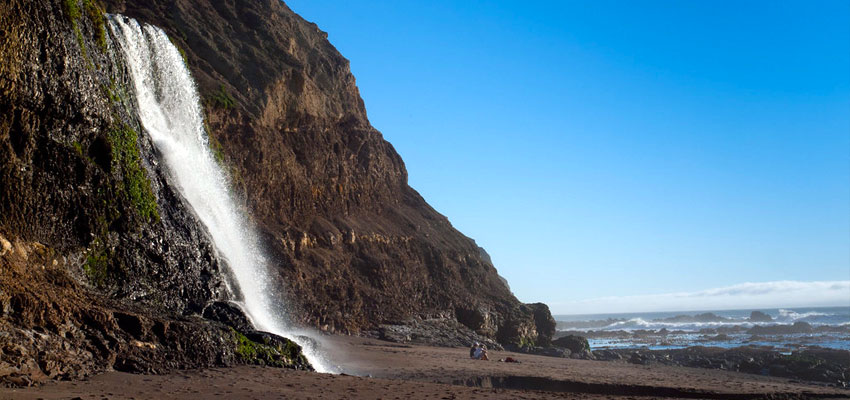 What makes the Alamere Falls so special is that they're actually "tidefalls" – a waterfall that plunges into the ocean.
There aren't many places in the US where you can see tidefalls and this is also one of the only places where you can see a waterfall, build some castles in the sand, and swim in the ocean without ever leaving the beach.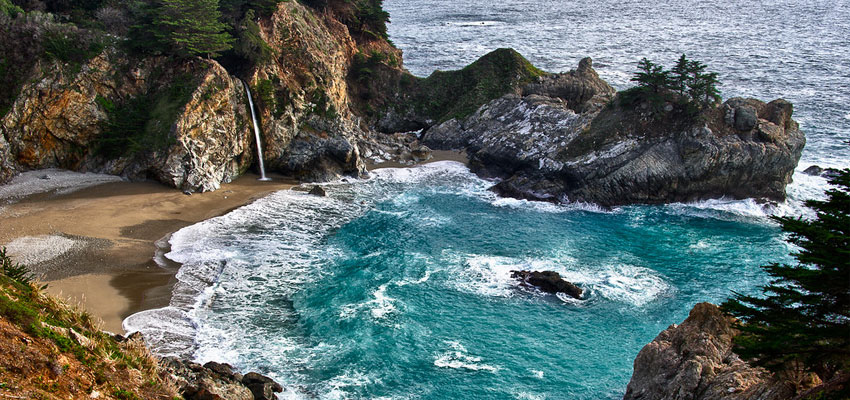 There's also the McWay Falls near Big Sur, but Alamere Falls is much more impressive and you can actually get to the beach, unlike Mcway which has no beach access.
It will cost you an 8-mile hike to get there, but it's well worth the effort.
More Information:
Alamere Falls – Point Reyes National Seashore | National Park Service
5. Falling Spring Falls (Covington, Virginia)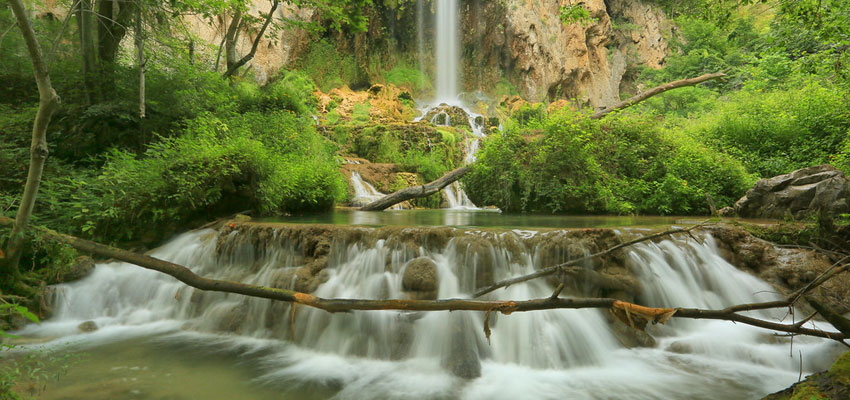 Just five miles north of Covington, on Route 220, you'll find this scenic waterfall.
Virginia has a bunch of pretty waterfalls to boast about, but this one is the biggest and the most stunning in the state. According to the brochures they have there, even Thomas Jefferson appreciated this 80-foot plunge, calling it a "remarkable cascade."
It's conveniently located right next to the highway, with an outlook where you can stop and enjoy the view.
There's also a newly renovated picnic area where you can sit and enjoy the falls.
This is one of the few waterfalls in the US that doesn't require a hike before you can appreciate its natural beauty.
Keep in mind, though, that there's no real way to get close to the water (unless you hop the fence, which is illegal) and the park rangers do keep a close eye on the area to make sure no one tries to go down to the falls.
This makes a nice stop on your way somewhere (on your way to Lake Moomaw, for instance) instead of the destination itself. Luckily, the drive there is just as spectacular and there's plenty of things to do and see in the area.
More Information:
Falling Spring Falls
6. Tahquamenon Falls (Paradise, Michigan)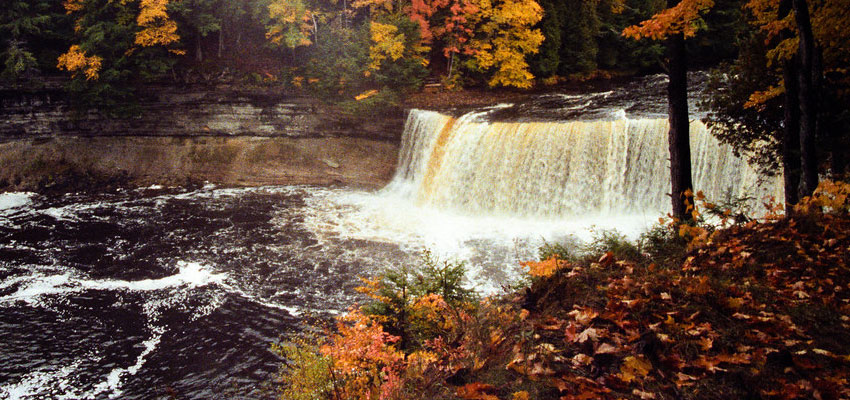 The Tahquamenon Falls consists of upper and lower falls, both of which are extremely beautiful, especially in the fall when the surrounding landscape takes on dazzling hues of red and orange.
The water itself usually has an interesting russet brown color as well, from the tannins leaching from a cedar swamp the river flows through – earning it the local nickname "The Root Beer Falls."
Pack some comfortable shoes, because the Tahquamenon Falls State Park is pretty big and you'll be walking a lot, especially if you want to see both the upper and lower falls.
Most people also don't know that you can rent a boat downstream of the lower falls that lets you row to the small islands in the center of the river, as well as get a truly unique view of the lower falls.
More Information:
Tahquamenon Falls State Park
Tahquamenon Falls | Newberry Area Tourism Association
7. Ruby Falls (Chattanooga, Tennessee)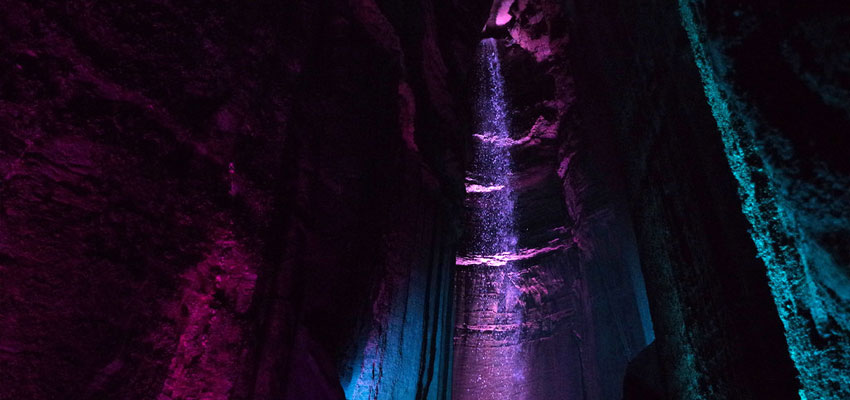 Ruby Falls is probably the most unique waterfall you'll ever visit since it's an underground waterfall in a cave in Lookout Mountain.
At 1,120 feet underground and 145 feet tall, this is the deepest and longest underground waterfall that people can visit in the US.
To get to the waterfall, you'll have to book a cave tour and go down 26 stories with a group in the elevator. The tour itself is great and full of facts about the waterfall, the caves, and the history of the mountain.
This might be a little stressful for anyone who has a fear of heights or caves (which I found out is called speluncaphobia), however.
Besides the cave and waterfall, the Ruby Falls venue also has a restaurant, hotel, and the High Point ZIP Adventure, if the cave doesn't provide enough of an adrenaline rush for you.
Afterward, why not take a side trip to Chattanooga Whiskey Experimental Distillery, one of the top stops on the Tennessee Whiskey Trail, and try their Tennessee High Malt straight bourbon whiskey?
More Information:
Ruby Falls
Other Tennessee Waterfalls Worth Visiting
8. Cumberland Falls (Parkers Lake, Kentucky)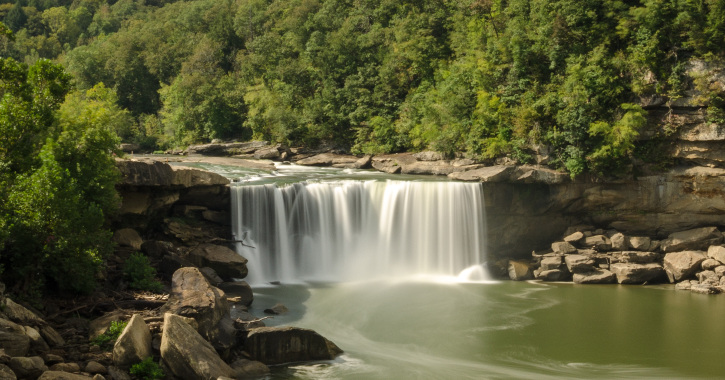 Sometimes called Little Niagara or the Niagara of the South, Cumberland Falls is an impressive block waterfall on the Cumberland River.
With water tumbling 60 feet high and 125 feet wide forming a dramatic curtain of water, it's easy to see why this is one of the best waterfalls in the US.
What makes Cumberland Falls really special is that it's the only place in the Western Hemisphere where one can see a moonbow, which is a rainbow produced by moonlight instead of direct sunlight.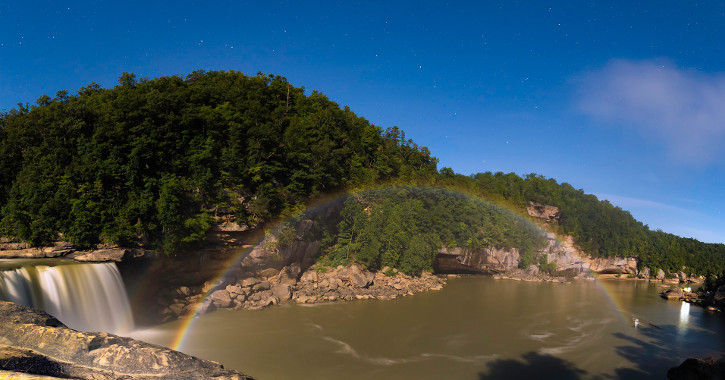 Ideal conditions to capture a moonbow include the timing (within 1 or 2 days of the full moon), vantage point (Upper Overlook), amount of mist (more mist = greater likelihood of a moonbow appearing), and the clarity of the skies.
Note that it's difficult to see a moonbow with the naked eye so make sure you have a tripod setup and set your camera to capture long exposure.
Cumberland Falls is located within the Cumberland Falls State Resort Park, just outside Corbin, Kentucky.
Of course, Cumberland Falls is the main highlight of the park, but there are so many other things to do in the park, like hiking, rafting, fishing, canoeing, and camping. There's even a flume mine just past the Gift Shop.
More Information:
Cumberland Falls State Resort Park | America's State Parks
Cumberland Falls State Resort Park | Kentucky State Parks
Cumberland Falls | Kentucky Department of Tourism
Which is the best waterfall in the US?
The thing about waterfalls is that pictures and descriptions never truly do them justice.
You have to get out there and experience them for yourself or you'll never know the wonderful feeling of standing near these giant displays of nature's power.
If you do decide to make the trip to any of these amazing locations then make sure to let me know what you thought.
Plus, I'd love to hear about your favorite waterfalls too! Hit us up in the comments!