There are over 60 lakes in Virginia, and all of them offer spectacular views and plenty of opportunities for recreational activities.
From camping to water sports, hiking, fishing, boating, and simply just stargazing by the water, you'll be in awe and one with nature no matter if the lake were manmade or not.
If you are searching for your next lake getaway, check any of these 6 must-experience Virginia lakes:
Best 6 Lakes in Virginia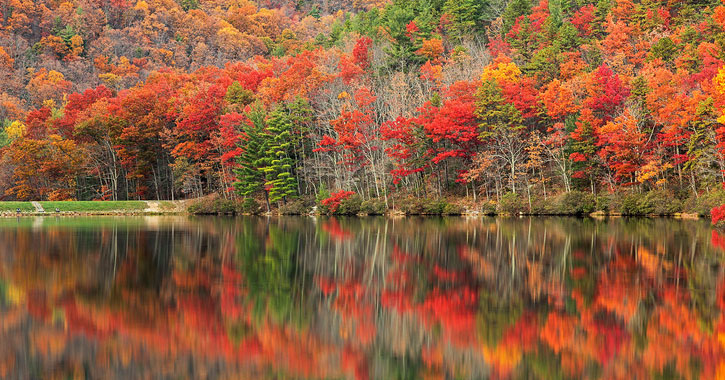 Location: Sherando Lake Road, Lyndhurst
Fishing Info: There is no ramp available at Sherando Lake, so you'll need to carry small boats and canoes in. You can find largemouth bass at the 20-acre lower lake, while the 7-acre upper lake has trout, bluegill, channel catfish, redear sunfish, and largemouth bass.
Camping Options: The Sherando Lake Recreation Area has 65 family campsites and group sites, accommodating tents and medium-sized RVs (but no full RV hookups).
Compared to other lakes in Virginia, the Sherando Lake is actually pretty small at only 24 acres.
Still, it has everything a huge lake offers, like swimming areas, fishing, hiking, camping, kayaking, and paddleboarding. Called the "Gem of the Blue Ridge Mountains," Sherando Lake has one of the best backdrops, thanks to the George Washington and Jefferson National Forests.
This is 10x more dramatic in the fall (just like the picture above), so bring a camera if you're visiting for this majestic fall foliage.
Aside from the Sherando Lake Campgrounds, there are also private resorts like the Wintergreen Resort.
If you're staying for a week or longer, don't miss the Blue Mountain Brewery Restaurant and a trip to Nelson County for the area's popular cideries, breweries and wineries. There's also the Cyrus McCormick Farm nearby if you're travelling with kids.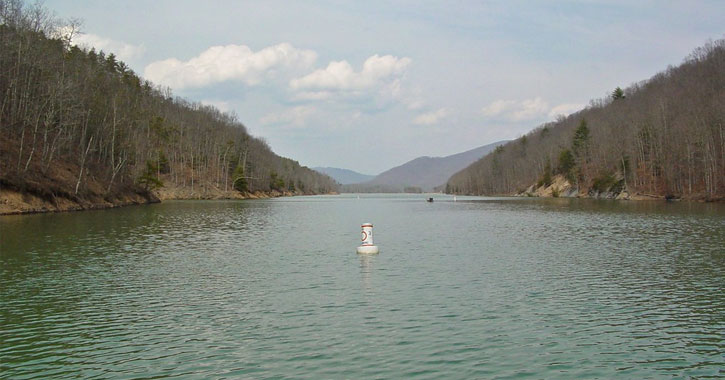 Location: Located in Covington, Western Virginia, almost on the border of West Virginia in the George Washington National Forest
Fishing Info: Lake Moomaw is known for its sport fishery, with trout as its main trophy fish. But you can also find warm-water fish here, such as crappie, sunfish, catfish, and bass. (Check for fishing regulations)
Camping Options: The U.S. Forest Service Campgrounds are available in several spots with a mix of primitive campsites and campgrounds with toilet+shower facilities, picnic tables and electric hookups.
Tucked away in the Appalachians of western Virginia, you'll find this not-so-crowded gem called Lake Moomaw.
Spanning over 2500-acres and an average depth of 80 feet, this lake boasts 43 miles of forested shoreline and nothing else but nature and plenty of opportunities for scenic hiking, nature trails, swimming, boating, fishing, mountain biking, and other outdoor activities (both on land and water).
If you're looking for beaches, there are two man-made beaches on either side of the lake (one with a bathroom, playground, and picnic tables located by the north end near Bolar Mountain Campground and the other located on the southern end of the lake at Coles Point).
Those who want to go boating could choose a marina (Bolar Flats Marina) and three boat launches (Bolar Flats Boat Launch, Coles Point Boat Ramp, and Fortney Branch Boat Ramp).
3. Kerr Lake (aka Buggs Island or John H. Kerr Reservoir)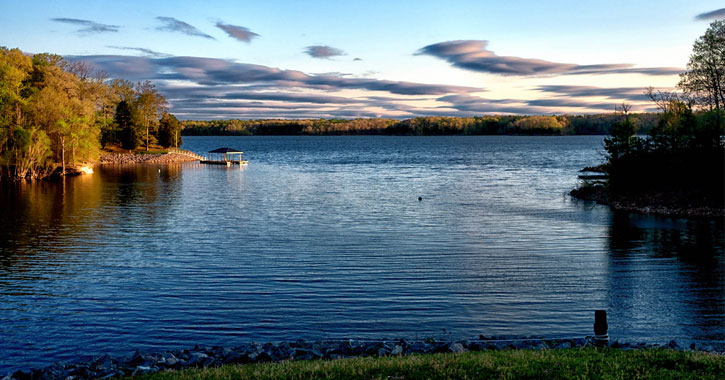 Location: 20 Shoreline Ln. Henderson, NC
Fishing Info: Buggs Island, which locals call the lake, is one of the best largemouth bass fisheries in the entire country, but you can also find white perch, striped bass, and bluegill.
Camping Options: Kerr Lake has hundreds of wooded tents and trailer campsites run by the US Army Corps of Engineers, many of them on the water's edge. Both electric hookups and non-electrical sites are offered.
Kerr Lake officially called John H. Kerr Reservoir (after the congressman), is Virginia's largest reservoir with 50,000 hectares of water and 800 miles of shoreline, even if most of it sits within neighboring North Carolina.
Many go here for yachting, jet-skiing, water-tubing, and water-skiing (There are two famous local outfitters – Clarksville and Roanoke River Water Sports, but Kerr Lake is most famous for its excellent largemouth bass and striped bass fishing.
If you're not fond of water sports, Buggs Island also has many quiet coves to offer for romantic lake getaways or to get away from the city's noise.
And if you don't want to rough it out, you can choose to stay at Cooper's Landing Inn and Travelers Tavern.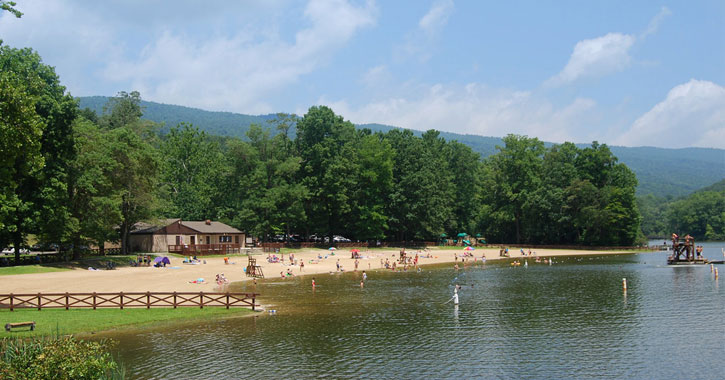 Location: Hungry Mother State Park is located at 2854 Park Blvd., Marion, VA, in Smyth County. To get to the park, take Exit 47 from Interstate 81. Travel approximately one mile on Route 11 toward Marion. Turn right on Route 16 north and travel four miles to the park. Register at the Discovery Center.
Fishing Info: You'll need a valid Virginia fishing license to enjoy the host of sport fish like crappie, carp, channel and flathead catfish, largemouth, smallmouth, hybrid striped and spotted bass, bluegill, rock bass, walleye, hybrid striped bass, and musky, among many others.
Camping Options: There are campgrounds, cabins, and a six-bedroom family lodge in the surrounding woods, but if you're feeling fancy, there is also the General Francis Marion Hotel nearby.
Hungry Mother is one of the original six Virginia State Parks with gorgeous woodlands, and the placid 108-acre Hungry Mother Lake is smacked in the heart of the mountains.
The park is home to a sandy beach with a bathhouse, a boat launch, fishing pier, and boat rentals for all your kayaking, paddle-boating, paddle-boarding, canoeing, and boating activities. The lakeside also has more than 17 miles of biking and hiking trails if you wish to explore the park.
If it's available, I recommend you choose a yurt (a cross between a cabin and tent) with a large wooden deck, picnic table and fire ring with a cooking grate for a unique lake destination experience.
Hungry Mother lets visitors rent out three yurts (2 located in Camp Burson campground, while the other is in the Royal Oak campground), but reservations are required.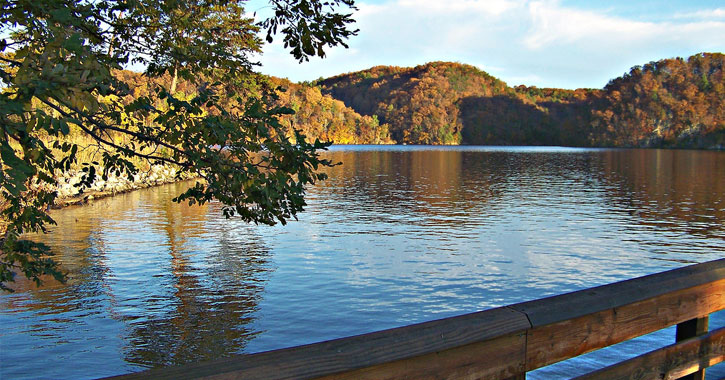 Location: Claytor Lake is located at 6620 Ben H. Bolen Drive, Dublin, VA 24084. To get here from I-81, take Exit 101 (Claytor Lake) to State Park Road (State Route 660). State Park Road ends at the park's entrance.
Fishing Info: Because of its location, Claytor Lake has the least largemouth bass than any other lake in Virginia. Look for Clapboard Hollow, Peak Creek, and other coves in the lower lake area for the best spots to fish in the lake.
Camping Options: Claytor Lake State Park has cabins and campsites, but indoor accommodation like the Claytor Lake Inn is also available.
Claytor Lake boasts 4,500 acres of pristine water. Located in Southwest Virginia, as the centerpiece of Claytor Lake State Park, you'll experience an authentic lake getaway when you visit Claytor Lake.
There are beaches, a diving tower, a snack bar, a gift shop, and waterfront cabins that line the shores of the lake. If you wish to swim, you can if you're visiting by Memorial Day weekend to Labor Day weekend. Check with the Visitor's Center for further instructions if you're visiting at other times.
Make sure to visit the park's historic Howe House to see interactive exhibits that cover the lake's ecology and Virginia wildlife. Like all other lakes in Virginia, you'll only need to spend money on parking and accommodation or camping.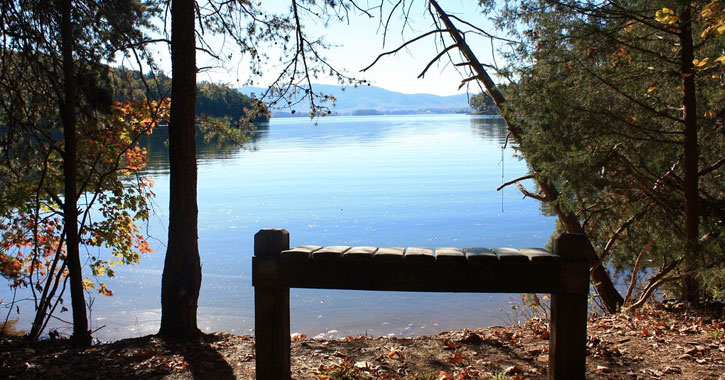 Location: Smith Mountain Lake is located at 1235 State Park Road, Huddleston, VA, in central Virginia along the Blue Ridge Mountains. To get there, take U.S. 460 to Route 122 South to Moneta, then go east on Route 608 to White House. Next, go south on Route 626 for two miles to the park entrance.
Fishing Info: Striped bass fishing is popular here and several large fishing tournaments bring people from all nearby states to compete at Smith Mountain Lake.
Camping Options: There are 70 campsites at Smith Mountain Lake State Park, including 20 cabins, 26 tent-only sites and 24 sites with standard electric hook-ups. You can also stay on private campgrounds like the Smith Mountain Campground situated by the foot of the mountain in Penhook, VA.
Called the "Jewel of the Blue Ridge," the 20,800-acre Smith Mountain Lake has breathtaking scenes from every angle, thanks to its topaz-blue waters, emerald-green shores, and mountainous backdrop of Blue Ridge Mountains.
It also has 580 miles of coved shoreline for everyone to enjoy. You'll understand why it is Virginia's most popular recreational lake.
At the north shore of Smith Mountain Lake,  anglers, kayakers, skiers, wakeboarders, swimmers, boaters, water-skiers, and just about anyone who wishes to chill by the lake from Spring through Autumn will find numerous recreational opportunities.
Beyond the Lakes in Virginia
If you're visiting the state in the fall season, there are plenty of postcard-worthy spots, such as the Roanoke River and the Crabtree Falls (the highest vertical-drop waterfall just off the Blue Ridge Parkway), as well as the picturesque hillside village of Mabry Mill.  
Or what about a scenic Skyline Drive in the Shenandoah National Forest? And if you have more time to explore, don't miss the jaw-dropping Little Stony Man Overlook – it offers one of the best sunset spots in the state.
If you're looking for an adventure and are up for a major hike, check out the McAfee Knob – the most photographed spot on the Appalachian Trail. It's a six-mile round trip hike up and down the Catawba Mountain, and the reward is a spectacular 270-degree view of the Catawba Valley.