Have you ever wondered what and where the biggest lakes in the US are?
Given that so much of the US is landlocked, it makes sense to explore its lakes and find the best spots to cool off in on hot summer days.
Whether you prefer white sand beaches, campgrounds set among rolling hills and mountains, or serene fishing locations surrounded by beautiful trees and wildlife, you're sure to find it in the largest lakes in the country.
Read the guide to find out everything about the largest lakes in the US, and even discover where you can see the aurora borealis.
7 Biggest Lakes in the US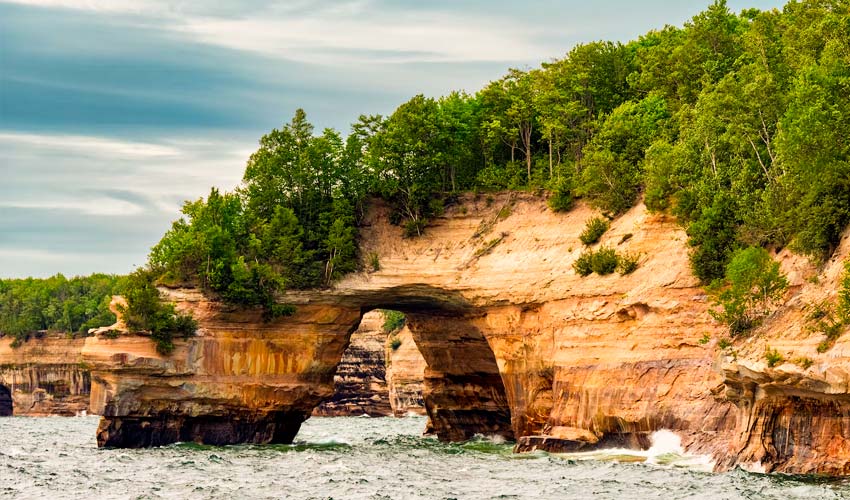 Facts and Figures on Lake Superior
Boasting a surface area of 31,700 square miles, Lake Superior is not only the largest of the Great Lakes, but it also holds the title of the largest freshwater lake in the world by surface area.
To paint a picture, Lake Superior's size is comparable to all of North Carolina.
There are approximately 80 species of fish living in Lake Superior, and with its 1,729 miles of shoreline, Lake Superior is a perfect holiday destination for fishermen.
Best things to do at Lake Superior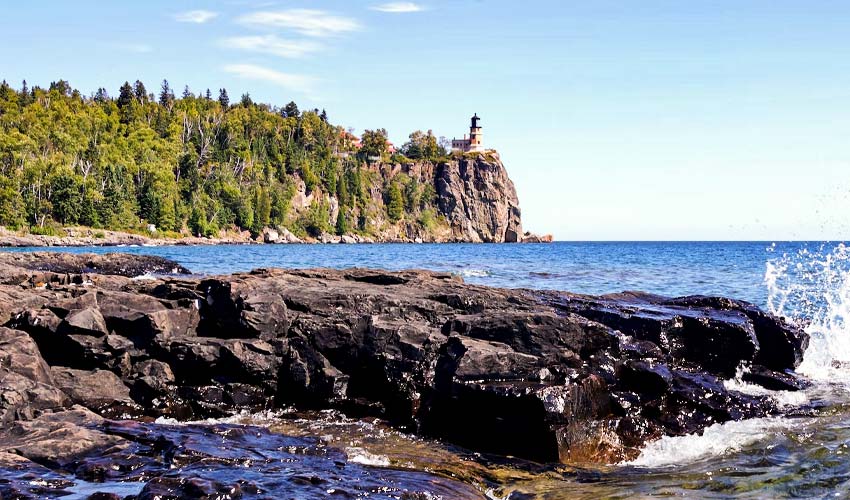 Lake Superior is beautiful and breathtaking no matter what time of year you visit, but there's more to it than just pretty views.
There are plenty of different activities you can do while visiting the lake. From sailing to white-water rafting, swimming, kayaking, and more.
The most relaxing way to experience Lake Superior is to spend a day at the beach. And let me tell you, beaches at Lakes Superior leave nothing to be desired.
From Sand Point Beach down to Little Presque Isle, you'll find pristine lake water, soft sand, rocky shores, and breathtaking views that you'll never forget.
While some areas might be crowded, the lake is so massive that you're bound to find your corner of heaven, be it for relaxing with some privacy, fishing in a quiet spot, or rock hunting. For an alternative day at the beach, why don't you try exploring the rockiest and more secluded shores and look for agate rocks and beach crystals?
Facts and Figures on Lake Huron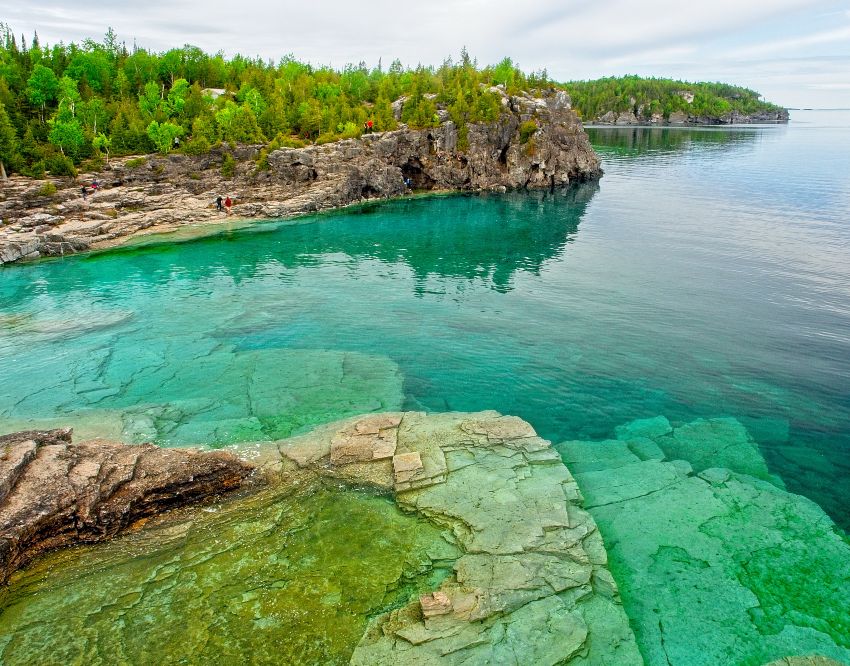 Lake Huron is the runner-up for the largest lake in North America, covering a surface area of almost 60 thousand square kilometers.
It is one of the largest and more popular of the Great Lakes.
One of the five largest freshwater lakes in the world, Lake Huron also has the longest shoreline among the Great Lakes. Do you know what that means? Plenty of lakeshore beaches to explore and a seemingly endless list of fun and adventurous activities to try.
Best things to do at Lake Huron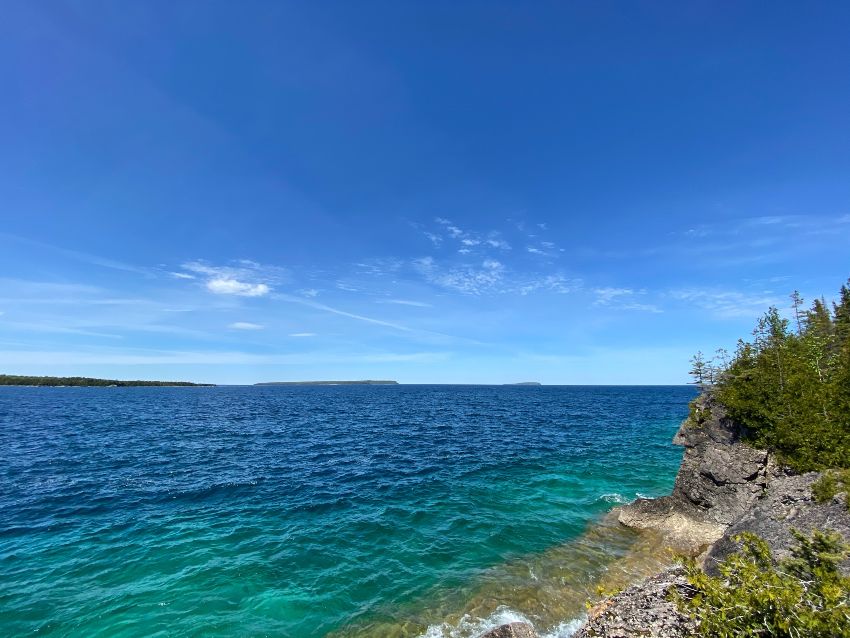 From swimming to boating, fishing, and kayaking, nothing beats a day at the beach on Lake Huron.
Starlight Beach is one of the best beaches around Lake Huron for families with kids, because it has a playground and lifeguard, while Cheboygan State Park Beach is great for adventure-seekers.
If you're exploring Lake Huron in Michigan, Cheboygan State Park is a small but lovely state park and is a perfect weekend getaway destination as it is filled with dreamy sand beaches and countless hiking and biking trails.
For a relaxing camping holiday, Hoeft State Park features some of the best sand beaches on Lake Huron and even sand dunes.
You can spend the night at the park's campground, which includes almost 150 campsites and is rarely crowded.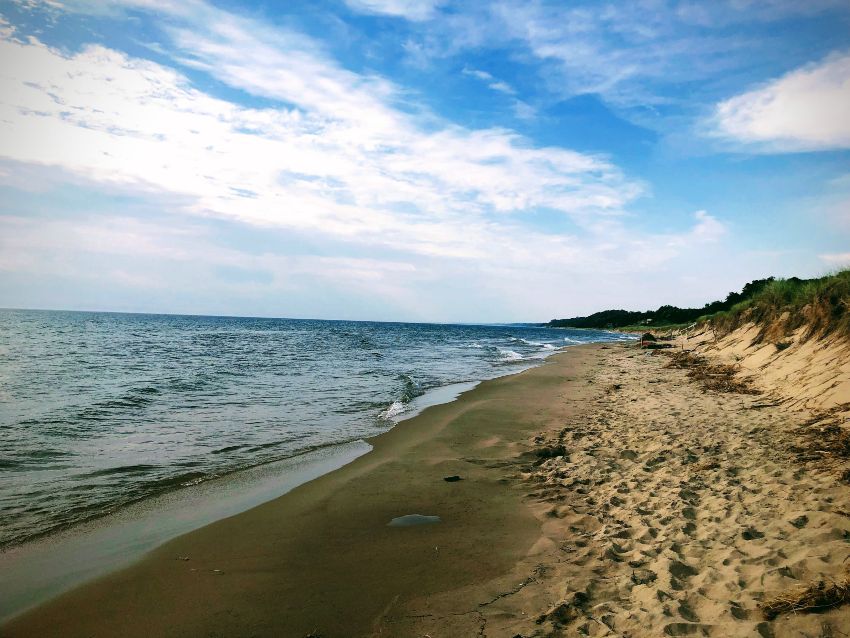 Facts and Figures on Lake Michigan
Lake Michigan boasts an impressive surface area of 22,404 square miles.
Lake Michigan is the only Great Lake that does not share a border with Canada.
The lake hits its maximum depth at 923 ft below sea level.
Lake Michigan's 1,400 miles of shore are gorgeous and provide a diverse environmental landscape. You'll find the world's largest freshwater dune system on the eastern shores of Lake Michigan.
Best things to do at Lake Michigan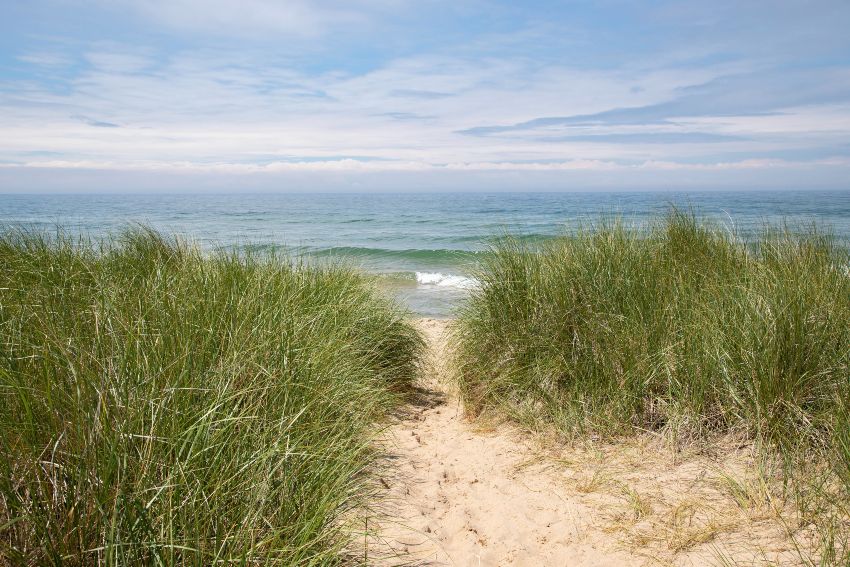 There are tons of great beaches around Lake Michigan to enjoy your time spent here.
Some are sandy and others are rocky, but no matter which one you choose you are bound to have a great time.
Esch Road Beach in Empire is a favorite among locals because of the gorgeous views of the Lake. There is no better place to watch the sunset over Lake Michigan, and you are even allowed to light a bonfire there.
Grand Haven City Beach is another good option, with clean and soft sand, and pristine water. This beach is fully equipped with anything you might need, but is extremely touristic and can often be crowded.
If you're looking for a lakefront naturalistic area to explore, Holland State Park is a great location for camping, hiking, swimming, and enjoying nature.
Lake Michigan has so much more to offer than just beaches.
There are lighthouses, museums, historical sites, and more that make this region truly unique, and you cannot miss out on the Sleeping Bear Dunes.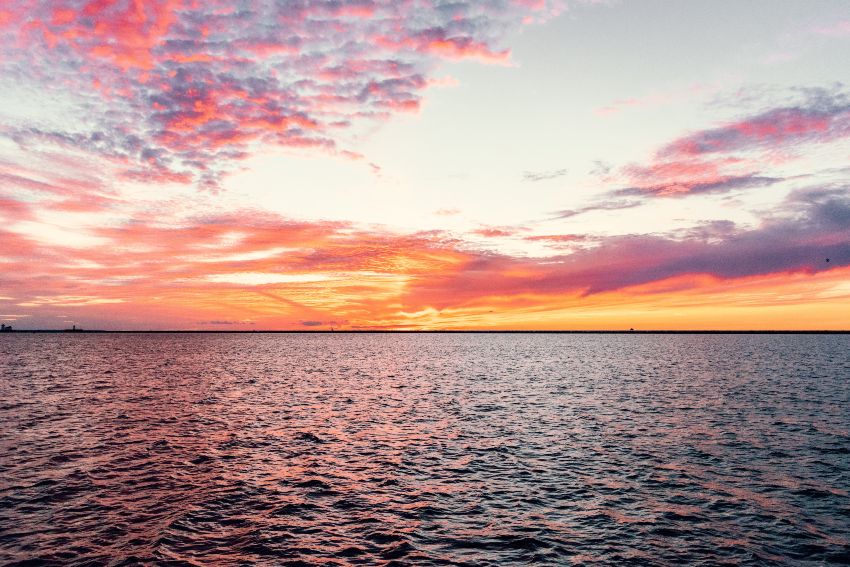 Facts and Figures on Lake Erie
Lake Erie has a surface area of 9,910 square miles, making it one of the smallest of the Great Lakes, and its shoreline stretches for 799 miles.
A maximum depth of 210 feet makes Erie the shallowest and warmest of the Great Lakes.
A glacier carved Lake Erie less than 4,000 years ago, making it a pretty young lake in geological terms.
Best things to do at Lake Erie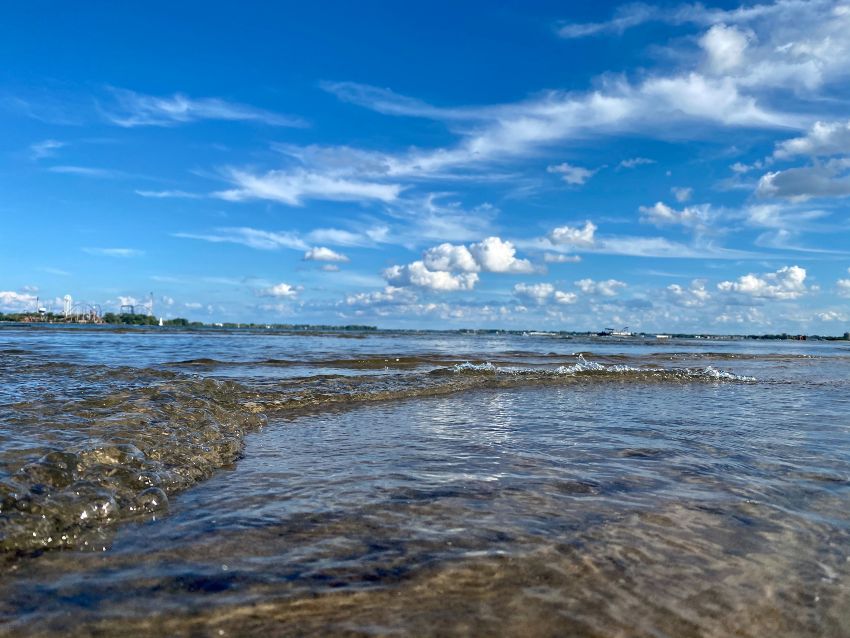 Lake Erie is a lake of many different moods, depending on the time of year that you visit.
In the summer months, the beaches around Lake Erie are perfect to enjoy swimming and sunbathing, while in the fall you can go for long walks immersed in nature, or try camping, hiking, and picnicking.
If you're planning a camping trip, a good option is Geneva State Park, a lakeside nature area with campsites available near the shore of Lake Erie.
The park offers many amenities including campsites, cabins, and rental cottages with kitchens.
The beaches at the state park are long, rocky, and perfect for strolling by the lakeshore.
The park also offers an archery range, picnic areas with grills, a playground, hiking and biking trails, and more.
If you thought surfing and scuba diving were only seaside activities, you were wrong. You can snorkel and surf at Presque Isle State Park on Beach 1, Beach 10, and the North Pierhead Light swimming area.
In winter, Lake Erie continues to amaze, and when the lakeshore begins to freeze, skating on the lake can be done on the natural ice surface at Presque Isle Bay and Misery Bay.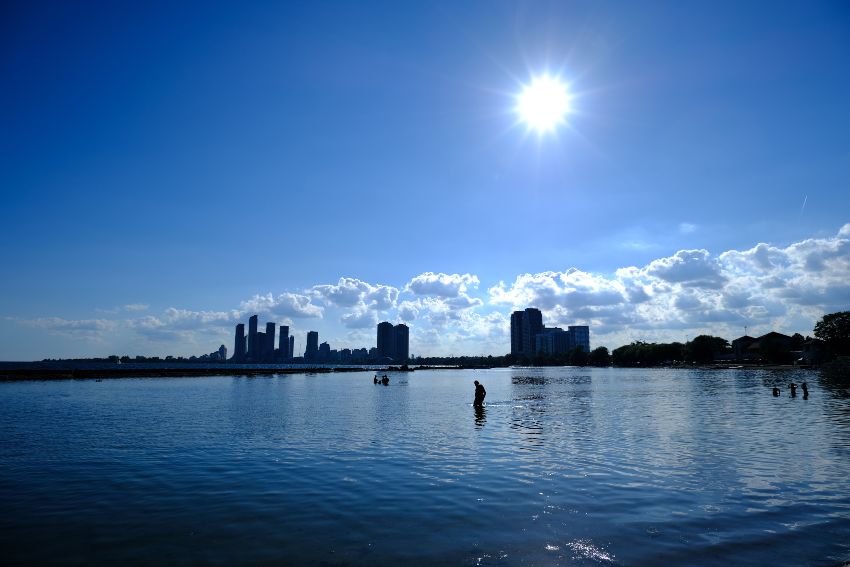 Facts and Figures on Lake Ontario
There are 7,340 square miles of surface area, it is the smallest of the Great Lakes. Despite its smaller surface area, Lake Ontario exceeds Lake Erie in volume.
Without counting the numerous islands in the area, like those in Ontario's Thousands Islands archipelago, the shoreline length in the area is 634 miles.
Titan, Saturn's moon, is home to a lake named Ontario Lacus, in honor of Lake Ontario.
Best things to do at Lake Ontario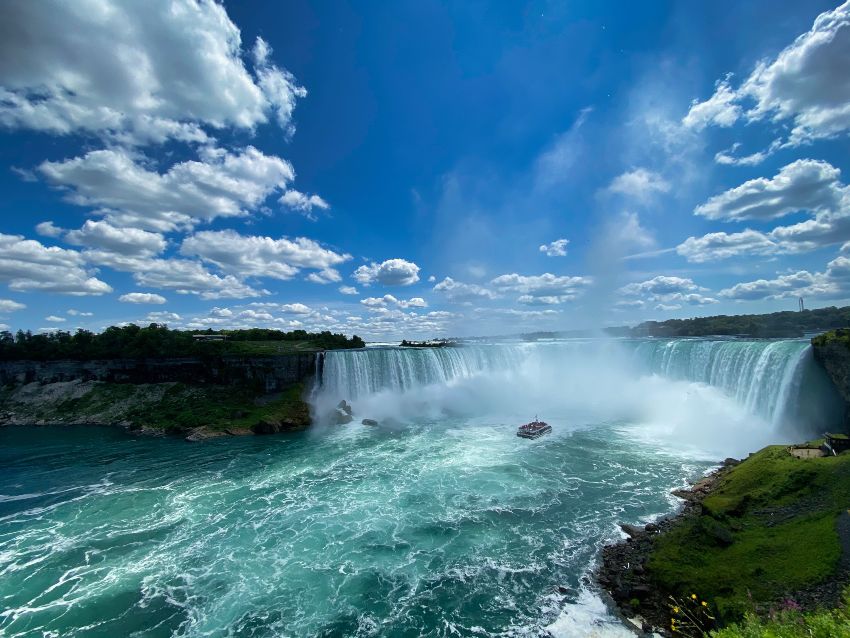 While not directly on the lake, one of the most famous attractions around Lake Ontario is Niagara Falls.
The monumental falls are something everyone should visit at least once in their lifetime, and is truly an unforgettable spectacle.
While it used to be a much more spiritual location, Niagara Falls is still an impressive sight now that is more tourist.
You can book your spot in one of the many boat tours to admire the falls up close.
For an exciting day on the lake, you can't go wrong visiting Scarborough Bluffs on Lake Ontario.
The bluffs are a naturalistic wonder, offering an unparalleled scenery of rock vertically overlooking the deep blue lake water.
You'll also find plenty of opportunities for hiking, camping, and biking around Scarborough Bluffs Park.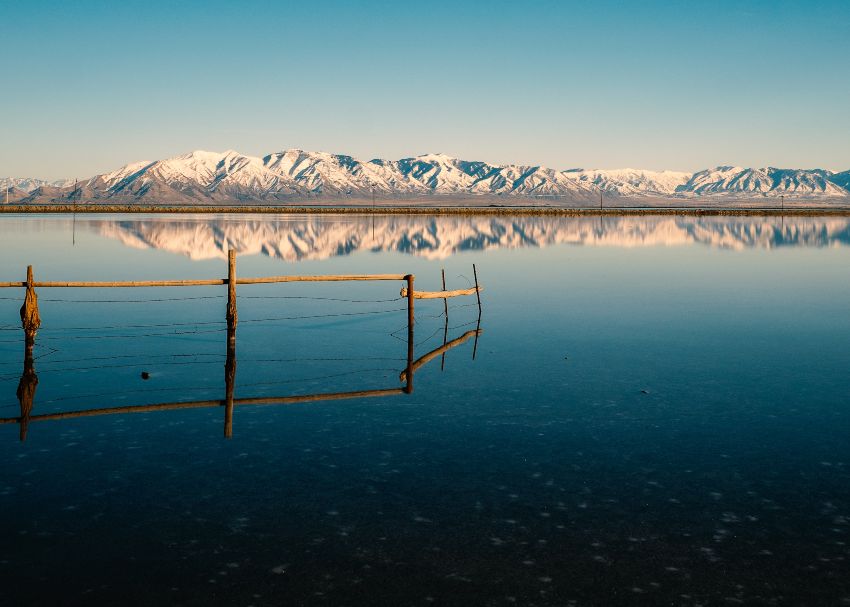 Facts and Figures on Great Salt Lake
Great Salt Lake has a surface area of 950 square miles and an average depth of 16 feet.
Why is the Great Salt Lake so salty? The lake does not have any outlet for the salt that the tributary rivers every day carry to its waters.
When the water evaporates, the salt is left behind with nowhere to go, creating an environment mostly unsuitable for life.
Best things to do at Great Salt Lake
Great Salt Lake is a mesmerizing lake destination, characterized by a unique landscape and environment.
The high concentration of salt in the lakewater, as well as on the lakeshores, creates a very rare ecosystem.
If you're planning a scenic road trip, discovering the many beaches at Great Salt Lake could be the idea you were looking for.
A great itinerary could start from the artistic Spiral Jetty Beach, then move to the more touristic Sunset Beach and Silver Sands Beach, and end up with sunset-watching and camping at Antelope Island Marina.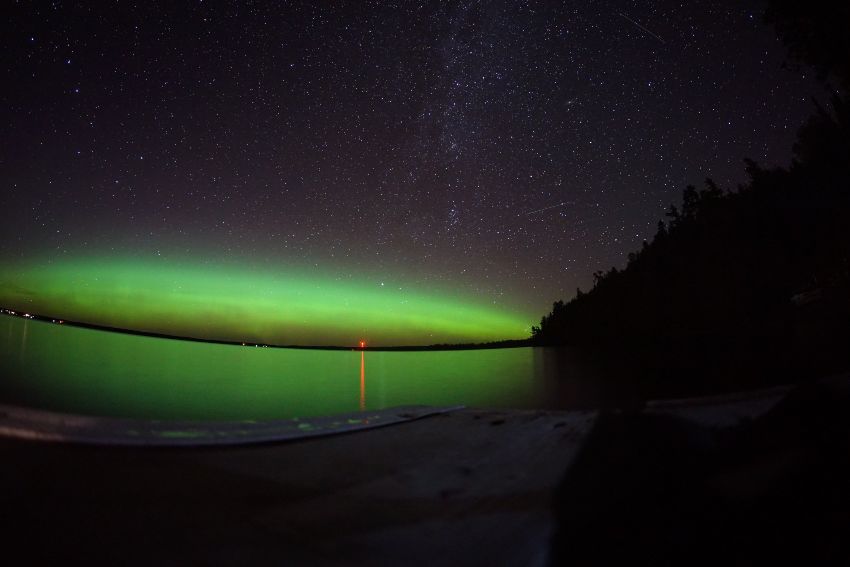 Facts and Figures on Lake of the Woods
The lake covers 1,679.5 square miles and reaches 210 feet in depth.
Lake of the Woods shore length variates drastically depending on whether you include islands or not. The shore length of the lake alone is 25,000 miles, but counting the islands, it reaches 65,000 miles.
Best things to do at Lake of the Woods
Lake of the Woods is located in Northwest Minnesota and is a beautiful place to visit in the winter.
With its clear blue skies, sparkling waters, and snow-covered trees, the lake offers many things to do during its winter months.
But the real attraction at Lake of the Woods in Minnesota has to be the Northern Lights.
You can actually witness the aurora borealis within the US by reaching the northernmost lakeshore. Be sure to schedule your visit at night, preferably between 9 pm and 4 am.
More Amazing Lakes In The US You Haven't Seen Yet
There are so many lakes in the United States that it's impossible to list them all here, but luckily for you, I've narrowed them down to the best by state: check out the most stunning lakes in Illinois, Missouri, Arizona, and Texas.