The hot springs in California are either set in the middle of a natural preserve or enclosed within a resort with all the modern facilities of a luxurious hotel-spa.
Just like visiting hot springs in other parts of the country, spring is the best time to visit outdoor California hot springs since there is snow in the winter and the temperatures soar above 100 degrees in the summer. However, indoor hot springs can provide a good soak to visitors at any time of the year.
Whether you're looking for a free and primitive hot springs experience in the great California outdoors, or prefer the comfort of hot springs with a spa-like treatment, you'll have a ton of options around the state. Here are just 25.
10 Off-the-Beaten-Path Hot Springs in California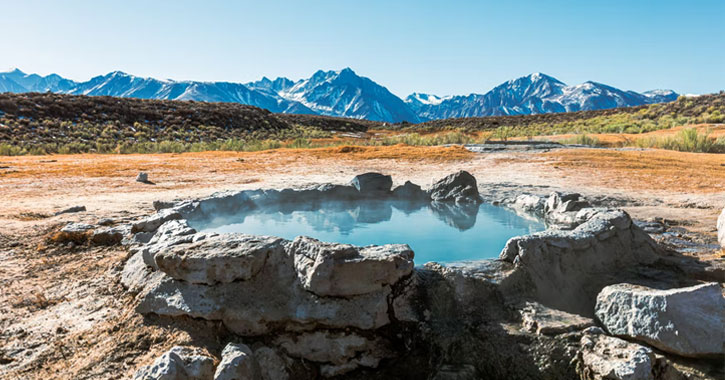 Pictured above, this is just one of the many free hot springs California has to offer.
Crab Cooker Hot Springs, featuring a manmade cement tub with water piped from a mineral spring 30+ feet away, is located on land owned by the Los Angeles Department of Water and Power.
It's definitely rough with no bathrooms, trash cans, and any other comfort facilities nearby, but it's an experience you can have without fees if you're nearby.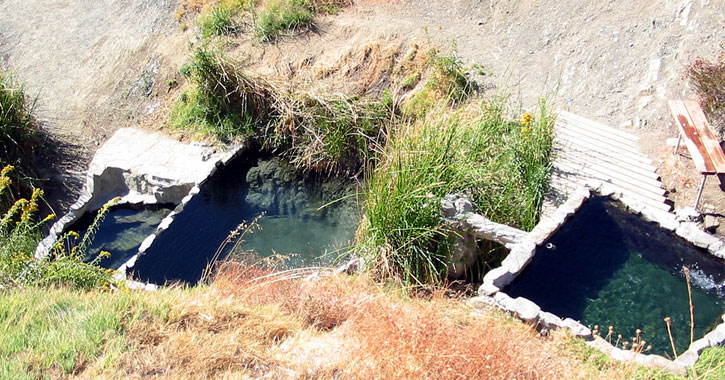 Found in the heart of Los Padres National Forest about north of Santa Barbara, these groups of hot springs (you guessed it: some big, some small) are found at the end of a 9-mile dirt road.
It's perfect for those who also want a challenging hike.
This clothing-optional natural hot springs spot is one of the most popular natural hot springs in Southern California.
It's part of the Pacific Crest Trail and is located in the San Bernardino National Forest.
There are 3 different thermal pools here with temperatures reaching 100 degrees, and if you're ready to cool off, there is a river nearby to swim in.
Located northeast of Bakersfield, this natural hot springs near Kern River is a secluded group of 5 pools with 123° Fahrenheit water.
It can be challenging to get here since the property owner near it is infamous to claiming it is unlawful to access.
But Delonegha Hot Springs is on public land and is free to visit.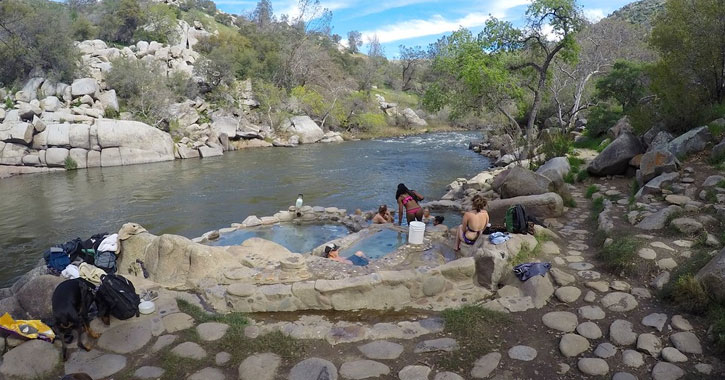 Remington is a popular spot for those who want to experience soaking in hot springs for free.
These 3 geothermally-heated, man-made pools are not developed, but they're well-maintained thanks to locals watching over them.
They're a perfect nature trip, if you're up for a quick hike to the Kern River.
Perfect for adventurers who love to camp and are fit enough for a more strenous hike, the trail going to Jordan Hot Springs can be the weekend getaway you're looking for.
The area offers two pools (a larger and deeper pool that can fit a group of 6 to 8 people and a smaller 1 to 2-person shallow pool).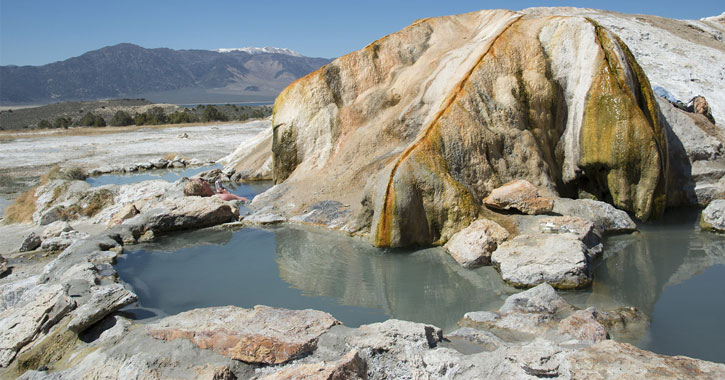 People go to Travertine not just to soak in the mud-lined geothermal pools.
Even nature photographers marvel at the beauty of these natural pools located just outside Bridgeport and the backdrop of the nearby Sierra Nevada mountains.
The pools' mud lining is known to have natural healing powers, so visitors coat themselves in this mud while they enjoy around 180°F of mineral water. There are no lodging and facilities nearby.
If you're visiting the wine country of Paso Robles, make sure to visit this privately-owned destination.
Compared to other hotel-level California hot springs, Franklin Hot Springs has a super-cheap entrance fee ($7 for adults, $5 for 14 and under) that already includes fishing, boating, and access to the mineral hot spring.
There are also camping options (for extra fees) if you want to stay overnight.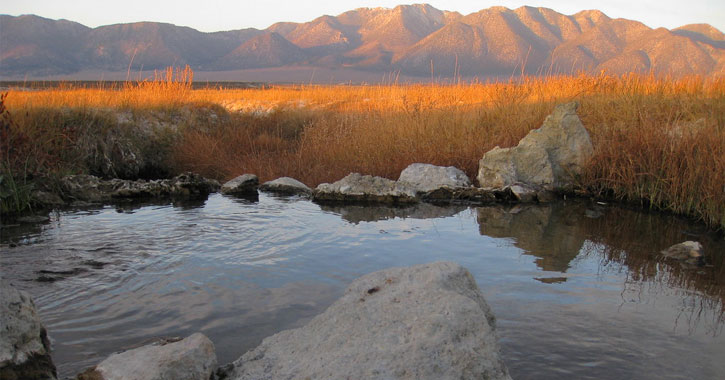 Also known as Crowley Hot Springs, Wild Willy's features two geothermally-heated hot spring pools (bigger pool can fit up to 20 people, while the smaller one fits 2-3 people).
Both offer a view of the Sierra Nevada mountains.
And because it is inside the Bureau of Land Management's property, guests can camp if they're OK with no facilities.
For those interested in a scenic, long and challenging hike, the trail going to the Willet Hot Springs can be an unforgettable experience.
Guests can drain the man-made pool via a plug, clean, and refill it with geothermally-heated mineral water within an hour.
You can camp nearby for free since the pool is located within the Los Padres National Forest.
10 Resort-Style Hot Springs in California
If you have the money to splurge, these 10 hotels and spa destinations in California can give you a hot spring soaking experience you won't forget: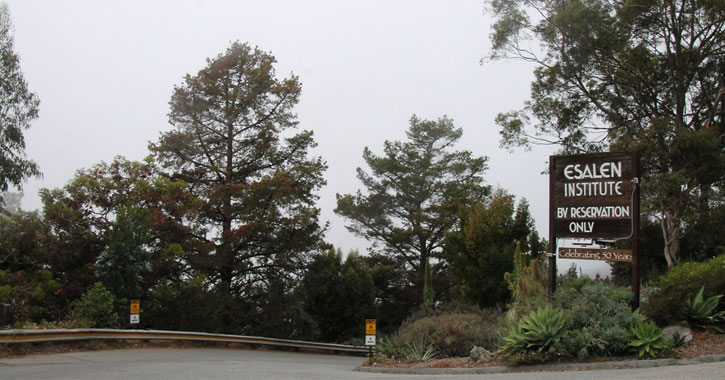 Esalen Institute houses some of the best hot springs in California, even if it is more known as a spiritual retreat center.
The views are impressive – you're on top of a hill with an expansive view of the Pacific Ocean in Big Sur.
You'll have several geothermally heated mineral water pools to choose from, but I recommend you take the moon bathing option (nightly from 1 am to 3 am) for a one-of-a-kind experience.
It's the only natural mineral spring spa in Los Angeles.
Discovered accidentally in the 20s while digging for oil, this mineral spring source is ideal for both drinking and bathing.
The spa has an array of massage, sauna, steam baths, and other relaxation services available to soak the stresses away.
The Spring Resort and Spa only has 9 rooms, so you'd really have to book way in advance to be able to visit this intimate resort.
The spa is located in a town where water underground rise to 77°C, so enjoy soaking in any of the 3 hot spring pools or get a luxurious spa treatment like salt scrubs or a Finnish sauna.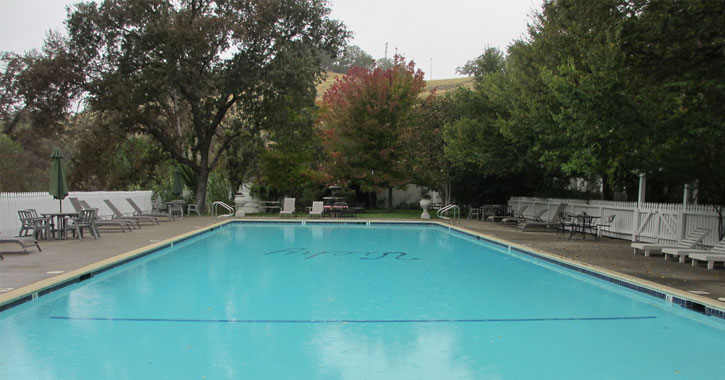 This destination has been around for over 150 years.
It features carbonated mineral baths, a 40°C hot pool and an Olympic-size swimming pool.
Guests can spend overnight in any of the cottages, then take a quick 30-minute walk to the Chemisal Falls where you can enjoy a cold pool by the creek.
If you're trying to pop the question and are looking for the best of the best California hot springs, this 1870s Sierra Hot Springs 700-acre resort would probably fit the bill.
There are private tubs and public pools (all of which are filled up with hot mineral water ranging in temperatures from 29.5°C to 43°C.
The most famous pool is housed in a dome with stained glass, jaw-dropping skylights perfect for stargazing.
Of course, spa and massage services are available here as well.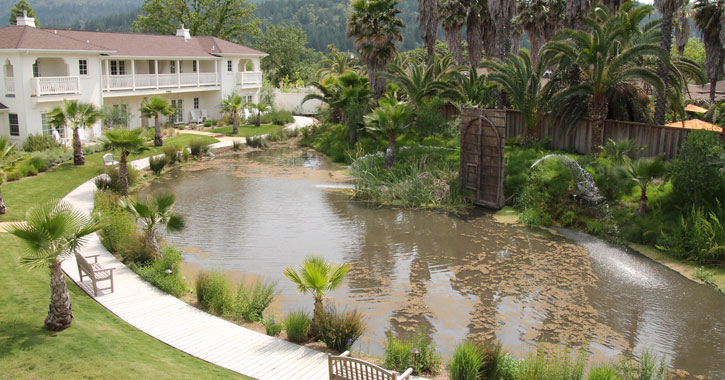 As one of the town's oldest hot spring (it's been around since 1861), Indian Springs is known to both locals and tourists for its detoxifying treatments, authentic Napa Valley cuisine and good wine options.
There's a mud bath and an Olympic-size mineral-water pool. And good food and wine.
Also located in California's wine country, Calistoga Spa Hot Springs is home to a wide range of whirlpools, soaking tubs, kiddie hot spring pool, and Olympic-sized lap pools – all of which are naturally heated by hot spring water pumped from a nearby source.
The spa features many popular massage and spa services, such as its volcanic ash mud bath.
Located in California's Coachella Valley, this full-service spa has relaxing facials, body treatments, massages and hot spring soaking options (a big pool, jacuzzis and smaller pools) with mineral water temperatures ranging from 90 to 102 degrees Fahrenheit.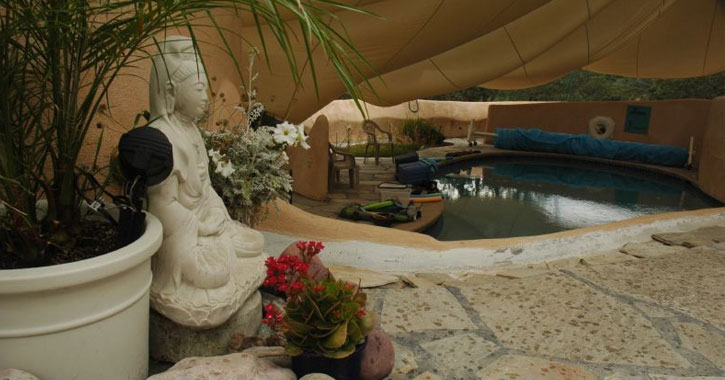 Named after Matthew Harbin, a pioneer who settled in the Lake County area, this hot spring retreat and workshop center is definitely an IG-worthy destination.
You can choose from dome, cottages, rooms, and creekside caravans as accommodation.
It has a full-serve retreat and spa options with several spring-fed pools located both indoors and outdoors.
Located north of Los Angeles, this 100+ year-old hot springs resort is located at the entrance to Avila Beach and Port-San Luis Harbor.
It's a family-friendly hot springs with indoor and outdoor soaking options (there are pools with slides for kids).
Aside from rooms, tents, RV sites and cabin rentals are also available.
5 Hybrid Hot Springs in California
If you want to experience both natural hot springs, while enjoying good food, real beds, and other modern facilities, the following hot springs in California will give you the best of both worlds: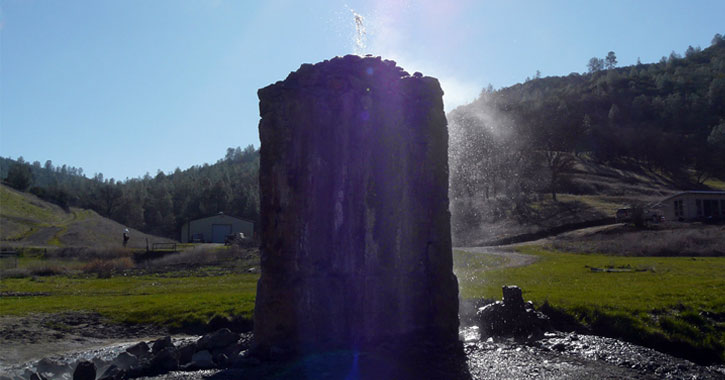 There are cabins, private lodges and camping spots available within the 1,800-acre nature reserve with naturally occurring hot mineral springs.
Out of the 1,100 known geysers on the Earth, Wilbur Hot Springs has one (known as the Fountain of Life) that "erupts" every 45 minutes and it is definitely a cool sight to behold.
This spot isn't just for those looking for a legit hot springs experience.
It's for anyone who cherishes spectacular views of nature since it is smack in the middle of picturesque Yosemite and Kings Canyon National Parks.
While you soak, be at peace by the views of Sierra Nevada Mountains. There are tubs outside, a large bathhouse and indoor spa – all with geothermally-heated mineral water controlled by Mono Hot Springs.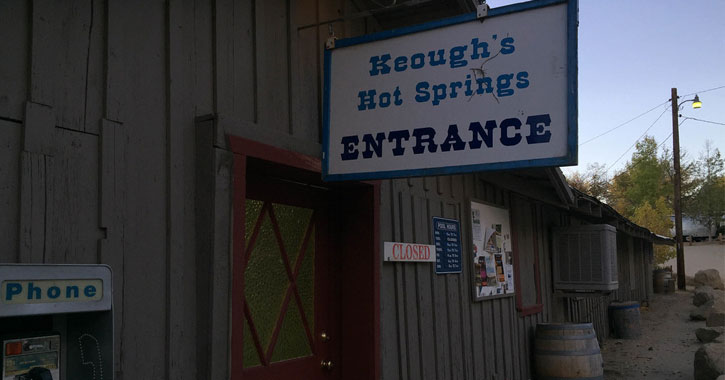 Keough Hot Springs is the "largest natural hot springs pool in the Eastern Sierra."
The pools here are fed six hundred gallons of 127-degree water flows from the ground each minute.
It has been around since 1919, providing both locals and tourists with a relaxing hot springs experience with its two large pools for over a century.
Mercey Hot Springs is a rustic, historical 144-acre resort located on the western edge of Fresno County.
It offers 20 therapeutic hot soaking tubs for solo use and geo-thermally heated mineral water swimming pool.
It is one of the only hot springs with its own 9-hole disc golf course. This is a popular spot for star-gazing as well.
Out of all the hot springs California has to offer, the Inn at Benton Hot Springs is probably my favorite because of the privacy each hot spring pool provides. It's like you're renting your private hot spring tub for a couple of hours, for a fee, of course.
Each of the 12 hot tub sites here is fed by natural hot spring water.
These hot tubs aren't pool-sized, but they're big enough for a group of 2 to 3 people. Each site also comes with a picnic table, fire grill and pit, individual restroom (5 of the 12 sites) and space to park your car or RV nearby.
There Are Even More Hot Springs in California
These 25 hot springs in California are just some of the most popular ones. As you can see from this California hot springs map, there are A LOT more to explore.
If you're in Idaho and are exploring hot springs, check these must-see hot springs near Boise.