There is something magical with hot springs in the US and around the world.
Whether you're just amazed at how jaw-droppingly beautiful the hot springs and its backdrops look like, or marveling at how Magma (from way below the surface of the earth) heats this water and creates thermal spring at temperatures substantially higher than the air temperature of the surrounding region… everyone should visit at least one of the hot springs USA has to offer.
If you can only visit one or two natural hot springs at a time (or only a few throughout your life), then I suggest you visit the best first. This post should help you narrow down the choices and pick which hot springs to add to your bucket list.
Where do you find the Best Hot Springs in the US?
So where are the best hot springs in America located?
Many beautiful natural hot springs are found in Alaska, Washington and Oregon. But the Mountain states, Arizona, Colorado, Idaho, Montana, Nevada, New Mexico, Utah, and Wyoming in particular, are known for their thermal springs.
According to the U.S. National Oceanic and Atmospheric Administration, there are 1664 hot springs listed on the official NOAA Thermal Springs List. About half of this number is situated in the States of Idaho, California, and Nevada, each of which contains more than 150 thermal-spring localities.
Wyoming, which is where you'd find the famous Yellowstone National Park, contains more than 100 hot-spring localities.
Of course sometimes, it isn't about the quantity. For example, Hot Springs in Arkansas is a resort city federally protected due to being home to 47 of the best hot springs for which the city was named. It is fondly called "America's spa" for a reason.
Top 20 Hot Springs in the US
I've broken this list down in 15 natural hot springs and then added on 5 more "luxury" hot springs that can be found at gorgeous resorts.
Let's start with the 15 natural hot springs…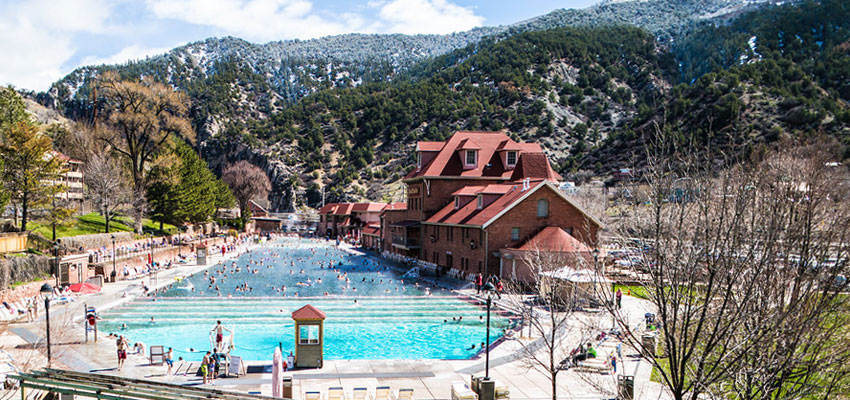 This luxury resort is named the world's largest hot springs pool. It features a spa, several pools, water slides, and even a mini golf course. And my favorite part about this resort, is the jaw-dropping views of the Rocky Mountains that you can take in throughout your stay there.
The Ute Indians, who first lived here, called the springs Yampah or "big medicine," since there are 15 different minerals found in the waters that provide therapeutic benefits.
RV camping allowed here, plus hotel-like accommodate if you have the cash.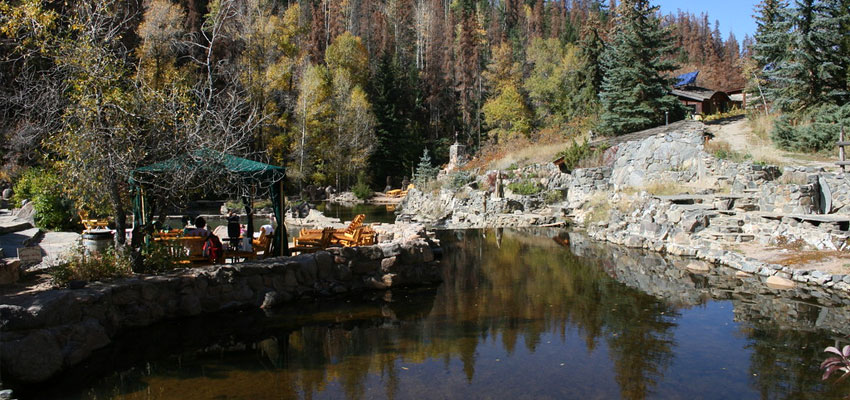 Another popular hot springs in Colorado is located in Steamboat Springs, mostly because folks who came for skiing at the nearby slopes go here to soothe their achy bodies. It is also as beautiful as Glenwood, since Strawberry Park Hot Springs is also nestled between the rustic Colorado mountain setting.
If you want to get adventurous, the hot spring pools here are ADULTS ONLY at nighttime and clothing is just optional.
Unfortunately, RV camping isn't allowed here, but you can go to nearby Steamboat Springs if you're traveling with an RV. There are also cabins available for overnighters at Strawberry Park.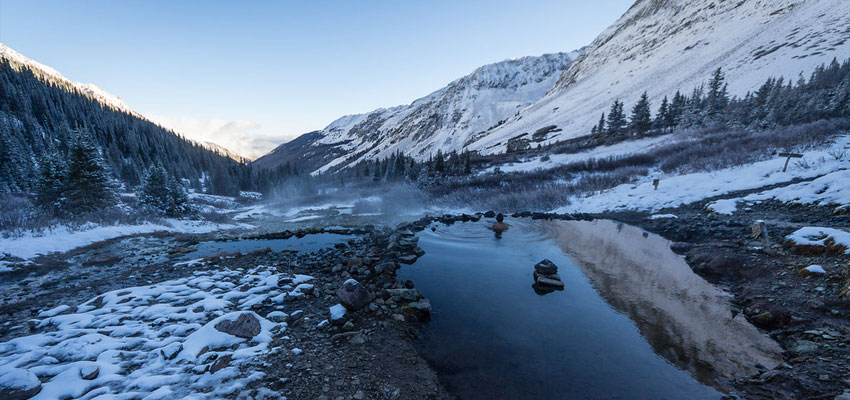 Ready to rough it out? To get to Conundrum Hot Springs, you have to hike 8.5 miles up (it is 11,200 feet in elevation). But you'll soon understand why that hard work is worth it once you see the incredible views and get to soak at the warm natural springs.
You can camp out near the springs (from 3 to 7 days max), but note that this spot is pretty popular so your reservation doesn't guarantee you'll be enjoying Conundrum Hot Springs exclusively. After all, it's still a public place.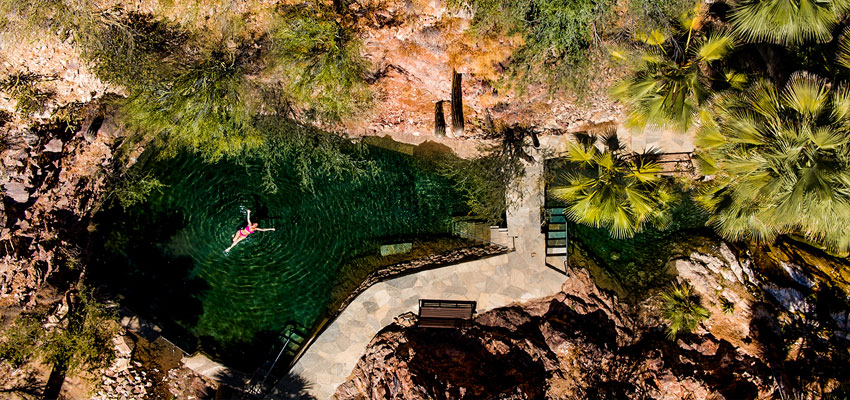 This is where you'll find the hottest non-volcanic natural spring in the world. Perfect for couples exploring Arizona's nature and the Sonoran Desert, Castle Hot Springs is only for 16 year-olds and above.
Castle Hot Springs made three pools and in-room indoor tubs, all of which get streams of hot springs from natural waters. The resort has a farm-to-table approach to dining and has yoga, spa, biking and bocce ball facilities.
Heads up to those planning to go here: you can only ride a helicopter to reach Castle Hot Springs, or use a 4×4 to survive the dirt road leading to this place.
If you're after a full-on getaway, Hot Springs in North Carolina (just across the Tennessee border) is a place you'd definitely remember. This 100-acre resort is located along the famous Appalachian Trail and is the only hot springs in North Carolina.
Perfect if you're looking for peace and quiet, Hot Springs Resorts & Spa is also home to the Broadwing Farm, RV camping, and spa facilities. If you have money to splurge, rent one of the cabins to enjoy the private tub with water coming from the French Broad River.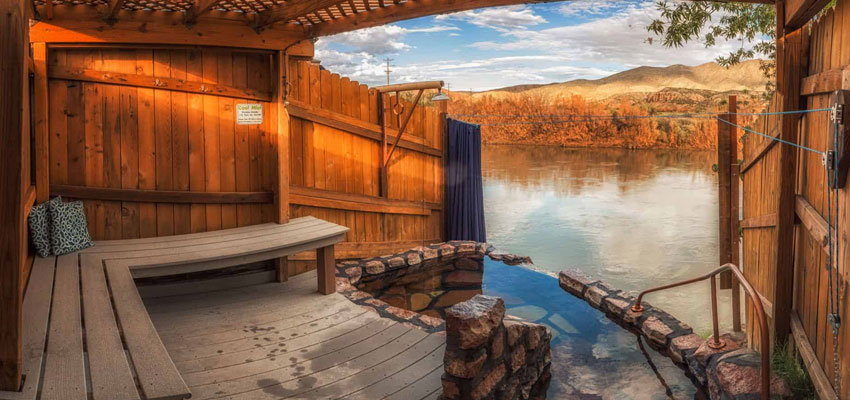 The Riverbend is located in the historic town of Truth or Consequences, near Spaceport America. You'd want to check out the sunset here, as views of Turtleback Mountain and the Rio Grande River while you soak peacefully in this hot springs spa and resort will be a one-of-a-kind experience.
Kids are not allowed here, mostly to keep the Zen-like atmosphere and really be one with nature. There are options for both public and private pools, as well as different accommodation options to match your budget.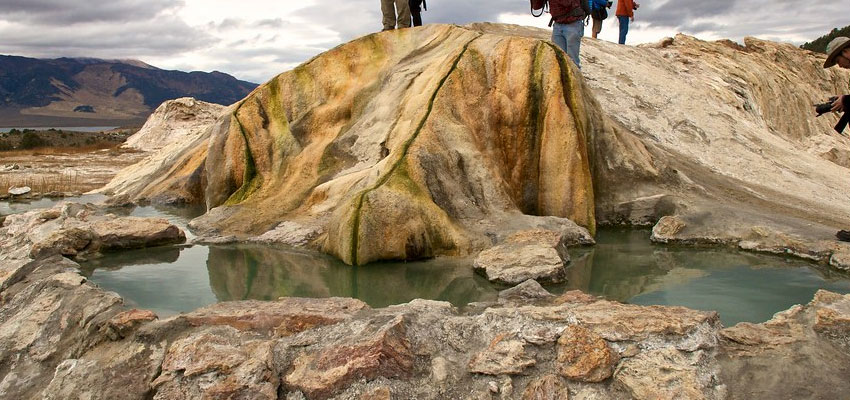 The Travertine Hot Springs is a public spot made famous for the group of geothermal mineral springs located on California State Park, near the town of Bridgeport. This spot requires a hike up, so be ready.
For years, volunteers try to contain the water with wood-and-concrete enclosures for these primitive rock-made pools, so everyone could enjoy a dip into these springs while marveling at the views of High Sierra mountains.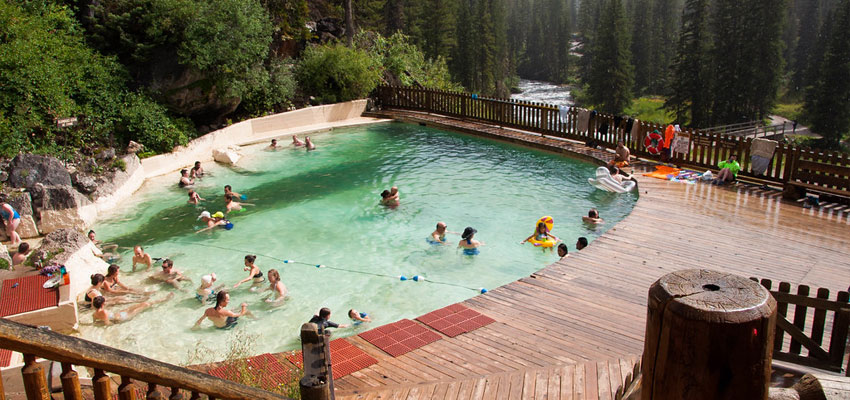 Found in between the Gros Ventre Mountains, just an hour drive outside of Jackson, the Granite Falls Hot Springs is a public spot (although reservations are accepted for 25 people at a time) with water flowing from  Granite Creek Falls.
There is a campground and onsite bathrooms, but you'd mostly be roughing it out here. Granite Falls Hot Springs is open year-round, but it is only accessible via snowmobile, dog sled, skiing and via fat biking during winter months.
This state-run park is located near Yellowstone National Park. Its free bathhouse is legendary for views of bison roaming free just nearby while you soak on 104-degree thermal pools. These free-to-use bathhouses are available both indoor and outdoor, so you can choose to relax after fishing, camping, boating, or completing one of the many hiking trails of the park.
Hot Springs State Park is open all year-round (except for Thanksgiving & Christmas Day), but since it is a day-use park, don't expect any overnight camping available.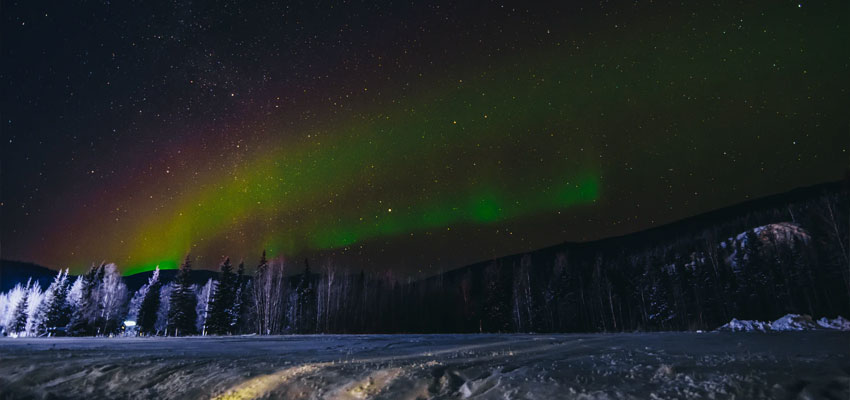 Chena Hot Springs has been around since the early 1900s. It has a popular outdoor hot springs lake only for adults, plus an indoor heated pool and hot tubs both inside and out.
There are private cabins, lounge rooms, guest suites and RV camp sites, but there are some challenges such as cabins only accessible by stairs or cabins without running water.
But people still flock this location because you can have an amazing view of the Northern Lights from here. There's also the Aurora Ice Museum and numerous winter opportunities.
If you're visiting Salt Lake City and you want to go on a unique hiking adventure, check out the Three Forks Trailhead in Diamond Form Canyon and follow the path. Be ready, since these natural springs requires 2.5 miles of hiking with 700 feet in elevation gain.
Once you reach the waterfall, you'd be welcomed by several hot tubs outdoors with bright blue waters with a hint of sulfur smell. If you're traveling in an RV, there's camping at the Diamond campground nearby.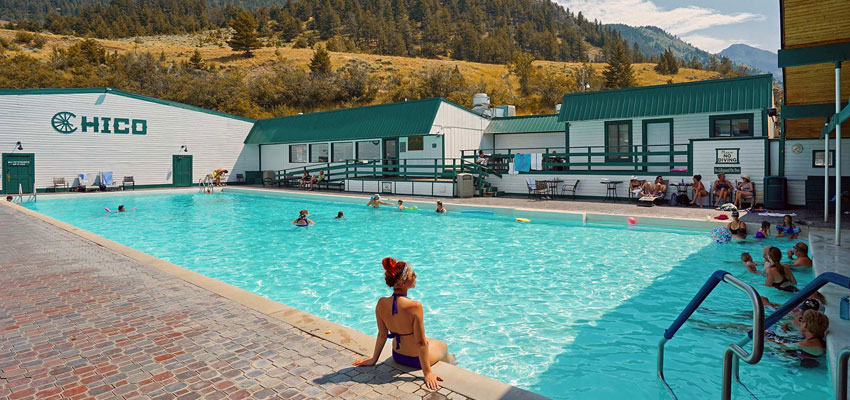 Chico Hot Springs has been a favorite of both locals and tourists in over 100 years. It is located at the base of Emigrant Peak, which makes it a perfect accommodation and reward after a strenuous hike.
The resort itself has spa facilities and different lodging options, from inns to cabins, RV campsites to luxury glamping. If you rent out any of these, you're allowed to dip in one of the two outdoor spring pools at the resort and marvel underneath the amazing Montana sky.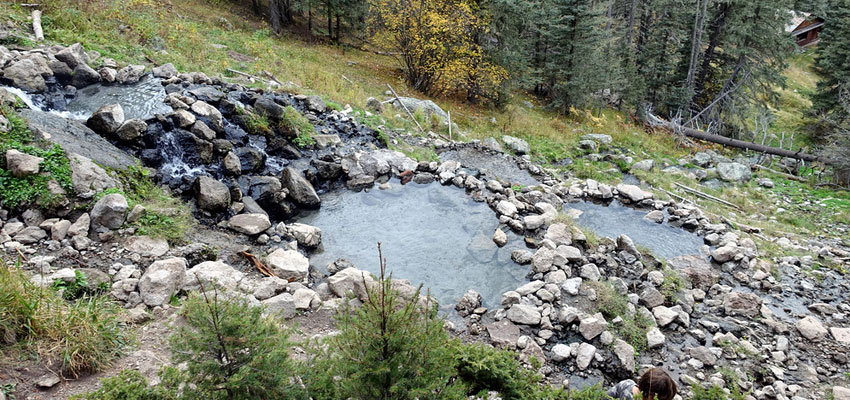 The San Antonio Hot Springs is located in the heart of Sante Fe National Forest, but in order to reach the famous hot springs at the top, you'd have to go through a 5-mile hike. Ask anyone who has gone and they'll say that hike is definitely worth it.
The place is surrounded by a cool backdrop of the valley, creek and forest.  The only problem here is that you'd have to schedule your trip early (aim for a hike just after sunrise), or else you'd be fighting for one of the several pools against 50 or more people at a time.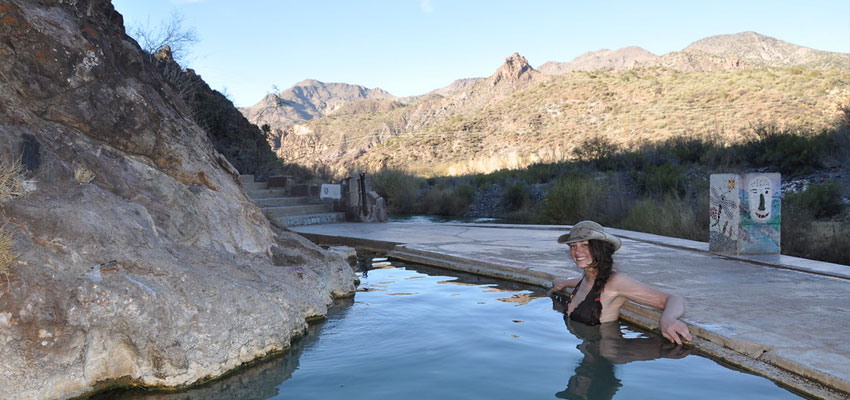 Located in the middle of Payson, Arizona, these pools are remnants of what was once a famous resort. Today, even if the resort isn't there anymore, people still flock the spot because of its cliffside location with a spectacular view of the Verde River.
Just be sure you're ready to hike, since the Verde Hot Spring trail requires moderate hiking and the dirt road that leads to this trail is quite long. Check Instagram and you'll immediately fall in love with colorful painted walls that tell you from afar that the pools are near.
The best part? It's free to take a dip on any of these pools.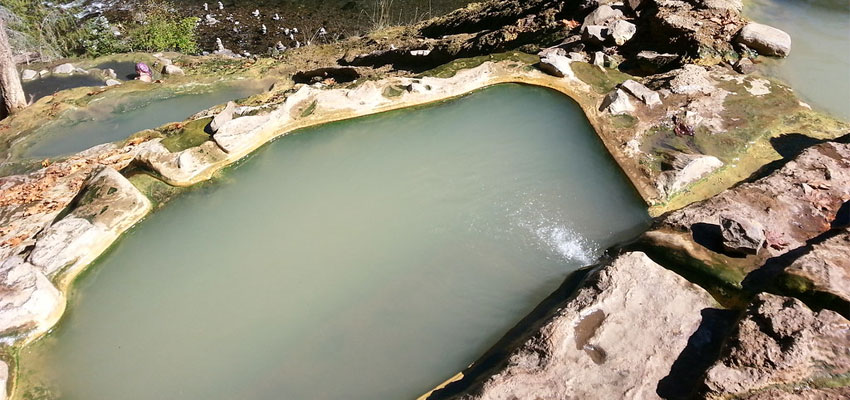 To get here, you'll hike a .3-mile trail (part of the North Umpqua Trail), which has moderately steep and sometimes rough paths. On winter months, Umpqua hot springs is trickier to visit since this upper trail closes and you'll need to pass elsewhere.
This geothermal spring is a favorite of Instagrammers and those seeking "clothing optional" pools. Nevertheless, these public pools remain a memorable stopover for hikers in desperate need to soothe their aching muscles.
There are picnic tables, two campsites, a toilet and The Toketee Falls nearby, so Umpqua Springs isn't entirely just surrounded by the river and trees.
Luxury Hot Spring Resorts
If you don't want to rough it out, have money to spare and is looking to visit the best of the best spa-like resorts, here are some recommendations to check out:
Do you know other must-visit outdoor pools that are fed by Mother Nature? I'd love to hear which springs you've found and if they can be included in this list of the best hot springs in the US.