Your Zion National Park visit may be interesting because of the many spectacular attractions, such as the Weeping Rock, Desert Waterfalls or the Kolob Canyons, but it wouldn't be as memorable if you didn't explore some of the best hikes in Zion.
Hands-down the best way to see Zion National Park is to get your boots dirty and hit the trail, or in this case, several trails that offer something different to the table.
There's a reason people flock to National Parks all year-round: every sweat you take from these trails lead you to views of majestic proportions.
If you're after the best hikes in Zion, I'm listing all my favorite ones. Not all can accommodate beginner hikers or young kids, so take note:
Best Hikes in Zion for Families and All Skill Levels
The following Zion trails would work for groups with varying skill levels:
1. Canyon Overlook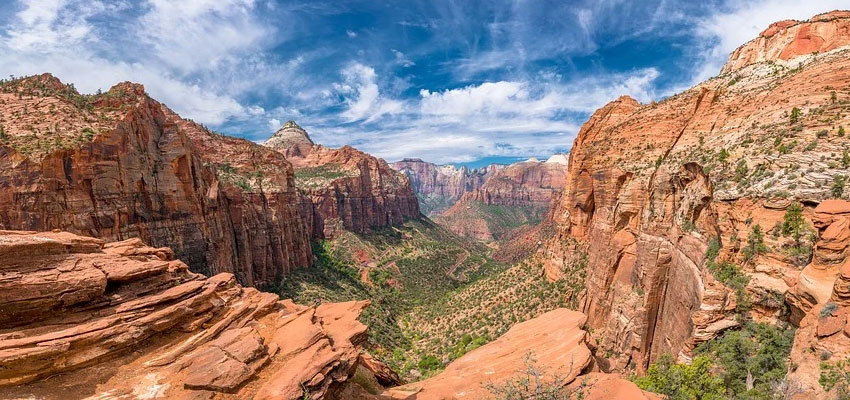 Reason to go: It's one of the best short hikes in Zion
Time/distance: 45 minutes; 1 mile
Best time to visit: sunset
Starting point: Hike off the Zion-Mount Carmel Highway
Recommendations: Not ideal for young children (some ledges are narrow or without barriers)
Even the shortest hike in Zion provides amazing views over the valley. The trail curves at the side of a mountain and with steps leading to a series of ledges with metal railings, a wooden walkway and a cave-like point with views of the Towers of the Virgin, Pine Creek Canyon and impressive rock formations called hoodoos.
2. Weeping Rock
Reason to go: To witness the steady supply of "tears" dripping out off a cliff's wall
Time/distance: 10 minutes, half-mile
Best time to visit: sunny days
Starting point: Go to the 7th stop on the Zion Canyon Shuttle (Weeping Rock Trailhead), turn left to hike up the paved trail and you'll arrive in several minutes.
Recommendations: Not ideal for those on a wheelchair and young kids (when raining)
As its name suggest, this unique natural attraction features a large alcove carved into a cliff fall where eroded sandstone can be seen with water weeping out of them. This is made more spectacular with a hanging lush garden right below it. The hike to reach this place is very quick, but can be challenging when large waterfalls form during rainstorms.
If you're planning to go on a hike to the Deertrap Mountain, Cable Mountain, East Rim Trail, Hidden Canyon and Observation Point, the trails begin at the Weeping Rock Trailhead as well.
3. Riverside Walk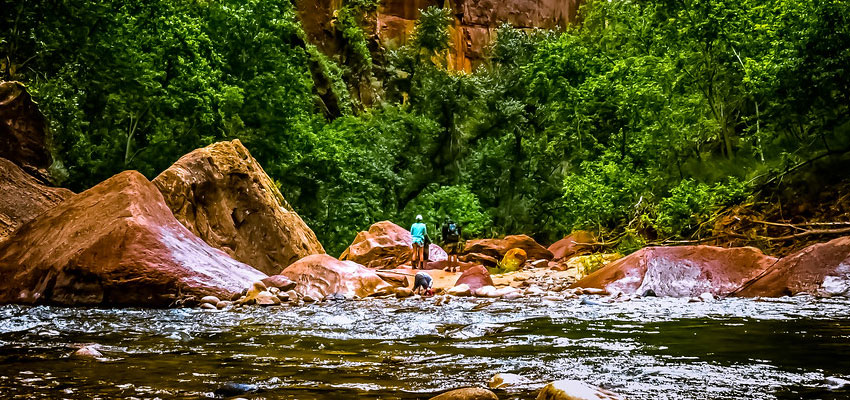 Reason to go: Close-up of weeping cliffs and the Virgin River
Time/distance: 1.5 hours, 2.2 miles (two-way)
Best time to visit: summer and light rain
Starting point: From the trailhead at the Temple of Sinawava (9th stop of the Zion Canyon Shuttle)
Recommendations: Family-friendly trail
As its name suggest, this trail leads you through the banks of the Virgin River. This trail is paved, which means it can be friendly even to young kids. If you're lucky to visit when there's some rain, the cliffs on one side showcase a gorgeous waterfall amidst the lush hanging gardens.
This trail ends where "The Narrows" begin, so you could either go straight ahead and continue your adventure or go back near the Temple of Sinawava.
4. Watchman Trail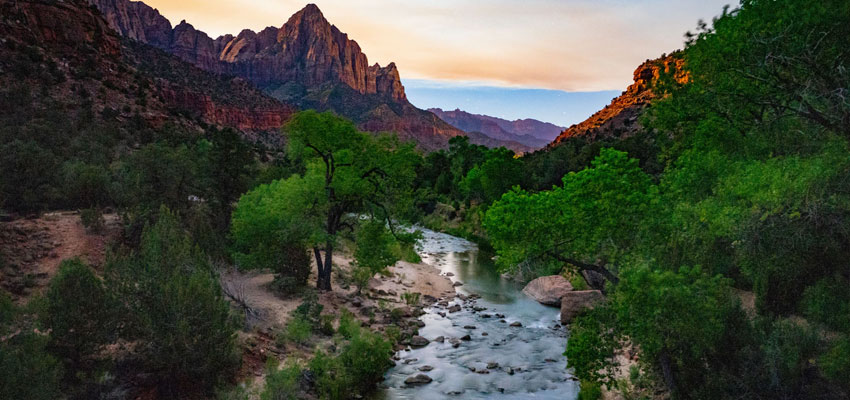 Reason to go: Miles and miles of scenic views of the Zion National Park's cliffs, Piñon pines and Utah junipers
Time/distance: 1.5 to 2 hours; 3.3 miles round-trip with 368 feet elevation change
Best time to visit: Anytime, except the peak of summer
Starting point: Zion Visitor Center (Shuttle stop #1)
Recommendations: Moderate difficulty, but kids could still come along on this trail
The 3-mile Watchman Trail is less-crowded than the popular Zion trails Angels Landing and Observation Point, but provide enough challenge for advance-skilled hikers both young and old.
The trail begins half a mile on a flat section, then gradually heads uphill to Zion Canyon. Right when the trail becomes a bit challenging, you'll suddenly realize you're near the overlook as the trail flattens out.
The end of the trail leaves plenty of views to love, from the Towers of the Virgin and Canyon to the north, then Springdale to the south.
5. Pa'rus Trail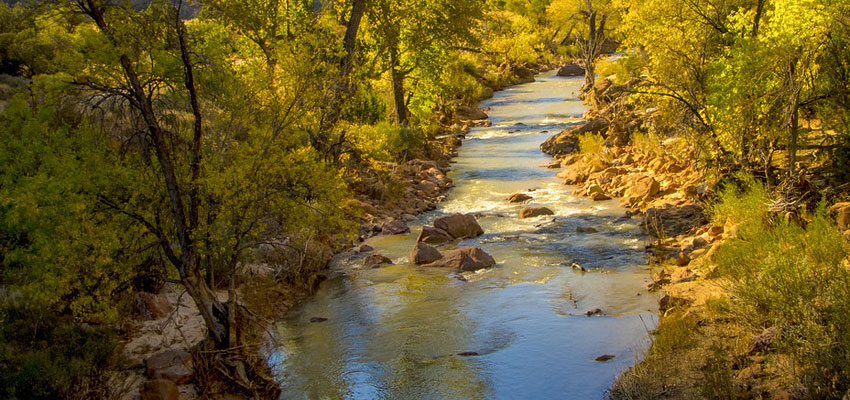 Reason to go: Charming bridges and small waterfalls
Time/distance: 1-2 hours; 1.7 miles one way
Best time to visit: Visit Spring or Fall when it's the most pleasant; summer can be very hot.
Starting point: North of the Zion Canyon Visitor Center (Shuttle Stop #1)
Recommendations: Skip this trail on hot summer days
Pa'rus is a Paiute word that means "white foaming water," so expect to see calming waters and super-lush gardens. It is also home to many gorgeous animals and birds. If you're a birdwatcher, go ask the Visitor Center about the free "What's Flyin' in Zion" ranger walks that are offered on the trail.
Out of all the best hikes in Zion, the Pa'rus trail is the only one that allows pets and bikes. It is also wheelchair accessible.
This trail is a favorite of photographers searching for the best sunsets. At the right spot, you'll be able to witness the Virgin River up close with The Watchman as backdrop as the sun sets and make everything shimmer with gold. Skip the Canyon Junction Bridge, where most people crowd at sunset. You can get the same views anywhere up the Pa'rus Trail.
6. Emerald Pools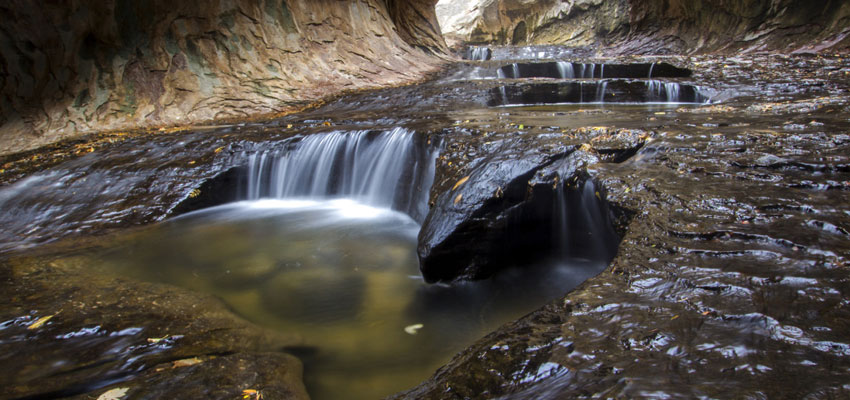 If you're after the best hikes in Zion with a memorable swim, take this trail.
Emerald Pools consist of three pools (known simply as lower, middle and upper Emerald Pools) within Zion National Park. They were once tinted green by algae, hence the "emerald" name, but the color has disappeared in recent years.
Any of the pools are best visited in the summer, but as you'd expect, the Lower Emerald Pool is easiest and become more challenging as you go higher to the Middle and Upper Emerald Pools.
Hiking time ranges from 1 to 2 hours, which is why expect it to be busy especially in the summer.
The Upper Emerald Pool takes over 2 miles to reach, but it is definitely worth the adventure. The pool is surrounded by sheer cliffs and is fed by a 400-foot waterfall.
7. Archaeology Trail
Reason to go: View the home of Ancestral Puebloans (aka Anasazi) between AD 700 and 950
Time/distance: 30 minutes; 0.4 miles (two-ways) with 80 feet elevation change
Best time to visit: Any day or season
Starting point: Near the Zion Canyon Visitor Center
Recommendations: Easy for all ages
This trail leads to a small hill that used to be occupied by Ancestral Puebloans between AD 700 and 950.
After archaeologists took about 1,500 artifacts from the site (all of them are now housed at the Zion Human History Museum), the site looks a bit empty, but still looks as fantastic as most cliffs found around Zion Park.
Best Hikes in Zion for Thrill-seekers
If you're physically fit and would love to run after some of the best hikes in Zion, you won't regret adding any of these 4 trails into your Utah itinerary:
8. Angel's Landing Trail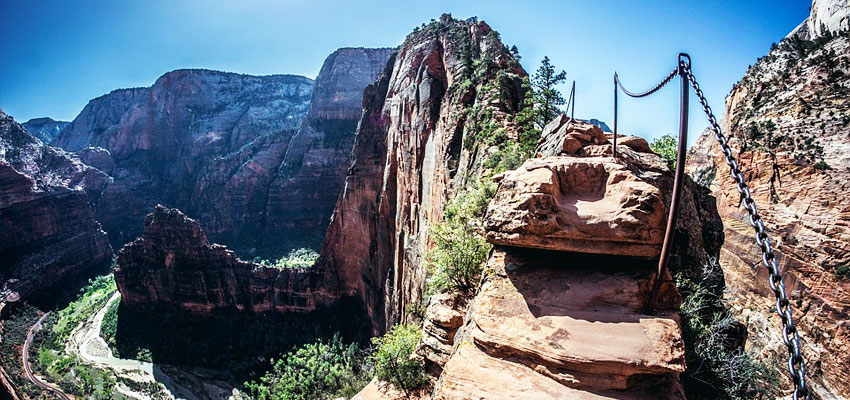 Reason to go: Spectacular views of the heart of Zion Canyon
Time/distance: 4 to 5 hours (5 miles round-trip with 1,488 feet elevation change)
Best time to visit: Early morning
Starting point:  Near The Grotto shuttle stop #6
Recommendations: Not for small kids or adults with fear of heights
Angel's Landing may not be family-friendly, but for adults who consider "challenging hikes" a priority for the best hikes in Zion, Angel's Landing would definitely deliver.
Expect a strenuous uphill, but then relax a little with a long, straight section beside Cathedral Mountain, Refrigerator Canyon's cooler section of the trail, the 21 zigzag steep switchbacks of Walter's Wiggles, and the final stretch of this trail, starting with the Scout Lookout, The Spine, and finally, the Angel's Landing summit.
The summit of Angels Landing is 5,790 feet above sea level. There is no guardrails, but there is enough space to marvel the 260-degree Zion Canyon views, even during peak hours. Be prepared for more hair-raising heights because you'll be going back the way you came up.
9. Observation Point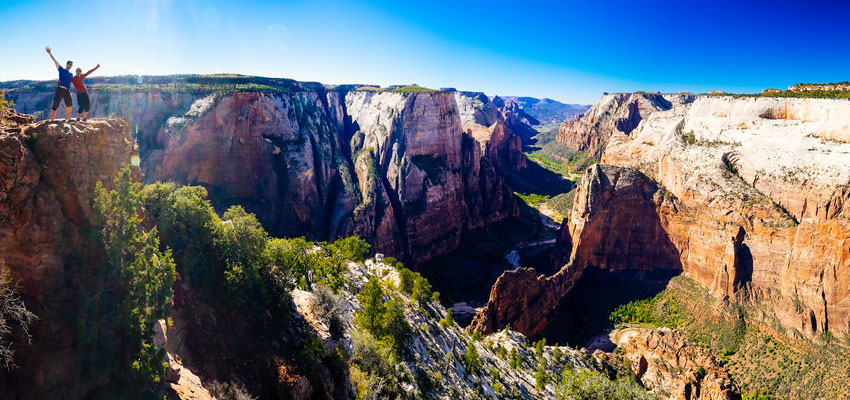 Reason to go: Views of Zion National Park that cannot be beat
Time/distance: 4 to 6 hours, 4 miles one way with 2300 feet elevation change
Best time to visit: Spring and fall offer the most comfortable climate ideal for a day's hike
Starting point: Weeping Rock Trailhead (the 7th stop for the Zion Canyon Shuttle)
Recommendations: Skip winter and stormy days
Observation Point is a pretty challenging trail. You'll begin sweating as you take off from the trailhead, but finally levels out as your reach the breath-taking Echo Canyon with cooler temperatures. If the hike proves strenuous for you, you can end your trail at the end of Echo Canyon. But if not, go ahead zigzag up the mountain and pass by yellowish sandstone rocks, occasional trees and plants, and once you see a bit of the Zion National Park and the trail begins to level out, you're finally near the Observation Point.
There won't be any railings once you reached Observation Point, but there are numerous ways to enjoy the views of the Virgin River, Angels Landing and the river valley of Zion.
10. Hidden Canyon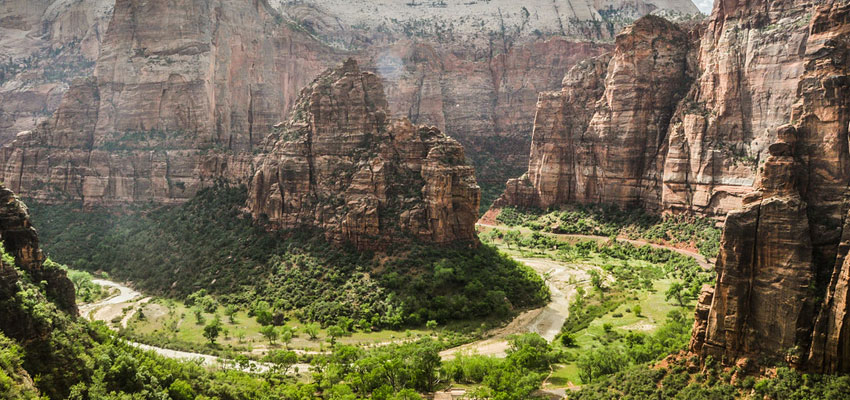 Reason to go: One-of-a-kind views of a classic hanging valley and
Time/distance: 3 to 6 hours; roughly 3 miles total with 1000-feet elevation change
Best time to visit: Spring, fall and early mornings of summer
Starting point:  Weeping Rock (shuttle stop #7)
Recommendations: Ideal only for people who have experience with uphill hiking 
As its name suggest, the Hidden Canyon is tucked away above the main canyon east of the Great White Throne.
The Hidden Canyon trail is characterized by steep switchbacks, narrow rock ledges with steep drop-offs, chained sections with exposed ledges, and perfect views of the Zion Park both from high up and down below.
This particular trail was carved by flash floods and is home to protect endangered Mexican spotted owls (you'll see a sign telling you not to head further once you reach the protected zone).
Zion Safety Information
Note that some of these trails may be closed off at certain times of the year. For example, The Weeping Rock Trail, Hidden Canyon Trail, and Observation Point Trail (East Rim from Weeping Rock) were closed off in late August 2018 due to rockfall damage, while the Lower Emerald Pools Trail was closed for trail repairs until Spring 2020.
If you choose the Angel's Landing, Observation Point and Hidden Canyon trails, you may expand your hike to an entire day or two.
You can check for these trail announcements at the official Zion Park website when planning your trip.
Almost all of these trails can be accessed from the shuttle, especially since parking is limited inside Zion. Many stopover to the town of Springdale, park their cars and use the shuttle going to their route of choice.
If you don't like to leave your vehicles behind, you can always drive the 12-mile Mount Carmel Highway or the scenic Kolob Canyons.
Which of these Zion hikes have you completed?
Please share your stories and experiences with me in the comments below!