Montana ghost towns will wow you like no other, especially if you have a special place in your heart for history, architecture, and exploring the remnants of former thriving communities.
Everything about the following abandoned towns is intriguing, mysterious, and hauntingly beautiful.
While some are now preserved by local agencies, others just sit slowly being reclaimed by nature.
If you're on a mission to visit all the ghost towns across the country, check out these eerie towns in Montana.
6-Must Visit Montana Ghost Towns
Yes, Montana has over 60 ghost towns. But I consider these six to be must-visits and worth the road-trip: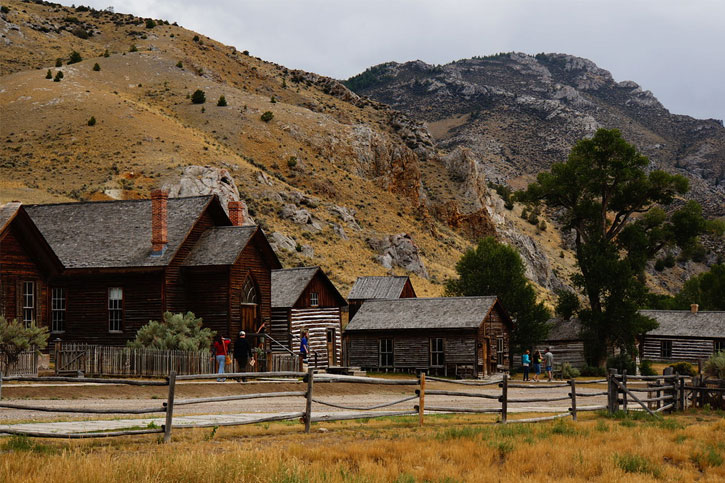 How to get here: To get here, you'll need to take I-15 south of Dillon to exit #59 (Highway 278 exit), then drive west on Highway 278 for 18 miles. Turn south onto the Bannack Bench Road. Travel an additional four miles until you reach the park entrance (this will be on the left side of the road).
Entrance Fee: Entry to Bannack ghost town is free to Montana residents. Non-residents are charged $6/vehicle. Guided tours (which are only available on summer weekends) cost $4 per person. For an informed self-guided tour, you can buy the readily available pamphlet for 2 bucks.
Guest info: Open year-round, from 8AM to 5PM (up to 9PM in the summer)
Bannack was founded in 1862 after discovering gold along the town's Grasshopper Creek. From then on, it attracted investors from all over the country and the town became a thriving mining town.
During its peak, Bannack was home to over 10,000 people, many of which worked in the mines and hoped to ride on the gold rush.
Bannack temporarily became the first capital of the new Montana Territory. But when gold deposits ran out, the capital moved to nearby Virginia City. Bannack residents moved as well, leading to the town's population drastically declining to ghost town level.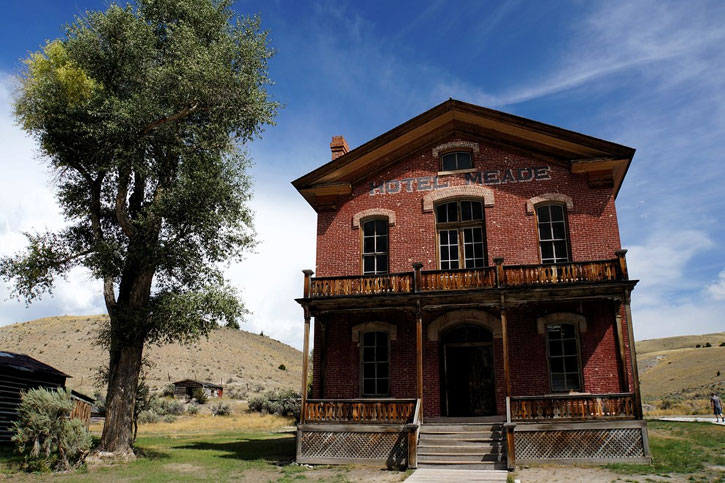 The last recorded mining activity at Bannack was in the late 1930s.
The good news is that the structures left behind are mostly made of log and frame, which has stood the elements for years. Its main street has over 50 buildings, most of which are well-preserved since Bannack was designated a National Historic Landmark in 1961 and became Bannack State Park.
Structures you'll see here include:
Bannack Masonic Lodge and School
Hotel Meade (pictured above) – this iconic building still looks grand
Bannack Cemetery
Skinner's Saloon
Bannack Jail (pictured below)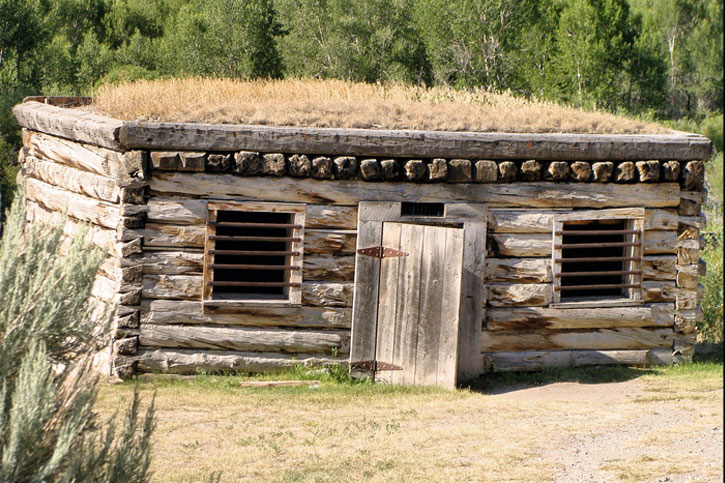 Aside from over 60 historic structures you can explore at Bannack, you can also stay at the Yankee Flats Shelter and picnic site up to 14 days. Fees are per person per day.
If you visit in the winter, ice skating may be possible. You still need to ask the guest center about it depending on weather conditions.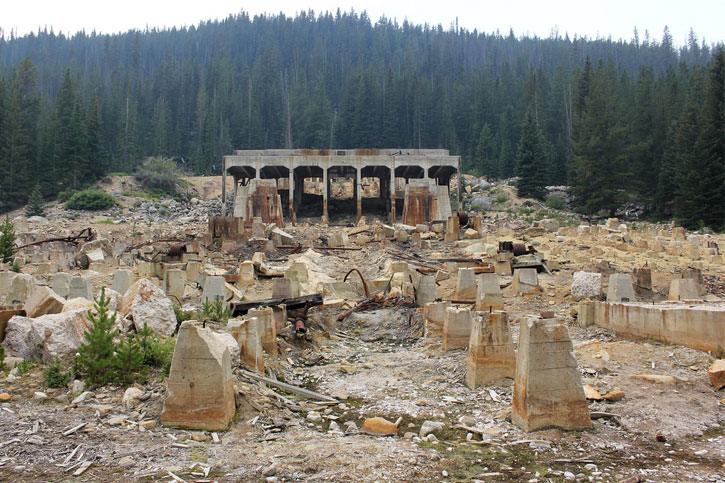 Location: Polaris, Montana 59746
How to get here: From I-15, travel west on SR-43, then south onto NF-73 (Wise River Polaris Road).
Entrance Fee: No fees required to visit
Guest info: The road going to Coolidge is closed from December 1 through May 15. For more info about this ghost town, visit/contact the Beaverhead-Deerlodge National Forest guest center (open Mon-Fri 8AM-4:30PM).
The origin of Coolidge dates back to the early 1900s when silver was discovered in the area.
To support this silver hunt, Elkhorn and Upper Elkhorn mines were built. Coolidge as a town became official soon after.
During its peak, about 300 people called Coolidge home. It had its own general store, post office, school and other essential buildings.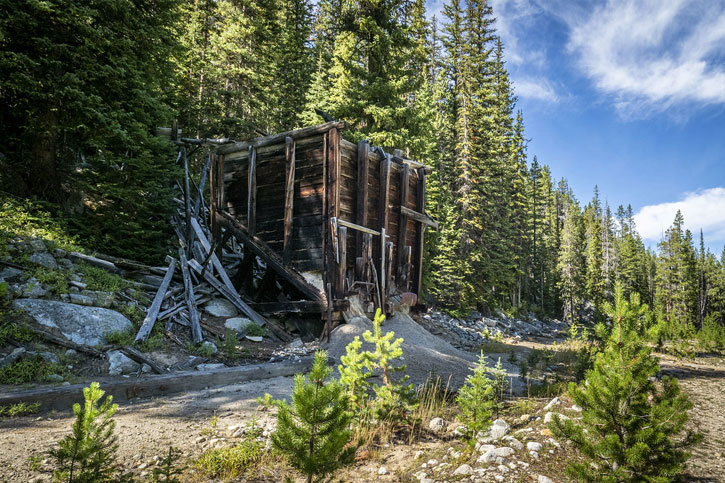 As the silver deposits ran out, just in time for the Great Depression, Coolidge was abandoned by its already-small population. The school closed down in 1927. Coolidge post office closed in 1932.
By 1933, Coolidge has been abandoned completely.
Today, the town is eerily quiet with structures such as the:
post office (be careful of broken windows though)
general store (the shelves are still in tact with old bottles and cans)
residential buildings (many of which are considered a pile of rubble)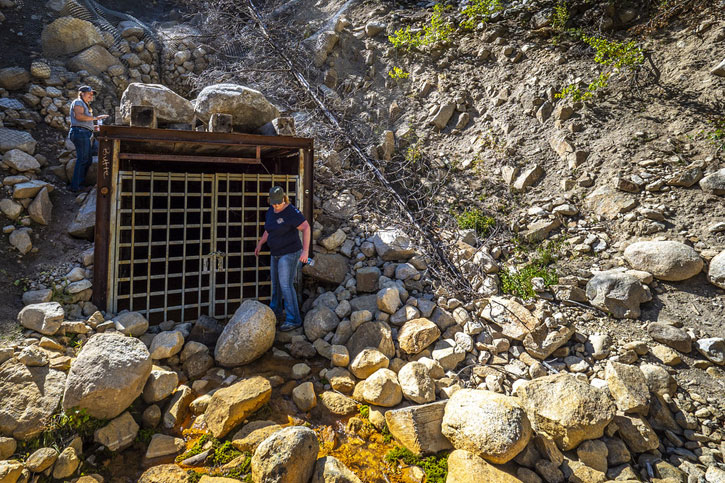 The remnants of Elkhorn Mine and Mill are probably the most interesting of all the structures. The mine was built in the late 1910s. One of the mine's entrance is visible (see below) and accessible to guests. You just have to walk further south of the mill.
Note that you can't enter (and you shouldn't want to enter the mines due to the danger you're likely to face).
Coolidge has the most run-down structures on my list of Montana ghost towns. Expect skeletons of buildings or crumbled structures that may look like a pile of lumber.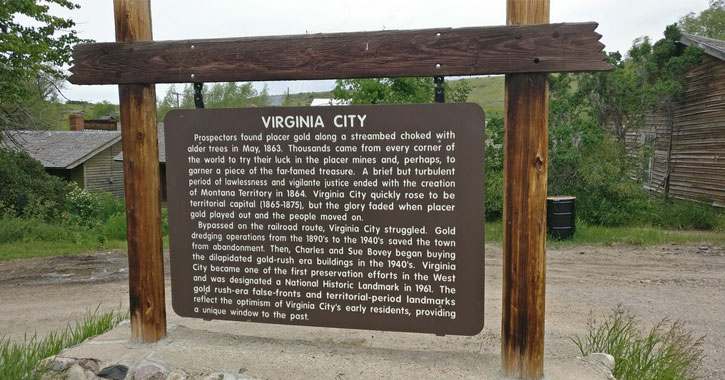 How to get here: Turn off Interstate 90 at Whitehall and follow Highway 55 south merging into Highway 41. At Twin Bridges, turn onto Highway 287 and continue driving until you reach Nevada City. Virginia City is about a mile beyond it.
Entrance Fee: Different packages are available, from two-ghost town packages, to overnight stays. Fieldtrips are charged $10/student. Check here for all possible fees depending on your group type.
Guest info: Open from May to October
Virginia City is one of the most-preserved Montana ghost towns.
Virginia City dates back to 1863 when the entire region was busy with the gold rush right after the gold deposit discovery in Alder Gulch. It was one of the more popular towns and even became territorial capital from 1865 to 1875.
At its peak, Virginia City was home to 30,000 people, all contributing in one way or another to the estimated $100 million earned from the gold rush era.
But just like other mining towns, when the treasures run out, people moved on to other promising towns.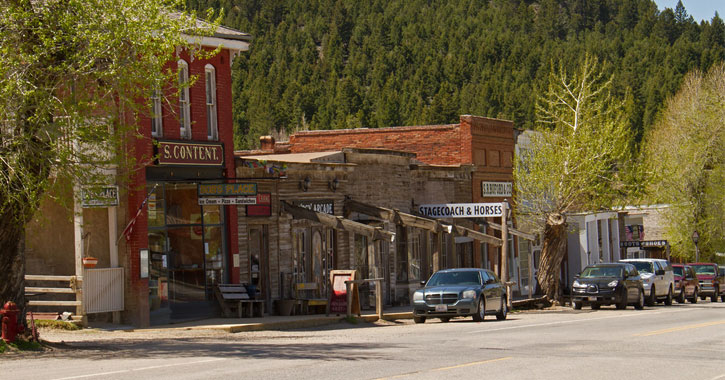 Charlie and Sue Bovey purchased some of the town's abandoned structures in the 1940s. They helped preserved these buildings, enough for Virginia City to be registered as a National Historic Landmark in 1961.
Today, Virginia City (and its neighbor Nevada City) are no longer ghost towns. About 150 people call Virginia City home.
Virginia City and Nevada City are now museum towns showcasing Montana's gold rush history. On this side, you can see the following structures:
Commercial buildings (brothels, saloons, gambling dens, etc.)
Victorian-style residential homes
Log cabins
Unlike other Montana ghost towns where you just explore the ruins, Virginia City has a lot more activities to offer. You could check the theaters, ride the steam train, go on stagecoach rides, or gold panning.
Modern amenities, such as lodging and fine dining, is available if you plan on staying the whole day or weekend.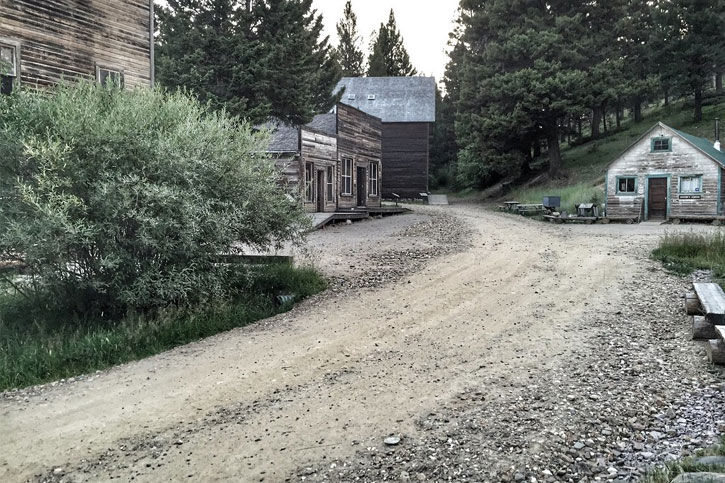 How to get here: Drive to Montana Highway 200 or I-90. When you see the Garnet sign, make a turn south at Mile Marker 22 and drive another 11 miles on a gravel road. From the east, take Exit 154 for Dummond. You'll drive 10 miles more on your way to Bear Gulch Road. From here, you can just follow the sign to Garnet.
Entrance Fee: $3 a person over 16 years of age.
Guest info: Garnet is open year-round, daily from 9:30am-4:30pm. However, you might need to snowshoe, snowmobile or cross-country ski to reach the town in the winter.
In the Garnet Mountains, just outside of Missoula, Montana, this small town was developed in 1865 upon the discovery of gold in the area.
However, Garnet didn't exactly boom as other gold-rush towns of Montana because the town had limited road access and no water line needed for working the mines.
A second "rush" in 1895 (when a road and railroads were built) to 1896 (when gold was found west of Garnet) brought the town back to life. Around this time, Garnet was home to about 1,000 people.
When the mines no longer provided quartz or gold ore, Garnet was abandoned for greener pastures. By 1905, only 150 people remained in town. It took a fire in 1912 to shoo away the remaining residents for good. The post office closed in 1942.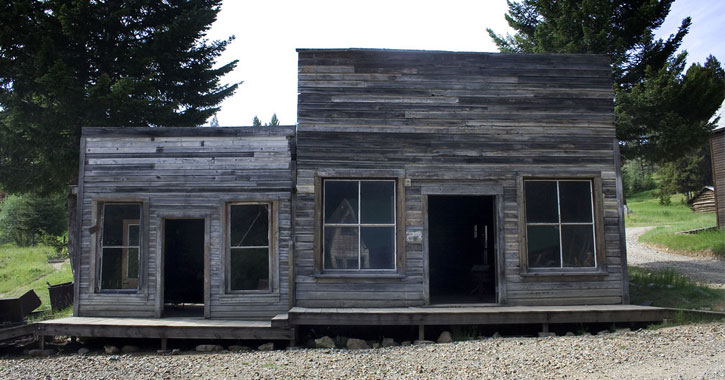 In 1972, a descendent of one of the original miners donated the Anderson mining claim to the Garnet Preservation Association and Bureau of Land Management (BLM).
Today, Garnet is run and preserved by BLM. About two dozen buildings had already been stabilized (and deemed safe for visitors).
In town you can explore:
Wells Hotel (with rooms still furnished with original furniture)
Old town jail, school and post office
Commercial properties like Kelly's Saloon and Davey's Store (2 of only 4 structures that survived the 1912 fire)
Aside from the buildings and log residences, Montana's mining history are also preserved inside with artifacts, mining trinkets and personal belongings of people who used to call this town home.
Both Kelly's Saloon (where miners used to socialize after work) and Davey's Store (where residents buy food, tools and other supplies) still has remnants of their business.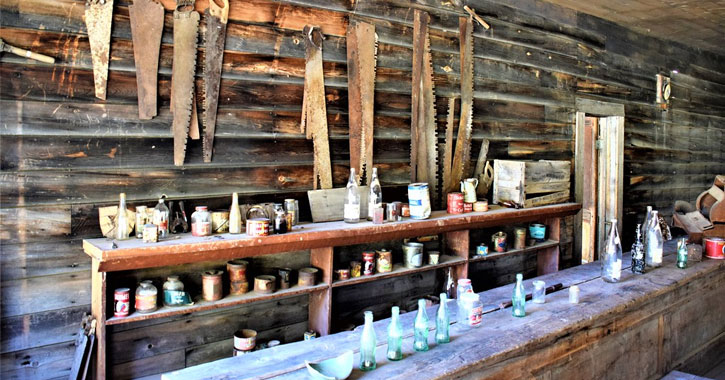 Garnet has small visitor center, where you can ask assistance with self-guided trails.
In the summer, there are BLM ranger volunteers to help you with directions and give interesting info about Garnet's history.
Roads going here are closed in the winter and reaching town can be challenging. The good news is you can rent cabins at Garnet.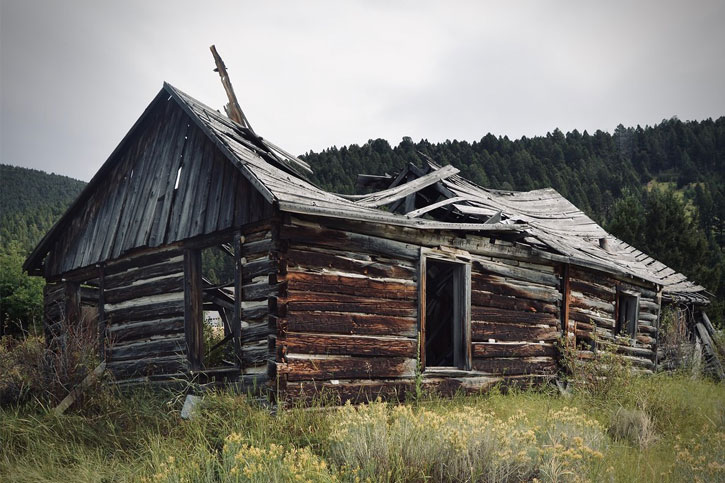 How to get here: Follow Montana Highway 69 southeast for 11.6 miles. Turn left onto White Bridge Road, take a slight right onto Lower Valley Road for two miles and then follow Elkhorn Road into the Elkhorn Mountains.
Entrance Fee: Montana residents go in free if their annual vehicle registration includes the $9/year state parks fee. If not, they have to pay the non-residents day use fees of $8/vehicle.
Guest info: Open all year, self-guided tours
The mining town of Elkhorn was born sometime in 1868 when silver was first discovered. However, the town only blew up around 1875 when the Elkhorn Mine opened. In the next decade, the mine was responsible for producing almost 9 million ounces of silver, 4 million pounds of lead, and 8,500 ounces of gold.
At its peak, Elkhorn had 2,500 residents, and its own hotels, a school, church, a post office, entertainment venues and numerous residential homes.
As mining towns do, the dwindling resources and volatile silver prices slowly killed the mining industry in Elkhorn. By 1912, Elkhorn Mine closed for good, followed by the post office closure in 1924, and removal of Northern Pacific Railroad tracks in 1931.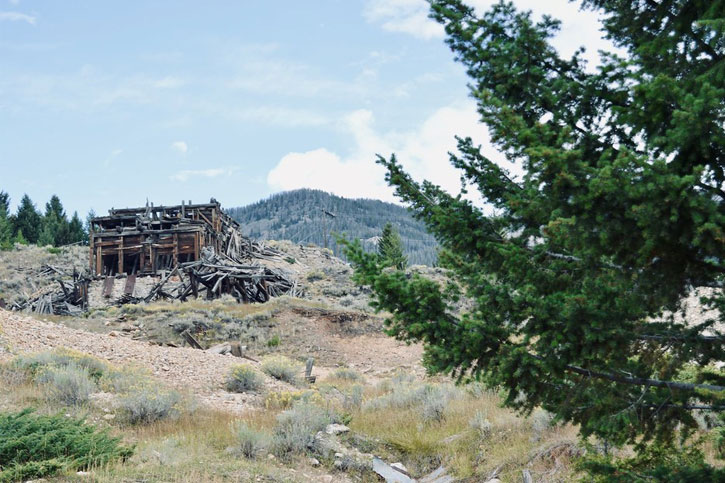 Elktown ghost town is the smallest of Montana ghost towns on this list.
You'll find two structures still standing today – the Fraternity Hall and Gillian Hall. These two prominent 1890s structures are preserved by the Elkhorn State Park and open to the public.
The rest of the buildings around Elkhorn are private residences.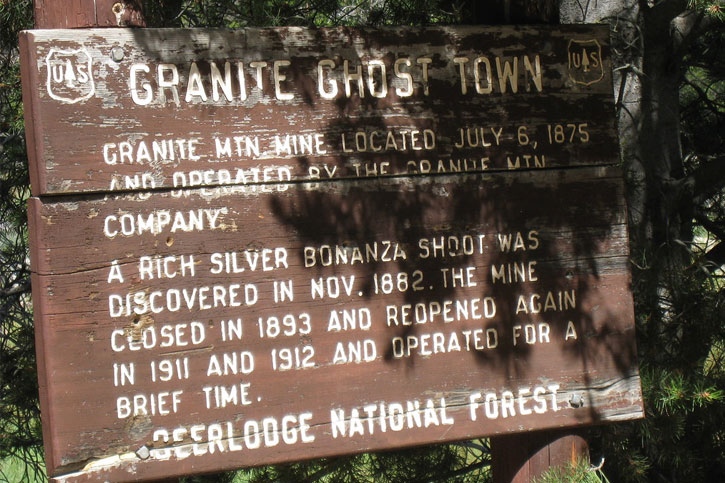 Location: Granite County, Montana 59858
How to get here: From Philipsburg, take W. Broadway Street to Brewery Road to Granite Road.
Entrance Fee: Montana residents go in free if their annual vehicle registration includes the $9/year state parks fee. If not, they have to pay the non-residents day use fees of $8/vehicle.
Guest info: Open daily (daylight hours only). Note that snow might block roads around late May, so call (406) 287-3541 to check alerts and road closures.
Granite was established in the 1875 when a massive silver laden rock was discovered.
During its peak, the Granite mine recovered about $300,000 worth of silver annually. About 3,000 call Granite home.
By the early 1890s, Granite was the largest silver mining camp in Montana with its own school, hospital, library, saloons and brothels, churches, and commercial/residential structures.
The Sherman Silver Purchase Act of 1890 that ensured the US government buys millions of silver each year, but when this bill was repealed in 1893, the downfall of Granite began. By the end of the year, the mine was shut down and residents moved to other towns with only about 120 people left behind.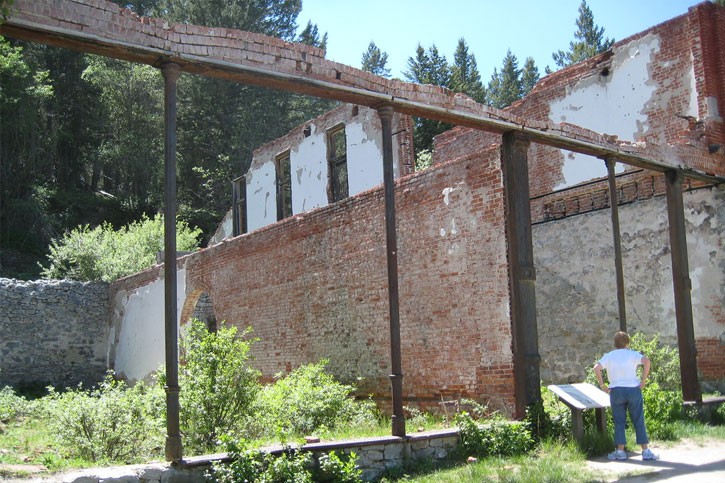 Today, only a few remaining structures exist at Granite State Park, including:
The Miners' Union Hall (built in 1890) – This venue hosted town meetings, dances, plays and other events.
Old Schoolhouse, where all kids of Granite attended
Visitors also get to see some of the Granite Mountain Mine ruins, but the path can be steep and narrow. In some months, this trail can also get muddy and dangerous to drive.
Montana Ghost Towns and the New Montana
Montana has such an interesting mix of attractions. I've written about the old and new Montana attractions before. Check it out if you're just on the planning stage and building your itinerary.
If you're looking for other ghost towns in the country, I have ghost town guides on the following places:
Check them out and have fun chasing ghosts of the past!