The ghost towns in North Carolina are varied, but all are interesting.
Some abandoned towns have drowned under lakes due to flooding years ago or are hidden atop mountains. Others have been reclaimed by nature and are hiding in plain sight waiting for people to be rediscovered.
There are NC ghost towns that have been turned into movie sets for the dystopian post-apocalyptic film, Hunger Games (read on to find out which one…)
6 Abandoned Ghost Towns in North Carolina
Over 15 communities are considered ghost towns in North Carolina, but these 6 are the most popular.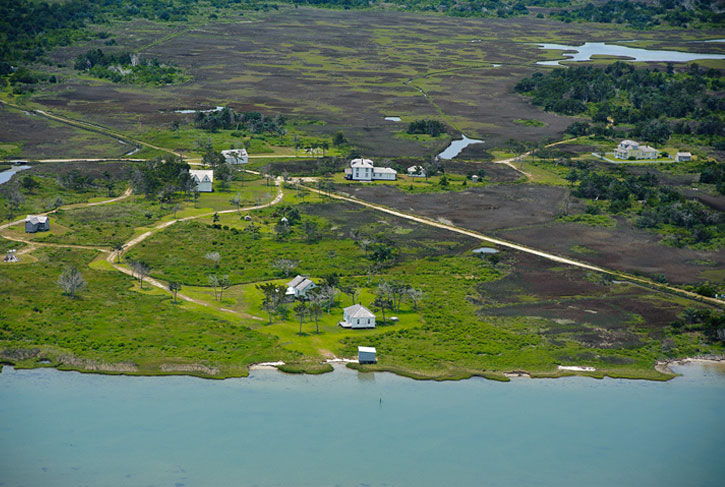 Things to know before Visiting: The island is only accessible by boat, so you need a bit of planning to visit the place. The best way to get to Portsmouth Island is from Ocracoke Island, which is part of the Cape Hatteras National Seashore.
Unlike other North Carolina ghost towns on this list, Portsmouth Village is an ENTIRE island.
Yes, it gets tricky to get here, but imagine how much exploration you can do once you get here.
Established in 1753, Portsmouth Village was a shipping and fishing community located on Portsmouth Island on the Outer Banks in North Carolina.
What Happened to Portsmouth Village, North Carolina?
This tidal island settlement had gone through a lot, but it was inhabited for well over 200 years.
Residents here were mainly fishermen or merchants, but the Civil War shooed many locals away from Portsmouth. It took a destructive hurricane in 1933 for most of the remaining residents to pack up their bags and leave.
What Can You See in Portsmouth Village now?
If you're really into abandoned places, Portsmouth Village will truly be memorable because it is one of the most-preserved ghost towns of North Carolina.
After all, the last resident only left the island in 1971.
Today, about 20 structures (a mix of homes and buildings) remain standing here. They are maintained by the Portsmouth Village Historic District. Guided tours are available; camping overnight is also allowed by the beach.
Things to know before Visiting: To get to Cape Lookout National Seashore, you can use personal boats like kayaks and canoes, personal watercraft (PWC), or one of the authorized ferry services.
Cape Lookout Village is a unique North Carolina ghost town because people didn't originally reside here.
The 810-acre did welcome many visitors during the fishing and whaling season, it wasn't until the early 1900s did people flock from hurricane-destroyed Shackleford Banks to other locations like Cape Lookout.
Around 1910, Cape Lookout Village was at its peak with around 100 residents, its own school and a post office.
What Happened to Cape Lookout Village, North Carolina?
When gasoline boats made it easier for residents to live elsewhere while still having access to fishing spots around the cape, many Cape Lookout Village residents moved.
By 1919, the village school closed.
Only 2-3 families continued to call Cape Lookout home by 1921.
Former residents didn't completely desert the place. Many still visit either for fishing or as a summer house.
During World War II, from 1940 to 1944, Cape Lookout Village became home to the military.
It once again turned into a recreational/summer destination after WWII with plans of turning the village into a full-blown resort in the 1950s and 1960s. The proposed resort led to the creation of a state park instead (now known as Cape Lookout National Seashore).
What Can You See in Cape Lookout Village now?
The coastal community is still standing with about 20 structures (some of them dating back to 1888.
You can still visit the station's boathouse, the 1907 Keepers' Quarters, and the Seifert-Davis House (also known as the Coca Cola House).
If you're a lover of all things architecture, you'll be able to see examples of Queen Anne architecture in many buildings around the cape.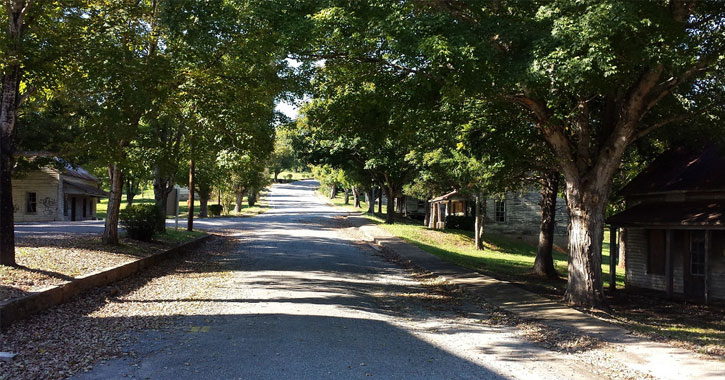 Things to know before Visiting: Henry River Mill Village is private property, but tours are available and accessible via Henry River Road (from Interstate 40).
Henry River Mill Village was a small textile village located in Burke County.
At its heyday, the village had its own dam, company store, water/fire-protection systems and its own textile mill that manufactured fine cotton yarns.
The mill was incorporated as the Henry River Manufacturing Company. It built a residential area of 35 small cottages for the workers.
What Happened to Henry River Mill Village, North Carolina?
The mill eventually closed in the late 1960s, but further deteriorated when the mill building burned down in 1977.
Henry River Mill Village had been given new life for the filming of Hunger Games in 2011. It was used as a backdrop for District 12.
Other North Carolina towns like Asheville, Barnardsville, Black Mountain, Cedar Mountain, Charlotte, Concord, Hildebran, and Shelby were also used for the rural towns of the Hunger Games movie series.
What Can You See in Henry River Mill Village now?
Today, the village opened its doors to guided tours and special events.
20 of the 35 original cottages are still standing today.
The owner (Calvin Reyes and his family) even restored house #12, so visitors can have a place to stay in overnight. There are even future plans of a museum, restaurant and other homes for restoration.
Lost Cove was known for timber and moonshine with over 100 residents calling it home.
The late 19th and early 20th centure saw Lost Cove as a small, yet thriving community with roots in farming and logging operations. It was even accessible by rail and brought visitors and new residents to Lost Cove.
During the prohibition, the village added moonshine production to its income.
But because it is somewhat in the middle of the Tennessee and North Carolina border, two local governments were butting heads over which of them had jurisdiction to police Lost Cove.
This turned off moonshiners, which then moved to other parts of the region.
What Happened to Lost Cove, North Carolina?
When the logging operations declined, this also halted the railroad service at Lost Cove. And since no proper road was built here, the town slowly lost its residents to relocation.
By 1957, the last family moved out of Lost Cove.
What Can You See in Lost Cove now?
If you want to visit this ghost town, you'll need to trek the Pisgah National Forest.
Lost Cove is situated along the banks of the Nolichucky River in Yancey County).
You'll find remnants of an old community, from abandoned sheds to rusting cars, as well as century-old tombstones of residents left behind.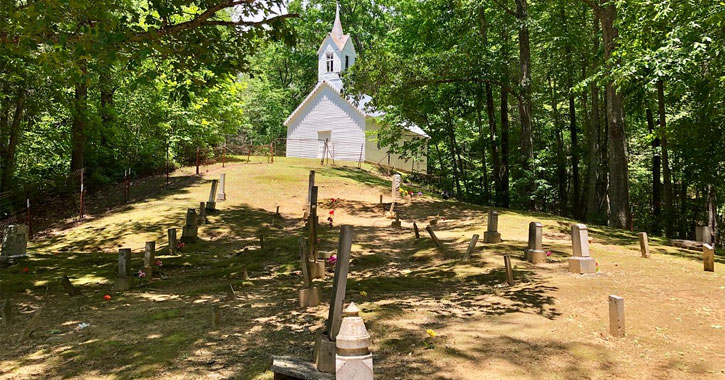 Things to know before Visiting: The way to Cataloochee involves a 10-mile, steep, narrow, curving unpaved road without guard rails. Drive with extreme caution.
Cataloochee was one of the largest settlements in North Carolina.
It was settled by George Palmer in 1838 with fishing as the biggest industry. Because Palmer's family owned the fishing rights to Cataloochee Creek, they sold fishing licenses to hobbyists and vacationers.
What Happened to Cataloochee, North Carolina?
The Civil War killed off many of Cataloochee's able-bodied men.
By 1910, just over 1,000 people lived in this mountain valley, many of whom made their living from farming and logging.
In the early 20th century, Cataloochee had become a major player in apple farming. Thanks to the cool valley climate, Will Messer's apple farm thrived.
The remaining residents were forced to move due to new laws in the area at the time when Great Smoky Mountains National Park was being established.
What Can You See in Cataloochee now?
Today, you can embark on a self-guided tour (there's an auto tour and walking tour available).
The Palmers' bunkhouse, which was leased to fishermen, still stands on the property. So do the main Palmers home, the Palmer chapel, Will Messer's apple barn, and other historical structures.
This mill town was small, but thriving at the turn of the 20th century. Mortimer was home to about 800 people at the time.
What Happened to Mortimer, North Carolina?
Unfortunately, it suffered from back-to-back catastrophes: one from a 1916 fire and another from a flood that damaged most of the town and shooed the local lumber company away.
Mortimer residents tried to rebuild, but when another flood in 1940 happened, most of them had no choice but to relocate and leave permanently.
What Can You See in Mortimer now?
Today, you can visit Mortimer in Caldwell County, about 328 miles (600 kilometers) south of Washington.
You'll be able to see structures still standing and remnants of old mill machinery.
It's one of the best places to see fall colors in the US, especially with a ghost town twist as the autumn colors really add to the "spookiness" of the ruins.
Beyond Ghost Towns in North Carolina: Spooky Stops to Add to Your Itinerary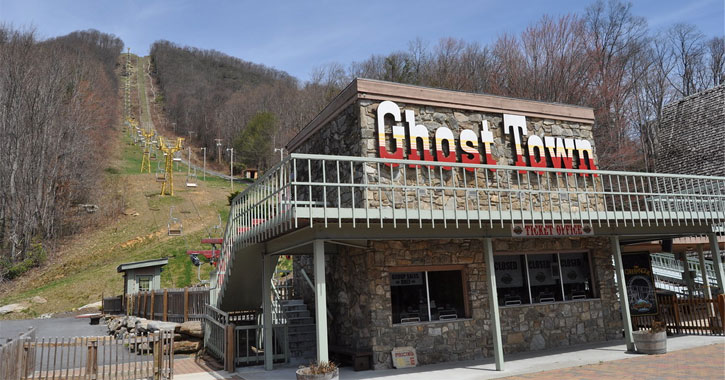 Ghost Town was the brainchild of R.B. Coburn.
This Wild West-themed amusement park opened on May 1, 1961 and quickly became Western North Carolina's most popular attraction.
At its heyday, it boasts of a double-incline railway that takes park visitors to the top of Buck Mountain (about 3,300 feet high). About 600,000 visited Ghost Town each year.
In 1973, the park was sold to the National Services, but Coburn had a change of heart in the mid-80s and brought it back in 1986.
The park had some of the best rides, such as The Red Devil, Goldrusher, Sea Dragon, Monster, Mountain Town Swings, Undertaker, Dream Catcher, Casino, Round-Up, Lil Devil and Silver Bullet.
But Coburn was unable to maintain them all, leading to regular breakdowns.
When a group of park visitors got stranded on the chairlift for 2 hours, it was Coburn's final nail in the coffin. He sold the park in 2006 to Ghost Town Partners, LLC.
Ghost Town Partners, LLC tried to restore, rebuild and reopen the theme park multiple times.
With several changes of ownership and catastrophes over the years, Ghost Town has been known more as an actual abandoned ghost theme park than an operational one.
With its most recent owner, Alaska Presley, passing away in April 2022, (and the ownership currently being settled by the courts), the future of this theme park remains unclear.
Occoneechee Farm originally occupied the land in the 17th and 18th centuries with horse racing tracks built in one part. Replacing this horse track, one of two NASCAR tracks was built in September 1947.
Occoneechee Speedway hosted many car racing legends there, but it closed in 1968 and has been mostly abandoned to this day. You can still visit, but the way to the tracks is heavily forested.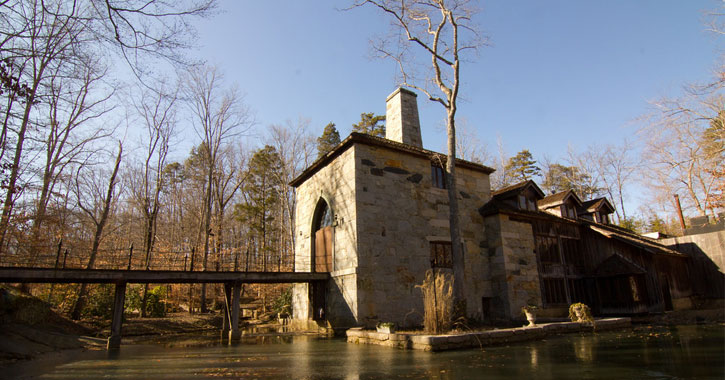 Castle McCulloch used to be the rock engine house of the Deep River Gold Mine. As with any old mine site, this place has its fair share of ghost stories.
There are two known stories that have been passed on by generations:
An angry foreman pushed a young slave from a window. The boy landed on a rock in the creek and was killed. His spirits don't haunt the castle, but reddish stains from his blood could still be seen on the rock years later.
Two miners were arguing on their way to the mine shaft. One was starting to climb down a mine shaft, the other cut the rope. Screams and thuds can still be heard.
Sometimes, Castle McCulloch switches up from being a wedding site into a haunted castle and joins local organizers. One time, the site hosted two haunted trails.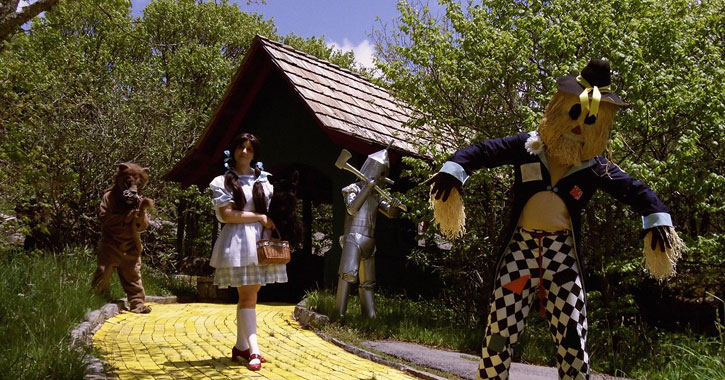 If you're traveling with kids, or simply LOVE the Wizard of Oz, check how you can visit this decades-old park.
This Oz-based theme park opened in 1970 with over 33,000 bricks glazed with famous yellow color.
Of course, the entire cast was there – Dorothy, Scarecrow, Tin Woodman, the Cowardly Lion and the Wicked Witch of the West would greet visitors all around the park.
Land of Oz suffered from a fire on December 28, 1975.
Despite plans of rebuilding by a new owner, it never actually pushed through. The park officially closed in 1980.
Throughout the years, Land of Oz reopens for a day or weekend to host events, such as the annual International Wizard of Oz Club and Autumn of Oz. They keep a list of upcoming events and park opening schedules on the site.
The birth of HartleyHenge isn't actually as mysterious as the original Stonehenge in England because the North Carolina version is man-made. But this is still an interesting stop if you're visiting near Chapel Hill.
HartleyHenge, also known as "Stone Knoll," was built by the late JOhn Hartley.
He brought these massive slabs of stones and rocks to North Carolina all the way from Tennessee. Hartley was a contractor by profession, building subdivisions for a living, but rock arrangements is one of his passions.
Hartleyhenge was Hartley's biggest neolithic rock architecture project. You can still see them in all its glory today at John's Woods Road, Chapel Hill, NC.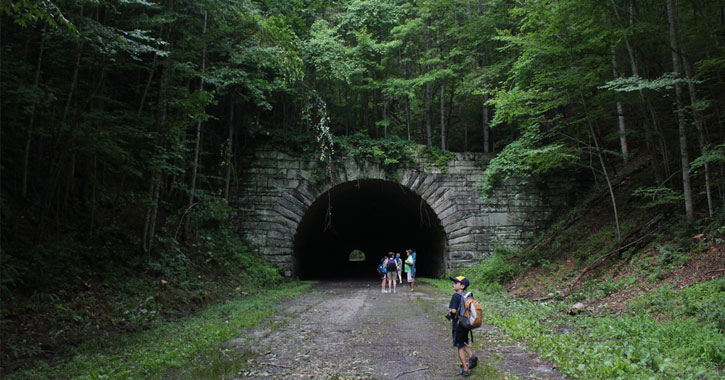 If you came here looking for creepy and spooky places in North Carolina, I'm sure you've been introduced to this abandoned tunnel that leads nowhere.
Amusingly called "Road to Nowhere," this 6-mile stretch of road was part of a town named Judson.
The federal government actually caused the relocation of the town's residents when they decided to use the lake for more hydroelectric power in order to create atom bombs. Not only did this lead to the disappearance of Judson, it also caused flooding across town.
Residents had to sell their homes and relocate for good.
This town now rests underwater in the nearby man-made Lake Fontana, but the abandoned road (along with a few homes, schools and commercial buildings) is still standing.
Other Ghost Towns in the Country
These abandoned ghost towns in North Carolina offer a unique way of learning about local history.
For thrill-seekers who love to dig deeper into horror stories and legends of a particular place, I recommend joining any walking tours you could find.
If you like to check out other ghost towns in America, I featured some of the best Missouri ghost towns, the 10 most interesting abandoned towns in my home state (Pennsylvania), and the most haunted places in the US.