Whether you're just visiting or you just moved to the state, you'll soon find out that visiting water parks in Louisiana will become a regular family outing.
After all, Louisiana is one of the warmest regions in the country, with an average daily high temperature of 26 degrees. The state's humid and subtropical climate is mainly caused by very warm winds from the Gulf of Mexico.
The good news is there are several water parks sprinkled throughout Louisiana.
7 Must-Visit Water Parks in Louisiana
The heat got you down? Cool off with these Louisiana waterpark options: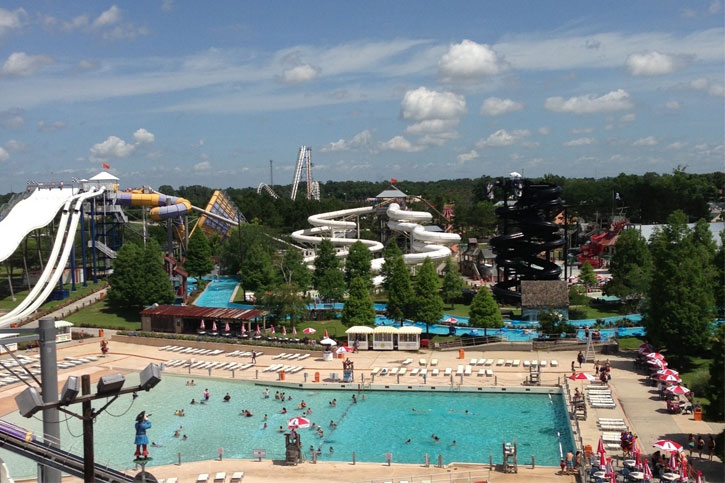 Fees: ‍Guests 35″ and under get in free. Daily passes range from $27.75 to $39.75, depending on the age of guest.
Guest info: Open Monday to Sunday from 10 AM to 6 PM (Summer season: from mid-May to mid-August)
Blue Bayou is an institution. As the state's oldest water park (it opened in 1989), almost every kid from Louisiana has spent summers here.
The waterpark features:
Lafitte's Plunge – Not for the faint of heart, you should prepare for the 90-foot drop as you plunge into the pools.
Azuka – the world's largest tornado slide. You can't miss this bright purple and yellow tunnel!
Flyin' Pirogue – These slides are perfect for adrenaline junkies who plan to sled down non-stop.
Conja, Mad Moccassin and High Water – Three separate giant slides with twists and turns.
Each area has height requirements. For smaller kids, there's the Pirate's Cove area with age-appropriate play structures, slides, splash pads, cannons and more. There's also the Hurricane Bay wave pool for all ages and in-house food stalls when everyone get hungry.
If you want to dry off while having fun, go visit the Dixie Landin' theme park on the other side. Note that both Blue Bayou and Dixie Landin' open seasonally. Check the calendar before visiting.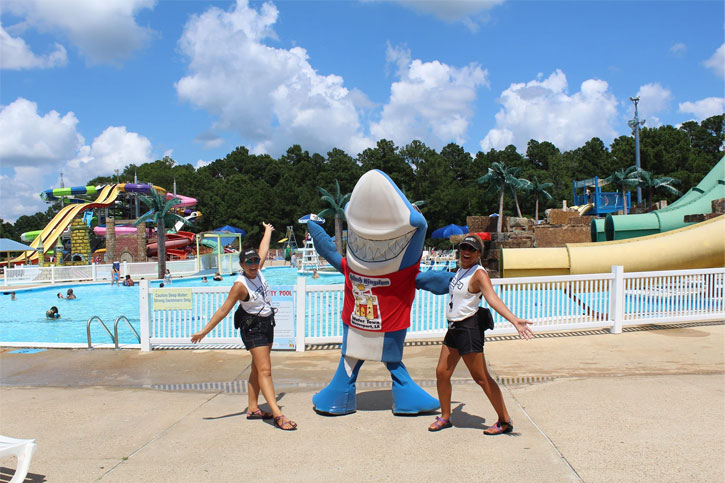 Splash Kingdom water park boasts several pretty cool slides that cater to different age groups.
Kid's Castle – This kiddie area has slides, wet interactive features, and activities for kids (toddlers must wear diaper to play here).
Kingdom Falls – Spray guns, dump buckets and tiny slides perfect for tiny humans.
Monkey Business and Brett's Blaster – For older kids and adults looking for thrilling twists, drops and turns.
The Plunge, The Pipeline & Cannonball – This trio of high-thrill attractions for strong swimmers will have even the most experienced waterpark fan scream to the top of their lungs.
Of course, there's the lazy river with 4-feet deep waters, where guests can just chill and let the river lead you. Another all-age area is the wave pool, but non-swimming children must be accompanied by an adult because waves can get rough and water gets up to 6-feet deep.
Meet new people at the Lagoon or volleyball area. If you get hungry, there's surfside pizza, chicken tenders, and other easy meals at concession area.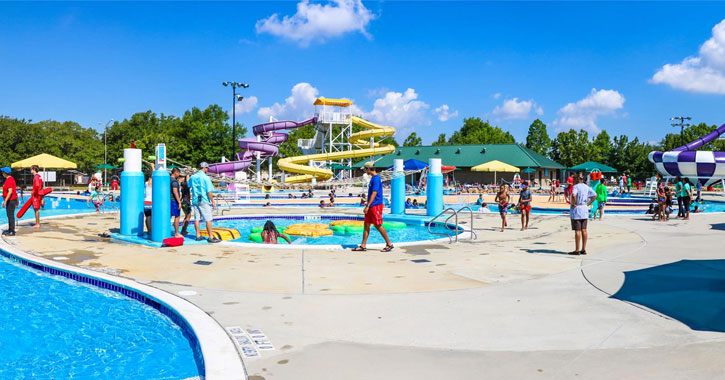 Location: 111 Lobdell Ave, Baton Rouge, LA 70806
Fees: $12 (1-year-old and younger come in free)
Guest info: Open Saturday and Sunday from 11 AM to 6 PM (Summer season: from mid-May to mid-August)
Liberty Lagoon only opened in the summer of 2011 as part of the BREC Parks and Recreation system, but it has already served the people of East Baton Rouge in its first decade. The entire area might be small, but many locals consider this waterpark a must-go thanks to the affordable $12 admission fee.
Like many of the water parks in Louisiana, Liberty Lagoon is only open seasonally. But whenever it's open in warmer months, guests can enjoy:
A lazy river and numerous pavilions for all ages
Splash pad and aquatic playground for younger kids
A couple of slides, such as the Yellow Lunge, AquaTube and Purple Plunge, with varying thrill levels
Gator Bowl slide with a drop in the 8-feet Lagoon.
Swimming lessons and water aerobics classes: In the summer, Liberty Lagoon teaches over 500 people a day with their available water programs.
There are many freebies when you visit – from free parking to free youth/adult lifejackets, and even lazy river tube rentals. The only paid amenities you should note are the public locker and pavilion rentals.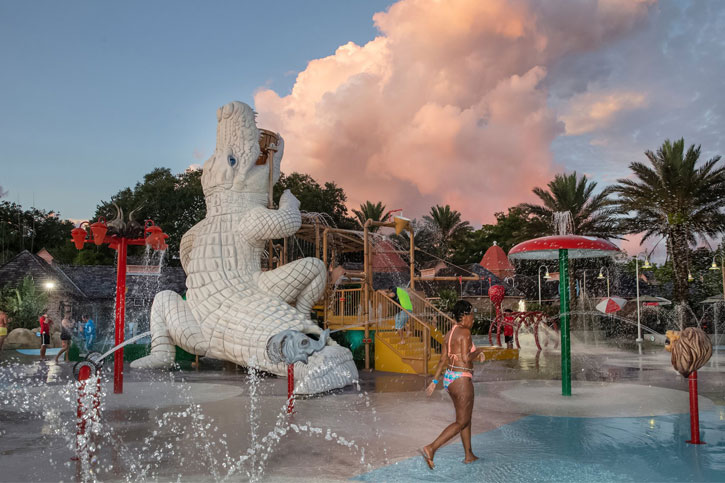 Location: 6500 Magazine St, New Orleans, LA 70118
Fees: Kids 1 and below enter free. Children ages 2 to 12 and seniors 65+ years old are charged $14.95, while general admissions are at $19.95.
Guest info: While the Audubon zoo is open year-round, the Cool Zoo closes after the summer season. When it is open, you can visit every Monday, Thursday & Friday from 10 AM to 5 PM.
Called The Cool Zoo, this water park is located inside New Orleans' Audubon Zoo.
The Cool Zoo has an animal theme all over the park, from the 750-foot lazy river called Gator Run, to the huge alligator water slide, you won't forget you're a few walks away from a zoo. There are also various heads of animals that spit out water all over, spider money soakers, and other fun, built-in water activities.
If you wish to cool down outside the water, just sit in one of the lounge chairs around the park, rent a private cabana, or play volleyball.
Also within the area is the actual Audubon Zoo, a golf course and Nature Center, where walking trails are available if you want to explore beyond the Cool Zoo.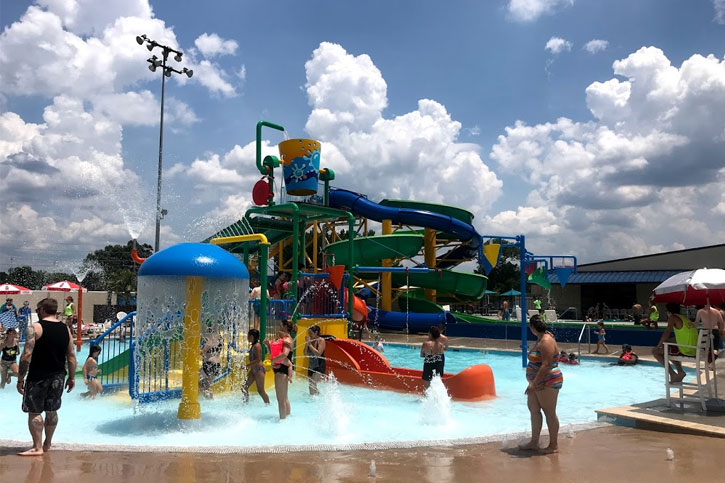 Fees: $8 for in-district guests, $10 for out-of-district guests
Guest info: Open Monday and Saturday from 10 AM to 5 PM and Sunday from 12 PM to 5PM (Summer season: from mid-May to mid-August)
Aqua PARDS is one of the smaller water parks in Louisiana, but people from Denham Springs still LOVE this park for the affordable admission fees and how it is less-crowded than other bigger parks.
Operated by the Denham Springs Parks & Recreation, Aqua PARDS features slides, squirters, dumping buckets and play structures ideal for kids. Note that there are few spots for adults (such as the lazy river and outdoor pools), but I'm sure your kids would adore this park throughout your stay.
Aqua PARDS may be small, but there's a full lifeguard staff and First Aid station for emergencies.
There are life jacket and locker rentals ($5 each), private pavilion rentals ($25/hour) and birthday party rentals available from 6 to 8pm on Fridays during the summer season.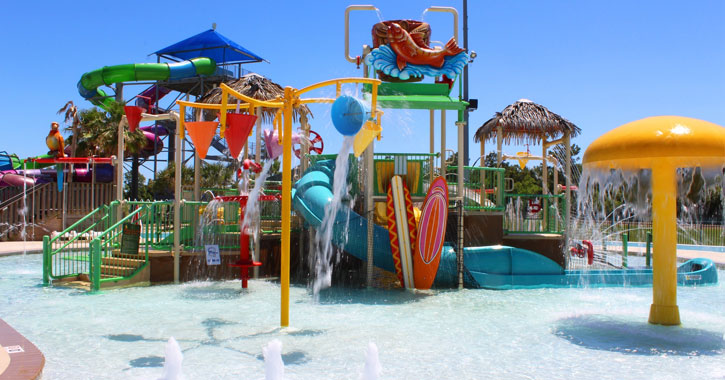 Location: 933 W Parish Rd, Sulphur, LA 70663
Fees: Kids 2 years old and below swim free. $6 for in-district guests, $12 for out-of-district guests
Guest info: Open Monday and Saturday from 10 AM to 7 PM and Sunday from 2 AM to 7PM (Summer season: from mid-May to mid-August)
SPAR Water Park, located in Sulphur, is another Louisiana waterpark operated by the local parks and recreation department.
SPAR Waterpark features:
Tubes of all sizes: From the massive Super Bowl Tube Slide with aggressive drops, to the moderately-fast Constrictor Tube and beginner-friendly Green Monster Tube, you'll enjoy each one.
Patch's Splash Pad, Parrot Island and Play Island: Ideal for young kids, these structures offer plenty of water activities like baby slides, bucket dumps, fountains, and more.
Larry's Lazy River: Choose to chill in the lounger area, or let the river sway you out into the unknown.
Raging River: Not for those planning to chill, this river is perfect for strong swimmers who want to ride the waves of the 600 foot long raging river.
There's also the Twisted Serpent and Blue Dragon, designed for adrenaline junkies who can handle sharp drops and unlimited thrills.
SPARK Water park is only open seasonally, so be sure to check first before visiting.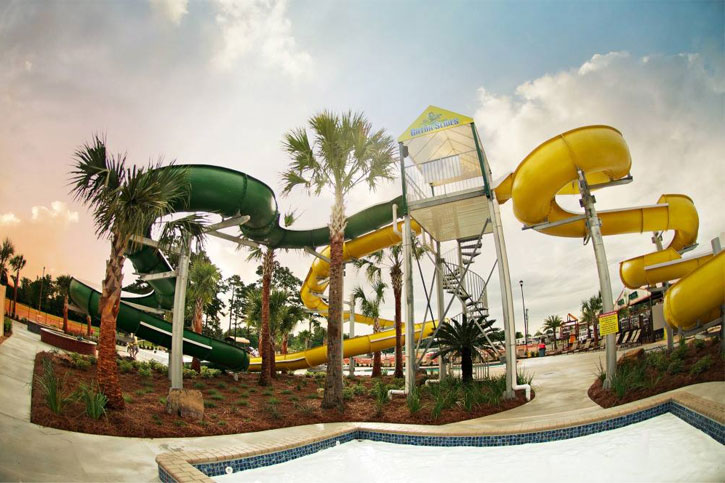 Location: 200 Golf Course Rd, Bunkie, LA 71322
Fees: $69 to $80 per night (depending on the RV site type you choose). This gives waterpark entry to 4 people. $20/person/pass for every additional visitor you want to bring inside the waterpark.
Guest info: Outdoor park is open seasonally, indoor park is open year-round.
Unlike other water parks in Louisiana, the Gator Grounds doesn't offer day passes to the general public. Instead, all prices listed are for campers and their specified visitors.
Gator Grounds RV Resort & Waterpark actually has two waterparks:
Copper Island water park: an indoor waterpark for smaller kids with two pools, kiddie slides, and a splash pad. Open year round.
Gator Grounds outdoor waterpark: for guests 42″ tall or higher. Outdoor water park is open weekends only from April until after our Memorial Day event in May.
If you prefer to just chill in the water, there's also a lazy river here and a spa. Gator Grounds RV resort also has a catch-and-release fishing spot, a golf course, theater, an arcade, a land playground, zipline course, and restaurant (Gator Grill).
Beyond the Water Parks in Louisiana
If the water parks in Louisiana are too far from you, you might want to visit these instead:
Also check out the SIX best indoor water parks throughout the country.