Here's a secret I learned the hard way: sometimes it is cheaper to pay for one of the best all-inclusive resorts in Puerto Rico than to DIY the entire trip.
And if this is your first time traveling to Puerto Rico, customizing every detail of your trip based on everyone's recommendations can add up real quick.
Not sold to the idea? Check out the 8 best all-inclusive resorts in Puerto Rico that I've found and compare them with your personalized itinerary:
4 Best All-inclusive Resorts in Puerto Rico for Families
The following resorts are ideal for families because the activities offered within the resort grounds are for all ages. Most of these places also have multiple meal options and add-on tours, activities, and services available.
Location: Guanica, Puerto Rico
Resort Highlight: Full-featured resort with a boat ride to Cayo Aurora (Gilligan's Island)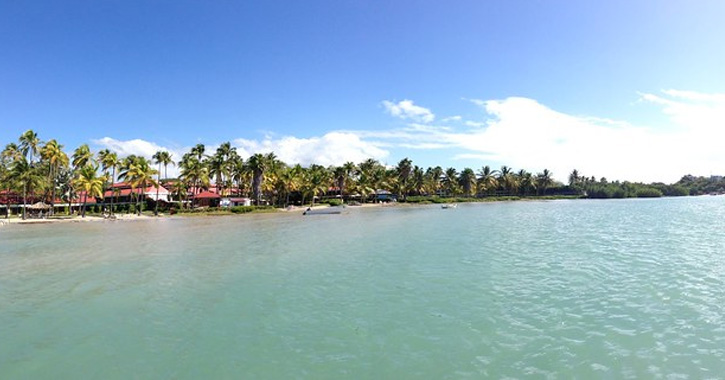 The resort sits on a 20-acre, landscaped ground with a half-mile beach view and shallow, clear waters perfect for all ages.
Copamarina's food is fresh and local with restaurant options from Alexandra and Las Palmas Cafe. The resort also offers a Full American Deluxe Plan that includes breakfast, lunch, and dinner (with unlimited water, juice, or soda) for just $126 per person (or $106 per kid ages 12 to 17 years old). They even prepare picnic lunches if you're interested.
As for activities, you can play volleyball, tennis, basketball and use all of the resorts' bicycles, ping-pong tables, and as part of the nightly resort fees. Wi-Fi is also free, but snorkeling, kayaking, and joining outdoor movies cost extra.
Copamarina has a shuttle boat (requires advance reservation) to Cayo Aurora (Gilligan's Island), which is one of the most beautiful spots in Puerto Rico.
Location: 1000 Avenida El Conquistador, Fajardo
Resort Highlight: El Conquistador Resort's packages are so all-inclusive, you don't need to go elsewhere.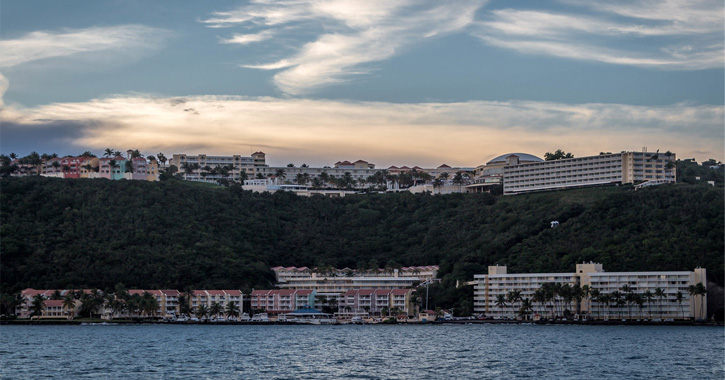 Although El Conquistador closed for more than three years after the destruction of Hurricane Maria in September 2017, the resort has now bounced back and resumed offering its all-inclusive Puerto Rico experience package.
This includes accommodation, meals, alcoholic beverages, and access to the resort's well-kept pools.
Guests of El Conquistador are also given free admission to Coqui Water Park (located within resort grounds), and the resort's private oasis Palomino Island.
If you're lucky, you can even participate in snorkeling, horseback riding, tours, and scavenger hunts hosted by the resort. You need to pay extra for spa and fine-dining options though.
Location: 200 Coco Beach Blvd, PR-955, Río Grande, Puerto Rico
Resort Highlight: On-site 18-hole golf course and proximity to El Yunque rainforest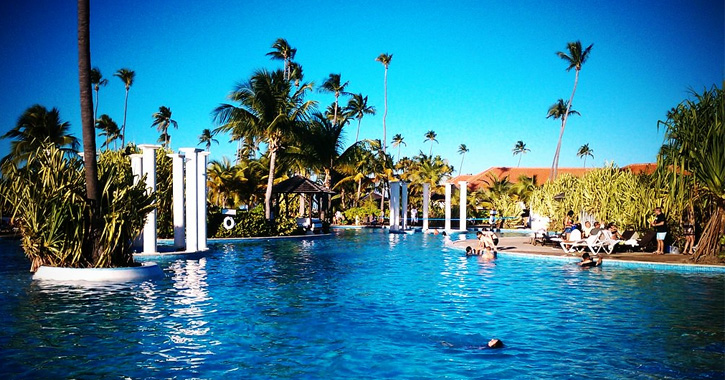 Formerly known as Club Melia at Gran Melia Puerto Rico, Hyatt bought the massive resort in 2019 and rebranded it as their Regency Grand Reserve in Puerto Rico.
It is located near the gorgeous El Yunque rainforest, which gives guests a chance to join trails if they wanted to. The resort is so huge that it even has its own pair of 18-hole golf courses within Hyatt Regency grounds. Another excellent offering at Hyatt Regency Grand Reserve is the choice of food. There are actually 5 restaurants and 3 bars to choose from.
The hotel doesn't actually offer all-inclusive packages directly, but I added it here because it is set in a secluded location on Coco Beach and does offer almost everything you can think of in a beach getaway.
Location: San Gerónimo, San Juan, Puerto Rico
Resort Highlight: Oldest Hilton in Puerto Rico, where Pina Colada was invented.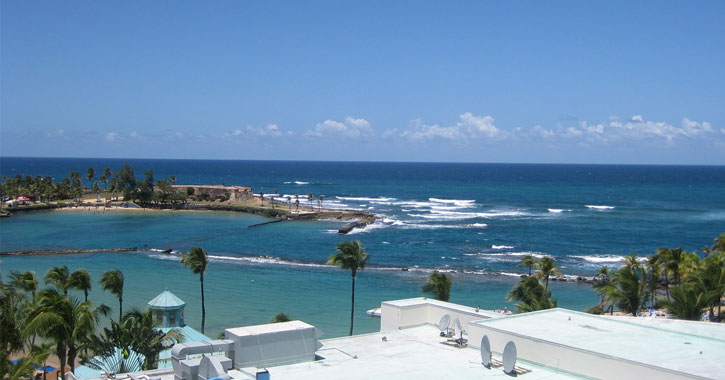 One of the landmarks of San Juan, Caribe Hilton has a long history in the area since 1949. It was the first international hotel built there and was the hotel where piña coladas were invented in 1954.
Even if Caribe Hilton is already a pretty old hotel, this is an advantage (instead of a disadvantage).
It is still a solid choice for families and offers everything you'll need to make your vacation hassle-free from in-room cribs to on-site currency exchange, every imaginable beach activity you can think of (as well as land activities like tennis).
On top of the amazing sea-view balconies and inclusivity (there are animal services and rooms designed for guests with special needs), Caribe Hilton is also just adjacent to the Old San Juan area, so if you feel like you're ready to explore Puerto Rico, this hotel is located at the perfect spot.
4 Best All-inclusive Resorts in Puerto Rico for Couples
If you're spending your honeymoon or anniversary in Puerto Rico, picking all-inclusive resorts mean you get to spend more time enjoying the vacation with your partner instead of planning where to eat, thinking of what to do, and so on.
Location: Carr Jobos, Isabela, Aguadilla
Resort Highlight: Morrocan-inspired boutique hotel located in a private secluded beach
This boutique beach resort is one of the smallest on this list, but one look at its Instagram and you'll see why couples pick Villa Montana as their Puerto Rico beach getaway.
Villa Montana is set in a 35-acre of land, 3 miles of which are pristine and secluded beaches. The hotel rooms sleep only for two people, but there are villas that can accommodate up to 10 people.
All rooms and villas have wi-fi, TVs, but villas come with your own patio/terrace and kitchenettes. For hassle-free dining, there's Villa Montana's own The Eclipse Restaurant that serves local freshly-caught seafood, wood-fired pizza and other delectable meals close to the beach and pool.
Location: State Road 187 Kilometer 4.2 00745 Rio Grande, Puerto Rico
Resort Highlight: Situated between El Yunque National Forest and Espíritu Santo River State Preserve, about 40 minutes from San Juan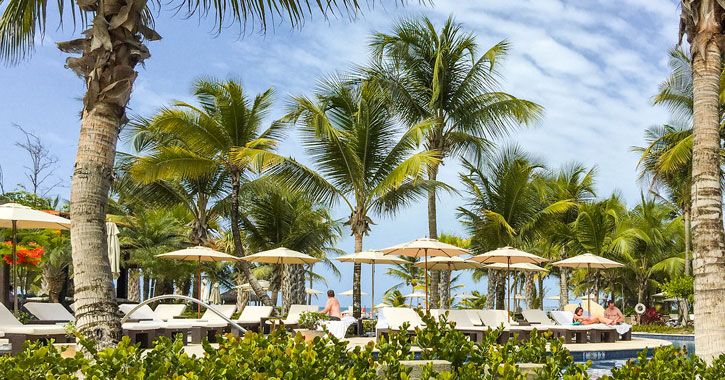 You'll feel like you're on your own island when you reach The St. Regis Bahia Beach Resort. The entire resort is embraced by two majestic natural spots – the Espíritu Santo River State Preserve and El Yunque National Forest.
In fact, the 480-acre land where St. Regis Bahia now stands used to be a former coconut farm with a secluded beachfront for guests to enjoy exclusively.
The St. Regis Bahia Beach Resort has its own golf course (Robert Trent Jones Jr.–designed one), spa, swimming pools, restaurants, and access to the forest, water activities, and hiking trails (watch out for exotic birds if you do a hike since the resort is a certified Audubon sanctuary).
It's a perfect honeymoon Puerto Rico destination, but it also caters to families and has its own Kids Club.
Location: 1045 Ashford Ave, San Juan, Puerto Rico
Resort Highlight: Adult-only resort right in the heart of San Juan and minutes away from the airport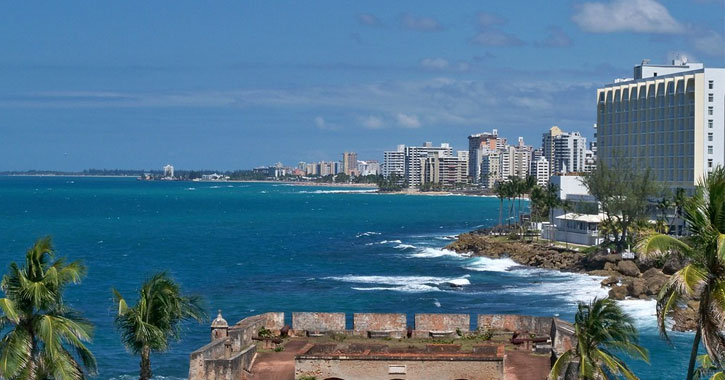 Situated at the heart of San Juan, Condado Ocean Club is an adult-only boutique hotel with all the modern amenities, water-view rooms, and their stunning always-heated infinity pool right in front of the beach with a lively bar ready to take your drink orders.
If you're here for the people and partying, Condado will cater to your needs because it is in a busy tourist area with Casino del Mar, a line of stores, Starbucks and a lot of dining options within walking distance from the hotel.
But if you just want to breathe in everything, Condado Ocean Club offers all meals from the on-site restaurant as well.
Location: Esperanza, Vieques, Puerto Rico
Resort Highlight: Overlooking the sea in an intimate setting ideal for honeymooners
Blue Horizon Boutique Resort isn't a beachfront resort, but it is located on a cliff overlooking Esperanza Bay on Vieques, Puerto Rico. Because of its location, you do have to take an extra plane ride from San Juan to Vieques, or an hour ferry from Fajardo.
This adults-only, 10-room boutique hotel features an oceanfront infinity pool, an onsite bar, three restaurants (Carambola, L' Mirador Terrace, and Blue Moon Bar & Grill).
Horses roam freely by the pool and you can go on a horseback ride on the way to the nearest beach (about 50 meters walk from the hotel).
Blue Horizon Boutique Resort takes care of everything for you, from setting up tours for snorkeling, scuba diving, and other water activities, exploring the island, to arranging transportation and all meals for you.
Can't Go to Puerto Rico?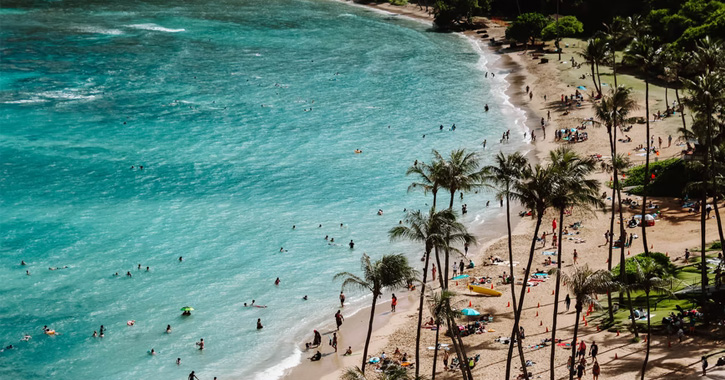 December through March is the best time to go to Puerto Rico (it is also the high-peak season during these months, so make sure to book your packages months ahead).
Avoid June up to November, since this is hurricane season in Puerto Rico and the rest of the Caribbean.
If you weren't able to book months back or it is currently hurricane season in Puerto Rico and you're itching to go have a beach getaway, check this list of exotic US vacation spots and the best Hawaii beaches (there's just too many heavenly resorts in Hawaii, so enjoy picking from the best beaches in Kauai and the best beaches in Oahu).