If you're looking for the best weekend getaways that you can accomplish within 2 to 3 days, it can be tricky to give you a recommendation just based on the number of days you're free to have this trip.
Our country is massive.
Those living on the East Coast just couldn't take a kitschy road trip and visit Route 66's Americana attractions and be back home after 3 days.
Or someone from California hoping to reach NYC by Friday and get back in time for work on Monday.
The weekend is just too tight for some itineraries to work, especially considering time zone differences, flight length and layovers, budget, and stopover preferences.
So how do you pick which city to visit? I'll share with you how I do it.
Criteria for Fun Weekend Getaways
When we are looking for a quick getaway weekend one of the limiting factors is always how long it will take you to get there.
It's one thing to drive 10 hours to get to a beautiful week-long beach vacation and another to fly 10 hours to get to Hawaii, but those are for longer trips.
That kind of travel time is out of the question for 2- to 3-day weekend getaways.
To successfully plan the best weekend trips in the US, pick a destination that:
is less than a 5-hour drive from your original destination
has direct flights from your hometown
speaks to you (don't get trapped by travel guides. Just go with what experiences you like and find a place that offers you just that.)
fits your budget. Some cities are notorious for being expensive (looking at you, NYC and Honolulu!), so make sure you consider your funds when choosing a destination
accomplishes your goal (to relax, to hike, to camp out, to spend a romantic weekend, to ski with family, and so on)
Keep your choice simple and don't pack unreasonable numbers of stopovers that wouldn't fit your schedule.
You wouldn't want to be all stressed out within that 2- or 3-day getaway, right?
To help you even more with planning, here are 20 of the best weekend getaways on the east coast and in the western states.
Best Weekend Getaways on the East Coast
1. Maine Coast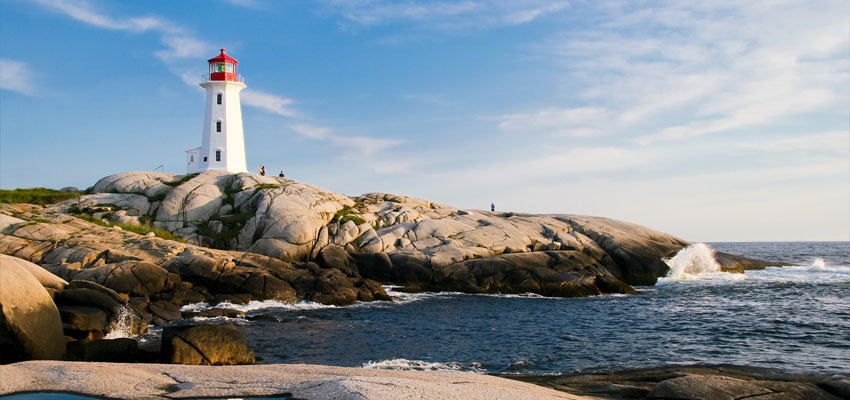 Maine has around 3,500 miles of coastline, so it's no wonder many Bostonians are drawn to the beaches along the southern coast for holidays and quick weekend getaways.
Pick from Old Orchard Beach or Kennebunkport if you wish to stay near the beach.
Several options in Maine, all of which combine a charming seaside vibe with historical and nature tripping.
If you're planning a romantic getaway, check out the Berry Manor Inn at the 18th-century fishing town called Rockland.
Don't forget to try out some lobsters – it's a must!
2. Cape Cod, Massachusetts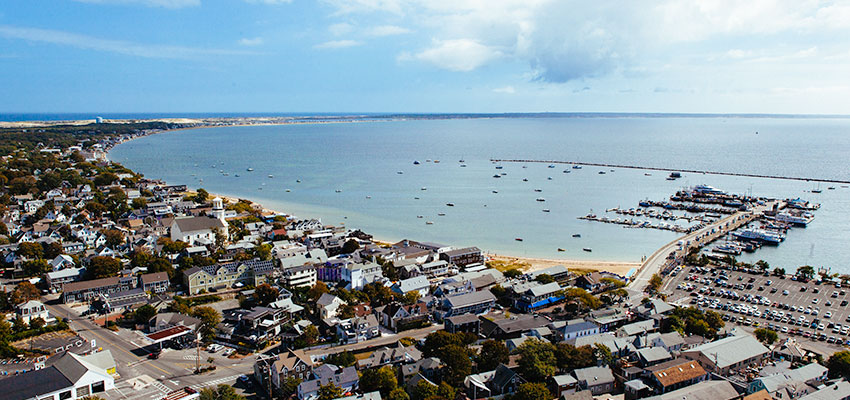 Cape Cod is another beach destination that you should check out, especially if you want uncrowded beaches, interesting lighthouses, adorable Main Streets with a small-town feel but city amenities.
Visit Harwich Port, the Happiest Seaside Town in the USA, or join some impressive whale watching at the Stellwagen Bank National Marine Sanctuary.
If you're looking for some side trips, drive through Cape Cod vineyards, or take a day trip to the islands of Nantucket.
If you have a little extra time, I put together a fun 7-day road trip through New England that highlights some of the best places to visit.
3. Niagara Falls, New York
If you haven't visited the magnificent Niagara Falls, hop on a Maid of the Mist boat to get up-close views of Niagara Falls.
The surrounding areas also have so much more to offer.
Explore Old Fort Niagara, or just relax at hotels with some of the most spectacular views you'd ever experience in the world.
If you're a fan of wine, you could spend an entire weekend checking out over 60 wineries around the Niagara region.
4. Chicago, Illinois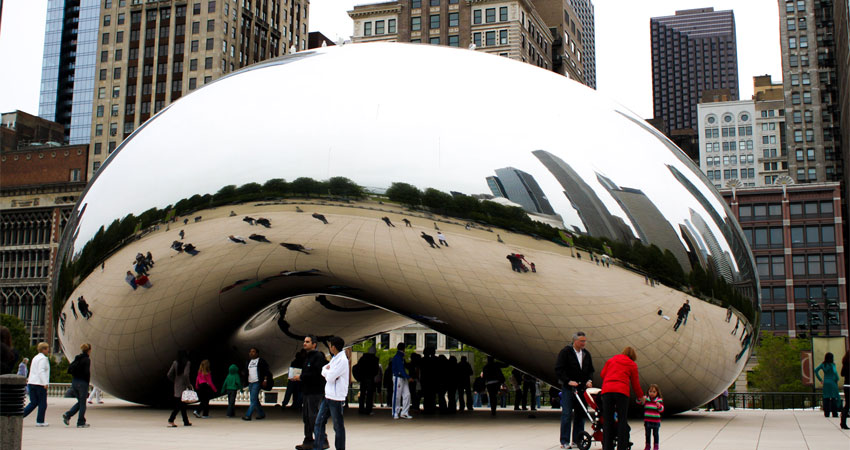 Chicago is home to a ton of good food (there are numerous famous chefs from here), a busy city with its unique charm, and a comedy scene not found anywhere else.
Ideal for travelers who love walking trails and digging deep into the culture of a particular place, Chicago has 77 neighborhoods that you can explore from Pilsen to River North.
Don't leave Chicago without embarking on the architectural river tour. The city definitely has an impressive collection of awe-inspiring buildings, some dating back to hundreds of years.
Check out my guide to Chicago with a massive list of things to do around the city.
5. Cape Charles, Virginia
Located near the southern tip of Virginia's Eastern Shore right on the Chesapeake Bay, this little beach town is perfect if you're after a relaxing getaway.
It's over a 2-hour drive if you're coming from Richmond or up to a 4-hour drive if you're driving from Maryland or DC.
The town is small, relatively unknown, but has some of the most peaceful beaches in this area. Don't miss several ice cream joints around town (Peach Beach Shave Ice Shack and Brown Dog Ice Cream).
For couples or grown-up tourists, check out Cape Charles Brewing Company, Buskey Cider on the Bay, and Cape Charles Distillery for locally-produced cider, whiskeys, bourbons, moonshine, and vodka.
6. Asheville, North Carolina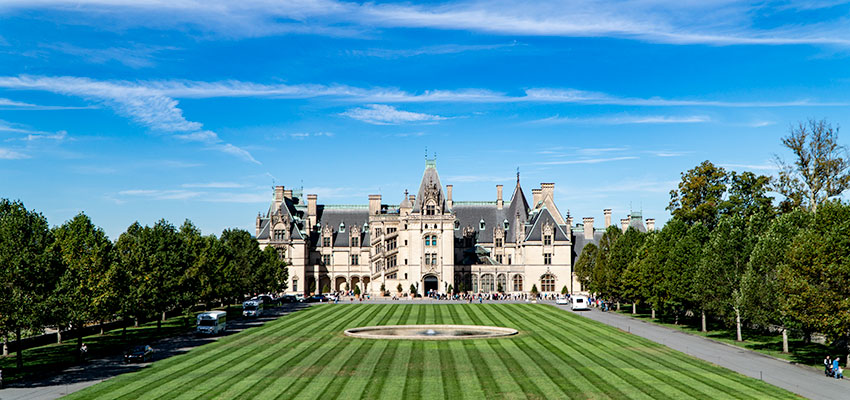 It used to be a "sleepy mountain town," but the growing art scene, local food, breweries, and adorable hippie culture draws more and more people into this North Carolina town.
Go on nature trips through the Blue Ridge Mountains, be in awe of the creativeness flowing through the River Arts District or discover the town's history with the trolley whisking you around town.
Check out my guide to spending a day in Asheville.
7. Charleston, South Carolina
Foodies flock to Charleston to experience authentic shrimp and grits as only the Southern food capital can prepare.
There's a nearby beach (Folly Beach) and dozens of relaxing attractions, such as the Arthur Ravenel Jr. Bridge, Waterfront Park, Pineapple Fountain, and iconic Charleston neighborhoods South of Broad, and the French Quarter.
Beer lovers would also definitely love this place. Charleston's brewery district has over 10 beermakers that would gladly let visitors taste-test their craft beer.
8. Atlanta, Georgia
Ideal for families, Atlanta has no shortage of attractions and things to do.
Here you'll find the World of Coca-Cola museum and the Atlanta Aquarium, the largest aquarium in the country.
The Atlanta music scene and the music festivals scattered throughout the year are also a must-experience.
Atlanta's neighborhoods are historic and beautiful – you can get lost in the city and never run out of picturesque backdrops for your photo ops.
9. Key West, Florida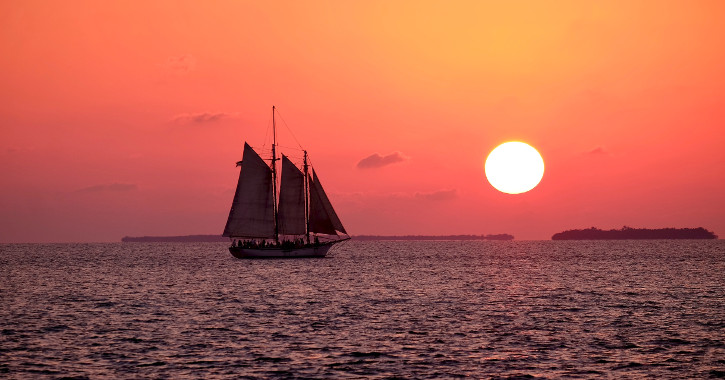 Key West is at the southern end of the Florida Keys and probably the most popular of the Florida Keys.
Its cheery atmosphere and relaxed island vibe make this city one of the top weekend getaways in Florida.
Aside from its excellent beaches, Key West has much to offer in terms of history, culture, nature, and nightlife.
Visit the Ernest Hemingway Home & Museum where Hemingway was at his most productive.
Swim and snorkel at the Key West National Wildlife Refuge and watch out for sea turtles.
Make your way to Duval Street for some of the best nightlife in the Florida Keys. Whether you like EDM or salsa, whiskey or beer, you'll find what you're looking for.
Or go night kayaking to observe the nocturnal sea creatures you won't see during the day.
If you're driving down to Key West, make sure to check out our Florida Keys road trip guide.
10. Newport, Rhode Island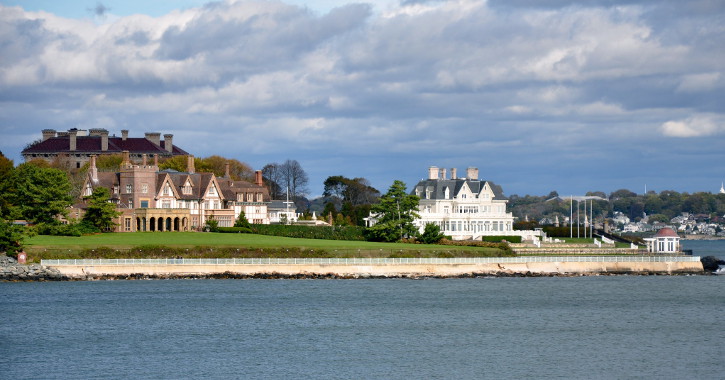 A mere half-hour drive away from Boston, Newport is a seaside city on Aquidneck Island that has long been
In fact, Newport was the go-to summer getaway for rich families in America during the Gilded Age, and it has the mansions to show for it.
Of course, these mansions aren't the only sights to see here. Newport's beaches range from serene to violent waves crashing on cliffs.
Hiking on Cliff Walk is the best way to appreciate both the rugged beauty of the Newport shoreline and the magnificent architecture of the Gilded Age mansions. Or if you prefer driving or biking, go around Ocean Drive to experience the best of Newport's coastline.
Best Weekend Getaways on the West Coast
1. Las Vegas, Nevada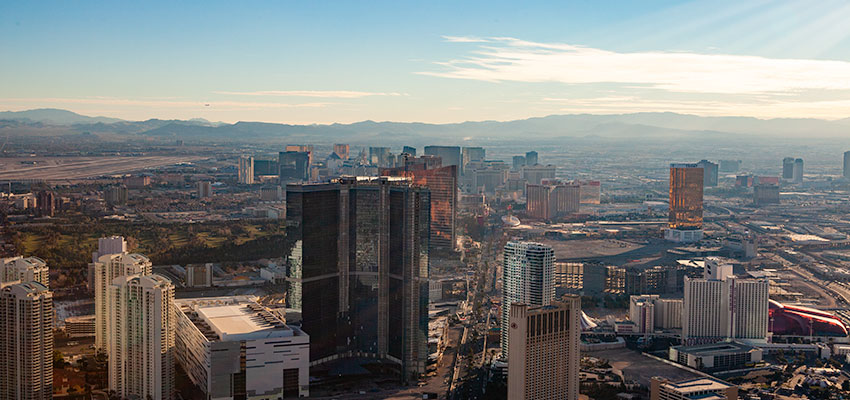 There really is no other place like Las Vegas.
With the lights, excitement, jaw-dropping activities all around the city, you won't run out of things to do here.
If you can, watch artists like Celine Dion or Lady Gaga live. Go downtown for truly local food, or splurge on one of the many celebrity chefs around the city. Don't leave without visiting the Cosmopolitan.
And if you decide you want a breather, you can hike and mountain climb just 20 minutes from the Strip.
2. San Francisco, California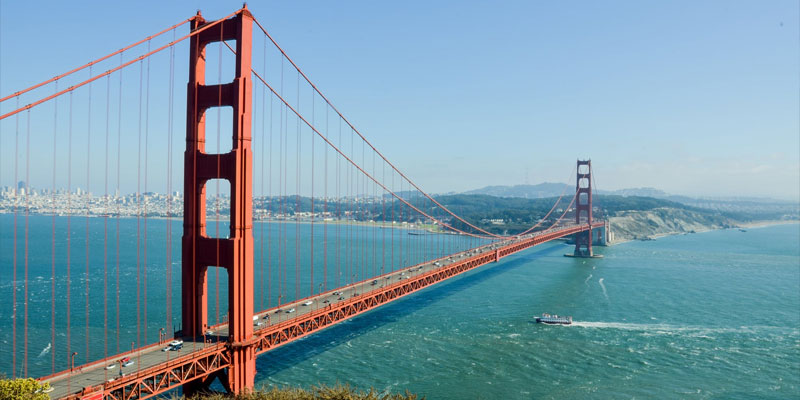 The San Francisco Bay Area has everything to offer backpackers, honeymooners, family travelers, and thrill-seekers.
You can explore the city of San Francisco (don't forget the Golden Gate), or visit not-so-popular areas like the hillside marina town of Sausalito and Polk Street's vintage designer clothing stores.
Of course, while you're here, don't miss California's many iconic destinations, from Big Sur to Yosemite National Park.
3. Boise, Idaho
This city is a walk- and bike-friendly place, so if you're in love with walking trails and exploring neighborhoods by feed, you'll be right at home in Boise.
Many people go here because of the affordable skiing (unlike Seattle, Portland, or Denver with sky-high fees). Thrill-seekers would also love surfing, rafting, tubing, kayaking, hiking, and biking (at the Boise River Greenbelt).
A one-of-a-kind experience in Boise is probably the 20-stopover Boise's Ale Trail, which you can plan by using a free app.
4. Portland, Oregon
If you prefer laid-back weekend getaways, Portland is the perfect place, especially in the fall.
Visit Portland Saturday Market, Forest Park's thousands of acres of spectacular nature and numerous trails, Washington Park's hiking trails, Powell's Books, and other breathtaking scenery around the City of Roses.
Don't just spend your time in downtown Portland.
Explore inner-neighborhoods like Buckman and Sunnyside to see the other side of Portland with astounding Victorian bungalows and streets lined with quirky shops.
5. Seattle, Washington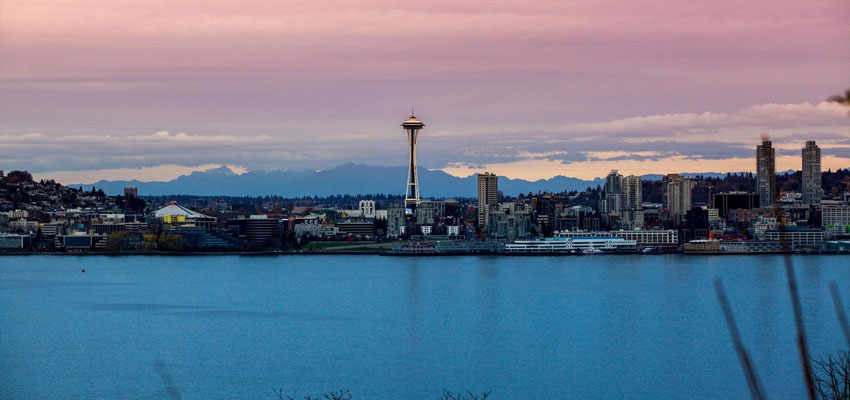 Seattle is home to the Space Needle, EMP Museum, and Chihuly Garden and Glass, Olympic Sculpture Park, Amazon, Microsoft, and Starbucks (visit the first-ever Starbucks store in Pike Place Market).
There are also numerous activities to join, from boating or biking, hiking, paddle-boarding, and walking trails with the backdrop of Mt. Rainier dramatically showcasing its beauty from afar.
Don't be deterred by a little rainfall! With its evergreen scenery and stunning Mt. Rainier backdrop, Seattle might be the most beautiful city in the Pacific Northwest.
Get your fill of tasty treats and seafood at Pike Place Market, then walk to Olympic Sculpture Park for the massive sculptures and marina views.
Make sure you try Seattle's seafood – they're known for slurping delicious oysters.
6. Scottsdale, Arizona
For cultural attractions and a lively nightlife combined with numerous nature activities.
Scottsdale has 400 miles of desert trails and 200+ golf courses, plus the popular mountain-biking trails of the Sonoran Desert, or kayaking the desert's Salt River.
Known as the spa capital of the country, this weekend getaway is perfect for anyone who needs maximum pampering.
7. Denver, Colorado
It's famous for its weed and local craft beer, but there is so much that Denver has to offer.
It boasts an impressive ski resort (Loveland or Eldora) and massive land for hiking, biking, skiing, and exploring the city by foot or scooter.
Don't leave without checking Denver's art and music scene. Red Rocks, one of the world's first concert venues, is a natural rock formation that provides an organic sound system.
8. Anchorage, Alaska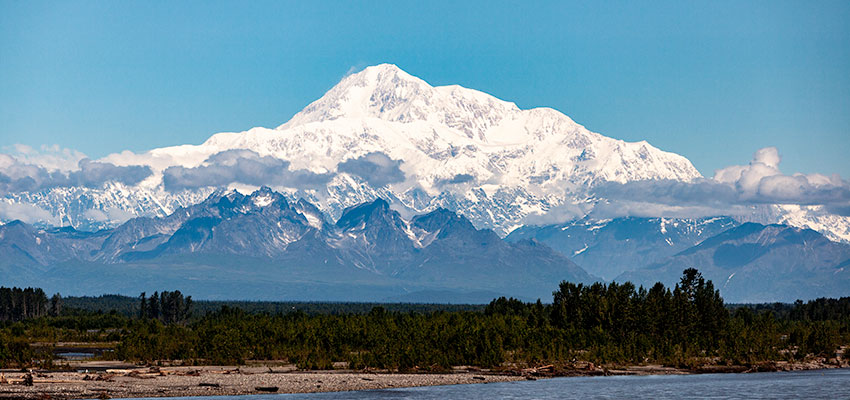 This picturesque Alaska town has one of the best skylines in the country and is a dream destination.
Many national parks are nearby, so you can easily view one of the 60 glaciers in just a short drive.
Anchorage, like most of Alaska, is perfect for nature lovers. You'll never run out of things to explore, starting with the six-million-acre Denali National Park.
If you're lucky, you'd be able to experience the magical Northern Lights illuminating the sky during your visit.
9. Salt Lake City, Utah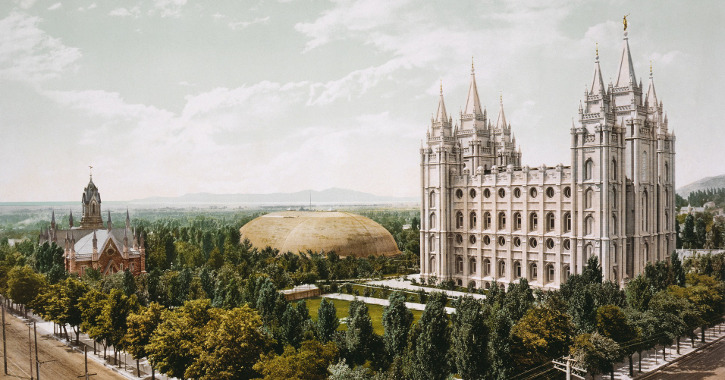 Salt Lake City is a western city that used to be seen as nothing but a traditional pioneer town, but they've slowly developed into a tourist destination that's among the best weekend getaways in the western US.
It's a short drive away from Park City, which is among our picks for the best places to ski in the country, and is thus popular for skiers who want access to city life while embracing the great outdoors.
The Great Salt Lake, for which this city is named, is nearby and worth exploring. Hike or bike along the Bonneville Shoreline Trail to trace its ancient shoreline. Or make your way to Antelope Island State Park for a unique swimming and floating experience due to the lake's high salt content.
But if history and urban sightseeing is more your speed, Salt Lake City doesn't disappoint, with its walkable streets, quirky street art, and many historic sites. We've previously drawn up a three-day Salt Lake City itinerary that you can use as a guide.
10. Glacier National Park, West Glacier, Montana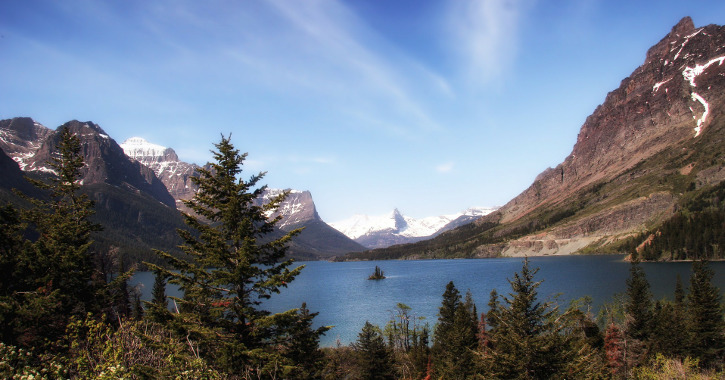 Montana is a naturally beautiful state, and visiting one of the two national parks in the state will reveal to you why.
While Yellowstone National Park is arguably more popular, Glacier National Park is paradise for outdoor enthusiasts.
With over 734 miles of hiking trails, rugged mountains, vast forests, cascading waterfalls, spectacular sunsets, plus plenty of wildlife viewing and recreation opportunities, Glacier National Park promises to be one of the best weekend getaways in the US.
Start your adventure by driving the Going-to-the-Sun Road for one of the most scenic drives in the country.
Hike the Garden Wall to get the most gorgeous photographs, raft the Middle Fork or North Fork at the Flathead River, fish at Two Medicine Lake, and camp at Kintla Lake Campground.
What Are Your Picks For The Best Weekend Getaways?
I'm always looking for potential destinations to visit, for future long weekends or just a quick vacation to get away from it all.
And I would love to discover more!
Have you gone on a memorable weekend getaway recently? Please share your story below!