Nowadays, it's famous with tourists for its local craft beer and its weed, but there are so many other things to do in Denver.
Also known as the Mile High City because of its 1 mile elevation above sea level (not for any other reason), Denver was the site of the famous gold rush during the old west days. It is the capital of Colorado and the most populous city in the state.
Despite its elevation, Denver is not a mountain town or city; it lies on the South Platte River Valley, on the western edge of the High Plains and east of the front range of the Rocky Mountains.
Let's take a look at the best things to do in Denver, as well as essential information and tips for a great visit to the Mile High City.
The Best Things to do in Denver
1. Marvel at the beauty of nature and biodiversity.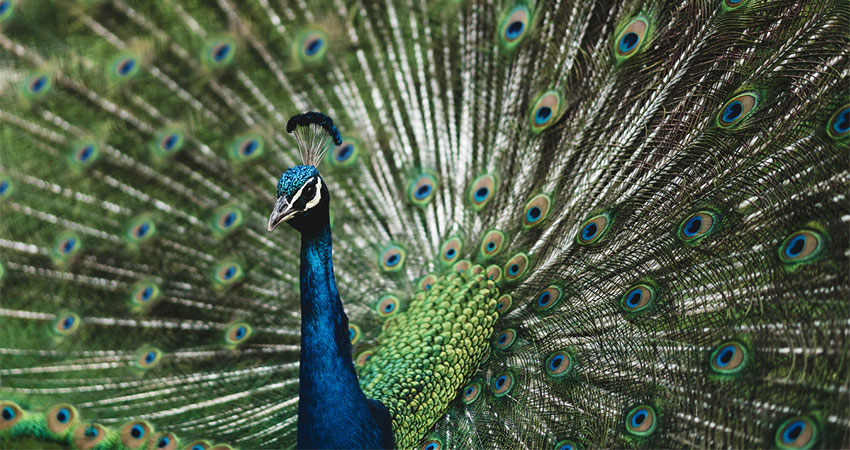 Looking out at the mountains, you might think that there's nothing but snow and rocks and water in Denver and Colorado in general, but Denver is actually home to plenty of plant and animal species.
Every visit to these facilities contributes to the conservation, preservation, and documentation of organisms
Take a walk or have a picnic at the Denver Botanic Gardens, where you can see plants from all over the world that thrive in high-altitude, low-temperature, and low-humidity conditions. (Fun fact: it's one of our picks for the best botanical gardens in the country).
With more than 3,000 animals spanning 400+ species occupying 80 acres of space, visiting the Denver Zoo is one of the most fun and educational things to do in Denver. While it's not on our list of the best zoos in the US, you can still feed giraffes, watch a sea lion show, interact with snakes, and more.
If you prefer marine life, Downtown Aquarium will not disappoint. With more than one million gallons of exhibits and a restaurant featuring a 50,000-gallon aquarium centerpiece, this is an aquarium experience unlike anything you've ever experienced.
2. Take in the magnificent view at Red Rocks Park and Amphitheatre.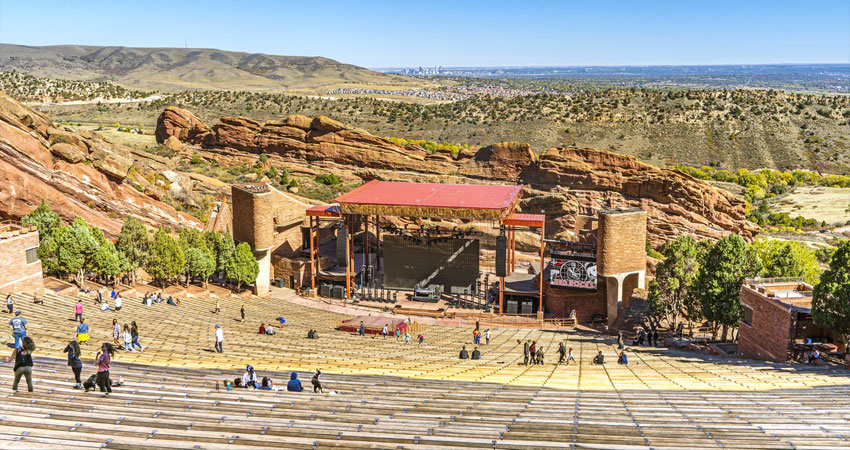 The Red Rocks Park and Amphitheatre is such a plain, straightforward name for what's quite possibly the best place in the world to experience live music, not just for its acoustics, but also for its ambiance, views, and history.
Red Rocks Amphitheatre is a geological phenomenon; it's the only naturally-occurring, acoustically perfect amphitheatre in the world.
Start your visit at the Trading Post, where you can buy unique Red Rocks souvenirs, apparel, and historical memorabilia. It's also home to the Colorado Music Hall of Fame exhibit.
Try to catch a concert in this venue; check concert, film, and other show schedules before you visit.
This venue is also a park, where fitness activities are welcome. Hike along the Trading Post Trail, or hike, bike, or go horseback riding on the Red Rocks Trail, or attend a session of Yoga on the Rocks.
The more recently finished Visitor Center is home to The Red Rocks Hall of Fame, the famous Ship Rock Grille and other restaurants as well as coffee shops, and various art exhibits throughout the year.
3. Appreciate art, history, and science in one of Denver's museums.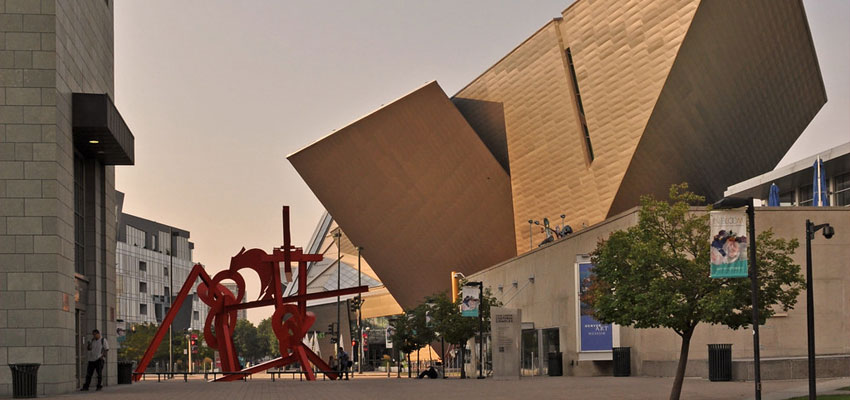 Denver may not be the first city that comes to mind when you think of a culture-rich city where there are museums to visit, but you'd be pleasantly surprised.
With more than three dozen museums encompassing a variety of topics, the museum scene in Denver has something for every interest.
In fact, museum tours are one of the favorite things to do in Denver by tourists and locals alike. Here are some of the museums in Denver you simply shouldn't miss.
Denver Art Museum | 100 W 14th Ave Pkwy, Denver, CO 80204 | 720-913-0130
A work of art both inside and out, Denver Art Museum is the city's largest museum and its most popular one. In fact, we've included it in our list of the the best art museums in the country.
Denver Art Museum is well-known for its 70,000-piece collection and its array of exhibits, including one of the largest collections of Native American art in the world, as well as its textile art gallery.
Clyfford Still Museum | 1250 Bannock Street, Denver, CO 80204 | 720-354-4880
Clyfford Still Museum houses a massive 3,200-piece collection detailing the life and work of Clyfford Still, an Abstract Expressionist active from the 1920s till the 1950s.
Learn about Still's journey as an artist and what inspired him to move from painting scenes and portraits to more abstract shapes and colors to express feelings.
Museum of Contemporary Art | 1485 Delangy Street, Denver, CO 80202 | 303-298-7554
As far as art museums go, the Denver Art Museum and Clyfford Still Museum are better known and certainly worth visiting. But the smaller yet equally impressive Museum of Contemporary Art is worth visiting for any serious art lover.
When you're done looking at the art, stop by the rooftop café and have a sandwich and coffee while enjoying stunning views of the city and the surrounding mountains.
Molly Brown House Museum | 1340 Pennsylvania Street, Denver, CO 80203 | 303-832-4092
The "unsinkable" Margaret "Molly" Brown is probably most famous for surviving the sinking of the Titanic, trying to convince the lifeboat she was in to turn back and look for other survivors, and being played by Debbie Reynolds in the movie The Unsinkable Molly Brown, and more recently, Kathy Bates in the 1997 movie Titanic.
But even before she embarked on the Titanic and way after she was rescued and disembarked on the Carpathia, Molly Brown lived an extraordinary life that impacted women, children, and fellow Denverites.
She was a suffragist, philanthropist, and reformist for the juvenile justice system.
Built in the 1880s, the Queen Anne house she and her husband JJ Brown lived in was saved from demolition in the 1970s to be restored.
Inside, exhibits show visitors how life was in the late 19th century to the early 20th century, how the gold rush impacted Denver and its elite, and temporary exhibitions about the time period.
History Colorado Center | 1200 N Broadway, Denver, CO 80203 | 303-866-2394
Looking back on one's history provides context to the present and informs the future.
At History Colorado Center, interactive displays and exhibits teach the good, the bad, and the ugly of Colorado history to visitors.
Permanent exhibits tell the story of Colorado's geography, life in the 1800s, Colorado communities over time, and all about Denver
Denver Museum of Nature and Science | 2001 Colorado Blvd., Denver, CO 80205 | 303-370-6000
With exhibits featuring a variety of scientific fields, the Denver Museum of Nature and Science houses everything from dinosaur bones, a silver mine, a genetics lab, Egyptian mummies, wildlife dioramas, and many more.
Kids and kids at heart will have a grand time with the interactive exhibits, the IMAX theater, and the Planetarium.
Denver Firefighters Museum | 1326 Tremont Pl, Denver, CO 80204 | 303-892-1436
The Denver Firefighters Museum is housed in a building more than 100 years old where visitors can learn about the history of the Denver Fire Department and firefighting in Colorado through its various exhibits and collections.
4. Relax in one of the city parks in Denver.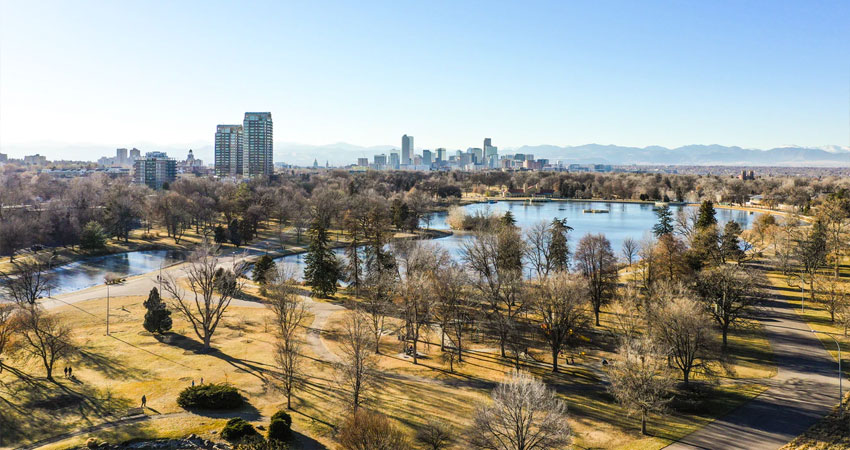 Denver may be a busy urban space, but you're never more than a few steps away from a lush green space. There are over 5,000 acres of traditional parks and parkways in Denver.
Some of the city parks even have lakes within them, where you can take out non-motorized boats and even fish. However, swimming is not allowed in any of the lakes within the city limits.
Here are some of the popular public parks in Denver.
City Park | Colorado Blvd. and York St., Denver, CO
At 330 acres, City Park is the largest municipal park in Denver, home to Denver Zoo and the Denver Museum of Nature & Science. Ferrill Lake and Duck Lake provide opportunities for boating and fishing, while golfers can get their green on at City Park Golf Course.
You can also play tennis, horseshoes, baseball, football, and soccer, or simply bring food to one of the many picnic tables.
Confluence Park | 2250 15th St., Denver, CO
Confluence Park is where Cherry Creek and the South Platte River meet and mingle. It's close to the Downtown Aquarium, the Children's Museum of Denver, and Elitch Gardens Theme & Water Park.
Cherry Creek Regional Trail is a favorite of hikers and bikers, while South Platte River is popular for kayaking, tubing, and fishing.
Cheesman Park | 1599 E. 8th St., Denver, CO
Just a stone's throw away from Denver Botanic Garden, grassy and tranquil Cheesman Park is the perfect place to jog, take a quiet walk, a picnic, or maybe toss a Frisbee for a bit. Kids will enjoy the large playground within.
Bonus: Cheesman Park was built on top of Denver's first cemetery, making it rich in history (and ghosts, probably).
Sloan's Lake Park | 1700 N Sheridan Boulevard, Denver, CO
Sloan's Lake Park contains the biggest lake within the Denver city limits, and the only lake in the city that allows motorized boats and water skiing.
Sunsets at this park are spectacular, with views of the Rocky Mountains, along with the Denver skyline. Picnicking, hiking, and biking are popular around the lake.
Washington Park | S Downing St & E Louisiana Ave, Denver, CO
Washington Park, or "Wash Park" as the locals call it, is beloved by the local residents of the surrounding neighborhood.
With Smith Lake and Grasmere Lake for water recreation, multi-use trails, picnic amenities and areas, basketball, tennis, and volleyball courts, and a playground, there's something for the whole family here.
5. Take a walk in Larimer Square and see Denver's origins.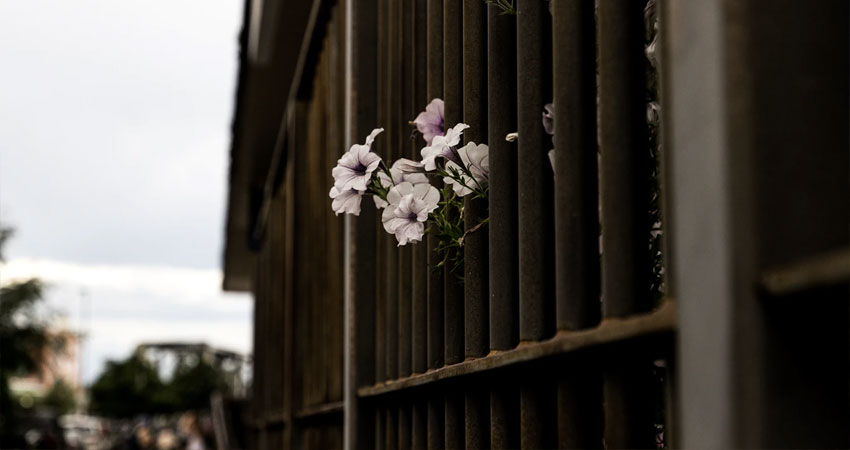 In 1858, a group of American Indians and settlers struck gold at the foot of the Rocky Mountains, and this started a gold rush to the area.
The original pioneer camp, known then as Auraria, soon grew into what is now Larimer Square.
The years after the gold rush and after Prohibition were tough, but somehow, Larimer Square has always managed to stage a comeback.
You might be expecting a plaza or town square, but modern-day Latimer Square is actually a straight street lined with Victorian buildings housing restaurants, boutiques, cafés, breweries, bars, clubs, and various other modern establishments.
Go over the Larimer Square directory to find out what this scenic and historic place has to offer.
Their website also lists upcoming events, as well as maps to help you find the local business and help you plan your tour in the square.
You can walk to this neighborhood from downtown Denver, or you can hop on a Free MallRide bus from Union Station and then get off at the 16th Street Mall, which is very close to Larimer Square.
6. Go on a brewery or distillery tour.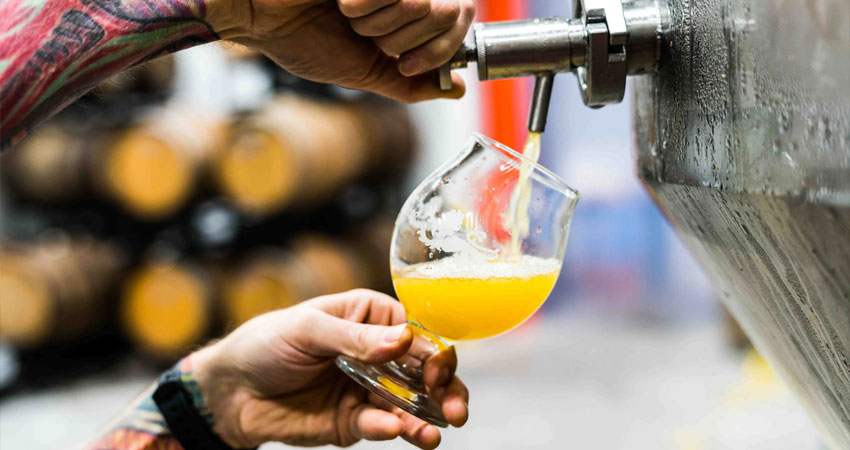 Denver's craft beer scene is one of the best ones in the world, with 150 breweries and counting.
Tours and tastings in various breweries have become one of the top things to do in Denver to learn about local beers, how they are made, and how they taste.
Here are some of the best brewery tours you can take.
Denver Microbrew Tour | 303-578-9548
Tours offered by this company include the LoDo (Lower Downtown) Craft Beer Tour and their RiNo (River North Art District) Beer and Graffitti. They also offer private tours for groups who want to bond in a unique way.
Denver Brew Tours | 303-522-3236
Their walking tour takes you through the neighborhoods of Sunnyside and LoHi (Lower Highland), while their bus tour lets you pick the itinerary or follow the recommendations of your designated driver, who's also a craft beer aficionados.
Denver Brews Cruise | 303-993-7308
Their Downtown Brewery Tour takes you to 3 breweries, with the first one being a "Beer 101" explainer.
Tour prices range from $40 to $60 per head.
If you're a big DIYer, you can also plan your itinerary yourself using this handy guide to Denver breweries grouped by neighborhood and shown on a map.
Breweries are king in Denver, but interest in distilleries have also been increasing in recent years. Here are some of the best distilleries in Denver you can tour.
Stranahan's | 200 South Kalamath Street, Denver, CO 80223 | 303-296-7440
Stranahan's is probably the best-known whiskey distillery in Denver.
Their one-hour American Single Malt Whiskey Tour takes visitors through their distillery and teaches them about the process, equipment, ingredients, and more involved in creating Stranahan's American Single Malt whiskeys.
Laws Whiskey House | 1420 S Acoma Street, Denver, CO 80223 | 720-570-1420
Laws Whiskey House is another well-known distillery in Denver. They pride themselves on using only heirloom and heritage grains from family-owned farms.
Their distillery features church pews where visitors can sit down and feel they're in a church of whiskey.
Mile High Spirits | 2201 Lawrence Street, Denver, CO 80205 | 303-296-2226
Mile High Spirits is best known as a late-night bar with DJs hosting a weekend dance party, but their distillery is known for concocting strange flavored yet interesting spirits.
They offer distillery tours that give you access to their production warehouse as well as the opportunity to sample such creations as Papaya Tequila, Cucumber Jalapeno Gin, and Mixed Berry Moonshine.
7. Enjoy Denver's music and nightlife scene.
Denver has come a long way from being a sleepy town. The nightlife here is booming.
On any given night in Denver, there's a local, national, or international artist performing somewhere, there's a dance party happening, and there's a comedy artist wanting to make their mark.
Here are some of the best spots, venues, and neighborhoods to let your hair down and sing, dance, or laugh your heart out.
Larimer Square is known for its chic lounges, LoHi for the rooftop views, Cherry Creek North for the high-end, posh crowd, and LoDo for the most popular dance clubs and bars.
The SoCo Nightlife District (South of Colfax) features multiple clubs with different themes, different music, and different vibes, all within a few blocks.
The Grizzly Rose is a classic live country music venue in Denver, complete with line dancing, beers, and a mechanical bull.
My Brother's Bar is the oldest bar in Denver, serving fine beers and spirits since 1873.
Ophelia's Electric Soap Box, by contrast, is the newcomer in Denver's nightlife scene. A multilevel "gastro-brothel," it had been, at various points in its history, a brothel, a peep-show parlor, and an adult bookstore. The décor reflects its sensual history.
For the best of comedy, try to catch a show in Comedy Works in Larimer Square where local comics are tested by fire and world-famous stand-up comics bring the house down. If you prefer improv, the Bovine Metropolis Theater is a surefire way to bring about belly laughs.
8. Admire a beautiful, historic public space in Denver Civic Center.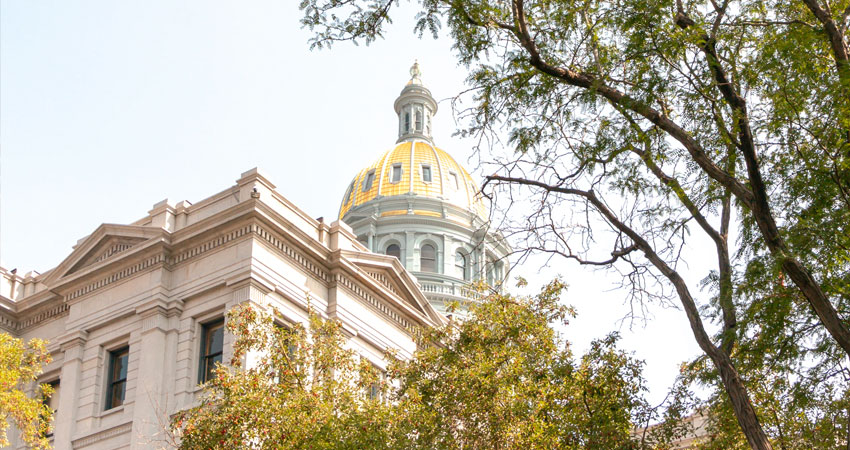 Denver Civic Center is a historic district known as the center of Denver civic life and home to institutions of arts, government, and culture.
Bounded by Grant and Cherokee Streets and 14th and Colfax Avenues, the Denver Civic Center evokes the City Beautiful movement and Beaux-Arts design principles. This area has been designated as a National Historic Landmark in 2012.
Some of the more prominent buildings included in this district are the Denver Mint, Denver City and County Building, Denver Art Museum, Center of Colorado Women's History, Denver Public Library: Central Library, and the Colorado State Capitol, with its distinct golden roof.
As with the rest of Denver, green spaces are never far. Liberty Park, Lincoln Memorial Park, and of course, the Civic Center Park, perhaps the most popular venue for large gatherings, events, festivals, parades, and sometimes protests.
9. Tour, dine, shop, or stay in Union Station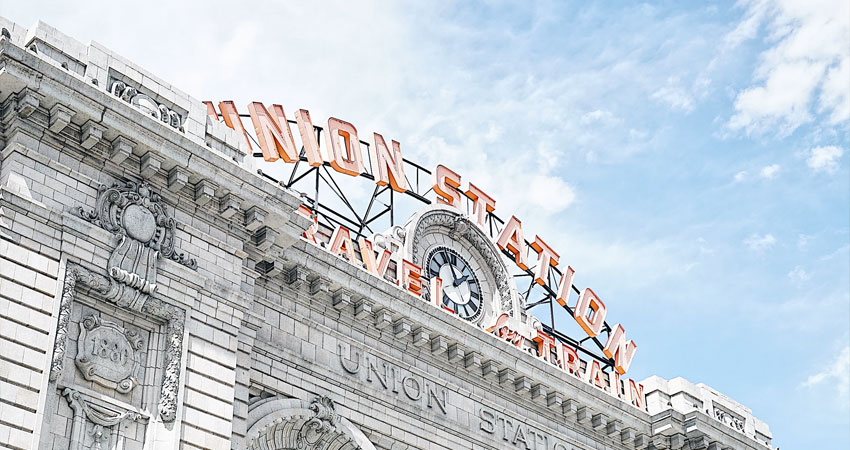 Denver Union Station is yet another historic Denver landmark that you don't want to miss.
It's a multifunctional transportation hub for Denver, offering access to the RTD Free MetroRide, RTD Free MallRide (the 16th Street Mall shuttle), RTD Light Rail, Amtrak train, and the Airport Rail.
Aside from transportation, there are plenty of restaurants, bars, and coffee shops with some of the best food and flavors the city has to offer.
Every Saturday morning, the Union Station Farmers Market sets up shop on the Denver Union Station Plaza.
Shopping is another thing to do here at Union Station. Local boutiques sell books, flowers, jewelry, and gifts and souvenirs for travelers.
The Crawford Hotel is above the Denver Union Station's Great Hall, where one can stay in a luxurious oasis, with rooms referencing Union Station's history.
If you get lost, as travelers sometimes do, there's a Tourist Information Desk where you can pick up maps and visitors' guides, as well as information on arrival and departure times for transportation.
10. Watch a game from one of the sports venues in Denver.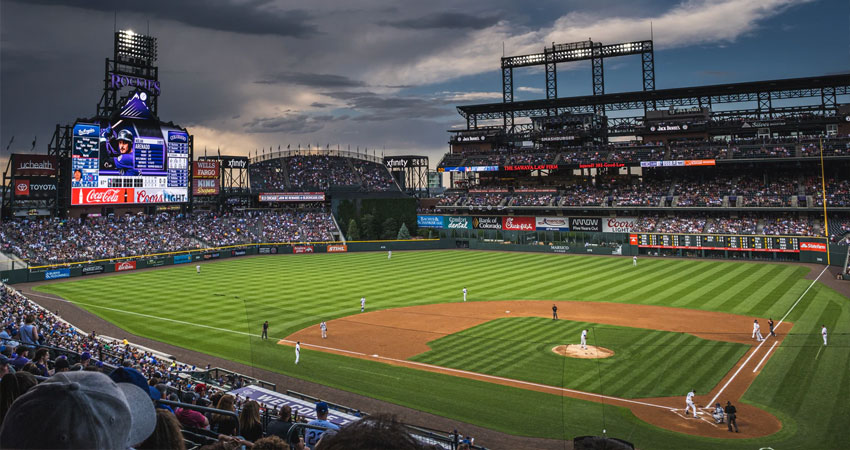 Sports fans rejoice! Denver is home to eight professional sports teams that play to excited sports fans all year round. No matter what time of year you visit Denver, chances are one of these teams are playing.
Here are the sports venues you can watch games from.
Coors Field | 2001 Blake St., Denver, CO 80205 | 303-292-0200
Coors Field is the home field for the Colorado Rockies, Denver's Major League Baseball franchise. Located in LoDo, Coors Field offers the nostalgia of a classic ballpark mixed with state of the art technology.
Empower Field at Mile High | 1701 Bryant St., Ste. 700, Denver, CO 80204 | 720-258-3000
Empower Field at Mile High is where the Denver Broncos dominate and play to sold-out crowds. The Colorado Sports Hall of Fame is also housed here where you can look at Colorado sports greats.
This is also where the Denver Outlaws of Major League Lacrosse play.
Pepsi Center | 1000 Chopper Cir., Denver, CO 80204 | 303-405-1100
Pepsi Center is the house of the Denver Nuggets (NBA), Colorado Avalanche (NHL), and Colorado Mammoth (National Lacrosse League).
Yes, it converts from hockey ice to basketball court. See how it does that when you do a VIP tour in the arena.
Information And Tips On Visiting Denver
Getting To Denver
Flying into Denver? Pretty much your only option is Denver International Airport (DEN); the next nearest airport is the City of Colorado Springs Municipal Airport (COS).
Interstates that you'll probably take on a road trip to Denver are I-25 (from north or south), I-70 (from east or west), and I-225 (links I-25 to I-70).
Getting Around
The best way to get around Denver are on foot or by light rail. Many of the things to do in Denver are easily accessible by foot, and for attractions that aren't, the light rail can pretty much get you close enough to walk.
Biking is another popular way to get around Denver, thanks to dedicated bike paths and a bike-share program (Denver Bcycle). You can participate in this bike-share program or rent from one of the many bike shops.
Regional Transportation District (RTD), which runs the light rail, also operates a bus system, but navigation for tourists may be tricky.
For more sightseeing opportunities, you can also try to catch the Denver Trolley on Confluence Park, which offer Riverfront tours from May to September and shuttle Broncos fans from Confluence Park to the Broncos Stadium at Mile High during football season.
You can also hail a pedicab, or actually hire them for the day to take you on a tour in Denver. Cabs and rideshares are other options for getting around.
If you plan to go for a drive on a scenic byway to the Rockies or anywhere else outside of Denver and you don't have a car, you can rent a car from the airport.
Where To Stay
As we've seen, Denver offers a variety of experiences for different types of travelers.
Here are the best neighborhoods to stay for different types of travelers.
For Families: LoDo (Lower Downtown)
For Nightlife: RiNo (River North Art District)
For History Buffs: Union Station Neighborhood
For Culture Buffs: Golden Triangle Creative District
For Shopaholics: Cherry Creek
Best Time Of Year To Visit
The so-called shoulder seasons, April to May and September to October are considered the best months to visit Denver.
The temperatures during these months are comfortable for walking around, both in the day and in the night. Plus, there are fewer tourists and thus airfare and accommodation prices are lower.
The summer months mean warmer temperatures and also more events, festivals, and activities. By contrast, winter sees a drop in the number of tourists, meaning you can score some great deals on airfare and accommodations, but the temperatures may be too cold for your taste.
What To Wear
No matter which month you visit, it's highly recommended to pack clothes for all four seasons. Yes, you might have to pack tank tops and fur-lined jackets in one suitcase on a weekend trip.
Denver weather is notoriously temperamental. You may have warm weather today and blizzards the next day.
The best strategy to be able to stay out and about (as well as avoid locals' side-eyes and death stares when you complain) is to dress in layers.
What To Expect
Take the altitude seriously. Denver's elevation may cause altitude sickness in some people. At a mile above sea level, the air here can be thin. You may have a headache, dizziness, nausea, and trouble sleeping on your first day in Denver.
Drink plenty of water, eat potassium-rich food, get some rest, and maybe leave the brewery tour or a mountain-climbing activity on the last day of your trip.
Another thing that tourists often take for granted is the sun. Even when the weather is cold, you can get a serious sunburn just walking around. Spray or slather that sunscreen regularly throughout the day.
Know the dos and don'ts of marijuana consumption in the state. You might only be coming here to experience buying and consuming recreational marijuana.
In that case, read up on state laws so you don't get fined or arrested.
You can only buy from a recreational cannabis dispensary, you can only buy one ounce at a time, and be sure to have cash on you.
No driving under the influence, no giving to minors, and no smoking or even displaying the product in public places, most especially on federal land (e.g., national parks).
If you live in a state or country where marijuana is illegal, bringing home marijuana that you bought in Denver may land you in jail.
Don't litter here for any reason whatsoever. Denver isn't beautiful by accident; Denverites cherish their pristine spaces and take Leave No Trace very seriously.
If you get caught littering, you can get fined anywhere between $20 and $500 for your first offense, not to mention the public shaming you'll get if you get caught on a smartphone camera.
What To Eat
Denver doesn't only have craft beers, whiskey, or other alcoholic beverages to offer. Here are some of the most unique eats that Denver has to offer.
Rocky Mountain Oysters
Sorry to disappoint seafood lovers.
This popular appetizer isn't made from oysters; they're deep-fried testicles that typically come from bulls, pigs, or sheep.
The best place to have them is at Buckhorn Exchange, Denver's oldest restaurant.
Green Chile
Colorado green chile is made of Pueblo chiles, tomatoes, onions, garlic, flour, and pork. There are many ways to eat green chile, but the favored way is either alone or on top of a breakfast burrito.
The best place in Denver to eat green chile is El Taco De Mexico.
Denver Omelet
The Denver Omelet is quite simple: eggs, cheese, diced ham, mushrooms, onions, and green pepper. You may even have made it without knowing what it's called.
What's more interesting is its history. Traditionally, the story is that a pioneer woman masked the taste of rotten eggs with chopped ham, green peppers, and onions.
Food historians say the story may be a fabrication because nothing can mask the smell of rotten eggs.
In any case, the Denver Omelet has cemented its place in food history with an official ground plaque on California Street, Denver.
Visit Denver Soon!
Denver is where art, culture, history, and cuisine meet in a naturally beautiful setting, and although the setting is perfect for outdoor adventures, I hope you've learned that Denver has so much more to offer.
Other Things To Do In Colorado
There may be plenty of things to do in Denver, but there are other things to do in Colorado, with some that are a short drive away from Denver.
There are plenty of reservoirs and lakes, Rocky Mountain National Park is an hour and a half drive from Denver, and one of the most active ghost sites in the country, The Stanley Hotel, is in Estes Park, where there's an entrance to Rocky Mountain National Park.
Planning to go to Denver soon? Which of these activities are you excited to do? Share your thoughts with us in the comments!