When it comes to cute cafes in NYC, one really is spoiled for choice.
You can't say New York City without thinking of coffee. Nothing can stop a New Yorker's dependency on the beloved caffeinated drink, so much so that coffee itself could be a landmark of NYC.
Whether you're a true coffee addict, or you just want to feel like a local in visiting the great apple, you cannot miss out on the iconic NYC cafes.
Are you looking for a cozy and welcoming atmosphere? An Instagram-worthy setting for a coffee with a side photoshoot? Whatever your needs may be, I have selected the best coffee shops in New York City.
From Brooklyn to Soho, to the Upper East Side, keep reading the guide to find out the best coffee shops to check out in NYC.
3 Cute Cafes in NYC for the Pop Culture Lovers: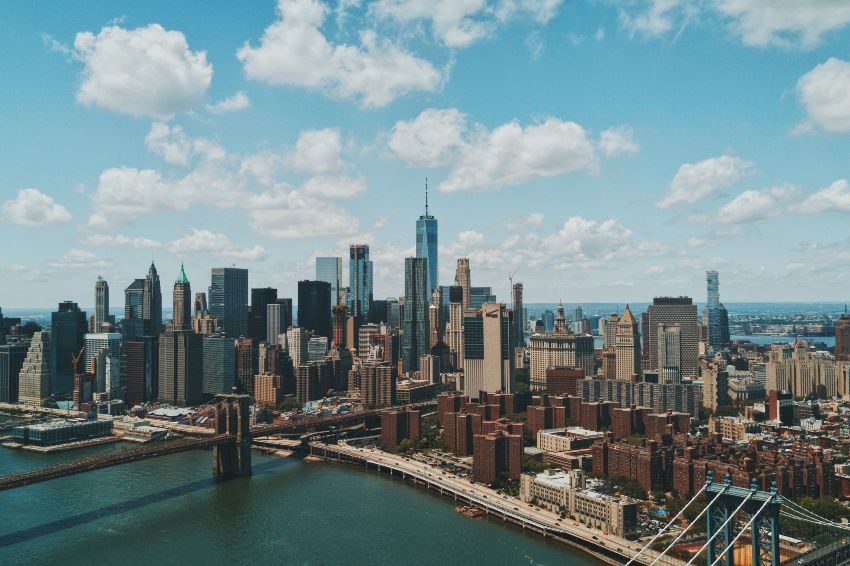 With its metropolitan and bustling atmosphere, and breathtaking cityscape, New York City has been the setting of countless iconic movies and TV shows, pretty much since movies became a thing.
The Wolf of Wall Street, Breakfast at Tiffany's, Friends, How I met Your Mother… These are just a few of all internationally popular movies and shows that would not be the same if they weren't set in the city that never sleeps.
While unfortunately some iconic movie scenes in cafes theoretically located in NYC, were actually filmed in Los Angeles, it is possible to have coffee in a few locations that pop culture lovers will immediately recognize:
1. McGee's Pub: the iconic MacLaren's Bar in How I Met Your Mother: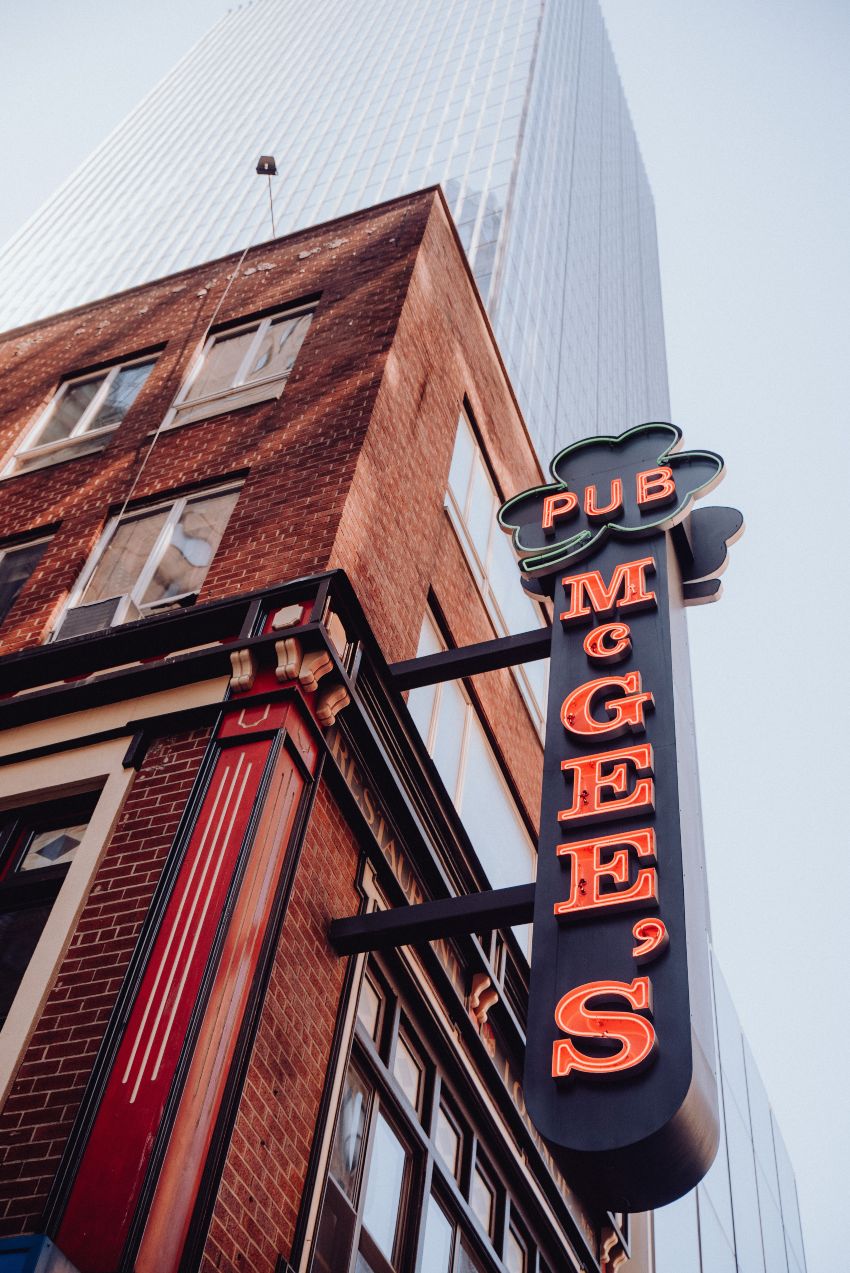 Address: 240 W 55th St, New York, NY 10019, United States
Looking for a legen- wait for it -dary coffee time in NYC? Featured in the opening credits, as well as in every episode of the beloved show, The MacLaren's Bar is arguably the most iconic setting of How I Met Your Mother.
This is where the gang gathers every day to eat, drink, discuss everyday life problems, and celebrate special occasions.
While the show was filmed in the studios, the MacLaren's Bar was based on an existing NYC spot, the McGee's Pub.
Not only does the McGee's Pub resembles shockingly the MacLaren's Bar and shares with it the general atmosphere, but it often features HIMYM-themed nights, with inspired food, drinks, and much more, for the true fans of the show.
2. Central Perk coffee shop for the Friends enthusiasts: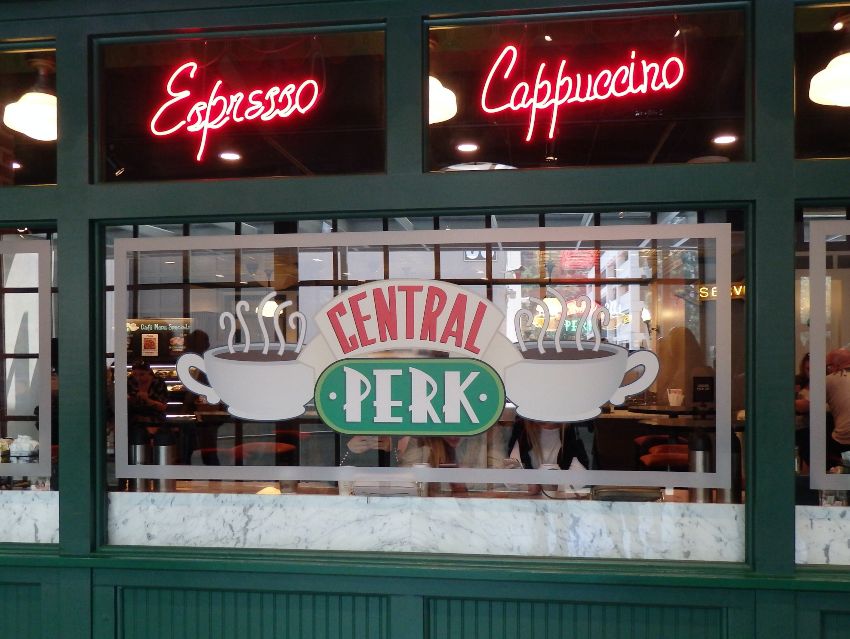 Address: 130 E 23rd St, New York City, NY
The pilot episode of the iconic show Friends starts in a cozy-looking bar, the imaginary Central Perk.
The Central Perk Cafes is the favorite spot of the Friends gang, where they love to hang out before and after work and where many of the most fun, memorable and emotional scenes were set.
While the café did not exist before the show, today you can visit Central Perk, have a coffee, sit on the big orange couch, and have the time of your life in the familiar setting of the one-and-only Friends bar.
You can do all of this and more by buying a ticket for The FRIENDS™ Experience: The One in New York City. The FRIENDS™ Experience was designed to cater to the true Friends fans' biggest desires.
You'll be able to dance in front of the iconic fountain featured in the opening credits of the show, have coffee at Central Perk, and explore a faithful reproduction of the girls' and the boys' apartments (including Monica's Kitchen!).
3. Katz's Delicatessen: from that one great scene in When Harry Met Sally: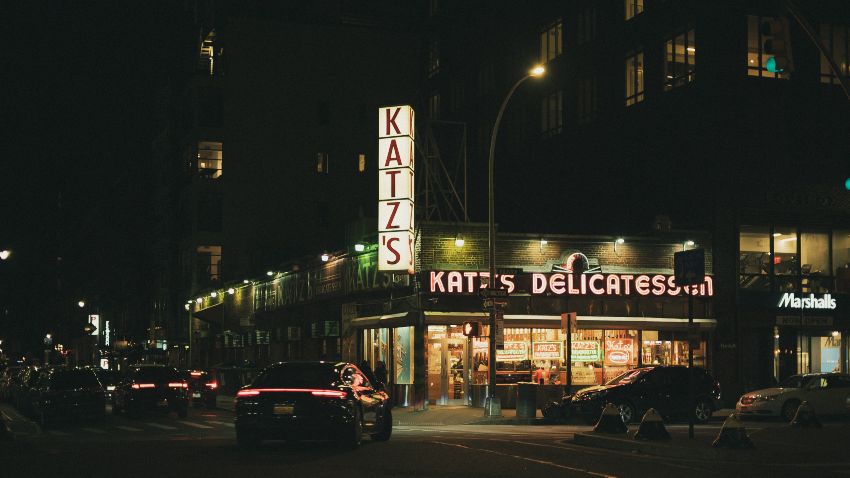 Address: 205 E Houston St, New York, NY 10002, United States
When Harry Met Sally is truly an iconic movie overall, the ultimate blueprint for the perfect romantic comedy.
However, there is one scene that truly stands out, and I think you know which one I'm referencing. Yes, the "ll have what she's having" scene.
Sat at the Jewish deli Katz's Delicatessen, Meg Ryan and Billy Crystal filmed what was going to be one of the most famous scenes in the history of cinema.
And while I wouldn't recommend recreating the scene, you can enjoy a satisfying meal at Katz's Delicatessen too.
The deli is one of the oldest, most historical in the city, and one of the most popular as well. Aside from being featured in When Harry Met Sally, Katz's Deli is mostly renewed for its high quality and super tasty meals.
3 Most Instagrammable NYC cafes
For some, coffee tastes better in a stunning setting. Even better if the setting is the perfect color-coordinated and Instagram-worthy location.
New York City offers plenty of options for the most aesthetic coffee time of your life.
I have selected 3 coffee spots, all characterized by different vibes and color palettes.
Make a bucket list and check out every single one, or just go with the ones that match the vibe of your Instagram feed.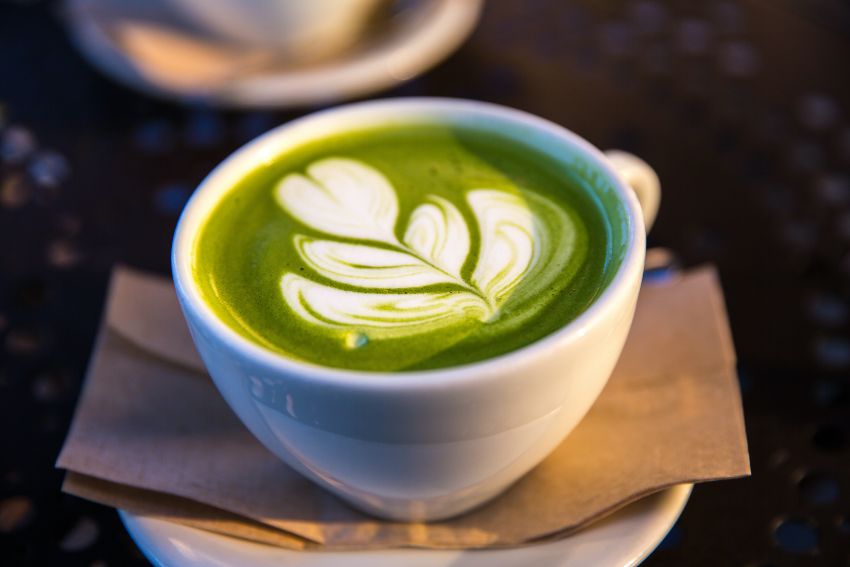 Address: Several locations in NYC: check them out on the official website here.
The style is pink-minimal, the food and drinks are extra and all matcha-themed. This is the perfect spot for foodies that love a colorful food display and clean presentation.
The food and drinks are all matcha, and therefore characterized by that nice light-green color (you'll want to take 100 pictures before taking the first bite), and are also really tasty.
The atmosphere and general look of the Cha Cha Matcha locations remind of the Japanese Kawaii aesthetic, with a color palette limited to soft pastels-
This is a favorite location for influencers and in general anyone looking for a unique and super-curated "matcha and cake" experience.
Address: 727 5th Ave, 4th Floor, New York, NY 10022
Breakfast at Tiffany was just a movie… until Tiffany & Co decided to start their line of coffee places.
The Blue Box Cafe looks as if a Tiffany store exploded in a coffee shop. The iconic Tiffany Blue, which characterizes the boxes of the famous NYC jewelry store, is the main color in the Blue Box Cafe, giving the location a distinctive Tiffany look.
A complete and customizable breakfast at the Blue Box Cafe won't come cheap (around $29), but for the look and feel of the place, and especially for the stunning pictures you'll take, it is going to be worth it.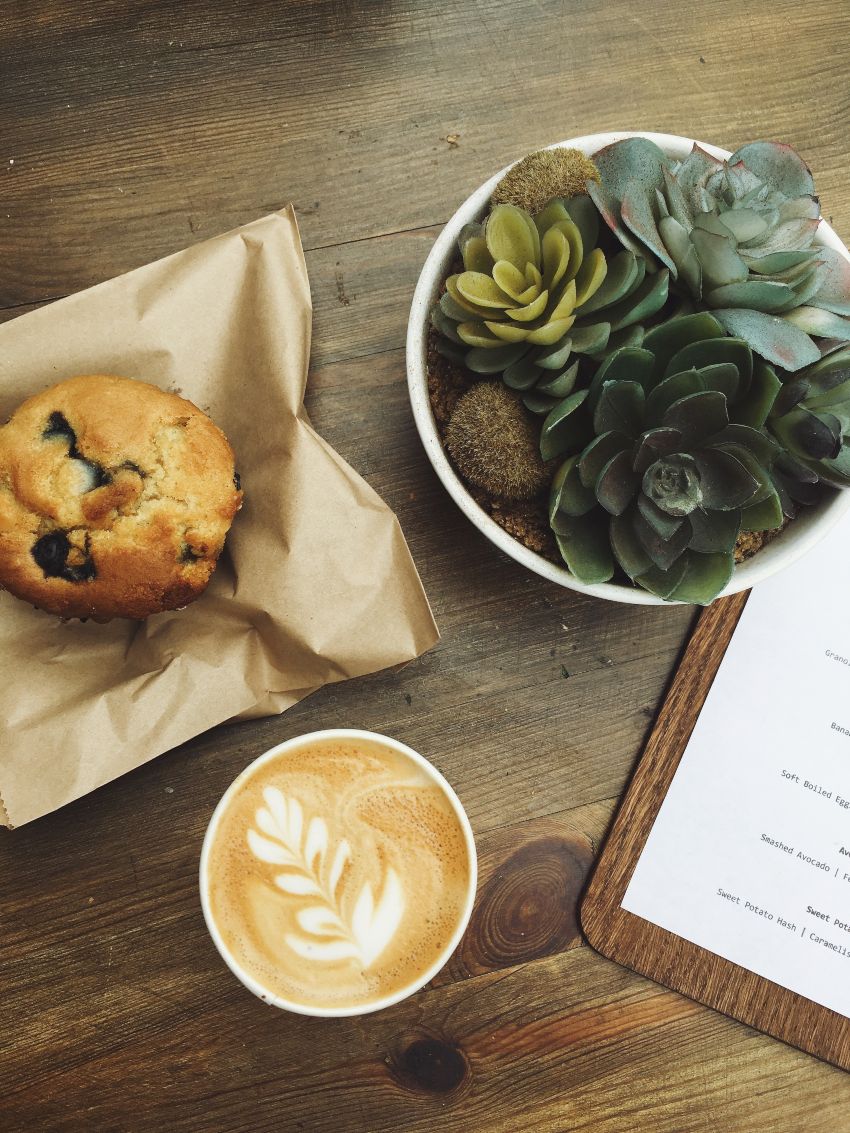 Address: 180 Mulberry St, New York, NY, United States
The Urban Backyard aesthetic stands at the intersection between a "cute greenhouse" and an "old-fashioned drugstore".
The café had a clean and classy look, while at the same time maintaining a rustic and natural vibe, with plants and cactus growing all around you the coffee shop.
Even the food is plant-themed, with little green cupcakes realistically shaped like house plants and cactuses.
This location is truly picture-perfect, as both the interiors and the food itself are super photogenic and Instagram-worthy.
3 Coziest and Cute Cafes To Have Coffee Like A Local in NYC:
Address: 172 Rivington St, New York, NY 10002, United States
One of the locals' true favorites, this quintessential NYC café holds a special place in the New yorkers' hearts.
At the Black Cat Les, you'll be able to truly kick back and relax, have a cup of high-quality coffee enjoy peaceful conversation with friends, or alone and with a book in your hands.
The self-proclaimed vibe of this spot is "your living room" and not without reason. The setting is truly home-feely and the seating options are diverse but all comfortable and cozy.
The Black Cat Les revolves around neighborhood life and actively fuels the cultural scene of the area.
Check out their website to see the upcoming events such as movie nights, live music, open-mic, stand-up comedy, lectures, and much more.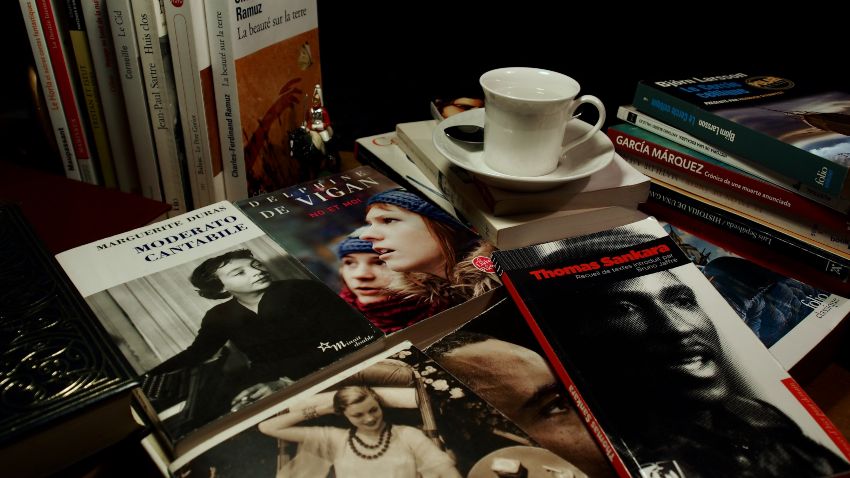 Address: 788 Woodward Ave, Ridgewood, NY 11385, United States
Topos Bookstore Cafe is the perfect combination of a used books store and a coffee shop, a true spot of cultural value in the city.
Interesting fact: the name Topos comes from Greek "place", a word that is now commonly used in literary critique to indicate a recurrent rhetorical theme.
But etymology is not the only strong point of Topos: the peaceful atmosphere can be described as a "lazy afternoon browsing used books in NYC ". Having coffee here almost feels like being transported in a black and white existentialist movie.
Not only can you buy books and have coffee, but you can also sell your old books in exchange for cash or even store credit.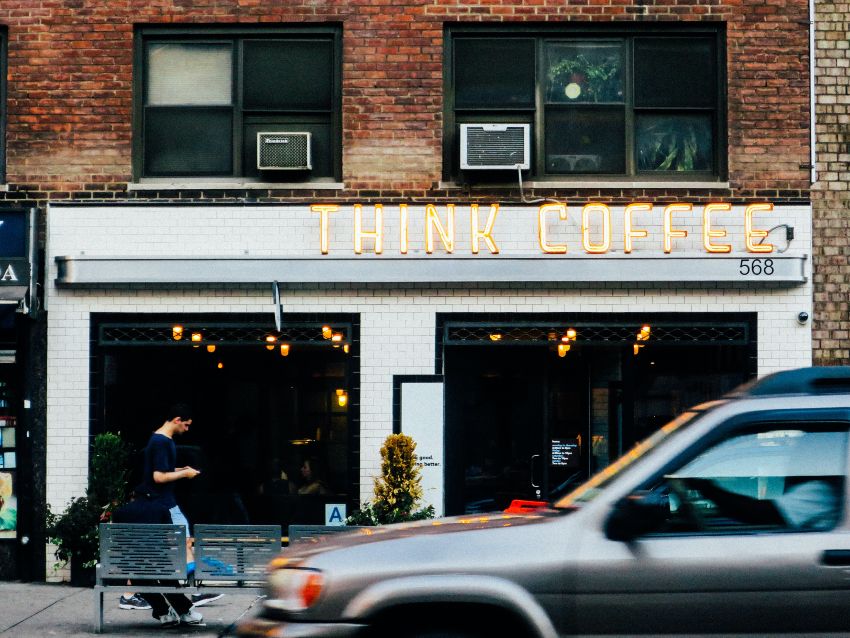 Looking for a cozy café that is also socially conscious and vegan friendly? Think Coffee is all of this and more.
One of the NYU students' favorite places to stop for coffee, Think Coffee is characterized by a clean, modern design with a warm feel, and academic vibe.
It's hard to pinpoint Think Coffee's strong points because there are so many!
The interiors are spacious, making it very easy to find a spot to sit down and relax.
The quality and variety of coffee and pastries are great and won't leave you disappointed.
But there's also an ethical side to Think Coffee this establishment makes social causes a priority, by funding several social projects around the world, from housing reconstruction in Colombia to clean water access in Nicaragua and more.
Beyond Coffee in NYC
NYC has plenty to offer, and if you're looking to recharge and relax, Central Park offers a great escape from the hectic atmosphere of the city. Check out my article on 50 Cool Things to Do in Central Park.
And when you're done recharging with a nice coffee in one of NYC cute cafes, check out my list of 10 Unusual Things To Do In New York City.