Whether you're planning a trip to NYC and would love to know all the things to do in Central Park, or if you're actually living in NYC, but haven't had the chance to explore in years, this post is definitely for you.
Central Park may only be the fifth-largest park in New York, but it still boasts 843 acres of nature and fresh air amidst the busy Upper West and Upper East Sides of Manhattan surrounding it.
There are plenty of things to do in Central Park, whether you're up for a quick hike to be in awe of a waterfall, or just spend a lazy afternoon on a picnic spot. Here are 50 things, if you're out of ideas…
Budget-Friendly Things to do in Central Park
Most of the FREE activities in the area would fit an itinerary perfectly if you're after a nature trip. Since Central Park is technically "a park," there are plenty of tree-filled, green grass, and natural attractions at this park.
1. Go Chase Waterfalls
There are at least five completely man-made waterfalls in Central Park, most of which are located in the Ravine or the stream valley section of the North Woods.
Start at the entrance of Central Park West between 101st Street and 106th Street in the North Woods, follow the path that will lead you to the man-made stream called "the Loch."
2. Go on a Tree or Blossom Tour
Are you interested in learning about plants, trees, flowers and everything in between? If so, you can get a copy of the "Tree Guide" or "Blossom Guide" and discover as many as you can. FYI, there's 18,000 trees and thousands of blossoming flowers at the park.
3. Go Fishing
Yes, you don't need to go out of Manhattan to get your fishing on. Head over to  Harlem Meer's Charles A. Dana Discovery Center, where you can pick up a pole and bait, then catch carp, catfish, or bass.
It's good for practice, since you're not allowed to take it home (or eat your catch). You have to release your catch back into the water.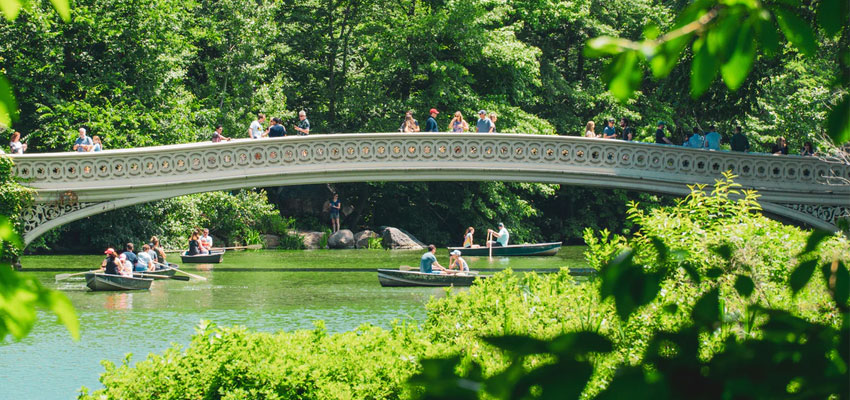 4. Play with Model Boats at the Conservatory Water
If you're visiting between April and October, you can join other kids and kids-at-heart in steering model boats across the Conservatory Water.
You don't even have to own one – you can rent model boats at the adjacent Kerbs Boathouse.
5. Dine at Kerbs Boathouse
If you get tired, there's a cafe and an outdoor patio at the Kerbs Boathouse nearby.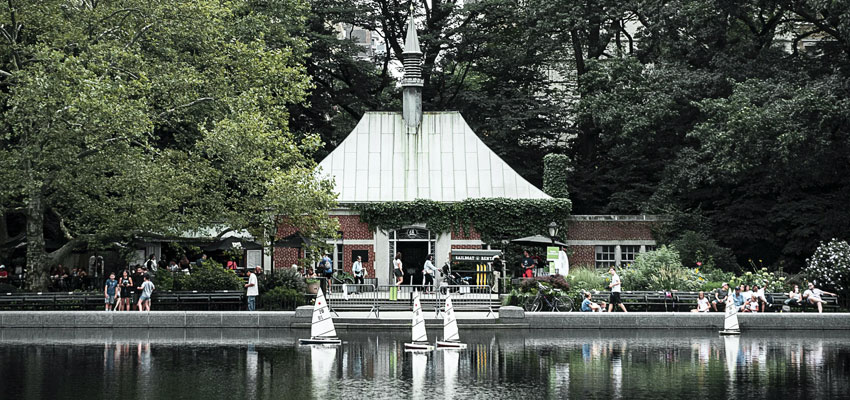 6. Ice-skate at the Conservatory Water
If you're visiting in winter and the pond turns into ice, you may be lucky to get to ice-skate here as well. Of course it would depend on the weather and if the park allows it.
The Wollman Rink and Lasker Rink are other ice-skating options you can check out.
7. Pass by the Trefoil Arch
Located by the East Side at 73rd Street, Trefoil Arch is an ornamental archway built in 1862 to connect visitors from the Conservatory Water to the Lake and Bethesda Terrace.
8. Chess & Checkers House
Get your chess skills on and play at one of the 24 built-in chess/checkers tables at Central Park Conservancy.
You might need to pay a buck or two for your seat, but the view, companions and love for the game would definitely be worth your money.
9. Roam the Conservatory Garden, starting with Vanderbilt Gate
This six-acre area is a must-visit if you're visiting in spring.
It is described as an "oasis within an oasis," starting with the grand entrance made of large, wrought iron called "Vanderbilt Gate" off Fifth Avenue.
At the Conservatory Garden, you can also:
10. Explore the English garden
This garden features the Burnett Fountain, a fountain to honor classic children's book author Frances Hodgson Burnett.
This peaceful spot is also bordered by trees, and plenty of flowers.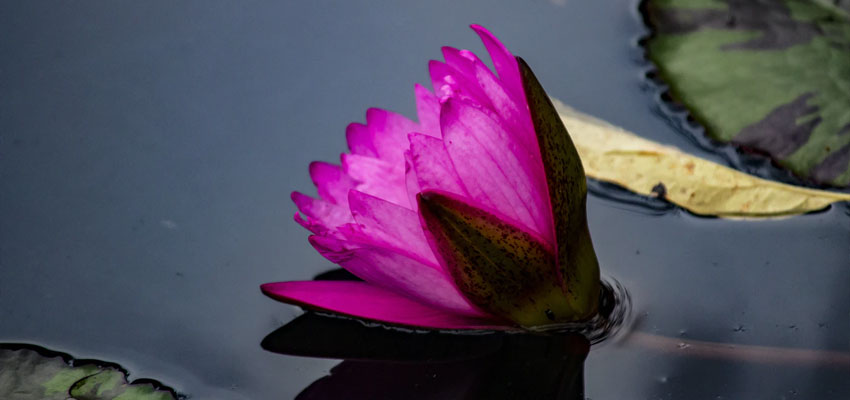 11. Visit the Italian garden
Italianate Center Garden is where you can find the Wisteria Pergola, a scenic , shaded, latticed patio draped with century-old wisteria vines.
12. Take in the French garden.
If you're a fan of tulips and you're visiting in spring, you'll be amazed by the spectacular seasonal displays of tulips. This area is full of Korean chrysanthemums in autumn.
13. Check out the Untermyer Fountain
Also located within the French-style garden of the Conservatory Garden, this fountain features the Three Dancing Maidens by German sculptor Walter Schott.
14.  Pass by the Wisteria Pergola
This small covered walkway at the Conservatory Garden is a perfect photo-op spot if you're looking for something dramatic. There are also built-in benches here if you wish to take a quick rest.
15. Take a Closer Look of The Center Fountain
This elegant geyser fountain is the heart of the Conservatory Garden and is located at the central lawn.
16. Pass by the Picturesque Mall
This wide pathway has been in many movies before, and for good reason.
It pictures a dramatic path with huge trees giving shade to all the benches and lamp posts lined on both sides of the street. If you're visiting in winter, this area is a lot more dramatic as it is covered in snow.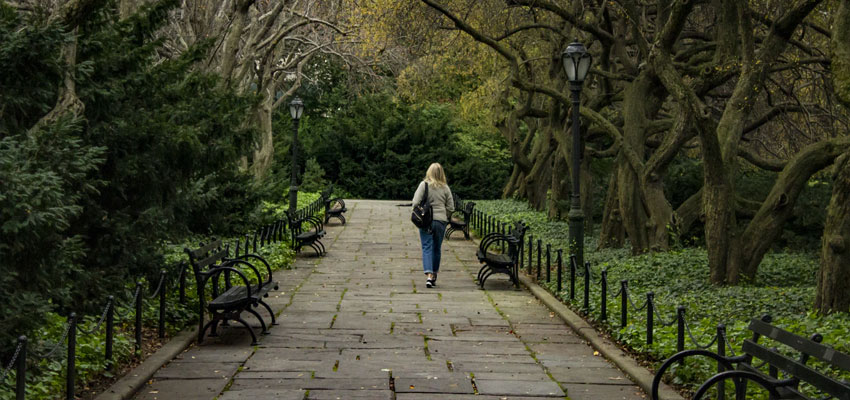 17. Go on a Literary Walk
When you pass by The Mall, you'll have a chance to explore all the statues of famous literary icons from Sir Walter Scott to Shakespeare and Robert Burns, among others.
18. Meet Locals on the Sheep Meadow
This grassy area was named Sheep Meadow, since sheep was once grazed at this meadow until 1934. It was turned into a lawn and became one of the most popular picnic spots for both locals and visitors today.
19. The Great Lawn
Called perfectly as the Great Lawn, this massive area wasn't originally included in the park design since it used to be a huge reservoir.
But when that reservoir was drained in 1931 and filled in with excavation from the development of Rockefeller Center and the 8th Avenue Subway, it turned into a venue for some of the greatest concerts in US history.
20. Go Bird Watching at the Ramble
There are over 200 species of birds in the lush woodland called as the Ramble. This 38 acres of land, located between 73rd and 78th streets, also give off a 'Wonderland' vibe with its maze of trails.
21. Shakespeare Garden
Originally called "Heart Garden," this gorgeous flower garden was redesigned and renamed 'Shakespeare Garden' to honor the famous playwright and poet in 1915.
Historical and Cultural Attractions
Central Park attractions are mixed with plenty of greens along with statues, playgrounds, water activities, and more. If you love history and architecture, then these spots may just be perfect for you.
22.  Sing Strawberry Fields Forever
Located at the Peace Garden, "Strawberry Fields" is a mosaic pathway made as a memorial for Beatles musician, John Lennon.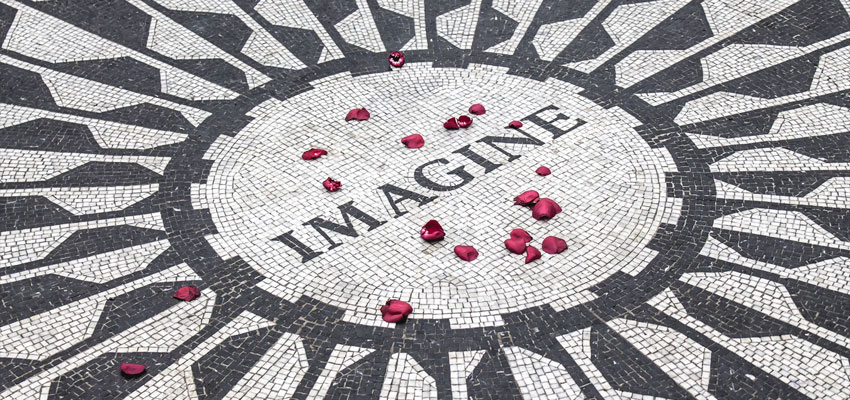 23. Honor John Lennon at the Dakota
Just across Strawberry Fields is The Dakota apartment building, Lennon's former home and the site of his tragic death in 1980. It is also an architectural marvel, if you love Renaissance Revival architecture.
24. Get a different view of the park from the Belvedere Castle
This mini castle replica offers a marvelous view of the park from its rooftop lookout.
25. Watch something magical at Delacorte Theater
The two-toned house known as the Delacorte Theater hosts The Public Theater's annual Shakespeare in the Park and other A-list productions.
26. Explore Bethesda Fountain, Terrace and Arcade
The Central Park designers consider Bethesda fountain, terrace and arcade as the heart of the park, and has been featured in numerous films and shows like Sex and the City and Enchanted. Don't miss the Angel of the Waters statue, and the underground Arcade with the amazing 15,000-tile ceiling and decorative carvings.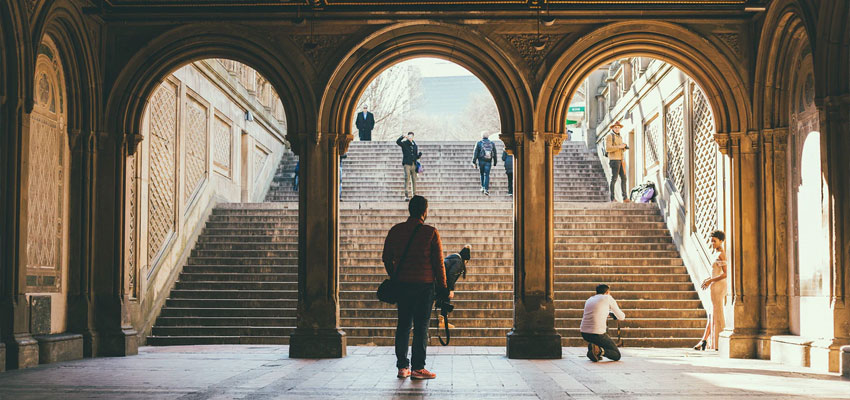 27. The Swedish Cottage
Named because the cottage was built in Sweden in 1875 and was brought to the country in 1877 as part of the world fair, the Swedish Cottage is a good example of traditional Swedish schoolhouse. It is now a marionette theater where fairy tale productions of Peter Pan and Cinderella often play.
28. Bow Bridge
If you're on a photography trip, the Bow Bridge is a must-see.
This picturesque bridge was completed in 1862 and has been the spot of thousands of wedding proposals and films.
29. Sit by the Hans Christian Andersen statue
Author of "The Ugly Duckling" and Danish storyteller Christian Andersen is immortalized in a bronze statue sitting on a bench with a duck.
If you're visiting in the summer, you may catch a real life story time happening in the spot.
30. Not-Man-made Scale Umpire Rock
With a park that has numerous man-made features (even the lakes are man-made), the Scale Umpire Rock stands out.
This massive boulder measures 40-by-15 feet and serves as a spot for many rock climbers.
31. The Pond and Gapstow Bridge
The Gapstow Bridge arches over (another man-made) pond.
It's also a good spot for proposals and photo-ops, especially if you're on the way to the Central Park zoo.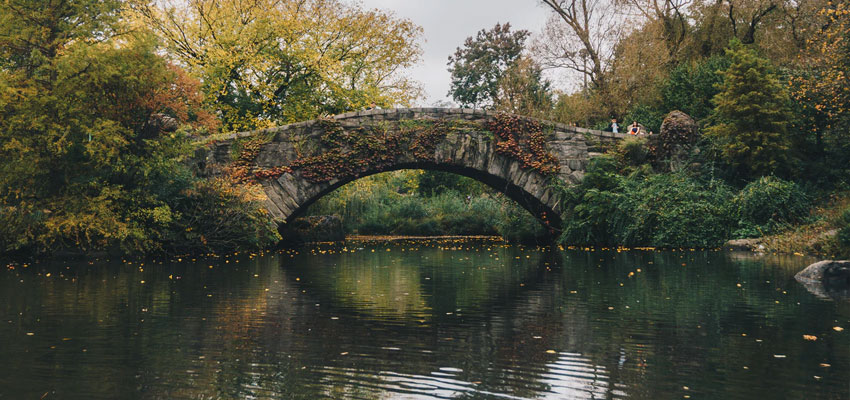 32. Marvel at the sound of the Delacorte Music Clock
The Delacorte Music Clock was added to Central Park in 1965.
Between 8 am to 6 pm, the timepiece plays 1 of 32 nursery rhyme songs at the start of every hour. In winter, the musical timepiece switches to a more festive playlist.
33. Cleopatra's Needle
This is the oldest and most visible structure at the park.
The obelisk was constructed in 1400 BC Egypt, ironically about 1000 years before Cleopatra's reign. It is also just one of a twin, the other one of which remains on the Thames River in London.
34. Alexander Von Humboldt
If you know your science, the statue of Frederick Heinrich Alexander von Humboldt should mean something to you.
This bronze sculpture was made by German artist Gustaf Blaeser and dedicated in 1869 to the German explorer, scientist and naturalist.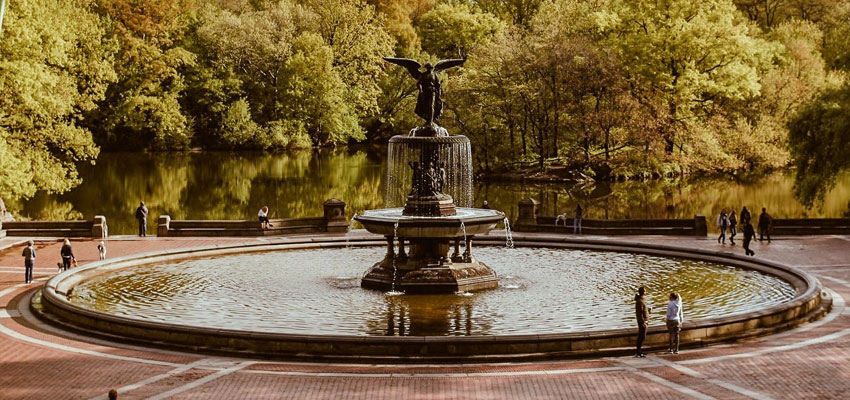 Best Spots in Central Park for Visitors with Kids
If you're checking out Central Park activities for kids or kids-at-heart, then read on for more must-see stops on your Central Park visit:
35. Rent a boat from the Loeb Boathouse
Ask any local what you can do at Central Park, boating by 'The Lake' is probably the most popular recommendation you'll get.
It's romantic, kid-friendly and can take an entire morning or afternoon. It's also a popular spot for proposals and afternoon dates. You do need to pay for boat rentals ($15/hour with $20 cash deposit and $4 for extra 15 minutes) for a group of 4.
36. Ancient Playground
Located by the East Side at 85th Street, the Ancient Playground is one of several Central Park playgrounds your kids can spend some time on.
As its name suggest, it was inspired by the Metropolitan Museum of Art's pyramids, obelisk and other Egyptian features.
37. Abraham And Joseph Spector Playground
It's not as modern as the Ancient Playground, but it still offers kids ages 2 to 9 a huge place to dig through the sand and climb all over.
38. Adventure Playground
This open playground is one of the 21 Central Park playgrounds. It is located up on a hill at West 67th Street and is ideal for younger children due to the smaller and wider structures.
39. Check out the Statue of Balto
Here's a good spot to tell a cool story to the kids, featuring the Siberian Husky sled dog named Balto.
Balto led his team on the final leg of the 1925 serum run to Nome, in which diphtheria antitoxin was transported from Anchorage, Alaska, to Nenana, Alaska, by train and then to Nome by dog sled to combat an outbreak of the disease in one town.
The dogs became a celebrity after, and a statue of Balto, sculpted by Frederick Roth, was erected here at Central Park on December 17, 1925, ten months after Balto's arrival in Nome.
40. Take a ride on the Central Park Carousel
The Central Park Carousel is one of the major attractions at this park. The current carousel is the 4th carousel to be built here and features 58 hand-carved horses that you can ride with beautiful calliope music 7 days a week in the summer.
Each ride costs $3.
41. Take a Photo with Alice in Wonderland 
Located near Loab Boathouse and The Pond, this statue shows Alice and the Mad Hatter on one of his tea parties. The sculpture was donated by George Delacorte in honor of his wife Margarita Delacorte.
42. Visit The Metropolitan Museum of Art
MMOA may not be a children's museum per se, but because it houses over 2 million items ranging from an impressive armor collection to the Egyptian section and the Metropolitan Costume Institute, I'm sure your kids would find something they're interested in.
43. Swim at Lasker Pool
If you're visiting in the summer and want something to do as a family, you can bring swimwear and enjoy free swimming lessons for kids here. Admission is free as well.
44. Play Ball at North Meadow
This 23-acre space is home to 5 softball fields and 7 baseball fields, so if you're coming to Central Park with a sporty kid, bring your ball with you and let them play, run and roll all around the massive grassy field.
45. Experience the Central Park Zoo
If you love animals, you'll see red pandas, snow leopards, penguins, grizzly bears, sea lions and many other animals that call Central Park home. If you bought the Total Experience ticket, don't miss the show at the 4D theater (only kids ages 6+ are allowed).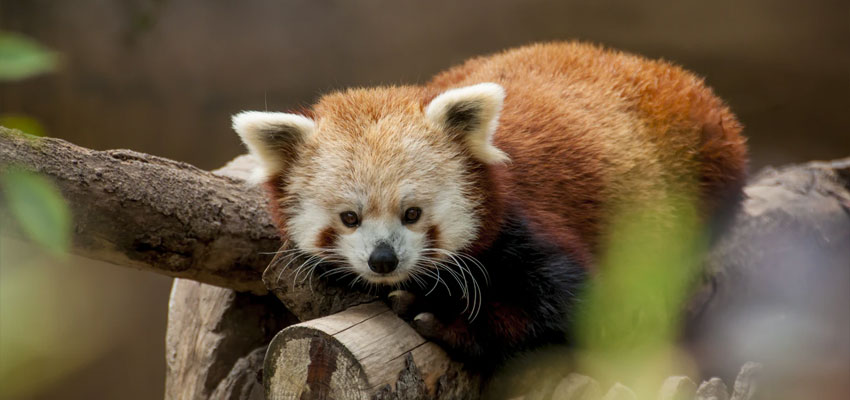 46. Pet some animals at the Tisch Children's Zoo
When you're in the Central Park Zoo, make sure to check out the Tisch Children's Zoo, where small kids could pet some animals. The "Enchanted Forest" and "Acorn Theatre" are also found here.
Join this two-hour magical theater for kids (and 1 adult for $80 a pair) and let them experience this memorable, interactive show with complete with characters dressed in costumes, games, puzzles, crafts and other cool activities.
48. Visit The Dairy at the Children's District
The Victorian-style cottage at the Children's District used to be called 'The Dairy' since it is where fresh milk and ice cream was served to families in the nineteenth century.
After being dilapidated and eventually restored, this spot has now been turned into the Central Park's Visitor Center, where you can find the park's history showcased.
49. Be in Awe at the productions of The Marionette Theater
Found at the Swedish Cottage, the Marionette Theater hosts cool productions of classic stories like Cinderella, Sleeping Beauty, Jack and the Beanstalk, and many more.
50. The Victorian Gardens Amusement Park
Central Park's Victorian Gardens Amusement Park happens in the summer near 59th Street and 6th Ave entrance of Central Park.
Don't expect massive rides here, but it is still a fun place for lemonades, light snacks, some games, and rides that would turn younger kids happy.
Did I Miss Anything Else?
Do you know of other fun things to do in Central Park? Hopefully, you can share your recommendations below.
If you're interested in more New York attractions, but prefer to avoid touristy places, here's a list of unusual things to do in NYC. Enjoy!