Grand Rapids breweries are making such a great impact in the country's local beer craft scene.
From the late 1990s to the present, more and more breweries have been sprouting out of the city…and both locals and tourists welcome all of them with open arms. This beer craft revolution has led Grand Rapids locals to proudly call its city "Beer City."
If you're planning a trip to the Grand Rapids breweries, take this guide with you, so you won't miss any of the renowned and up-and-coming craft breweries and taprooms across the city.
20 Grand Rapids Breweries to Visit
* Note that these 20 Grand Rapids breweries come in no particular order.
Address: 925 Cherry St SE
Hours: 12pm to 10pm on Fridays/Saturdays, 3pm to 10pm Mondays through Thursdays
Phone: +16167191604
It can be hard to stand out from the many Grand Rapids breweries across the state, so when Kris and Jason Spaulding opened the doors to Brewery Vivant in 2010, locals were able to explore something different with the company's French and Belgian inspired beers.
Make sure to try Wizard Burial Ground, Brambles, Lush Turbo, Plump Monk, Jam Jar, and the awesomely-named Unapologetic Fruit: Cran-Apple Blueberry.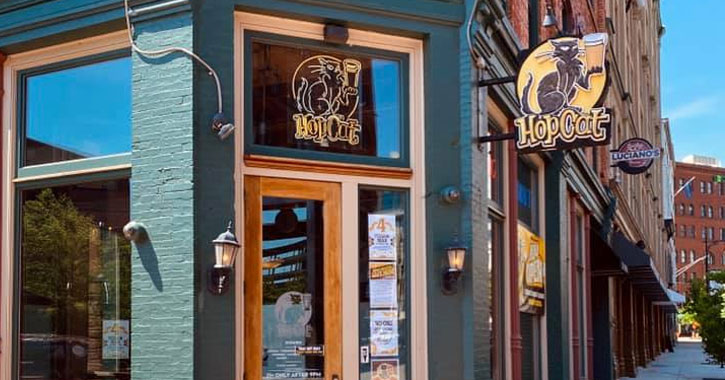 Hours: From 11 am to 11pm
Phone: +16164514677
Founded in 2008 in Grand Rapids, HopCat now has 2 locations in Grand Rapids and several others in other Michigan towns and nearby Indianapolis.
With its goal of becoming the "best damn beer bar on the planet," HopCat has taken home over a dozen awards from the beer industry organizations. There are around 50 craft beers on tap at most HopCat locations.
Address: 41 Washington Ave. Grand Haven, MI
Hours: Mondays to Thursdays from 11:30am to 10pm, Fridays and Saturdays up to 12am, and sundays up to 8pm only.
Phone: 616.935.7326
Odd Side Ales opened in March 2010 at the old piano factory in downtown Grand Haven.
The edge of Odd Side Ales is obvious in its name – the company strives to craft "odd" and "unusual" beers like the Mayan Mocha Stout and Red Eye PA and Instigator IPA that would get any beer-lover's attention.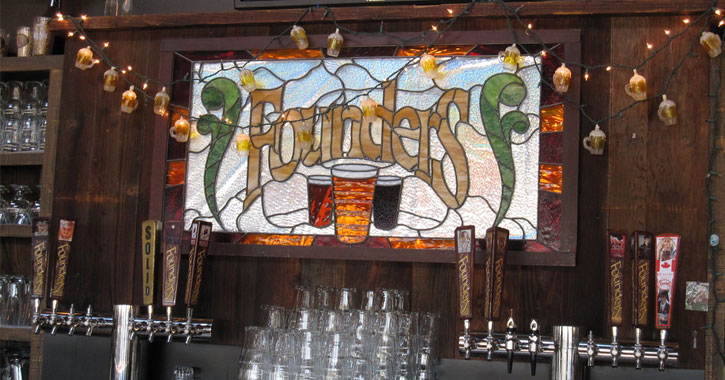 Address: 235 Cesar E. Chavez Ave SW
Hours: 11 am to 9pm from Mondays-Wednesdays, up to 11pm on Thursdays to Saturdays. Closed on Sundays.
Phone: +1 616-776-1195
This award-winning brewery has been around since 1997 and is known as the company that began the craft beer revolution in the city.
Try its classic All Day IPA, Solid Gold lager, Breakfast Stout, and Scotch Ale Backwoods Bastard.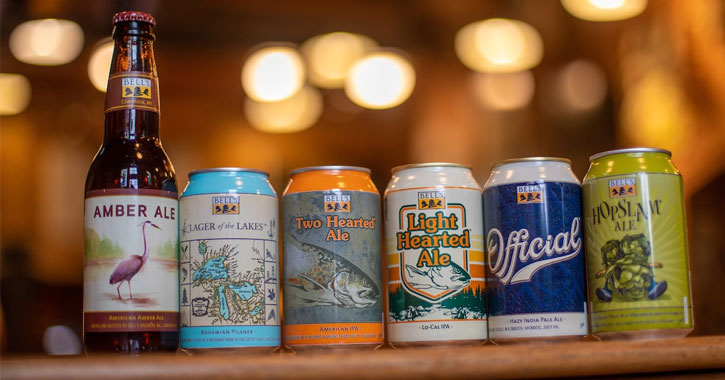 Founded by Larry Bell as a home brewing supply shop in 1983, Bell's Brewery, Inc. sold its first commercial beer in September 1985 and is now the largest brewing company in Michigan.
Bell's Brewery gives locals and beer aficionados from all over the world with eight year-round packaged beers, and numerous seasonal and limited-production beers. There's a LOT to love with this brand, but if you have to try just a couple, don't miss Two Hearted IPA and their wheat beer Oberon.
If you're after a comprehensive beer tour, don't miss Bell's – they've got a well-received brewery tour that's definitely worth your time.
Hours: From 4pm to 10 on most days, but 12pm to 11pm on Fridays to Sundays.
Phone: (616) 644-3451
What makes Brass Ring Brewing different from other Grand Rapids breweries isn't just the good food they churn out from their tiny kitchen, but also because they try to be an authentic English-style pub by serving beer on traditional cask.
In fact, Brass Ring is the first in Michigan to have Cask Marque certification.
Don't miss Quiet Rebel, Star Foxx!, Liquid Spirit, The Wayfarer Cask Ale, Turn Out the Stars, Rock Steady, and Eight-pound Hammer, along with orders of their tikka masala tacos.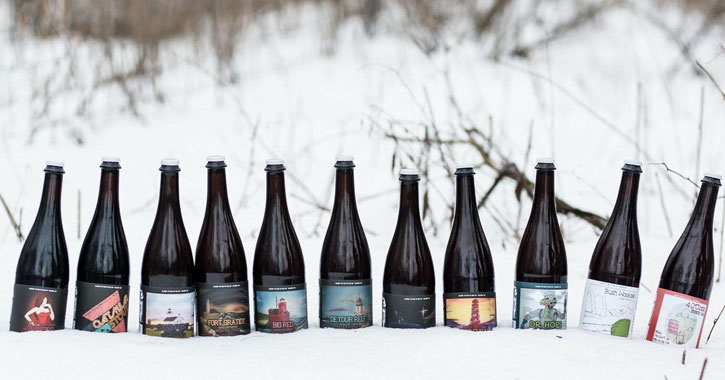 Address: 1006 Division Ave S
Hours: 4pm to 9pm on weekdays, 3 to 10pm on weekends, closed on Mondays and Tuesdays
Phone: (616) 340-9372
While Arvon Brewing Co. wasn't born in Grand Rapids (it moved from Grandville in 2020), it's one of the up-and-coming spots in the area.
If you're a fan of New England IPAs, Arvon Brewing Co. should be one of your stopovers.
You have to try the Harbor Beach, Jurassic Haze, DeTour Reef, and more. They produce about 5 batches of beer on a weekly basis and release what's available on Thursday morning.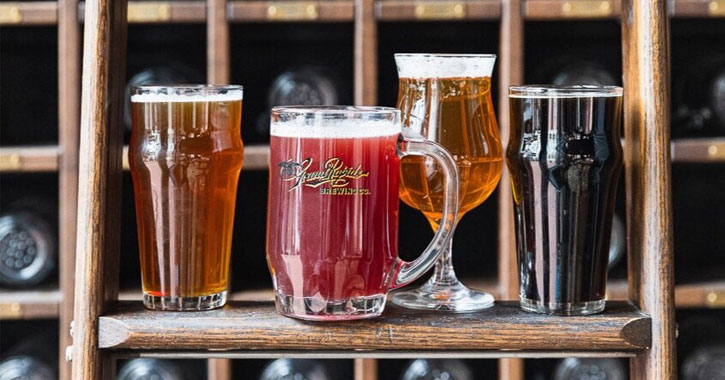 Hours: Open from Mondays through Thursdays from 4pm to 11pm and earlier on weekends (4pm to 12am).
Phone: +16164587000
Six local breweries teamed up in 1893 to open the Grand Rapids Brewing Company.
It was a famous spot until the turn of the 20th century, but the 1920s Prohibition put it out of business.
In 2012, the name Grand Rapids Brewing Company was revived by a new brewery and adapted the classic lager famously brewed by the original GRBC team in 1893.
Today, GRBC offers both the classic beer recipes from 1893 and newer recipes of beer, wine, spirits as well. Plus, the company has a strong connection to local suppliers, which is evident in their always-fresh menu.
Hours: City Built is open from until 10pm daily, but opens at 3pm from Mondays to Thursdays, and from noon during Fridays and Saturdays. Sunday brunch is offered, so kitchen opens up at 10 am to 6pm every Sunday.
Phone: +16168055755
Like many Grand Rapids breweries, City Built is housed in a historic building (an 1800s furniture upholstery building).
The company is known for strange recipes that surprisingly work, such as green tea chamomile pale ale or vanilla-pineapple imperial pale ale.
City Built Brewing Company combines craft beer with Puerto Rican and Mexican food. The tacos work exceptionally well with in-house bestsellers Melisandre (a hoppy full-body red ale) and Mexican lager Alemania.
Address: 3393 Remembrance Rd NW, Walker, MI
Hours: Closed on Mondays and Sundays, open from 4pm to 10pm from Tuesdays to Thursdays, then a bit earlier (around 1pm) on Fridays and Saturdays.
Phone: +16168054768
This Nanobrewery is dedicated to bringing fresh, high-quality, small-batch artisan beers to the Michigan community and beyond.
Its best-sellers like Dune Climber American IPA, Maverick steam beer, Camplight pale ale, and Creamsicle milkshake ipa have made an impact in a super-crowded brewery town.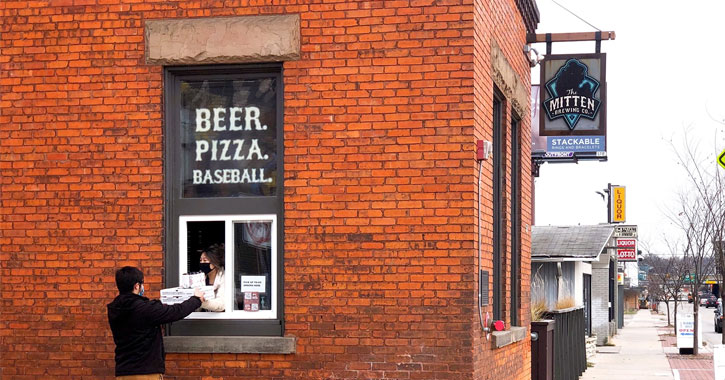 Address: 527 Leonard St NW, Grand Rapids, MI 49504, United States
Hours: Opens daily from 11:30 am and closes at 9 pm on Sunday and Monday, but closes at 10 pm from Tuesday to Saturday.
Phone: (616) 608-5612
The Mitten Brewing Company was opened in 2012 by two sports fans and homebrewers.
Located inside a two-level red-brick Victorian building, Mitten is known as a vintage baseball-themed microbrewery that expertly pairs handcrafted beers with gourmet pizzas.
Mitten Brewing has up to 20 beers on tap at a time. It crafts interesting recipes like 3 Strikes Ur Oat!, Dock's No-No DIPA, Peanuts And Cracker Jack Porter, Mango Gold. They also house regional wines and ciders.
Address: 360 W Western Ave, Muskegon, MI
Hours: Opens at 11 am daily. Closes at 10pm from Monday to Thursday, up to 12 midnight on Friday and Saturday, and only up to 7pm on Sundays.
Phone: +12312881068
Unruly Brewery was born from a punk-life attitude and the drive to make awesome craft beer. It was the first craft brewery founded in Muskegon since prohibition.
Located in a fully-restored historic 1890s building, Unruly Brewing features live music acts on Fridays and Saturdays.
Their beers rotate often, so check their socials to see what's on tap. If you see the Espresso Shadow Collector, Lunch Break IPA and Crucible Barrel-Aged Stout, you have to try them out.
Hours: Open during school season (Wednesdays and Thursdays from 5:30 to 8:30 pm)
Phone: +16162343700
Unlike other Grand Rapids breweries, The Fountain Hill Brewery is one-of-a-kind.
It is operated by the students enrolled in the Craft Brewing, Packaging, and Service Operations certificate at Wisner-Bottrall Applied Technology Center (ATC). As such, the brewery is only open during the school season.
This is the first college craft brewery where students learn how to make craft beer (and serve the beers to the public). Aside from beer tasting, you get to tour the place and talk to students first-hand. It's a cool stop if you're trying to setup your own hobby or commercial brewery.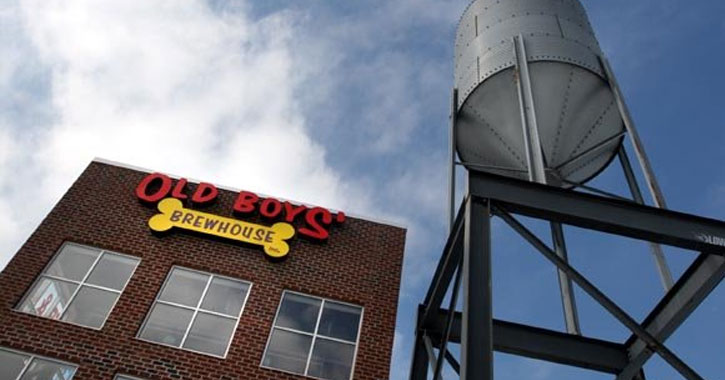 Hours: Open from 4pm to 8pm every Thursday, then 12pm to 9pm on Fridays and Saturdays. Closed the rest of the week.
Phone: +16168509950
Old Boys' Brewhouse is a family-friendly brewpub with handcrafted beers, an awesome waterfront deck by Spring Lake, good American menu and live music on weekends.
OBC has both – experimental craft beer and traditional brews. If you're visiting, must-try beers include the Dogtail IPA, Nutsack Chocolate with Cashew Stout, and Russian Imperial Stout.
Hours: Open every day from 12pm to 10pm.
Phone: No phone, just e-mail if you need to contact for events or inquiries.
Greyline Brewing Co. is the current brewery of Nate Walser, the former head brewer at Founders.
The cool thing about Greyline is that Walser isn't trying to compete with Founders or other big-time Grand Rapids breweries and bring his Greyline company to the level that has massive distribution.
Walser has "no plans to be the next beer superpower." Instead, he is proud of his tiny neighborhood brewery with just 16 well-crafted taps, focusing on making only about 1,000 barrels a year.
There's food (tacos, sliders and other easy beer match menus), but you're welcome to bring in food as well.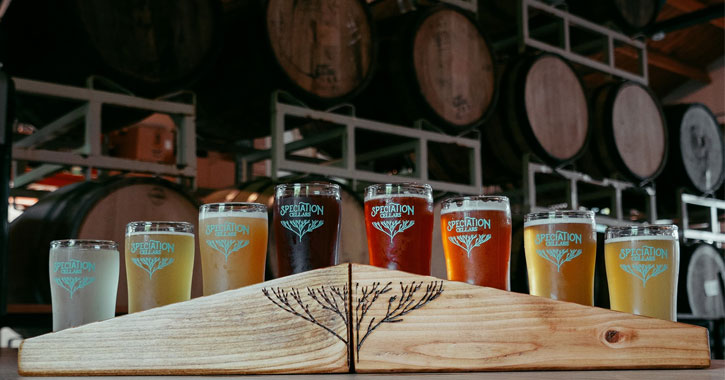 Hours: Closed on Mondays. Open from 4pm to 9pm on Tuesdays to Thursdays and extended until 11pm on Fridays. On weekends, the spot opens at lunch, then closes 11pm on Saturdays and 8pm on Sundays.
Speciation Artisan Ales is a production-only brewery, specializing in wild, sour, and farmhouse ales with IPA sometimes on tap.
When you go here, get the flight so you can try 4 different beers, which usually include the dark barrel-aged sour Cultigen, golden sour ale Incipient, and lightly dry-hopped farmhouse Genetic Drift.
Hours: Closed on Mondays, but open from 2 to 9 pm during Tuesdays to Thursdays. On weekends, ELK Brewing opens at 12 noon, but closes 10 pm on Fridays and Saturdays, while a bit earlier (at 7pm) on Sundays.
Phone: +16162284853
Eric Karns spent almost a decade home-brewing as a hobby before going commercial with his own brewery. By May 2014, he opened up Elk Brewing near downtown Grand Rapids.
While there are about 15 beers on tap at any given time, you'll be able to try Black IPA, Porter, IPA, ESP and Scotch Ale and ESB whenever you visit.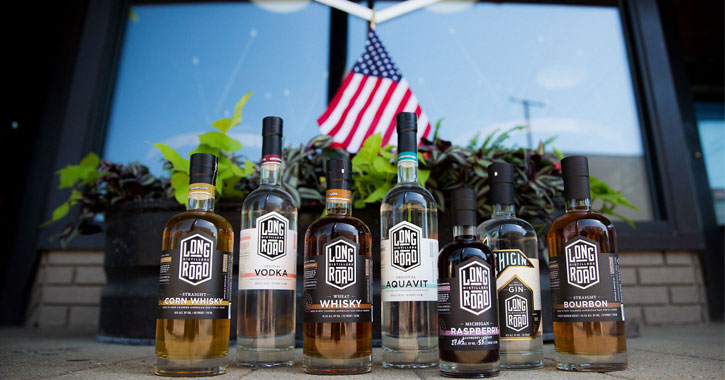 Hours: Closed on Sundays and Mondays. Opens at 4pm on other days, then closes at 11 pm on Tuesdays to Fridays. Saturdays open earlier (at noon), then closes at 11 pm.
Phone: +16162284924
Long Road Distillers isn't just exclusive to beer drinkers.
This spot is famous for creating some of the best lineups of spirits like gin, vodka, whisky, and a TON of handcrafted mixes and cocktails. And because the company has a long history in Grand Rapids, they've been able to work with and source ingredients from locals and ferment and distill their spirits on-site.
The company has won numerous awards, so it can be tricky to choose which drink to try, but if you love ginger beer, you'll be a fan of Long Road Distillers once you've tried it for sure.
Address: 13 W 7th St, Holland, MI 49423
Hours: Open from 11 am to 10pm Mondays to Thursdays, then 11 am to 12 midnight on Fridays and Saturdays. Sundays open at 11 am but close at 9pm.
Phone: +16167968888
Three friends who shared a love for brewing craft beer formed Big Lake Brewing (aka BLB) in 2009, but it was only in July 2013 did the company open its doors to the public.
Today, Big Lake Brewing operates a 3-barrel brewing system with three 7 BBL fermenters, so if you visit here, expect to choose from about a dozen beers, 3 wines, and 3 ciders all on tap. If it's available, don't miss Leroy Brown and Rycoe.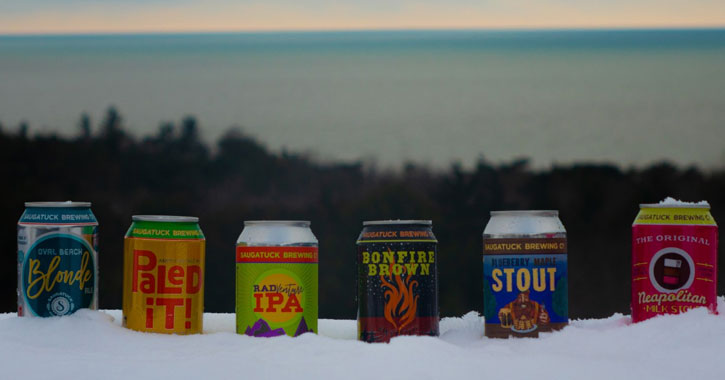 Hours: Open daily from 12 noon to 8pm from Sundays to Thursdays, and up to 9pm on Fridays and Saturdays.
Phone: +12698577222
SBC has been around since 2015. They have numerous award-winning beers like the Bonfire Brown and ESB/Amber. Saugatuck Brewing Company has about 15 rotating beer taps, plus wines and cider all the time.
Saugatuck Brewing Company is the only microbrewery in Michigan with a "Brew-on-Premise" system, where anyone can brew their own batch within 4 hours (you have to return in 2 to 3 weeks to bottle and sample your beer though).
The SBC crew takes care of the brewing equipment, ingredients, tried-and-tested recipes and their expertise in guiding you through all the steps.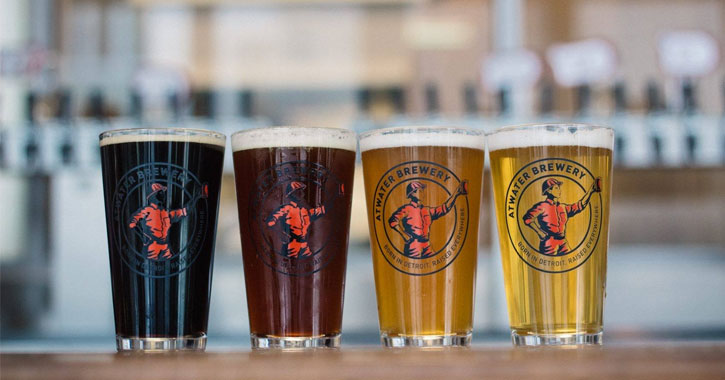 Hours: Open from 3 pm to 9 pm Mondays to Thursdays, open at noon to 10 pm on Fridays and Saturdays, then closed on Sundays.
Phone: (616) 649-3020
​Atwater Brewery was founded in March of 1997 and opened its first location in Detroit.
While it was only in 2015 that this famous brewery brought its beers to Grand Rapids, locals have quickly welcomed the brand with open arms. After all, Atwater Brewery has many award-winning craft beers, spirits and Grand Rapids crafted, revolving tap beer.
Beyond Grand Rapids Breweries
If your goal is to go across the country and visit all the awesome breweries, vineyards, cideries, and other parts of America with the most exceptional drinks, then you should explore what the following states have to offer:
Of course, if you've got a lot of time to spare between your trip between Grand Rapids breweries, you can always spend a day or two at Lake Huron beaches or Mackinac Island.