Even though Vermont has more covered bridges per square mile than any other U.S state, many people flock to see Indiana's covered bridges instead thanks to their incredible history, architecture, and famous charm.
If you're a history buff, architecture enthusiast, or you just want to plan a relaxing tour in the Indiana countryside, plan a trip to see these 5 historically significant covered bridges in Indiana that are still just as beautiful today as they were decades ago.
There are 5 color-coded and well-marked driving routes around Rockville, each a loop of about 30 miles long, that cover about 90% of the covered bridges in the Parke County area.
A Quick History on Indiana's Covered Bridges
Like many states across the US, Indiana's history with covered bridges began early in the 1830s when settlers decided to improve the infrastructure around their developing towns to allow for easier travel.
Historians suspect that anywhere between 400 and 500 covered bridges have existed in Indiana, but unfortunately, we've lost many of these bridges (in Indiana and across the states) due to neglect, apathy, or vandalism.
Most of the remaining covered bridges still standing in Indiana today are concentrated in Parke County, awarding it the current title of Covered Bridge Capital of the World. They're mainly made with poplar wood and built in the Burr Arch style, and these bridges were covered to protect their timber structures from the elements.
J.J. Daniels and Joseph A. Britton, two of the most prominent bridge builders in Indiana lived nearby, which is why the Parke and Rush counties have a large concentration of covered bridges. The Indiana Historical Society's Covered Bridge Committee estimates that they built around 158 bridges between them.
These bridges were often the largest covered structures for miles, so many members in the surrounding communities used them for weddings, meetings, and even political rallies.
Those that remain here in Indiana are worth the trip to see and preserve the memory of our country's many ingenious builders.
The Best Covered Bridges in Indiana
1. Bridgeton Covered Bridge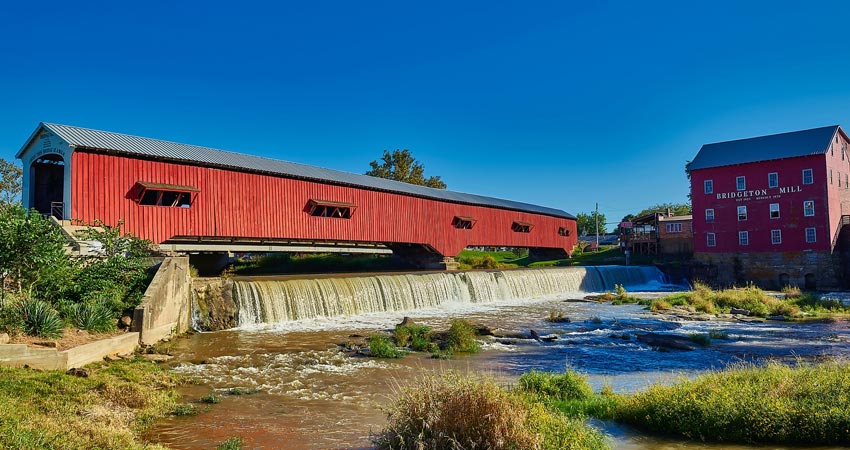 Location: Bridgeton Indiana
The Bridgeton bridge does not disappoint, as arguably one of Indiana's most famous covered bridges, with its picturesque red painted siding and mini waterfall next to the old Bridgeton mill.
Yet, even though this bridge (or at least, this crossover) has a storied history, the current bridge as it stands isn't as much of an old red covered bridge as it seems since it was built in 2006.
Both the Bridgeton Mill and bridge have undergone various reconstructions and rebuilding after they had been burned down (on separate occasions).
The first bridge in this location was open with wood rails, but broke when a family rode over it with their wagon and dropped into the pond. A similar bridge was built soon after, but broke when cattle were driven across it.
The 3rd bridge built in this location in 1868 was a covered bridge, but it was damaged before it was completed when three men tried to cross in a boat. Luckily, the bridge was finished and kept standing even after its refurbishment in 1988, until it was sadly destroyed by arson in 2005.
Bridgeton's current Covered Bridge was built in 2006, but care was taken to keep its look and design authentic to the original.
2. Crooks Covered Bridge
Location: 5 miles southeast of Rockville. Also on "Red Route"
The Crooks Covered Bridge is the oldest of the county's remaining covered bridges along with the Portland Mills Covered Bridge, with both having been built around 1856.
This famous bridge, which is also known locally as the "Darroch's Lost Bridge" or the "Walker Adams Bridge" was originally built on a Little Raccoon ripple known as Indian Crossing close to Parkers Mill.
It's hard to say what this bridge's history looks like, exactly, because the local pioneers of the time had a few conflicting accounts.
From what I can gather, the bridge was moved to its current location sometime around the 1870s when the bridge was set to be restored and several people requested that it be moved closer to town so they could actually use it.
The long, low building nestled between the trees is quite a sight, but this bridge's most distinct feature is the phrase "Cross This Bridge At A Walk" painted on its portal arches, similar to many covered bridges across the US.
The phrase refers to riding horses over the bridge at a walk, because a horse's running gait can cause destructive vibrations to the wooden bridge.
3. Jackson Covered Bridge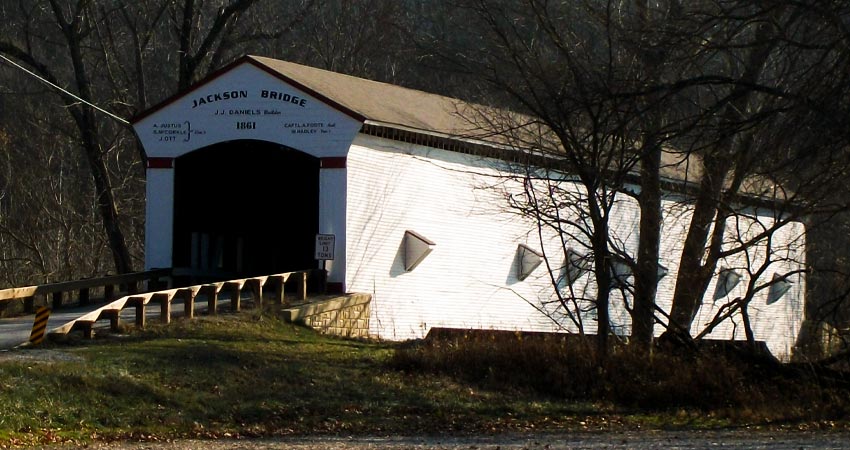 Location: 2 1/2 miles northwest of Annapolis
The Jackson Covered Bridge is the longest single-span covered bridge in Indiana.
Also known as "Wright's Mill Bridge", builder Joseph J. Daniels completed work on this bridge in 1861, and left behind a special token of his work – a cornerstone on the abutments on the south upstream side of the bridge that reads "Builder J.J. Daniels 1861".
It wasn't unusual for builders to leave their names somewhere on their completed works, but this is one of the only such cases with Indiana's covered bridges.
This wasn't the first bridge that Mr. Daniels built in Parke County (he built his first at the young age of 19!) but it is the oldest one still standing.
4. Conley's Ford Covered Bridge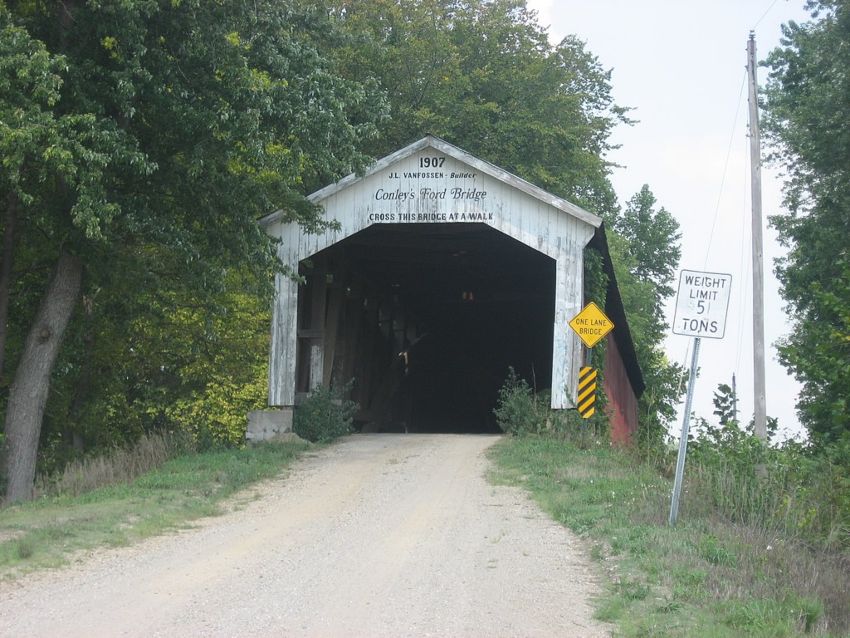 Location: Between Mansfield and Bridgeton, 2 miles southwest of Mansfield
While most of the bridges in the region were built with yellow poplar, this is one of the few covered bridges in Indiana built with white pine. People in the area also claim that this bridge is fourth the longest single-span covered bridge in the world, although I couldn't confirm that on any official source.
Built in 1905/7 by J. Lawrence Van Fossen, this bridge has the signature "Daniel's Arch" that the Van Fossens built into all of their bridges and later became known for.
Its beautiful white painted wood is complemented by corrugated sides and roofing that were redone in 1991, and it has the same phrase, "Cross This Bridge At A Walk", as Crooks Bridge painted on its portal arches. Although this bridge is stable enough today to take regular traffic.
5. Phillips Covered Bridge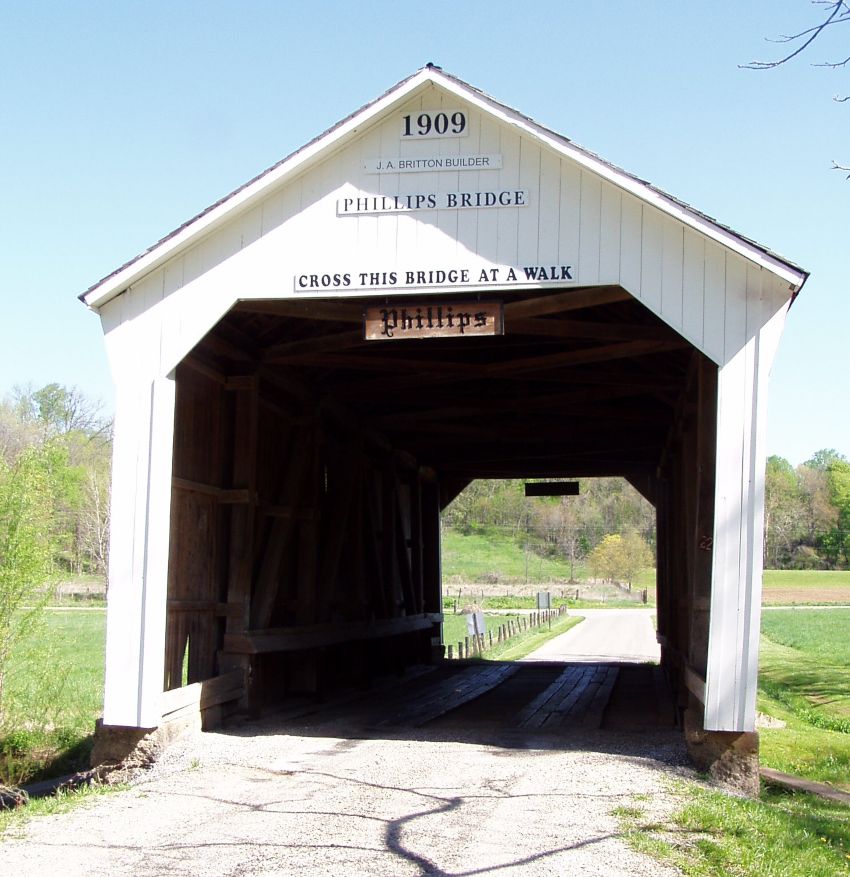 Location: 5 miles west of Rockville, south of US 36, and 1 1/2 mile southwest of Coloma
Covered bridges in Indiana were mainly built in either the Burr Arch style or the Multiple Kingpost style. The Phillips Bridge is the only remaining bridge in Parke County built in the four-segment Kings Post Truss design. It's also the shortest covered bridge still standing today in Indiana.
Completed in 1909, the bridge crosses Rocky Run, also known as Big Pond Creek, and was sometimes called the Arabia Covered Bridge because the area was known as "Little Arabia", apparently because of Syrian Muslim immigrants that had settled nearby.
The bridge got its name from the Phillips family, who were prominent landowners in the area at the time and you can see the Phillips name on headstones in the nearby Arabia Cemetery.
There was a church as well, but unfortunately, all that's left standing of it today is its steps and foundation.
Tour the Covered Bridges in Indiana
You can get to all of these historic bridges using the five color-coded driving routes marked with roadside signs, although I'd suggest you download a map online so you know where to go.
If you're looking for a full guide on all the bridges and routes in Parke County, check out an excerpt of this incredibly detailed guide to the covered bridges in Indiana written by photographer Harold Rau.
Visiting Indiana during October? Try to stop by for the covered bridge festival.
Every year the county hosts a covered bridge festival in October to celebrate the covered bridges in Indiana. The festival traditionally lasted 3 days and was started in 1957 by a group of local women to show off the bridges to tourists. Now it starts on the second Friday in October every year and lasts for 10 days.
Indiana isn't just made of fields of corn, there's also has plenty of interesting things to do across the state if you're looking for some more adventure and incredibly scenic lakes that warrant at least one visit while you're in the Midwest.