Yellowstone vs Yosemite: Yellowstone's mud pods or kayaking at Yosemite? Geysers, or lakes? Hydrothermal areas or wildlife viewing?
Let me just get this out of the way first.
If you're looking for which one is "best" well, you're out of luck. Yellowstone and Yosemite both are incredible National Parks, with unique features and must-see spots.
Neither is inherently better and both deserve to be seen at least once in your life.
I crafted this guide specifically to help you make an informed decision, and pick the best park for your preferences and needs.
Keep reading to learn more about Yellowstone and Yosemite, what makes them special, and what sets them apart.
Yellowstone and Yosemite, Where Are They Located?
Choosing a holiday destination sometimes can boil down to how close it is to our homes, and how easy it is to reach.
Where To Find and How To Reach Yellowstone Park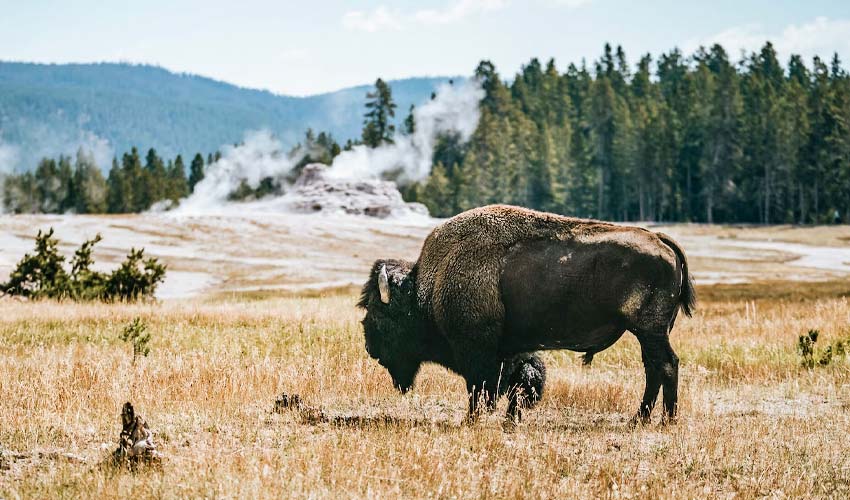 While the park is located mostly in Wyoming, it partially stretches to Montana and Idaho as well.
If you're flying to Yellowstone Park, one of the best options is the Bozeman Yellowstone International Airport (BZN) in Montana. Jackson Hole Airport (JAC), Yellowstone Regional Airport (COD), and Idaho Falls Regional Airport (IDA) are also great choices.
When driving to Yellowstone, it's important to stay current on the park's entrances and roads. Especially during wintertime, you can expect several roads to be closed or restricted. You can check out the status of roads before planning a trip on the Park Roads webpage.
Finally, there are no good options to reach the park by train, but there are several bus service options available year-round from Bozeman, and through the summer from Cody and Jackson.
Where To Find and How To Reach Yosemite Park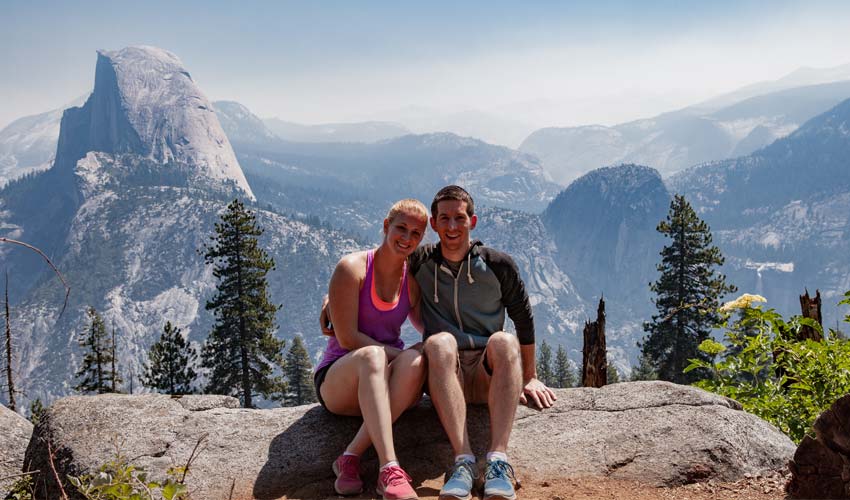 Yosemite National Park lies in the Sierra Nevada mountains of California, and its located about 100 miles southeast of Sacramento and 140 miles east of San Francisco.
The most popular airports visitors use to reach Yosemite Park are Fresno/Yosemite International Airport (FAT), Mammoth Yosemite Airport (MMH), San Francisco International Airport (SFO), and Los Angeles International Airport (LAX).
Train and bus services to Yosemite are handled by Amtrack, which offers connections from Los Angeles, San Francisco, San Jose, Fresno, San Diego, and Sacramento.
Visitors are welcome to reach the park by car as well, however, there is a $30 entrance fee for vehicles.
There are 4 main entrances to Yosemite Park: if you're reaching the park from Sacramento, San Francisco, and San Jose, Big Oak Flat and Arch Rock are the closest entrances. From Fresno, Yosemite Entrance Gate (South) on HWY 41 is the best choice.
Coming from the East, the logical choice would be Tioga Pass Entrance, however, Highway 120 East and Tioga Pass are closed during wintertime.
Yellowstone vs Yosemite How Many Days Should It Take To Visit?
Sure, there is no fixed amount of days one should spend in either Yellowstone or Yosemite, but ideally, we would all have a couple of months to spare to enjoy the beauty of the two National Parks.
However, here is the ideal (yet realistic) amount of time for you to enjoy each park to the fullest extent.
5 Days in Yellowstone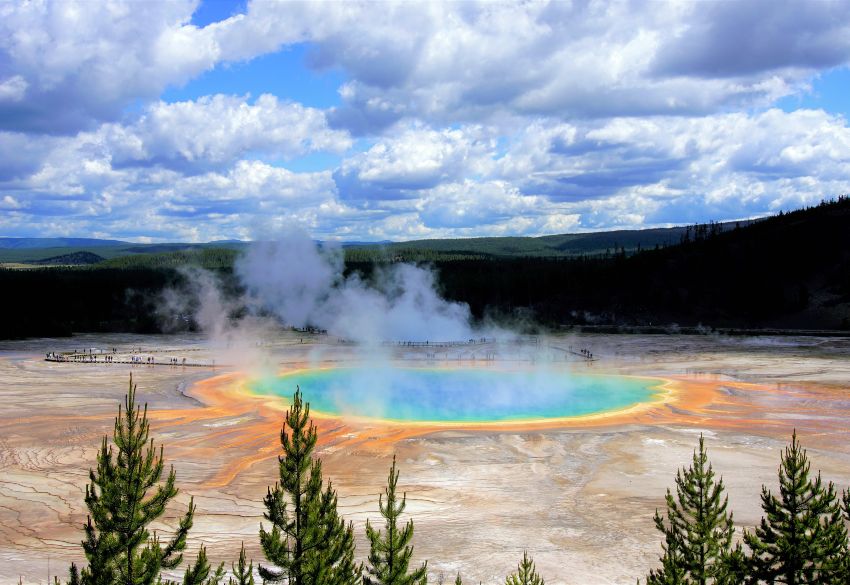 Boasting almost 3,500 square miles, Yellowstone is simply huge, and one could easily spend a couple of weeks exploring the park's wilderness without walking the same trail twice.
Sure, a simple weekend getaway at Yellowstone can be an amazing adventure, however, if you're planning on hitting all of the most popular viewpoints and points of interest, you should ideally try for a 5-day visit.
3 Days in Yosemite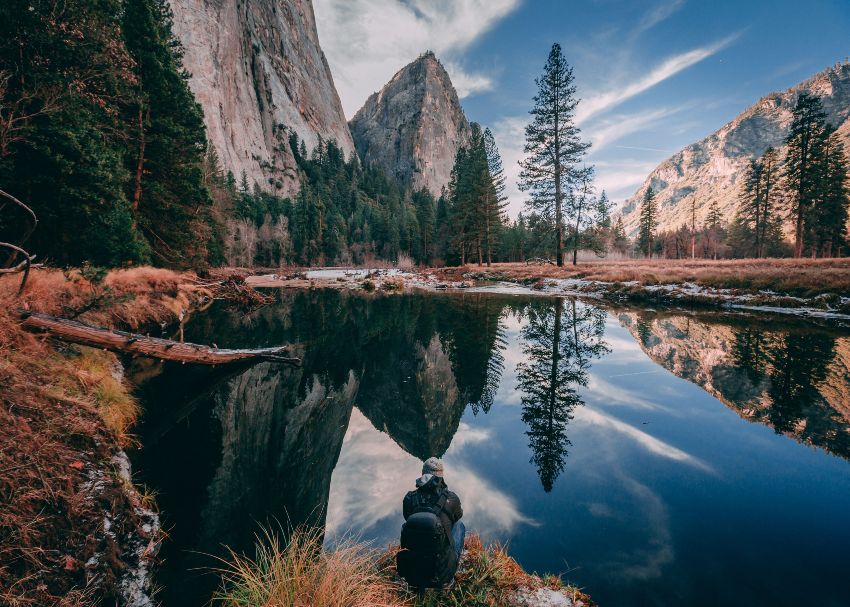 While Yosemite is significantly smaller, at "only" 1,169 square miles, the park includes countless points of interest.
If you want to leave the park having checked almost everything out of the "must-see" list, I recommend scheduling at least a 3-day-long trip.
Weather at Yellowstone vs Yosemite
Weather and Temperatures at Yellowstone Park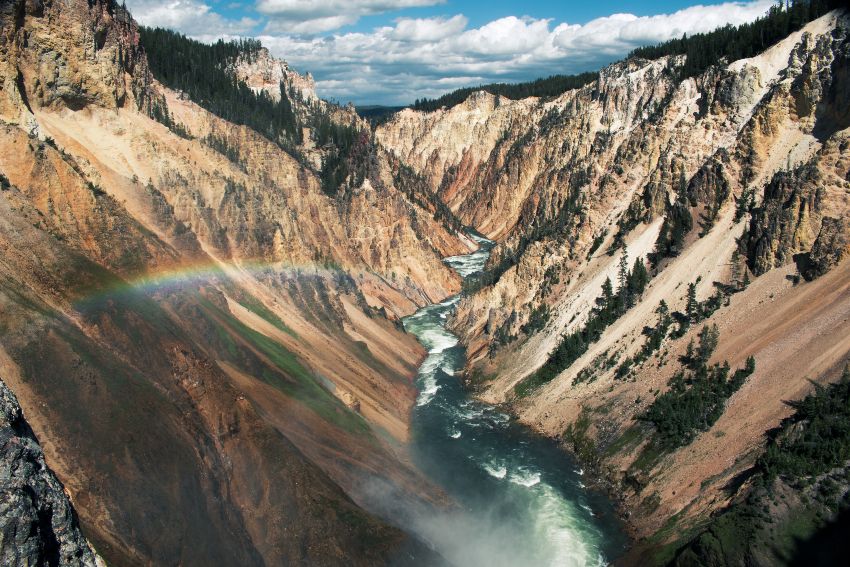 Summer months at Yellowstone are generally characterized by very high temperatures and little to no precipitation.
Daytime temperatures from late June to August lay at around 70 to 80 F.
You'll find milder and more pleasant weather during Spring and Fall, when temperatures are lower, around 30 to 60 F, and can even go below 0 at night.
The downside of visiting Yellowstone at this time of the year is the frequent precipitation,s including snow. So be sure to check the weather forecast beforehand and come prepared.
For those who love a winter wonderland setting, nothing beats Yellowstone in wintertime. The park gets loads of snow every year (around 150 to 300 inches) creating a mesmerizing scenery and the perfect setting for winter sports. Just beware of the very low temperatures and come prepared for harsh weather.
While a usual winter day at Yellowstone will average at 20 F, it's not unprecedented for temperatures to drop significantly lower, even reaching – 66F.
Weather and Temperatures at Yosemite Park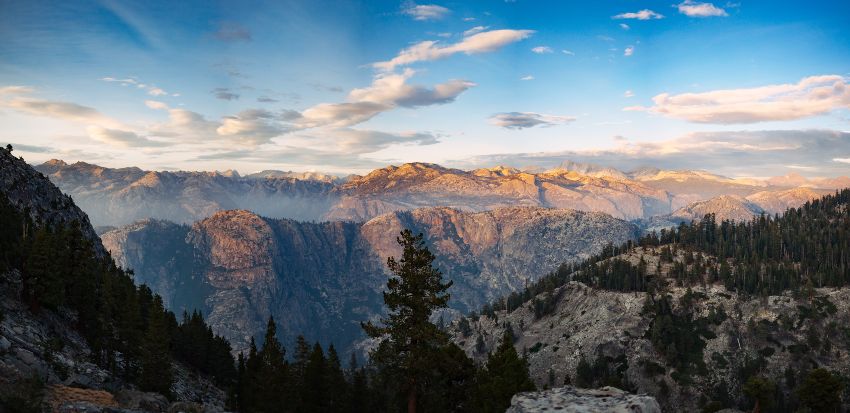 Yosemite Park's weather and temperature are highly variable due to its different altitudes. During the same day, you'll experience higher temperatures in the lower areas of the park (around 2 thousand feet), and lower temperatures the higher you climb.
Especially in the Spring and Fall, the weather can change from sunny and warm to stormy in a second, making it harder to plan a hike or other outdoor activities.
Despite the rain, you'll get the most pleasant climate around May and October, with temperatures ranging from 40 to 70 F.
For those who don't mind high temperatures and love a clear sky, summer is the best time to visit, as precipitations are almost nonexistent.
November trough March Yosemite park gets snowy, rainy, and cold.
Temperatures in wintertime can vary greatly depending on the area of the park. For example, it will hardly ever go below zero at Yosemite Valley, however, Tuolumne Meadows can often reach -10 F.
Snow starts falling at higher altitudes as soon as September, and by wintertime, the park is already covered in white.
Hiking in Yellowstone vs Yosemite
Great Hikes and Viewpoints in Yellowstone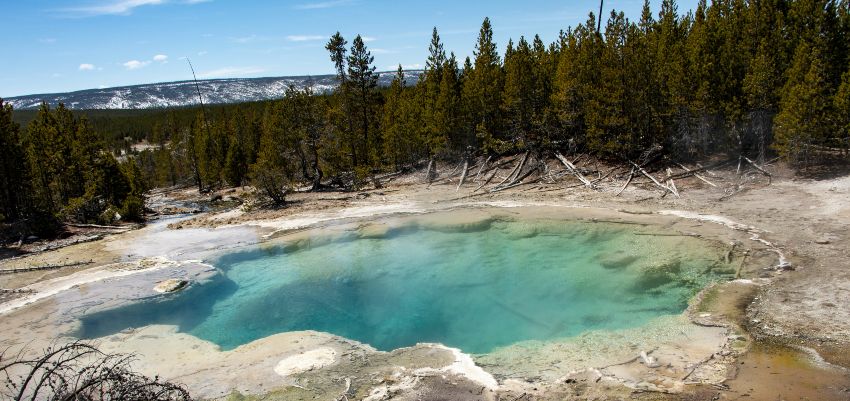 Hiking is one of the greatest activities at Yellowstone and the best way to explore the park to the fullest, taking in nature and discovering the park's unique features.
Geysers, hydrothermal areas, hot springs, and waterfalls are some of the most popular attractions at Yosemite, and each interesting spot can be reached through a dedicated trail.
Grand Prismatic Overlook Trail will lead you to the iconic Grand Prismatic Lake in less than 2 hours, while it can take up to 4 hours to complete Sentinel Meadows & Queen's Laundry Trail.
Lone Star Geyser can be reached through the Lone Star Geyser trail, which runs along Firehole River for about 2 and a half hours. Difficulty-wise, this is a beginner-friendly hike, being partially paved, and not including major elevation gain.
For a 30-minute hike your best bet is Mammoth Hot Springs Trails, while for almost a full day of walking, you can't go wrong with Osprey Falls Trail, or Mount Washburn Spur Trail.
On a perfectly clear and sunny day, you can climb up Observation Peak Trail for 5 to 6 hours and enjoy one of the best views of the entire Yellowstone park.
Best Trails and Viewpoints in Yosemite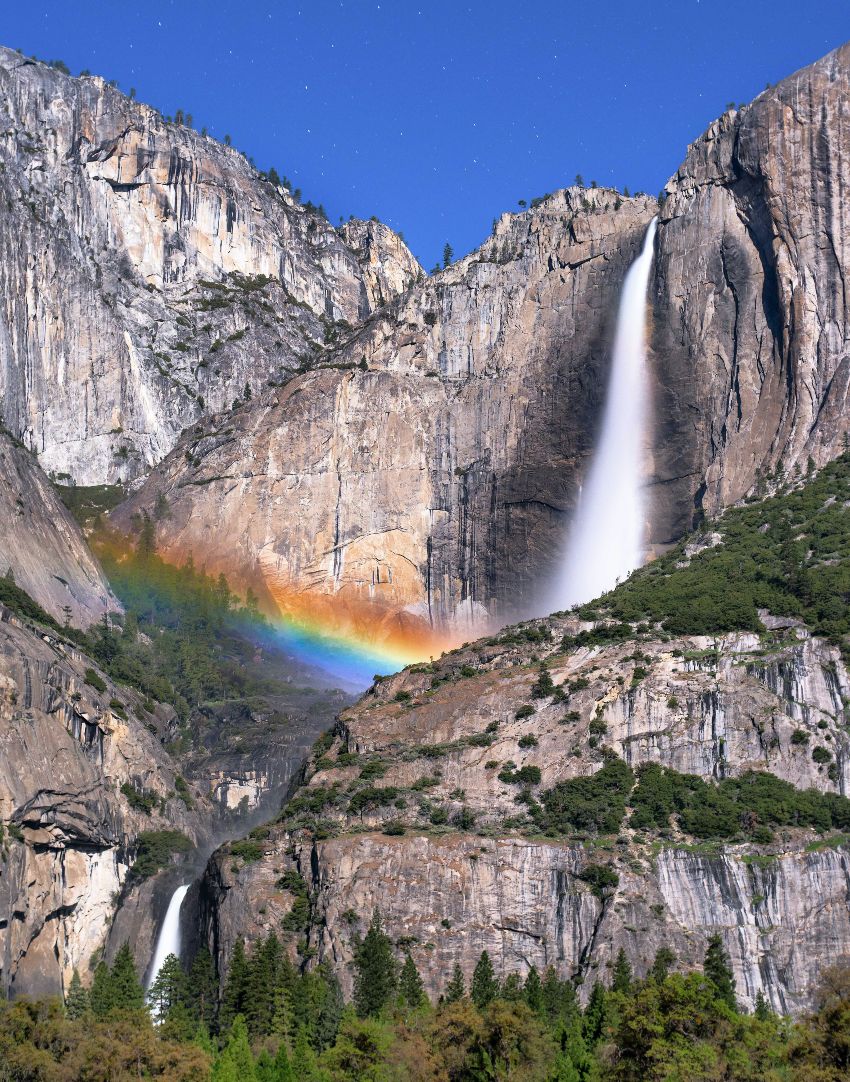 Lower Yosemite Fall Trail is a great hike for those who are looking for a quick and easy hike with a huge payoff. This 30-minute hike will lead you to North America's tallest waterfall, the 320 feet tall Lower Yosemite Falls.
Another simple and fast hike is Cook's Meadow Loop. While wandering through this beautiful meadow for around 30 minutes, you'll be able to see many of Yosemite's main attractions, such as Yosemite Falls, Sentinel Rock, Half Dome, and more.
For a much longer but not a too strenuous hike, Yosemite Valley Loop Trail and Mirror Lake's Snow Creek Trail are great choices. These two hikes will keep you on the trail for around 6 hours, but don't include too difficult sections or huge elevation gains.
Real hiking pros will find a challenge in Yosemite's most strenuous hikes, the Four Mile Trail and Half Dome Day Hike.
Accommodation and Camping at Yellowstone vs Yosemite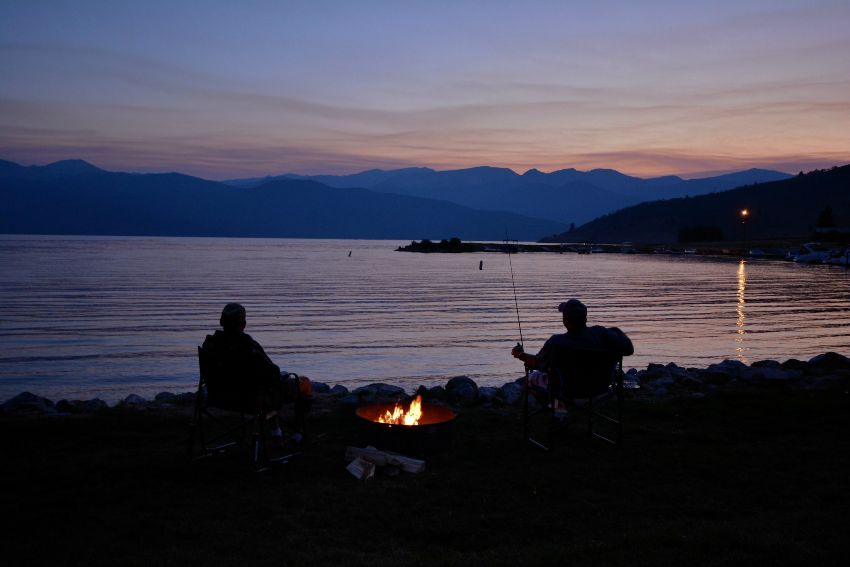 When camping at Yellowstone, it is crucial to book your stay months in advance, as the spots fill up quickly due to the park's popularity.
More than 2,000 campsites are available at Yellowstone National Park's 12 campgrounds. Despite the availability, it is necessary to reserve all campsites beforehand.
The only exception is Mammoth Campgrounds, which works with the first come first served rule, however only in the off-season from October through April.
There are 13 popular campgrounds in Yosemite National Park, and only seven require reservations.
During Fall and wintertime, you can usually find easily a spot in one of the campgrounds without reservation.
In high season, I recommend booking in advance one of the reservation-based campgrounds, since first-come-first-serve campgrounds tend to be fully booked by early morning.
Exploring the States' Exceptional National Parks
While waiting for Spring, check out my 9 favorite National Parks to visit during wintertime.
Learn more about the best things to do and see at Big 5, Shenandoah, and Grand Teton National Park.