Utah State Route 12, also known as Scenic Byway 12 (SR-12) or "Highway 12—A Journey Through Time Scenic Byway," is an approximately 123-mile-long state highway designated as an All-American Road.
One of the many scenic drives in Utah, State Route 12 takes you through stunning views of canyons, plateaus, and valleys, with plenty of vantage points as well as historic sites in between.
State Route 12 starts at an intersection with US-89 near Panguitch, UT to the west, then passes Red Canyon, the towns of Bryce, Tropic, Cannonville, and Henrieville. It then continues to the northeast to the towns of Escalante, Boulder, Aquarius Plateau, and Grover. The scenic byway ends at Torrey, UT, at its intersection with State Route 24.
In today's article, find out how to plan and which stops you should make on your road trip along Highway 12 Utah.
Prepare for Your Highway 12 Road Trip
As I've mentioned, Byway 12 Scenic Byway begins at U.S. Highway 89, seven miles south of the city of Panguitch and eight miles north of the town of Hatch.
Either of these towns is a great jumping-off point for your road trip, with plenty of places to stay, stores for any last-minute shopping supplies, and rental shops for bicycles and ATVs.
If you're coming from Panguitch, follow Center Street southbound to Highway 89 and turn left at Scenic Byway 12. On the other hand, if you're coming from Hatch, follow N Main Street northbound to Highway 89 and turn right at Scenic Byway 12.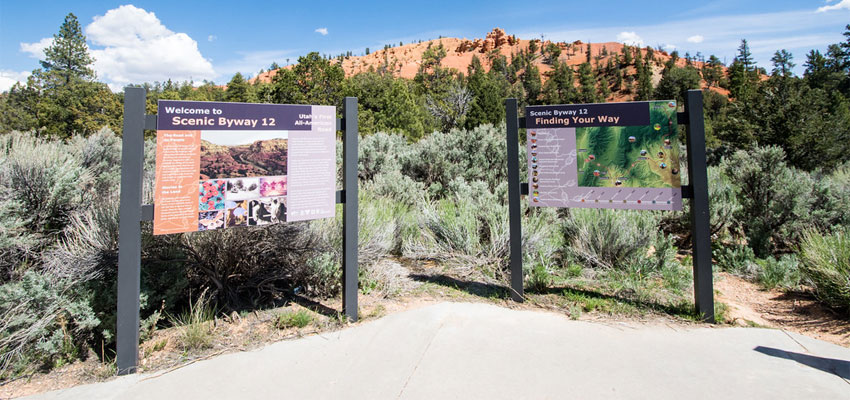 Driving west to east without stopping will take you around 4 to 5 hours, but you'll want to take a few days and camp or stay in accommodations along the way if you want to completely explore what the surroundings have to offer.
Depending on how many stops you plan to make and how long you plan to stop, you'll want to set aside at least 3 days for your road trip.
Summer is a popular time to go on this scenic Utah road trip, so if you want to avoid the crowds and get better rates on accommodations, the spring and fall months are probably your best bet.
Winter is a bit tricky; you can expect some road closures as parts of the highway will need to be plowed.
No matter what time of the year you go on this trip, make sure to stay hydrated and wear sunblock all throughout the trip. Take as many water bottles with you as you can carry comfortably, and whenever you encounter a visitor center, refill them.
Think about whether you want to stay in hotels and lodging in the towns, camp in the many campgrounds you can find along the highway, or if you want to take an RV or any camper-type vehicle.
Scenic Byway 12 Utah Road Trip Itinerary
These are several Highway 12 Utah stops, organized from west to east, that are worth stopping for to hike, climb, take pictures, or simply to marvel at nature's beauty.
These are organized from west to east, traveling from Panguitch to Torrey.
As I mentioned, you can start your Highway 12 road trip from either Panguitch or Hatch. But I'd recommend starting from Panguitch, especially if you have a little more time to explore.
Panguitch is a national historic district with roots in the early Mormon pioneers. History and culture are found everywhere you look, with beautiful red brick homes and buildings scattered throughout the small town.
Where to Eat in Panguitch
Where to Stay in Panguitch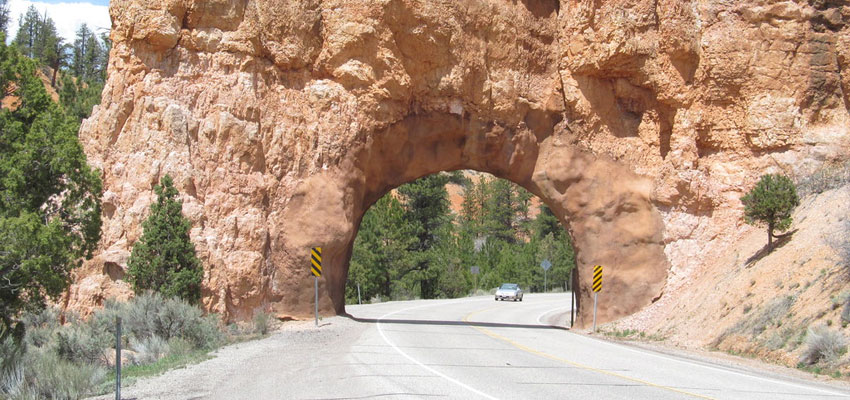 Part of the Dixie National Forest, the Red Canyon features spectacular red sandstone hoodoos, spires, and formations formed through wind and water erosion.
Stop and explore the vermilion sandstone tent rocks by hitting the well-marked trails for hiking and cycling, as well as ATV and horseback riding.
In particular, the Red Canyon Bicycle Trail is a five-mile paved bike trail that takes visitors on a scenic route through ponderosa pine forests to the great Paunsaugunt Plateau.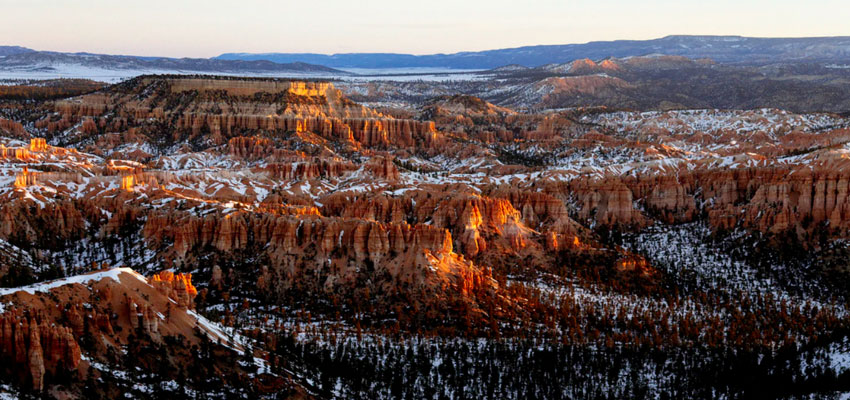 From Highway 12, take a right at UT-63 to get to the entrance of Bryce Canyon National Park, where you get treated to the sight of a series of amphitheaters etched into red-stained limestone.
This is one of the big 5 national parks in Utah.
They look kind of similar to the hoodoos at Red Canyon because they were made the same way: by wind and water erosion.
There are plenty of viewpoints, hiking trails, and winter activities to fully experience the park's beauty.
During the summer, you can park your car at designated parking lots and take the shuttle to certain points of interest inside the park.
There are also campgrounds in the area, as well as places for mobile homes to park. Restrooms and showers are available.
4. Town: Tropic, UT
Tropic is one of two towns you'll pass on the way to Kodachrome Basin State Park.
At first glance, Tropic doesn't seem to have much to offer. But there's more here than meets the eye from Highway 12 (also their main road).
Stop by the Tropic Museum and Heritage Center to know more about the natural and cultural resources of the Bryce Canyon Region, including its geological and paleontological artifacts as well as pioneer history.
This town also has some hidden culinary gems, outdoor activities, and places to stay the night.
Where to Eat in Tropic
Where to Stay in Tropic
5. Town: Cannonville, UT
Cannonville is a small community named after a Mormon official.
Cannonville Visitor Center offers displays of Native American and Pioneer history. The staff here can also help with trail maps, hiking recommendations, and weather reports, which are invaluable when visiting the nearby parks.
Where to Stay in Cannonville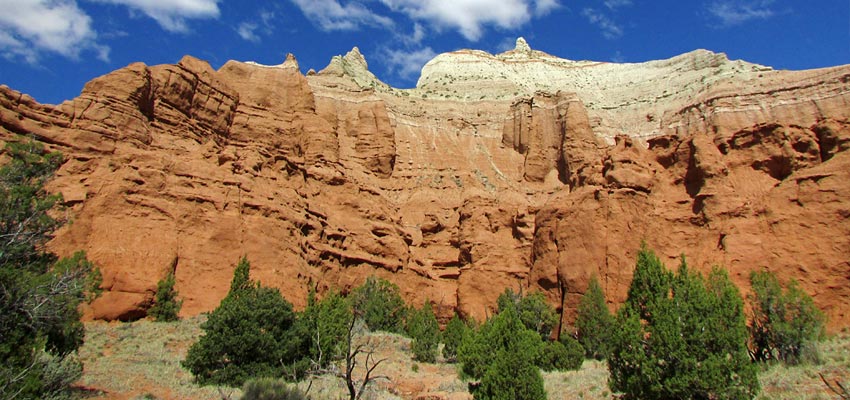 From Highway 12, turn into Kodachrome Rd/Main Street and continue until Kodachrome State Park Road, where you turn left toward Kodachrome Basin State Park.
Named after the then-revolutionary Kodak film, the Kodachrome Basin State Park features 67 monolithic stone spires with multicolor sandstone layers.
It offers a modern campground if you want to stay longer, but you can explore the area during the day by hiking and cycling.
In fact, there are six hiking trails traversing the park, with the Panorama Trail being the longest and hardest, but worth the trouble when you reach Panorama Point and get amazing views of the park's colorful landscape.
7. Town: Henrieville, UT
Once you make your way back to Highway 12 from Kodachrome Basin State Park, the next town you'll pass is Henrieville, a small ranching town and the third of three towns lying in Bryce Valley.
There are some small cafés and eateries around for dining before you make your way to your next stop.
Where to Stay in Henrieville
Around 12 miles east of Henrieville along Highway 12 is a short stop overlooking a section of blue-gray-green badlands.
The Blues Overlook is high above "The Blues," named for the color of these shales deposited millions of years ago when the area was submerged in an ocean.
This overlook sits across the pink limestone ledges of Powell Point, so stopping on this overlook provides you a view of both contrasting landscapes.
Another 10 miles east on Highway 12 is a cave carved into a cliff face by Native Americans, probably used as storage for grains, corn, and other crops.
It blends well with the surrounding cliffs, but a viewing tube helps visitors zoom in to look at the structure.
From Highway 12, turn left on Reservoir Road and follow it north until you get to the entrance of the Escalante Petrified Forest State Park.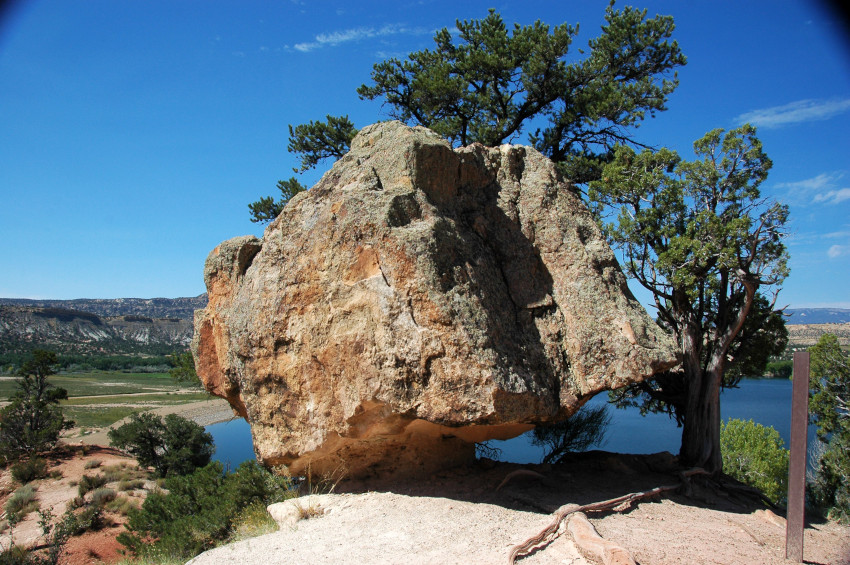 Petrified wood is fossilized trees from millions of years ago. They look like rocks from a distance, but when you get up close, you get to appreciate the unique colors of the petrified wood.
Remember, though, that it's illegal (and reportedly bad luck) to take petrified wood from the state park.
The park offers plenty of hiking trails, as well as water activities like boating, kayaking, fishing, and swimming in the Wide Hollow Reservoir. There are full-service campgrounds, including a disabled-friendly campsite.
When you exit the petrified forest, you'll pass by Escalante City, also known as the "Heart of Scenic Byway 12."
Even with only 850 residents, Escalante is still the largest city on this highway, which means there are more options for lodging and food compared to the other towns on this route.
Visit the Escalante Heritage Center to learn about the pioneering expedition in this area. Going to the Escalante Interagency Visitors Center can help you plan your trip to the nearby parks, as well as appreciate the ecology of the area.
Where to Eat in Escalante
Where to Stay in Escalante
Boynton Overlook is another wayside stop that offers a breathtaking view of the valley carved out by the Escalante River.
It's a great place to take photos of escarpments, red rock domes, and arches in the distance.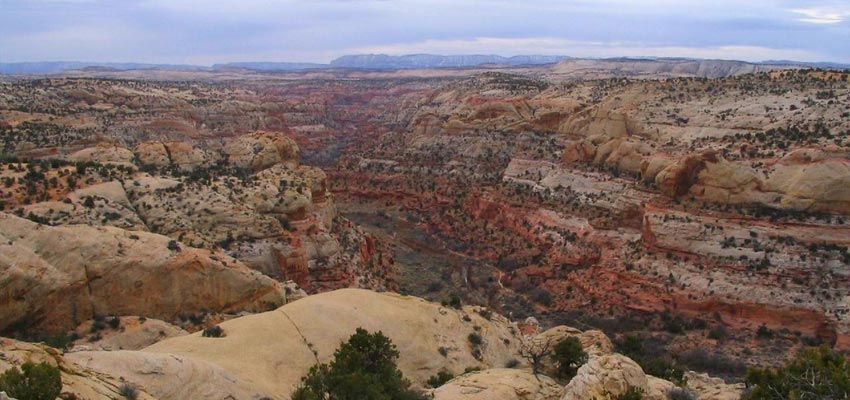 This national monument stretches around 2,900 square miles established to preserve the wilderness and its ecosystems. It is divided into three regions: the Grand Staircase, the Kaiparowits Plateau, and the Canyons of the Escalante.
The "staircases" or sandstone cliffs are visible from the highway, but if you want to get up close and personal, you'll have to be driving a vehicle that can handle unpaved, uneven roads, and you need to have plenty of water (at least 1 gallon per person per day), as there aren't any establishments or homes nearby.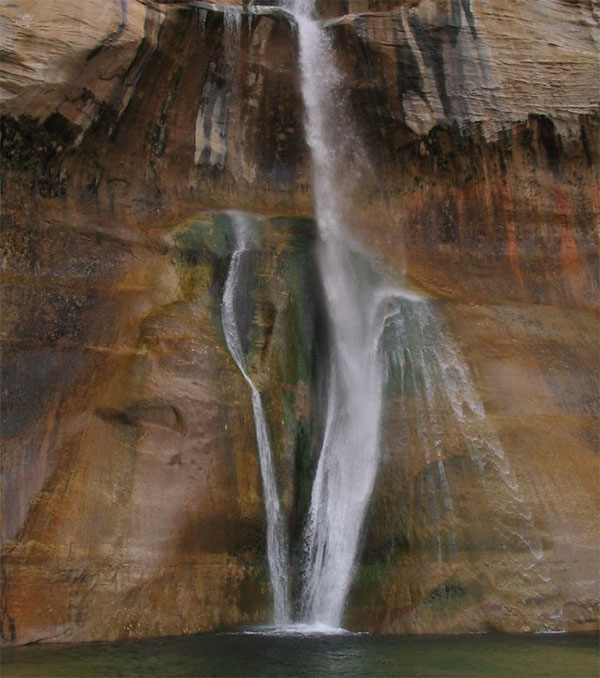 Calf Creek is a perennial stream within the Grand Staircase-Escalante National Monument.
If you have it in you to hike 5 miles to and from the trailhead, you can visit the Lower Calf Creek Falls, where a clear stream descends 126 feet into a pool where visitors can take a swim.
When hiking to the falls, you'll pass plenty of points of interest, so you won't get bored of seeing red rock on all sides.
15. The Hogback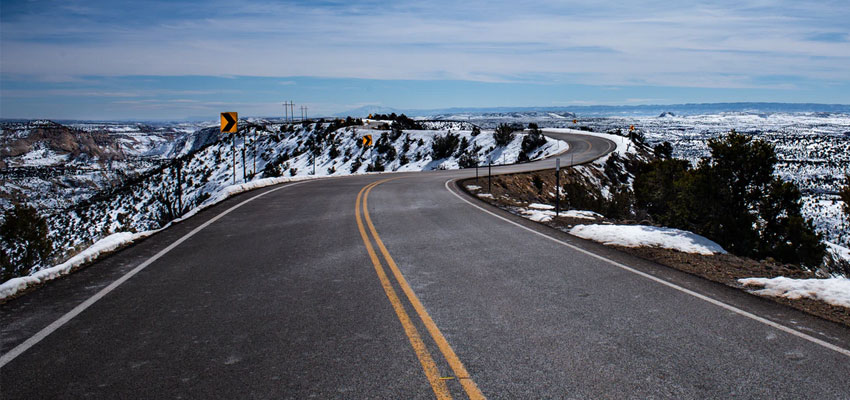 When you exit Calf Creek, before you get to Boulder, you'll get to drive an internationally famous stretch of the highway known as the Hogback.
It features hairpin turns on a very steep ridge that drops off into deep canyons on both sides.
You shouldn't have to be reminded to be extremely cautious when driving the Hogback.
Another peaceful city on your route, Boulder offers a few lodging options and restaurants to rest and recharge before you go on your final leg.
There are also some shopping options here and a chance to gas up as well.
Where to Eat in Boulder
Where to Stay in Boulder
The Anasazi are considered to be descendants of the Pueblo Native Americans, who abandoned this area due to drought or fire.
Their abandoned village is now preserved as a state park, and the unearthed artifacts displayed in the museum also showcasing their history.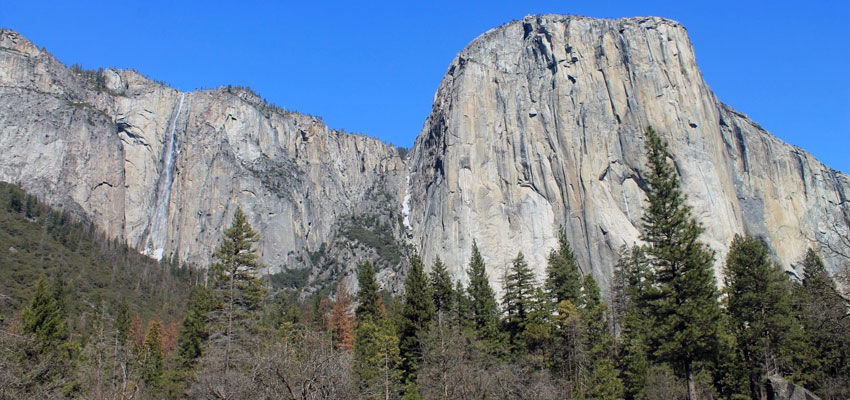 Also known as Utah's Aquarius Plateau, Boulder Mountain is part of the High Plateaus section of the Colorado Plateau. It ranges over 11,000 feet in elevation and covers more than 900 square miles.
The mountain is covered in various trees, such as ponderosa pine, pinyon, and juniper.
Capitol Reef National Park was established to preserve around 380 square miles of desert landscape, especially the Waterpocket Fold.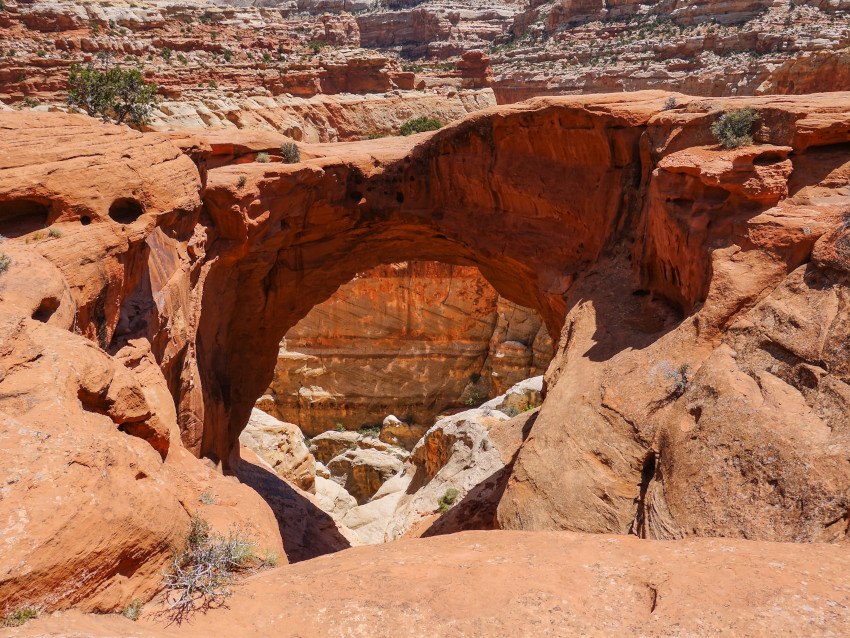 Photo Credit: Anna Irene
The park features several cliffs with dome formations, similar to the white domes often placed on top of capitol buildings, which give the park its name.
You can see some of these domes from the highway, but if you want to explore them further, you'll have to take a significant detour.
Highway 12 ends at its northernmost point where it joins Highway 24, in the town of Torrey.
You don't have to leave right away though; Torrey offers small-town charm, with tree-lined streets set in rose-colored cliffs and green meadows.
It has been accredited by the International Dark-Sky Association to have very minimal light pollution, and is thus a great town to spend a night stargazing.
Where to Eat in Torrey
Where to Stay in Torrey
Take A Road Trip on Highway 12 This Weekend!
A Scenic Byway 12 Utah road trip is truly unique. Getting to see a national forest, two national parks, a national monument, and three state parks along a single road is something only Highway 12 in Utah can offer.
Want other great ideas for your next road trip? Check out our other posts below: