There's no road trip more epic than a drive through the countless historical, quirky, and one-of-a-kind Route 66 attractions.
If your folks were wanderers-by-heart or were forced to migrate west during the Dust Bowl of the 1930s, then you'd probably heard extraordinary stories of their days-long Route 66 tour.
For those lucky enough to visit one of the many Route 66 old towns, you know this route brings about an authentic Americana experience you can't find anywhere else.
This major highway used to snake across 8 states and span 2,400+ miles. It may be defunct now, but you can still "get your kicks on Route 66," with just a bit of planning.
Route 66 Guide
What Makes Route 66 Special?
From November 1926  to June 1985, Route 66 was among the original highways of the U.S. Highway System. As a major road passing Illinois, Missouri, Kansas, Oklahoma, Texas, New Mexico, Arizona and California, anyone going on a Route 66 road trip embarked on a days- to weeks-long trips with over 2,500 miles of driving.
Younger generations may think this route is the same as Radiator Springs from the 2006 animated flick "Cars," and they're somewhat right.
The actual location is based on Peach Springs on Arizona State Route 66, but the shops were inspired by popular Route 66 attractions and the people who fought hard to keep their neon-lit towns alive.
During its heyday, small towns flourished with mom-and-pop shops built left and right to accommodate the traffic that Route 66 brought.
But after numerous improvements and realignments, followed by town after town being bypassed by newer highways from 1956 onward, Route 66 was officially removed from maps in 1985 and replaced by the new Interstate Highway System.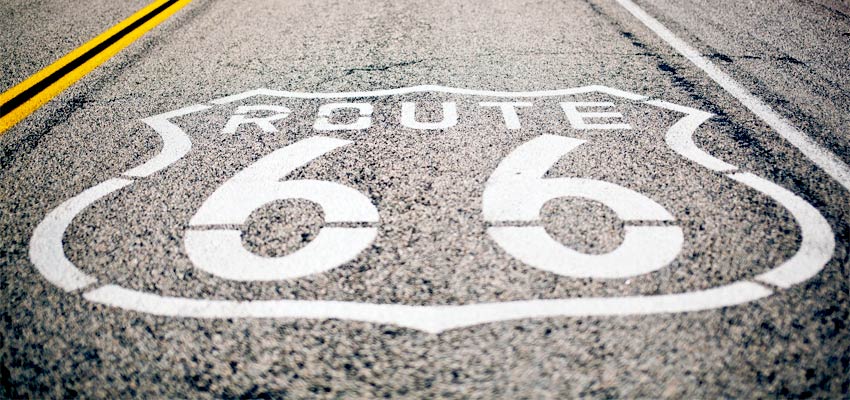 How much of the old road is passable?
In the late 80s and 90s, many portions of the road had been abandoned, but they were still passable.
Years later, parts of Illinois, Missouri, New Mexico and Arizona (along the old Route 66) were designated a National Scenic Byway of the name "Historic Route 66."
Since then, these portions were revived and re-included in maps.
As of 2019, about 85 percent of the original Route 66 highway can still be driven.
Where do you start? Where will it end? Should you drive Westward or Eastward?
On the original Route 66 map, it starts in Chicago, Illinois and ends in Santa Monica, California.
However, you can begin and end your Route 66 road trip wherever you want, just as you can drive either Eastward or Westward.
Of course, this decision will depend on various factors, such as your budget, amount of time you set for your trip, origin location, Route 66 attractions you want to see, things to do on Route 66, and so on.
How long does it take to drive the entire Route 66?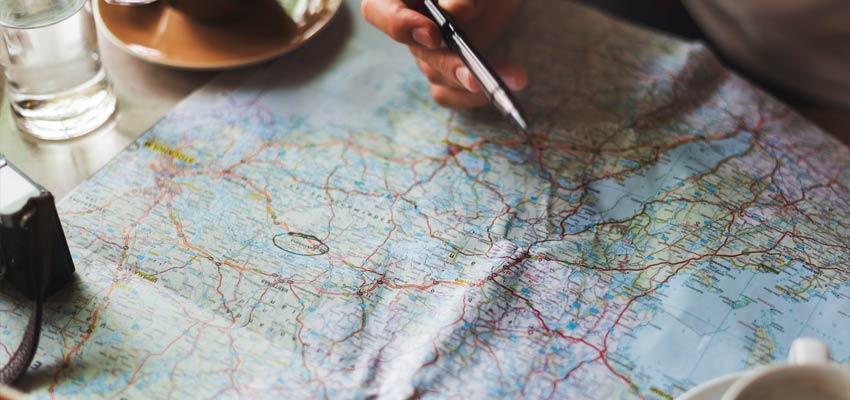 Generally speaking, if you start in Chicago and stop by every popular Route 66 attractions on your way to California, it would take you around 3 to 4 weeks.
However, there are several factors that could affect the time you finish your road trip. These include:
Dining at Route 66 restaurants – Dining in usually takes more time than just passing by a drive-thru fast food and eating while on the move.
Staying overnight at Route 66 hotels – Only got 1 driver throughout the trip? How many times are you sleeping in?
How efficiently you planned your itinerary – You Route 66 trip is a unique one, even if you copied someone else's itinerary. The Route 66 landmarks included in a friend's guide may not be the ones you're interested, and that's okay. As such, it can be challenging to make an itinerary that showcases all the things you wanted to see at Route 66 while getting from 1 spot to the next on time.
Side stops – Visiting family or friends along the way? How long do you plan to stay?
Weather and road conditions – Route 66 experiences six climate zones, ranging from desert heat to Alpine climates. You might pass road closures due to snow, cracked pavements, and so on.
Season and school breaks – The best time to drive Route 66 is between May and September, where the weather cooperates and when there are school and work holidays. And because there are more tourists around this time, expect the most Route 66 attractions open for business as well. Of course, if there are less things to do and things to see at Route 66, your trip would be quicker.
Consider these factors when planning your route 66 trip.
Route 66 Attractions, Restaurants, and Accommodation Options
I divided this Route 66 guide by state, specifically to cater anyone planning to embark on the whole shebang and drive from Illinois to California, as well as those who prefer to just go eastward (or westward) for this particular trip.
Mix and match the Route 66 attractions according to your personal taste.
Illinois Route 66 Guide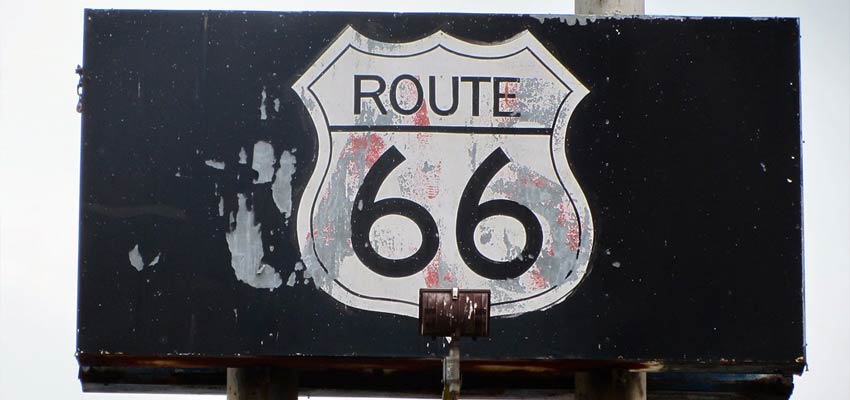 Illinois has an interesting mix of bustling major city hubs and forests, wetlands and farmlands.
You'll be able to get a glimpse of the state's famous food and culture when you stop over the following Illinois Route 66 attractions:
Don't Miss: If you're starting your journey here, look out for the "Route 66 Begins Here" sign. It's definitely Instagram-worthy and memorable for everyone included in the trip.
Historical: Illinois Route 66 Hall of Fame & Museum (110 W. Howard St., Pontiac) and Route 66 Arcade Museum (in downtown Atlanta)
Interesting Route 66 Stops Outdoors: Most of these Route 66 attractions are free, so take advantage of the photo-op opportunity:

Gemini Giant, the 28-foot-tall spaceman promoting the Launching Pad diner at 810 E. Baltimore St., Wilmington
Cicero's Hot Dog Muffler Man isn't exactly on Route 66 (it's at Arch St., Atlanta, IL), but it's worth a detour. It's a must-see Cicero landmark.
Lauterbach Tire Man – This bearded giant is standing outside Lauterbach Tires on Wabash Avenue in Springfield.
One of a Kind Route 66 attractions – If your goal is to check out record-breaking Route 66 attractions, go see the World's Largest Catsup Bottle (800 S. Morrison Ave., Collinsville). Sorry, it's filled with water, not 640,000 bottles of catsup it was designed to store.
Picturesque Filling Stations

Standard Oil Gas Station (400 S. West St., Odell) is no longer operational, but this blue-and-white Depression-era gas station was restored recently as a Route 66 stop and the visitor center for Odell town.
Sprague Super Service (305 Pine St., Normal) – You can't gas up here either, but it's a cool stop considering the two-story gas station, going-on-100-year-old building has been listed in the National Register of Historic Places.
Illinois Route 66 Restaurants
Dell Rhea's Chicken Basket (645 Joliet Rd, Willowbrook) – This fried chicken joint has been serving baskets of fried chicken goodness since 1946. It is still located at the brick building, with its cute slogan "Get Your Chicks on Route 66."
Palms Grill Cafe (100 block of Southwest Arch Street, Atlanta) Eat here if you're stopping over downtown Atlanta. It opened in 1934 and recently restored to cater to new diner guests.
Route 66 Illinois accommodations
Need some shut-eye?
There's Carlin-Villa Motel  (Carlinville, IL), Route 66 Hotel and Conference Center (in Springfield, Ill), and Innkeeper Motel (Hamel, IL) to choose from.
If you're traveling with pets, book with Innkeeper.
Last stop of Illinois Route 66
The Chain of Rocks Bridge is an awesome spot to end the first Route 66 state of your journey.
It's pedestrian-only though, so park your car at the Missouri side of the bridge, then take jaw-dropping photos with this beautiful bridge.
(If you're a fan of bridges, definitely check out my must-visit list of famous bridges in the US).
Missouri Route 66 Guide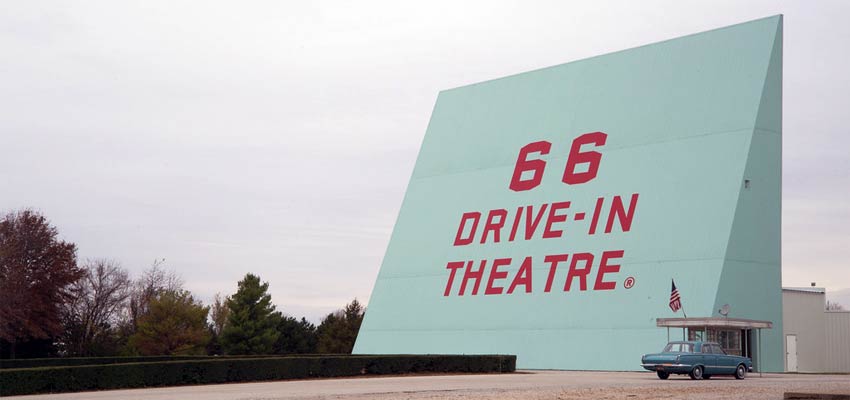 From the Chain of Rocks bridge, you'll enter "The Show Me State" Route 66 landmarks begin in St. Louis and ends in Joplin, covering over 300 miles of iconic spots.
Don't Miss: Whether you're traveling with family, friends, a partner, the 66 Drive-in Theater (17231 Old 66 Blvd., Carthage, Missouri) will definitely be a memorable stop.
Originally showing films in 1949 to 1985, it closed for a number of  years before being restored and reopened in 1998. It is now listed in the National Register of Historic Places.
Do plan accordingly – it only show films every weekend.
If you're a movie buff, make sure to visit Gillioz Theatre (325 Park Central E, Springfield, MO) – it's a fantastic, Spanish-style 1926 building that still hosts events to this day.
Historical: History buffs can choose from The Route 66 Car Museum (1634 W College St, Springfield) or Route 66 Museum (915 S Jefferson Ave, Lebanon).
Natural: Meramec Caverns (1135 Hwy W, Sullivan, MO) – It's the most visited cave in the state and one of the best caves in the US. It is a top Route 66 landmark since 1935. The 4.6-mile-long caverns are known as one of Jesse James' hideouts from the law.
For the Family: Saratoga Lanes (2725 Sutton Blvd A, Maplewood, MO) One of the oldest bowling alleys in Route 66 (that's still operational as of 2019), hang out and bowl, play billiards or just chill at this cozy landmark.
Interesting Route 66 Stops Outdoors

Love science? Go visit Missouri Stonehenge (State St., Rolla, MO) – It's a cool Stonehenge replica built by Missouri S&T students in the early 80s to show off the capabilities of its High Pressure Water Jet Lab.
Red's Giant Hamburg sign – This cross-shaped sign is a replica of the original hamburger shop sign. The drive-through joint used to serve at West Chestnut Expressway before closing in 1984.
Cuba – The official "Route 66 Mural City", Cuba is home to many interesting murals. One of the first art pieces popped up in 2002 and has since added many more around town.

One of a Kind Route 66 attractions: The Route 66 Red Rocker (5957 Hwy ZZ, Fanning, MO) – It's only the second-largest rocking chair in the world now (a bigger one was built in Casey, IL years later), but checking out the 42-feet-tall original rocking chair can definitely make anyone chuckle. It's also a pretty cool photo opportunity, so click away! Would you believe it can actually rock back and forth? But yeah, it was deemed too dangerous so they just tacked it in place.
Picturesque Filling Stations

Gary's Gay Parita (Paris Juction, MO) – You won't be served gasoline at this filing station replica, but because of the late Gary Turner and his wife Lena who welcomed anyone with opened arms and awesome stories, Gary's Gay Parita became a must-visit spot.
Bob's Gasoline Alley (Cuba, MO) – This non-operational "filling station" is actually a diner and gift shop. It gives travelers a throwback to the "Mother Road" of the past with plenty of neon lights and 1950s signs. Kids will love the llamas and mules that owner Bob Mullen and his wife Darlene take care of.
Missouri Route 66 Restaurants
Route 66 Hot Dogs, (Springfield, MO) – It's a grocery store with movie nights! With cold drinks and delicious hotdogs that hasn't changed since the 1920s. You won't go wrong if you want a quick bite.
Ted Drewes Frozen Custard ( 6726 Chippewa St, St. Louis) is a family-owned business that has been serving frozen treats to Route 66 travelers since 1941. It's a must-try, especially if you're passing by on a hot day.
Missouri Hick Bar-B-Q (Cuba, MO) – BBQ lovers should go to Cuba to try the state's best barbecue joints.
Fudge Factory at Uranus Village (14400 State Hwy Z, St Robert, MO) – Uranus Village is one of the newer Route 66 stops, but it's still worth checking out. Aside from the popular food truck lot, local stores, nightclubs, tattoo shops, and other modern stores like Urban Outfitters, don't miss the Fudge Factory for all the chewy, gooey goodies.
Route 66 Missouri accommodations
Your options for iconic overnight stay are the iconic Boots Court (Carthage, MO), Wayside Motel (St. Louis, MO), and Wagon Wheel Motel (Cuba, MO).
Kansas Route 66 Guide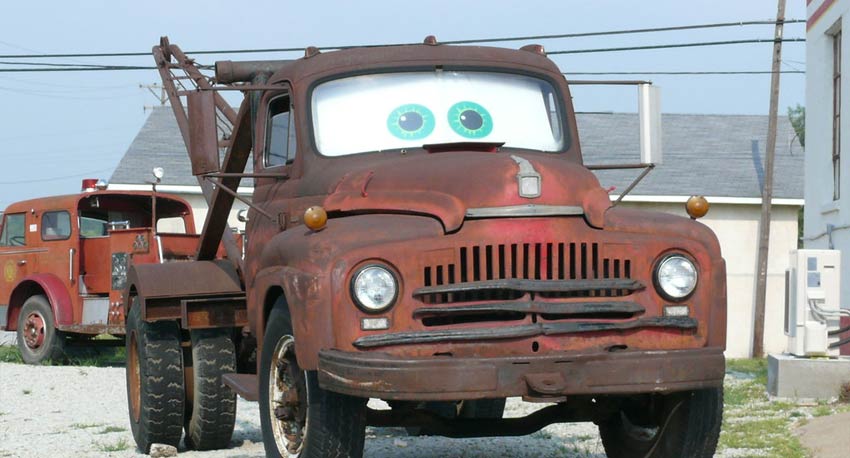 The Kansas Historic Route 66 only span 13 miles, but that 15-minute drive still has plenty to add to your road trip.
Don't Miss: "Cars on the Route" (Galena, Kansas) – This landmark boasts a good mix of old and new.
With a red-and-yellow themed filling station, this old Kan-O-Tex service station is the home of "Tow Mater," from the classic animated film "Cars."
Your kids would definitely love it!
Historical: If you wish to breathe in the history of this patch of Route 66, go to The Eisler Brothers Old Riverton Store (7109 SE Highway 66, Riverton, KS). It's been in operation since 1925 (and has never closed even when Route 66 slowly got bypassed). Today, you can still buy groceries, produce and other food while buying authentic Route 66 memorabilia.
Natural: Baxter Springs Field of Dreams Baseball Complex (8933 SE 50th St, Baxter Springs, KS) is a result of a community effort to make a local high school baseball coach a reality.
Interesting Route 66 Stops Outdoors: Brush Creek Bridge (Cherokee County, KS) is the only remaining marsh arch bridge. Built in 1923, this site is listed in the National Register of Historic Places. Don't forget to take a photo at the bridge itself – look down the road and pose with the Route 66 marker.
One of a Kind Route 66 attractions: If you plan to make a longer stop, visit The Wizard of Oz Museum for all things OZ. It's just off I-70 on Kansas Highway 99 on "The Road to OZ."
Picturesque Filling Stations: Baxter Springs Independent Oil and Gas (Baxter Springs, KS) is a cottage-style gas station that serves as today's Kansas Route 66 Visitors Center.
Kansas Route 66 Restaurants
The Angels on the Route (in Baxter Springs) is situated in a historic building.
Originally opened in 1865 as Cooper's Dry Goods Store, this particular building has been the town's donut shop, drug store, treasure shop, and now this restaurant.
They have live music on Fridays and Saturdays.
Route 66 Kansas accommodations
There's no place to stay in Kansas on Route 66 itself, but you can drive a bit to small mom-and-pop motels like Baxter Inn-4-Less (in Baxter Springs) or Galena Motel (918 E 7th St, Galena, KS).
Oklahoma Route 66 Guide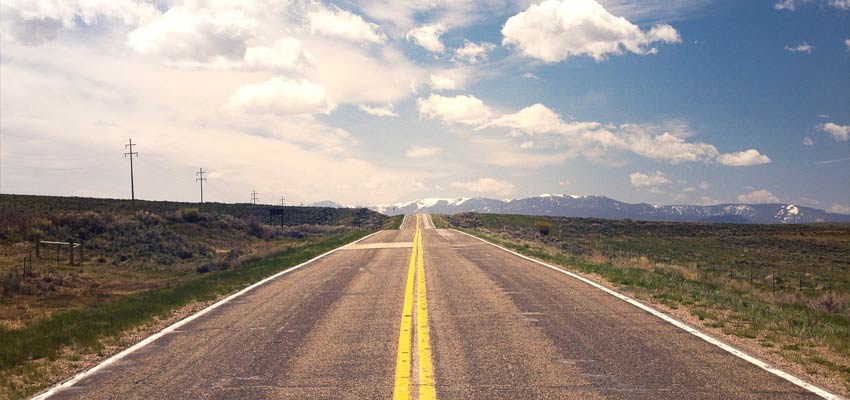 Oklahoma is the state with the longest area occupying the Mother Road (about 400 miles).
If you can spare a day or two for this state, then you'll be able to enjoy many of these iconic Oklahoma Route 66 attractions:
Don't Miss: The giant Blue Whale (2600 Rte 66, Catoosa, OK) was originally an anniversary gift, where kids and adults slide into the pond.
When the owners died, it was left abandoned and unmaintained.
It was only when Catoosa locals united to restore it when travelers began pouring back in. You can't swim anymore, but you can climb up its mouth for awesome picture taking.
Historical:

M. Davis Arms & Historical Center (330 N J M Davis Blvd, Claremore, OK) – Has over 20,000 firearms inside the museum.
Route 66 Interpretive Center (400 E 1st St, Chandler, OK) – If you really want to dig deep into the history of Route 66, then this museum is a must-visit.
Seaba Station Motorcycle Museum (336992 East, OK-66, Warwick, OK) – It may be an itsy-bitsy museum, but is home to over 100 vintage motorcycles.
Coleman Theater, Miami (103 N Main St, Miami, OK) – Interestingly, this 1920s theater is still operational and still hosts concerts, plays, and other performances.

Natural: Route 66 Park Amphitheater (9901 NW 23rd St, Yukon, OK) This 148-acre of natural attractions have views of trails, ponds, lakes and a popular Route 66 memorial.
For the Family: Arcadia Round Barn (107 OK-66, Arcadia, OK) – Yes, you guessed it! It's a round-shaped barn made in 1898 and has been a favorite tourist destination for Route 66 travelers throughout the years.
Interesting Route 66 Stops Outdoors:

Pops (660 OK-66, Arcadia, OK) – This iconic roadside landmark is a fun stop for everyone regardless of age. Aside from the 66-feet tall soda bottle welcoming you, you can also fill up gas, eat at the diner, and choose from over 650 soda flavors.
Milk Bottle Grocery (2426 N. Classen Boulevard in Oklahoma City) – This store has been around since 1930, but the addition of that massive milk bottle on top of the building was only added in 1948.

One of a Kind Route 66 attractions: Totem Pole Park (21300 OK-28 A, Chelsea, OK) – Constructed by army veteran Ed Galloway, the Totem Pole Park features numerous objects at the 14-acre land. The most famous ones he made were the World's Largest Concrete Totem Pole and the eleven-sided "Fiddle House."
Picturesque Filling Stations Lucille's Historic Highway Gas Station (Rte 66, Hydro, OK)
Oklahoma Route 66 Restaurants
Aside from Pops in Arcadia, here are other Oklahoma restaurants around Route 66:
Clanton's Cafe (319 E Illinois Ave, Vinita, OK) Home to hearty American diner-style dishes
Ann's Chicken Fry House (4106 NW 39th St, Oklahoma City, OK) Route 66-themed with awesome chicken-fried steak.
Waylans Ku Ku (915 N Main St, Miami, OK) – In the mood for some of the best burgers in Route 66? Make sure to stop by this joint.
Route 66 Oklahoma accommodations
You can find places to stay overnight in Afton (Route 66 Motel), Chelsea (Chelsea Motor Inn), Claremore, (Claremore Motor Inn) Tulsa (The Campbell Hotel), Stroud (Skyliner Motel) and Chandler (Lincoln Motel).
Texas Route 66 Guide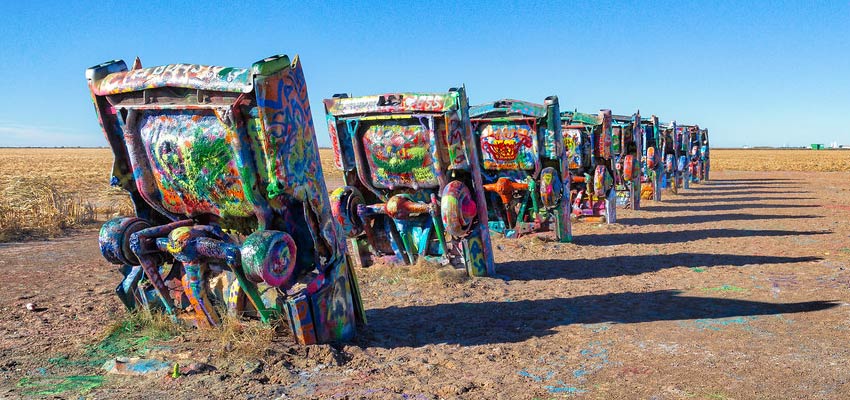 The Texas Route 66 has a shorter span, with only 175 miles dedicated right smack of the Mother Road, but around 90% of the original Texas highway has remained here. If you came from Illinois, it means you're halfway there to the California.
Don't Miss: If there's just one thing you're not allowed to pass in Texas, it should probably the Cadillac Ranch (13651 I-40 Frontage Rd, Amarillo, TX).
Created in 1974 by the art group Ant Farm (consisting of artists Stanley Marsh 3, Chip Lord, Ant Farm, Doug Michels, and Hudson Marquez), this roadside art installation features 10 graffiti-covered Cadillacs, placed standing upright in a row, but buried nose-first in the ground.
It's a trippy site and if you're feeling artistic, you can add your own graffiti onto those cars (just don't forget to bring your own spray paint).
Historical: The Devil's Rope and Route 66 Museum (100 Kingsley St, McLean, TX) is a quirky museum about barbed wires with over 700 artifacts, which linked to the state's cattle ranching history.
Natural: Palo Duro Canyon State Park (11450 State Hwy Park Rd 5, Canyon, TX) – Home to the second-largest canyon in the country, this park has fantastic views, historical spots, and picnic tables. Perfect for camping, hiking and other adventures nature has to offer.
Interesting Route 66 Stops Outdoors:

Leaning Water Tower (Groom, TX 79039) – If you're collecting photos of giant structures along Route 66, this roadside "attraction" is just an ordinary water tower with an interesting story.
VW Slug Bug Ranch (I-40 Frontage Rd, Panhandle, TX) – Same concept as the Cadillac Ranch, but using five Volkswagen
The Giant Cross (I-40, Groom, TX) – The biggest cross stands 190 feet tall and visible up to 20 miles away. Once you get closer, you'll see the other life-sized status of the 14 Stations of the Cross.

One of a Kind Route 66 attractions: Route 66 Midpoint (305 W Historic Rte 66, Adrian, TX) – Road signs are part of many people's Route 66 trip, so if you're enjoying taking photos of these markers, you'd love this "geo-mathematicalmidpoint" sign, marking the middle of your trip with exactly 1139 miles going eastward and 1139 miles going westward.
Picturesque Filling Stations: Tower Conoco & U-Drop Inn (111 Rte 66, Shamrock, TX) – This is the exact service station depicted in the "Cars" movie as "Ramone's," this Texas Route 66 landmark deserves the spotlight for its head-turning neon-lights that accentuate its fantastic architecture.
Texas Route 66 Restaurants
Mid Point Cafe (305 W Historic Rte 66, Adrian, TX) – This 50's-styled pit stop is in front of the "Midpoint Route 66" sign. It serves classic American dishes, including big breakfast meals and homemade pies. There's also a mini gift shop there.
The Big Texan Steak Ranch (7701 Interstate 40 Access Rd, Amarillo, TX) – This kitschy saloon-style steakhouse is the perfect place to try out local food. If you're brave enough, try the ever-popular 72-oz. steak challenge. There's a souvenir gift shop, shooting range, and plenty of photo-op spots available too! 
Route 66 Texas accommodations
Getting some rest midpoint through your journey? Check out the Route 66 Inn (800 E 12th St, Shamrock, TX), Big Texan Motel (7701 Interstate 40 Access Rd, Amarillo, TX), or Bonanza Motel (607 Vega Blvd, Vega, TX) if you're looking for a place to stay overnight at Route 66.
Last stop of Texas Route 66
Glenrio Ghost Town – Sitting in the Texas–New Mexico state line, this small town had been a bustling business town with cafes, hotels, and other stores during the 20s through 50s, but it now stands with virtually no one there.
Many homes and buildings are still intact, but it's regarded as one of Route 66's best ghost towns.
New Mexico Route 66 Guide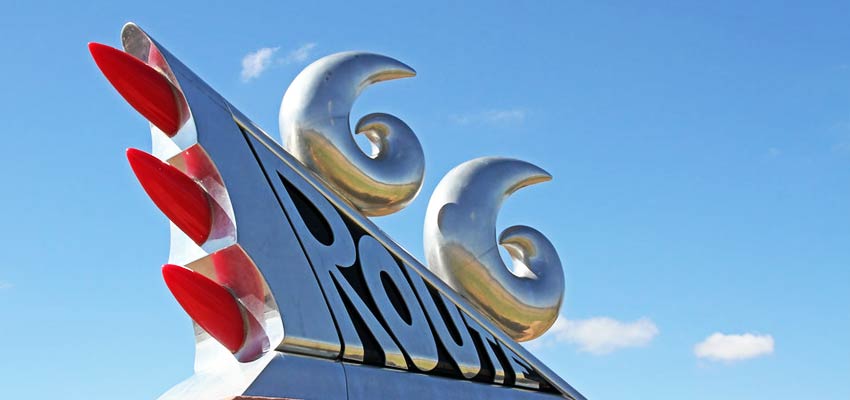 The New Mexico Route 66 original alignment may have been different during the highway's heyday (it used to pass Santa Fe), but going through the center of the state now still offers up a ton of things to do and places to see.
Don't Miss: There are two popular tours you can take (depending on what time you're passing by New Mexico).
Acoma Pueblo (Cibola County, NM 87034) – It is the oldest continuously inhabited Native American community in the US made up of four villages: Sky City, Anzac, McCartys and Acomita. It sits atop a 367-foot sandstone and with about 50 people currently living there.
Old Town, Albuquerque (Plaza Don Luis #N120, 303 Romero St NW, Albuquerque, NM) – If you're staying overnight at the state and is looking for something fun, the tour of Old Town will definitely fit the bill. Not only will you learn the history of Old Town, you also get to listen to real stories of beheadings, war, and other ghost stories as you walk around town.
Check out other attractions around New Mexico:
Historical

Tucumcari Historical Museum (416 S Adams St, Tucumcari, NM) Boasts an eclectic mix of pieces. Set in a 1900s schoolhouse.
National Museum of Nuclear Science and History (601 Eubank Blvd SE, Albuquerque, NM) This Smithsonian affiliate is the only museum in its field.
New Mexico Route 66 Museum (Tucumcari, NM 88401) New Mexico's own relics from the bygone Route 66 era
Route 66 Auto Museum (2436 Historic Rte 66, Santa Rosa, NM) With checkered black-and-white floors, this mom-and-pop auto museum definitely delivers the kitsch with tons of Route 66 memorabilia and a lot of vintage cars.

Natural:

The Blue Hole (1085 Blue Hole Rd, Santa Rosa, NM) This deep, bell-shaped pool of crystalline water is connected to six other lakes. Even if you won't be able to swim, it still is a spectacular sight to behold.
Red Rock Park (825 Outlaw Road, Church Rock, NM) The breathtaking views of its red cliffs and scenic trees bordering the park make a gorgeous backdrop to your picnic or picture-taking.
La Ventana Natural Arch (El Malpais Ranger Station (BLM),, NM-117, Grants, NM) You can't find anything more panoramic than this world-class natural arch. It's an easy hike too, so even inexperienced hikers will enjoy the adventure.

For the Family:

Mesalands Dinosaur Museum and Natural Sciences Laboratory (222 E Laughlin Ave, Tucumcari, NM) – Dino lovers will go gaga with this 10,000-square foot museum with hundreds of replica from the prehistoric era.
Wildlife West Nature Park (7 N Frontage Rd, Edgewood, NM) Escape to nature at this 122-acre park, zoo, and family-friendly venue.

Interesting Route 66 Stops Outdoors:

Route 66 Neon Drive-Thru Sign (Lead Ave, Grants, NM 87020) – Hey, your car deserves a selfie too! Commemorate your Route 66 trip with a photo of your vehicle driving thru this neon-lit shield sign.
Route 66 Monument (1500 W Route 66Blvd, Tucumcari, NM)

One of a Kind Route 66 attractions: Musical Highway (Rte 66, Tijeras, NM 87059) – Drive pass this road and you'll hear parts of the song "America the Beautiful."
New Mexico Route 66 Restaurants
Del's Restaurant (1202 E Rte 66 Blvd, Tucumcari, NM) – For authentic American-Mexican dishes
Kix on 66 (1102 E Rte 66 Blvd, Tucumcari, NM) – Big American breakfast meals. Lovely booth-and-counter setup.
Chico's Tortas y Piñas Lokas (2306 Rte 66, Santa Rosa, NM) – Mexican comfort food
Badlands Grill (2201 Rte 66, Gallup, NM) – Western-themed supper club with famous steak and seafood dishes
Route 66 New Mexico accommodations
If there is no vacancy in the historic Blue Swallow Motel (815 E Rte 66 Blvd, Tucumcari, NM), which should be your first choice in New Mexico accommodation, you can check out:
Arizona Route 66 Guide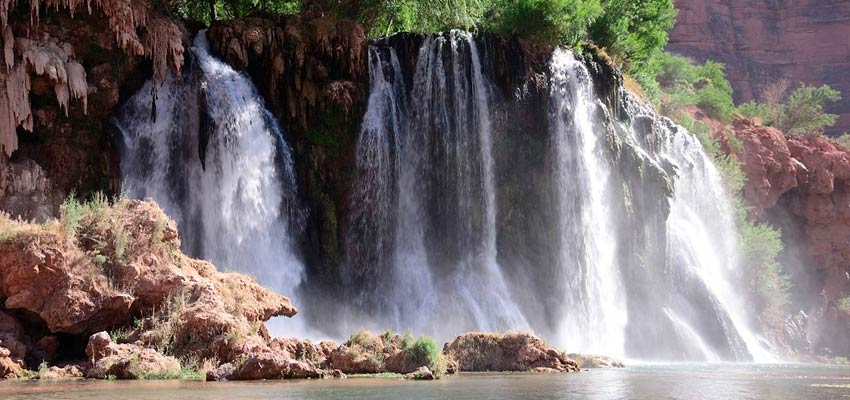 The Historic Route 66 covers 401 miles of the State of Arizona.
Don't Miss: No, the Grand Canyon isn't on the Historic Route 66, but it's definitely a worthy detour.
If you can spare a couple of hours from your trip, the road from either Williams and Kingman to the Grand Canyon takes an hour.
Historical: Grand Canyon Caverns (AZ-66, Peach Springs, AZ) – In 1962, the US government deal with the Cuban Missle Crisis by preparing caverns like this one.

The Grand Canyon Caverns can be a hideout to over 2,000 people even up to this day since food and water stored there can still take care of them for up to 2 weeks. If you're brave enough, you can even stay overnight 22 stories down the cavern.

Natural

Painted Desert & Petrified Forest National Park (W55V+X7 Adamana, Arizona) – These majestic natural attraction has been around for over 200 million years, and they're still as interesting as they were back in the day.
Meteor Crater Natural Landmark (Interstate 40, Winslow, AZ) It's the site of a meteorite impact crater with a massive diameter of 160 feet. It's pretty old too! This particular crater has been around for 50,000 years.
Bearizona Wildlife Park (1500 E Rte 66, Williams, AZ ) – Get up-close with bears, wolves, mountain goats and more as you go through this park via drive-thru. How scary exciting is that?

Interesting Route 66 Stops Outdoors

Jack Rabbit Trading Post (3386 Rte 66, Joseph City, AZ) – This huge sign with the iconic Jack Rabbit silhouette and "Here it is" sign lets visitors know they arrived in Arizona. It's a gift shop nowadays, so check out for your memorabilia needs.
Standin' on the Corner Park (Renaissance Town, Winslow, AZ) – It may look like any ordinary corner, but look closer and you'll see dozens of commemorative statues, signs, markers and other sights all showcasing people who love Winslow, Arizona.

One of a Kind Route 66 attractions: Angel & Vilma's Original Route 66 Gift Shop (22265 W Historic Rte 66, Seligman, AZ) – This gift shop may is not only historic, but also significant to the history of Route 66. Owner Angel Delgadillo, dubbed as "guardian angel of Route 66" was born in a house at the original Route 66, experienced the Dust Bowl, and rise-then-fall of the neon-lit Route 66. He fought to preserve the road as the main founder of the Historic Route 66 Association of Arizona.
Picturesque Filling Stations:

Hackberry General Store (11255 AZ-66, Kingman, AZ) – This refilling station gave inspiration to "Cars" as well. It's famous for its red Corvette and kitschy signs all over.
Cool Springs (Oatman Rd, Golden Valley, AZ) – Picturesque rock-designed station looked perfectly aligned to Arizona's majestic backdrop, you wouldn't know this was burned down and only restored back.
Arizona Route 66 Restaurants
You'll fall in-love with kitsch Arizona restaurants serving big American breakfasts on vintage Americana themes, whether you're visiting Mr. D'z Route 66 Diner (105 E Andy Devine Ave, Kingman, AZ), Cruiser's Route 66 Cafe (233 West Route 66, Williams, AZ), or Goldies Route 66 Diner (425 E Rte 66, Williams, AZ).
Route 66 Arizona accommodations
Make the beautifully-restored La Posada (303 E 2nd St, Winslow, AZ) or historical, eye-catchy Wigwam Motel (811 W Hopi Dr, Holbrook, AZ) with its Indian Teepees your first choice when it comes to accommodation in Arizona.
If there's no availability on La Posada or Wigwam Village, then check Earl's Motor Court (512 E 3rd St, Winslow, AZ), Canyon Motel and RV Park (1900 Rodeo Rd, Williams, AZ), or Stagecoach 66 Motel (21455 Interstate 40 Business Loop Exit 123, Seligman, AZ).
California Route 66 Guide
The State of California covers 315 miles of the Historic Route 66.
Don't Miss: If you haven't visited yet, take a detour to Hollywood and visit the stars on the walk of fame, Grauman's Chinese Theatre, Kodak Theatre, and the Hollywood Sign.
Many tourists will be here, so it's up to you to personalize your Hollywood tour and remove/include stops like Warner Bros Studios, Universal Studios, etc.
Historical

Route 66 "Mother Road" Museum (681 N 1st Ave, Barstow, CA)- The last museum for this trip with Route 66 artifacts and the Mojave Desert communities.
Original McDonald's Museum (1398 N E St, San Bernardino, CA) While the "original" part of this destination is being contested by another "first McDonald's" in Illinois, this California stop will still tickle the fancy of anyone who loves the fast food joint. It was built in 1940 and has been converted into a museum after local restaurant owner Juan Pollo bought the place.

Natural: Amboy Crater (Amboy, San Bernardino County, CA) – This cool mystical place is actually an extinct, cinder cone type of volcano.
For the Family: Galco's Old World Grocery (5702 York Blvd, Los Angeles, CA) – A favorite of both locals and tourists, this specialty store sells more than 700 flavors of soda pop.
Interesting Route 66 Stops Outdoors

Bottle Tree Ranch (24266 National Trails Hwy, Oro Grande, CA) – Very interesting California landmark with a "forest" of over 200 tree-shaped sculptures made from vintage trinkets and glass bottles.
Old Town Route 66 Sign (Victorville, CA 92395) – Nothing much to see here, but a good photo-op.
Big Orange at Bono Restaurant and Deli (15395 Foothill Blvd, Fontana, CA) – Tons of giant oranges used to line the California stretch of Route 66 for locals selling oranges, but this particular orange was preserved and moved to Bono's Restaurant

One of a Kind Route 66 attractions: Calico ghost town (36600 Ghost Town Rd, Yermo, CA) – Located in the Mojave Desert, this interesting mining town (there's 500 mines here alone) was once a busy community with 22 saloons, bordellos, restaurants, boarding houses and a over $20 million-dollar silver production. When prices of silver fell, mines closed and people flocked. Today, this park is a camping site with a museum, "old town" shops, and people in costume keeping the Wild Wild West vibe alive.
Picturesque Filling Stations: Cucamonga Service Station (9670 Foothill Blvd, Rancho Cucamonga, CA) – This bright yellow, former filling station is now home to a museum with Route 66 and local historical artifact.
End of Route 66 in California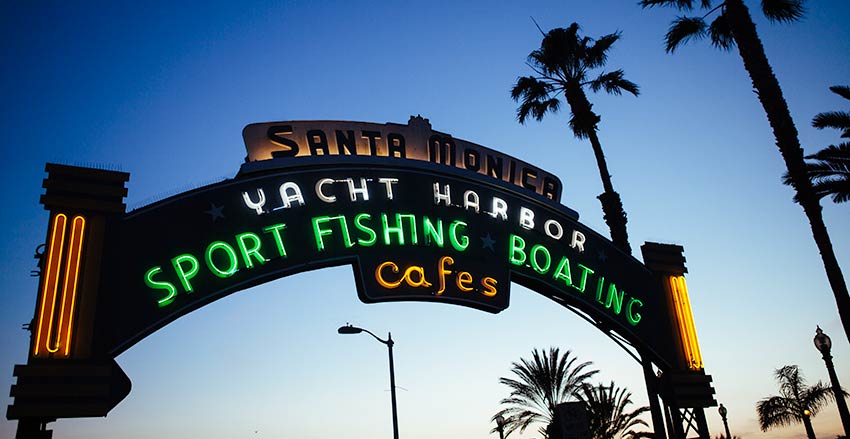 You finally made it!
To mark the end of your Route 66 journey, visit the Santa Monica Pier in Los Angeles.
You can't drive your car to the pier, so park and enjoy the views of the Pacific Ocean, ride the Ferris wheel, stroll with some food, and play arcade.
Of course, don't forget to commemorate your road trip with a photo of the Route 66 sign.
Top Route 66 Tips
I hope these Route 66 attractions can make your journey a memorable one. To make sure you won't face problems, here are 3 useful tips:
1. Use Google Maps + Apps
Use Google Maps: List down all the interesting Route 66 attractions you've read, get the address (I listed them down for you), and pin it to Google Map. You can create your own itinerary directly there.
Download travel apps: Apps like Android Auto or Waze can help if you get lost. Most of them have free versions, so download before embarking on your trip.
2. Gas Up and Be Prepared
Aside from filling up your tank, make sure you're prepared for anything.
Bring First Aid kits, and emergency medicine (especially if anyone with you has allergies, asthma, diabetes, or other life-threatening conditions).
Stock up on snacks and drinks. Get hydrated.
Bring coats, jackets, umbrellas, caps. Remember: you're crossing through several climates.
3. Do your share in preserving Route 66
In 2018, the National Trust for Historic Preservation put the Route 66 on its most endangered historic places list.
While there's an ongoing proposal in Congress to preserve this with a "National Historic Trail" designation, you can do your part now in preserving this one-of-a-kind path.
Don't bargain – Many small shops there barely earn enough to repair their own place. Pay for the services, admission, and other fees. When dining, leave a tip.
Keep it clean – Bring your own trash, especially in parks
Be nice – Most shop owners along Route 66 are happy to have you, but don't take advantage of their hospitality.
Lastly, as with any traveling; Take nothing but pictures; Leave nothing but footprints; Kill nothing but time.
And if I missed anything or you've just had your own Route 66 trip, we'd love to hear your stories, tips and recommendations!
Enjoy!