As of 2019, there are 616,087 bridges in America so narrowing down the most famous bridges in the US was a bit of a challenge.
While almost half of them need repair, replacement or major rehab, many American bridges are still passable and remain some of the most majestic and breath-taking bridges you'll ever see in your life.
No road trip will be complete without passing by these famous bridges.
So if you're making an itinerary, check out the tallest, oldest, longest, highest, and most interesting bridges in the US and see if you'd like to incorporate them into your trip…
The 25 Most Famous Bridges in the US
1. The Royal Gorge Bridge (Tallest Bridge in the US)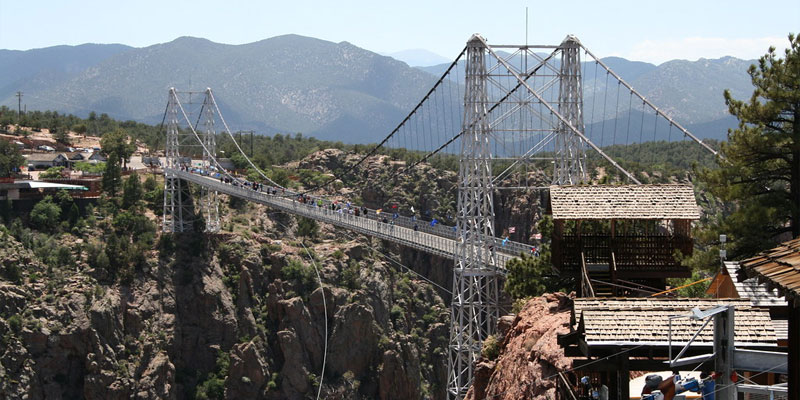 The Royal Gorge Bridge was built for six months in 1929 at a cost of $350,000 (that's about $20 million today). The bridge (and the park that comes along with it) are owned by the City of Cañon City, Colorado.
Famous for:
Aside from being the tallest bridge in the United States, The Royal Gorge Bridge is also a haven of adventurous thrill seekers.
It is the site where many stunts have been recorded (some successful like this jet-pack stunt, some not) and is home to a park with zip line, aerial gondolas, skycoaster, and other activities done at this height.
The Royal Gorge Bridge used to rank #1 tallest bridge in the world, but has since been overtaken by a bridge in China.
Where is The Royal Gorge Bridge located?
It was built within a 360-acre theme park near Canon City, Fremont County, Colorado. It is two hours away from Denver, and an hour drive away from Colorado Springs.
The actual bridge hangs 995 feet above the Arkansas River, so if you don't fancy heights, you can always marvel at its spectacular design from below.
There are whitewater rafting adventure packages that pass by the Royal Gorge Bridge.
Attractions nearby:
If you can only visit a few places in Colorado, picking the Royal Gorge Bridge as a stopover is enough. You have views of the Arkansas River and Sangre de Cristo Mountains any time of day.
Can you walk across the Royal Gorge Bridge?
You can walk and bike across the 1,260 feet long and 18 feet wide bridge, but passenger vehicles are only allowed to cross the bridge before or after the park attraction operating hours and depending on season.
The Royal Gorge Bridge has a wooden walkway made with 1,292 planks. Yup, those are wooden planks, so trucks, RVs, buses and other oversized vehicles are not permitted to cross.
Know that the bridge doesn't go anywhere – it wasn't built as a thoroughfare, which means you'll need to turn around and drive over it again.
Do you have to pay to walk across the Royal Gorge Bridge?
Access to the park, bridge, theater, unlimited Gondola rides for kids 6 to 12 is $21, while     adults (13 and above) is $28. Children below 5 are free.
Additional fees for other activities like zipline ($45/person) and skycoaster ($30/rider).
For season passes and promotions, check the official site here.
Selfie Info
The Royal Gorge Bridge makes the greatest backdrop, which is why it is one of the more famous bridges among landscape and nature photographers.
The park has several photo lookouts ready, each with unique views of the Royal Gorge, the Sangre de Cristo Mountains, and the Arkansas River Valley.
2. The Frankford Avenue Bridge (Oldest American Bridge)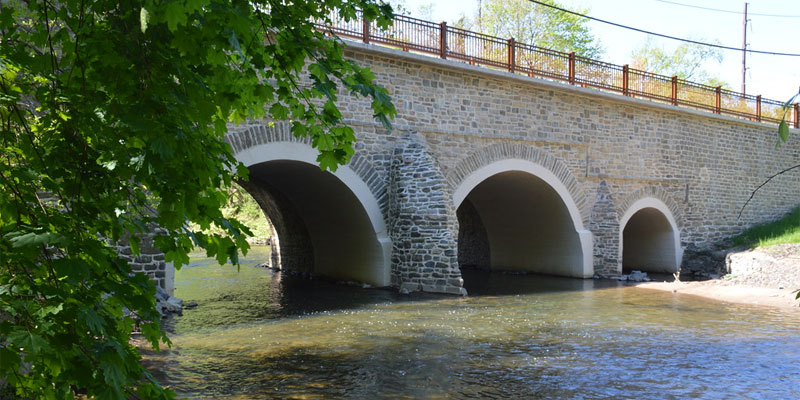 The Frankford Avenue Bridge is the oldest bridge in the US. The 73-foot stone bridge was built in 1697 and has been through numerous renovations (with the latest in 2018).
Requested built by Pennsylvania Colony founder William Penn, the bridge (named initially as "King's Path," then "King's Highway" and "Bristol Turnpike") connected his mansion with the new city of Philadelphia and served a major link to northern cities Boston, New York and Trenton.
Originally, the Frankford Avenue Bridge was only 73 feet long and 18 feet wide, built mostly for walking and horse carriages.
Today, the bridge measures 154 feet long and 16 feet high.
Famous for:
In 1970, the American Society of Civil Engineers designated the Frankford Avenue Bridge as a National Historic Civil Engineering Landmark. In 1988, it was listed in the National Register of Historic Places.
The Frankford Avenue Bridge is indeed historical. It was constructed 80 years before the actual founding of the country.
Many notable travelers (like John Adams) crossed this bridge. President Washington also passed this bridge on his way to New York for his first presidential inaugural ceremony in 1789.
Where is The Frankford Avenue Bridge located?
The bridge is located in Frankford Avenue, Philadelphia, Pennsylvania.
Frankford Avenue doubles as U.S. Route 13, just north of Solly Avenue.
You can find the Frankford Avenue Bridge over Pennypack Creek in Pennypack Park.
Attractions nearby
Aside from the Pennypack Park itself, you can also travel a bit and check out the Philadelphia Museum of Art and the well-preserved Eastern State Penitentiary (which are both around 20 minutes away by car).
The oldest zoo in the country, the Philadelphia Zoo, is also nearby.
Can you walk across the Frankford Avenue Bridge?
The coolest thing about the Frankford Avenue Bridge is that even if it's the oldest bridge in the country and built only by ordinary men (inhabitants of the area at the time), it is still standing strong and can withstand groups of people walking and modern vehicles daily.
In fact, over 60 "younger" vehicular bridges in the city have been closed or demolished before the Frankford Avenue Bridge.
Do you have to pay to walk across the Frankford Avenue Bridge?
While there used to be a tollbooth on the south end of the bridge, this is no longer active. Anyone can walk across the bridge without paying a cent.
3.  Lake Pontchartrain Causeway (Longest Bridge in the US)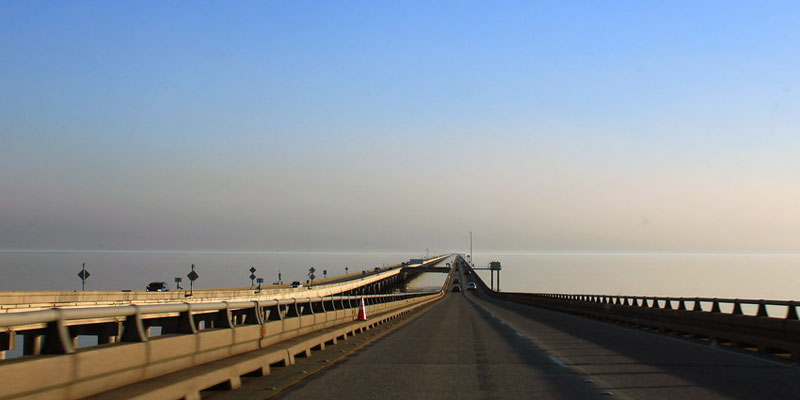 Simply known as the "Causeway," the Lake Pontchartrain Causeway is the longest continuous over-the-water bridge in the world.
Causeway is actually two parallel, toll bridges that connect Mandeville with Metairie.
With over 40,000 vehicles passing by Causeway daily, it would take you 2 hours to reach the end of the bridge.
It measures 126,122 feet long (that's around 24 miles) with the first bridge taking 14 months to build with a budget of $30 million (in 1956 money). A second bridge was built as traffic increased and opened in 1969.
Famous For:
Lake Pontchartrain Causeway has been listed on the Guinness Book of Records as the world's longest bridge over water since 1969.
That is, until China's Jiaozhou Bay Bridge was built in 2011, which would've trampled Causeway's record since the Chinese bridge was longer.
Guinness added two sub-categories for the longest bridge record: aggregate and continuous lengths over water.
In the US, Causeway remains the uncontested longest bridge.
Where is Lake Pontchartrain Causeway located?
The Lake Pontchartrain Causeway begins in the suburb of Metairie, which is part of the Greater New Orleans metro area. You must take I90 Pontchartrain Expressway N from downtown NOLA to I 10 and go W to Causeway Blvd. at Metairie. Go N to your right and cross the bridge.
You'll be crossing the middle of Lake Pontchartrain in Southern Louisiana. The lake is a massive body of water with total size of about 610 square miles and depths ranging from 25 to 80 feet.
The drive across Causeway ends on the northern shores of the lake, at Mandeville, Louisiana.
Attractions Nearby
Both ends of the Causeway are typical suburbs, but if your main purpose is to experience the longest bridge, then maximize your trip with swamp tours, canoe trails, several craft brewery tours, and other adventures you can do at Louisiana Northshore.
Can you walk across Lake Pontchartrain Causeway?
All you can see once you ride across the bridge is the lake. No other attractions here.
In fact, there's an eight-mile stretch where motorists lose sight of land. It is where many drivers freeze up due to temporary seaborne fear, vehicles run out of gas, and planes emergency-land on the bridge.
Some moms have even give birth while crossing the Causeway.
You can't begin your journey by foot, but you can go down your car and walk a bit once you reach any one of the seven crossovers linking the separate two-lane spans.
Plus, this is the longest bridge in the US. Do you really want to walk across it?
Do you have to pay to drive across Lake Pontchartrain Causeway?
You can drive by free going north. Tolls are collected on the north shore for southbound traffic only. The standard toll for cars is $5 in cash and $3 for tags (prepaid tags are used with the electronic toll collection system).
Selfie Info
If you're a bird watcher, join other people from all over the country sometime in July, as the world's largest purple martin roost naturally occurs each night at sundown. You'll see thousands of purple martins swarm and swirl around the south end of the bridge, then fly under the bridge to roost.
Of course, if you're just after a regular selfie with the family to commemorate your journey, stop by a crossover quick to take the snaps and probably pee at the portable toilet.
US Bridges that Span into Canada
4. Niagara Falls International Rainbow Bridge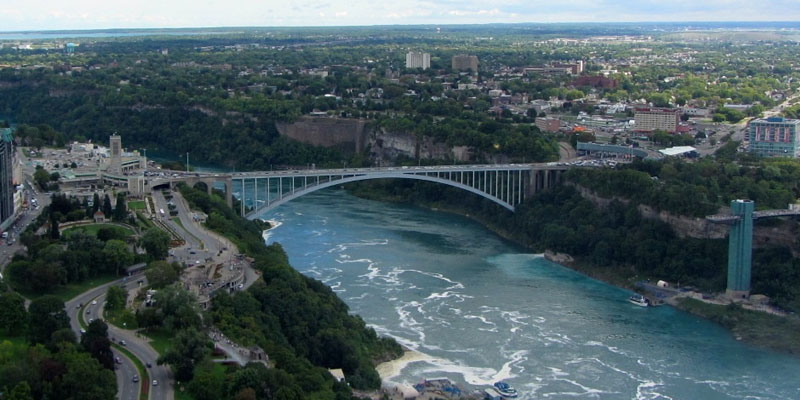 Known simply as "Rainbow Bridge," this arch bridge is a world-famous tourist site. It connects the cities of Niagara Falls, New York, USA and Niagara Falls, Ontario, Canada.
Famous For:
It's famous for the majestic views of Niagara Falls.
Attractions Nearby
The Carillon Bell Tower, located at the far end of the Canadian side of the Rainbow Bridge, is not only a cool-looking complex, but it is also where the music from huge bells come from.
There's also the  Niagara Duty Free (at 5726 Falls Avenue) on the Canadian side of the Rainbow Bridge.
If you're coming from the American side, you do need your papers ready (ID, passport, visa, etc.) to avoid any problems, since you're technically crossing a border. For more information about visiting Canada or USA via the Rainbow Bridge, check here.
Can you walk across Rainbow Bridge?
There's a pathway for pedestrians and cyclists to safely marvel Niagara Falls from the Rainbow Bridge. Even pets are allowed, as long as they're not brought inside buildings.
You can also drive through the Rainbow Bridge by any vehicle, except for commercial trucks that are prohibited from passing through.
Do you have to pay to walk across Rainbow Bridge?
There is a $1 crossing fee for pedestrians and is collected when departing Canada. For vehicles, roundtrip toll fees are $3.75 USD or $4.75 CAD.
Selfie Info
For bridge fans, you can take a wide-angle shot of the Rainbow Bridge from Niagara Falls (or the parks around it) and a foggy one from the Cave of Winds.
Of course, any spot on the pedestrian pathway is a good spot to take selfies and group shots, since the Niagara Falls as backdrop cannot be duplicated anywhere else in the world.
5. Ambassador Bridge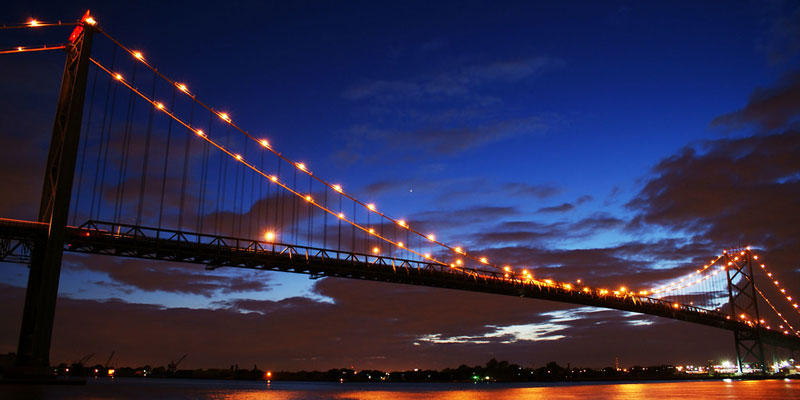 The Ambassador Bridge is another way of passing to and from Canada/USA. This suspension bridge with a 1,850-foot-long main span was built across Detroit River. It connects Detroit, Michigan, USA with Windsor, Ontario, Canada.
It is the only privately-owned border crossing between the two countries. The current owner is Grosse Pointe billionaire Manuel Moroun, who also owns the tunnel and Duty Free store near the Ambassador Bridge.
Famous For
25% of trade between USA and Canada pass through this bridge. About 10,000 commercial vehicles cross the bridge on a regular weekday.
Attractions Nearby
In the US side, check out the Motown Museum, Outdoor Adventure Center, and The BELT. At the other side of the "pond," families would love the Adventure Bay Family Water Park, or a quick trip at the Art Gallery of Windsor.
Can you walk across Ambassador Bridge?
Bicycles and pedestrians were allowed at the southwest side of the bridge on/off for years due to on-going maintenance, but the September 11, 2001 attacks permanently prohibited travelers from walking across the bridge.
Do you have to pay to drive across Ambassador Bridge?
The cash auto toll is USD $5/CAD $6.25, while commuters registered to the Premier Commuter Program pay USD $2.60.
Selfie Info
You can take a photo of the bridge from both the Canadian and American sides of the river.
I recommend going to the Windsor Sculpture Park for unlimited picture-taking. At night, even if you're miles away from the Ambassador bridge, the necklace of lights on the bridge's cables create a dramatic view on all angles.
You can take pictures of downtown Detroit and Windsor from the bridge.
Other Famous Bridges in America
6. Brooklyn Bridge (New York City)
The Brooklyn Bridge is a suspension/cable-stay hybrid bridge in New York City that connects Manhattan to neighboring borough Brooklyn.
It is located between Manhattan's Civic Center and Brooklyn Heights, spanning the East River in NYC.
Originally built in 1883, the Brooklyn Bridge was designated a national historic landmark in 1964. It was constructed at a time when caissons (closed wooden boxes placed under water and filled with compressed air) were used for getting the towers in place deep down the river. By the time the bridge was built, over 100 of the 600 workers ended up with Caisson's Disease
Famous for:
Come on, it's the Brooklyn Bridge.
Aside from being the stage to many political parades, the Brooklyn Bridge has also been featured in several movies, including "Enchanted," "The Fifth Element," and "it Happened in Brooklyn."
Can you walk across Brooklyn Bridge?
The Brooklyn Bridge has six lanes of roadway (for vehicles) and pathway for pedestrians and bicycles.
If you paid for a New York tour (specially the hop on/hop off ones), I'd bet a stopover at the Brooklyn Bridge is included.
Do note that if you wanted to cross the bridge completely, you'll need an hour to spare to reach the other end.
Do you have to pay to walk across Brooklyn Bridge?
Nope, it's free for walk tours, cyclists and even those driving their vehicles.
The New York City Department of Transportation owns, operates, and maintains 793 bridges (including the Brooklyn Bridge) and tunnels throughout NYC. All of them are toll-free.
Selfie Info
If you're visiting at night, the spectacular views of New York's night lights as backdrop would probably keep you busy. Plus points if you can go there at sunset, or sunrise.
Visit Brooklyn Bridge Park for an up-close look of the Brooklyn Bridge.
7. Golden Gate Bridge (San Francisco, California)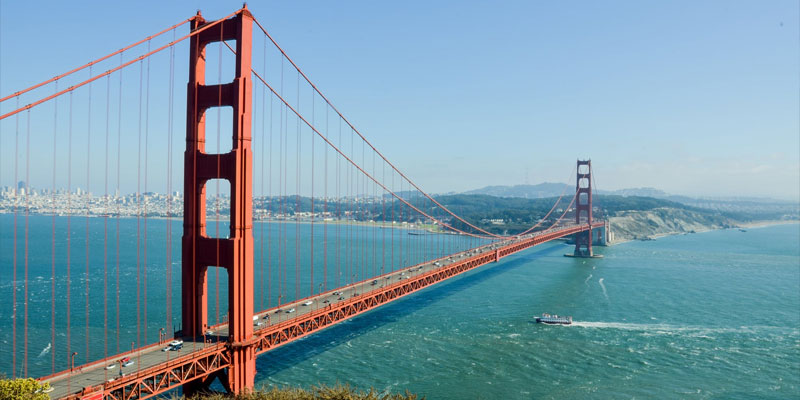 Opened in 1937, the Golden Gate Bridge is one of the most famous bridges on the West Coast and the most photographed bridge in the world. It spans the Golden Gate, the one-mile-wide strait connecting San Francisco Bay with the Pacific Ocean.
You can access the bridge from San Francisco on the southern side to Marin County on the north.
Famous for: The Golden Gate Bridge is a favorite target for destruction in movies like "X-Men: The Last Stand," 2014 "Godzilla," "San Andreas," and "Terminator Genisys." Even the animated "Monsters vs. Aliens" film featured the bridge being destroyed by a giant robot.
Sadly, its popularity also attracts a certain kind of crowd. The Golden Gate Bridge is the most used suicide site in America (2nd in the world after China's Nanjing Yangtze River Bridge).
Can you walk across Golden Gate Bridge?
You can walk, bike and drive across the Golden Gate Bridge. The pedestrian walkway is the east sidewalk, which runs along the east side of the bridge, while bikes can ride on either side depending on daily schedule.
Do you have to pay to walk across Golden Gate Bridge?
It's free to walk or bike across the Golden Gate Bridge, but drivers pay a $7.25 toll coming into San Francisco.
Selfie Info
There are several areas where you can take non-stop photos of the spectacular Golden Gate bridge. These include:
Fort Point National Historic Site – Stay at the parking lot for a shot of the whole bridge, but go up to the fort's rooftop if you want to shoot with a skyline too!
Welcome Center – This will probably be the most crowded spot to take photos of the Golden Gate Bridge, but it's going to be worth it. It has a stunning view.
Baker Beach – It's a bit far from the bridge, but you won't be trampled by crowds here. The cover photo of this article was taken from Baker Beach
Crissy Field – Favorite among locals, this spot has a great view of the San Francisco Bay and the Golden Gate Bridge. It's perfect for biking and just marveling at the sights.
Of course, for up-close shots, take photos of the bridge on your way up to the pedestrian or bicycle pathway.
You won't be able to shoot the whole bridge from there, but I'm sure it's still an impressive shot regardless of where you're facing.
8. Glenn Canyon Dam Bridge (Page, Arizona)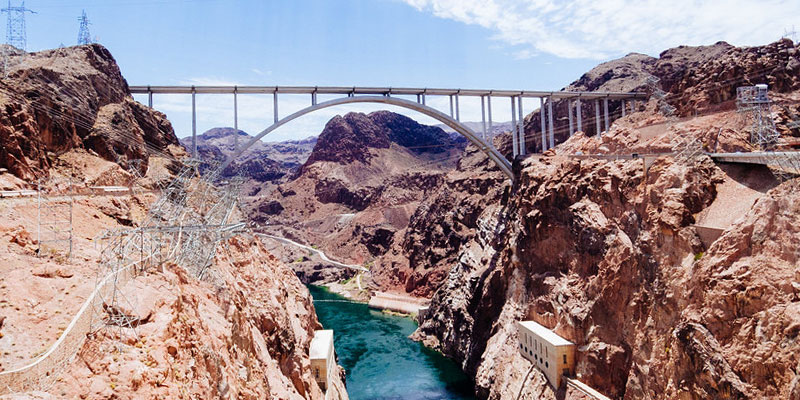 Glen Canyon Dam Bridge is located in Arizona's Coconino County, just outside of Page and near the Utah border. The bridge is 1,271 feet long and measures 700 feet above the water.
The area has no other attractions (you're in the desert region), but if you're going embark on a tour to the Grand Canyon North Rim, Monument Valley, Lake Powell or Antelope Canyon, this bridge can be an extra stopover you never knew you wanted.
Interestingly, this bridge was just built between 1957 and 1959 to make travel easier for workers building the Glenn Canyon Dam and materials transported quicker.
Can you walk across Glenn Canyon Dam Bridge?
The Glenn Canyon Dam Bridge has a pedestrian walkway, and two lanes for vehicles. You can walk, ride a bike, or drive by the bridge.
Do you have to pay to walk across Glenn Canyon Dam Bridge?
Passing by the bridge is free, whether you plan to walk, bike or drive across it. You do have to pay $5 for the dam tour, if you wish to check out the overlook, dam and red rock formations.
Note that the tour isn't ideal for young kids, pets or physically-challenged people because of the uneven stones you'll walk on going up and down.
Selfie Info
Parking at the Carl B. Hayden Visitor Center is free, and is the easiest way to take photos of the bridge. 
If you're going on trails around Page, you'd have more breathtaking spots, such as the Dam Overlook Trail, to take pictures of the Glenn Canyon Dam Bridge.
Don't miss out on Lower Antelope Canyon, Horseshoe Bend, The Toadstools, Rainbow Bridge National Monument and other Page attractions while you're in the area.
You are also fairly close to the Valley of Fire State Park, another park that shouldn't be missed.
9. Bixby Creek Bridge (Big Sur, California)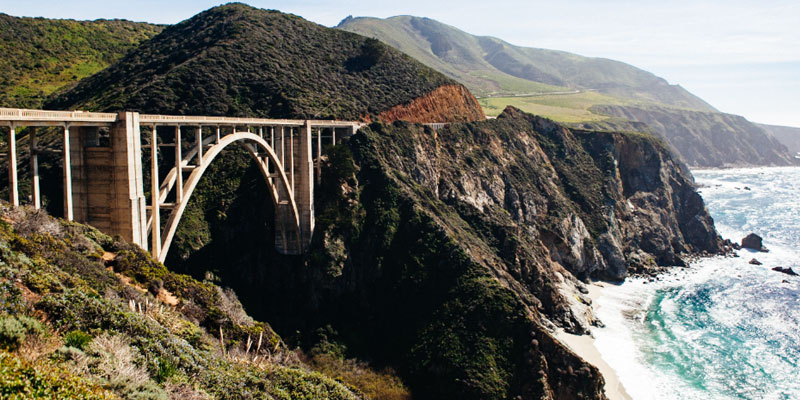 One of the most famous bridges in Instagram and America, this Big Sur bridge is definitely one-of-a-kind.
Not only do travelers have tons of photo options here, you'd be confused which is more majestic – the scenic views of the Central Coast of California or the shape of the picturesque land as backdrop of the bridge.
10. George Washington Bridge (New York)
Connecting New York to New Jersey, pass by this famous bridge if you're OK with getting stuck in traffic on a bridge.
It's one of the busiest motor-vehicle bridges in the world with 103 million passing by each year.
If there's no ongoing repair, you're lucky to see this bridge with impressive tower lighting or the world's largest free-flying American flag (flown from 7am to 1pm during major holidays and September 11).
11. The Tacoma Narrows Bridge (Tacoma, Washington)
This bridge is actually a pair of twin suspension bridges constructed years apart.
The original 1940 Tacoma Narrows Bridge collapsed due to bad design and became a resonance example in physics books, as well as a huge lesson-learned in the field of bridge aerodynamics-aeroelastics used by other engineers building bridges all over the world from 1940 onward.
The replacement bridge opened in 1950, then the second, parallel suspension bridge was built to accommodate more vehicles and opened in 2007.
12. Delaware Memorial Bridge (New Castle, Delaware)
Crossing the Delaware River, this twin suspension bridge connects Delaware and New Jersey.
The bridge looks like an ordinary long bridge, but once the elight-emitting diode (LED) lights are turned on, the Delaware Memorial Bridge turns absolutely jaw-dropping.
13. The Chesapeake Bay Bridge (Annapolis, Maryland)
Known locally as the "Bay Bridge," the Chesapeake Bay Bridge connects Baltimore-Washington Metropolitan Area with Ocean City, Maryland, Rehoboth Beach, Delaware, and other coastal tourist resort destinations.
This bridge isn't for the faint of heart.
Bay Bridge has been included in many "Scariest Bridges in the World" lists not just because of its design, but also how extreme weather makes it almost impassable.
14. Sunshine Skyway Bridge (Tampa Bay, Florida)
Sunshine Skyway Bridge has had a deadly history.
The original bridge collapsed in 1980 after a ship collided on one of the bridge's pylons and caused several cars and trucks to fall onto Tampa Bay, killing 35 people.
It was replaced in 1987 and has landed Travel Channel's "Top 10 bridges in the world."
15. London Bridge (Lake Havasu, Arizona)
Remember the song from your childhood? London Bridge is falling down?
Well, this exact bridge from River Thames, London that "fell down" was actually replaced by a new one.
But in 1961, entrepreneur Robert McCulloch bought the bridge at an auction, shipped it through the Panama Canal to Long Beach, then transported it 300 miles by land, before reconstructing it at Lake Havasu in Arizona and opened it for public use in 1971.
It is still passable today. You can even see the numbered stones up close.
16. Roebling Suspension Bridge (Ohio)
Spanning the Ohio River from Cincinnati, Ohio to Covington, Kentucky, the bridge was originally named Cincinnati-Covington Bridge but was re-named after civil engineer/bridge architect John Roebling.
The bridge is an icon in Cincinnati, a beautiful symbol of the city's rich history and tradition.
But make sure it's open for vehicles (it's notorious for closing the bridge for precaution every now and again).
17. Penobscot Narrows Bridge (Stockton Springs, Maine)
The Penobscot Narrows Bridge and Observatory is the crown jewel of coastal Maine, connecting Verona Island to Prospect, and spanning the Penobscot River and Bay.
It's famous for the spectacular 360-degree views of the Maine countryside and the distant western mountains, as well as the impressive cable-stayed design of the bridge.
18. Edmund Pettus Bridge (Selma, Alabama)
This bridge doesn't just span the Alabama River, it is also a National Historic Landmark and a pivotal stop on the Selma to Montgomery National Historic Trail.
This is where 600 Civil Rights protesters passed by and were forcibly stopped by police with force, injuring 17 people.
The events of March 7, 1965 became known as "Bloody Sunday" and this has been commemorated at the bridge every year since.
19. Seven Mile Bridge (Florida Keys)
Originally a part of the rail line over 100 years ago, this bridge is now an important link connecting Florida Keys to Miami.
Because of its seven-mile span, many drivers feel false ocean sickness while passing in the middle of the ocean.
The Seven Mile Bridge is a must-visit if you're on your way to visit the Conch Republic.
20. The Mackinac Bridge (Mackinaw City, Michigan)
As one of the famous bridges in America, the Mackinac Bridge linked two peninsulas, which has been connected by ferries for decades.
Those with difficulty crossing bridges, a phenomenon known as gephyrophobia, should probably stay away since the Mackinac Bridge is officially known as the "world's longest suspension bridge between anchorages" and there's a chance you'll only see water for a while.
Pedestrian Bridges
There are some famous bridges that don't allow vehicles of any kind, but pedestrians can take in the sights and marvel at the views from all angles. These are my top 5:
Walnut Street Bridge (Chattanooga, Tennessee) – The teal-colored bridge against its wooden planks provide a pretty contrast as you walk down Chattanooga's own 'National Register of Historic Places' bridge.
Mile High Swinging Bridge (Grandfather Mountain State Park, North Carolina) – The name itself is already scary – this is the highest suspension footbridge in America. It's a mile above sea level and it "swings" even with the slightest gust of wind.
Newport Southbank Bridge aka "Purple People Bridge" (Cincinnati, Ohio) – Connecting the cities of Cincinnati, Ohio and Newport, Kentucky, this bridge is definitely an iconic spot. You can see it miles away, thanks to the purple hue of the bridge.
Skydance Bridge (Oklahoma City, Oklahoma) – Designed after the state bird, the flycatcher's scissor tail lends impressively into the bridge's design. This pedestrian-only bridge extends 380 feet with a 197-foot-tall sculpture. If you're there during a holiday, don't miss it with lights up. It's spectacular!
Keeper of the Plains Bridge (Wichita, Kansas) – Designed by indigenous sculptor Blackbear Bosin, this bridge was built to complement the 44-foot-tall statue of a Native American chief surrounded by a ring of fire. It connects the statue to the mainland.
How Many Famous Bridges in the US Have You Seen?
Many of the famous bridges I featured above are definitely Instagram-worthy.
These bridges are magnificent engineering structures. Many of them have stayed strong through hurricanes and earthquakes.
If you have a chance to pass by any (or all) of these famous bridges during one of your family road trips or adventures with friends, make sure to take a photo and share with us here.